An extension cord is a simple way to give you more distance between your outlet and your device. They come in handy for lamps and electronics in the home, but they're also great for outdoor use.
Buying a foot switch extension cord for use in your garage or yard makes everything easier on you. When holding wood at the saw, a foot switch allows you to keep your hands in place while turning on the appliance. They're also great for hedge trimmers and chainsaws when you don't have hands free to plug in an extension cord for use.
Best Foot Switch Extension Cord
The overall best foot switch extension cable.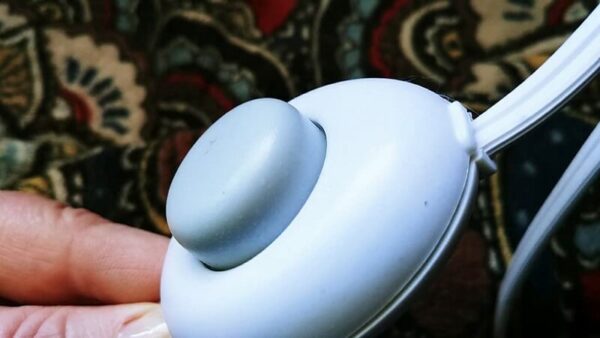 The GE 3 Outlet Extension Cord With an On/Off Switch is UL rated. It supports 125V AC, 13A, and 1625W. You can get it in 9 feet or 12 feet lengths.
One thing people disliked about this cord was that the switch wasn't centered. It's only three feet away from the plug. That makes it hard to position the foot switch where you want it.
Pros
Has three outlets for multiple devices
Comes in lengths of 9 or 12 feet
GE is a reputable brand with durable products
Cons
Switch is only three feet from the plug
Multi-Outlet Extension Cord
If you're getting an extension cord with a foot switch, you might want to plug several things in at once.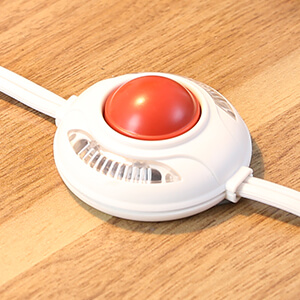 The DEWENWILS Foot Switch Power Cord has a big red button like the Uninex cord, but it gives you more distance. This cord is 12 feet long and has an angled flat plug, making it the best cord to use behind furniture. It's smaller than other plugs, so it won't stick out and rub against your couch or electronics. The button is large and easy to see. You'll know it's on by the click, and lights come on when it's conveying power.
The length divides into four feet and eight feet. After four feet is the power switch, which isn't enough to have easy access to the switch.
Pros
Angled flat plug fits in tight spaces
Has three connections with safety covers
Adds 12 feet to cords
Cons
Switch is so close to the plug that it's hard to access
Outdoor Grounded Extension Cord With Switch
There are several options for an outdoor extension cord with a switch.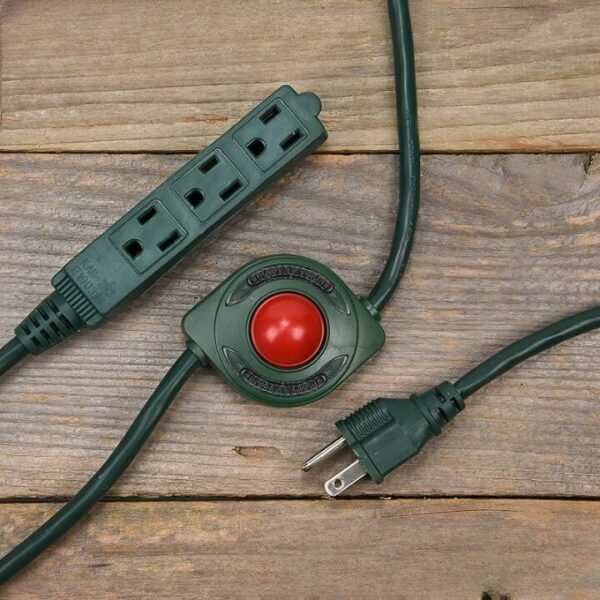 The Electes grounded extension cord with hand/foot switch gives you 15 extra feet of power. It has a third prong, so you know it's grounded once you plug it in. That makes it safe to use for multiple light sources. This cord is thick and sturdy, making it heavy and not too flexible for indoor use.
Pros
Lights up when power is flowing
Gives 15 extra feet of cord
Has three additional connections
Cons
Not very flexible for indoor use
Not really an outdoor extension cable
Extension Cord With In Line Switch
An inline switch makes it easy to turn off lights when you can't reach the original controls.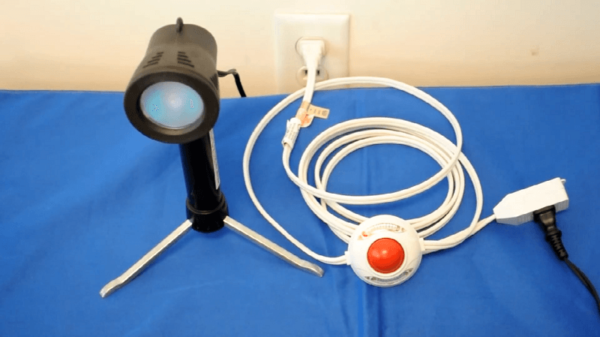 The Uninex cord gives you nine extra feet of cord between your outlet and your electronic device. It has two prongs on the plug and connections for three other devices. The in-line foot switch lights up to show you the cord has power. The controller itself is a big red button, easy to hit with a tap of your toes.
The only downside is you have to be gentle. It looks sturdy, but you will find that it will break if you stomp it too hard.
Pros
Big red button makes the switch easy to see
Lights tell you when it's powered on
Adds nine feet of length to your cords
Cons
Switch breaks if you use too much force
3-Prong Extension Cord With On-Off Foot Switch
A three-prong cord grounds your power, so it's a safe extension cord to use.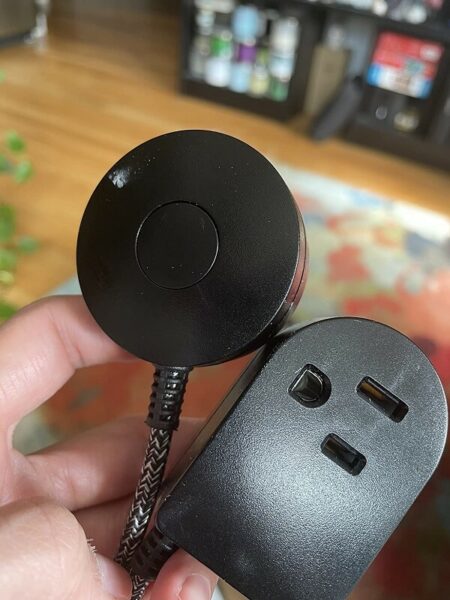 The Cordinate cord has three prongs, so it keeps your devices grounded. It is six feet long and ends with a switch so you can control things easily. When you plug the three prongs into the outlet, there are openings for another three-prong plug on the back. The device you plug in there is what you control with the foot switch.
There is no way to tell if it's working. Nothing lights up, and you hear a click whether you are turning it on or off.
Pros
Switch has a non-skid bottom
Comes in several different colors
Don't block the other outlet
Helpful Guide to Get the Best Foot Switch Extension Cords 
You need an extension cord because you're trying to stretch from the outlet to the final source. With that in mind, you need to consider the distance. It might seem best to buy extension cords longer than what you need, but this can leave a coil of cord that's easy to trip on.
Buying an extension cord that's just right or too short can result in frustration and strain on the cord itself. Make sure you know the ideal measurement for an extension cord and then add a few inches to give yourself some breathing room.
Along with length, you want to choose a foot switch extension cord that's flexible. It should not only cover the distance from the outlet to the source but also easily bend around corners. This flexibility comes into play for storage, too. Flexible cords are easy to roll up and bind without tangling.
Final Thoughts
There are plenty of foot switch extension cords on the market. Find one that suits your needs, some are better than others, and some will work well enough. Don't go with the cheap route if it's a work/outdoor cord, but if it is just a house cord you can go with one that is "good enough".
---
Updates
Jun 3. 2022: Article posted.
Feb 1. 2023: Article restructured, some of the products removed. Visual improvements.
---