Have you ever wanted to create ambiance with dimmable LED bulbs or an incandescent string of lights? Then, you should jump on Amazon and purchase a dimmer extension cord!
This handy tool is the answer to a myriad of problems. They are typically easy to install, offer multiple features, and help you reach your lighting dreams.
A homemade dimmer extension cord is not easily created by the average consumer. It requires wiring and working with electricity. It's a more expensive option to make your own, and you would have to ensure that all of the safety modifications were in place to keep from causing a fire.
The best option for any homeowner is to buy a dimmer extension cord with multiple features and safety tested.
What to Consider When Choosing an Extension Cord with Dimmer
Manufacturer
There are dozens of manufacturers of dimmer extension cords, but some have risen to the top as excellent options.
The Lutron brand is sold at hardware chains and also online. They have a reputation for creating SMART home brands that help the consumer solve problems.
Length
Nearly every brand of dimmer extension cord offers a standard 6-foot length, but they range from 2-foot to over 100-foot. Often, a long dimmable extension cord is not needed, as the original product you are plugging into it already comes with a cord.
Cost
Dimmer extension cords range from low-end (around $12) to mid-range (around $30) and upwards (over $50). The price range is dependent on the features you wish to receive. The lower models only have basic on/off capability and come with limited modes.
Safety Warnings
Exceeding the total amount of wattage that a dimmer extension cord can withstand is very dangerous.
Never use an indoor-only dimmer extension cord outside. Outdoor cords have an IP65 weatherproof rating. Without this feature, you could incur substantial damage.
If you notice smoke or a strong smell coming from your dimmer extension cord, immediately switch off the breaker to the outlet. Refrain from grabbing a hot, burning, or melting cord, as this can cause severe injury.
Do not plug the dimmer extension cord into another extension cord. It is possible that the other cord will not have the same power capabilities. This can lead to damage and possibly fire.
Best Dimmer Extension Cords Currently Available
Lutron Credenza Plug-In Dimmer TT-300H-WH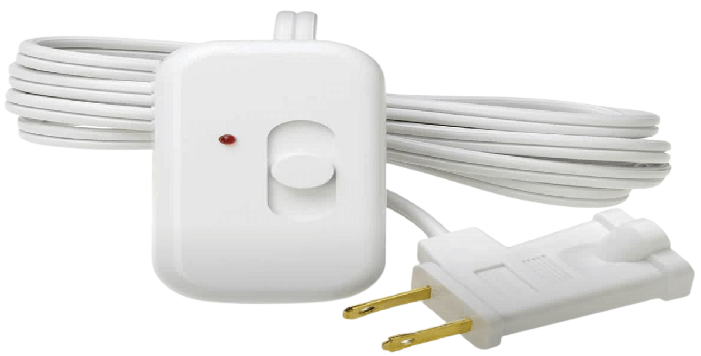 As Amazon's Choice, the Credenza TT-300H-WH can be utilized for 300W Halogen or Incandescent bulbs, but another model of this brand is needed for LED bulbs.
It has a slide operation that allows the user to choose the desired light level. There's no wiring required, and it has an easy plug-in installation.
Users have mentioned that this is the perfect dimmer to use with a Christmas tree. It helps add ambiance without a lot of fuss. It does not allow the lights to go to the highest setting the lights can handle, but it does allow for practical use.
Features
Brand: Lutron
Color: White
Cord Length: 6-foot
---
Banord Outdoor Dimmer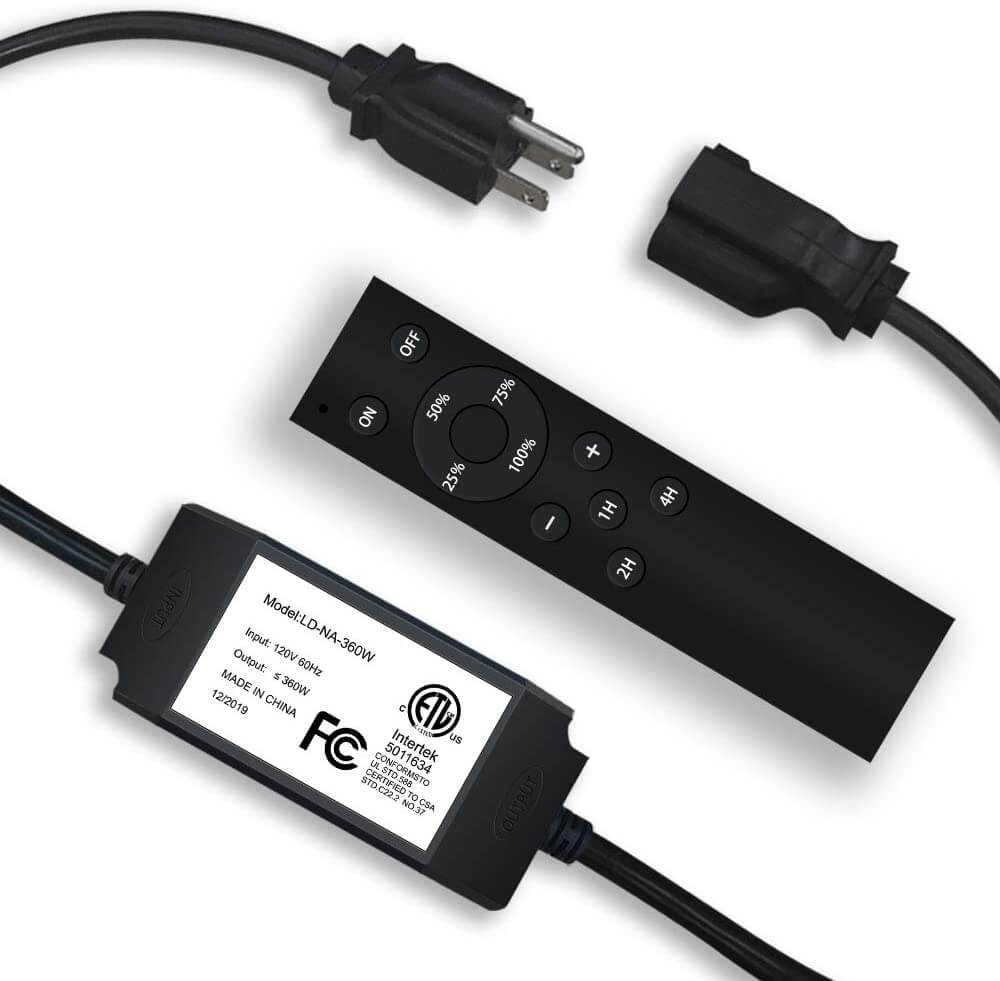 The Banord Outdoor Dimmer is a high-end option that offers a light sensor design that automatically chooses the best setting during the day and at night. Like many other mid-range dimmers, this product comes with multiple features, such as timer capability and a remote that allows you to choose the percentage the lights will be dimmed. Many consumers wish there wasn't such a large difference between the brightness settings, but note that they can still accomplish what they need.
Many users have noted that there is a note attached to the product that suggests it should not be left plugged in for more than a certain amount of days. That is good information to know upfront if you plan to be out-of-town or do not want a product with limited capabilities.
Others have mentioned that it's perfect for both residential and commercial usage.
Features
Brand: Banord
Color: Black
Cord Length: Short (not listed)
---
Newpow Outdoor Dimmer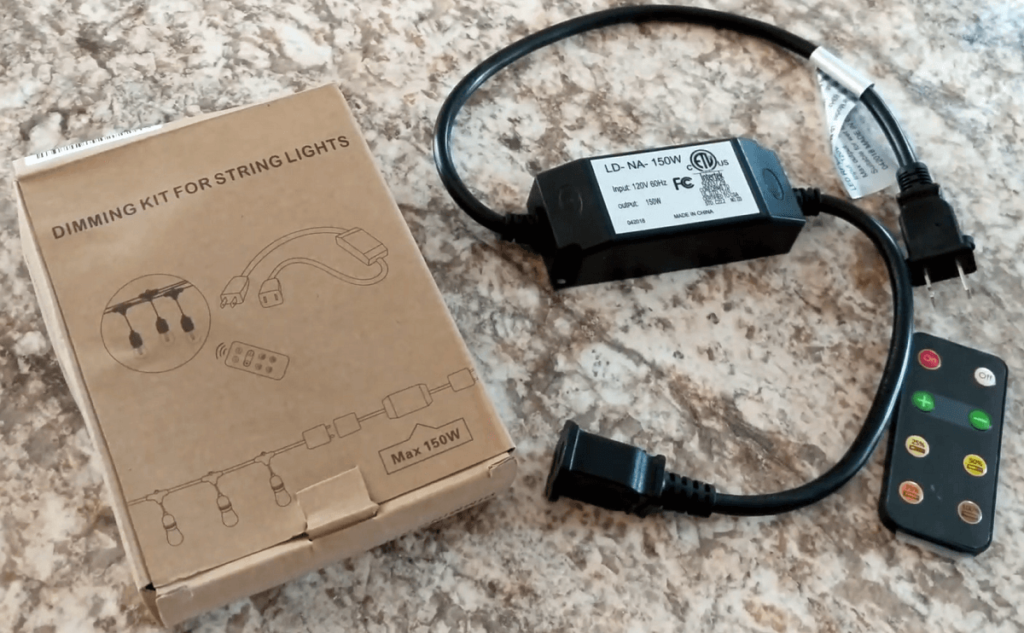 This waterproof option helps create the perfect lighting experience. The Newpow Outdoor Dimmer features a switch that turns it on and off and is specifically designed to be used primarily with string lights. It has a memory function that helps your settings stay at continuous power if needed.
The Newpow model has been known to catch fire if the maximum overload is exceeded.
Features
Brand: Newpow
Color: Black
Cord Length: 6-foot total
---
Palawell Outdoor Dimmer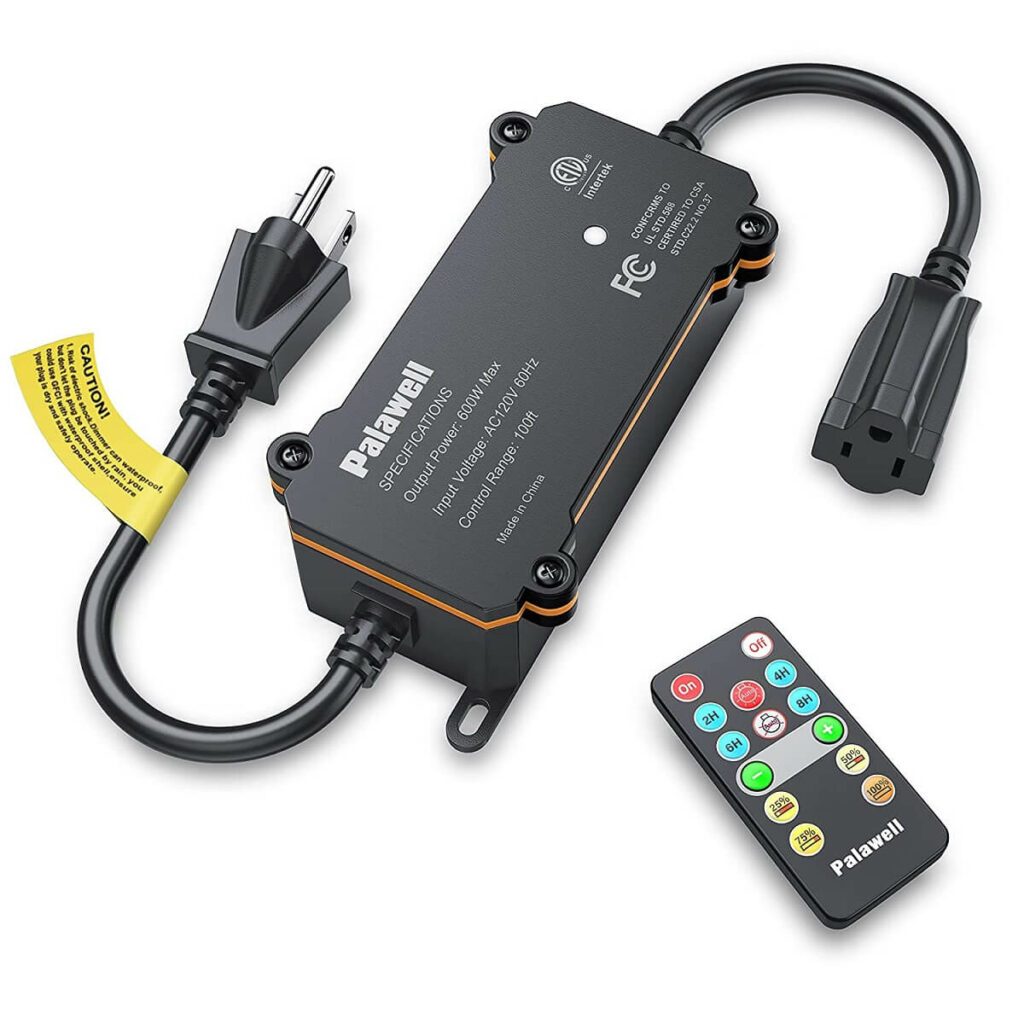 As a high-quality outdoor dimmer switch, this Palawell model offers an amazing experience for the user. It is one of the few dimmer extension cords that features a remote. This allows you to control the brightness down to the percentage, up to 100-feet away.
The dimmer has timing capability that enables the lights to automatically turn off and on.
It also has a much higher output level of 600W than other dimmer switches that come in at 300W. Reviewers have mentioned that this will handle just about anything you can plug into it – and it gives you room to grow.
Users also enjoy the waterproof qualities in locations that experience a lot of rain, noting that the IP65 rating means there's no reason to worry that it might be affected by the elements.
Features
Brand: Palawell
Color: Black
Cord Length: Short (not listed)
---
Final Thoughts on Outdoor Dimmer Extension Cord
The perfect lighting can help create a special moment, whether with family, friends, or your significant other. With many lighting options to choose from, an outdoor or indoor dimmer extension cord is easy to set up. It optimizes your energy savings by allowing you to use only the amount of light you need without compromising the experience.
Technology has made major strides within the last decade. Whether you are mounting your dimmer extension cord in the garage, in your home, or outside, it is a practical and functional addition to any home. With the right amount of light at the touch of a finger, you will enjoy the multiple benefits of a dimmer extension cord that accommodate your individual needs.