An outdoor GFCI extension cable is an essential safety device for every household. The only problem is how do we know which is the best for our needs? Most of them look the same and have specifications that may be too technical to understand. In this article, we will break down some of the latest offers in the market and what they can do for you. After that, we will give you our best pick.
What Does GFCI stand for?
GFCI stands for "ground fault circuit interrupter." As the name implies, the GFCI extension cable detects ground faults, which occur when electric current leaks onto the ground, a situation that could be fatal in wet areas. You can use this device both indoors and outdoors.
Best GFCI Outdoor Extension Cords
Don't stress about which extension cord to buy. We've compiled a list of the best GFCI cords available.
3-Prong GFCI Extension Cord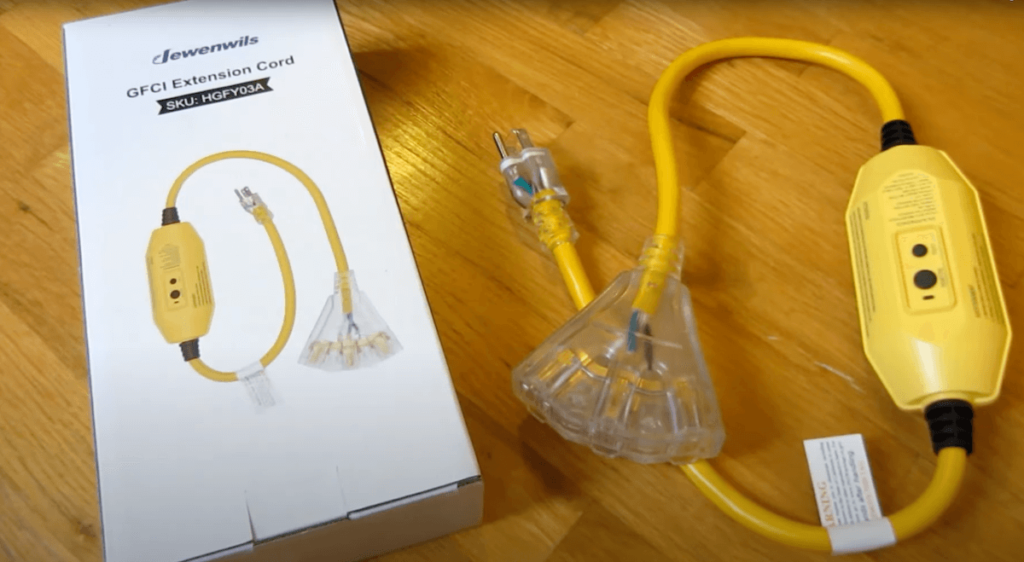 This 3 Foot Lighted Outdoor Extension Cords with 3 Electrical Power Outlets is an all-purpose outdoor and indoor extension cable that can be a household appliance or an outdoor appliance for landscaping. It is also exceptionally durable with reinforced blades to avoid bending and breaking. Its flexible vinyl cover also protects it from abrasion, sunlight, and moisture. The use of light gauge strands for conductors within the cable contributes to this flexibility.
All this effort put into durability is why this cord has a lifetime warranty. It also has impressive lighted sockets that mean the female end lights up when the cable is powered. It has three outlets in 1 that function for multiple simultaneous uses. It has an input current of 15 Amps and voltage of 125V in addition to UL listing.
Highlights:
Durable reinforced blades
Lifetime warranty
Slip-resistant socket design
It may cause sparks
---
Electriduct GFCI Extension Cord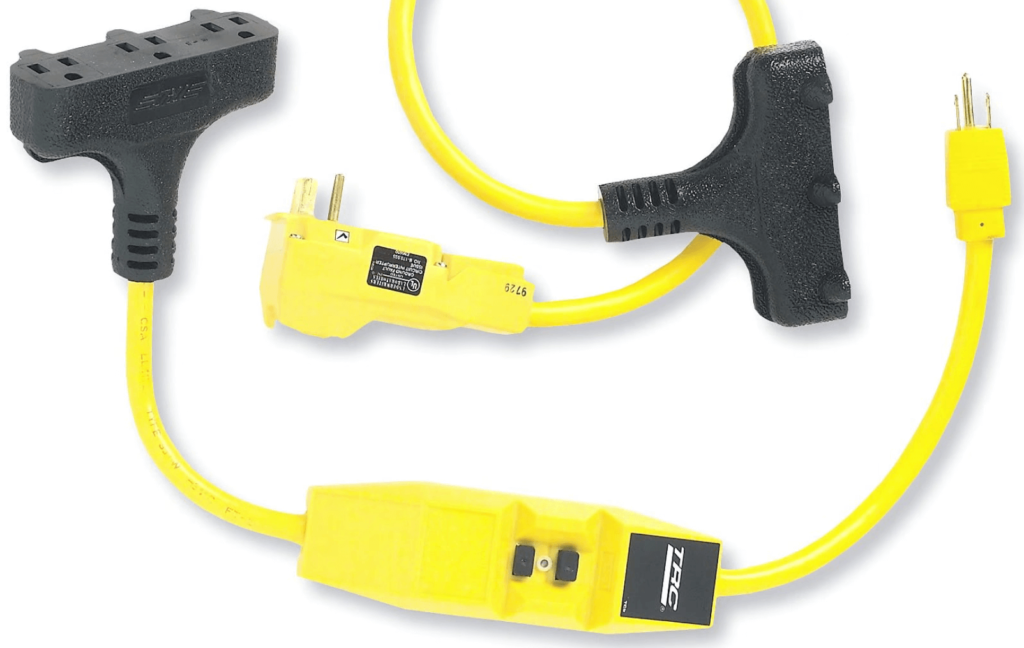 This Electriduct GFCI Cord is a class A GFCI cable. It is made specifically for the outdoors with waterproof covering and UL listing. Plus, it boasts impressive reviews and a durable design created to endure the elements. You can find it in electric power washers and aquariums placed indoors or outdoors, providing 100% safety while working with powered devices such as these.
Highlights:
Portable GFCI cord
Automatic reset
OSHA compliant
NEMA 5-15 P&R connectors
Heavy and bulky
---
ELEGRP GFCI Extension Cord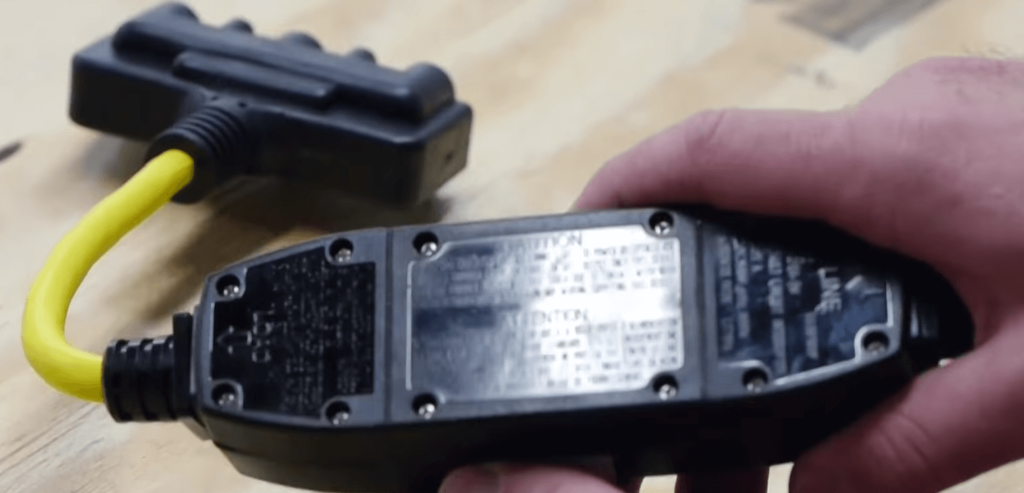 The ELEGRP 15 Amp Auto Reset Extension is a heavy-duty, yellow pigtail cable with three wires, prongs, and power outlets. The maximum power output offered by the three outlets is a decent 1875 W (15A, 125V), and it combines this with a grounded type B plug of 125V and 15 Amps. It's suitable for both indoor and outdoor use and is UL listed.
The surge and lightning protection on it is also some of the safest available in the market. The ELEGRP cord can withstand a spectacular 6 kilovolts and perform beyond the expectations of UL testing standards. The cord also combines the durability offered by both polystranding and SJTW copper cabling. You can use it for both outdoor and indoor purposes.
Highlights:
Water-resistant
Versatile
Easy to use with clear instructions
Modern design
It produces a lot of noise
---
SJTW Indoor/Outdoor Extension Cord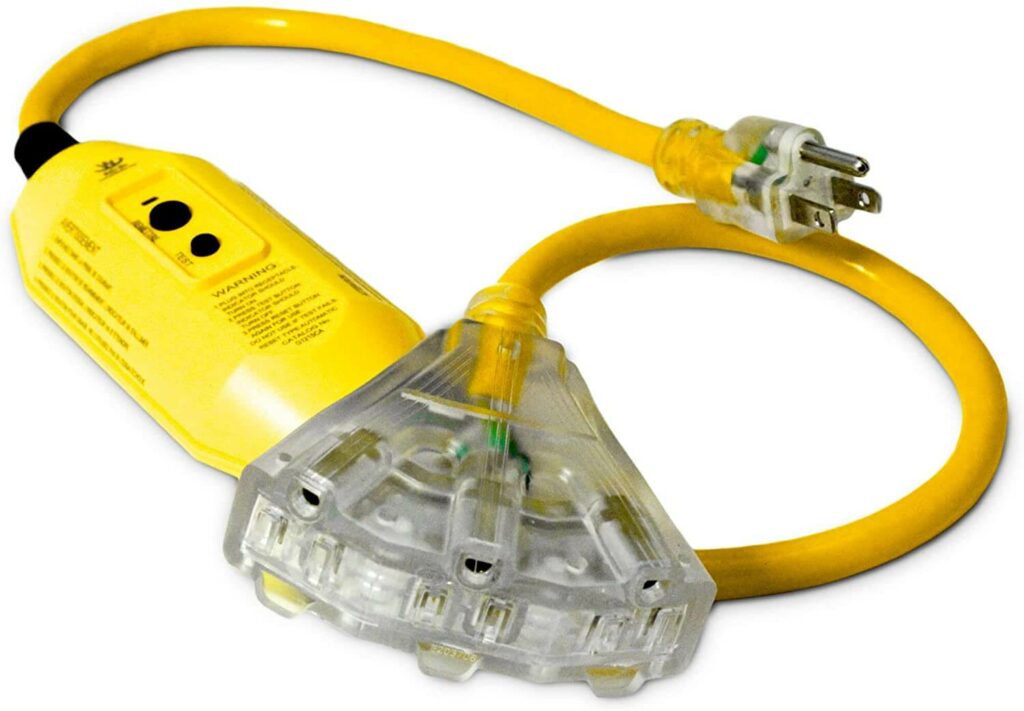 If you need maximum extension and quality, this 50-ft 3-outlet SJTW Extension Cord is the way to go. This option is one of the best designs from Watt's Wire with a 12-gauge grounded 15 Amp GFCI power cord that can handle any device and any environmental conditions. It also comes in lengths of both 100ft and 3ft.
This extension also has excellent durability with unbreakable NEMA 5-15 plugs and cords strengthened with poly strands. These poly strands give the cords the capacity to support up to 150lbs with no damage. They are also double-jacketed to prevent the marring of walls and floors.
Highlights:
SJTW thermoplastic suitable for -40°F to 130°F
Multi-tap pigtail power splitter
The reset button needs to be switched on with every use.
---
Bonus Offer: Leviton Straight-Blade Automatic Reset Cord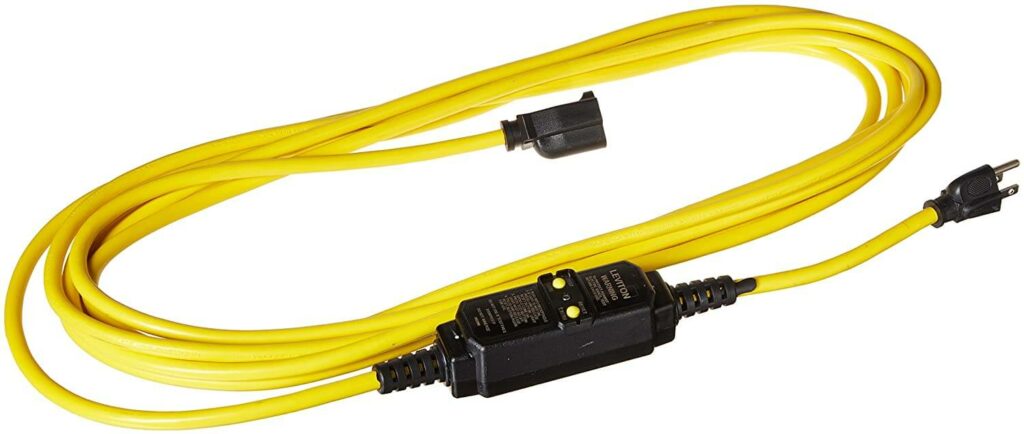 To make sure you get a cord that will serve you, here is the Leviton straight-blade, automatic reset GFCI cord. Although it only has one outlet, it is 25ft of reliable, durable, and damage-resistant GFCI protection. If you do not need all the extra outlets and have a little more to spare on the purchase, this would be the best buy. It is also light, making it portable.
Highlights:
Open-Neutral Protection
NEC and OSHA compliant
It comes in lengths of 2ft, 3ft, 6ft, and 25ft
Light-weight and easily portable
Price is a little high for a cord with only one outlet
---
How Does a GFCI Extension Cord Work?
Understanding how a GFCI Extension Cord works will help you understand all that we have discussed.
GFCI Protection
A GFCI cable has a sensor that monitors the flow of current. Once any irregularity is detected, its internal switch stops the current flow through the wires it's controlling. A good GFCI cable has sturdy insulation, a sensor, and a quick response switch.
Final Thoughts
The best GFCI extension cords offer long-lasting durability and assured safety. Poly stranding and SJWT copper cabling offer strength and resistance to bending. Multiple outlets also add versatility to your cable and are worth taking note of.
These cords are bright yellow for easy visibility. Although this may seem like an unnecessary measure for a safety device, it is best to take the extra measure.
The price of the cable is also a major factor, but cheaper is always more expensive. The best way to cut costs is to analyze your needs and get the best buy. This process ensures that you get what you need and avoid premature replacement. Premature replacement would upset anyone's budget.
With all this in mind, the best option would be the 3-prong GFCI extension cable. It is safe, durable, affordable, and UL-listed. It also comes with a lifetime warranty and has multiple outlets. This device will last long, serve its purpose and keep you safe.