Finding an outdoor extension cord that can endure the weather can be a challenge. While plenty of waterproof options are available, you might need an outdoor extension cord that will function flawlessly even in a downpour.
Look no further than our list of the best waterproof outdoor extension cords for your rainy day solution.
Our list includes various cord lengths and gauges for general-purpose and heavy-duty outdoor extension cord needs. Whatever the job you have in mind, there's a reliable cord that's up to the task.
Best Waterproof Outdoor Extension Cord
Here are the top options for the best waterproof outdoor extension cord, ordered by cord length.
Clear Power 15-Foot Waterproof Indoor/Outdoor Extension Cord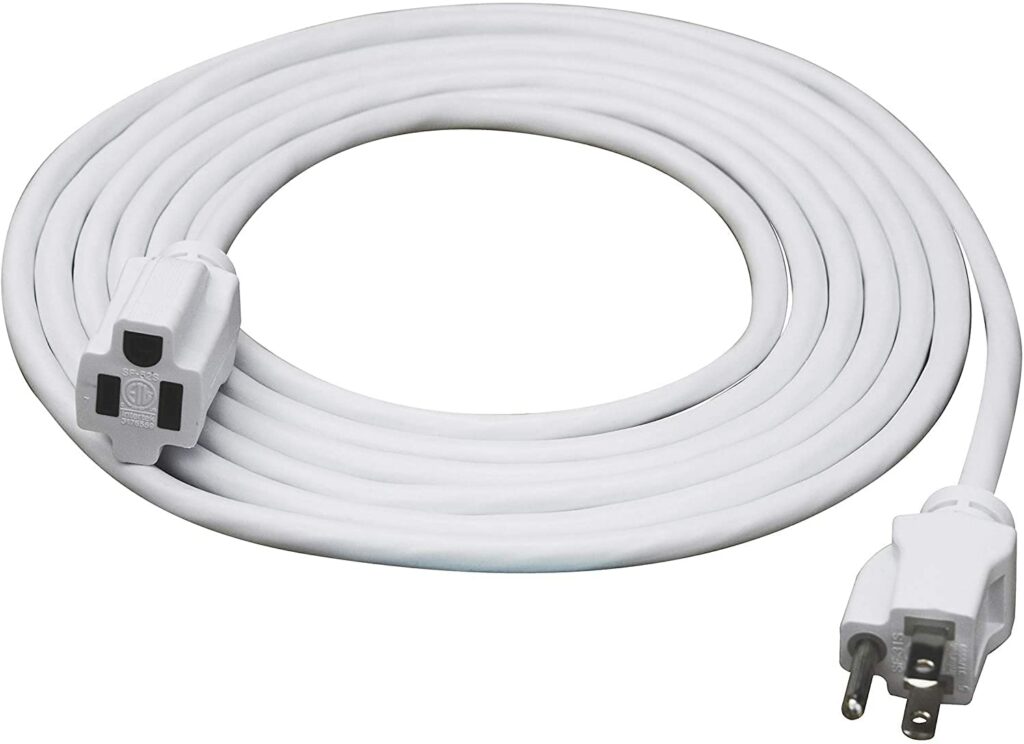 The general purpose Clear Power waterproof indoor/outdoor extension cord is available in various sizes and a few colors. But we're looking at the 15-foot white cord. Clear Power is an easy pick if you want an excellent value cord that does everyday outdoor jobs.
The flame retardant cord is water, ozone, and weather resistant. Clear Power uses quality materials, including 100% pure copper conductors and nickel-coated brass blades that resist corrosion. The plug is three-pronged and grounded.
The 16-gauge SJTW wire will retain some flexibility in fluctuating temperatures, from 40 degrees below zero up to 140 degrees.
HIGHLIGHTS
125V / 13A / 1625W
16 gauge
100% copper conductors
Variety of cord sizes and colors available
---
DEWENWILS 10-Foot Waterproof Outdoor Extension Cord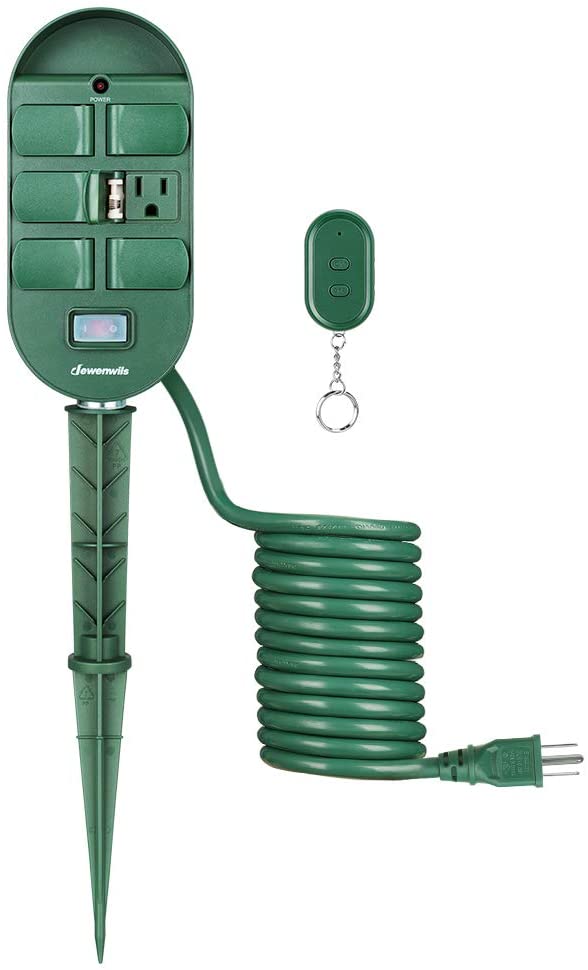 The DEWENWILS waterproof outdoor extension cord has a length of 100 feet. It includes a power strip stake, which eliminates the hazards of pooling water over uneven ground. There are six grounded outlets, each with a waterproof cover when not in use.
The sturdy cord is 14/3C SJTW weatherproof rated and made with fireproof PPE material to reduce fire risk. Other safety features include an overload protection switch and the raised stake wedge that protects the outlets from pooling water. It also received the safety seal of approval with UL certification.
You can use the remote control to power on/off the power strip up to 100 feet through walls, windows, or doors.
HIGHLIGHTS
125V / 15A / 1875W
14 gauge
Fireproof casing
UL certified
Remote controlled power
---
UltraPro 25-Foot Waterproof Outdoor Extension Cord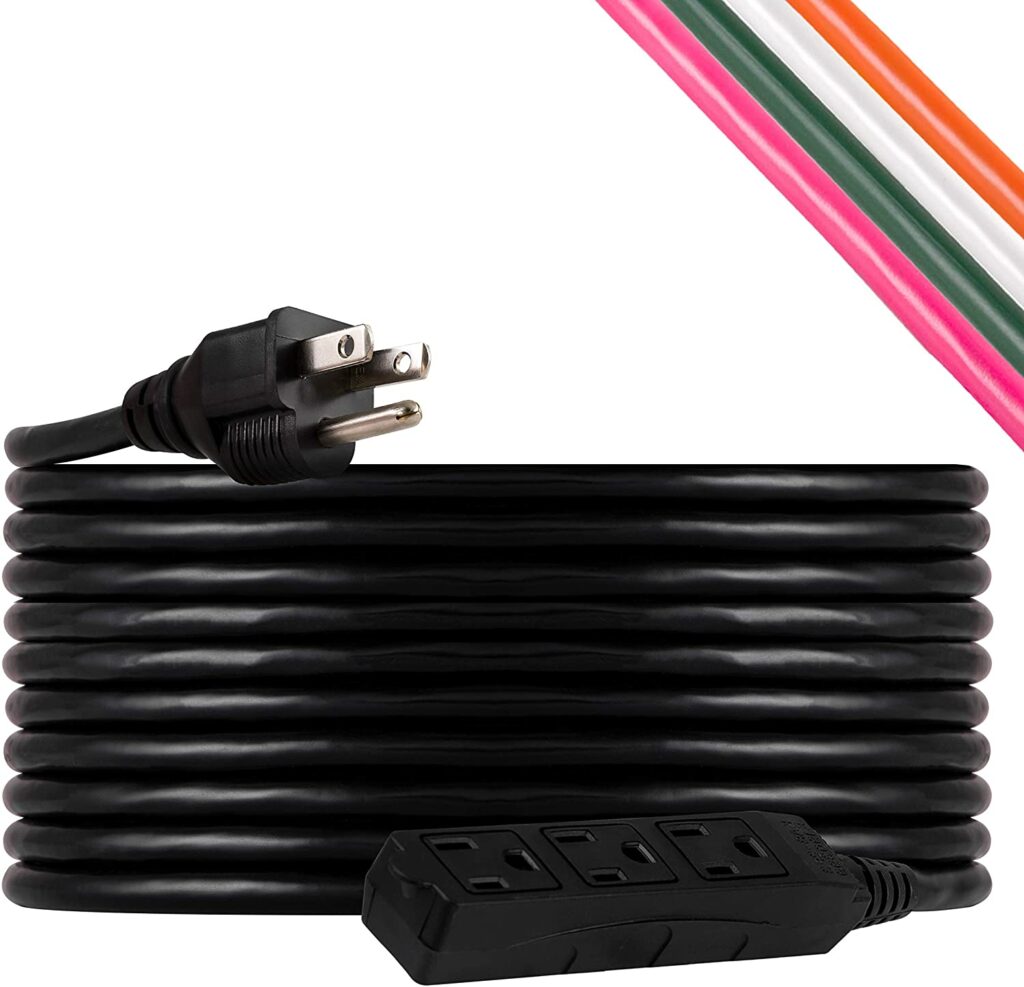 The 25-foot UltraPro waterproof outdoor extension cord comes as a single or two-pack in five colors: black, white, green, pink, and orange. There are four other sizes: nine feet, 15 feet, 50 feet, and 100 feet.
Double insulation, a one-piece molded plug, and an extra thick cord improve UltraPro's durability. A vinyl jacket protects the 16 AWG cord from weather and moisture. Also, the UL-listed label ensures safety standards.
The UltraPro is rated 125V / 13A / 1625W and adds three-prong outlets to any grounded AC receptacle.
HIGHLIGHTS
125V / 13A / 1625W
16 gauge
90-day limited warranty
Double insulation
Variety of cord lengths and colors available
---
Iron Forge 25-Foot Lighted Waterproof Outdoor Extension Cord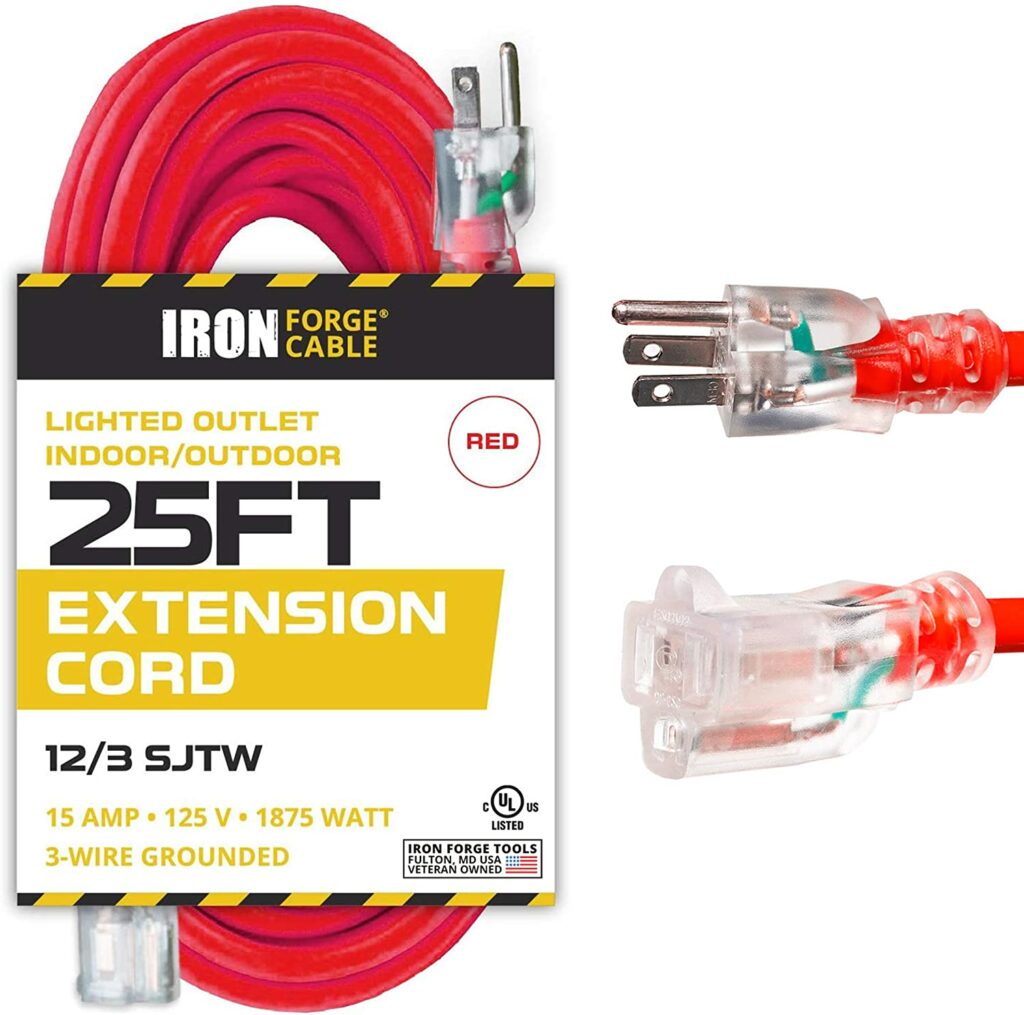 The Iron Forge 25-foot lighted waterproof outdoor extension cord has a nifty lit outlet end. When plugged in, you can spot it in the dark. Additional sizes include six feet, 10 feet, 50 feet, and 100 feet.
It's a 13-gauge, three-wire cord with thermoplastic insulation rated 15 amps / 25V / 1875W. The jacket is weather-resistant within a temperature range of 40 degrees below zero to 140 degrees, protecting the cord from sunlight, abrasion, and moisture. Another safety feature is reinforced blades that also add strain relief and slip resistance.
HIGHLIGHTS
25V / 15A / 1875W
13 gauge
UL listed
Reinforced blades
Additional sizes available
---
US Wire and Cable 100-Foot Waterproof Outdoor Extension Cord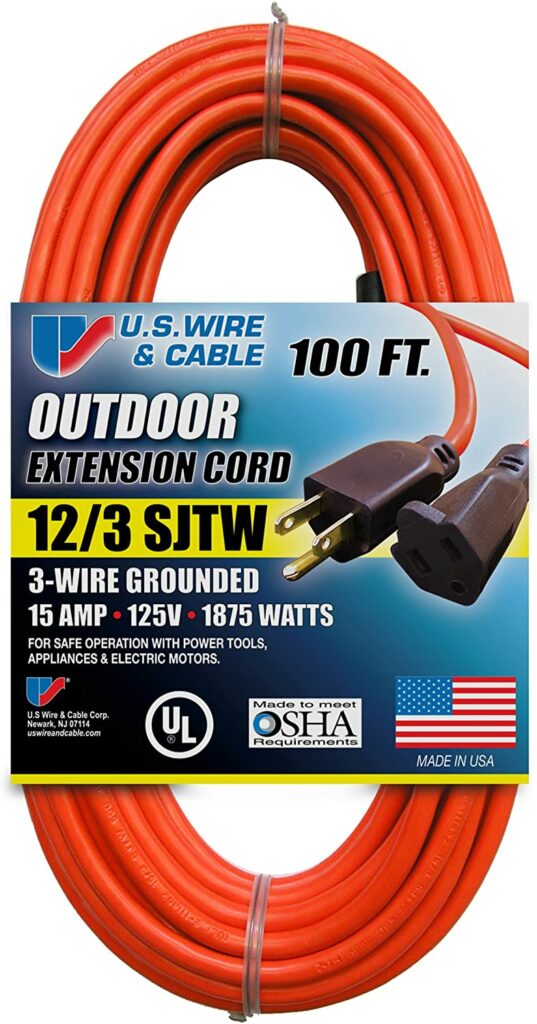 The US Wire and Cable waterproof outdoor extension cord is a 100-foot general-purpose cord. It's a heavy cord with medium flexibility. However, it's recommended more for water resistance than enduring cold temperatures.
The cord is UL certified and made to meet OSHA requirements. The conductors are individually insulated and then surrounded by a protective, moisture-resistant jacket. The 12-gauge SJTW is three-wire grounded and rated for 15A / 125V / 1875W.
HIGHLIGHTS
15A / 125V / 1875W
12 gauge
UL certified
Meets OSHA requirements
Lifetime limited warranty
---
How to Protect Outdoor Extension Cord from Rain
While our recommendations endure varying amounts of wet and temperature endurance, it's also practical to shield your outdoor extension cord and yourself. Waterproof cords are designed to repel water but can't handle submersion. So instead, try to place your cord on level or elevated ground.
It's also crucial to check temperature ratings. For most waterproof outdoor extension cords, there is some temperature resistance, but it can be limited. Even the best waterproof outdoor extension cord will wear out through time and weather.
Suppose you're wondering how to protect your preferred outdoor extension cord from rain when it isn't as moisture-resistant. In that case, you can use an outdoor extension cord cover.
Protecting your outdoor outlets from the rain is equally crucial. Many homeowners use outlets with pre-installed flip-up covers, but you might need to update them. Bubble covers are often better, as they shield a greater area and can also prevent cords from bending.
Conclusion
Those are our picks for the best waterproof outdoor extension cord. Which of our top picks solves your outdoor extension cord problem? Remember to check power recommendations as well as cord length, and you'll find the best option.