When you run electrical cords outside, you have two main concerns: you want to keep the connections attached and everything to stay dry. If a meterman walks through the yard or your children are playing in the grass, they might catch cords on their feet and inadvertently disconnect them. A worse problem is when it rains because nearly everyone knows that water and electricity do not play well together.
Why Cord Covers Are Necessary
Perhaps the most common use of outdoor extension cord covers is with your holiday light displays. Those who put up these light shows need power – sometimes lots of it – and turn to extension cords to run power to every last light bulb.
But plugging two extension cords together and stringing it all across the yard can be unsightly. Still, more importantly, it can be dangerous, especially considering the whole water-and-electricity comment above.
Having an extension cord cover will protect the plugs from water and hold them in place and keep them from getting accidentally unplugged.
What to Look for in a Cord Cover
Depending on where you're running your cords, you may want to use a heavier-duty cover. Commercial plastics will stand up better to an errant weed eater or a rock launched from a lawnmower. Lighter-grade covers work well for indoor applications where keeping the cords together is more crucial than water resistance.
Deciding on the cover you need takes a little consideration, so we've put together a buyer's guide to give you some highlights of the good products out there. You'll find a cover that fits your needs listed below, and you can rest assured that these are all quality choices.
For Single Cords
Perhaps the most common use of extension cord covers is to protect one cord where it's plugged into another. There are many choices out there, but some of the more durable ones are listed below.
Flemoon Outdoor Extension Cord Safety Cover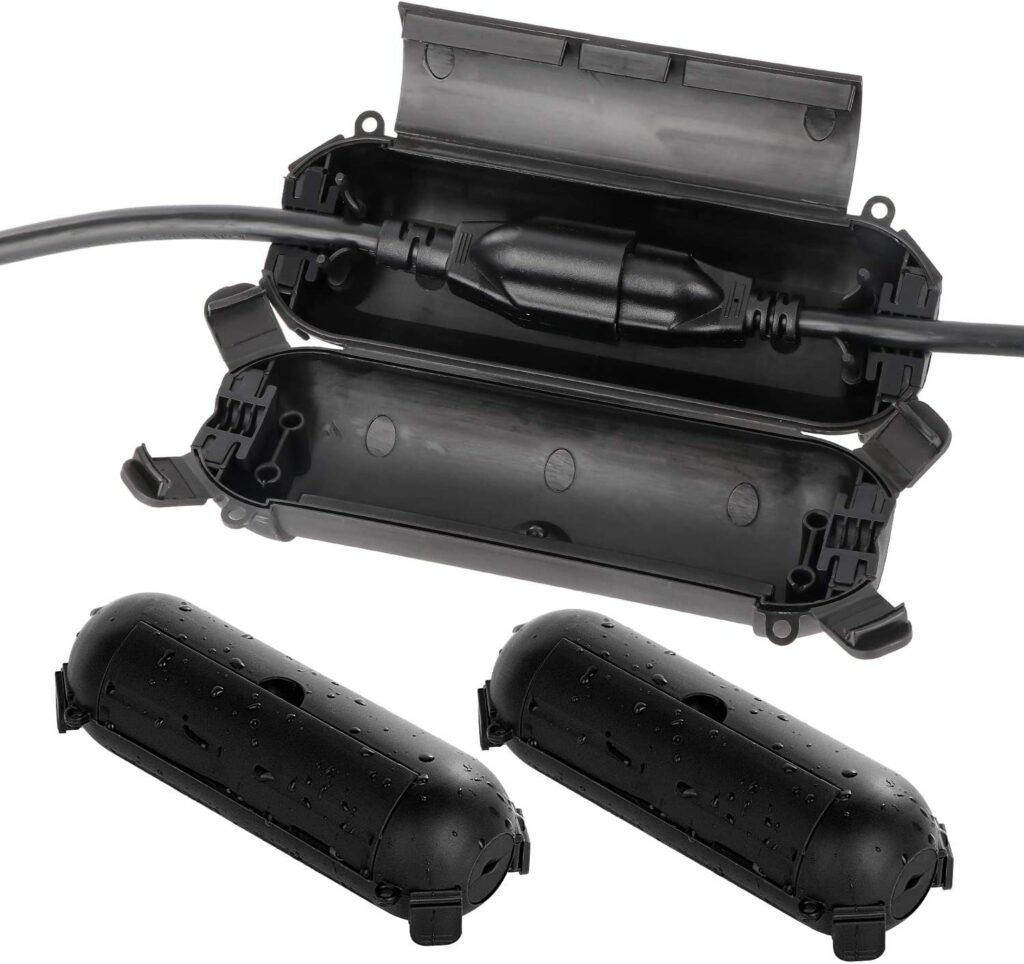 This one may be the best value because it comes in a three-pack, but also because it's one of the few out there marketed as a waterproof outdoor extension cord cover waterproof rather than simply water-resistant. There is a difference, and depending on your needs (and what the weather is like where you live), it may be an important one.
Like most models serving this same purpose, the Flemoon cover has a clamshell design. It's black, so if you're hiding it in the shadows of your landscaping, it will go unnoticed.
Inside, along with its waterproof seal, the Flemoon cord cover has notches for the extension cord to rest in, which serve the purpose of catching on the plugs to help keep them connected.
It has plastic rings on it for mounting, leading to another great feature: the relatively low weight. Mounting or hanging it from a wall or eave will be easy, and without lots of weight involved, the unit won't pull itself down any time soon.
HIGHLIGHTS
Safety seal makes this waterproof, not just water-resistant
Rubber gaskets at the cords' entry points keep moisture out
Accommodates 14-, 16-, and 18-gauge cords or braided wire
---
Twist and Seal Maxx Outdoor Extension Cord Safety Cover Connector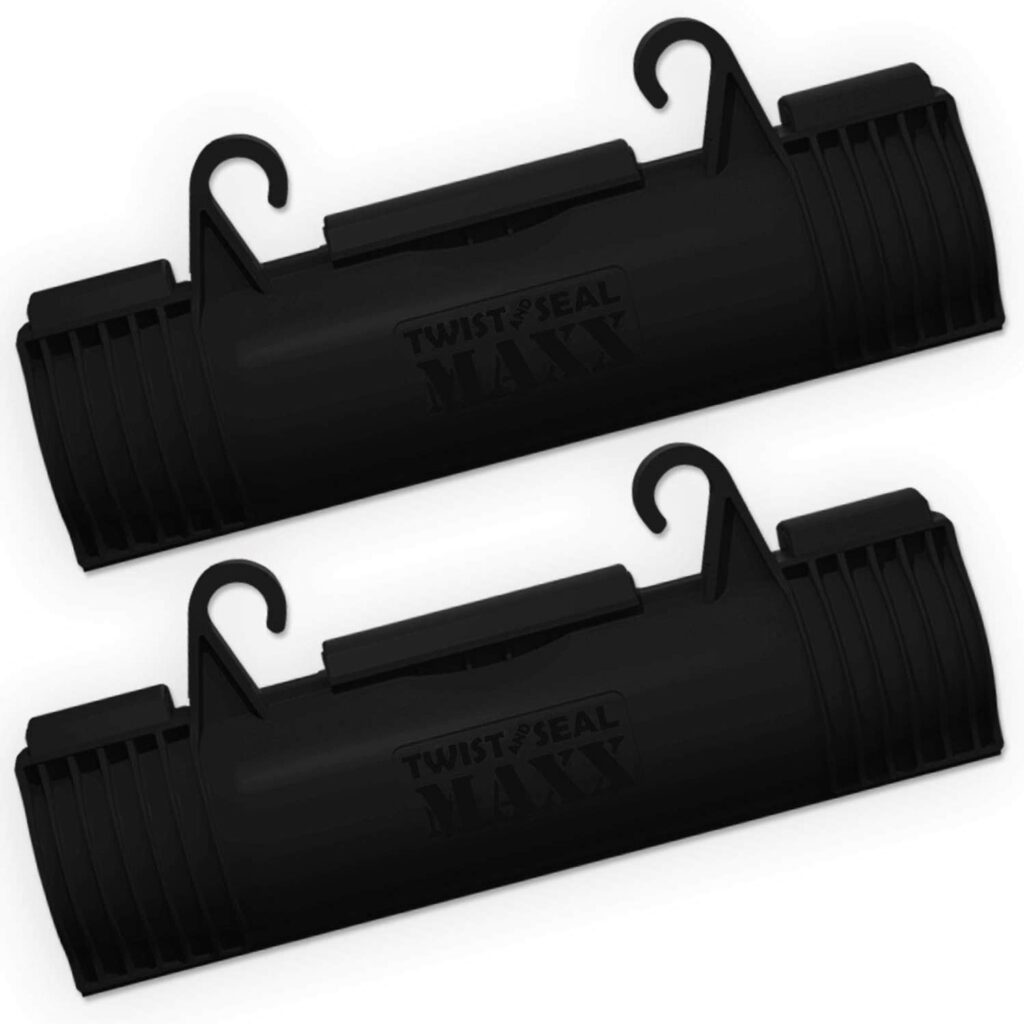 Available in black, green, and orange, Twist and Seal's Maxx cover has large hooks called "cord relief horns" designed to hold the cords in place better, in the same way you often tie a knot in two cords you're joining to help keep them from pulling apart as you work.
It comes in a two-pack and can accommodate extension cords as large as 10-gauge. Couple that with its commercial-grade plastic, and you've got yourself something we can consider a heavy-duty product.
The only reason this outdoor extension cord cover doesn't land in the number one spot is that it's not labeled as waterproof but rather weatherproof. Other than that, this cover is every bit of cover you could need, provided "waterproof" is not a requirement.
HIGHLIGHTS
Able to house the larger 10- and 30-amp connections on heavier-duty cords
Commercial-grade plastic offers UV protection
Available in black, green, or orange for different project needs
---
CalPalmy Extension Cord Protective Cover Set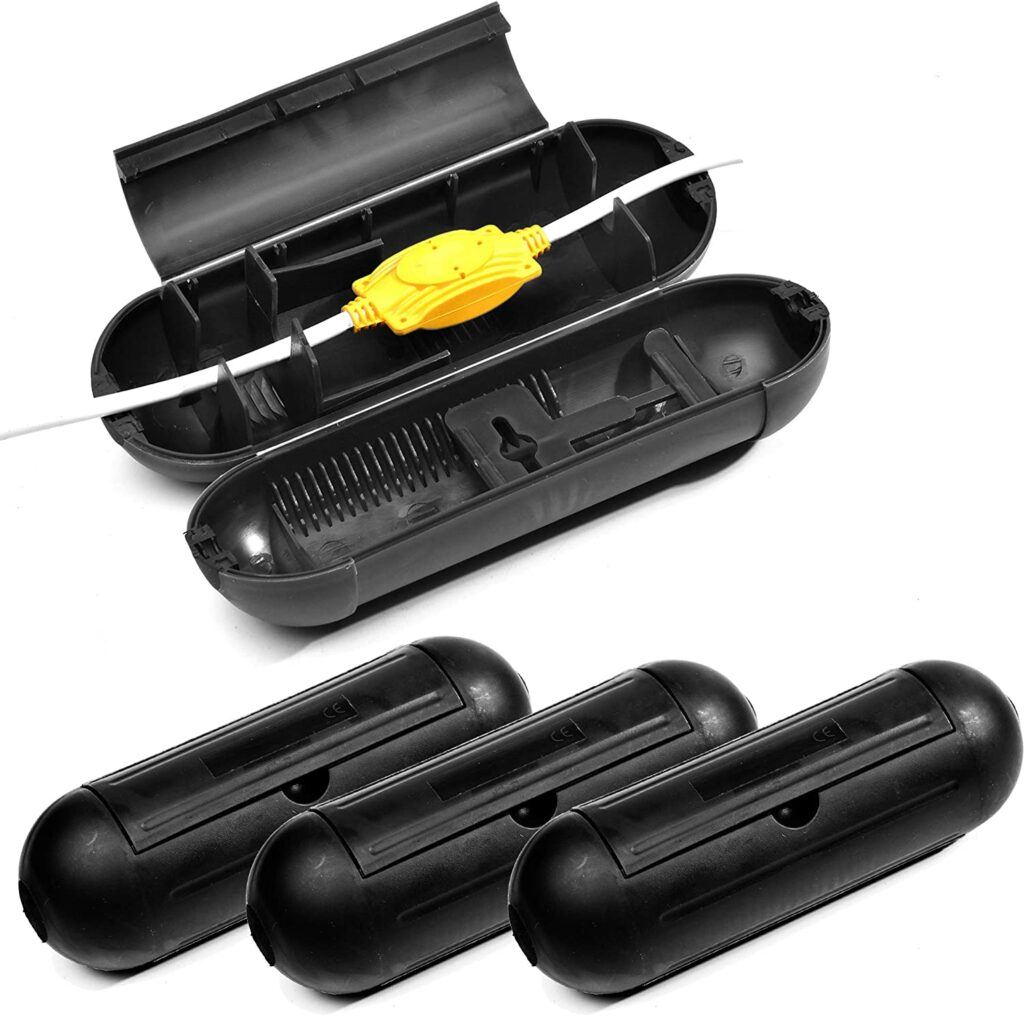 The main differences between this unit and the Flemoon cover are that this one comes as part of a four-pack for added value, but the drawback is that it is conspicuously labeled "weather-resistant." Now, if you're not expecting torrential rains, this may work for you. It will almost certainly be adequate for your Christmas light set-up.
But if you live in a flood-prone area, you may rethink this as an option, as there exists the possibility of the cover ending up submerged at some point, and it is at that point that you want waterproof as opposed to weather resistant. But if you're looking just to keep water from your sprinkler system or the occasional rain shower off of your electrical connections, this will work well for you.
HIGHLIGHTS
The unit's rounded shape discourages water from collecting on its surface, contributing to its water resistance
Rubber seals on all its edges hold moisture at bay
For lighter-duty cords, this can accommodate up to a 12-gauge cord
---
KOVOT Extension Cord Safety Cover Protector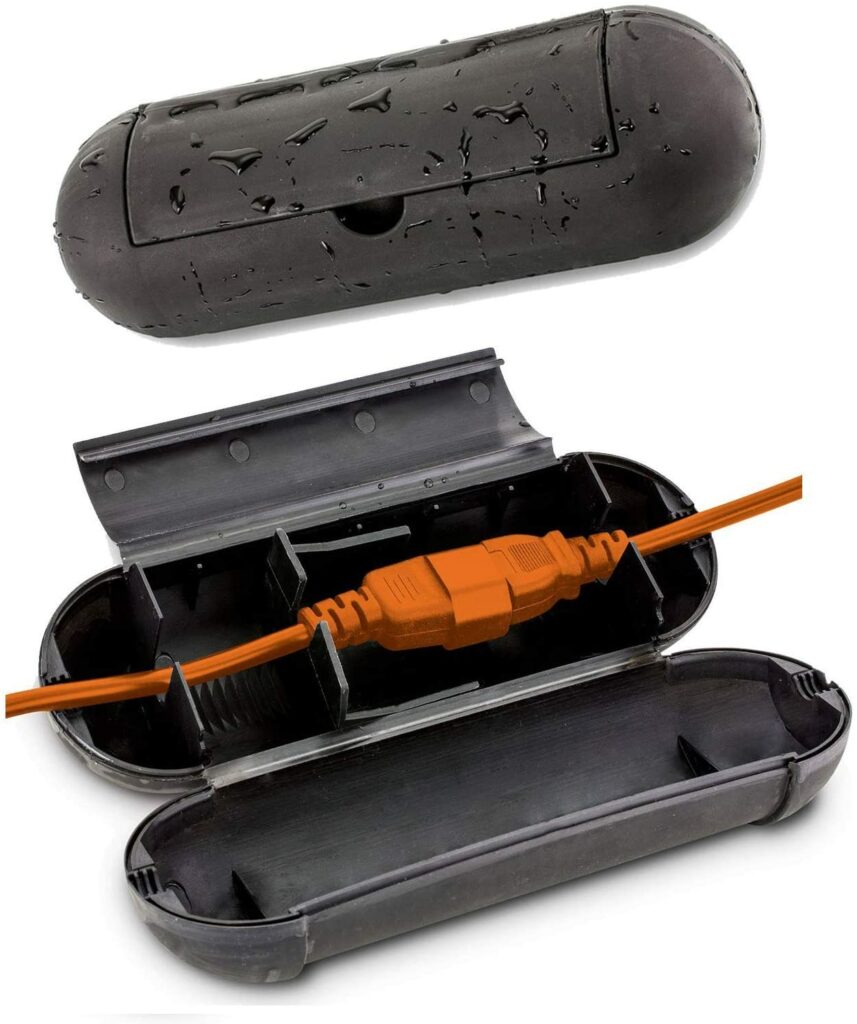 Another clamshell design like the previous two, KOVOT's model is another in the water-resistant column of cord covers. Made of commercial-grade plastic with a rubber seal, the KOVOT cover also features removable dividers inside to accommodate different wire gauges and sizes of plugs. It will even fit a 12-gauge extension cord.
This unit is another one that would work very well for outdoor Christmas light displays. It is available in two- and four-packs, and had this one been rated waterproof, it likely would have earned praise as the best outdoor extension cord cover. However, this is still a solid choice without that versatility, again, depending on your needs.
HIGHLIGHTS
Comes in a two- or four-pack
Specified as helpful indoors and out, which means this is a lighter-duty unit
Rubber seal aims to repel snow or water from the cords inside the unit
---
Covers for Multiple Connections
If you're running a couple of inflatables, or you simply have tons and tons of lights to power, you may be in the market for an outdoor extension cord cover that can protect more than just one plug at a time.
Dewenwils Outdoor Extension Cord Cover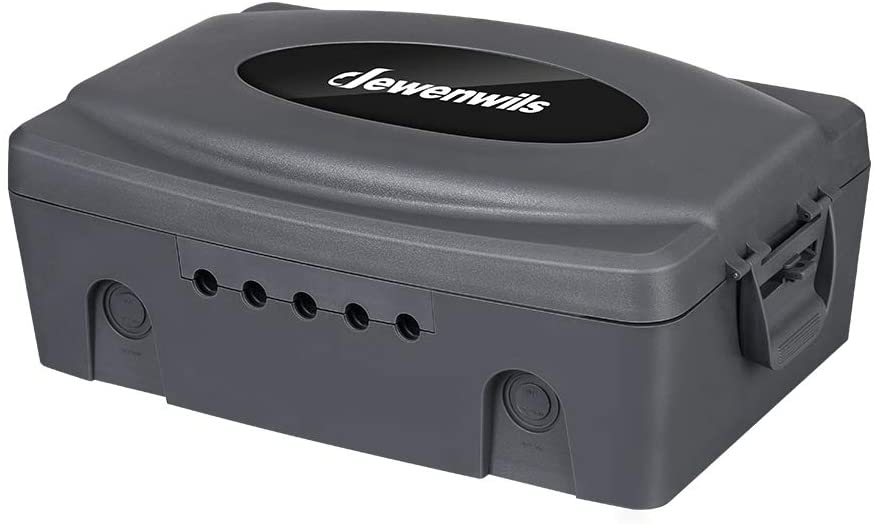 This outdoor extension cord cover may be more accurately described as a power strip cover. Built to house a six-outlet power strip or surge protector and 12-, 14-, and 16-gauge extension cords, Dewenwils's box is weatherproof and water-resistant. It's available in grey or black.
Cable retention clamps hold everything in place as the cords run in and out of the box, providing for some measure of set-it-and-forget-it. Those same cord holes have rubber seals around them to help with keeping moisture away from your power strip and plugs. It also has fixtures to allow for mounting on a wall as needed without having to drill holes in it, which would also circumvent the weatherproof qualities of the box.
HIGHLIGHTS
Shockproof plastic provides a very sturdy home for your cords and power strip
Large closure latch allows you to lock the box closed
Mountable, so it can work hanging on a wall next to the pool or lying hidden in your garden
---
Taking Care of Your Cords
You'll want to spend the effort to get some outdoor extension cord covers for safety and peace of mind. Protecting electrical connections from moisture might be electricity 101, but it bears repeating that getting them wet is extremely dangerous.
Trip hazards exist around extension cords, as well, and covers like these listed can help minimize those hazards and keep the plugs from being jerked apart in the event a foot gets caught on a cord.
And you might even want to get an outdoor extension cord with a switch, To help with over heating.
Final Thoughts
There are only so many variations one can come up with when it comes to outdoor extension cord covers, so when you're choosing one for yourself, consider where you'll use it, what your climate is, and the size of your extension cords. As with just about anything in life, proper planning makes everything work out better. Use this buyer's guide to help you decide the features that will best suit your needs.