In a perfect world, you would never need to use a 240-volt extension cord, simply because there would always be a socket where you need it. Of course, this is rarely the case. Even in a custom-designed home you will eventually add or move items, changing the dynamics of the space.
The simple answer, when your appliance doesn't have a long enough cord, is to use an extension cable. But, before you rush to the store and grab the first one you see, you should be aware that extension cords can be dangerous.
The Danger Of A 240 Volt Extension Cord
Extension cords are simply several copper wires inside insulation and wrapped in a piece of plastic. The design is pretty straightforward. But, as electricity passes through the individual wires, it creates heat. The greater the heat the higher the possibility that the surrounding insulation and plastic will melt. This causes short circuits and house fires.
The most common reason why this happens is that the extension cable has been incorrectly sized and is overloaded. Put simply, you have too many items plugged in drawing too much current. Or, the cable has been left coiled, allowing the heat within the wires to build up faster and start a fire.
Consideration Before Buying
Before you part with your hard-earned cash and choose any extension cable, there are a few things that you should consider, it will help you to choose the perfect 240-volt extension cord:
Knowing the safety risks associated with a 240-volt extension cord means it is particularly important that you choose the manufacturer carefully. This will ensure that you can trust the quality of the materials used and that the extension cable is as described.
When choosing your extension cable it is best if you already know and have had a positive experience with the manufacturer.
But, if this isn't the case you can ask family and friends what they know about a specific manufacturer. If that doesn't help you can look for information on social media, online forums, and guides like this one. It is the most effective way of getting honest feedback and choosing the right extension cable.
The next thing to consider is how many sockets does your extension cable need. You can purchase extension cables with just one socket, or as many as eight sockets. However, you should remember that most household circuits are designed to take eight sockets and no more, having that many on the extension will increase the likelihood of overloading the circuit and causing issues.
The best approach is to decide how many sockets you really need and stick to that number.
This is a fairly obvious consideration. The point of an extension cable is to effectively move an electrical outlet from one place in the room to another. To do this you need to know how long the distance is, including laying it around shapes and structures in your room. After all, you want it to look tidy and not to be a trip hazard.
Getting the length right is important, if it is too long the cable will end up coiled, increasing the risk of a fire.
The wire inside a 240-volt extension cord comes in a variety of thicknesses. This is referred to as the gauge of the wire, the thicker it is the more current it is capable of carrying. To reduce risk it is better to choose a lower gauge wire.
Gauge is referred to as an AWG (American Wire Gauge) number. The lower the number the thicker the wire and, therefore, the higher the current it can handle.
Don't forget that distance makes a difference. The longer the cable the more the voltage will drop. To decide the minimum rating you need to know the amperage of your appliance.
For example, an 18 AWG cable will be rated at 5 or 7 amps and can effectively deliver this up to 25 feet. But, thanks to voltage drop, if you use a 50ft cable you will need a 16 AWG to deliver the same amount of amps.
You should spare a few moments to consider whether your 240-volt extension cable needs surge protection, or not. Most modern circuit boards use circuit breakers which react very quickly when there is an issue with the electrical circuit. However, they may not react quick enough to prevent surges in electricity, which are much more common than you may think.
Fluctuations in the power supply can cause damage to electronic components, especially those with sensitive chipboards. If you are using sensitive or expensive equipment, surge protection built into your extension cable should be considered essential.
The Best 240-volt Extension Cables currently available:
Plugrand 1.8 M Extension Cable – The heavy Duty Option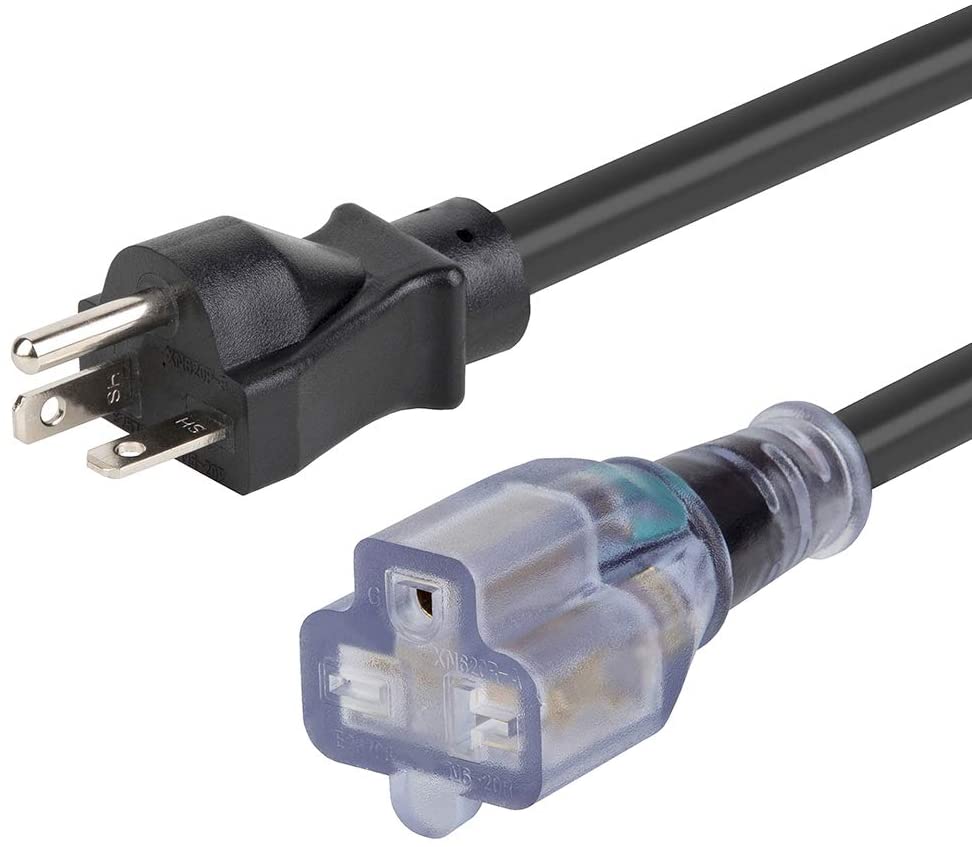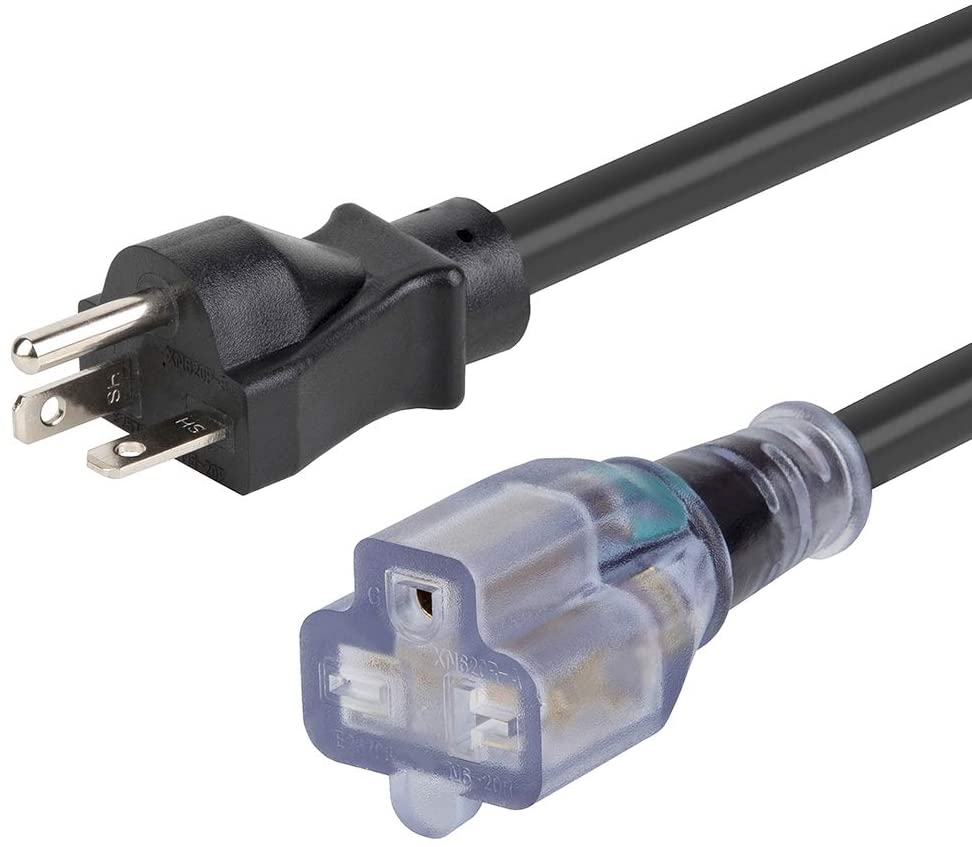 The Plugrand 1.8m extension cable offers a single extension point rated at 20 amps. It uses 12AWG wire making it a heavy-duty cable capable of handling high-powered appliances, such as air conditioners. 
The cable itself is smart-looking with a standard Nema 6-20P plug and a transparent female socket with the same design. It is 1.8m -6ft) long, allowing you to move items roughly halfway across most rooms.
The inner 12 AWG wire is copper with full insulation and a soft black PVC jacket, ensuring you can safely plug any item in. This is a well-built, high-quality, and durable 240-volt extension cable that is worth considering.
---
Amazon Basics Extension Cord – The Budget Option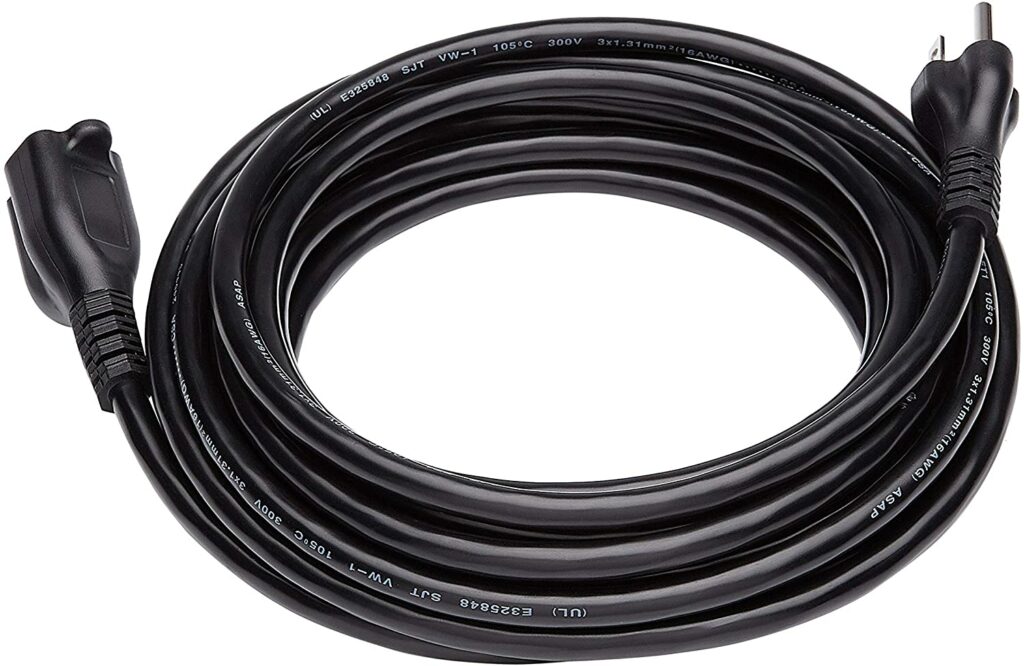 If you are looking for the cheapest durable and safe 240-volt extension cable then it is time to consider the Amazon Basics extension cable.
This option is available in a variety of lengths, ranging from 90cms (3ft) to 7.5m (25ft). That means you are certain to find a cable long enough for your needs, regardless of how much cable you need. The cable is black molded plastic, even the plug and socket are molded with grips to reduce stress on the connections.
It has a standard male plug at one end and a female socket at the other. Again, this 240-volt extension cable only offers a single plug. The cable is rated at 16 AXG, offering 13 amps of power. That is enough for most normal household appliances. The inner wires are copper and fully insulated for safety.
---
Houseables Extension Cable – The Commercial Option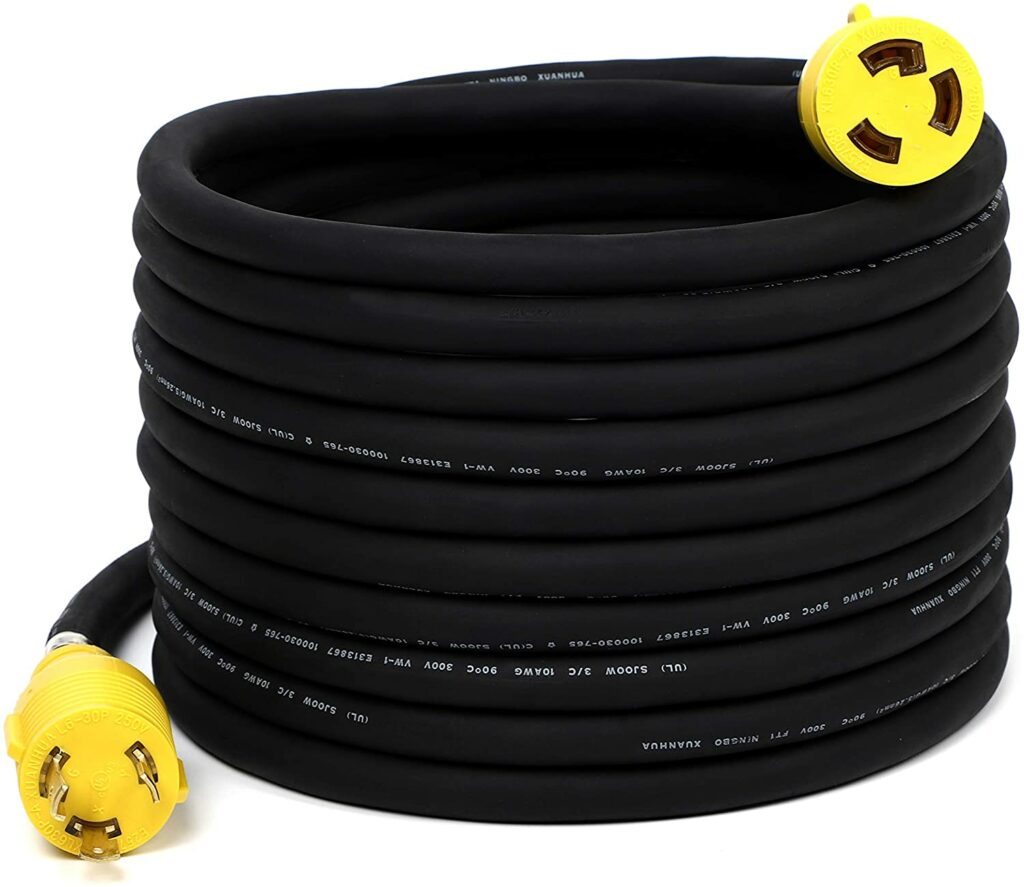 If you are looking for a long 240-volt extension cable that can be used inside or out and can handle huge amounts of power, then look no further! The Houseables extension cable is 7.5m (25ft) long and rated at 30 amps. It uses 10 gauge wire with three conductors and a standard three-pronged plug. The cable itself is rubber for strength and safety and it incorporates a locking mechanism. That prevents the appliance from accidentally being disconnected.
It can be used for almost anything and even functions will in sub-zero weather. In addition, the rubber cable gives the extension cord more pliability, allowing it to flex safely around any corner or across any surface.
---
Maxico Multi-Point Extension Cable – Best When More Than One Socket Is Needed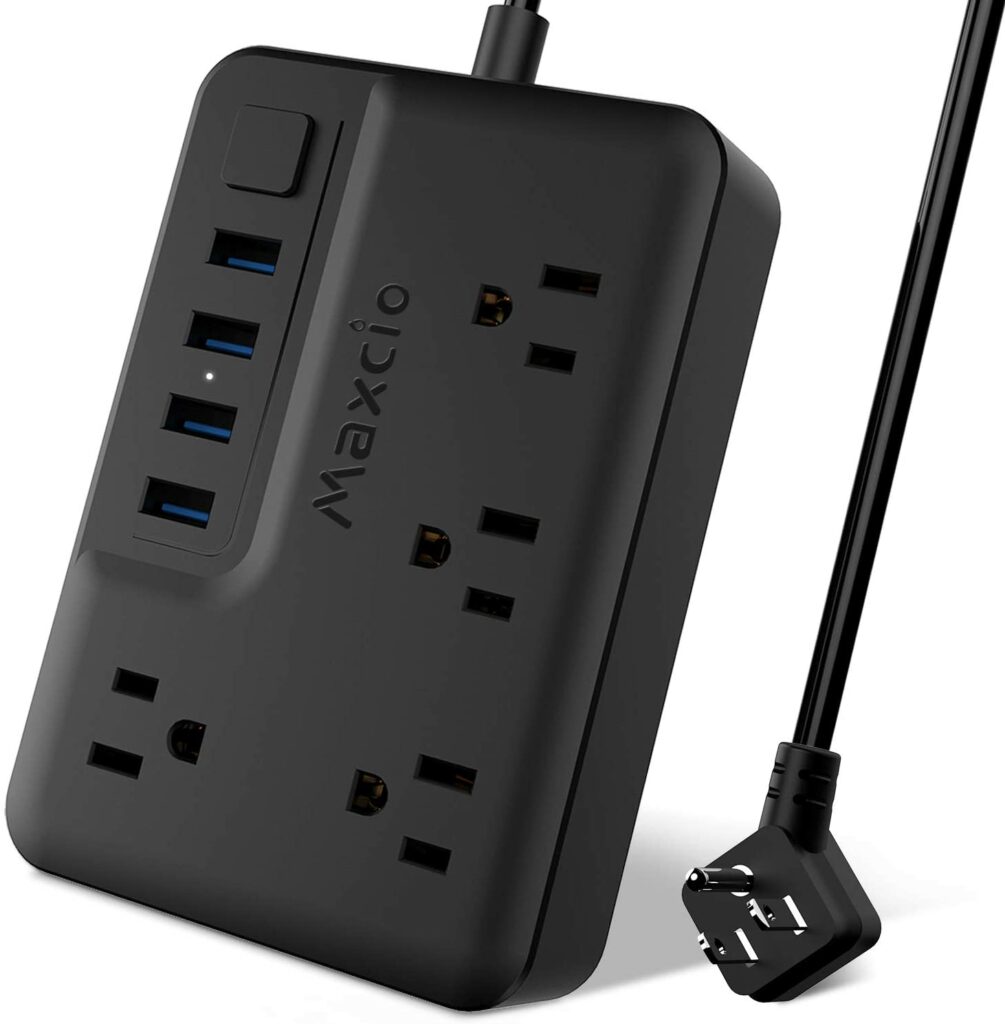 If you are in the market for an extension cable that will allow you to plug multiple items in then this offering from Maxcio could be perfect for you. It has a standard male plug at one end and four female sockets at the other. The simple black box also incorporates four USB ports, allowing you to charge a variety of items with ease.
The extension is rated at 10 amps and can handle 1250 watts. The USB ports offer 4.8a/ 24W charging but they don't support quick-charging technology. It is also important to note there is no surge protection on this stylish extension cable. However, the cable and sockets are fireproof up to 750°C, which should help!
---
Nton Power Extension Cable – Best For Surge Protection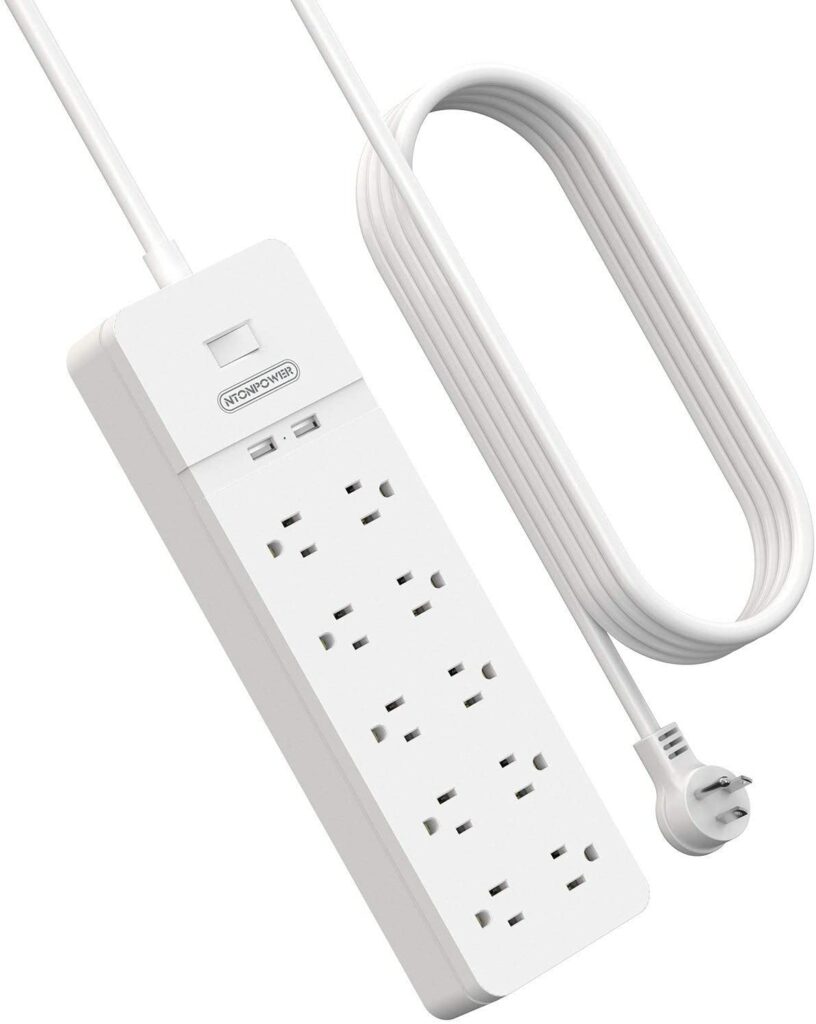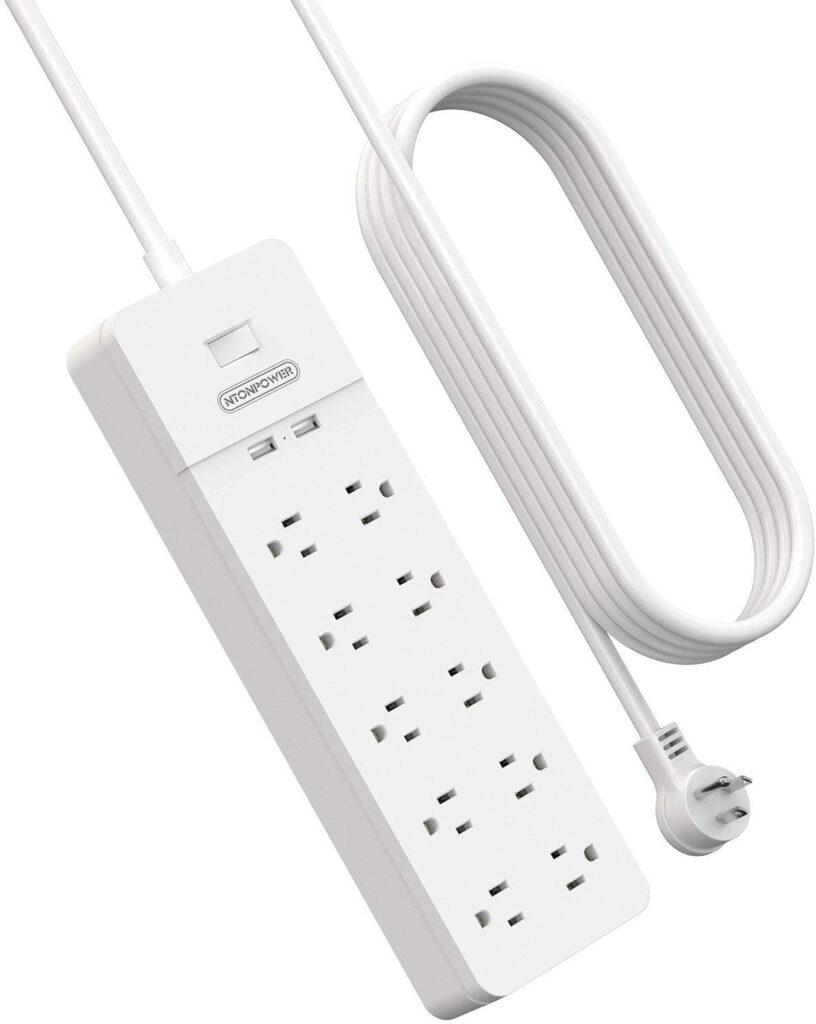 When you need multiple sockets and surge protection to protect your delicate appliances, then you should consider the Nton Power extension cable. This stylish white cable is 4.5m (15ft) long and uses a right-angled flat plug, making it easy to plug in even in tight spaces.
The extension unit has an impressive 10 sockets, all of which are surge protected. Of course, you should be very wary of plugging ten appliances in at the same time. If you do overload the cable it has a built-in overload switch that will shut the power off. There are also two USB ports, allowing you to charge other appliances.
The wires are copper, with insulation, and a soft white PVC jacket, giving you peace of mind regarding safety and durability.
---
Final Thoughts On Your 240 Volt Extension Cable
You will be glad that you choose to spend a little time choosing the right 240-volt extension cable. This ensures you have a premium product that will give you years of reliable service, allowing you to enjoy using your appliances.
All of the above options are easy to order and will give you the quality you seek, simply choose the one that best suits your needs.