If you are going to be running a heavy-duty appliance or tool, you are probably going to need a 20 amp extension cord. Circular saws, generators, compressors, and hammer drills tend to need more power than a 15 amp standard extension cord can provide. Even some bigger appliances need 20 amps, like big fridges, freezers and ovens.
Some consumers are learning about 20 amp extension cords as they are trying to charge their electric cars.
Regardless of the application you need it for, there are some 20 amp extension cords that stand out from the pack. For instance, the Cable Matters 20 amp extension cord is outdoor rated and quite affordable.
Let's look at some extension cords and see which one might be best for you.
Best 20 Amp Extension Cord
Cable Matters Heavy Duty 20 Amp Extension Cord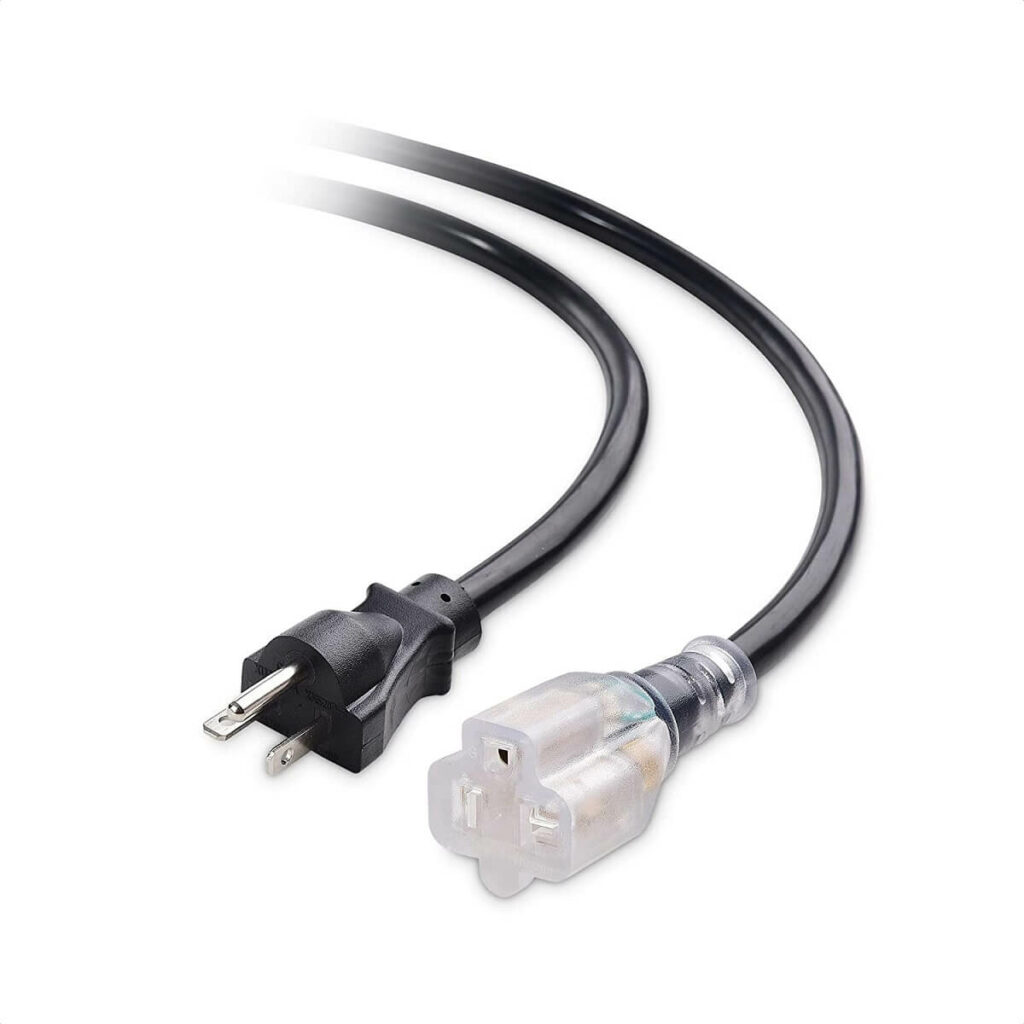 If you're looking for a simple, reliable cord for a medium-duty application, look no further. The Cable Matters Heavy Duty 20 Amp Extension Cord is all you need. It features solid construction with an indicator light to let you know when it is powered up, which can come in very handy.
For most applications that don't demand a heavier gauge, this cord is sufficient. But, it's not going to stand up too well if abused on a job site or around the yard. It is very inexpensive, so it's probably best used around the house or for recreation, not necessarily for the rotary hammer that needs to run for hours at a time on a huge demolition project.
Pros
LED light indicates power is on
Inexpensive
Also accepts 15 amp appliances
Cons
Does not work with 220 Volt configurations
Low flexibility in cold weather
Not as durable as some models
---
12 Gauge 20 Amp Extension Cord
YODOTEK 20 Amp Extension Cord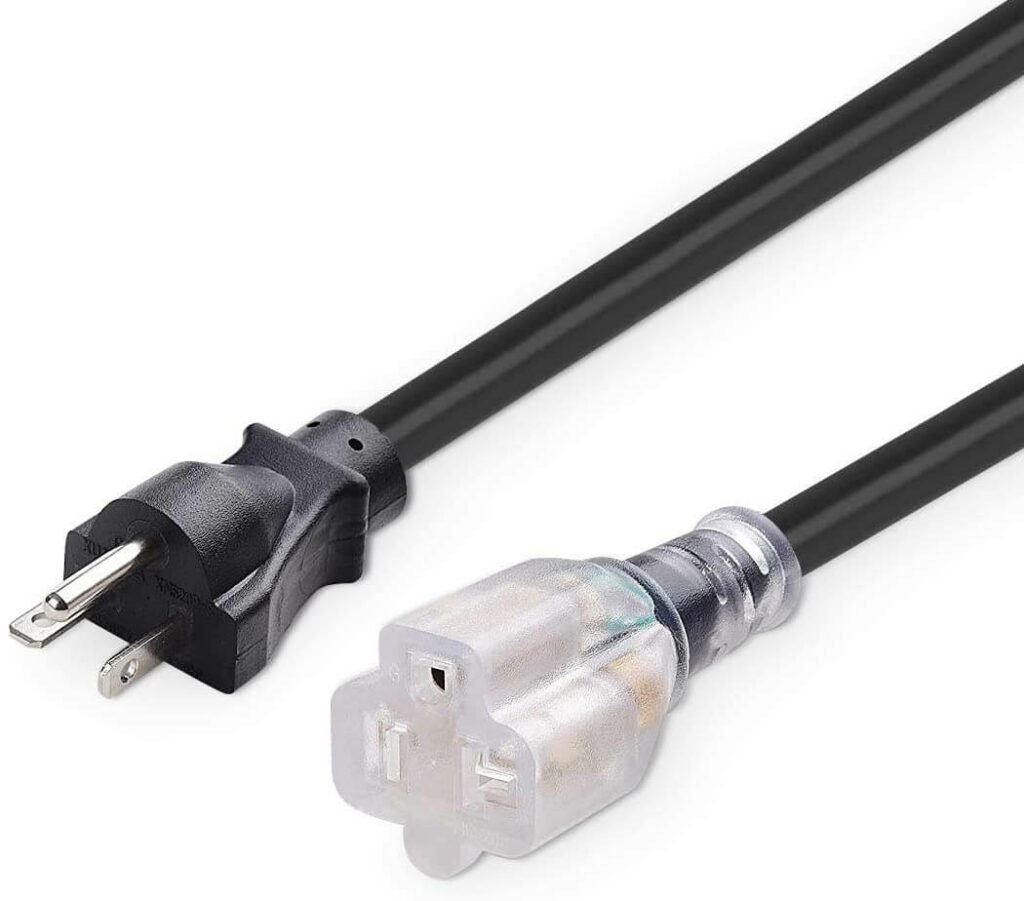 The YODOTEK 20 Amp Extension Cord is one of the least expensive 20 amp extension cords that hasn't sacrificed quality for affordability. It is sufficient for most uses around the house, and it's available in multiple lengths (10 foot, 15 foot, and 25 foot).
Since we can purchase different sizes, it's easy to choose the one that is the best length for a particular application. For instance, if we are just temporarily powering a small belt sander at our sawhorses, we might only need a 10-foot cord.
But, if our work will mean moving around quite a bit around a room, we can step up to the 25-foot version.
Pros
LED power-on indicator
Multiple cord lengths are available
Very affordable
1 Year Quality Guarantee, 3 Year customer service
Cons
12 Gauge design won't work with some appliances
---
220 Volt 20 Amp Extension Cord
Conntek 25F620 20 Amp Extension Cord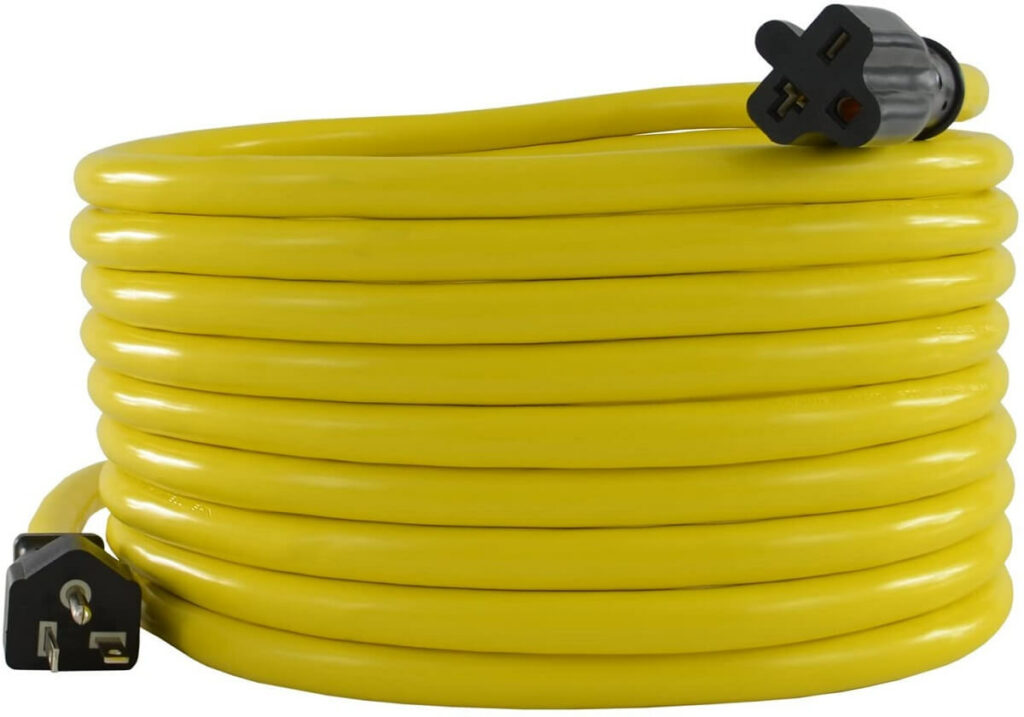 The Conntek 25F620 20 Amp Extension Cord is perfect for 220-volt applications. If you are looking to run a heavy-duty appliance like an air conditioner or dryer from a temporary power source, this is the cord for you. And, if you just need to run a 15 amp appliance, this cord is configured to accept both styles of blade connector for convenience.
If you have a generator that you use on campsites, for contracting work, or during power outages, and you also need to use heavy-duty equipment, you will need a 20 amp extension cord that can handle 220 volts.
Pros
Works with 250 Volt appliances and tools
Relatively inexpensive
Long enough for electric vehicle charging
Flexible cord
Cons
12 Gauge design is not suitable for some appliances
---
10 Gauge 20 Amp Extension Cord 20
T-Blade Extra Heavy Duty 20 Amp Extension Cord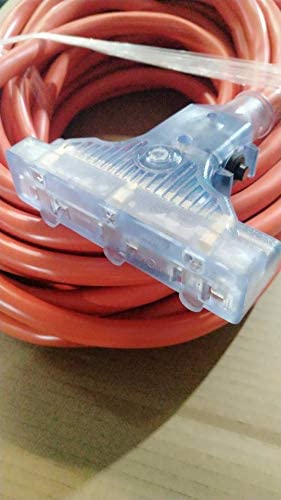 The T-Blade Extra Heavy Duty 20 Amp Extension Cord is 25 feet long and equipped with a multi-tap plug, so it is suitable for use with three tools or appliances simultaneously. The plug end also features a light that indicates when the cord carries power.
It is a bit heavy due to its ten gauge construction. But, what you trade-off in weight is probably worth it when you don't have to run multiple cords for multiple tools. You can get all the power you need for up to three tools with just this one cord.
The receptacle plug also features t-blade taps to accept both 15 and 20 amp tools and appliances.
This cord features an inline fuse for an additional layer of safety. But, when the cord becomes overloaded under heavy demand, that fuse will blow. That does provide a margin of enhanced safety, but it may limit how aggressively you can use multiple tools.
For example, you probably can't run three hammer drills off of this one cord. But, you can likely run a single hammer drill, a fan to blow the dust away and keep you cool, and a small TV to have the game on in the background.
Pros
Features multi-tap design for powering multiple power-hungry appliances at once.
T-Blade connection for use with 15 and 20 amp tools and appliances
Weather-resistant
Cons
Inline fuse can be finicky
Only 25 Feet
---
50ft 20 amp extension cord
Watt's Wire 50 Foot 20 Amp Extension Cord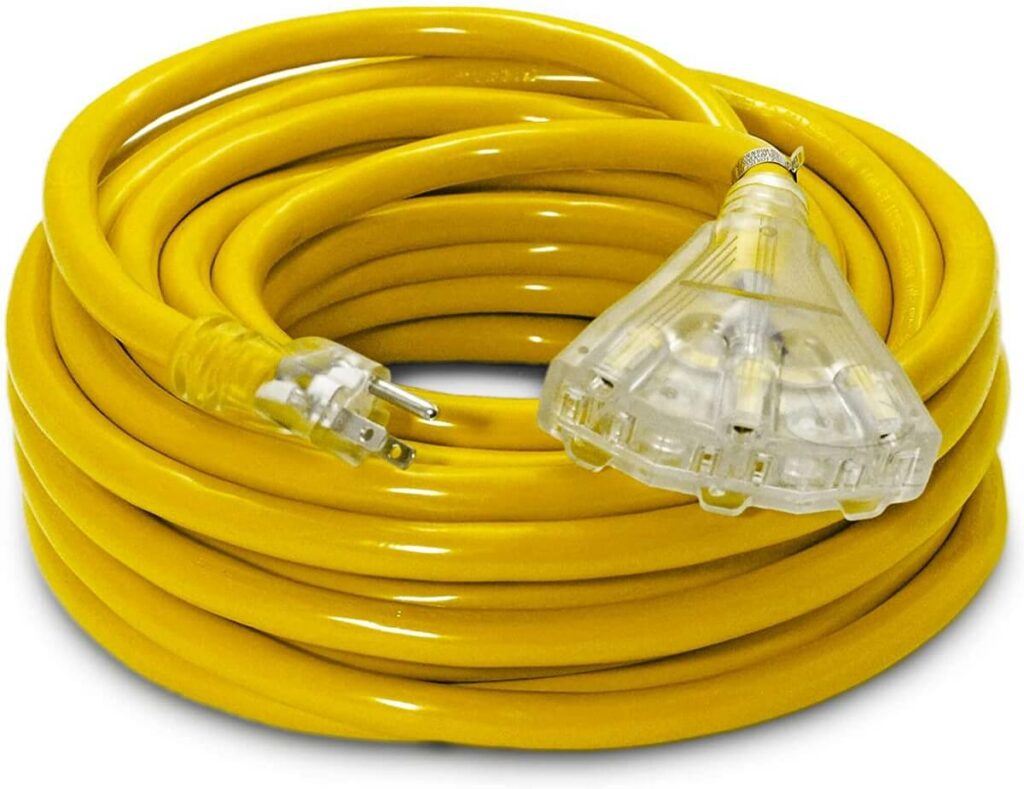 Sometimes we just need more cord, and that's where Watt's Wire 50 Foot 20 Amp Extension Cord comes in. If you're working on a job site where there isn't a lot of access to power, you may be running your heavy tools off of a generator. And this cord is long enough and rugged enough that you won't have to move your generator around every time you need to work in a new area.
With a shorter cord, you'll spend more time moving the generator than you will be working!
Plus, this cord features a multi-tap outlet so that you can power a couple of tools at once. So, while you're running your angle grinder, you can also power a work light and your radio for convenience.
It's also available in a few different lengths, but not all of them are 20 gauge. Be careful to read the specifications carefully.
Pros
10 Gauge design
Multi-tap outlet
Suitable for use in all temperatures
Tough construction with unbreakable molded plugs
Corrosion, fire, and moisture resistant
Available in other sizes
Cons
Fairly pricey
Weight of cord may tend to warp male end
---
100ft 20 amp extension cord
Yellow Jacket 2992 Extra Heavy-Duty 20-Amp Contractor Extension Cord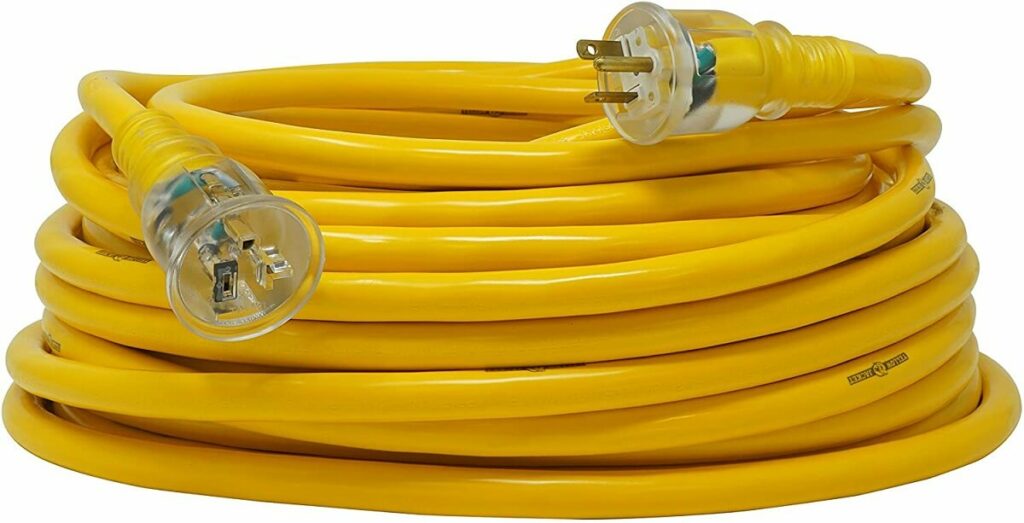 The Yellow Jacket 2992 Extra Heavy-Duty 20-Amp Contractor Extension Cord is ideal for use on a job site. It is designed to stand up to the rigors of hard daily use. Its ten gauge, thick wire makes it perfect for a long run, where other thinner cords will overheat.
This extra length can save you a lot of time and keep you working, rather than plugging and unplugging a shorter cord over and over to move around the job site.
Plus, this card has a light-up indicator to let you know when it is powered and a convenient receptacle that will also accept 15 amp tools and appliances. Its plugs are also molded plastic, which is extraordinarily rugged and very unlikely to ever break, unlike some other cords with flimsier construction.
We also like the bright 'yellow jacket' color of this cord, for a couple of reasons. First, it is very visible even in lower light or among a mess of tools and wires, so you always know where it is. Second, we are able to put our name on the cord with a black marker, so everyone else knows it belongs to us.
This cord is so good that you may also want one in their 50-foot configuration.
Pros
10 Gauge for reliable power without generating heat
Lighted end to show when power is on
Strain relief molded plugs for durability
Extra heavy-duty design for the power-hungry tools and appliances
Also available in 50 Foot configuration
Cons
Fairly expensive
Single plug
---
20 Amp Extension Cords: What to Look For
Before shopping for a 20 amp extension cord, be on the lookout for a few things. Considering the application, the sizing, and the weight of the cord are essential.
What Are You Powering?
Anytime you're buying an extension cord, make sure it is appropriately rated for the application you will be using it for. For instance, if you are powering a small fan, a light, or a stereo, a light-duty 16 gauge cord with two prongs is all you need.
But, if you are using a heavier duty tool, you will need a heavier gauge cord or a heavy duty cord.
Extension Cord Gauges
Extension Cords are offered in multiple gauges. The smaller the number of the gauge, the more electricity it can carry. You can damage tools and appliances by using inappropriate gauge cords with them.
16 Gauge – Light-duty
14 Gauge – Medium-duty
12 Gauge – Heavy-duty
10 Gauge – Extra heavy-duty
Extension Cord Wight and Flexibility
Extra heavy-duty extension cords are much heavier and tend to be much less flexible than light-duty cords. They are also much more expensive. So, consider how you will be using your cord before deciding to go overboard and buy a ten gauge cord for your light-duty work.
Otherwise, you may end up dragging around a heavy behemoth while you're just trying to move your work light. Moving a heavy cord around obstacles can also be a hassle, so consider all the factors carefully before your purchase.
Final Thoughts 20 Amp Extension Cords
Now you have all knowledge you need, and in case you don't like any of the cables on our list you can find one solo. But hopefully, there's something on the list that ticks all your boxes. Be careful and good luck.