Whether you're hanging string lights over the patio, powering a shop vac, or plugging in a lawnmower, you probably need an extension cord, but not just any extension cord. 
You need the best heavy-duty outdoor extension cord, one that can stand up to big power needs despite environmental conditions. And we have five of them that fit the bill. Read on to learn about our picks for the best heavy duty outdoor extension cords. Then check out our buyer's guide and discover why we picked the ones we did.
Best Heavy Duty Outdoor Extension Cords
Best Overall Heavy Duty Outdoor Extension Cord
US Wire and Cable General Purpose 100 ft. Extension Cord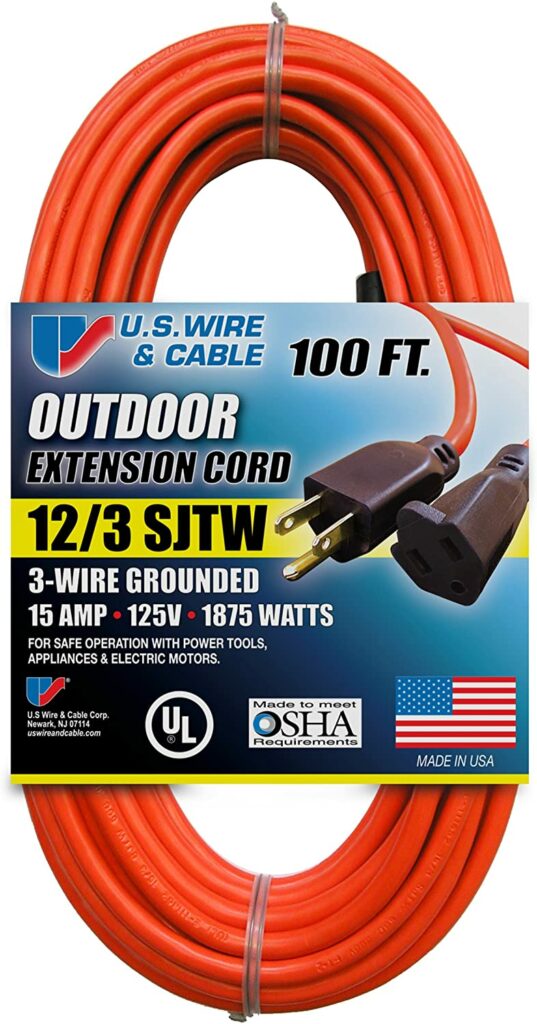 The US Wire and Cable General Purpose 100 ft. extension cord is ideal for powering your large tools, farm machinery, and even generators. It features a TPE jacket that can withstand temperatures from -94 degrees Fahrenheit up to 221 degrees Fahrenheit! So, extreme conditions are no match for this cord.
On top of that, the cord is oil resistant and features a lit plug end. When it lights up, you can rest assured that the cord is receiving electricity and is ready to power your tools and machinery.
This extension cord is 12 gauge and 15 amps which makes it perfect for most outdoor uses. However, the TPE jacket and thick inner cord mean that this cord is stiff and heavy to lug around. So it might be worth investing in an extension cord spool to go with it.
---
Best 50 ft Heavy Duty Outdoor Extension Cord
Clear Power 50 ft. Cord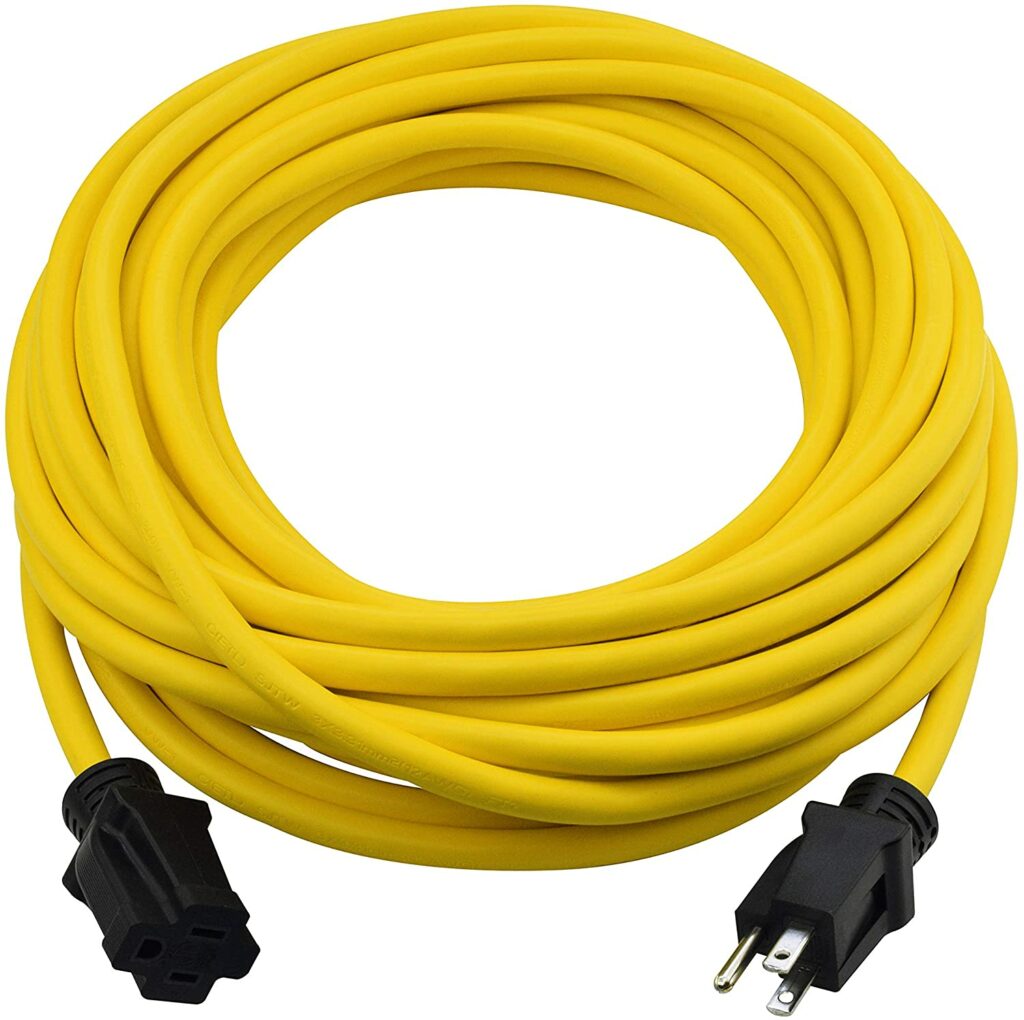 The Clear Power 50 ft. cord works great for most outdoor needs. This affordable option gets the job done without extras like lit plug ends or multiple outlet heads. But that doesn't mean you're sacrificing power for price.
This 12 gauge cord features 15 amps and works well with everything from string lights to power tools. It's water, weather, and flame resistant too. So, if a 50-foot cord will suit your needs and you don't need extra frills, this Clear Power cord is ideal.
---
Best Multi-Outlet Extension Cord
ShineKee Power Extension Cord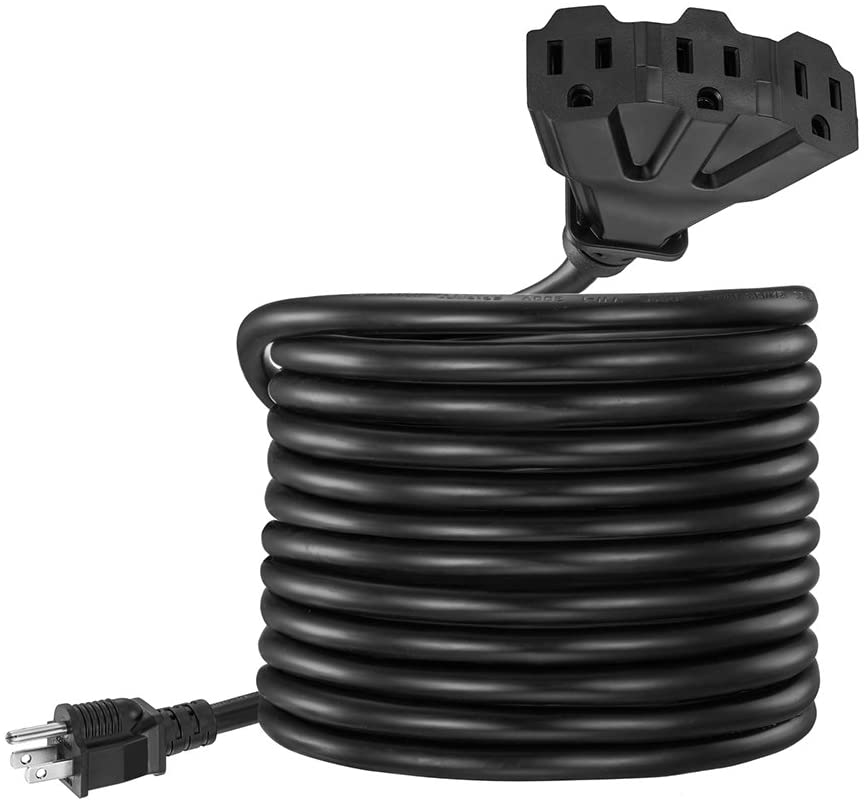 ShineKee's Power Extension Cord features three outlets so you can plug in multiple tools, lights, or machines at once. This 50-foot cord would be ideal in a workshop or outdoor workspace. It's a 12 gauge cord with a 15 amp rating and a PVC jacket that can handle extreme temps.
The only downside to a three-headed cord is that certain tools and accessories won't fit with it. If you're using a tool with a covered plug, it won't work with a cord like this. But otherwise, the ShineKee extension cord is ideal for everything from miter saws to air compressors.
---
Best 10 Gauge Extension Cord:
Thonapa 25 ft. Cord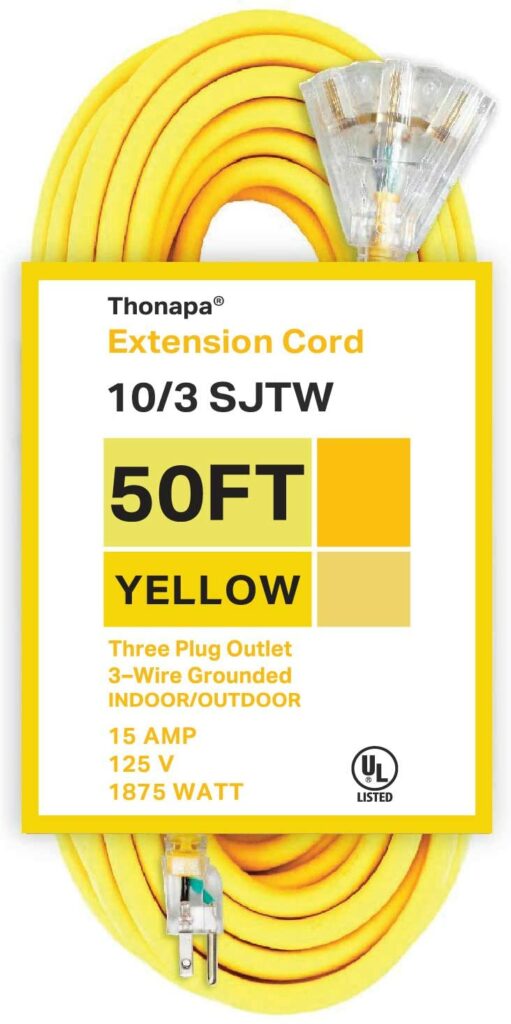 A 12 gauge extension cord will work for most projects around the outside of your home, but in certain situations, you might need a more powerful cord. That's where the 10-gauge Thonapa extension cord is helpful.
This cord features a durable vinyl thermoplastic jacket, a three-outlet head, and lit plugs. It works well with tools like grinders, sanders, and miter saws. It also handles large appliances, like chest freezers or generators well.
Despite its short length, this extension cord is incredibly heavy and stiff. So, it's not as great for mowers or other machinery that you'll need to move around. But for anything that stays in one general area, the Thonapa extension cord is a great option.
---
Best Heavy Duty 12 Gauge Extension Cord
Iron Forge 100 ft. Cord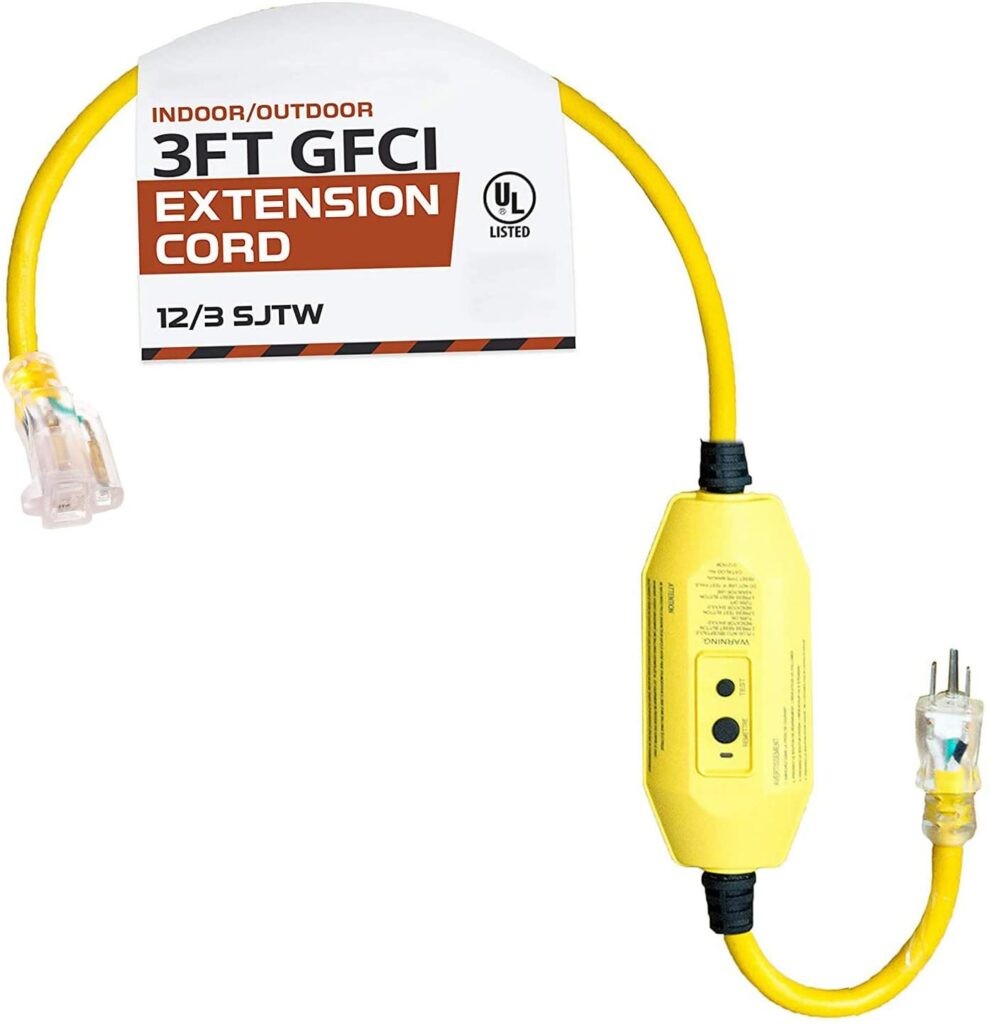 The Iron Forge 100 ft. cord can handle rugged outdoor conditions. Its thick 12 gauge inner wire is protected by a flexible vinyl jacket that's completely waterproof and weather resistant. At 15 amps, it can handle everything from running a mower to powering a shop vac. And it features an illuminated plug end so you can tell its receiving power.
On top of that, this cord features reinforced blades that prevent any bending or breaking. That means this cord should stand the test of time. So, even though it's not the cheapest card available, the Iron Forge extension cord is worth the price.
---
Buyer's Guide
Buying a heavy-duty outdoor extension cord may seem straightforward, but it's not as simple as going to the store and grabbing the first one you see. Extension cords can be dangerous when you don't use them correctly, and it can also have the wrong number of prongs (which might not be dangerous but it is frustrating).
The Electrical Safety Foundation International (ESFI), states that an estimated 3,300 home fires originate in extension cords every year! Usually, fires occur when extension cords get too hot or become damaged due to improper use. But, by purchasing the right extension cord for your project or tools, you can avoid that problem.
What Makes An Extension Cord Safe For Outdoor Use?
If you're going to use an extension cord outdoors, it's vital to invest in one that can stand up to rough conditions. Outdoor extension cords need to be heavy-duty, and you should never substitute an indoor cord for outdoor use. Doing so can lead to sparks and possible flames.
An extension cord that's safe for heavy-duty outdoor use will have the following:
A "W" on the packaging. It will usually be embedded in some sort of alphabet soup, like this "SWJT." Each letter has a meaning, which we'll cover in a bit. But knowing that the "W" means outdoor-safe is very important.
15-20 amps. This number could be a little less depending on what you need, but 15 amps is a good minimum for powering outdoor machinery. 
Three prongs. The third prong provides grounding. In other words, it gives the electrical current one more path making the cord that much less susceptible to overheating.
10 or 12 gauge wire. Gauge refers to the thickness of the wire, and we'll talk about why it's important in detail below.
Independent Safety Rating. This usually comes from Underwriters Laboratories (UL) or Intertek (ETL).
Cord Length and Voltage Drop
Most outdoor extension cords range from 25-150 feet. It's crucial, however, to buy the minimum length you need. That's because cord length directly affects how much voltage reaches your tools and machines.
The longer the cord, the more voltage drop you'll experience, thanks to electrical resistance that increases with distance. So, if you have a 25-foot cord and a 50-foot cord with the same gauge and amp ratings, the shorter, 25 ft. cord has the greater capacity.
What Ratings Are Needed For Heavy Duty Outdoor Extension Cord?
Power ratings refer to three numbers:
Amps: how much electricity is running through the cord
Voltage: the pressure or resistance to energy flow
Watts: the resulting total power from amps and voltage, i.e., amps x voltage
For a heavy-duty outdoor extension cord, you'll want at least 15 amps, 125 volts, and approximately 1800 watts.
What Is The Best Gauge For An Outdoor Heavy Duty Extension Cord For Power Tools?
As we noted above, heavy-duty outdoor extension cords should have a 10 or 12 gauge wire. With wire gauges, the lower the number, the thicker the wire. And 10-12 gauge is on the lower end of the wire spectrum.
The thicker the wire inside your extension cord's jacket, the more electricity can flow through. This allows you to power bigger tools like grinders, power saws, or other power tools.
Jacket Strength
Finally, when it comes to outdoor extension cords, it's crucial to pay attention to the jacket's strength. The extension cord jacket provides insulation which is essential for conducting electricity. The best materials for jackets are rubber or vinyl when it comes to outdoor use.
You may also want to pay attention to color. A bright orange cord might help alert people that it's there, but in other situations, the aesthetic of a black cord might be better.
You can tell a lot about the strength, material, and purpose of the cord jacket by looking at the letters on the packaging. Here are a few of the most common letters and what they mean.
S– flexible cord for general use
W- rated for outdoor use
J- standard 300v insulation
T- Vinyl Thermoplastic
E – Thermoplastic Elastomer Rubber (TPE)
O- Oil resistant
How To Safely Place A Power Switch On An Outdoor Heavy Duty Extension Cord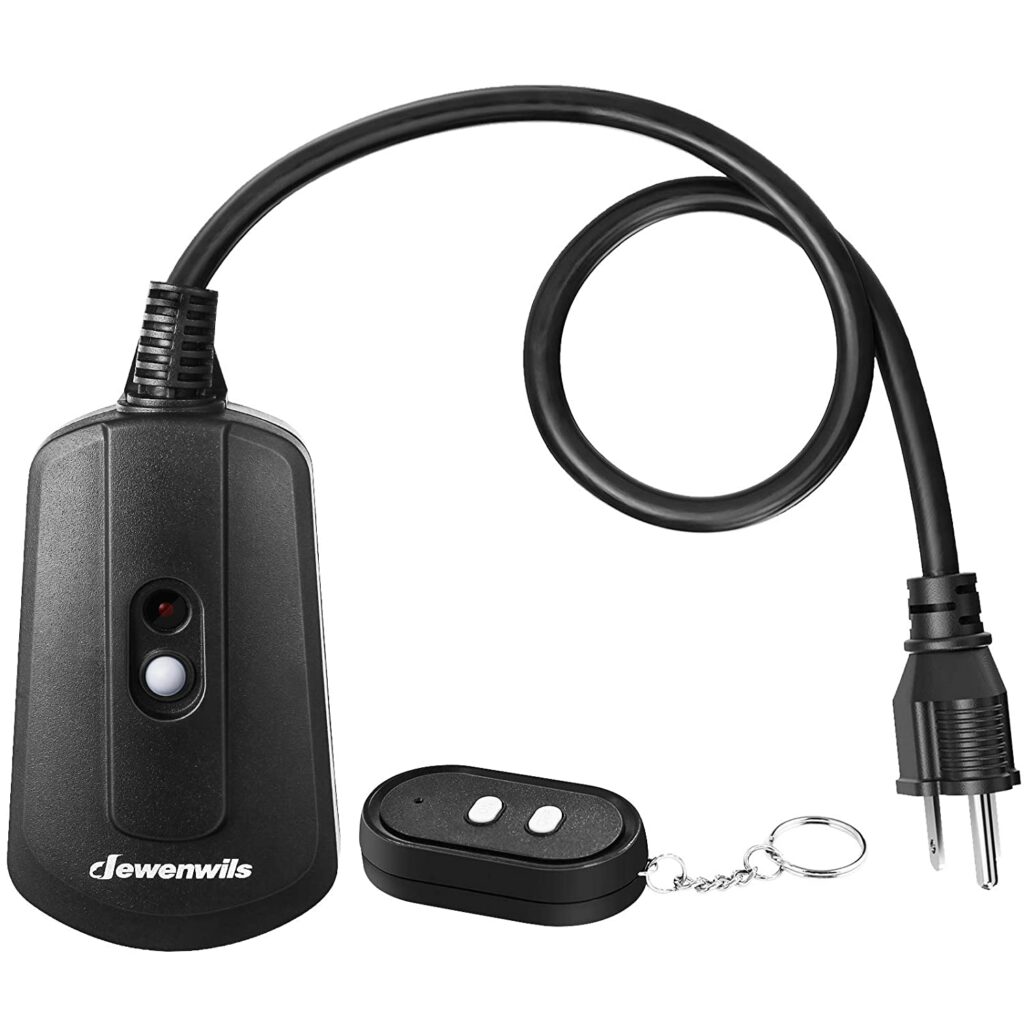 Sometimes having a switch on your extension cord is handy, and it's not hard to do. You can cut the cord and wire in a switch of choice. But that can get tricky and can be unsafe.
It's better to purchase a power switch ready-made. It needs to be a grounded, 3-prong switch that's weather-resistant and matches the amps of your cord. Something like the Dewenwils Heavy Duty Outdoor Remote Switch should work well.
It's only 2-feet long itself, so it won't add much in the way of voltage drop, and with the handy remote control, you can turn it on and off from wherever you are, up to 100 feet away.
---
Final Thoughts on Heavy Duty Outdoor Extension Cords
Whether you need to power a lawnmower, a snow blower, or your patio string lights, you probably need an extension cord, one that can handle rugged conditions. That means you need to find the best heavy-duty outdoor extension cord for your particular needs. 
Some things you can use heavy-duty cords with are a treadmill, fridge, microwave, or even an RV.
Whether you need a 50 ft. cord with lit plug ends or a cord that features multiple outlets, it's on this list. And, armed with the information in our buyer's guide, you should be more than prepared to pick the best extension cord for your purposes.