The microwave was first sold in 1946. The technology is actually based on radar developments which were essential during the Second World War. Perry Spencer is credited with inventing the microwave. However, it took many years for them to become an accepted part of the modern kitchen. Many people were concerned about introducing radio waves to their food.
Today, most homes have one and it is seen as an essential item, helping to ensure food can be easily reheated and meals can be eaten as needed. This is particularly relevant as families no longer always eat together.
Unfortunately, microwaves generally come with short power cords, this can seriously limit where you position them in your home. The best way to resolve this issue is to use a dedicated microwave extension cord.
It should be noted that many manufacturers recommend an extension cord is not used with a microwave. This is because it increases the hazards and risks associated with using a microwave. However, the right cord should not cause any issues.
That's why it's important to look at the following microwave extension cords and choose the one that best suits your needs. And don't worry they might be on the heavy-duty side, but they don't look like Heavy Duty Outdoor Extension Cords, you don't have to ruin your kitchen design.
Best Microwave Extension Cords
In the modern world, microwaves are a necessity. They make it easy to heat food and other items. But, what if you want to place your microwave in a location far away from a power source? You will need an extension cord to ensure the device has enough power.
We created this guide on the best microwave extension cords in 2020 so that you can find one that will meet all your needs!
Maximm 3 Feet Extension Cable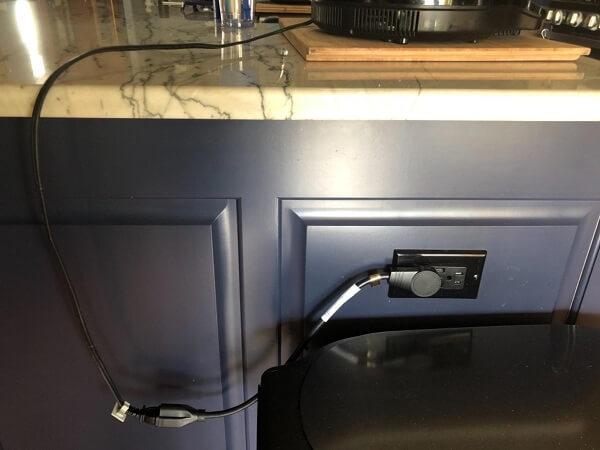 The Maximm extension cable comes in a variety of lengths, ranging from 1ft to 15ft, that should be enough to cover any kitchen. The cable is black with an integrated three-pronged plug built into it.
It's designed to accommodate 125 volts, 1625 watts, and 13c amps. It complies with all the latest safety regulations and is made of high-quality materials to ensure it's durable.
Potentially the best feature is the rotating socket. This is flat and can move in a complete circle, allowing you to position it perfectly for the plug it needs to receive. You'll also find this enables you to adhere it to the wall properly as you won't need to worry about pinning it correctly for the end socket. Any position will do.
You should note this isn't rated to be used outdoors, although it's unlikely that you'd want to keep your microwave out in the rain.
---
Axis 3-Outlet Extension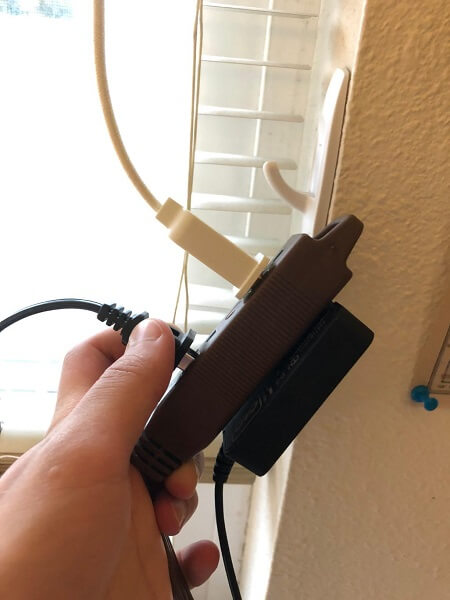 As the name suggests the Axis 3-outlet extension offers a three-pin plug at one end and three sockets at the other. The sockets are located two on one side and one on the other. If you're planning on using all of them you'll need to consider where to position the extension.
It is possible to plug your microwave into one side and leave the other two empty for other appliances. However, you do need to consider the load you'll be placing on the circuit. If you overload the extension cable you could trip the circuit or even start a fire.
This offering from Axis can be purchased in white or black, whichever suits your kitchen and microwave better. It's a respectable 8 feet long and is UL certified as safe. The whole product weighs just 0.7 pounds and can be easily attached to any surface.
You should note this extension cord has a looped-end. This means you can hang the cord to improve access if you'll be frequently plugging and unplugging different items, including your microwave.
---
Cable Matters 2-Pack Extension Cord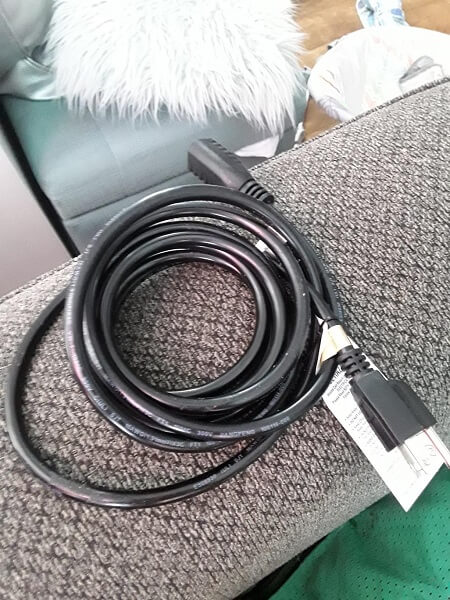 The Cable Matters microwave extension cord arrives as a two-pack. You can choose the length you'd like to purchase, they offer 3ft, 6ft, 10ft, and 15ft. This is one of the cheapest options on the market, especially as you're getting to extension cables in the packet.
The cable is black and durable, made of quality products and UL approved. It's not recommended you plug one extension into another. The standard 3-prong plug goes into any house outlet and can handle 120 volts, 1625 watts, or 13 amps through the 16 AWG gauge wiring.
The AWG rating is worth looking at to ensure you have the best possible extension cord, it's thicker than many of the competitors making it better capable of handling the power and heat.
Impressively, Cable Matters are offering a lifetime warranty and product support. That should give you some reassurance when purchasing this cable.
---
Husky Mounts Extension Cable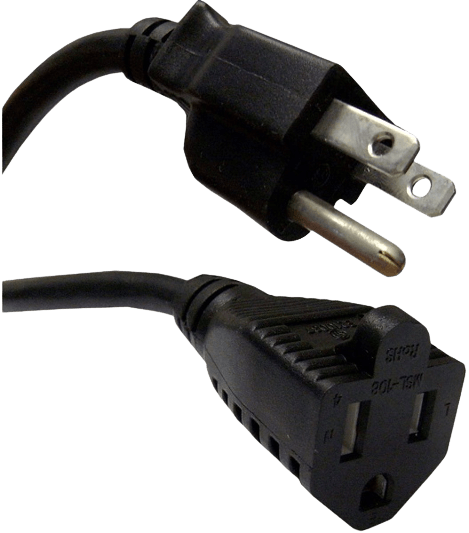 The Husky Mounts extension cable is an impressive 25ft long, that should be enough to position your microwave virtually anywhere in your home. It's worth noting that if you need longer, they also offer a 50ft and 100ft long extension cable!
It's black with a standard three-prong plug incorporated into the extension cable. At the other end, you'll find a single socket, designed to take a three-prong plug. The cable is rated for 125 volts, 15 amps, and 1875 watts. It uses copper core wires with 12 AWG and is both ETL and RoHs listed.
You can use this cable outside although this seems an unlikely choice when positioning your microwave. It remains flexible in most temperatures although it can get stiff if the temperature goes below freezing, so don't use it as a freezer extension cord.
In short, this is a durable and practical option.
---
Considerations When Choosing The Best Microwave Extension Cord
There are several things you should be aware of before you decide which microwave extension cord you want to purchase:
A microwave extension cord plugs into your existing electrical circuits and effectively creates a new socket for your microwave, closer to where you want it to be. In most cases, the cable will operate fine for years. But you need to be aware that electricity is potentially dangerous and a bad extension cord will increase the risk of fire.
To help protect against this you need a cord made by a reputable manufacturer. If you don't already know the manufacturer you should check them out. The best way to do this is on social media and online forums. You should easily find people that have used the product and can tell you about their experience.
It's important to note that manufacturers rarely get 100% positive feedback. But, for it to be high-quality most of the feedback should be. The negative comments are very useful to help you understand how the manufacturer reacts. It can be relevant if you have an issue.
It's a good idea to keep the cable as short as possible, this reduces the risk. This means you need to know how much cable you need and get a cable as close to that as possible. You can't leave an extension cable coiled up, it increases the risk of fire. But, if the cable is too long it will trail and is likely to be a trip hazard.
That's why it's best to calculate the desired length and get as close to it as possible.
All microwave extension cables should be three-core. That means there are three cables inside the wire, a live, an earth, and the neutral. This ensures the microwave is grounded, ensuring the electricity goes to ground if there is an issue.
As mentioned, the length of the microwave extension cable is important to avoid creating a trip hazard. As well as choosing the right length and type of cable, you should ensure that it can be clipped out of the way safely. This can affect the length of the table but will reduce the likelihood of issues.
Don't forget, the extension cable must plug into a three-pronged socket.
What Gauge Is the Extension Cord Best for Microwave?
The best gauge for an extension cord for a microwave is 14 AWG (American Wire Gauge). It is the most common type of wire used in homes and offices, making it easy to find in stores and online.
Microwave extension cords come in a variety of lengths and gauges. Each gauge has its own set of benefits. The higher the number, the thicker the wire is so it can carry more electrical current.
How Many Amps Do They Need?
While you should always check your specific model of microwave to see how many amps it needs, on average, you need an extension cord that can handle at least 15 amps.
If you want to be safe and get a more powerful cord, then aim for one that can handle at least 20 amps. Otherwise, 15 amps is the very minimum you should get.
Frequently Asked Questions
Learn more about microwave extension cords and general safety when powering your microwave.
Are appliance extension cords safe?
Yes, appliance extension cords are safe to use as long as you follow the instructions on the packaging.
Can you plug a microwave into an extension cord?
Yes! You can plug most kitchen appliances into an extension cord. However, make sure it's a heavy-duty one!
What kind of extension cord is safe for a microwave?
A heavy-duty extension cord is safe to use with your microwave. It has thicker wires than a standard extension cord and can handle high temperatures without overheating or melting.
Is it okay to plug a microwave into a power strip?
It's fine! You can use a power strip to plug in your microwave, as long as you ensure that all the other appliances on the power plug into an outlet. If they're all plugged into a power strip, your microwave will be too.
Can I plug a microwave into a surge protector?
Yes, you can plug a microwave into a surge protector. Yet, this is not recommended because it is not safe to do so. A surge protector will protect against power surges and spikes but not against excess heat or fire.
Does a microwave have groundings?
Yes, microwaves do have groundings. The design is for kitchen use and other areas where there is water. Because of this, the ground electrical outlet protects the electrical components from short-circuiting or overheating.
What size breaker should a microwave be on?
The size of the breaker depends on the wattage of your microwave. For instance, if your microwave is 1000 watts, you need a 15 amp breaker instead of a 20 amp breaker.
How many amps does a 1000-watt microwave use?
A 1000-watt microwave uses about 1.4 amps.
Why is my microwave tripping the surge protector?
The surge protector you are using may not be able to handle the wattage of your microwave. Unplug your microwave and plug it into a wall outlet to check if this is the case. You need to replace your surge protector if the power light comes on, but the microwave doesn't start heating up.
Can you plug a microwave into a 15 amp outlet?
You can, but you should use an extension cord. It's safer, easier, and more convenient than plugging into the wall.
Does the microwave need a 20 amp outlet?
No. Having a 20 amp outlet is unnecessary for your microwave. The standard for most microwaves is a 15 amp outlet, which should be fine for most people.
Can I plug a fridge and microwave into the same outlet?
Yes! You can plug a microwave and a fridge into the same outlet. The trick is to promote the microwave into the top outlet while the fridge plugs into either one.
Final Thoughts on Microwave Extension Cords
The final decision is yours. You need to do the homework and find a microwave extension cable that ticks all the right boxes for you. This is not a decision you should rush, but it is a personal decision. What's best for you is not the same as what's best for your neighbor or friend.
Take the time to look at the above best microwave extension cables and select your preferred option. This will allow you to connect it up and leave it, without having to worry about it again.