There is nothing quite like the feeling you get when you set off on an adventure. It doesn't matter if you're having a weekend break, a long holiday, or are setting off into the unknown.
Of course, this feeling can quickly diminish when you realize you've forgotten something. While many things can be anticipated and planned for, the one thing that many people forget is the need for extension cords.
What Is A Travel Extension Cord
Travel extension cords are specifically designed to be easily transportable yet have the same advantages as a regular extension cord.
Most of us have an extension cord or power strip in our homes to provide access in areas that would otherwise be out of reach. They're also useful for adding more outlets when you're in a pinch. Travel extension cords serve the same purpose: no more rearranging hotel furniture to access an outlet!
The added benefit of travel extension cords is that they are portable. These travel options often include a power strip or bank with multiple outlets and a cord that is wrappable or retractable for easy packing. As a result, travel extension cords allow you to plug in the most number of items while taking up the least amount of space.
Many of the best travel extension cords feature a variety of outlets, allowing users to power the full range of electronics they're traveling with. Use the two or three-prong AC outlets for your laptop, and take advantage of USB ports for phones and tablets. Some travel cords also come with universal outlet options, so you can use them no matter where you are in the world.
Best Travel Extension Cords
Upwade Portable Universal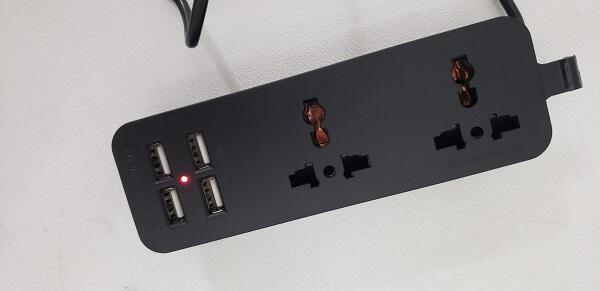 The Upwade Portable universal extension cord is designed to be compact, making it the perfect travel accompaniment. It has a variety of settings, allowing power distribution of 10A, 100-240V, and 1200 watts.
It has built-in surge protection to ensure your electrical equipment isn't damaged. There are also 4 USB outputs. These offer 5V/4.2a of power. The USB ports use smart technology to identify the charging needs of the device and adjust the flow accordingly.
As well as the surge protection there is an overcurrent sensor and an undercurrent. In certain destinations, the overheat sensor may be particularly beneficial.
The device can handle temperatures up to 750°C and is made from fire-proof materials.
A particularly nice feature is the way the cord wraps around the fins of the sockets, minimizing the size of the device when not in use. The cable is 5ft long and a clip holds the plug in place when you're traveling.
Alongside the 4 USB ports, there are two standard sockets. That may not seem like many more but when you're able to connect 4 USB devices up at the same time you're unlikely to need anything more.
As well as a travel pouch the Upwade Portable Universal extension cord has an 18-month warranty with free access to the customer service department during this period.
---
NTONPower Portable Charging Station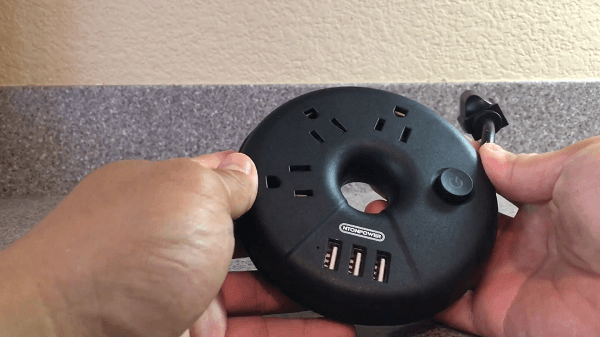 This donut-shaped extension cord offers 3 sockets and 3 USB ports. That should be enough for the average traveler! You can choose your preferred color, red, white, and black are available.
But, what may surprise you is just how small this is. The entire donut fits in the palm of your hand! It's ideal for frequent travelers who understand that you always need more sockets, especially with the array of gadgets that accompany any trip.
You should note that the NTONPower portable charging station does not have built-in surge protection. The cable is also only 15 inches long. It's designed to give you the extra sockets you need but it won't make a huge difference to where the sockets are located.
The charging station does have a smart chip inside that protects against short circuits, overcharging, and overvoltage. You'll also benefit from a comprehensive connected device liability insurance, but you shouldn't be plugging in high consumption devices, such as hairdryers.
This unit can handle temperatures up to 750°C and is flame retardant. The risk of overheating is diminished by the conductive copper structural design.
You should also note that this charging unit does have an on/off switch, make sure you turn it on after plugging something in.
---
One Beat Desktop Power Strip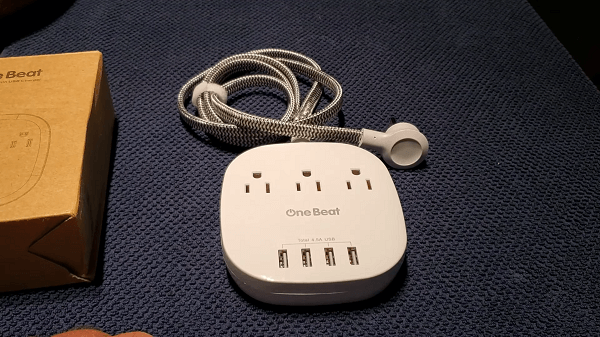 The One Beat desktop power strip looks good. The white curved square has three sockets set in the top half and 4 USB ports in the lower half. It also features a black and white braided cable.
Perhaps most importantly, the cable is an impressive 5ft long. That will cover most of your hotel room or boat cabin.
You should note that this device does not have surge protection, it's specifically designed this way to comply with cruise ship regulations.
The USB ports incorporate smart charging technology, allowing each device to be charged according to its rating, up to 5V/2.4A. Its stylish braided cable is actually flat, which ensures it is more flexible than the competition and is easy to slot into any location. Even the plug is designed for tight spaces, it's a right-angle flat plug.
You'll also benefit from a 12-month warranty with access to excellent customer service.
---
One Beat Power Strip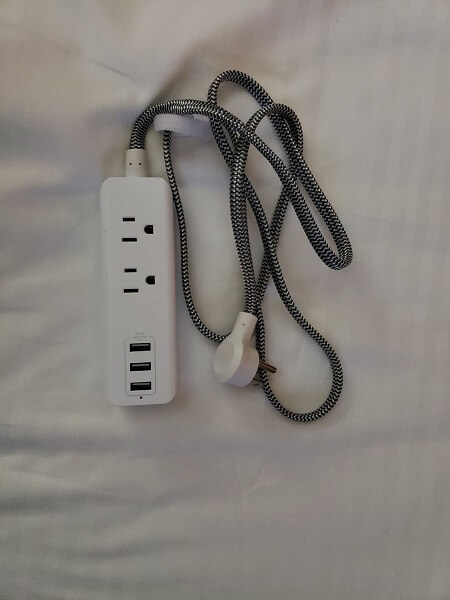 If you like One Beat but wouldn't sure about the cable on the desktop version then this offering from One Beat is worth considering.
It's a standard rectangular shape extension with a 5ft long cable. The cable is braided and flat with a right-angled plug to facilitate socket access and cable location in tight spaces.
The extension offers two sockets and three USB ports. The sockets are rated at 1625 watts/ 13A while the USB ports offer a maximum of 5V/2.4A. You can use this extension to charge 5 devices at the same time, that's enough for most people.
The USB ports include a smart charging system that couples power delivery to the needs of the device. It will charge any device as fast as is safely possible.
The unit looks good in black but is also available in white if required. Of course, having an adjustable voltage means that this extension can be used anywhere in the world, providing you have the right adapter.
Again, this is an adapter that is well suited to cruise ships, it doesn't benefit from surge protection.
---
Anker Power Strip with USB-C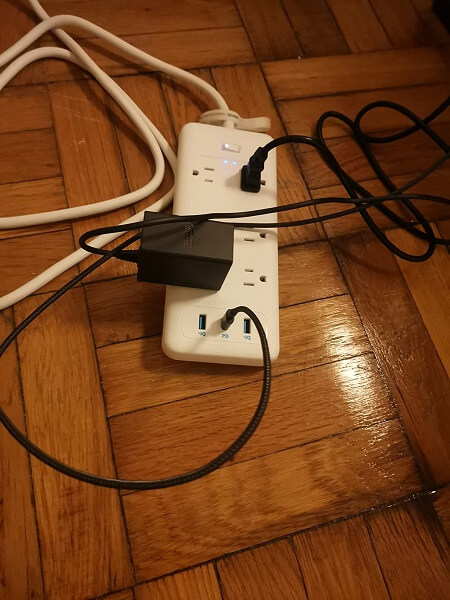 The Anker Power Strip with USB-C is the ideal extension cord option for traveling with multiple devices. This surge protector strip contains six three-prong AC outlets, two USB ports, and one USB-C port.
Desperately need to recharge between flights? The high-speed USB-C power delivery port provides 30W of power to charge your phone up to 2.5x faster than a standard charger. The USB-A ports feature Anker's PowerIQ technology, tailoring the voltage of the ports to your specific device.
Anker has designed this power strip for maximum safety and usability. It's equipped with advanced surge overload protection to take on up to 1280 Joules while also protected with a fire-resistant casing and safety switch.
The extra space between the AC outlets means you can plug in even your largest laptop plugs without covering any other outlets. With a 45° wall plug, you can avoid covering up other wall outlets as well.
At six and a half feet long, you can plug this cord into the most convenient nearby outlet without worrying it won't reach. The durable braided cable stays tangle-free, meaning you can toss this extension cord into your bag and not worry about pulling out a knotted mess later.
The cord also weighs a mere 1.4 pounds, making it easy to bring without it eating up your baggage allowance.
Anker offers a worry-free warranty for this power strip, as well as a lifetime, $100,000 warranty for connected equipment. Anker products also come with excellent customer support and service.
---
Frequently Asked Questions 
Do you have to take out portable chargers for TSA?  
In most cases, you do not need to take out your portable chargers for TSA.
Are extension cords allowed on planes?  
Extension cords are allowed on airplanes.
Can you take an extension cable in hand luggage?
The TSA allows extension cords in both checked and carry-on bags.
Is mobile charger allowed in flight?
Mobile chargers are allowed on airplanes. In fact, if you're traveling with a mobile charger, you must pack it in your carry-on rather than your checked luggage if it is a lithium battery exceeding 100-watt hours.
Do power strips reduce power?  
Power strips do not reduce power. However, to save energy, try using a smart power strip that will cut off power when your device is in standby mode.
Final Thoughts on Travel Extension Cords
Choosing the best travel extension cords is generally a personal matter. But, you do need to spare a moment to consider what you are likely to use it for. This is directly relevant to surge protection which is generally a useful feature but doesn't comply with regulations on cruise ships.
Aside from this, the length of the cord is important, it allows you to position the extension where it is most needed. But, you should never operate an extension cord that hasn't been fully unraveled. Coiled wires generate heat and increase the risk of fire.
Once you've decided what you'll be using it for most, you can choose the best travel extension cords to suit your personal needs. Then you'll really be ready for your holiday or even to create more sockets in your bedroom. And if you travel with an RV you might want to check out the RV Extension Cord.