The Bose QC25 is generally considered to offer one of the best sound experiences you'll get, right up there with the likes of AKG K240 and Beats. Although an older set of headphones, it's still a deluxe experience and not a set you'll be eager to replace. Despite newer headphones hitting the market there are few that can compete with the Bose QC25 noise-canceling ability.
Unfortunately, these headphones are not wired, which gives you the issue of cable connection to your sound system. It also raises problems regarding damaged cables. This can happen by accident or age can simply start to show.
The good news is that the cable is detachable. That means you can find the best replacement cable for Bose QC25 online and breathe new life into your headphones.
Best Replacement Cables For Bose QC25
Amazon Basics Bose QC Cable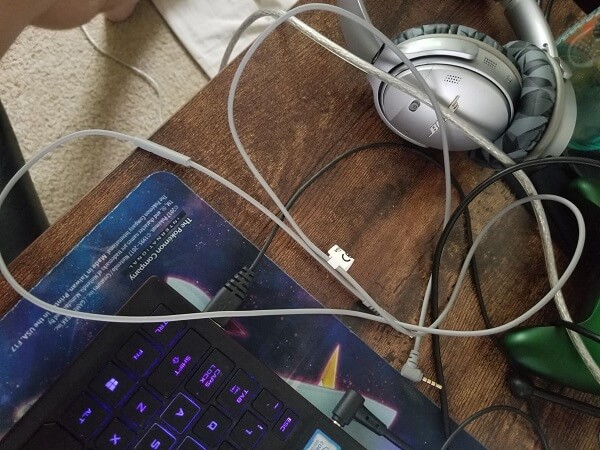 The Amazon Basics cable is one of the cheapest options available but still a practical choice. This cable is designed to replace the original and, it should be noted, that you have a choice between the Android option and an Apple option. That's useful if you use your headphones with your smartphone or computer regularly.
The Apple option is a gray cable while the Android version is black.
This cable is 4.5ft (142cm) long, giving you plenty of room to move away from your device and even dance around the room It has a 3.5mm jack on one end which uses a 90° angle, making it easy to plug it into your Android device. At the other end, you'll find a 2.5mm jack which fits snugly into the port on the right side of your Bose QC headphones. It will also fit the QC15 and QC35 headphones.
Providing your Android device has a 3.5m port this cable will work. The cable is made to the highest standard possible. The ends are molded to reduce stress and it even incorporates inline controls. These allow you to handle calls without needing to touch your phone.
The actual cable is visibly thicker than the original one. This is to ensure it has the durability and strength needed, preventing you from needing to replace it again in the near future. You'll also appreciate the gold-plated connectors that improve the sound flow.
In short, this is potentially the best replacement cable for QC25 that you can buy.
---
Lasmex Replacement Cable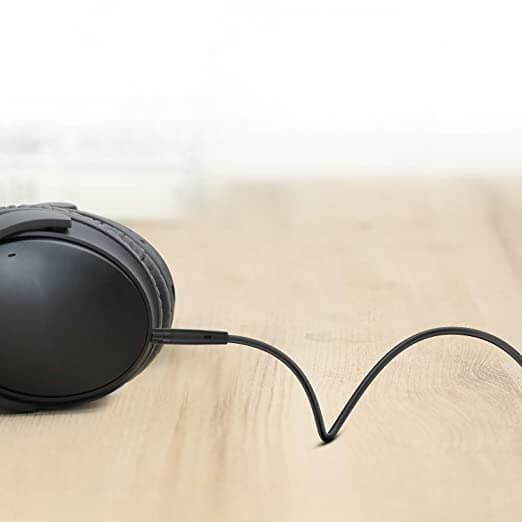 The Lasmex audio cable replacement is compatible with a variety of Bose headphones, including the QC25, QC35, and the AE2. The Lasmar has a standard male to male, 3.5mm jack for your music playing appliance, and a 2.5mm jack for your Bose QC25 headphones. It works with Smartphones, laptops, your PC, and even the Xbox.
It's worth noting that the jack point on the Bose QC25 is deep, this cable has a long jack point, standard-sized jacks won't fit properly.
You'll also find there is a convenient twist-to-lock mechanism that ensures the cable stays in situ. No more accidentally pulling it out or worrying about snagging it on something.
The cable itself has highly purified oxygen-free copper wires inside it, providing the best possible conduction of sound. It also has gold-plated connectors to maintain the best possible audio transmission.
You'll also be grateful to note that it has 18 months warranty, giving you true peace of mind.
However, you should note that this cable is significantly thicker than the original, this shouldn't make a significant difference but it is worth being aware of.
---
Kapon QC25 Replacement Cable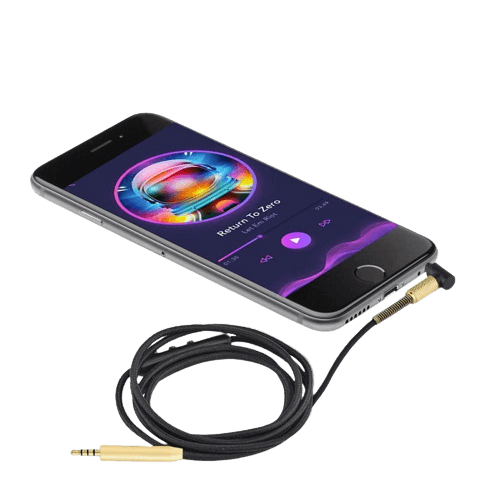 Kapon is not one of the better-known brands but it is worth considering. The cord is designed specifically for the QC25 and QC35, although it will fit a variety of other brands as well.
You can use it to connect your headphones to a laptop, PC, tablet, or your Smartphone. The design is more sophisticated than previous offerings as it is nylon braided. This outer layer ensures maximum flexibility and prevents it from twisting or even tangling.
You'll also note the spring at the input end, this helps to reduce stress on the cable, especially if you accidentally pull it. The cable has an inline controller. This allows you to play music, and pause it. You can also move to the next track, pause it to take a call, accept or reject a call, and change the volume on your speakers.
This cable is 4.6feet long, that's approximately 155cm. They've also thought about the distance between the jack and the microphone, 6.3 inches is seen as the perfect distance to ensure the microphone is in the right place.
Kapon provides a 90-day free replacement or refund and a comprehensive 12-month warranty.
---
Lanmu Replacement Cable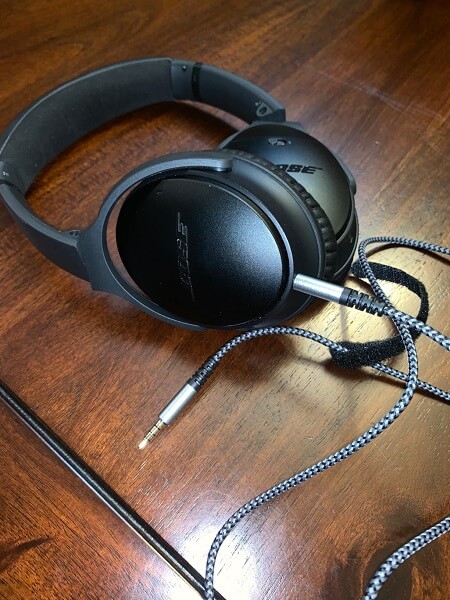 This cable by Lanmu is specifically designed with Smartphone in mind The cable is braided to offer protection from harm and kinks, which can be a time-consuming nightmare. In fact, the cable is tested to handle 10,000 + bends, you're not going to wear it out too quickly!
Its nylon braiding is accompanied by aluminum connector shells, these ensure great connection and audio quality. Specifically, they enhance the friction force when inserting and pulling out the cable. Alongside this the connectors are gold-plated, giving you excellent music response.
The cable also incorporates inline volume control, the ability to play, pause, or skip your music, and answer calls. At 4.9 feet (150cm) long its long enough to accommodate most needs, making it a great choice if you want something that works without breaking the bank.
The Lanmu cable also works with Apple products, including the Shuffle, iPods, and iPad. While the 2.5mm jack is exclusive to the Bose QC25 headphones, the 3.5mm jack can be used in almost any appliance, making this a useful option. It comes with an 18-month warranty and customer service is always available to assist you with any issues.
---
Meiso Replacement Audio Cable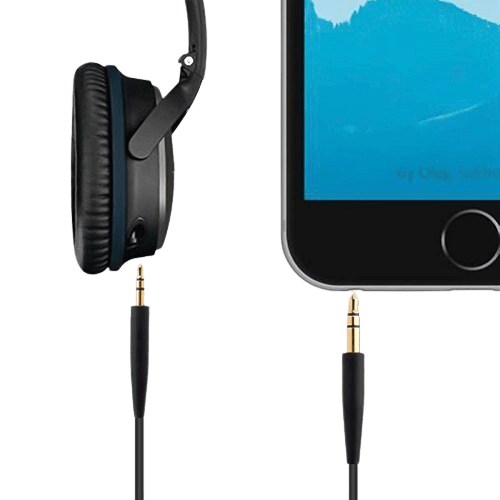 This simple black cable from Meiso is understated but incredibly well-engineered. The 3.5mm and 2.5mm jacks are gold-plated to maximize sound quality when it's connected. Of course, being gold-plated also reduces the likelihood of the end simply breaking off. It's braided to help protect the inner cable and avoid kinks and damage through bending. The cable is tested to ensure it can withstand thousands of bends.
The cable is 4ft long (120cm), that's long enough to allow you to move around without getting in your way or causing a trip hazard. The quality of this cable is exceptionally high, it's designed to be compatible with all Apple devices and fits several Bose headphones, including the QC25. It can also work with Android Smartphones.
The inner cables are 100% copper, allowing the sound to travel easily, these are protected individually and all the internal wires are encompassed by the braided outer. This makes it difficult to damage the cable and make use of the 12-month warranty!
It should be noted that, although this is a good cable, it does not have any inline controls. You'll be back to operating your device manually. While this shouldn't be an issue it is important to be aware of this limitation.
---
Considerations When Choosing The Best Replacement Cable
The key to choosing the right replacement cable for Bose QC25 is to consider what you know about the manufacturer. The better known and respected they are the more likely it is that you'll have a high-quality cable that will last for years.
Check out social media sites and forums to find out what others think of a specific cable and grab the one that gets plenty of positive reviews. However, you shouldn't discount one because it has a few negative reviews. Negative reviews mean the product is more likely to be genuine. They also give you the opportunity to see how the manufacturer/supplier deals with issues.
Of course, you should also consider price and the length of the cable on offer, it must be long enough to suit your needs. As these create wired headphones it is best to minimize the length of cable available, you should never be that far from your music device.
It can also help to speak to friends who have the same headphones and have needed a replacement cable.
Compatible Devices for the Bose QC25
Previously, the Bose QC25 headphones were only compatible with Apple devices, but in 2015 they became fully compatible with all mainstream Android devices. That means LG, Samsung, Google Nexus, Motorola, Sony, Huawei, HTC, Xiaomi, Lenovo, and many other Android devices can use the Bose QC25 headphones.
Be aware that the microphone function on the Bose QC25 headphones is for a mobile phone, and you will be unable to use the in-line power switch with a PC or laptop microphone jack.
*You can use these headphones with nearly all Mac computers manufactured between 2008-2013, except for the Mac Pro line.
Frequently Asked Questions 
Here are the responses to the most commonly asked questions regarding the Bose QC25:
What headphone jack does Bose use? 
The Bose headphone jack is 3.5 mm. Ensure that you get the right size when you buy a replacement cable for Bose QC25, or the cord won't fit the headphones.
What aux cable does Bose use?
The Bose headphone cables use a 2.5 mm plug on one end of the cord, and the other side has a 3.5 mm plug. Knowing these measurements is essential in case you lose the original cable and have to purchase a Bose QC25 headphones replacement cable.
Are Bose QC25 worth it?
The Bose Quiet Comfort 25 headphones are excellent for canceling noise, especially when commuting. As an upgrade to the Bose Quiet Comfort 15s, they're more lightweight, and the over-ear design is comfortable and conforms to the shape of your ears well.
The sound quality is better than many other headphones in this category, which is suitable for most people.
When did Bose QC25 come out?
The Bose QuietComfort headphones came out in 2015 to replace the Bose QC15 model. What makes the QC35 better than its predecessor is that you can use them even if the battery is dead. You'll still be able to listen to music; you just won't be able to utilize the noise canceling function.
Are Bose QC25 discontinued?
The QC25 are no longer manufactured by Bose, though you can use sites such as eBay and other online markets to find refurbished or used. Instead, only the QC35 II is still in production.
Does Bose QC25 cable work with QC35?
You can use a Bose QC25 replacement cable with the QC35, but you may experience problems with the microphone or other upgraded features of the new headphones. For example, the audio quality may be fine, but you could experience decreased quality with other functions.
What does Bose stand for?
Bose isn't an acronym that stands for anything. Instead, it is the last name of the person that founded the company in 1964, Amar Bose.
Does Bose QuietComfort 25 have a microphone?
The Bose Quiet Comfort 25 headphones have microphones placed along the inside and outside of the ear cups, similar to how the company created the QC15s. The microphones can pick up on and measure external noise.
Are Bose noise canceling headphones worth the money?
Bose is a reputable company that produces quality audio equipment, with their noise-canceling headphones being one of the most popular products offered.
The Bose Quiet Comfort 35 series has the most aesthetic appeal and sound quality to date, the noise-canceling function is top tier, and they're very comfortable. They also have a slim design and a solid case that you can use to carry them around.
Final Thoughts On Bose QC25 Cables
The best replacement cable for Bose QC25 is a personal choice. However, there is little doubt that all the options on this list are viable and worthwhile.
The best part is that they are reasonably priced, allowing you to choose the style of headphone replacement cable that suits your needs and budget.
Don't forget, the best replacement cable for you doesn't need to be the same as for everyone else. You have your own tastes and needs, choose your replacement cable according to your own criteria.