Whether BOSE, Bang & Olufsen, Sennheiser, AKG, all wired headphones ship with stock cables from the manufacturer. These high-quality cables last a long time but not till infinity.
Cables can get caught between doors and break, the insulation gradually comes apart, and connections might start to crack. Especially gaming headphones such as Astro A10, Astro A40, Skullcandy, HyperX or HyperX Cloud Alpha. When your wired headphones begin to have connection issues, the cable is an excellent place to investigate.
Headphone cables degrade over time. It makes more financial sense to replace the broken cable rather than the entire headphone.
This article looks at the best headphones replacement cables for your needs to help you on your way.
Best Headphones Replacement Cable
Oldboytech 2 Pack AUX Cord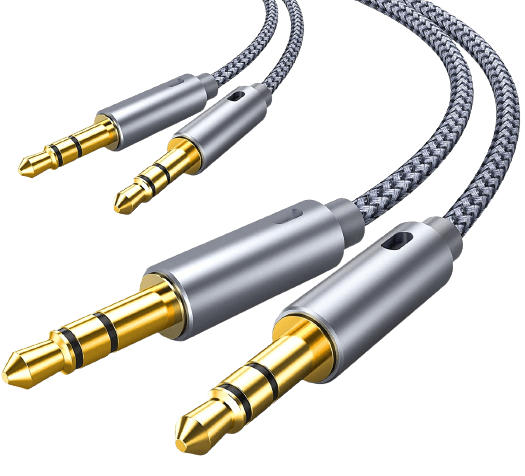 Oldboytech designs its headphone replacement cables to work across multiple devices. These braided cables have gold-plated connectors to provide clear audio while preventing signal loss.
The cable is extremely tough, thanks to the braided nylon material that is significantly more durable than the competition. Besides, this headphone replacement cable has a tangle-free design to prevent knots.
Moreover, its 3.5mm cable makes it easy to carry and allows you to enjoy your music on the go. This is a versatile product that is compatible with car stereos, Bluetooth speakers, and other audio-playing devices. There are three types of 3.5mm audio adapters – TS, TRS, and TRRS. The Oldboytech model is a TRS model.
While TRS cables perform well for stereo audio, they may not provide much for microphone-based sound systems. For example, if you are a gamer that uses headphones with a headset attached, a TRS cable is not the way to go – you would want a TRRS cable.
It only takes a glance to know this headphone replacement cable is quality. These Oldboytech replacement cables are durable and aesthetically pleasing – and even work well for DIY stereo repair. You also get two cords inside the package to connect with multiple devices.
The only noticeable drawback is the length. It's a tad short at 4 feet. Your best bet is to purchase the 8-foot version, which is slightly more expensive but worth it.
Pros
Durable, flexible design.
Gold-plated connectors for high-quality audio.
Affordable price.
Cons
---
Sennheiser Replacement Cable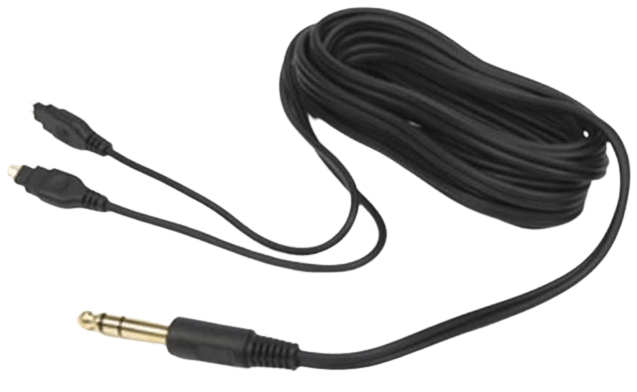 Sennheiser needs no introduction. The German brand is renowned for offering professional audio solutions worldwide. These cables are 6 feet long and immediately elevate your sound to another level.
The cable works best for Sennheiser headphones, but you can use it for any other headphones you may have. This replacement cord is a popular upgrade for stock Sennheiser HD650, HD600, HD580, HD535, HD545, and HD535 cables.
It has a gold-plated connector 1/4″ and provides a fuller sound with more depth in the mid-range and bass. This product is anything but flimsy and could last you till infinity if you use it carefully. Sennheiser uses patented Oxygen-Free Copper (OFC) material for their replacement cords to reduce background noise.
Another bonus of a Sennheiser Replacement Cable (or Sennheiser headphones) is that their cords are interchangeable. All you need is a T6 star-bit screwdriver to remove the damaged cord and install your new cable.
It's thicker and more robust than stock Sennheiser without the bulk that tugs on your headphones when in use. The stock cables are only great for a couple of months, and an accidental step on the wire is all it takes to damage them for good.
Pros
Highly durable thick cable
Works for various Sennheiser headphones
Gold connectors for enhanced sound
Oxygen-free copper for exceptional conductivity
Cons
Expensive
No color coding for L and R
The Sennheiser replacement cords do not necessarily improve sound quality, as they are relatively lengthy. A long cable may be convenient, but you should not expect exponential improvement in sound.
---
GearIT Replacement Cords

The main advantage of this GearIT replacement cable is the ability to order any length from 3 feet to 50 feet. It's more an extension cable than a replacement cord. It is compatible with various devices, including smartphones, tablets, car stereos, PCs, and any other device with a 3.5mm AUX port.
It has a 24k gold connector for exceptional signal transmission, including corrosion resistance to give you the optimum sound. The cable has a 3-contact TRS connection and oxygen-free copper wires. The PVC casing ensures longevity and lessens stress on the head of the cable.
In addition, the replacement cable has high-quality control and rigorous testing to ensure the best performance. The unit utilizes oxygen-free copper for supreme precision and the best conductivity.
More importantly, you can purchase a male-to-female cable to extend your headphone cable length at work or at home. That helps make this one of the best headphones replacement cables.
Pros
Works as an extension cable for headphones
Excellent audio quality with minimal distortion
Compatible with multiple audio devices
Decent construction
Cons
Strain relief could be better
Slightly expensive
Although the cord has gold-plated rims, the thin cable can warp with excessive use, so handle with care. Its length is one of the primary factors that make this cord so unique – ideal for gamers, audiophiles, or those working in an office, the GearIT replacement cord is a practical option for almost anyone.
---
Cipher Replacement Cable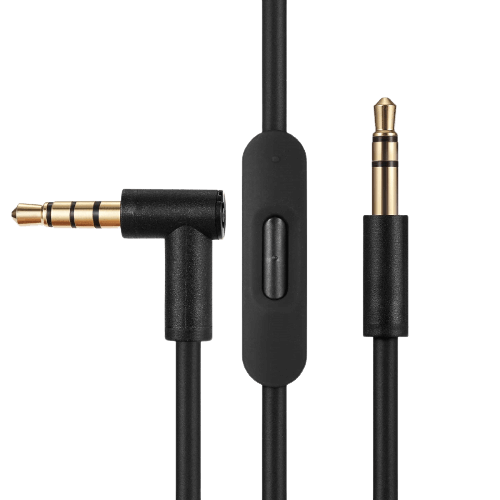 The Cipher brand of headphone replacement cables are compatible with different headsets but tailored towards Beats By Dre brands.
Unlike many competitors, these cords have a microphone built into the line that enables you to make calls or chat with your team while playing a video game. The unit is a male-to-male connector that extends the range of other devices, including PCs, car stereos, and speakers.
This cable has a 90-degree jack which prevents the wires from sticking out, bumping into things, or tangling. It also has a volume control integrated into the cable for more convenience. However, the volume buttons may lose function after prolonged use.
The only drawback is the sound quality which isn't as crystal clear as more expensive brands. Still, it's a solid cable at an affordable price point that makes it hard to ignore. Also, if you have Beats headphones, you can purchase the Cipher replacement cable for much less than a Beats brand cord (or a new pair of headphones).
Pros
Built-in microphone
90-degree jack for extra durability
Affordable price
Compatible with various audio equipment
Cons
No improvement in sound quality
Mic quality isn't fantastic
---
Saipomor Replacement Cables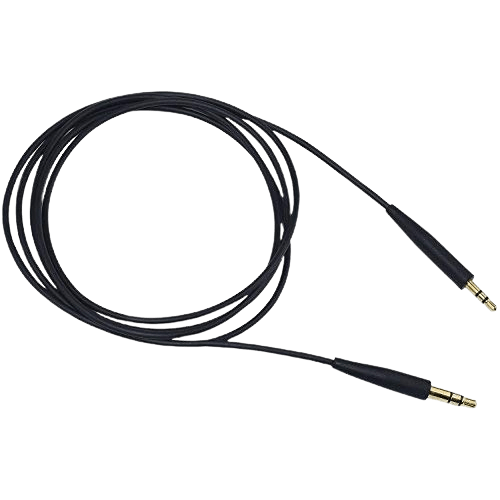 This Saipomor headphone replacement cable is perfectly suitable for BOSE users, especially SoundTrue, SoundLinkII, and NC700 wired headphones. The material is high-strength TEP that is tough, resilient, durable, and can withstand rough usage.
It's often a challenge to purchase headphone replacement cables from BOSE. This headset wire gives you the same sound quality for a lesser price. The Saipomor replacement cable is a 3.5mm to a 2.5mm cable.
That said, it doesn't have an in-line microphone. So, if you use a headset or headphones to take calls or for gaming, this may not be the best replacement cord for you. If you are more of a casual user, though, the Saipomor cables are a practical choice.
The manufacturer has an upgraded version for a slightly steeper price if you need the in-line mic. These cables have a one-year warranty which is a testament to their quality.
Pros
Superb audio quality
Suitable for BOSE headphones
Durable TEP material
Affordable price
Cons
No microphone
Does not last long
The Saipomor cable is not suited for audiophiles or those looking for a cord that stands the test of time. If you do not mind replacing the unit every few months, the cable suits the average listener.
---
CableCreation 3.5mm Aux Cable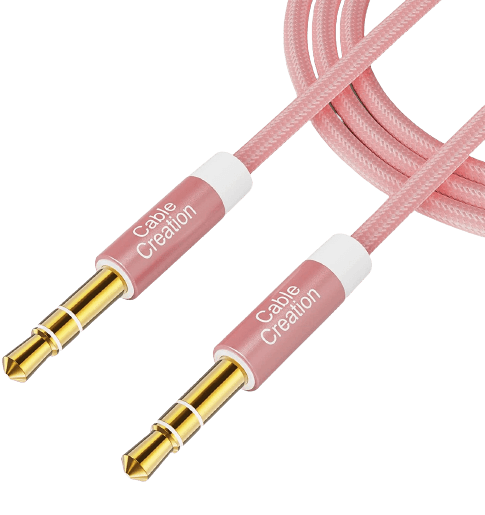 This rose-gold cable by CableCreations bears a striking similarity with the rose-gold iPhone. It's a fashionable cable for anyone looking to stand out from the crowd.
The CableCreations cord fits Playstation, Xbox, routers, personal computers, and speakers. This cable is popular with gamers as it lasts forever and provides high-quality sound without breaking the bank.
CableCreations manufactures their cables with durable nylon, so you never have to worry about this cord caving under stress or warping after prolonged use. Spilled coffee, aggressive pulling, and other ailments are no match for the CableCreations cable. If you use it with your phone, you do not have to remove your phone case to plug in the cord.
You can use this cable for years before you notice any deterioration. In sum, this headphone replacement cable fits snugly, has a decent sound, and is more durable than most.
Pros
The cable comes in various lengths, from 1.5 feet to 10 feet
Rose-gold color is aesthetically pleasing
Sturdy design with 10,000 bend life cycle
Gold-plated connectors for crystal clear sound
Compatible with multiple devices
Cons
The sound quality is not the best
---
Headphone Replacement Cable Buyers Guide
This article aims to remove the stress of searching for the ideal cable for your headphones. It can seem like an uphill task to find a headphone replacement cable that works as well as your stock unit. If you would still like to purchase one, these are some factors worth keeping in mind.
Length
The cable length is arguably the most crucial feature to keep in mind before opting for any brand. Having a suitable cable for your headphones allows you to connect to devices without issues.
Some standard cable lengths on the market include 1.5 feet up to 10 feet. A lengthier cable is handy, but it is also prone to snags and breakage. On the other hand, shorter replacement cables can pull on your headphones, making them uncomfortable to use.
Cable Number
In addition to your headphones, these cables are compatible with other audio devices. Instead of buying a single replacement, you can purchase a pack in one sweep.
It makes more financial sense and is more convenient to buy a few cables than a single unit. Some brands sell up to five cords in a pack, saving you from going over the purchasing process again.
Construction
Ideally, you want your cable to last as long as your headphones. It is therefore essential to buy a cord that is durable and reliable. Basic models often use a rubber jacket, but braided brands offer more durability and are longer-longer lasting.
Warranty
The cable warranty instills confidence in the product quality. When looking out for a replacement cable, ensure you buy one with a minimum one-year warranty. But if you require a more premium brand, a lifetime warranty will provide more durability.
FAQs
If you need further clarity, below are some of the most commonly asked questions about headphones.
Is There a Difference Between Analog and Digital Audio Cables?
Yes, analog uses electricity to transmit information. In contrast, digital cables use a series of ones and zeroes.
What are the Different Types of Cables Used for Headphones?
You can find headphone replacement cables in 2.5mm, 3.5mm, and 6.3mm. However, 3.5mm is the most common standard on boom boxes, smartphones, and CD players.
How long do wired headphones last?
The lifespan of your headphones depends on the build quality. However, the typical lifespan of a headphone is two years. Of course, that can vary if there is significant wear and tear or if wires get bent or otherwise damaged.
If you want your headphones to last, take care of them, always store them properly, and avoid twisting them inside pockets.
Final Thoughts
Despite advancements in technology, wired headphones still have superior quality compared to their wireless cousin. Additionally, wired headphones do not have a battery life limit and give you the luxury to listen to music as long as you want.
Moreover, these headphones are more affordable. The only constraint is the cable that suffers from wear and tear. Fortunately for you, we curated the best headphones replacement cables that are sure to outperform your stock unit and give you long-lasting value.