Sennheiser offers an array of headphones, catering for all budgets and needs. Whether you're a recording artist, disc jockey, or love gaming, you'll find a set of Sennheiser headphones that are perfect for you. They have high quality studio headphones that rival the AKG K240 and high quality gaming headphones that are up to par with Skullcandy headphones.
It's worth noting that the sound quality, and even the quality of the headphones, are very similar across the range. The company was started in 1945 by Fritz Sennheiser and has always ensured people get their money's worth.
But, what is potentially more impressive is that the majority of Sennheiser headphones have detachable cables. This is a practical benefit as the cable is the most likely part to get damaged during everyday use.
Replacing the cable is surprisingly simple and can't be done in a matter of minutes.
Using a T6/50mm star bit you can unscrew the clamp that sits over the cable on the headset.
Remove the cover and you'll see the plug for the cable. Simply pull the cable out!
You can slide a new cable into the slot and replace the cover.
Screw the star headed screw back into position, without over-tightening it.
Enjoy!
Being able to replace the cable means your headphones are not ruined as soon as you've accidentally damaged the cable. Sennheiser often provides a spare cable, although this is generally a longer cable, giving you more flexibility.
If you've damaged your existing cables or simply want a different one you'll find the following options are some of the best replacement cables for Sennheiser headphones.
Best Sennheiser Headphones Replacement Cables
NewFantasia Audio Replacement Cable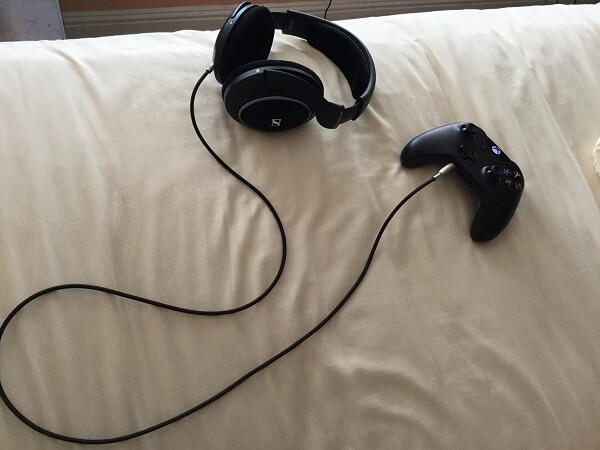 This cable from NewFantasia is designed specifically for the HD598, 558, 518,598 series, 599, 569, and 579. It's 1.5 meters long, that's approximately 5ft.
The cable diameter is 4mm, its made of Oxygen Free Cable with a braided, tangle-free coating. You'll also find a 3.5mm male jack and a 6.35mm adapter to 2.5mm cable. That's the same as the original Sennheiser cable.
This cable is also available in a variety of other lengths, including 1.2m, 2.5m, and 3m. That means you'll have enough to stroll around the room!
---
3Cleader Audio Replacement Cable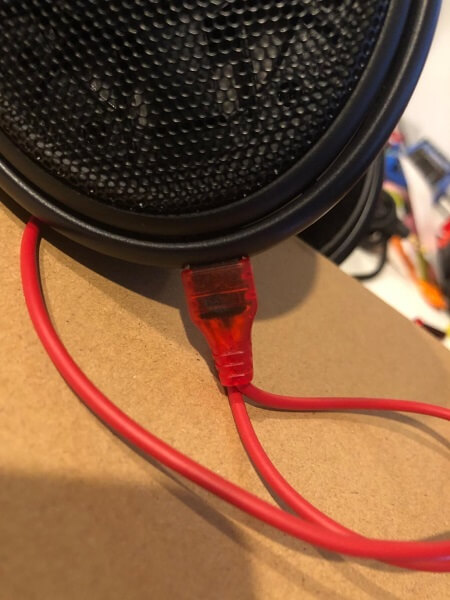 This isn't just a replacement cable, it actually upgrades the sound of your music. The 3Cleader replacement cable uses professional-quality OFC cable. This cable has three strands of wire in it with each strand being multiple copper wires. They are then insulated to ensure there is no sound distortion.
The outer cable is braided nylon. A TPE jacket prevents the cable from aging and makes it resistant to chemicals and solvents. It also has Kevlar to ensure the tension is right within the cable, it can accommodate 30kg. The 3Cleader cable is designed to work within a temperature range if -50°C to 100°C.
In short, this cable is built to last! The fact that it improves the sound quality is a bonus! It should smooth out the high and low frequency sounds to thicken the sound. You'll appreciate all the fine nuances of the music you're listening to.
It should be noted this impressive replacement cable is compatible with the HD650, HD600, HD580, HD565, HD545, and HD525. If you have a different set of Sennheiser headphones you'll need to verify compatibility first.
---
Genuine Sennheiser Replacement Cable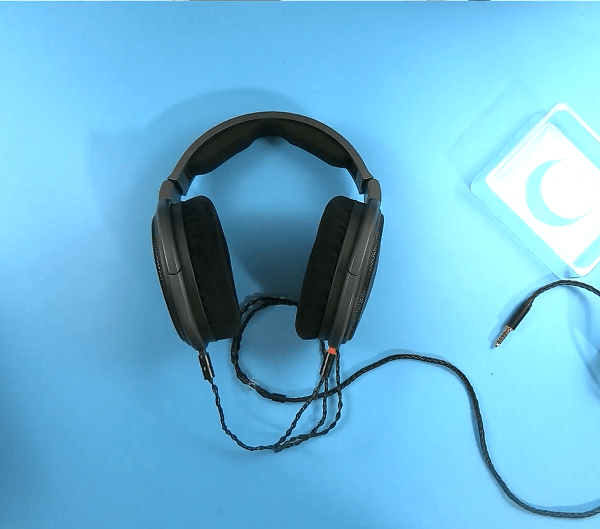 Considering the emphasis on producing quality products it's not surprising that Sennheiser has its own offering on the list of best replacement cables of Sennheiser headphones!
This is a genuine replacement cable that is compatible with a wide number of Sennheiser headphones. The cable is 3 meters long and has a straight 3.5mm plug. It also has an adapter plug that screws onto the end of the cable, effectively allowing you to switch between 3.5mm plugs and 6.3mm.
The ends are color-coded to facilitate the fitting of the cable when you need it. The cable is the same as the standard offering, giving good sound quality. However, it should be noted that there are thicker cables available that can improve on the sound quality, such as the 3Cleader cable.
---
ABLET Audio Replacement Cable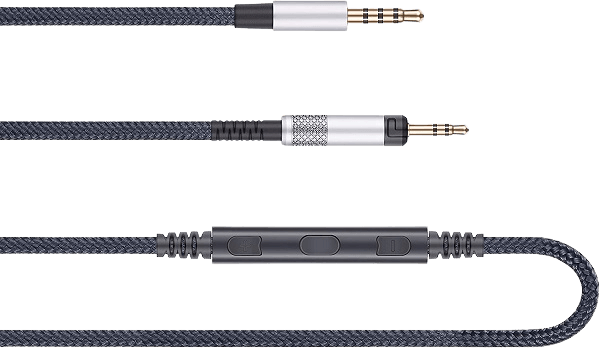 This ABLET audio replacement cable is designed to connect your Sennheiser headphones with your cell phone, specifically, it can connect to Apple products. To facilitate use it has an in-line mic with remote volume control. This allows you to skip tracks, adjust volume, and answer calls, all from the headphones.
The cable is 1.2m long and supports both 3.5mm jacks and 2.5mm ones. Its made with tangle-free nylon and utilizes OFC cable to improve audio quality while ensuring the cable is tough enough to cope with most of what is thrown at it.
Of course, if you're looking at this cable you'll want to verify that your phone is compatible first. It's worth noting that this cable has been tested to ensure it can withstand being bent at least 30,000 times.
---
Momentum Audio Cable Replacement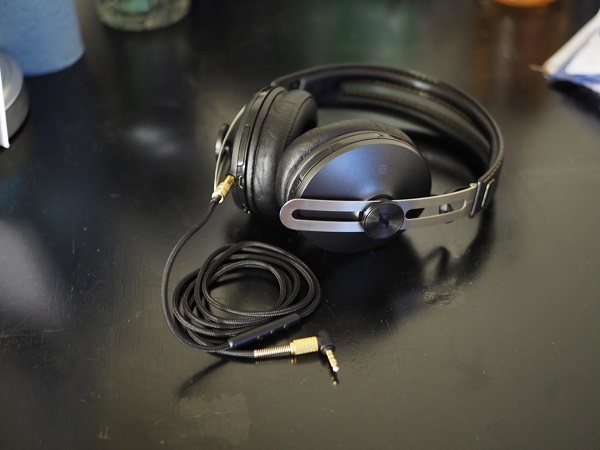 The first thing you'll notice about the Momentum replacement cable is that the ends are gold. They are gold plated to improve signal transference.
The cable can be purchased with or without a mic, depending on your needs. It is made to be durable and stronger than the original cable. The braided nylon finish protects it from being damaged by kinks or bends. This will help the cable to last longer and the braided nylon reduces the likelihood of kinks happening.
As well as gold-plated end pieces, this cable has steel spring buffers by the connectors. This makes it easier to bend the end section without worrying about damaging the cable;
The inline mic can be used to play tunes, adjust the volume, and answer calls. You'll find it easy to use and a real benefit if you spend a lot of time talking on your phone. At 1.5m long this is enough to handle most of your needs and you may appreciate the dual jacks, 2.5mm and 3.5mm, perfect to cover all options.
---
KetDirect Cable Compatible with Sennheiser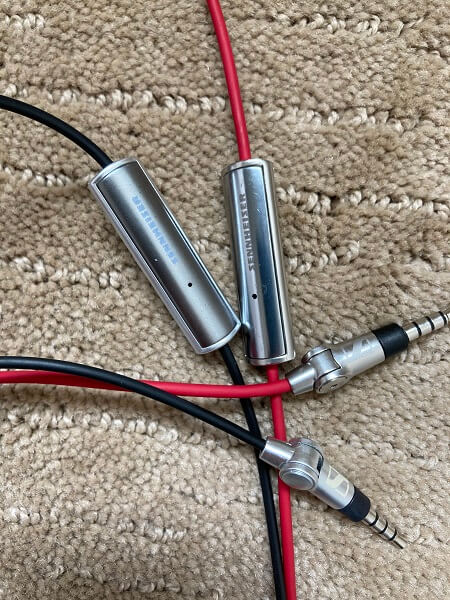 The KetDirect cable is designed for Sennheiser headphones and comes in a cool red color. It has standard jacks on both ends and supports a small black section, this is the inline mic and remote control.
From the inline controls, you can control the volume level, pause a track, or play it. You can even change a song. It's also worth noting that you can make and receive calls from the microphone. The cable is 1.2m long with a 2.5mm jack and an adaptor to change this to 3.5mm if necessary.
The cable itself is made from durable plastic and the interior copper wires are excellent at transmitting signals. This helps to ensure you get the best possible sound quality.
If you're hoping to use these with your iPhone it is possible to get an adaptor.
---
Which Sennheiser Headphones Should I Get?
If you're on the hunt for a new pair of Sennheiser headphones, you're in luck because they have so many impressive options. But which headphones are right for you?
Read about some popular Sennheiser models and what they're best used for below so you can pick with confidence.
These headphones are excellent for casual use, whether you listen to crime podcasts or jam to show tunes all day. The headphones offer quality sound at a fair price, especially compared to similar headphones. They come with cozy ear pads and a spacious fit for long-term comfort.
The GSP 670 is a stellar option for all gamers out there. Using ​​Sennheiser's Gaming Suite app, you can create a surround-sound experience while you game with top-notch clarity. You can hear every sword slash with impeccable quality. If you want a pair of headphones that will immerse you into your game, GSP 760s are an outstanding choice.
The HD 280 Pros are classic studio headphones that will meet all your sound needs. These affordable studio headphones over dynamic, closed cans are comfortable, so you can wear them all day for studio work.
For those who want to block out the world and only hear their music or podcasts, the HD 450BT is the best choice. These have incredible noise-canceling capabilities with a portable and comfortable design. They're the ideal Sennheiser headphones for someone on the go!
While all of the Sennheiser headphones are reasonably priced compared to competitors, these are an excellent option for someone on a budget who doesn't want to settle for subpar sound. The HD 350BTs are Bluetooth 5.0 headphones that are easy to travel with while still giving you a top-notch listening experience.
Frequently Asked Questions
For more help and information related to using Sennheiser headphones, read the commonly asked questions about amps and replacement cables below!
What cable do Sennheiser headphones use?
These headphones use a 3-millimeter cable with a 3.5-millimeter jack plug.
How to connect Sennheiser Bluetooth headphones to PC?
To connect Sennheiser Bluetooth headphones to your PC, open the settings on your PC and tap the Connections link. Click on Bluetooth and then click Scan in the upper right corner of the screen. Now, press and hold the power buttons on your headphones and choose the Sennheiser on your PC when they appear.
Does Sennheiser sell replacement cables?
Yes, Sennheiser does sell replacement cable that matches the original cable the headphones come with. You can also find these Sennheiser replacement cables online.
What size is a Sennheiser headphone jack?
Sennheiser headphones use a 3.5-millimeter headphone jack for connections.
What are balanced headphone cables?
A balanced headphone cable uses stereo audio that has four different conductors. Each of the channels has two audio signal paths, while an unbalanced cable only uses one signal path for every audio signal. In essence, the four wires run across both of the audio channels in balanced headphone cables.
Do balanced cables sound better?
Typically, balanced cables offer a better listening experience. Unbalanced cables can pick up interference or grain, while balanced cables provide a stronger and clearer audio signal to the headphones.
How long is the HD600 cable?
The cable that comes with the HD600 headphones is ten feet long, giving users plenty of wiggle room to move around with their headphones. If you need a replacement cable for Sennheiser HD600 headphones, you can find options online.
Are Sennheiser HD 300 headphones compatible with Dolby Atmos?
Yes, the Sennheiser HD 300 headphones work beautifully with Dolby Atmos.
Can the LG V60 drive a pair of Sennheiser HD 800 headphones?
Yes, the LG V60 has enough power to drive a pair of Sennheiser HD 800 headphones and give you a quality listening experience.
Can the Yamaha mg10xu serve as an amp for Sennheiser HD 599 headphones?
Yes, you can use the Yamaha mg10xu as an amp for the Sennheiser HD 599 headphones. However, most users do not feel this is necessary as they provide clear, quality sound on their own or when plugged into a PC.
Can a pair of Sennheiser HD 280 Pro headphones be hooked up to a Fender Champion 100 amp?
While the Sennheiser HD 280 Pro headphones do not need an amp for full functionality, they can benefit from one. And they are compatible with the Fender Champion 100 amp.
Final Thoughts on Sennheiser Headphones Replacement Cable
Choosing the best headphones replacement cables for Sennheiser headphones is more than just looking at the price of each of the options. You need to consider the length of the cable you're purchasing and the manufacturer of the cable.
One thing is certain. When you've paid reasonable money for a good set of headphones you don't want to ruin the sound by purchasing a poor-quality headphone cable. That's why it pays to look at the best replacement cables for Sennheiser headphones, as listed in this article.
You'll then find the perfect replacement cable for your Sennheiser headphones!