The Nintendo Entertainment System, (NES) Classic was released in November 2016 and is a miniature version of the original NES. It has thirty built-in games, including some of the most popular titles in the NES library.
Interestingly, the Japanese version of the NES classic uses hardwired controllers, all other systems use the same connector as the Wii Nunchuk. This effectively allows the NES Classic controller to be used with the Wii remote on the Wii and the Wii U.
The NES Classic has been well received, the two main complaints revolve around minor an emulation glitch and the fact that the controller cord is too short.
Fortunately, the emulation glitch is minor and easily ignored. Equally, you'll find there are several options available to extend the cord, making your gameplay even more enjoyable. And if you need unlimited power we got that too NES power cord.
Best NES Classic Controller Extension Cable
i-Kawachi NES Classic Controller Extension Cable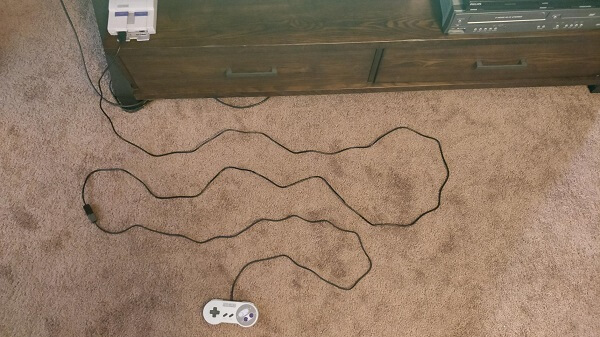 The i-Kawachi extension cord is designed specifically for the NES Classic. In fact, this offering is a 2-pack, ensuring both your controllers can be extended and used at the same time.
The extension cable is 10ft long, (3 meters). To use it you just plug it into the controller and the NES Classic. Better still, if you're not convinced ten extra feet is enough, you can connect one of the cables to the other, doubling the length of the cable to 20 feet.
That should certainly be enough to allow you to relax and play almost anywhere in your gaming room. The fact that the cable weighs just 5.6 ounces should also help.
It's worth noting that the cables are high-quality. The inner cables are copper with durable plastic sheaths. The outer cable is a standard mixture of rubber and plastic. This ensures excellent signal transfer and the durability of the cable. After all, gaming cables do tend to be twisted and pinched regularly, your focus is on the game, not what your cable is doing.
To back up the quality of this extension cable you should be aware that there is a 12-month warranty service with technical support available 24 hours a day, 7 days a week.
---
Ortz NES Controller Extension cable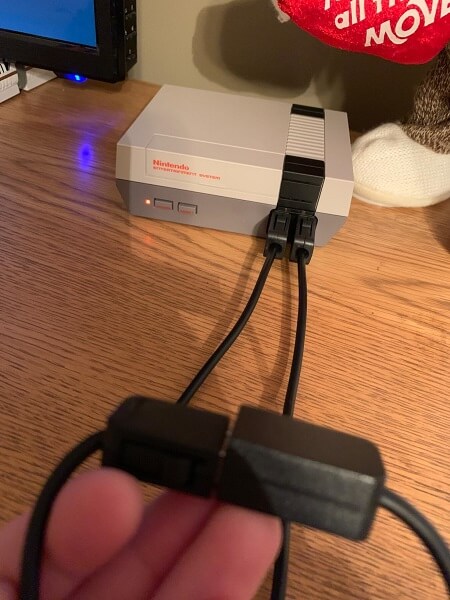 Ortz also offers a 2-pack extension cable for the NES classic. In fact, this cable is compatible with the SNES, NES Classic, Wii U, and the Wii.
The Ortz extension cable for NES Classic is also 10ft long, allowing you to sit comfortably up to 3 meters from the console. Again, it's designed to work as a plug and play option, all you have to do is connect each end and start playing.
It's also capable of connecting to itself, allowing you to create an extension up to 20ft long. This allows you to sit back and really get into the game. It's especially relevant if you have a large screen and playing too close is making it difficult to take everything in.
The cable is made from high-quality materials with the emphasis being on signal quality. It is likely that you could daisy-chain three or four of these cables without losing signal quality. Of course, you probably don't need a cable thirty or forty feet long!
You should note that these extension cables are made specifically for the NES classic. While they can be used on the SNES mini, they will not work on the original Super Nintendo or any other devices.
These are a great option for improving your comfort while game playing.
---
CZHOON Extension Cable Package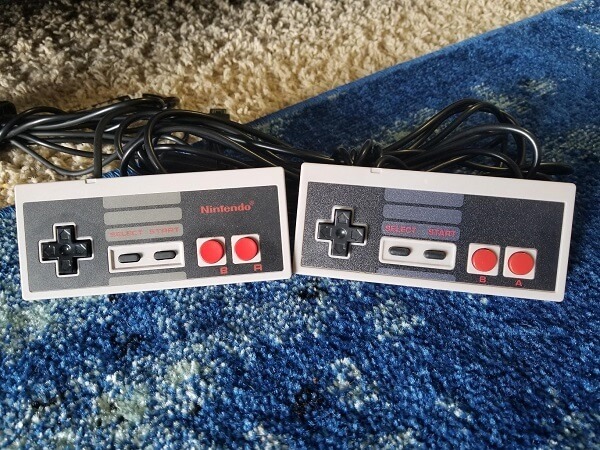 This is another great option, especially if you need an extra or replacement controller. The pack contains two extension cables which are designed to work with the NES Classic, SNES, Wii, Wii Nunchuk, and most other controllers that use this connection type. That makes them a versatile addition to your collection
In addition, you'll get a mini NES classic controller, that's perfect if you've lost one or damaged it.
The cables work in the same way as the others on the list, simply plug them in and get started. They're 10ft long and can be daisy-chained if required. Simply connect as many as you need to stretch between your console and your sitting position, including a little slack. Then get comfy and start playing.
Every cable is tested before it's dispatched, ensuring it meets strict quality control standards. They are constructed with the highest-quality materials and you'll benefit from a worry-free warranty. In short, if you experience any issues within 2 years you'll be covered by the warranty. You can also contact the technical support. Purchasing the cables gives you lifetime access!
The cables are a standard black color with insulated copper wires ensuring a high-quality signal and no loss or delay in play quality. These are one of the most popular choices on Amazon for a good reason!
---
AGPTEK Cables & Controllers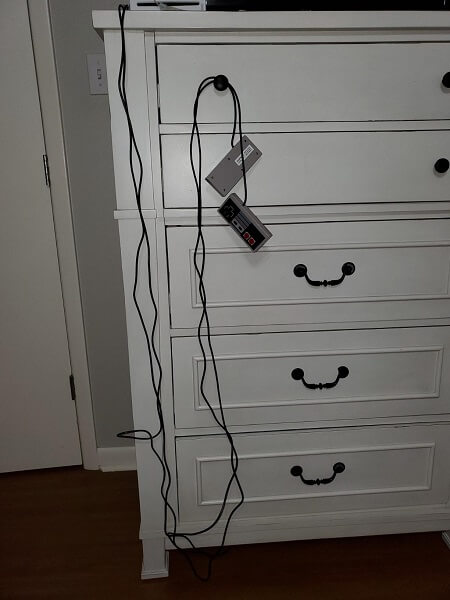 If you're after something a little different then you may want to consider replacing the controller instead of finding an extension. This offering from AGPTEK is surprisingly affordable when compared to purchasing extension cables.
The pack gives you 2 NES Classic controllers with cables hardwired into them. The cables are 11.8ft long, giving you a little extra than the standard extension offerings. You can, of course, add an extension cable to the cable on these controllers, taking them up to 21.8ft long.
It should be noted that these controllers are not OEM equipment. They do copy the design perfectly, the buttons are all in the same place and the sensitivity is the same, you won't notice the difference while playing.
These controllers and cables are also compatible with the SNES classic.
As with the standard extension cables you don't need to do anything special to make these work. Simply plug the cables into your console and start playing, no downloads are necessary. There is no noticeable delay in playtime, maximizing the quality of your play.
Alongside a thirty-day return service, you'll benefit from a 1-year product replacement guarantee and lifetime access to the excellent customer service department.
Best of all, if you do encounter any issues you still have your original controllers, with short cables, that can be used.
---
Keten NES Classic Controller Extension Cable

This is another 2-pack option, ensuring you can extend the cable on both of your controllers. Each cable is 10ft long and the Keten NES extension cables can be daisy-chained together. Buy two packs of these cables and you and your playing partner can sit 20ft away from the screen.
That won't just help to ensure you're comfortable, it will also reduce the amount of radiation you absorb from the screen!
The cables will fit the NES Classic, SNES, and the Wii or Wii U. It could be the perfect addition to your collection if you own more than one of these consoles.
The cable is made from high-quality materials. The inner cables are insulated copper with all the cables contained in a standard plastic coating. It's designed nit to crack or break when being used, despite the stress that may be placed on it during vigorous gameplay.
There's a 45-day money-back guarantee and a promise that any issue will be solved within 24 hours. Every order is checked before dispatch to ensure you have the highest quality products and the best possible service.
---
NES Classic Controller Cord Length
The NES Classic Edition controller cord is less than three feet long. If you remember playing the original NES, you may recall that the cable was much longer back then – over 90 inches – when the televisions were smaller and harder to see. In today's market of mega screens and wireless controllers, being stuck so close to the TV isn't acceptable.
Frequently Asked Questions
Here are some of the most frequently asked questions we get about NES Classic consoles, controllers, and cables.
How long is the NES Classic Controller cord?
The NES Classic controller cord is only 30 inches long. For many people, this is just barely longer than arm's length.
How do I connect my classic controller to my NES?
You'll need a special adapter to connect your classic controller to your NES Classic. Hyperkin makes an NES to NES Classic Adapter that allows you to connect your 90-inch original NES controller to the NES Classic. Once you have that adapter, simply plug it into the controller port on your NES Classic Edition console. Then, plug in your original NES controller, and you're all set!
How much are old Nintendo controllers worth?
You can still find old Nintendo controllers on eBay and other online marketplaces. Their value varies depending on what's included. Loose controllers are worth around $5 to $7, while complete boxed controller packages are between $15 and $30, depending on the seller.
Do original controllers work on NES Classic?
Original NES controllers aren't directly compatible with the NES Classic. However, if you want to take advantage of the original NES controllers' extended length, you can purchase an NES to NES Classic adapter from Nintendo for around $10.
Does Nintendo still make NES controllers?
Nintendo no longer produces the original NES controllers. You can, however, purchase NES Classic wired controllers and NES Classic wireless controllers with a Bluetooth adaptor.
Can you use two wireless controllers on NES Classic?
Yes, the NES Classic Edition does support the use of two wireless NES controllers at one time. However, the NES Classic Edition console only comes with one wired controller.
What is the best NES controller?
The best NES controller is a Bluetooth wireless controller, such as the NES30. It has a long-range Bluetooth receiver that gives you over 30 feet of range and charges with the same micro USB that just about everything else uses.
Will there be an N64 classic?
No one knows for sure whether Nintendo will release an N64 Classic. Though rumors have been circulating for years, Nintendo has yet to confirm whether this classic console is in development for re-release.
Can you use the NES Classic Controller on PC?
No, the NES Classic controllers do not work natively on PC. However, if you're a fairly advanced tech user, you can build your own NES Classic controller-to-PC adapter using this tutorial. The Nintendo Switch NES controllers, however, do work on PC. And if you have a wireless NES Classic controller, you can use wireless Playstation, Xbox, and Wii controllers to play your NES Classic Edition console.
How big is an NES controller?
The original NES controllers are 4.8 inches wide, 2.1 inches tall, and .69 inches thick. The NES Classic controllers are almost identical in size. However, the NES Classic controller has a much shorter cord than the original NES controllers. The 30-inch NES Classic controller cords are much shorter than the original 90-inch NES controller cords.
Can you remove the NES classic controller wire without any soldering?
Yes, it is possible to remove the original NES controller wire and convert it to wireless without any soldering. This mod kit from 8BitDo lets you turn your classic NES controller into a Bluetooth controller compatible with iPhones, Android phones, Windows PCs, RaspberryPIs, and more.
I have a used classic NES controller that is unresponsive on several buttons. Can I clean it with just hand sanitizer, or do I need isopropyl alcohol?
Isopropyl alcohol is the preferred electronics cleaner. However, since most hand sanitizer is made from ethyl alcohol, it's unlikely to cause any damage to your controller. In any event, since the controller is already not working, you've got nothing to lose by using isopropyl alcohol or sanitizer to attempt to restore its functionality.
Choosing The Right Extension Cable For A NES
All of the cables above make a great choice for replacing or extending your current cable. The main difference is the price and the inclusion of extra controllers. While the NES Classic is designed to be used with more than two controllers, this doesn't mean that having extra controllers is a bad thing.
After all, if you're enjoying an evening of classic games consoles with your friends and the controller breaks, you'll be glad you had a spare.
For this reason, you may want to look at the packages that give you extension cables and a spare controller. That really is the best of both worlds.