The AKG K240 Studio headphones are typically used by professionals for applications such as mixing, mastering, and playback and are on par with Sennheiser and Bose QC25. They are a common choice in recording settings. These over-ear, semi-open headphones boast accuracy that impresses producers, musicians, and anyone who appreciates professional sound quality.
They are built to be durable and comfortable enough for hours in the studio with a self-adjusting headband. They also allow mixing details to be heard clearly with excellent sound quality.
One possible downside of these headphones is that they come with a 3-meter cable. It's a huge plus if you need to be able to move around a bit. However, if this is more length than you need and you'd rather not be dealing with that extended length, an AKG K240 replacement cable can help keep you from getting tangled up with all the extra cable.
Whether you're looking for a different length of cable or your original cable has been lost or damaged, read on to learn about several options and find the best AKG K240 replacement cable for you.
Best AKG K240 Replacement Cable
NewFantasia Replacement Audio Upgrade Cable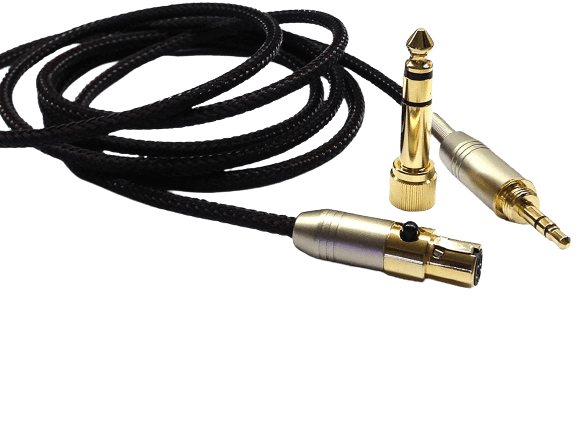 The NewFantasia Replacement Audio Upgrade Cable is a versatile option for an AKG K240 replacement cable with various lengths, which include:
1.2 meters (3.9 feet)
1.5 meters (4.9 feet)
2 meters (6.6 feet)
3 meters (9.8 feet)
This replacement cable is 4 mm in diameter with OFC wire inside and a braided cable on the outside. The 3.5mm TRS end features a strain relief spring, and the adapter end is screw-on and will fit guitar amp plug-ins and connect solidly without being overly tight.
The cable is thin but feels sturdy and does not sacrifice sound quality.
Considerations:
This NewFantasia Replacement Audio Upgrade Cable is not a balanced cable, and has a single end. It has a mini-XLR end and will not be suitable for 4-pin connections.
You can find extensions to make this AKG cable even longer, although additional cables may compromise some overall sound quality.
A few possible issues that have been reported with this AKG K240 replacement cable product include:
Faulty release button, making the cable difficult to unplug from headphones
No strain relief spring on the mini-XLR end
Nylon fabric covering can cause zipping sound to echo in headphones during use
Some connections do not seat well, creating static with movement or sound cutting out
Headphone clip can break easily, creating an issue for removal later
---
K702 Cable Coiled Aux Cord Replacement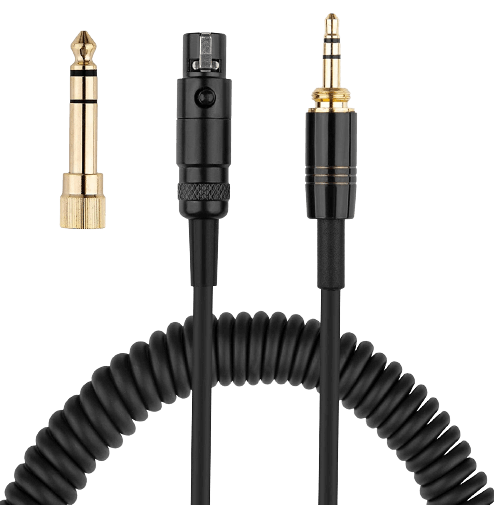 If you prefer a coiled option as an AKG K240 replacement cord, try the K702 Cable Coiled Aux Cord. This spring audio cable stretches from 1.4 meters (4 feet) up to 5 meters (15 feet), allowing you to move around without having to manage your cable.
This durable cord features a mini-XLR end and a 3.5 mm TRS end along with a screw-on adapter that allows you to switch to a 6.35 mm TRS plug to fit guitars, pianos, drums, amps, and consoles.
The gold-plated TRS end ensures Hi-Fi and stereo sound, and rubbing the cable during use does not affect the excellent audio quality. It is more soft and flexible than other standard OEM cables, making them a terrific option for replacement.
In case you want to use this cable with other equipment, it is also compatible with many different headphones as well as android phones, tablets, laptops, computers, MP3 players, and car stereos.
Considerations:
One possible issue is the rubber wrap near the headphones becoming separated from the metal casing and exposing the wires, although this isn't difficult to repair.
It is also a possibility that the cable will not stretch to the full 15 feet before the pressure becomes too much and pulls out the plug.
Its coiled design can be too heavy and stressful on the metal contacts, causing them to break after prolonged use. This additional weight can pull the cables out of the mini-XLR ends, not keeping a secure connection.
---
AKG Acoustics Cable EK 300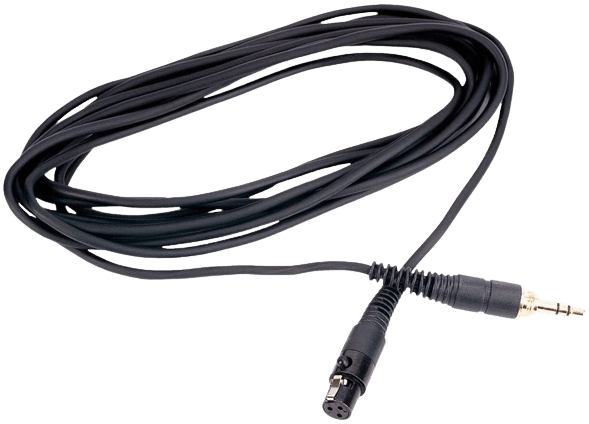 If you loved the cable that originally came with your AKG K240 headphones, but it has been damaged or lost, you can buy the exact cable to replace it. It will cost you a bit more than some other cables, but if that's what you're looking for, here it is – the AKG Acoustics Cable EK 300
The cable features the same 3-meter length, mini-XLR to 3.5 mm ends, clean sound, and it does not tangle or kink easily.
Considerations:
This AKG Acoustics Cable EK 300 is a specialty item that can be challenging to find if you need a replacement.
The cable can break away and separate from the headphone cup, leaving exposed wires, which may alter the sound quality during use.
Because of the higher cost of the cable, some users opt to purchase an entirely new headset rather than a replacement cable.
This cable uses a mini-plug so headphones that require a standard plug jack will need an adapter for proper fit.
---
KetDirect Replacement Cable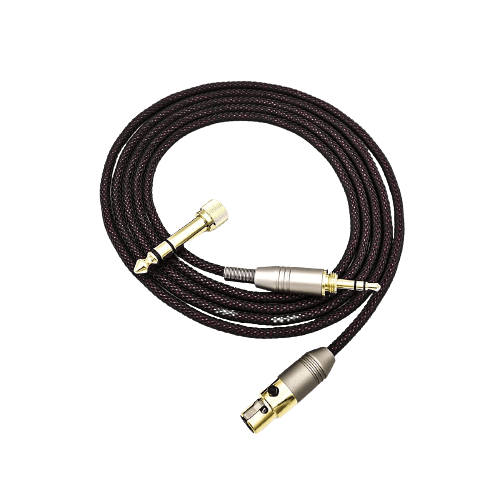 Another cable with high ratings and multiple choices for length is the KetDirect Replacement Cable.
It is available in several lengths to fit your individual needs, including:
1.2 meters (4 feet)
1.5 meters (4.9 feet)
2 meters (6 feet)
2.5 meters (8.3 feet)
3 meters (9.9 feet)
This cable is 4 mm in diameter with a tangle-free braided covering. At its ends are a mini-XLR and a 3.5 mm jack that can be changed to 6.35 mm with the adapter.
The sound quality of this cable is excellent. It is well-built and durable and connects securely to the headphones. With an auxiliary and XLR connections, this cable is suitable for many devices.
Considerations:
One drawback to this cable is that it is prone to transferring any brushes against the cable into noise in the headphones.
Using the KetDirect Replacement Cable with balanced headphones is not possible, unless users perform some homemade modifications. These adjustments include allowing a 4-pin connection rather than the original 3-pin. However, manual changes and tampering will affect the warranty and could hinder its performance.
---
Is the AKG K240 worth it?
AKG K240 Studio headphones are widely considered to be one of the best options in an affordable price range. They are a trusted option when you are on a budget but unwilling to compromise the quality of the sound.
Some users may find that their bass leaves something to be desired, but overall, they provide clear, crisp audio while also being durable.
They are also comfortable for long use with a self-adjusting band that flexes to the shape of your head. The soft foam padding cushions your ears, and they are some of the lightest over-ear headphones, weighing just over half a pound.
What Cable Does AKG K240 Use?
The cable used with the AKG K240 headphones is equipped with a mini-XLR 3-pin female connector at one end and a ⅛ inch (3.5 mm) stereo mini-plug at the other. The original cable is 10 feet, or 3 meters, long.
What Devices Does the AKG K240 Work With?
The AKG K240 Studio headphones easily connect to portable equipment and are compatible with many electronic devices, including:
MP3 players
iPods
DVD players
CD players
Stereos
PC
Phones
Xbox
PS
Just note that some of these might need an amplifier to get you to the full potential of your headphones.
Frequently Asked Questions
How many ohms is the AKG K240?
There are two options with the AKG K240 – 55 ohms and 600 ohms.
Does the AKG K240 have surround sound?
No, the AKG K240 does not offer a surround sound option.
Does K240 need an amp?
The AKG K240 is best experienced with an amp, especially if you have the 600-ohm model. Due to the K240's low sensitivity rating, an amp is necessary to reach acceptable listening levels. The 600-ohm model will require even more power from the amp to produce the sound you desire.
Are AKG K240 good for mixing?
Many users consider the AKG K240s to be some of the best mixing and mastering headphones available at an affordable price point. Their sound quality and level of comfort make them suitable for long mixing sessions.
What is the difference between the AKG K240 and the AKG K240 MKII?
The K240 MKII model is the successor to the K240. They both have the same specs, but the MKII features an updated design as well as new ear pads and cables.
The earcups on the MKII come in either velvet or leatherette. It comes with both the 3-meter straight cable as well as a 5-meter coiled cable.
Beyond that, the only difference is the MKII model has blue accents, whereas the original K240 has gold.
Final Thoughts About AKG K240 Replacement Cables
Whatever your specific reasons for replacing your original cable, there is likely to be an AKG K240 replacement cable that will meet all of your needs. No matter which headphones replacement cable you choose, you will continue to enjoy the excellent sound quality you've come to expect from your AKG K240 headphones.