The business world has seen a tectonic shift in the way it operates. Employees no longer need to come to the office five days a week. We are in a state of flux in an increasingly remote working world. Zoom and Google Meets are commonplace in many businesses.
However, this shift is not a phase and has required employees to up their home office.
A small investment into better office equipment for the home can make a huge difference. For example, a good webcam will make all those Zoom meetings a technical breeze. However, as we all shift our living rooms into offices, we might have trouble positioning the webcam.
You may want a specific area of your space to be the backdrop for an important video meeting, but the computer will not allow the webcam to reach you. That is when a quality USB extension cable for the webcam can be your saving grace.
The best USB extension cable for webcam use will give your webcam more versatility and not compromise the quality of the picture.
Best USB Extension Cables for Webcam
AINOPE USB 3.0 Extension Cable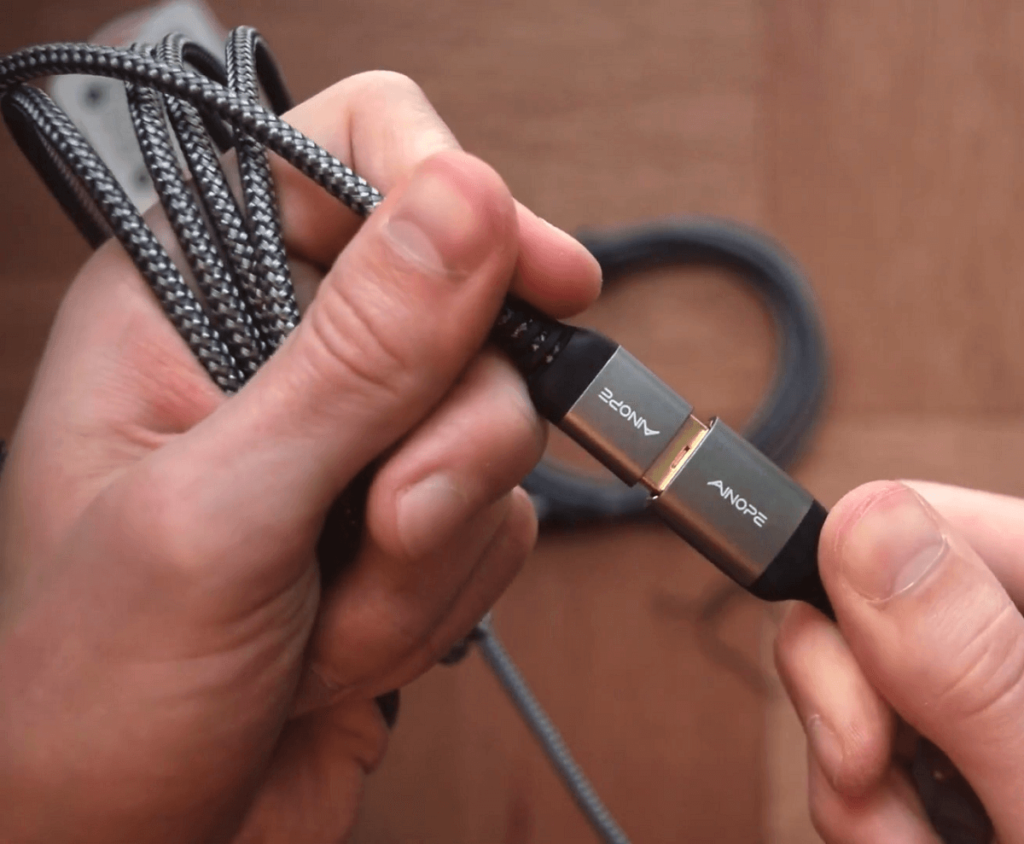 AINOPE provides a USB 3.0 extension cable that comes in several lengths and colors. The cord comes in a range of lengths, starting at 3.3 feet and extending to 20 feet. The cords are braided nylon with a male and female end. The braided nylon jacket protects the cord from damage from continuous bending. Often, cords break right at the end where the USB plug starts, but AINOPE has a special design to tackle that common problem.
The USB 3.0 is 10x faster than the previous 2.0 model. 3.0 technology will prevent lagging connections from your webcam. It also connects to USB 2.0 cords.
Prices vary depending on length and color. The base price is $9.99 with a cap of $19.99. In terms of price, AINOPE gives value for its quality. The price is fair, and the longer cords are a great value.
Considerations:
Although this AINOPE USB 3.0 Extension Cable is quite stiff, there is no fear of it becoming damaged during use. This inflexibility also keeps the cable from twisting and kinking, especially when moving around with an attached device.
Variety of lengths
Durable braided nylon
Good Value
---
Unitek USB 3.0 Active Extension Cable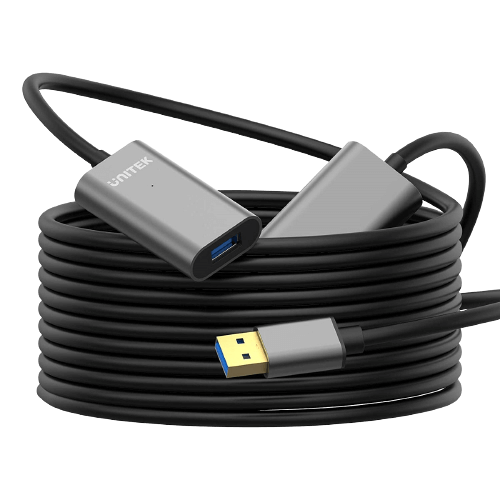 Unitek produces the top USB extension cable from a length and value perspective.
This 32-foot USB extension cable will provide a flexible range with a seamless connection. It is a USB 3.0 Type-A, male-to-female extension cord.
The cord comes with a fixed length of 32 feet, providing users with incredible range. Unitek does not sacrifice any quality for length. The cord itself is of excellent quality with a built-in GL3523 dual signal booster chipset, but it also comes with active capabilities. You can plug in a separate power supply unit to boost signal power.
The cable is priced higher than some other models on Amazon. The cord is $38.99, but it is worth the price. You can rest assured you are buying a quality product instead of risking it with a $7.00 cable.
Considerations:
This Unitek USB 3.0 Active Extension Cable is two products together as one. Therefore, the DC end is only on the head end. It will work fine for an extension but not for movement, as in VR systems.
Additionally, a power adapter is necessary when using this cable for larger flash drives or external non-powered devices, so the signal is strong enough for proper operation.
Top-quality
Lots of length
Active technology
---
NIMASO USB 3.0 Type A Male to Female Cord Extender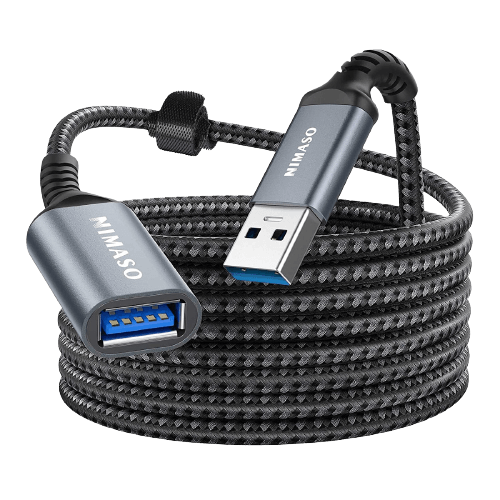 NIMASO is the best value USB extension cord on the market. It comes with all the specs you need from your extension cable. It has USB 3.0 and male-to-female ports. In addition, it has a braided nylon jacket that rarely breaks.
The cord ranges from 1.5 feet to 10 feet. It gives you some slack to position your webcam. Sometimes all you need is a few feet of extension. NIMASO USB extension cords have the option to come in a 2-pack in case you want to tether two together.
The best part of this extension cord is the price. It comes in under $10, which is usually a sign to avoid. However, NIMASO has crafted a high-quality USB extension cable and provided it for a low price. Essentially, they have sacrificed length for the price but kept the quality.
Considerations:
Depending on the external devices you use this NIMASO USB 3.0 Type A Cord Extender for, it may not have a snug contact and lose connection, hindering the performance. In addition, some HDMI outputs with a USB hub may require more power than this cable can provide.
Unbeatable value
Durable design
Bundle options
---
Uses of USB Extension Cable
Those that want increased range from their webcam should get a USB extension cable. Sometimes we want a different area of the room for virtual meetings. USB extension cables make it so that we do not have to move the entire computer.
You also do not have to settle for the area where the computer lives for the backdrop. USB extension cables for a webcam make for a more comfortable virtual experience, whether it is for a home office or school.
USB extension cables are not solely for webcams. They can make your life easier by giving a better access point for plugging in any USB device.
What To Look For In Your USB Webcam Extension Cable?
Essentially, a USB extension cable for a webcam should be durable and of high quality. Price should be considered but has many factors.
USB extension cables are not expensive, but that does not mean they should be purchased cheaply. You can acquire quality USB extension cables for just over $10. It may be tempting to look for the cheapest one, but that will compromise the quality of the connection.
Durability is a top priority. Extension cables, not just USB, slither around corners and get coiled for storage. Bending will eventually break down the cables. Emphasizing durable USB extension cables will save you money in the long run.
The best USB extension cables provide a seamless connection to the webcam. The goal is for the cables to transition into each other seamlessly. Low-quality cables cause weak connection and lag. USB 3.0 extension cables are the benchmark and have the power to provide a seamless connection.
Lowest and Highest Specifications For USB Extension?
At this point, the best USB specification on the market is USB 3.1. USB 3.1 is not commonplace, so the average person has accessibility to USB 3.0. USB 3.0 is widespread, and USB extension cords have to have 3.0 accessibility to keep up. Most USB 3.0 extensions can transfer 5.0 gigabits per second.
USB 2.0 is on its way out. If you have had a webcam for a while, it probably uses USB 2.0. Luckily, USB extensions can still work on older USB cables.
How To Use USB Extensions For Webcam?
First, unplug your webcam from the computer. Next, plug the male end of the cord attached to the webcam into the female end of the extension cord. Position the webcam to your desired location. Grab the unplugged end of the extension cord and plug it into the computer.
FAQs
Make sure you understand all aspects of USB extension cords before deciding.
Can I use a USB extension for my webcam?
Any webcam that is connected with a USB cable can be extended with an extension cord.
Do all USB extension cables work with a webcam?
As long as the USB extension cable has a male and female port, and is the type of USB your webcam needs the cable will work. Just remember USB C webcam needs a USB C extension cable.
How long can a USB extension cable be for a webcam?
USB 3.0 cables can only get extended 59 feet. Meanwhile, USB 2.0 cables can get extended to 98 feet.
How do I check what kind of USB cord I have?
The port of the USB cord should tell you if you have a USB 3.0 cable. Check for the blue line on your USB port to ensure it is a USB 3.0.
Does a cheaper USB extension cable affect quality?
Price does not always dictate quality. Some cables are less expensive because they do not extend very far. Generally, highly-priced cables are high quality and come with lots of length.
Final Thoughts
Using a USB extension cable for your webcam can provide several benefits, including a clear picture and improved sound quality. There is no further worry about these negative elements when finding the proper extension cable for your webcam.