USB cables are essential to anyone with technological gadgets, and they know too well the cable is most likely not long enough for what they need. You might often find you are putting strain on your cable, which could cause it to fray or break.
In general, the majority of devices that use USB cables (external hard drives, hard drive docks, flash drives, webcams…) are sold with one , however the prepackaged cables are often too short. Investing in a USB 3.0 extension cable allows you to get the range you need without straining the cord. 
The length and connectors vary, as do other components. You want to choose a model not only compatible with your device but also has what you need.
We compiled a list of the best USB 3.0 extension cables to make your search a little easier. Our top choice is the Monoprice Select Series USB Extension Cable, which is a good 6-foot length and plenty durable.
What is a USB Extension Cable
USB is short for universal serial bus. A USB cable connects hardware such as scanners, keyboards, printers, mice, cameras, flash drives, and external hard drives to various computers, including tablets, laptops, and desktops.
What to Consider when Choosing a USB Extension Cable
Before you decide on the type of USB 3.0 extension cable you buy, consider the following:
Length
Determine the length of the extension cable that will work for you by considering your needs. If your USB cable is longer than the length recommended, you might experience slower speed times than you expect, or the signal could drop more frequently.
A 10-foot USB 3.0 extension cable offers optimal performance. If you require a cable longer than 10 feet, consider the following:
USB to Ethernet: Choose a cable that carries USB signals via Ethernet and extend the distance the signal can travel without being degraded.
Gold plated: If the male connector has gold plating, it provides performance that lasts longer, and the signal is stronger and more reliable over a greater distance.
Repeater: When a USB 3.0 cable has a repeater, it provides a stronger signal that keeps the quality of the signal strength over greater distances.
Power: Some USB 3.0 extension cables have additional stored electrical power, which carries through the added length of the cable.
The most effective and efficient feature of a USB 3.0 extension cable is the repeater, so for a signal that runs data transmission speed at the desired rate, choose this option.
Connectors
A USB 3.0 extension cable will always have male and female connectors at opposite ends. The difference between this cable and a typical USB cable is that the typical one has a male connector at both ends.
Type A (rectangular shaped) is the most common connector type on a USB 3.0 extension cable. Type A is bigger than other connectors such as Micro USB, Mini USB, and Type A, B and C, but these are not often seen on an extension cable.
Some connectors are created at an angle, which helps in a tight space. The male end will bend to the left or right of the cable at a 90-degree angle, making it easier to put the USB 3.0 extension cable where a typical connector will not fit.
Size of the Female Connector
If you are putting the USB extender in a tight space, make sure the female connector is not too large or you might not be able to use the cable as you prefer.
Female connectors can be shaped in a rectangle and are a bit bigger than their male counterparts. Some female connectors have a big rectangular box or an oval shape encircling them for protection. In this case, protective casings around the connector make it more challenging to fit into cramped spaces.
Reverse Voltage Protection
Reverse voltage protection circuits will minimize or stop damage to electrical circuits and power supplies in case of reverse voltage at the location of the output and input locations. This protection will prevent components from being damaged by this chance exchange of power supply connections.
Best USB 3.0 Extension Cables
Monoprice Select Series USB 3.0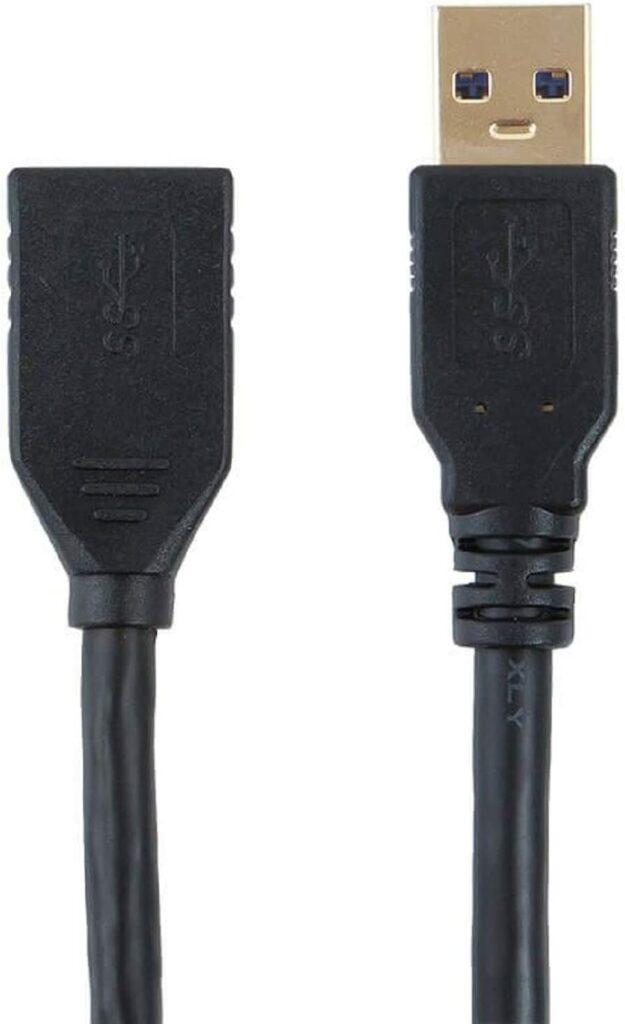 This extension cable has the USB 3.0 A male connector and USB 3.0 B female at the opposite end. This cable varies from others because it comes with five extra pins that allow data to be transferred quicker.
The Monoprice Select has 28 AWG data conductors and 24 American wire gauge power conductors. This USB 3.0 cord comes in a convenient 6-foot length.
Features:
Brand: Monoprice
Color: Black
Gender: Male to female
Connector: USB
---
Cable Matters USB Extension Cable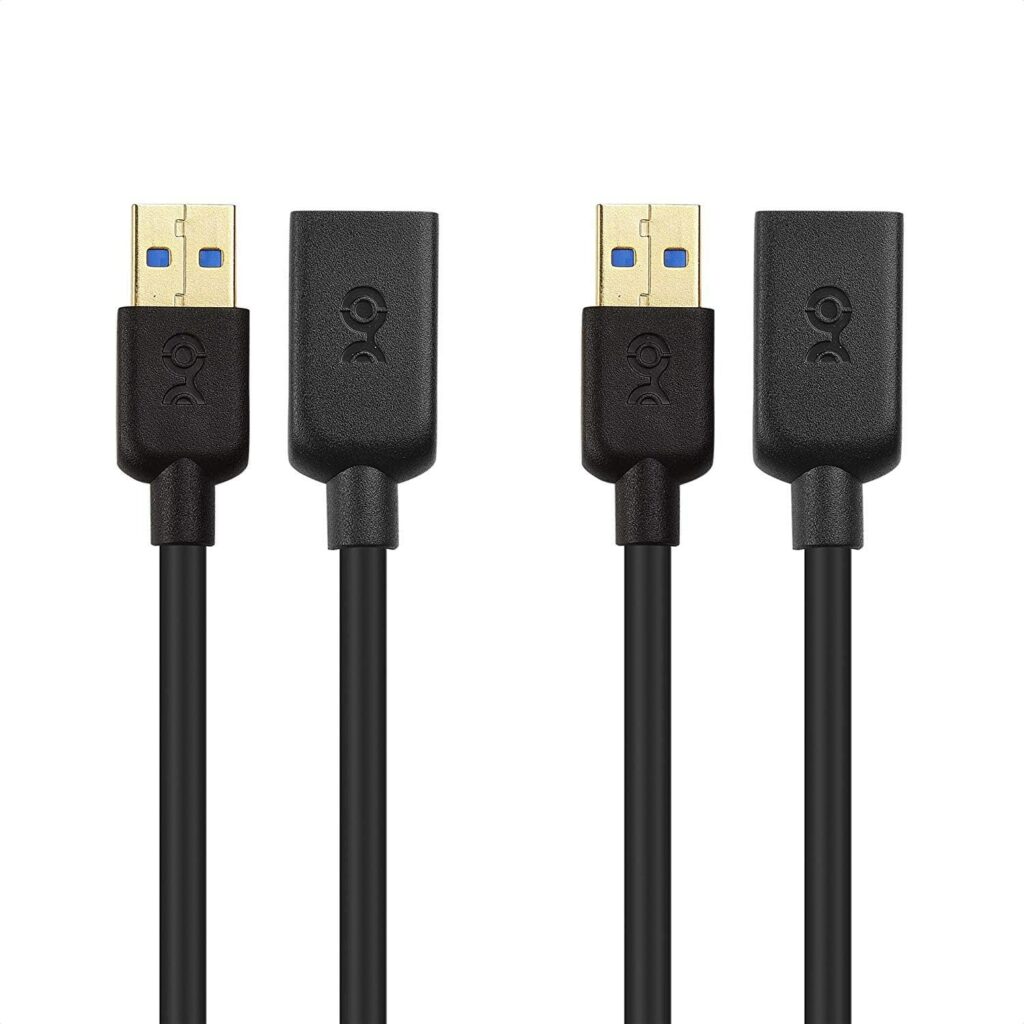 Extend your USB cable length by up to 6-feet with the Cable Matters SuperSpeed USB 3.0 extension cable. This cable comes in a pack of two and is compatible with ports for USB 2.0 and USB 3.0.
The Cable Matters USB extension cable can connect keyboards, mice, USB flash drives, VR headsets, and more. The cable offers stability and gives you the extra reach you need for a long time.
Features:
Brand: Cable Matters
Color: Black
Gender: Male to female
Connector: USB
---
AmazonBasics USB 3.0 Extension Cable
The AmazonBasics USB cable offers many lengths, including two 3.3-foot cables that will add extra reach to manage easier, with a male-to-female high-speed connection to run your computer. The AmazonBasics will also connect to cameras, keyboards, mice, and other gadgets.
The corrosion-resistant connectors are gold-plated to enhance the signal for maximum clarity. Shielding also provides buffering of noises that come from radio frequency signals and electromagnetic fields. The Amazon cable uses less power but increases output.
Features:
Brand: Amazon
Color: Black
Gender: A male to A female
Connector: USB
---
Cable Creation Active USB Extension Cable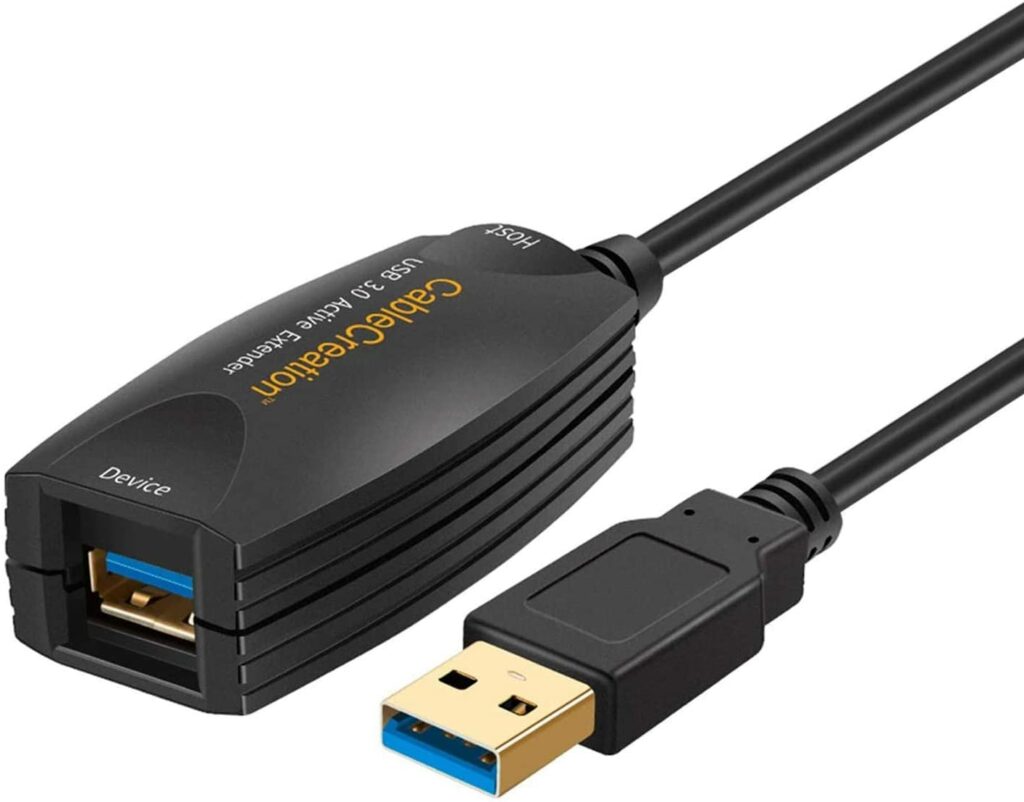 There is a lot to love about this USB extension cable. The cable boosts the signal for quicker transfer of data over long distances. It connects and allows the smooth running of several systems, including VR sets, CCTV cameras, hard drives, Xbox, printers, and more.
The 3.0 USB data send rate is upward of 5 Gbps, giving you access to HD movies in only seconds.
Features:
Brand: Cable Creation
Color: Black
Gender: Male to female
Connector: USB 3.0/2.0
---
iMBAPrice USB 3.0 Extender Cable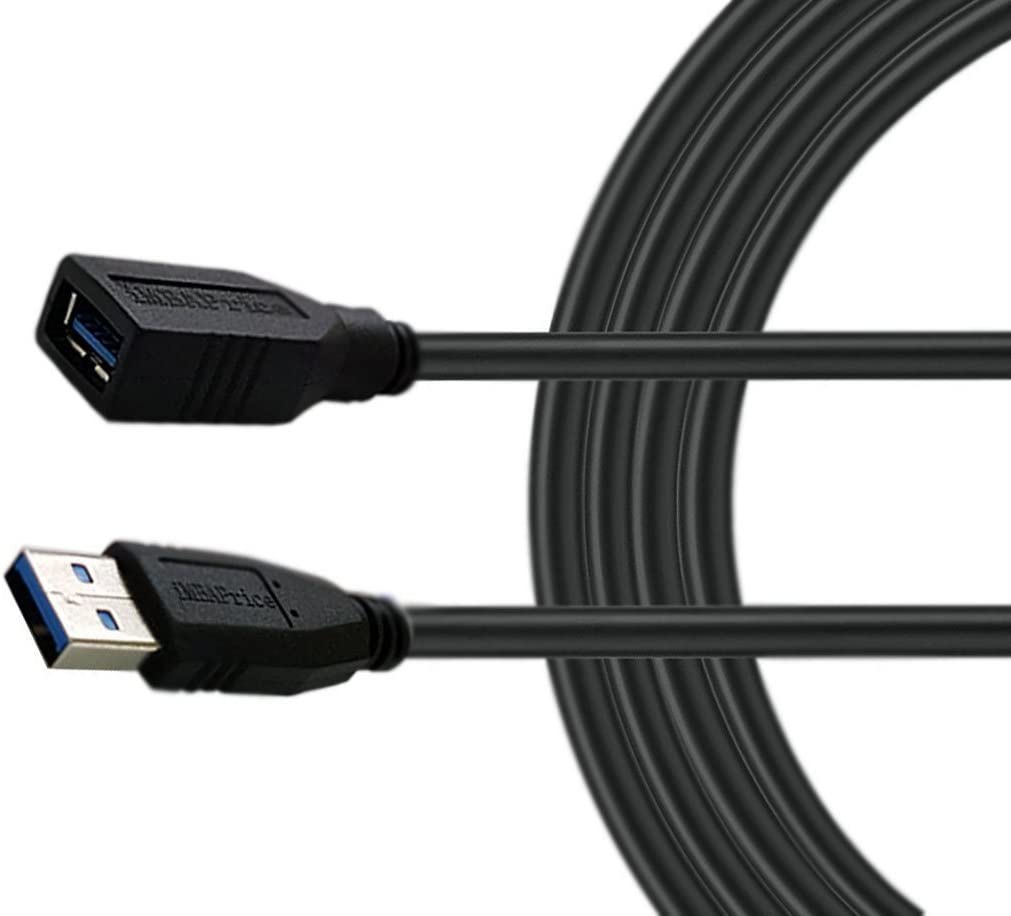 You can use the iMBAPrice everywhere, with a reach of 15 feet. The PVC jacket connector mold is flexible and allows for a snug fit while being pliable enough not to crack. There is no need for drivers.
This cable is compatible with older USB technology such as USB 2.0, 1.1, and 1.0. iMBAPrice takes its accountability for making a reliable cable even further by offering a lifetime warranty.
Features:
Brand: iMBAPrice
Color: Black
Gender: 3.0 A male to 3.0 A female
Connector: USB
---
USB 3.0 versus USB 3.1
A USB 3.1 extension cable is the newer version of the USB. Its ability to transfer data at higher speeds exceeds the USB 3.0 with a speed of 10 Gbps. The USB 3.1 is compatible with the USB C connector, but it can also work with others.
USB 3.1 extension cables are also backward compatible, allowing them to work with USB 3.0 and 2.0. Any future models will improve on this newer model.
Is Pricier Better?
We mentioned the gold-plated extension cords that offer more corrosion resistance and help prevent signal interference. Still, they don't make a huge difference to the overall performance of the cable.
While gold plating might ward off tarnishing longer, the effectiveness as a conductor is not vast enough to make the cost worth it, especially if you are using the USB indoors where it shouldn't come into contact with moisture.
Nylon adds life to your cable and prevents it from fraying or breaking. Nylon-coated cables are not bulletproof but protect against breakage if bent periodically. The nylon also gives a nicer look for anyone worried about wires and cords being unsightly.
Final Word
USB extension cables are both affordable and versatile, allowing you to quickly transfer data at high speeds and connect many devices to your computer. Luckily, there are numerous cables to choose from for every need and budget.
The Monoprice Select Series is a good length for a USB 3.0 cable and performs well with little to no interruption in signal. It is a solid choice at a reasonable price for its quality.
If you use a USB for everyday use or gaming or video streaming that requires upload speeds to keep up, invest in a USB 3.0 extension cable. The voltage stays current through the end of the cable so your computer or device won't lose speed.
Speed is optimal for streaming, VR headsets (such as Valve Index and the Oculus Rift), and downloading, so make sure you pick a USB extension cable that will not slow you down.