With superior audio and visual performances, the Valve Index headset is one of the best headsets on the market. It does have a high price so it might not be a top pick for someone new to VR. It's an ideal headset for big-time gamers or professionals that use it for work. The only problem with it might be a lack of accessories since it's a relatively fresh product on the market.
This headset is super comfortable on your head and offers hours of entertainment with its top-notch performances, yet it does have a significant limitation. Like other headsets, it's cable connected, and the length of the cable is insufficient. The length of the cable puts limitations on the range of movement, and the only way to solve it is to extend the cable.
What Cables Does the Valve Index use
The Valve Index has a 16.4ft/5m tether connected to a trident connector that ends in three cables: a DisplayPort, USB 3.0, and a 12V power cable. What you need to extend is the DisplayPort cable and USB cable.
The length of the cable has an impact on the quality of transmitted information. The biggest problem would be extending the DisplayPort cable as, if you use one that's too long it might cause you to lose signal quality. In that case, won't be having higher refresh rates or higher resolution, and that's something you would want to avoid.
How to extend Valve Index Cable
You can extend the Valve Index cable with an active USB 3.0 cable and an active or passive DisplayPort cable paired with an active coupler. Alternatively, you can use an active USB 3.0 CABLE and chain link a premium PCIe 3.0 extension riser cable with a maximum length of 10ft. The biggest issue with extensions is signal quality. With passive cable, you can cover distances up to 10ft, but with an active cable, you can extend it further. Active cable extension uses a copper cable which boosts the signal strength so an active cable is the best option.
Finding the Best Valve Index Extension Cables
Until VR headsets become wireless we'll have to deal with the cables, so selecting the right one is crucial. To make it easier for you we have selected the best extension cables on the market. Besides selecting proper extension cables it is important to invest in cable management to avoid damaging your set or have an accident while using it.
Bifale DisplayPort Fiber Cable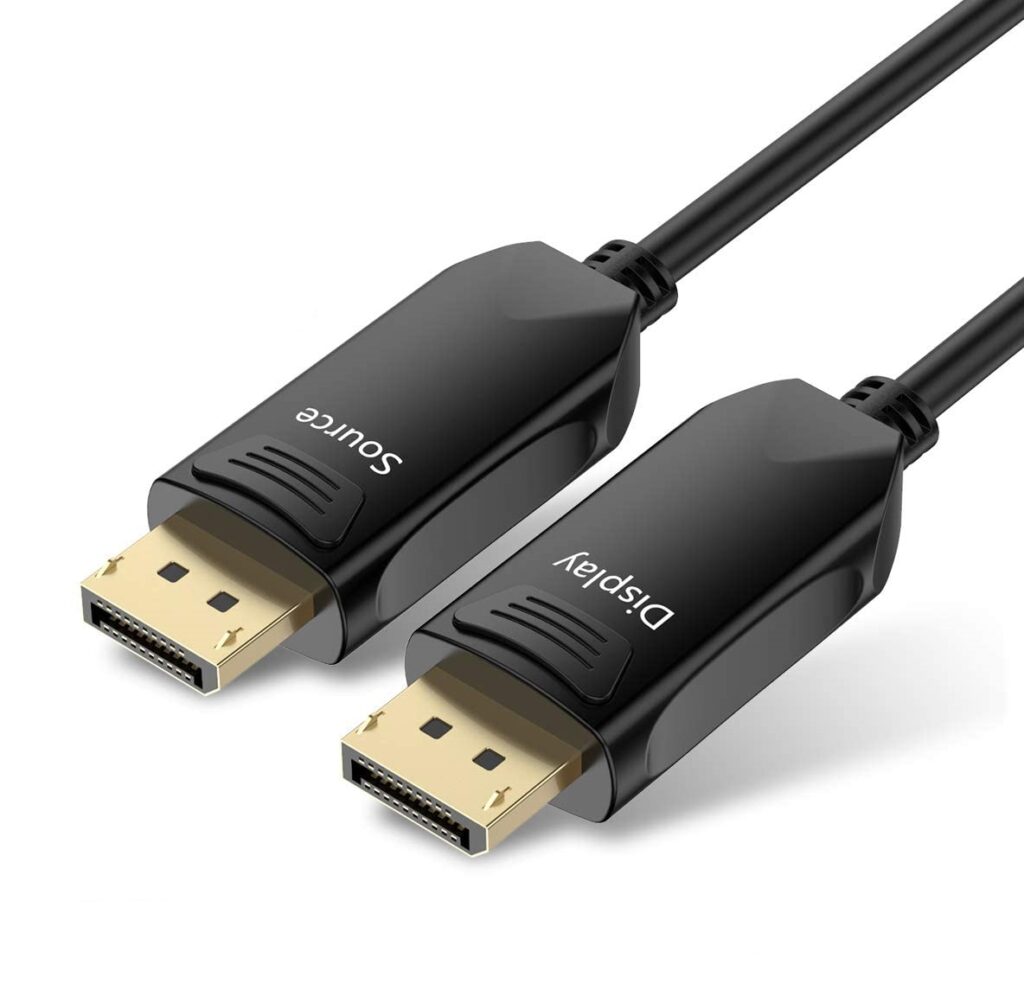 Biffale DisplayPort fiber cable is 33ft long and is one of the largest extension cords on the market. Regardless of its length, it offers great transmission without any errors. Superior performances and outstanding maneuverability are justifying the high price of this cable.
The cable is braided in Al-Mylar foil and military aramid fiber which makes it extremely durable and thin. It's 4.8mm thin; however, it can withstand a huge number of 90-degree bends, and temperatures from 14°F to 176°F.
Four core optical and seven core copper fibers are offering exceptional performances. This cable is 8k at 60Hz for long-distance transmission and 4k at 165Hz. When it comes to audio, you get 7.1 Dolby sound but it can also support 5.1 and basic 2-channel. In case of any quality issues with it, you get a lifetime warranty so you can replace it or get your money back.
HIGHLIGHTS
33ft long
Full 8K at 60Hz for Long Distance Transmission
Flexible
---
Tripp Lite DisplayPort Extension cable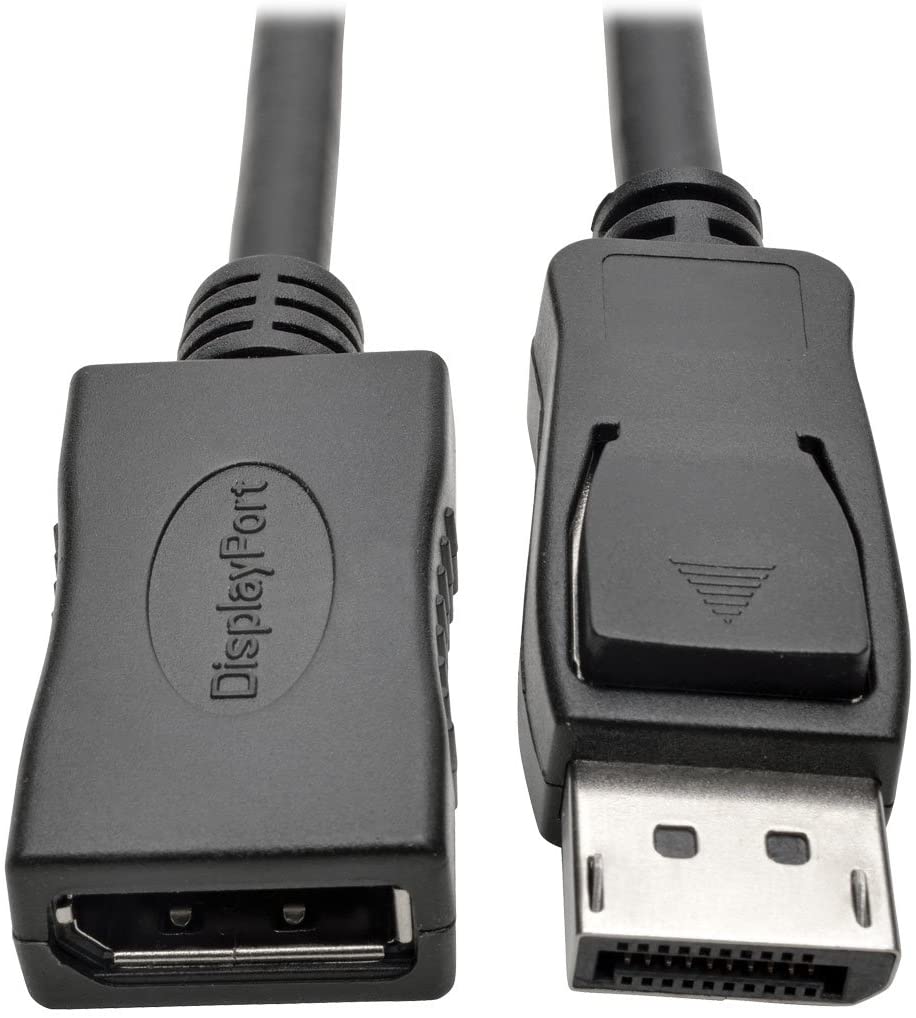 Tripp Lite extension cord offers a significantly cheaper solution than Bifale; however, it works well and doesn't lack in quality. When it comes to sizes you get to choose from 3ft to 15ft (3ft, 6ft, 10ft, 15ft). The signal is error-free, and it supports UHD video resolutions up to 3840 x 2160 (4K x 2K) at 60 Hz.
Premium foil and braid shielding are offering great durability. Nickel-plated corrosion-resistant connectors are ensuring maximum conductivity and minimum data loss.
This cable is flexible, and with an integral strain relief ridge on both ends, it reduces stresses and helps connectors not to crack while you move it. With purchase, you get a lifetime warranty, which is excellent considering the following price.
HIGHLIGHTS
Size selection: from 3ft to 15ft
Lifetime warranty
Low price
---
CableMatters DisplayPort to Display Port Extension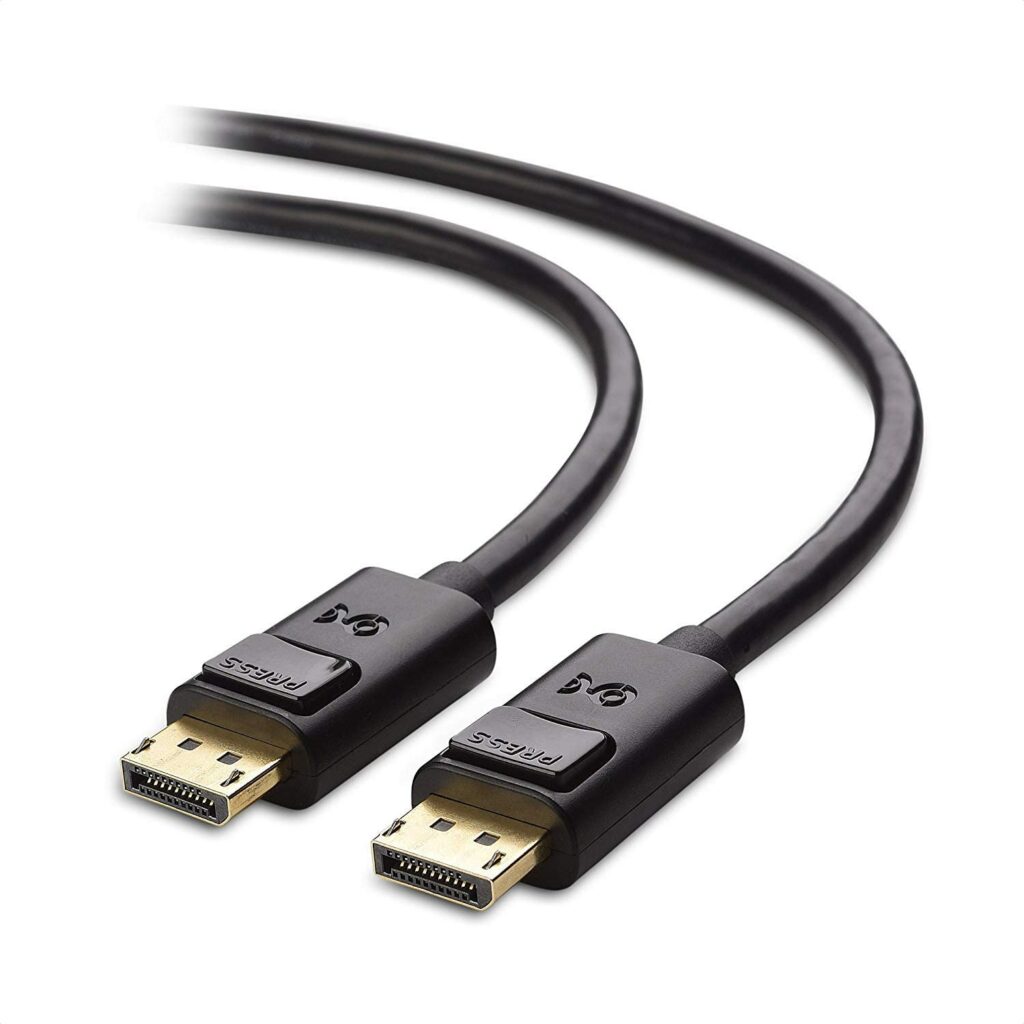 The extension cable from CableMatters is probably the cheapest solution. It's hard to say that it matches the quality from previous selections, but it'll do the work for the lowest price. The good thing about it is the variety of selection. The cable sizes are starting from 3ft to 16ft (3ft, 6ft, 10ft, 13ft, 16ft).
The interesting thing about this cable is that it's built with a latch to ensure that the cable stays in place while you use your headset. Keep in mind to release the button before pulling the cable out.
When it comes to performances, you'll have a high-quality 4K image on your screen which is equivalent to 3840×2160. The sound is also high-quality whether it is 7.1, 5.1, or 2-channel. The construction of the cable is solid. It has gold-plated connectors and bare copper conductors for maximal signal transmission. This cable comes with foil and braided shielding inside a flexible PVC jacket, which makes it durable.
HIGHLIGHTS
Size selection: from 3ft to 16ft
Low price
Latch system
---
UGREEN Active USB Extension Cable USB 3.0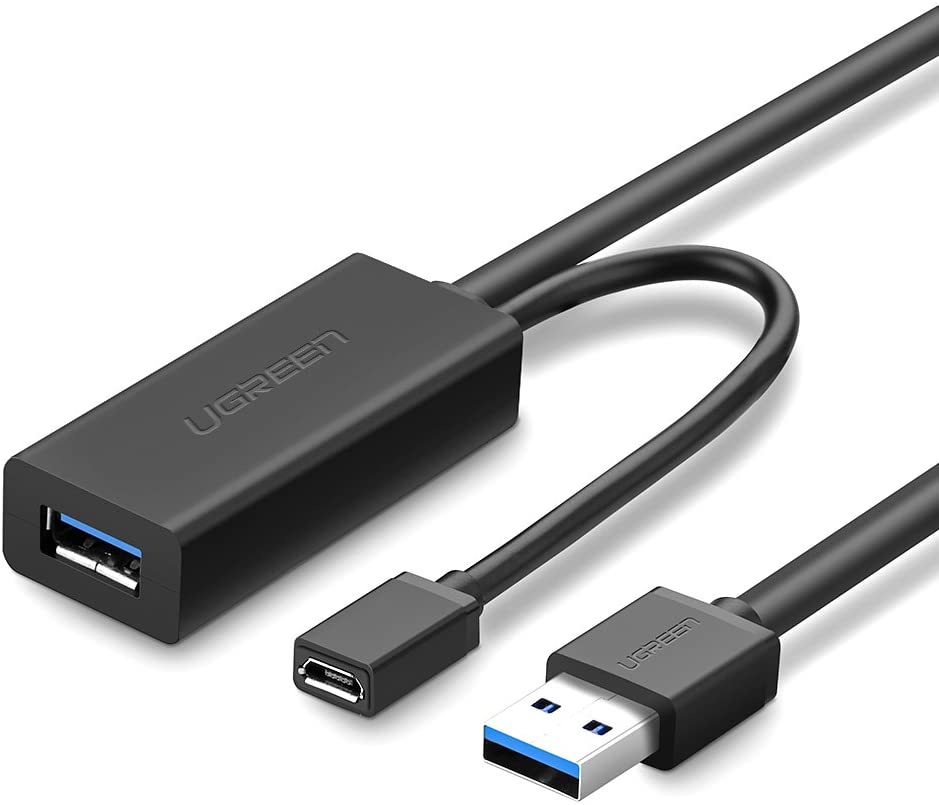 The UGREEN extension cable is an active USB 3.0 male to female active repeater cable with signal amplifier repeater. The length of this cable is 32ft or 10m. It's an inexpensive extender with a built-in signal booster chipset, which offers peak performance with minimum loss of signal quality. The data transfer rate is high and up to 5 Gbps.
Connectors are gold-plated just like copper contacts, and they are ensuring excellent conductivity. The protection and durability of the cable are at a high level. Premium triple shielding provides maximum protection from electromagnetic and radio frequency interference. There is a micro USB port for an extra power supply, but it's unlikely you'll need it while gaming on Valve Index.
The maximum possible extension from this cable is 32ft, so don't try to combine multiple cables because it won't work. Be aware that even though it is advertised to be universally compatible, it's not working on Oculus Rift S.
HIGHLIGHTS
32ft/10m long
Great value for money
Integrated signal booster chipset
---
CableCreation Active USB Extension Cable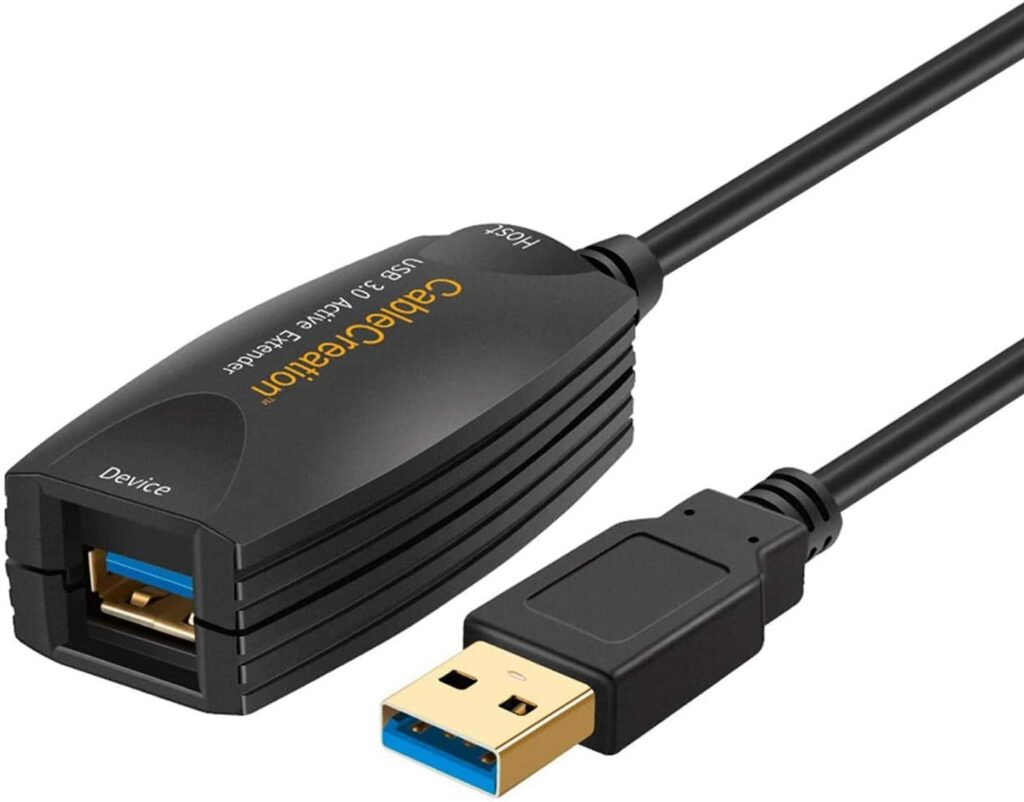 CableCreation offers another inexpensive solution with a USB 3.0 extender male to female cord with a signal booster. If you are looking for a shorter extension, then this cable is a great choice with a length of 16.4ft/5m.
Regardless of its price, this cable offers high standards with a data transfer rate of up to 5 Gbps. It doesn't require drivers, and it only works for USB 3.0 peripherals.
When it comes to building material; it's keeping up with more expensive competitors. Connectors are gold plated so you get optimal signal clarity. They are also engineered with molded strain relief for durability and grip treads. Also, you won't have any electromagnetic or radio frequency interference.
This cable works without any flaw, regardless of being one of the cheapest on the market. Just like the UGREEN extension, this cable is not working with Oculus Rift S.
HIGHLIGHTS
16.4ft/5m long
Data transfer rate up to 5 Gbps
Not compatible with USB 2.0
---
How to manage your cables
If you have a VR headset like Valve Index, it's a good idea to invest in good cable management. It can make your experience extremely more enjoyable, and the closest possible to wireless.
Having the computer across the room, you'll have tug problems or trip hazards, you can also break your cables and will have to buy replacements, so you'll need to invest in extension cables. You don't want long cables lying around the floor, so the best solution is to mount them on the ceiling.
You can suspend your cable from the ceiling with elastic extensions. It will allow the cable to hang over our head, giving you plenty of space, and not a single cable on the floor to trip over it.
If you don't want to drill your ceiling, an alternative solution might be buying a tall floor lamp with a flexible arm. It might sound unorthodox but it's a common solution in the VR community. With this, you can be creative and add your twist to it. The best thing to do is to additionally buy pulleys, same as ones you can mount on the ceiling, and put them on the lamp.
Conclusion
The truth is- you don't get enough free movement with the cable from the original set! You need to purchase a high-quality extension cable. With longer distances, you get signal quality issues, so you must be careful with the selection.
The cable that you are looking for is an active cable extension, and 33-foot DP Fiber Cable is a solution to cover long distances without a flaw.
Since you already put an effort into improving your VR experience, don't stop on extension cables. Invest in a cable management system, and come as close to the wireless experience as you can.