The DisplayPort is usually defined as a digital interface that allows you to transfer audio and visual signals from one device to another. It appears on many devices, including computers, game consoles and VR devices such as the Oculus Rift S and the Valve Index, however it is still not as popular as the HDMI connection. They both do the same thing, connect a monitor to a device with a graphics card.
However, the DisplayPort cable is far more versatile than an HDMI cable. The standard format has 20 pins although there is also a mini DisplayPort that was originally designed for Apple devices. It is now common on many other devices, especially high-end gaming machines that can fill those 240hz in a DisplayPort cable for 240hz. 
How DisplayPort Works
In general, the process is the same as any other cable, simply connect one end into a DisplayPort and the other into another DisplayPort. The cable will often work automatically although it is possible that you'll need to establish the correct resolution and refresh rate yourself, via your system.
The DisplayPort works in a similar fashion to an Ethernet connection where data packages are transmitted with an embedded clock signal. This makes the data transfer very efficient and allows faster refresh rates.
It is generally present in high-end consoles and equipment as the best possible resolution and refresh rate is effectively mandatory on these devices.
The Speed Of DisplayPorts
One of the main reasons why you would choose a DisplayPort over an HDMI or similar is the quality of the connection. A 2.0HDMI connection gives up to 5K resolution at 30Hz while a DisplayPort can double the rate of refresh and offer 8K resolution for the same 30Hz.
In many cases, it is also the only available option on your device as the other ports have already been used.
It is worth noting that if your graphics card has a DisplayPort but your monitor doesn't, you can purchase an adaptor that will convert the DisplayPort signal into HDMI or something else similar.
Of course, many devices come with a DisplayPort cable. But, if it isn't long enough then you'll find there are an abundance of extension cables on the market that will allow you to connect two devices together, no matter how far apart they are.
Choosing The Right DisplayPort Extension Cable
Before you order your DisplayPort extension cable you should spare a few moments to consider the following.
Perhaps the most important part of buying a DisplayPort extension cable is to choose a manufacturer that you can trust. This means selecting a company you have used before or have heard good things about.
If this isn't an option then you should talk to family, friends, and even colleagues to see if they have dealt with a particular manufacturer or supplier and what they think of them.
If this approach doesn't help then you may need to check online. There are plenty of people willing to share their opinion on social media or online forums. You will find honest reviews which can help to guide your decision.
Of course, some reviews will be negative but you should see this as an opportunity to witness how the manufacturer reacts. It can tell you a lot about how you would be treated if there was an issue.
You have probably already thought about this but you should spare a few moments to consider which two devices you are connecting. If they both have DisplayPort connections then you just need a long enough male-to-male connector. But, if you are connecting to an existing cable you may need a male to female DisplayPort extension cable.
Equally, it is possible that one of your devices doesn't have a DisplayPort connection and you need to think about an adapter. It is worth noting there are live adapters and passive ones. Live boosts the signal and is generally more expensive. But, they are usually essential if you have a graphics card that doesn't support DisplayPort dual mode. This is also known as DP++, although most modern graphic cards do support this.
It is always worth spending a few moments to look at the price of several different DisplayPort extension cables. This will ensure that the cable you choose is priced fairly. Too cheap and you may be getting inferior quality but too expensive and you are likely to be simply overpaying. Before opting for the most expensive cable check what you are getting for your money.
Cables are often abused as they are moved around a lot and pulled on. A well-designed cable is built to withstand this type of treatment and will remain durable. Make sure the DisplayPort extension cable you choose falls into this category.
Best Display Port Extension Cable
Rankie DP Extension Cable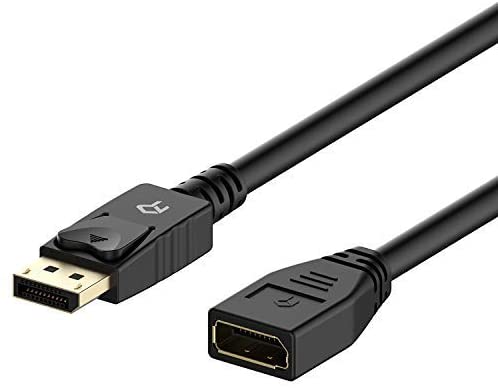 The Rankie DisplayPort Extension cable is six feet long and comes at a great price, making it one of the most popular options on Amazon. It has tinned copper cores wrapped in PVC jackets and surrounded by aluminum foil, braid, and the outer PVC protective jacket. This ensures the copper core is insulated against damage and signal interference.
The cable is designed to support 4K resolutions as high as 3840×2160 in ultra HD and can handle audio as 2 channel or anything up to 7.1. The connectors are gold-plated to aid signal quality and resist corrosion. They also have inbuilt latches to ensure a secure connection, you will need to press the release button to disconnect the cables.
Of course, one end of this six-foot cable has a male connector and the other a female, allowing you to simply add it into your existing cable and use it straight away.
---
Cable Matters DisplayPort Extension Cable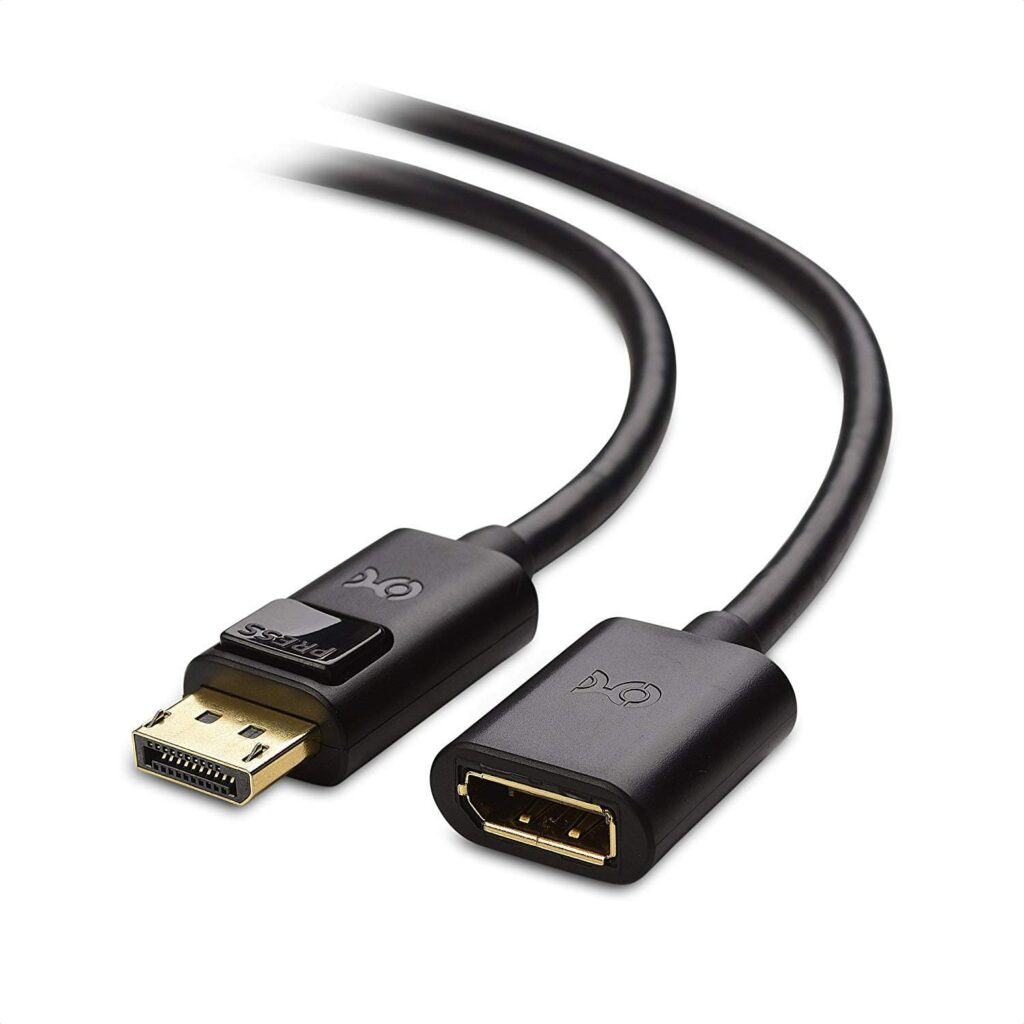 Cable Matters are also a very popular choice when looking for any type of cable. That s, after all, what they specialize in. The Cable Matters DisplayPort extension cable comes in two size options, three feet, and six feet. That means you can choose the one that best suits your needs. There is little point in taking one that is much longer than you need, this will just increase the chance of signal distortion. This cable can be used for extending Valve Index as well.
This cable has bare copper conductors with gold-plated connectors to ensure the best possible signal transference. In addition, the aluminum foil and braid shielding ensure interference isn't an issue. It can handle up to 8K at 7680×4320 and full HD. The Cable Matters DisplayPort extension cable also has a male connection at one end and a female at the other, with a safety latch.
---
Ivanky DP Extension Cable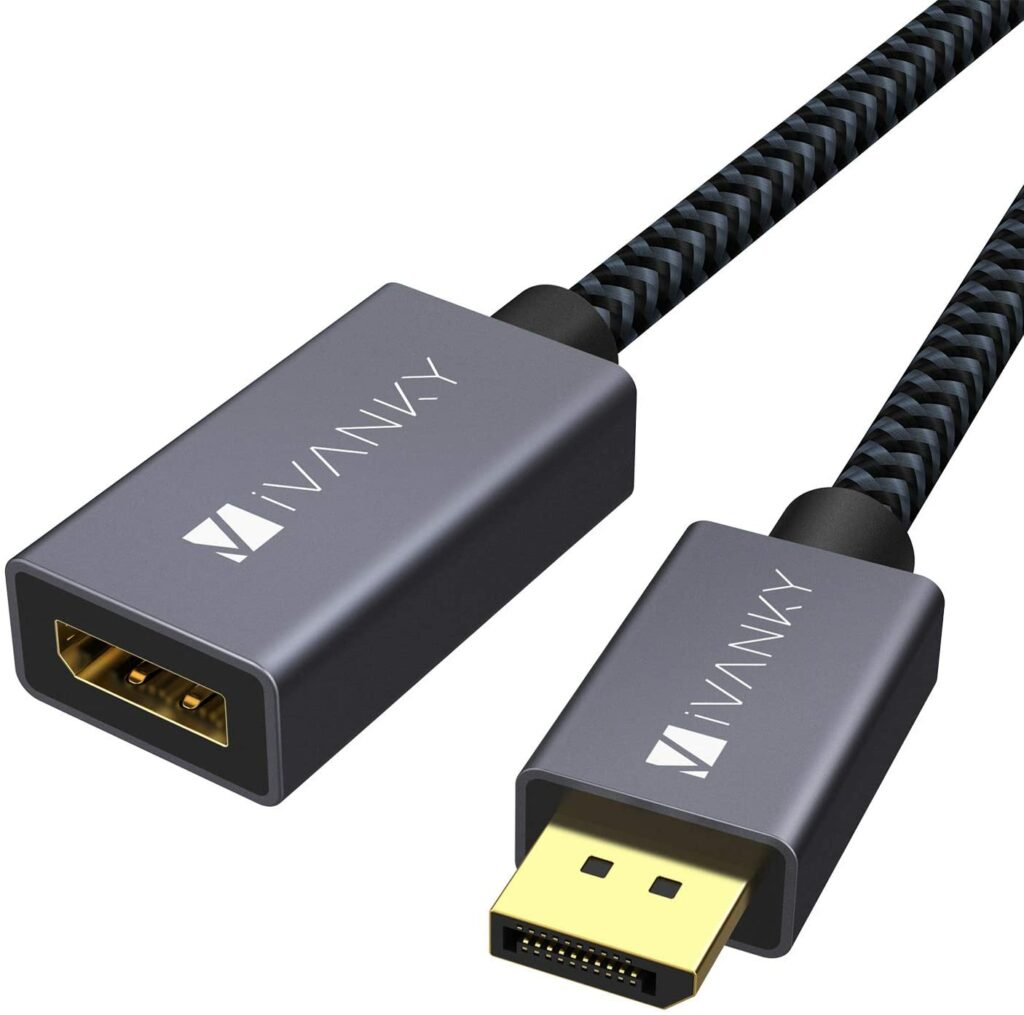 The Ivanky DisplayPort extension cable is another popular and practical choice. It has 24K gold-plated connectors, tinned copper core, a rugged aluminum alloy shell, and a braided nylon jacket. This ensures the signal quality remains high regardless of what is going on around you. However, unlike the other offerings on this list, it doesn't incorporate a security latch on the connection, making it very easy to pull apart when required.
This cable is available in two lengths, 3.3ft, and 6ft, depending on your needs. It has the standard male connector at one end and a female at the other. It also offers a refresh rate of 165Hz along with full HD image quality at 60Hz. You may also be pleased to note that it comes with an eighteen-month warranty which can be extended by a further three years if required! That is peace of mind.
---
Amazon Basics DisplayPort Extension Cable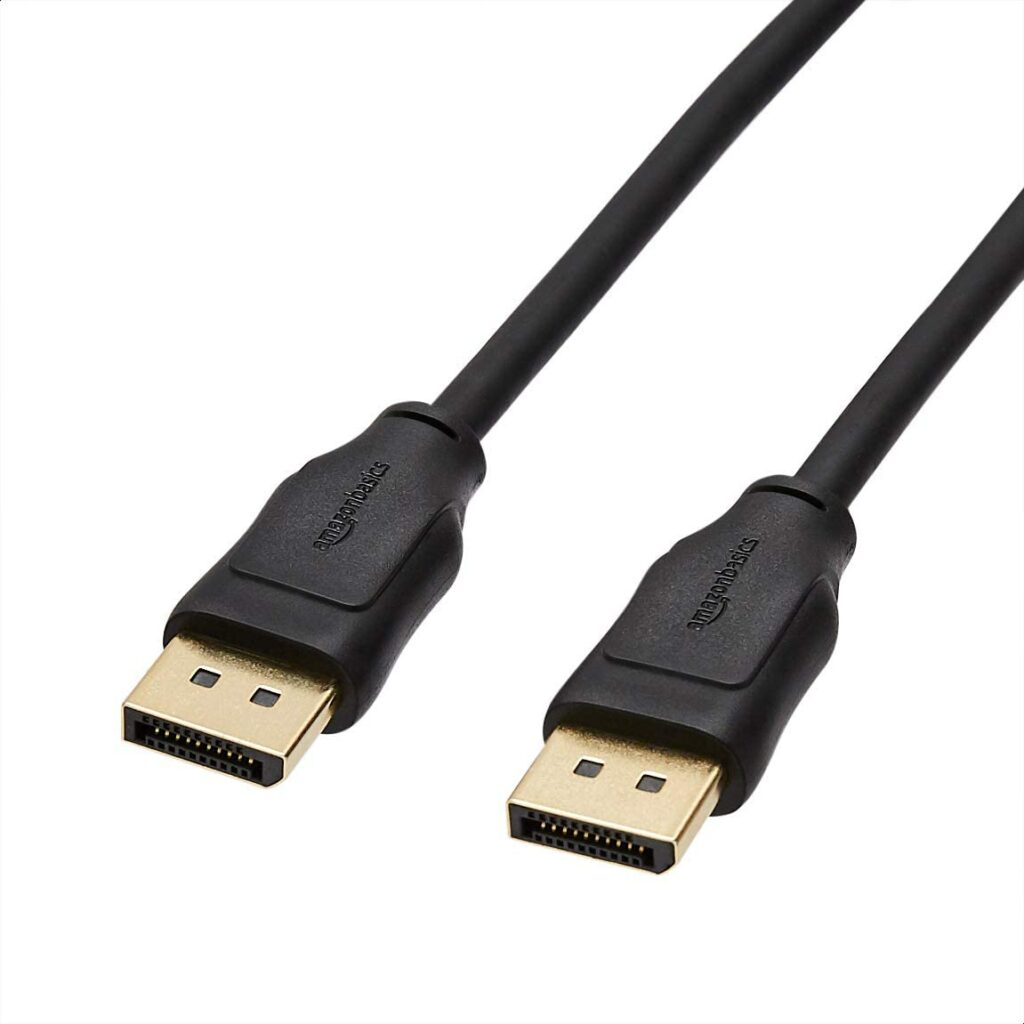 It is impossible to talk about DisplayPort extension cables without mentioning the Amazon Basic DisplayPort extension cable. This cable comes in several lengths, ranging from 3ft to 25ft, guaranteeing you will find the right length for your needs. It can even be bought individually or in packs of 5 or 10.
The cable itself uses bare copper conductors, gold-plated connectors, and a standard foil and braid insulation system. This prevents signal interference and corrosion, ensuring you have the best quality signal possible.
However, it is worth noting that this cable has male connectors at both ends. It can be used to replace an existing cable or with an adapter as an extension to your current setup. The Amazon Basics cable supports 4K at 60Hz and bandwidth up to 21.6Gbps. It is also VESA certified and comes with a standard one-year warranty.
---
Final Thoughts On DisplayPort Extension Cables
You should have a good idea of what the DisplayPort is, why the extension cable is so important, and what to consider when choosing one. All the options above are well-rated and would be a good choice as a DisplayPort extension cable. All you have to do now is choose the one you want and order it.