XLR connectors are generally used on professional music equipment. The connection is circular with three pins on the male connector and three sockets on the female connector. They are often seen as a type of audio connector although they can be used with low-voltage power supplies and even video.
The biggest advantage of these connectors over the RCA connection you may be used to is the continual connection. Because the three prongs come into contact with the electrical circuits at the same time, there is no surge or equivalent screech of noise when plugging and unplugging the connectors. This is in direct contrast to RCA where the ground pin is recessed and allows the power to connect before the ground, causing a surge and equivalent noise.
It should also be noted that an XLR connection is balanced and capable of carrying an electrical current at the same time as audio.
Alongside the standard XLR connecter, there is a mini XLR connector. This works under the same principles as the regular XLT connections. But, it is significantly smaller, making it the right choice for compact audio systems.
To help you choose the right XLR adapter, you should be aware of all the different variants on offer.
Best XLR Adapters
It should be noted that the most popular or commonly used choices are the XLR to USB and the RCA to XLR. You will also find the XLR to ¼ adapter is also a popular choice and, as such, deserves to be discussed separately. Click on the links to check out the best adapters currently on offer. 
XLR to TRS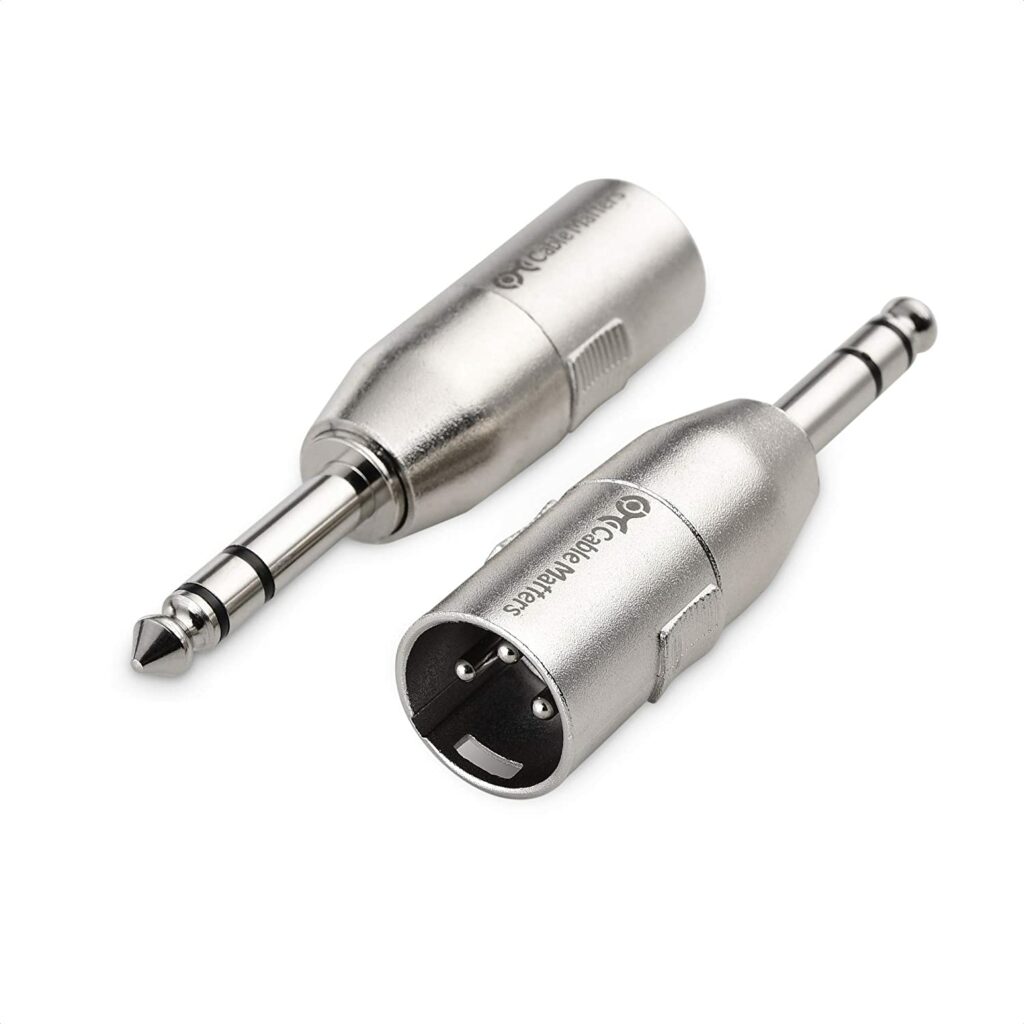 TRS stands for Tip, Ring, and Sleeve. These connections are sometimes used in professional audio devices. The connection has three conductors, one on the tip, one on the ring, and the other on the sleeve. They look similar to the TS connection on guitars. The TRS connector is separated into three sections with two black rings. Creating a tip, middle section, and a third connection point nearest the grip.
These work well with XLR connectors as they both have three connection points. That makes the transfer of audio and even video signals comparatively easy. There are several ones worth looking at, including the Cable Matters XLR to TRS adapter.
This smart piece of kit offers a balanced connection, ensuring the sound quality is maintained as discreetly and professionally as possible. The adapter slots straight into the TRS slot on your device and is ready to use with a female XLR cable. It is made from premium metal and built to last.
---
XLR to 1/8 adapter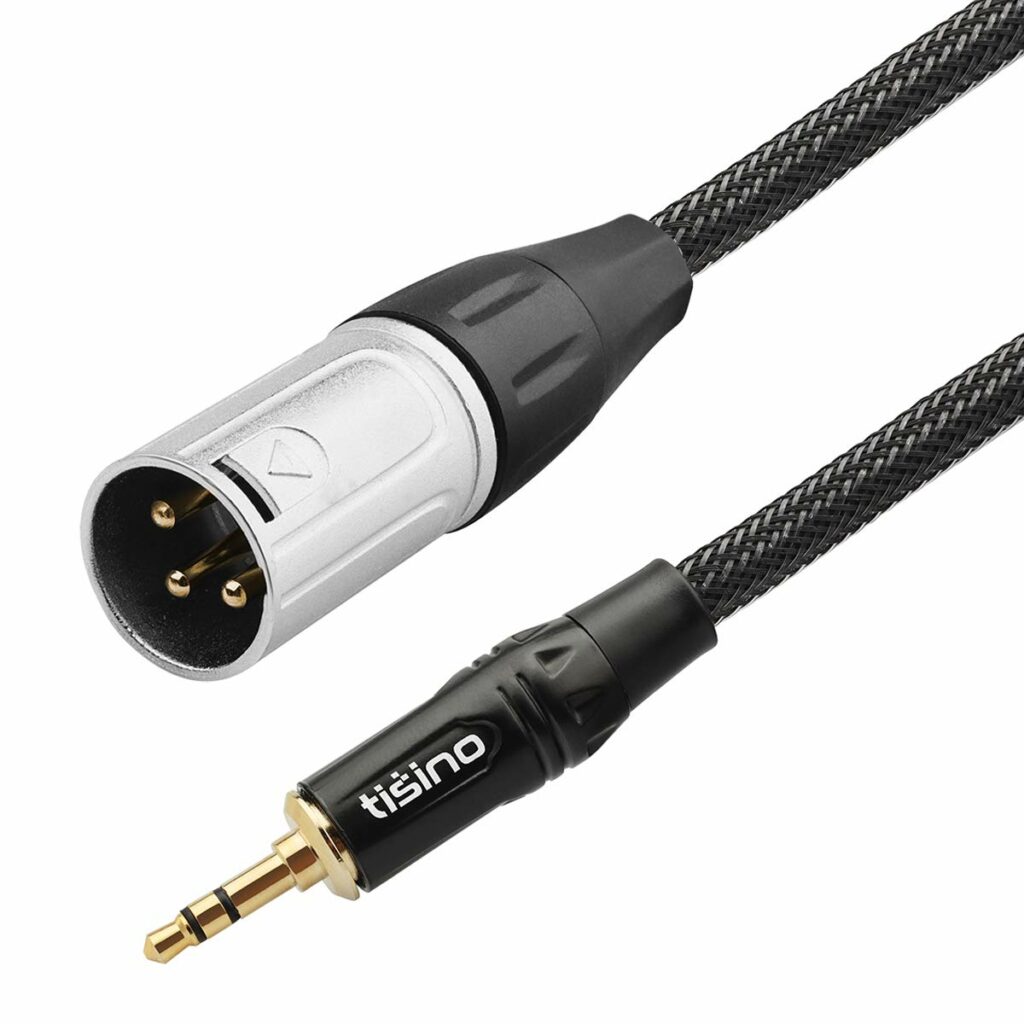 The 1/8 adapter is simply another term for the standard 3.5mm jack that you use all the time to plug headphones into a device. This adapter is an essential part of many music systems as the only outlet is the headphone socket.
The Tisino XLR to 1/8 adapter plugs directly into your audio device and into a very short cable, it is just one foot long and has an XLR male connector on the end. There are other options available that offer a female XLR connector if required.
The cable uses oxygen-free copper core surrounded by a TPE jacket and cotton yarn. There is also foil shielding and copper shielding before the TPE jacket and a layer of cotton-woven mesh. In short, the cable is flexible and well protected, ensuring the signal quality is maintained. This adapter is balanced with pins 2and 3 carrying the live circuits and one carrying the ground. You can use it with mono or stereo sound.
It should be noted that the ends are also heavy-duty 24K gold-plated.
---
XLR to 3.55mm adapter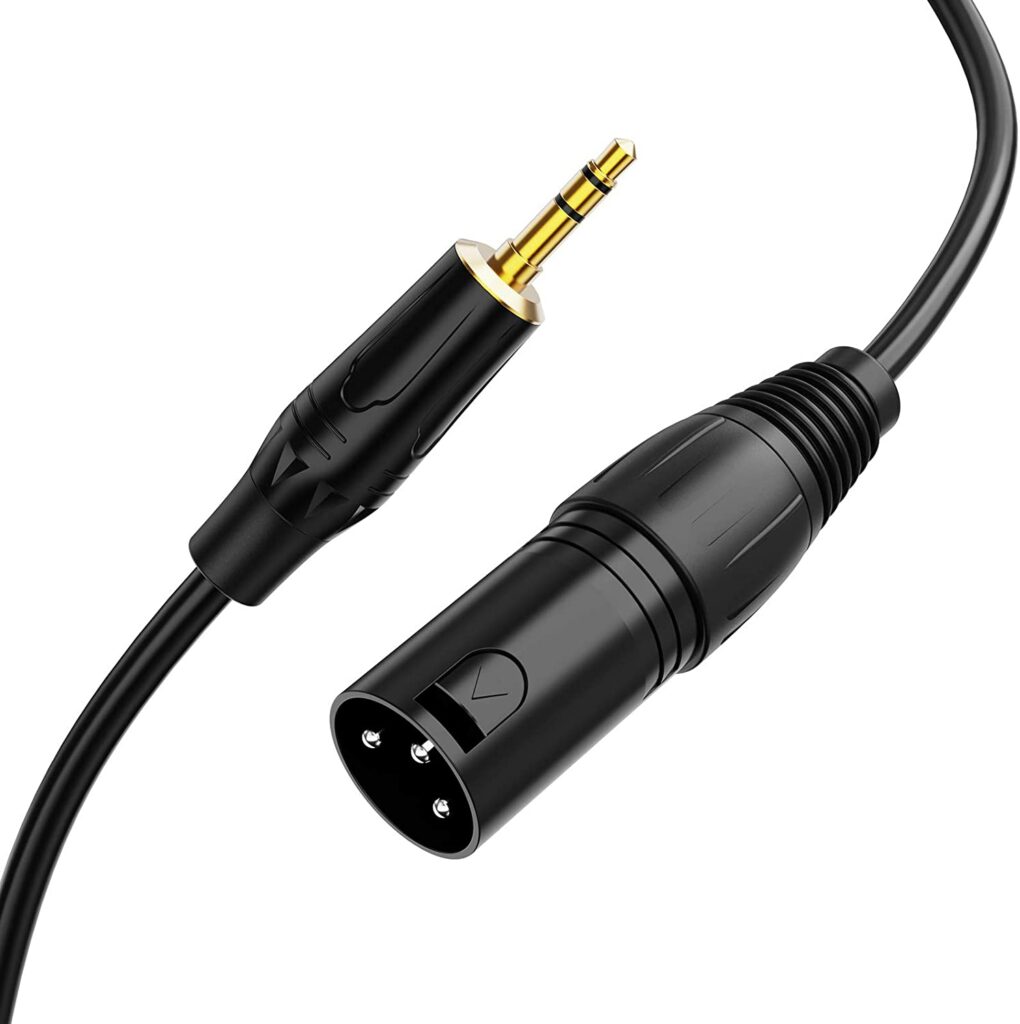 The XLR to 3.5mm adapter is effectively the same XLR adapter as the XLR to 1/8 adapter. There is a range of good options on the market. However, one of the best is from the Cable Creation store and is listed as Amazon's choice. It has a standard 3.5mm jack point which is gold-plated to ensure signal quality and minimize corrosion.
It should be noted that this cable is unbalanced but can be used with mono or stereo outputs. It also benefits from pure copper cores wrapped in jackets, foil shielding, metal braiding, and a PVC overcoat that is environmentally friendly. The cable itself is 10ft long.
---
XLR to 90° adapter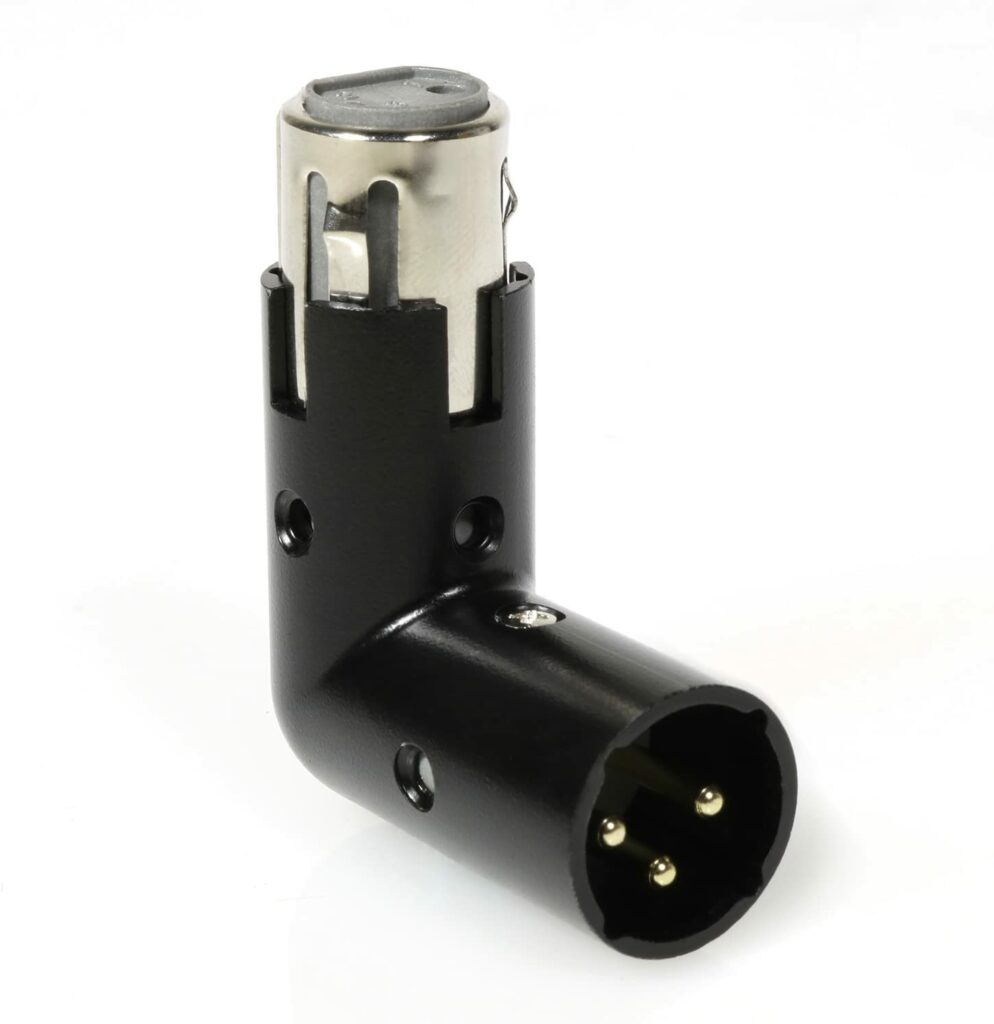 Sometimes it isn't that you need to convert from a headphone point or RCA connectors, you simply don't have enough room to get a standard XLR connector in and allow the cable to move without it being squashed and potentially damaging the signal.
Fortunately, the Lyxpro XLR 90° Adapter is the perfect solution! It has a male and female end, allowing you to connect directly to your audio equipment. The adapter is described as 90° but in fact, it can be set at four different angles, including 90°. This allows you to create the space you need to plug a standard XLR cable into your audio system and get the sounds you need.
It should be noted that there is a tiny screw in the adapter which needs to be undone in order to set the angle of the adapter. Simply set the desired angle and then tighten the screw to hold it in position.
The 90° adapter is made from premium metal, designed to ensure it lasts for as long as you need it to.
---
XLR wireless adapter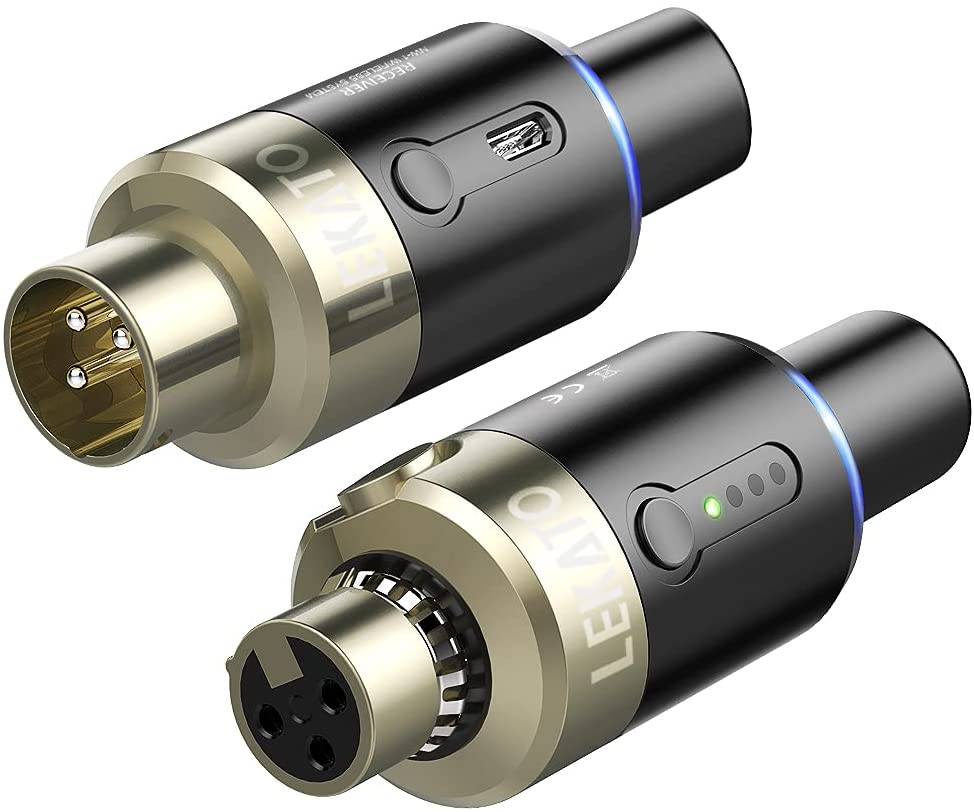 It shouldn't be surprising to discover that there is now a wireless XLR option. After all, an increasing number of devices are going wireless. These adaptors are designed to work with specific devices, such as microphones.
The Lekato XLR wireless adapter is designed in two parts. One is a receiver, the other a transmitter. The receiver plugs into your audio equipment. It creates a Bluetooth signal and then listens for a reply from the transmitter. The receiver uses a standard male XLR connection that slots into your device. The transmitter has a female XLR connector that plugs into your microphone. Audio signals are then sent from the microphone to your system, allowing you to hear everything perfectly.
The two adapters use lithium polymer batteries which last for at least 3.5 hours. They can be recharged via a standard USB-C cable. A dual-port cable is included to allow simultaneous charging. The wireless connection is done at 5.8GHz and is good for up to 100ft.
---
XLR to USB signal adapter

The Shure X2U XLR to USB Signal Adapter is worth a special mention. It is designed to plug directly into a USB cable and then provide the female XLR connector needed to connect directly to your microphone. It has a built-in gain control, which allows you to regulate the strength of the input signal. It also incorporates phantom power, an impressive 48V to give power to the microphone or any other associated device, as required.
There is nothing to do when plugging the Shure XLR to a USB signal adapter, it automatically configures itself and is ready to use. You may also be pleased to note that it comes with a padded pouch to keep it safe and you get a 10ft long cable. That ensures it reaches where you need it to.
If you are after high-quality digital sound then this adapter is worth trying.
---
XLR Splitters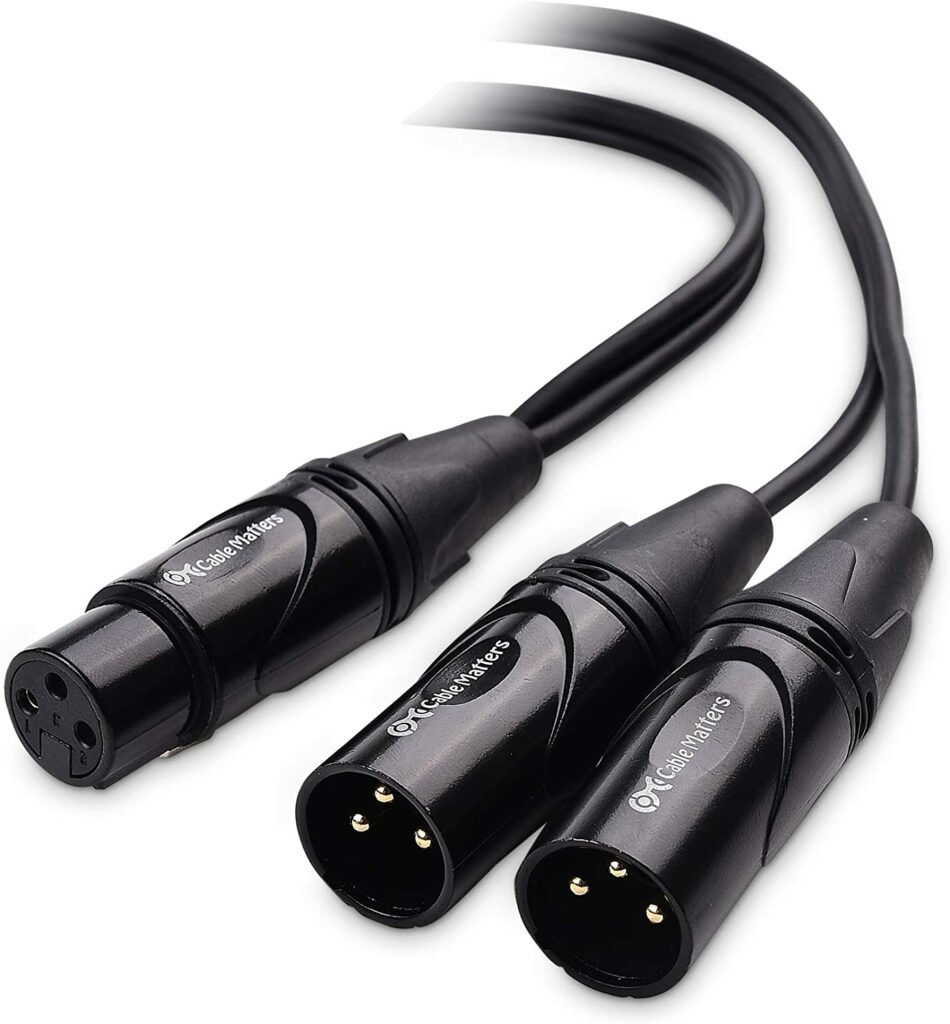 It is also worth considering an XLR splitter. These are a useful addition to your collection when you only have one output port or your existing orts are all in use. The splitter literally allows two devices to share the same output.
If you need an XLR splitter then it is worth looking at the Cable Matters XLR splitter with two male connections and one female. It effectively combines the signal from each pin to create one input. There are many potential uses for this cable which has a soft PVC jacket, copper cores, and braided shielding. This works with polyethylene insulation to maximize noise cancellation and give the best quality signal possible. The connections are gold-plated and the eighteen-inch long cable has been tested to ensure durability.
---
Final Thoughts
XLR connections are found on the majority of professional audio and low-voltage lighting circuits. But, to make the most of what you have you are likely to need one of the XLR adapters listed above. You may also find it useful to have an XLR gender changer in your kit. You never know when you may need to extend an XLR cable to get the length you need. Again, Cable Matters offers two gender changers in one pack, it is worth investing.
The key, when looking at XLR adapters is to assess your gear and what you need to connect it in the best way possible. You can then order the right XLR adapter and make sure you have a couple of spares. This will ensure you are always capable of producing the sound quality you want when you want it.
Just remember, you should always verify the reputation of the manufacturer and supplier of your chosen XLR adapter. After all, you want to know you are getting high-quality and can deal with a reliable customer service team if necessary.