If you have any interest in music then you will have heard of RCA and XLR, they are two different types of connectors that can be used to transmit audio signals from one device to another. An RCA to XLR adapter allows you to use devices with different connections and still get good sound quality.
Of course, the key is to choose the best RCA to XLR adapter. Fortunately, we are here to help.
The Difference Between RCA And XLR
RCA connectors are also known as RCA Phone connectors and they are capable of carrying audio and video signals between devices. You'll recognize the connection, a circular design with a single metal piece jutting out from it. The design first arrived on the scene in the 1930s and was created by Radio Corporation of America (RCA).
The metal jutting out piece is the part that carries the electrical current. The circular ring of the main section is the ground. This is why you often get a hum when you plug them in, for a split second the connection is not grounded.
It is common to find RCA connectors color-coded, yellow is for video, red for the right audio channel, and white for the left channel.
In contrast, the XLR connector has three pins, or slots to accept the pins n the female version.  XLR stands for External Line Return. The central pin carries the ground while the other two are both active. This has two benefits in that the supply is balanced and you don't get the hum when plugging XLR connectors in.
An XLR connector is capable of carrying a more powerful electrical current, this can be useful when you want better quality or simply louder sounds.
It should be noted that not all XLR connectors are balanced. If you are in the market for an XLR connection you should be choosing a balanced one.
Factors To Consider When Choosing A RCA to XLR Adapter
Once you have realized that the RCA to XLR adapter is essential, usually because you have an unbalanced signal going to a balanced one. Before you commit to a specific adapter you should consider the following:
The most important question when considering any purchase is how well do you know the manufacturer. If they are well known to you and you are happy with the quality of their products it is reasonable to assume that the RCA to XLR adapter they are supplying will be of good quality.
However, if you haven't heard of the manufacturer or supplier before then you need to ask friends, family, and colleagues if they have heard of them and what they think of them.
Alongside this, it is a good idea to take a look at social media and online forums as these will provide you with honest opinions regarding specific manufacturers and their cables.
Of course, reviews like this can also point you in the right direction.
It is worth looking at the cost of several RCA to XLR adapters. This will ensure you know the normal price range and don't pay too much or too little. Too much can simply be overcharging or it may be high quality, too little suggests that it is low quality and won't last.
In general, you should be able to get one of these adapters or an RCA to XLR cable for under $25.
As mentioned not all XLR connections are balanced. As one of the biggest reasons for using the RCA to XLR adapter is to go from unbalanced to balanced having a balanced connection is safer and more likely to improve the sound quality.
Verify the adapters you are interested in are balanced. It is best to get it right the first time.
Best RCA to XLR Adapters
Tisino Female RCA to Male XLR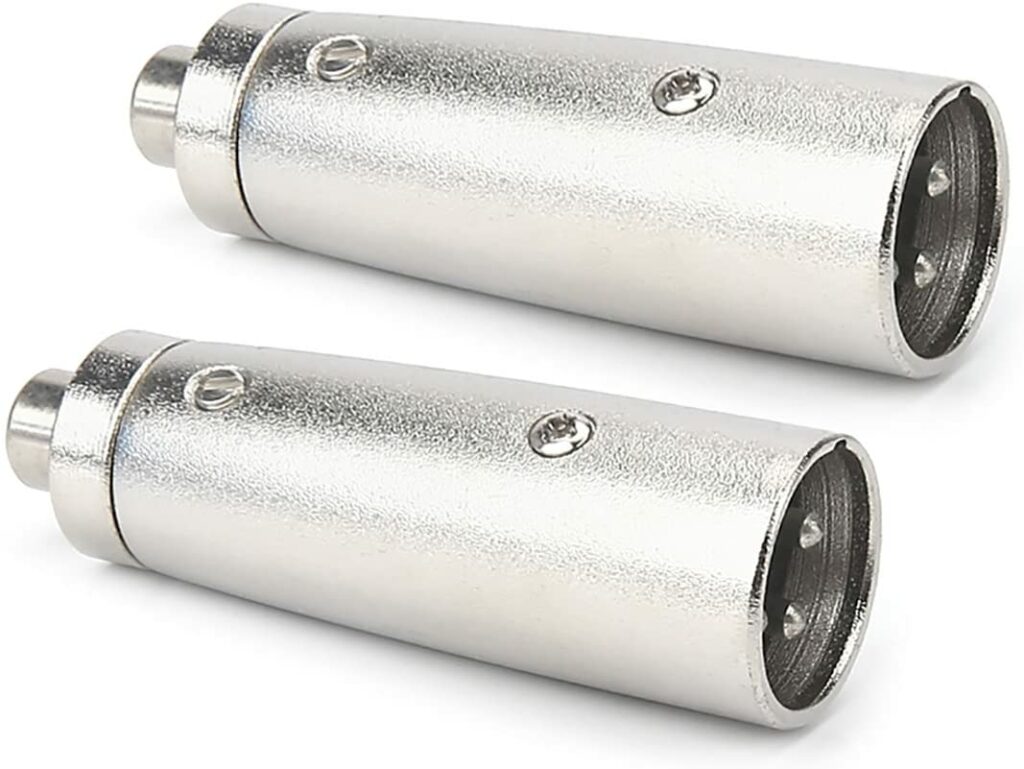 This offering from Tisino is an adapter not a cable with different ends. That means it is approximately 2.36 inches long and designed to slot straight into your male RCA output on your device. At the other end of the adapter is a standard three-pin XLR connection which is waiting to receive your XLR cable.
The beauty of this device is that it is small and easy to plug in and move between devices. It is made from zinc alloy with nickel plating. This ensures it is strong and resistant to corrosion. The design is simple but effective and includes protective shielding that eliminates RF and EMI noise.
It is worth noting that the body of this adapter is the ground. You may also want to know that the number two pin is connected to the live of the RCA while pins one and three are connected to the ground on the RCA. It weighs less than two ounces.
---
SiYear XLR to Dual RCA Cable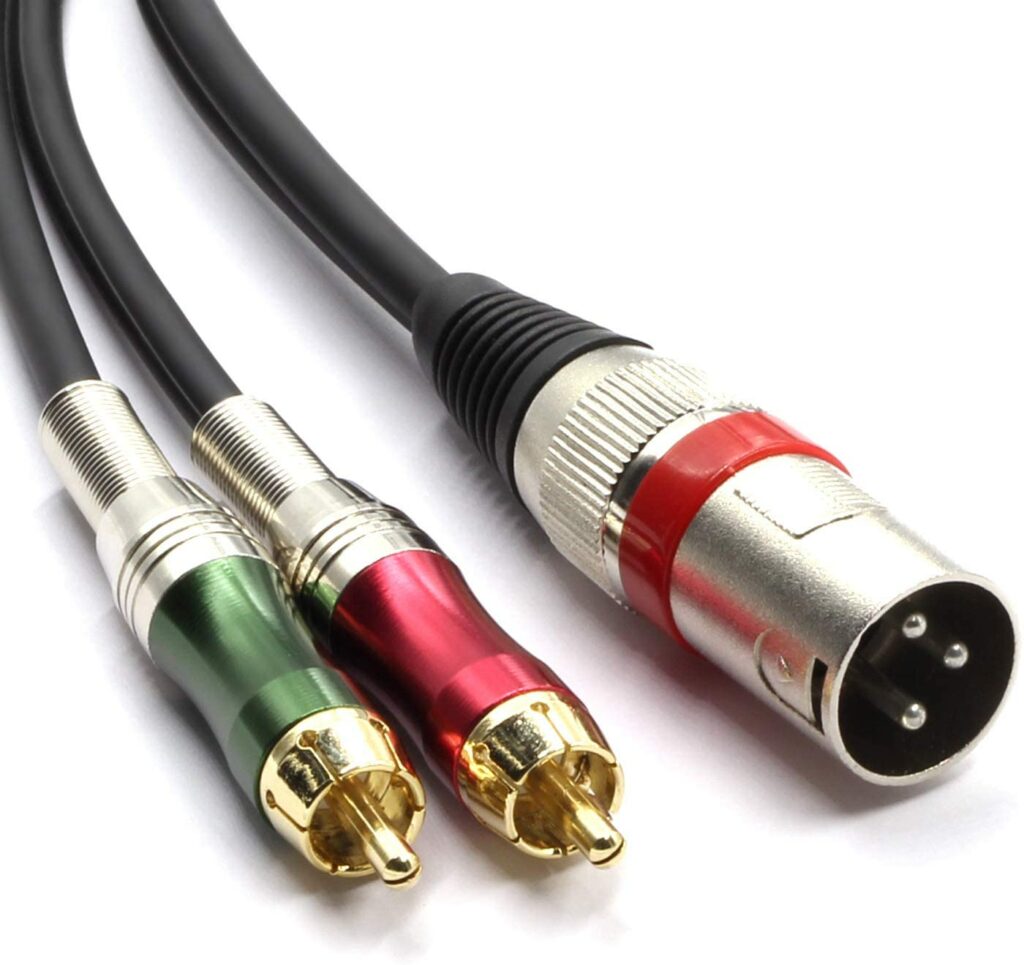 If you have two RCA outputs that you want to be connected to a single XLR socket then this XLR to dual RCA cable from SiYear is a great choice. The cable is 1.5 meters long and has two RCA male connectors. These slot straight into your audio out ports, the live signal is merged from both ports and arrives at the number two pin on the XLR connector. All the grounds are connected and connect to both the number one and number three pins.
The connectors and cable have high-density shielding and aluminum foil. This protects the signal from EMI and RFI interference. The outer part of the cable is flexible PVC and all connectors are aluminum alloy with a nickel coating to prevent corrosion and improve connectivity. The cabling is copper and oxygen-free
It is worth noting that the connectors also have strain relief features made from rubber. This is designed to ensure the cable is durable and is supported by a one-year guarantee. It weighs just under five ounces.
---
Monoprice Male XLR to Male RCA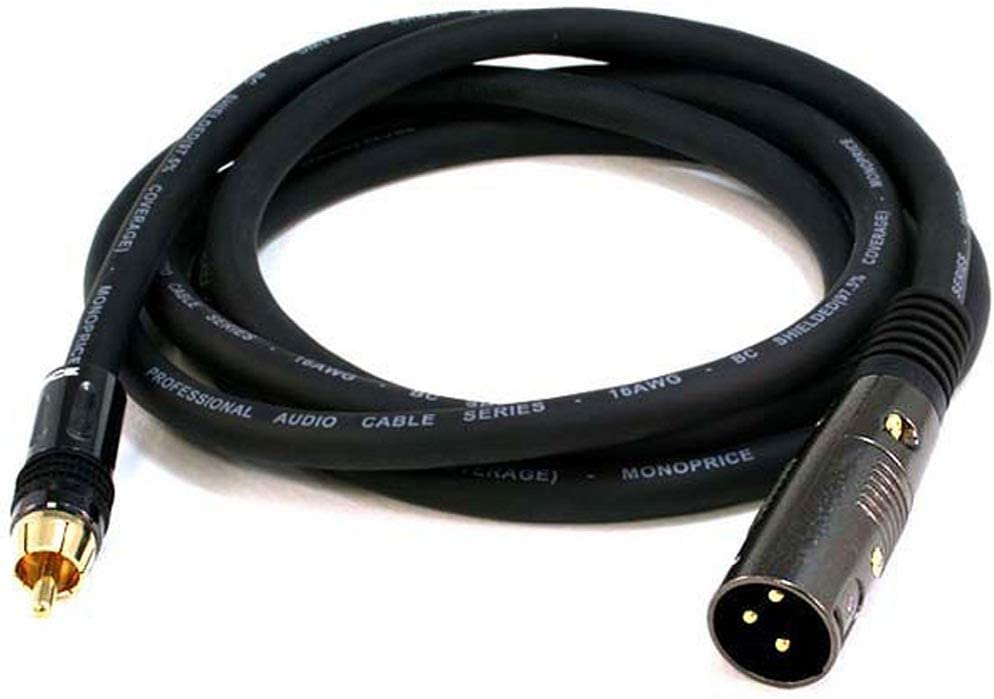 If you have a female RCA connection then you are going to need a male connector, making the Monoprice male to male RCA to XLR cable one of the best options.
This cable adopts the same approach as the other options on this list, namely that the number two connector I the live terminal of the RCA and the RCA ground goes to terminals one and three.
This offering is 6ft long but it is offered in a variety of sizes, ranging from 1.5ft to an impressive 50ft. However, it should be noted that the 50ft option may suffer from signal quality reduction due to the length of the cable.
The core cable is oxygen-free copper for maximum current flow. These are rated as 16AWG and use a twisted pair arrangement. The cable has copper braided shielding to eliminate interference with the audio signals. The ends are molded plastic and the actually connections are gold-plated, giving the best possible signal transfer. They are also resistant to corrosion.
---
Colicoly Female RCA to Male XLR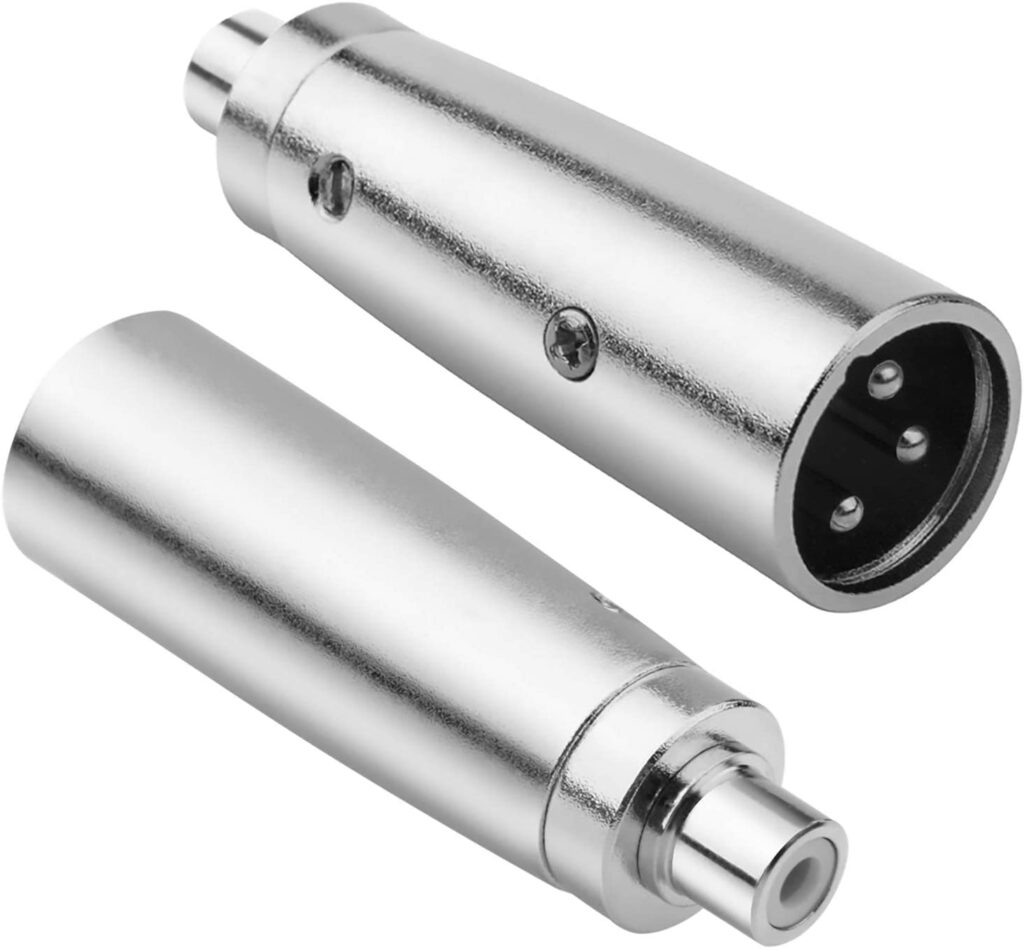 This offering from Colicoly is another adapter as opposed to a cable. However, it should be noted that this package includes two adapters which means you can plug in two devices or keep one handy for when it is needed.
The adapter is just over 2 inches long and incorporates a female RCA, it plugs straight into a male connector, on your device, or as part of an RCA cable. As usual, pins one and three are tied together and join the ground on your RCA, pin two carries the live signal.
The adapter has standard protective shielding to eliminate EMI and RF noise. The main body is a conductor and is nickel-plated, ensuring it doesn't suffer from corrosion.
---
Youkamoo XLR to RCA Female Adapter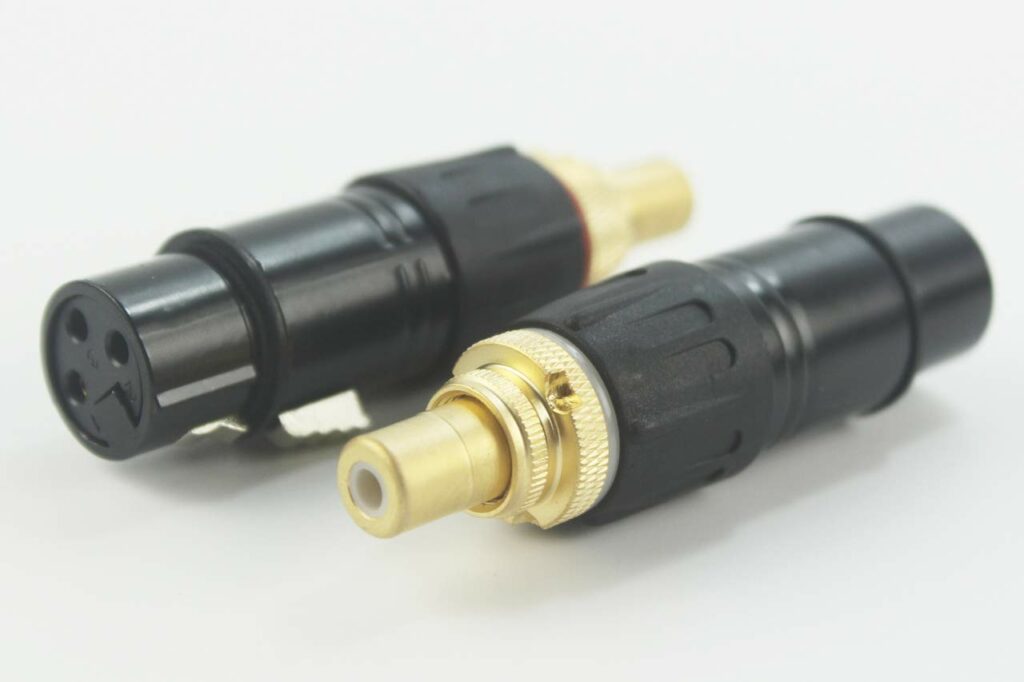 The Youkooma XLR female to RCA female adapter is a stylish-looking adapter completed in black with a female RCA connection at one end in gold. At the other end, the female XLR slots are encased in black plastic.
All terminals are gold-plated, covering copper with protective shielding that ensure signal quality is maintained. As with the other offerings, pins one and three are grounded, and pin two is connected to the RCA live, transferring the signal into your XLR socket.
It weighs just under three ounces, can be easily carried with you, and appears to be well-made, backed by a standard one-year guarantee. You should also note there are two adapters in the packet, which helps if you have more than one device or like to keep a spare handy.
---
Final Thoughts
RCA adapter, 1/4 adapter and the USB adapter are all easy to use. All you have to do is plug them in at both ends and tuck the cable out of the way. You can then enjoy your music the way you want it to sound.
Choose the one you like on the above list and order it today, it is that simple.