Choosing the right XLR adapter for a specific situation is an important task. When you get it right the adaptor does the job perfectly and you will be glad you took the time to choose the right one. 
If you're in the market for an XLR to 1/4 adapter then you are going to want to read the following.
The XLR Connector
XLR stands for External Line Return. The connection was created as a way to ensure high volumes of electrical currents could be passed cleanly into a device without damaging it or distorting the current. Which means it is balanced, something that the RCA connector is not. In other words, the audio you hear before and after the connection would be of the same quality.
The main purpose of this type of connector was to allow various professional audio devices to connect to each other, including speakers, microphones, amplifiers, mixing boards and even computers using the XLR to USB adapter. 
Of course, it's no longer just the professionals that use the XLR to 1/4 adaptor. They can be used in a huge array of settings.
The Quarter Connection
At the other end of this adapter is a 1/4 connection. This is often referred to as a 6.35mm jack point. You will be familiar with the standard 3.5mm jack point that handles headphones and other devices. This is what you find on most commonly used appliances, such as your cell phone or home stereo.
However, professional equipment tends to favor the bigger jack port, a 1/4 or 6.35mm connection. This improves the surface contact and the transference of a signal.
Why XLR to ¼ Adaptor?
The simplest reason is when you have two pieces of equipment and you want to transfer the sounds from one to the other. If the one sending the sounds has a 6.35mm or ¼ jack you will need an adapter to allow you to connect it with your professional mixing desk or other audio equipment, which relies on an XLR connection.
It is worth noting that both of these connections are high-quality but not all are balanced. The XLR is always balanced and provides great sound. But, the ¼ inch comes in two formats, TS and TRS.
The TS option has just two cables in it, one carrying the signal the other acting as a ground. In contrast, the TRS has three, that's one ground and a flow in and out for the audio or electrical signal, allowing it to remain balanced. This is the better choice of ¼ inch connectors as it allows stereo signals and blocks interference.
Choosing The Right XLR to ¼ Inch
In short, if you have two pieces of equipment that need connecting, it doesn't matter if one is ¼ inch and the other XLR, you can join them.
However, before you choose a cable consider the following.
Perhaps the most important consideration when choosing an XLR to ¼ adaptor is who is the manufacturer? The better you know them then the more confident you will be that they are providing you with a high-quality product.
If you haven't heard of the manufacturer before then ask friends and colleagues to see if they have any experience with them. You can also check online forums and social media to get honest reviews and feedback on a manufacturer and the quality of their products.
In general, the price of the different XLR to ¼ inch adaptors should be similar. It is worth looking at several to confirm the average price. You will then know to proceed with caution if you find an adaptor that is worth considerably more or less. If you can't see the justification in price difference then stay clear!
Finally, you should consider the ¼ inch connection. As already mentioned there are two types. It is best to go with the TRS ¼ inch connector as this gives a balanced stereo signal which provides the best possible quality.
Best XLR to 1/4 Adapters
Monoprice 1041761 XLR to ¼ Inch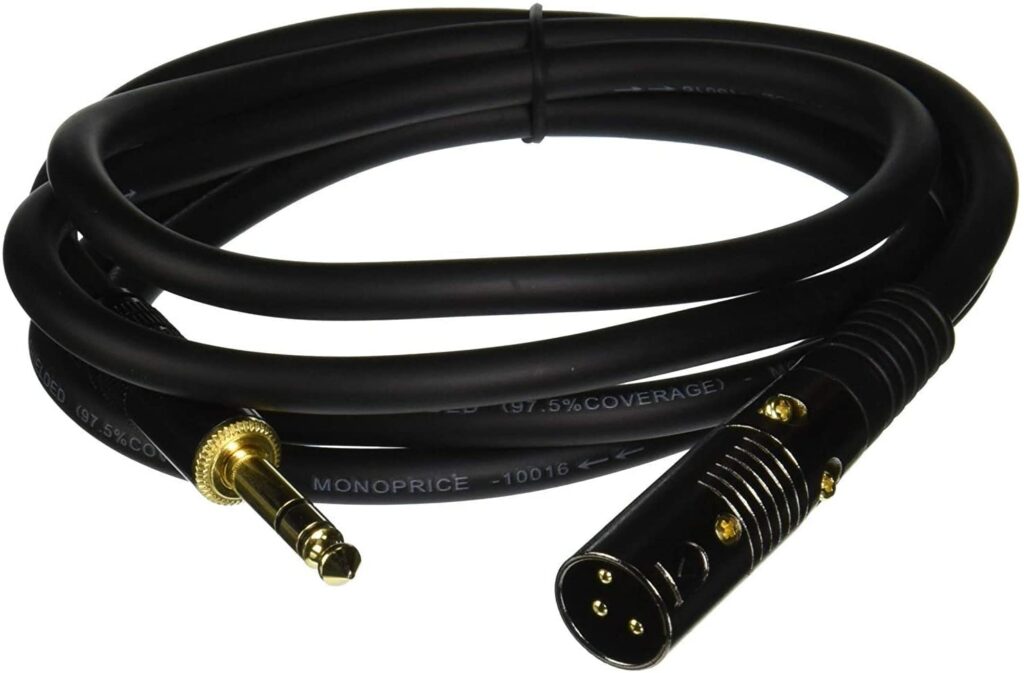 The first offering on the list is the Amazon's Choice as offered by Monoprice. This simple black cable has a male three pin XLR connector at one end and a standard ¼ inch connector at the other. It is 6ft long but comes in an array of lengths, ranging from 1.5ft right up to 50ft. In short, whatever length you can think of you will find here.
The cables are black molded plastic with a separate bride shield to protect against interference and distortion of the signal. It also uses impedance balanced lines that reduce EM and RF noise. This balancing also allows the cable to be used over longer distances without issue.
The ¼ inch connector is gold plated while the XLR uses nickel plating, allowing you to get the best possible sound quality from your devices.
---
JolGoo ¼ Inch TRS to XLR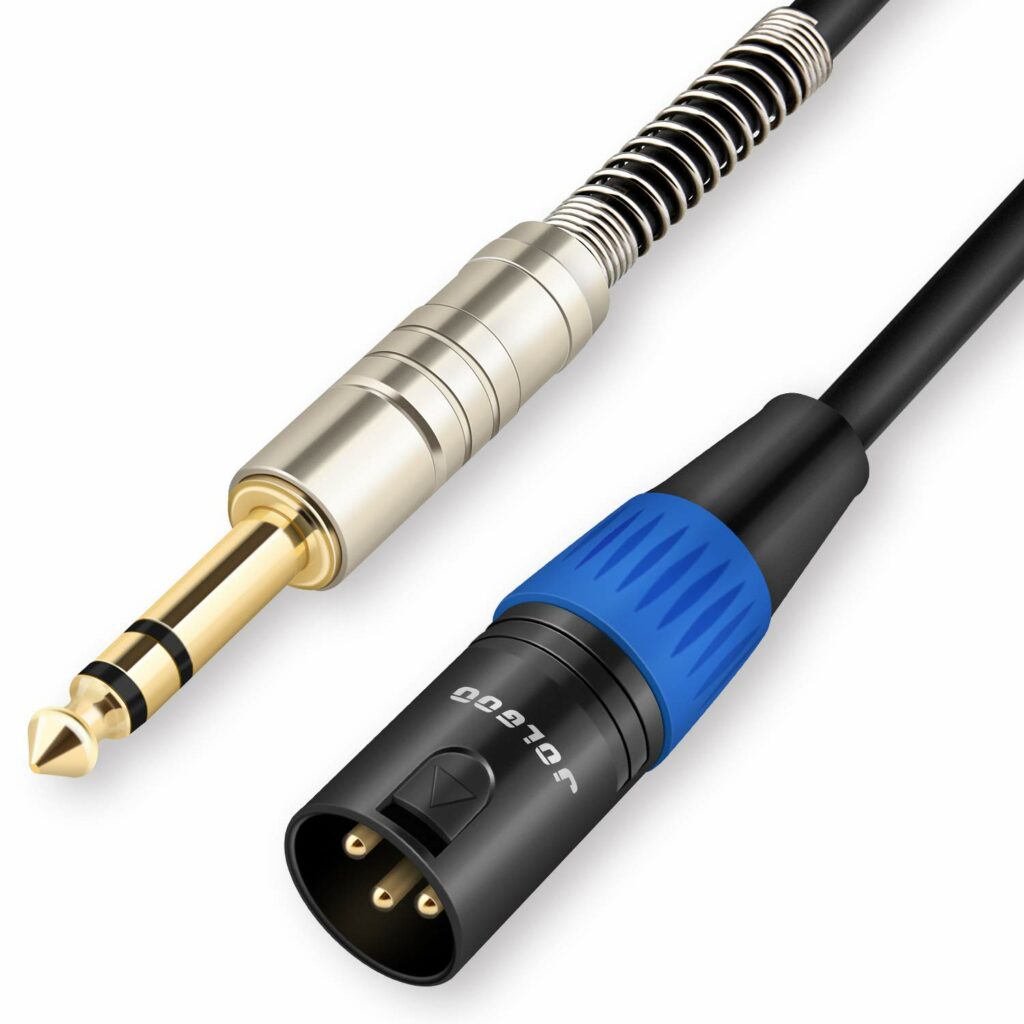 This Jolgoo ¼ inch TRS to XLR adaptor is 3.3ft long. However, it is possible to get it in other formats, including 6.6ft, 10ft, and even 15ft. In addition, this offering has a ¼ inch TRS with a male XLR. The company also offers a ¼ inch TS to male XLR and even a male XLR to dual ¼ TS males.
That gives you plenty of options depending on your budget and what you are trying to achieve. The core of these cables is oxygen free copper, which is surrounded by aluminum foil shielding and a filler cotton yarn. There is also spiral shielding which sits outside the shielding and inside the flexible PVC jacket. It should be noted that all the materials used are designed to have minimal impact on the environment.
The 20AWG N copper cables and various shielding elements ensure that the sound remains crystal clear at all times. It also benefits from 24k gold-plated connectors which are corrosion resistant.
---
Tisino XLR To ¼ Inch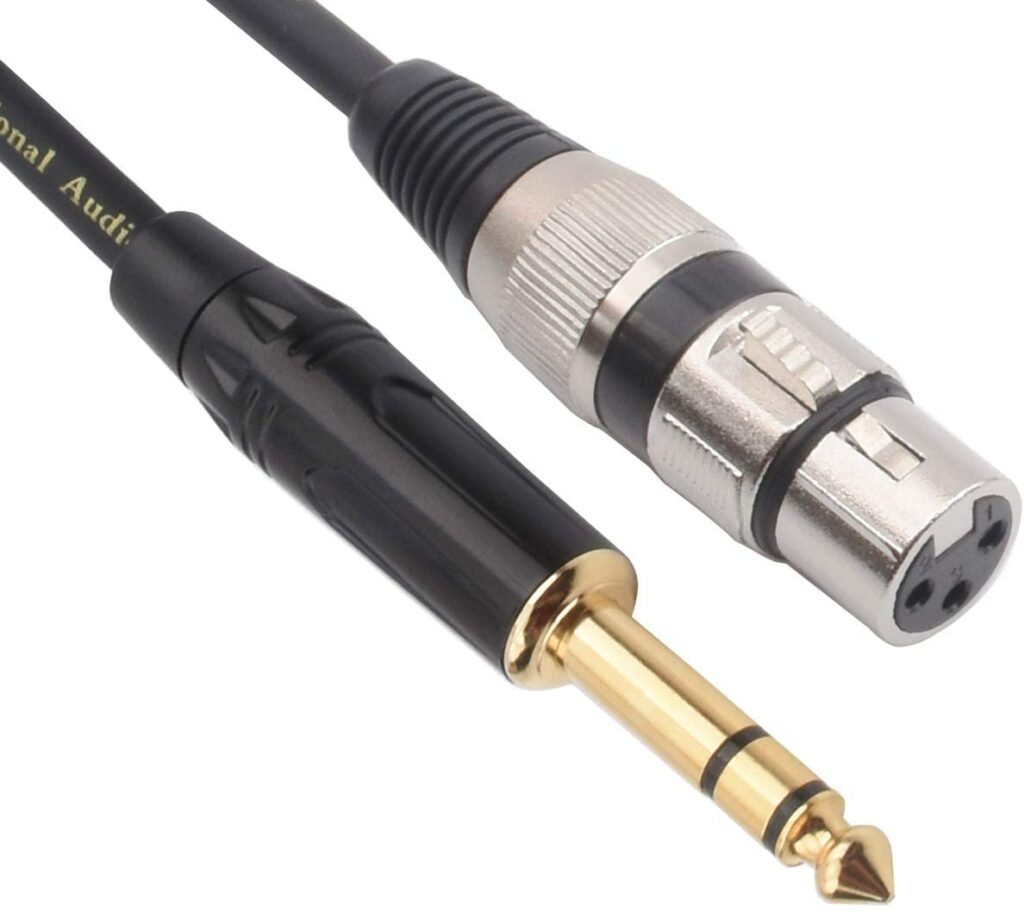 The Tisino XLR to ¼ inch adaptor has a female XLR connection, the first on this list. It comes in a variety of sizes, ranging from 3 feet to 15 feet long. Each cable is black with "Tisino High Performance OFC Professional Audio" embossed into the cable.
The female XLR connector has heavy duty metal housing, a nonslip joint, a rubber grommet to prevent leakage, and a locking metal end. It also has a dedicated rubber booty covering the cable joint, ensuring it is protected even when moved around excessively.
The conductors themselves are oxygen free copper sheathed in cotton yarn, foil shielding, and copper shielding before being enveloped in the PVC coating. The connections are also gold-plated to protect against corrosion and maximize the signal quality.
---
GLS ¼ Inch To XLR Adaptor Cables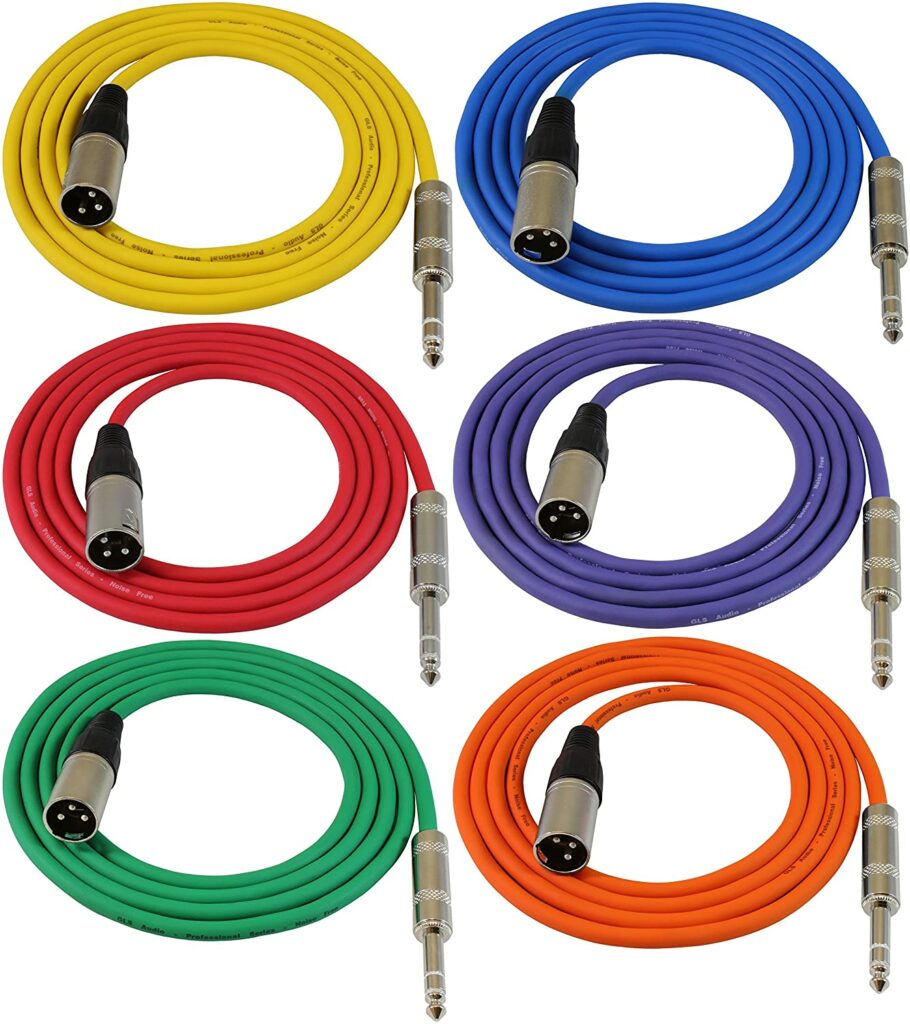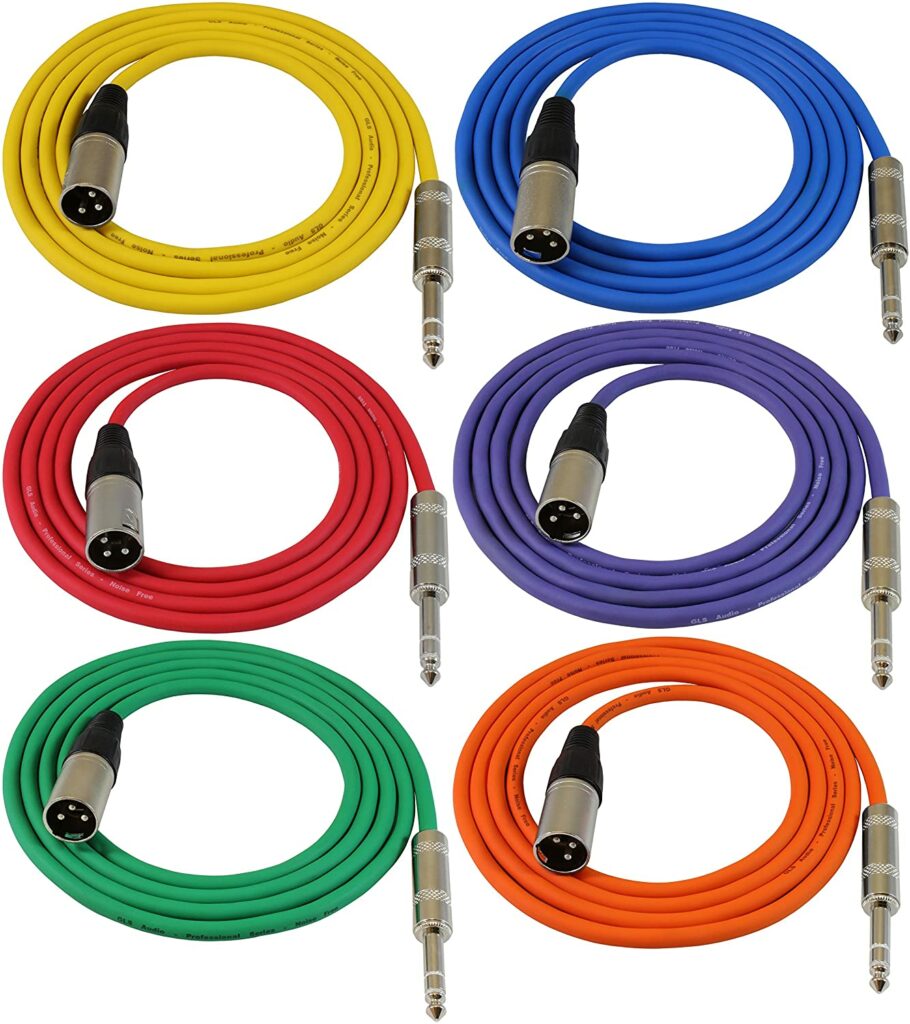 This offering from GLS Audio is actually a pack of six balanced TRS ¼ inch cables. Each cable has a three pin male XLR connector at one end and a standard ¼ inch jack at the other. A nice touch is the color options. Each pack contains two blue cables, one red, one orange, one green, and a yellow. That makes it easy to work out which items are connected and adjust the connections when needed.
Each cable is coated in a heavy duty rubber jacket and has rubber booties over the joints to reduce strain. The connectors are 21g copper and the oxygen free copper running through these cables is well shielded, making them a great option for your audio system. The ¼ inch jack is nickel plated and has standard insulation offering a balanced TRS connection.
---
Cable Matters ¼ Inch To XLR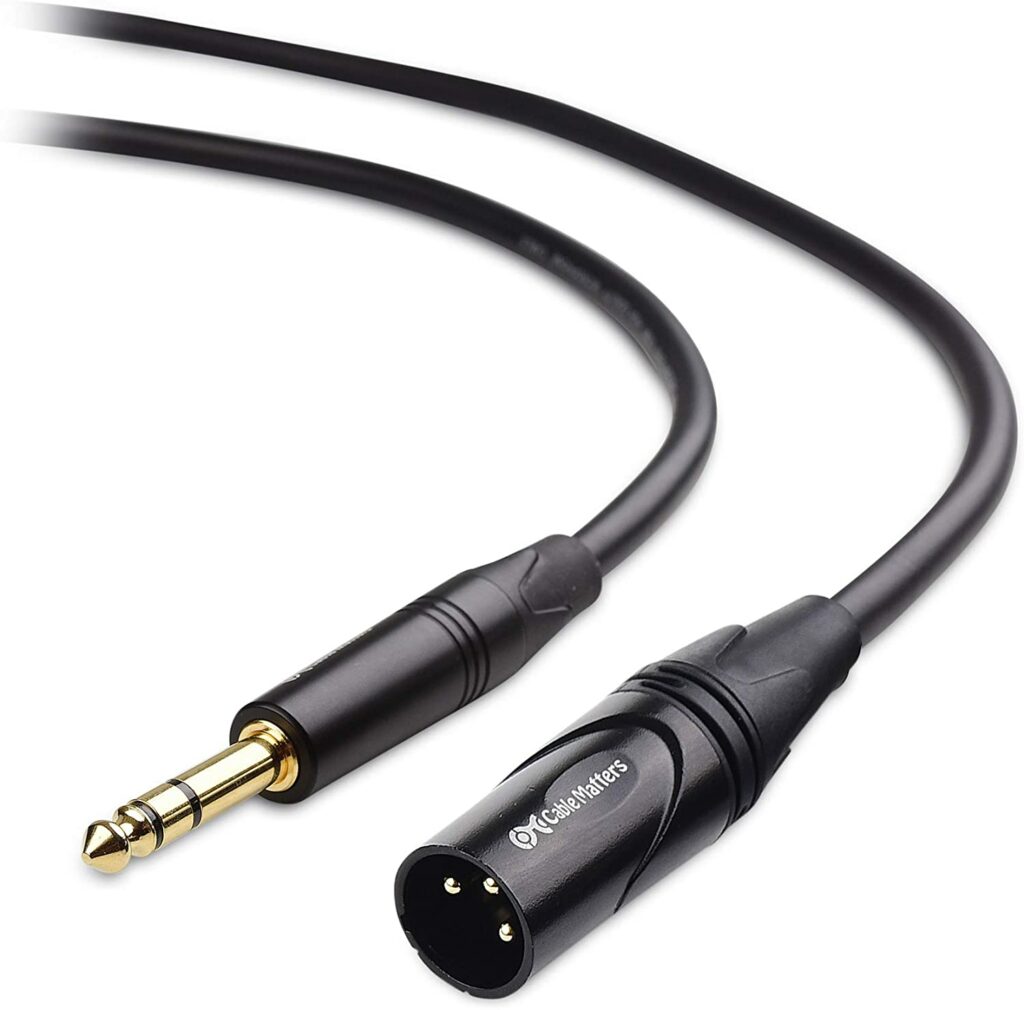 The final offering on this list is another Amazon's Choice from Cable Matters. This male XLR to male ¼ inch adaptor cable is 10ft long. However, the company offers a selection of lengths ranging from 3ft to 50ft.
This is a stylish cable in all black with gold plating at the ¼ inch jack. The connections are molded with gripped sections to minimize the strain when connecting and disconnecting. You will also not the Cable Matters name and logo discretely embossed on the XLR connection.
The inner conductors are OFC copper with copper braided shielding, polyethylene insulation, and a standard rubberized coating. It ensures good insulation and durability. In short, there is no loss of sound quality while using the Cable Matters ¼ inch to XLR adaptor.
This balance TRS cable is durable and high-quality, making it one of the best options on this list.
---
Final Thoughts
Choosing the right XLR to ¼ inch adaptor doesn't need to be difficult. You simply need to understand what this cable does and then choose the one that suits your needs from the list above.
While there are plenty of options on the market the above ones are attractively priced and very capable, with plenty of positive reviews. You should order one today and enjoy your music as it should be.