Choosing the right cables and adapters to join two products together and get the best possible signal can be difficult. You need the right connection to ensure you get a high-quality signal and can enjoy whatever activity you are undertaking.
Fortunately, this guide will help you to understand what the XLR to USB adapter is and to choose the right one. 
XLR
Like most cables and adapters there are female and male versions of the XLR connector. The male has between three and seven pins set inside a circular socket, while the female has between three and seven holes inside a fractionally smaller circular body. This allows the male to slot into place. This connection is often secured with a small catch to ensure it cannot come apart during use.
XLR connectors are generally found on commercial audio equipment, including lighting and video. If you've ever set up a professional sound system then you've come across this type of connector. Of course, they are also frequently found on digital audio devices.
The biggest difference between an XLR and a standard RCA connector is the design. XLR's are designed to ensure the negative, or earth, pin makes contact first when being connected. This prevents the feedback or picking up of external stimulus, ensuring a good quality signal.
USB
USB's or Universal Serial Bus is a standard connection point on computers and other communication devices. It is the universal standard for connecting computers and peripheral equipment. The standard USB port is the large oblong slot you are used to seeing on computers. USB 3.0 is currently the faster option but you should note that there are smaller versions of these connectors, the latest is USB-C which is used on many phones and other devices.
Why An XLR To USB Adapter?
XLR to USB adapters are exceptionally good at joining microphones to computers, allowing you to record your voice or other sounds directly onto the computer. This can be useful for a variety of reasons, such as voiceover work or creating a presentation.
But, the XLR to USB adapter also allows you to connect an XLR microphone and chat with other people effortlessly. We all know how hard it can be to understand and be heard on a video call, using a handheld XLR microphone and an XLR to USB adaptor solves this issue.
Choosing The Right XLR To USB Adaptor
There are plenty of examples of these adapters on the market, the key is to find the right one for you. That means thinking about several factors before you commit t purchasing:
The first step when buying any piece of equipment is to check out who made it. If you know the manufacturer then you will already have an opinion of whether they are good at what they do or not. If you have never heard of them before you'll want to speak to family and friends to see if they know anything about them.
Knowing the manufacturer means you will have a good idea regarding the quality of the product and its durability. That is important when making purchase decisions.
Regardless of whether you know the manufacturer or not, you should spend some time looking at reviews online. These will tell you how durable a specific adapter is and how good the customer service is. This is important as no matter how well made an adapter is, it can still have issues and you need to know you'll get the customer support you deserve.
Finally, you should spend a moment thinking about the price. In general, the price of all XLR to USB adapters should be similar. If one is significantly more or less you will need to proceed with caution. While this could be a sign of inferior or superior quality, it can also simply be a scam. You need to be confident in the right place for an XLR to USB adapter and commit to a specific budget. It will make it easier to choose the right XLR to USB adapter.
Best XLR to USB Adapters
Hosongin USB to XLR Cable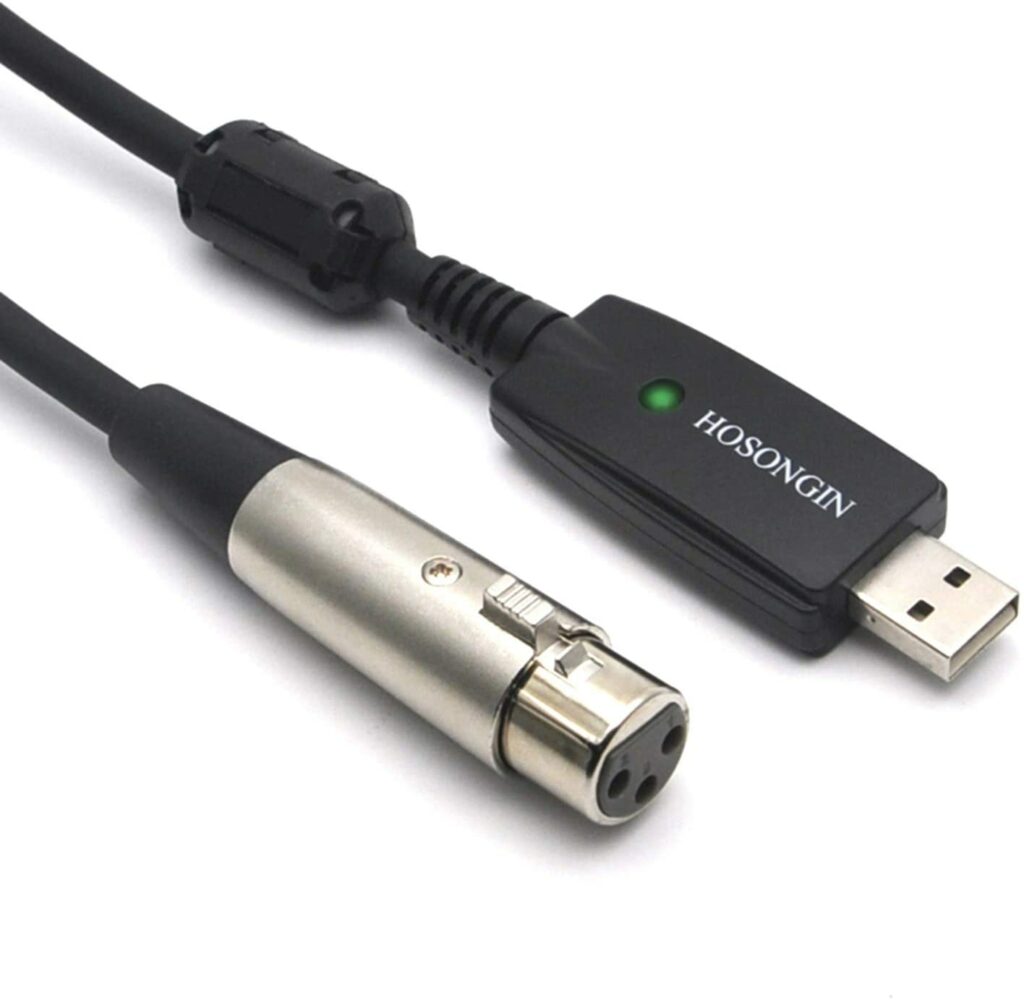 The Hosongin USB to XLR cable is designed for recording sounds through an XLR microphone directly onto your computer. It is a 10ft long cable with a female three pin XLR connection at one end and a male USB slot at the other.
It is worth noting that this cable comes in several other options, including 3.3ft and 6.6ft. It is also listed as Amazon's choice verifying the authenticity of the adapter cable.
A cable is a good idea as it allows you to move around with your microphone, although perhaps not dance across the room. The cable is designed to work with a USB 2.0 or lower and there are no drivers that need to be installed to get it working. It uses high-quality wire and the connector is made from a metal alloy, ensuring the signal quality is great while the cable itself is durable.
As a bonus this XLR to USB adapter comes with 18 months of aftersales service, ensuring you get the best possible care.
---
Pyle XLR To USB Adapter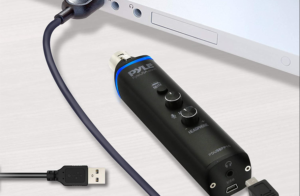 If you prefer to adopt a different approach then the Pyle XLR to USB adapter may be exactly what you are looking for. Instead of being a cable, this device is designed to plug straight into the bottom of your microphone. It has the standard three-pin XLR connection, extending the size of your microphone and potentially making it look extra cool. The Pyle adapter has a mute button on it and two dials on the side. One of these controls the audio mix, the other adjusts the volume on your headphones. There is a standard headphone jack at the bottom of the adapter along with a micro USB connection.
To make this device work you will need to have a standard USB cable with a micro-USB at one end and the standard USB slot at the other.
The device can handle a frequency response of 20Hz-20kHz, it is powered via a USB connection, and has a dynamic range of 100dB. It is also worth noting that the Pyle XLR to USB adapter is made from engineered aluminum alloy and weighs less than half a pound.
---
Roland RCC XLR to USB Cable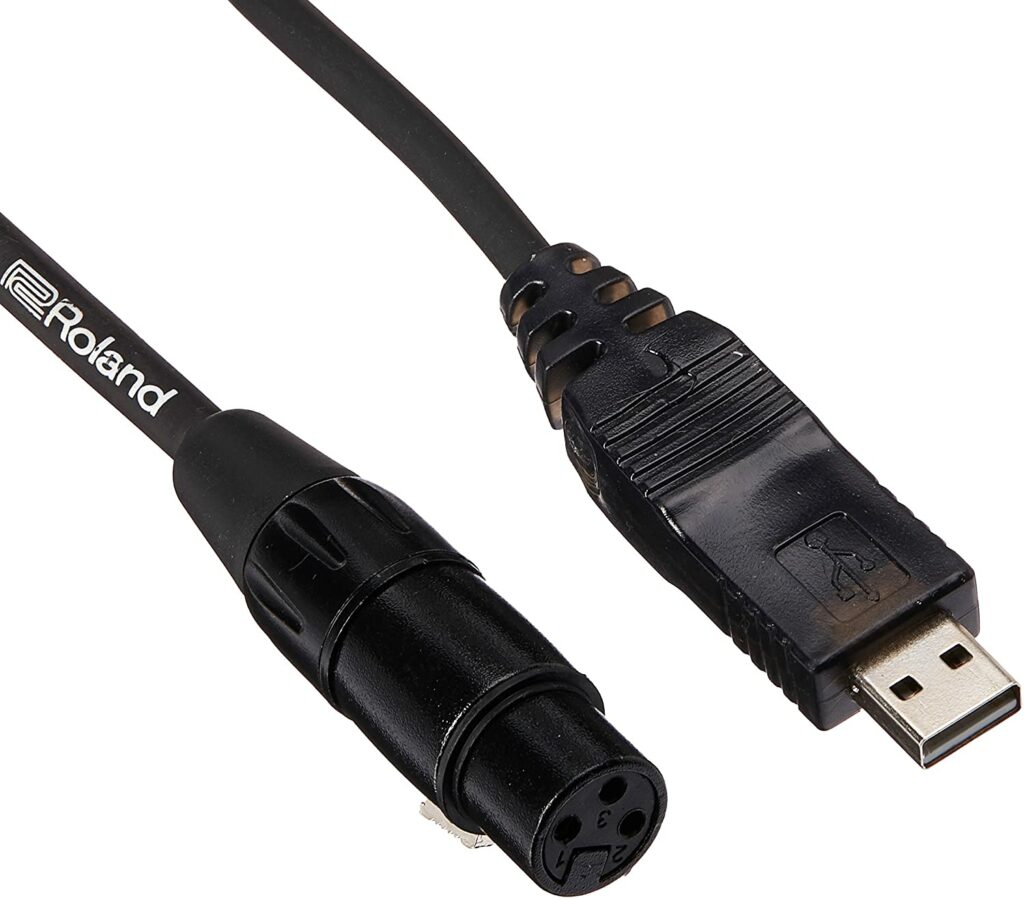 The Roland RCC XLR to USB cable is all black with the exception of the USB connector and the neatly stamped Roland name and logo on the cable. It looks good and is surprisingly discreet. This cable is available in a selection of sizes, depending on what you need. You'll find a connection as small as just six inches ranging right up to ten feet which will allow you to comfortably move in your chair or in fro of the decks.
Both the female XLR connection and the male USB are molded plastic with gripping strips, ensuring they are capable of handling the strain of being pulled in and out numerous times. The cable also has polyethylene insulation to ensure that there is no signal disturbance or loss of quality.
Perhaps most impressive is the lifetime guarantee that comes with the cable. That gives you peace of mind that it will do the job it is made for. You should note that if you use this with a condensing microphone it will need to have a battery as the cable doesn't supply power as well.
Naturally, this is a plug and play cable, you don't need to do anything for it to work.
---
Mugteeve XLR to USB Adapter Cable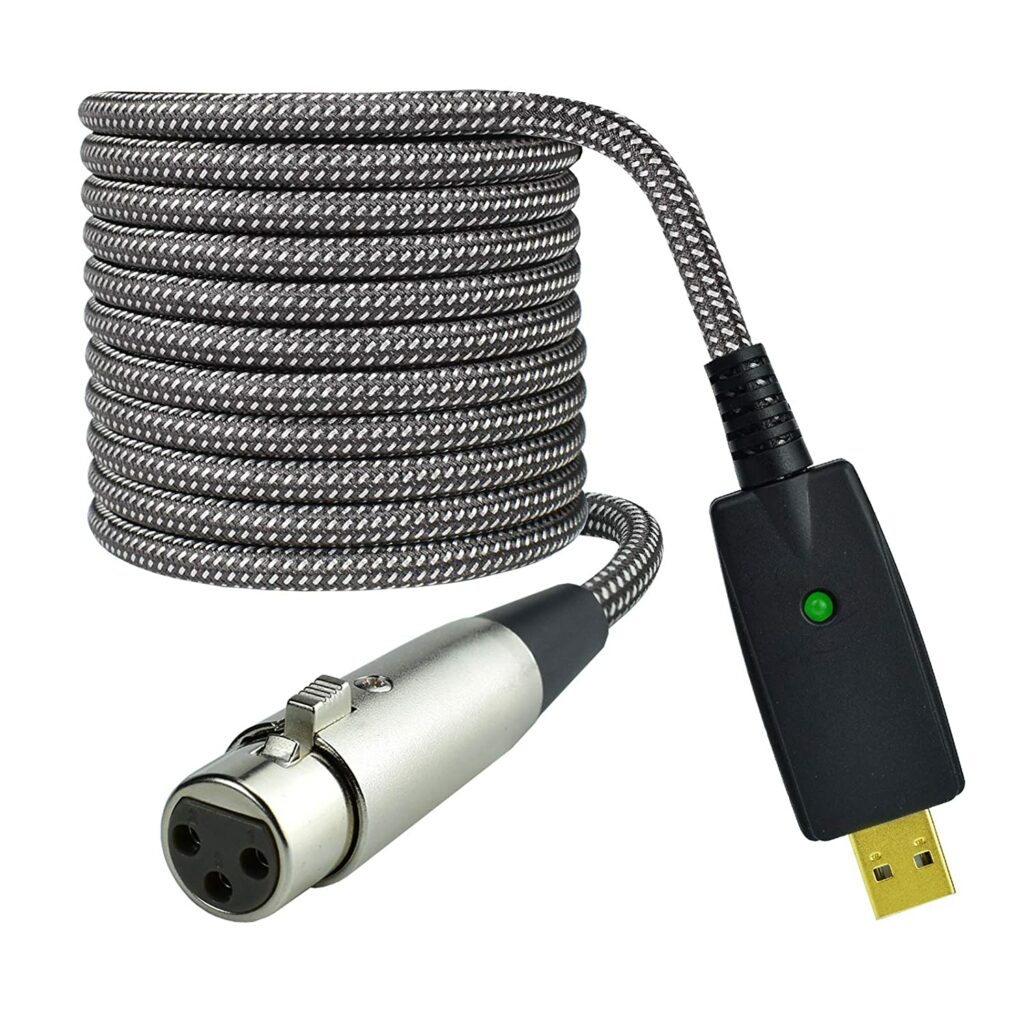 The final offering on this list is from Mugteeve. This XLR to USB converter cable is a stylish example and is 10ft long, enough to handle most jobs. It is encased in a stylish black and white braided cable that is designed to resist bends, ensuring your cable will last for a long time.
The female XLR port is nickel-plated while the USB 2.0 male port is gold-plated. IN both cases this ensures durability and connectivity. The cable is 24AWG and uses oxygen-free technology to maximize the signal quality. It is also 90% shielded and has an embedded audio chip. It can handle 16 bit 44.1kHz/48kHz sounds and will maintain signal quality effortlessly.
As with all these cables, it is plug and play, it couldn't be easier to use. The cable also comes with a two-year warranty and a first-class customer service department waiting to help you.
---
Final Thoughts About XLR to USB Adapters
Choosing the right USB adapter doesn't need to be difficult, you simply need to understand what the adapter is doing and what you need it for. You might need it for something simple or it can be something intended more for professional use like the XLR to 1/4 adapter. This will help you to select the perfect option from the list above.
You can then effortlessly enjoy the music and even the sound of your voice as you play it through your computer.