The PSVR or PlayStation Virtual Reality headset was released in 2016. It came as a package with a headset unit, earbuds, processor unit, connection cable for the headset, an HDMI cable, USB cable, and an AC power adapter. In short, everything you could need to get started, or so you would think.
In fact, you still need a functioning PlayStation 4 and a PlayStation Camera. While the PSVR is relatively cheap compared to other virtual reality devices, adding in the PS4 and VR headset makes it comparable to many other offerings. Of course, the PS4 has a variety of games and other functions. 
You should note that you can play PSVR on your PS5, but for a lot of games the DualSense controller won't work, the best option is getting two move controllers from a PS3 that will give you the full experience. The good news is that once you are set up there is an abundance of games available for you to choose from. It should be noted that the PSVR will also work with the PS5.
Of course, there is also a downside. You are physically attached to the PS4 via the variety of cables supplied in the package. This means there are several cables that can be damaged also some of them can feel shorter than they are while gaming. You need to know what these cables are and where to get them.
It is important to be aware that Sony describes these cables as proprietary. However, you may struggle to get a replacement cable from them unless you can prove yours was damaged and you have had the item since new that. That's why you need to know which cables your PSVR has and what others can be used. 
Best HDMI Cables for PSVR
The Sony PSVR actually comes with two HDMI cables. One of these is designed to connect the headset to the television and the other connects the PlayStation to the headset. The good news is that there are plenty of high-quality HDMI cables on the market. All you have to do is decide which one is long enough for your needs. Or if you like challenge you can try to fix it yourself.
Highwings Ultra High-Speed braided cable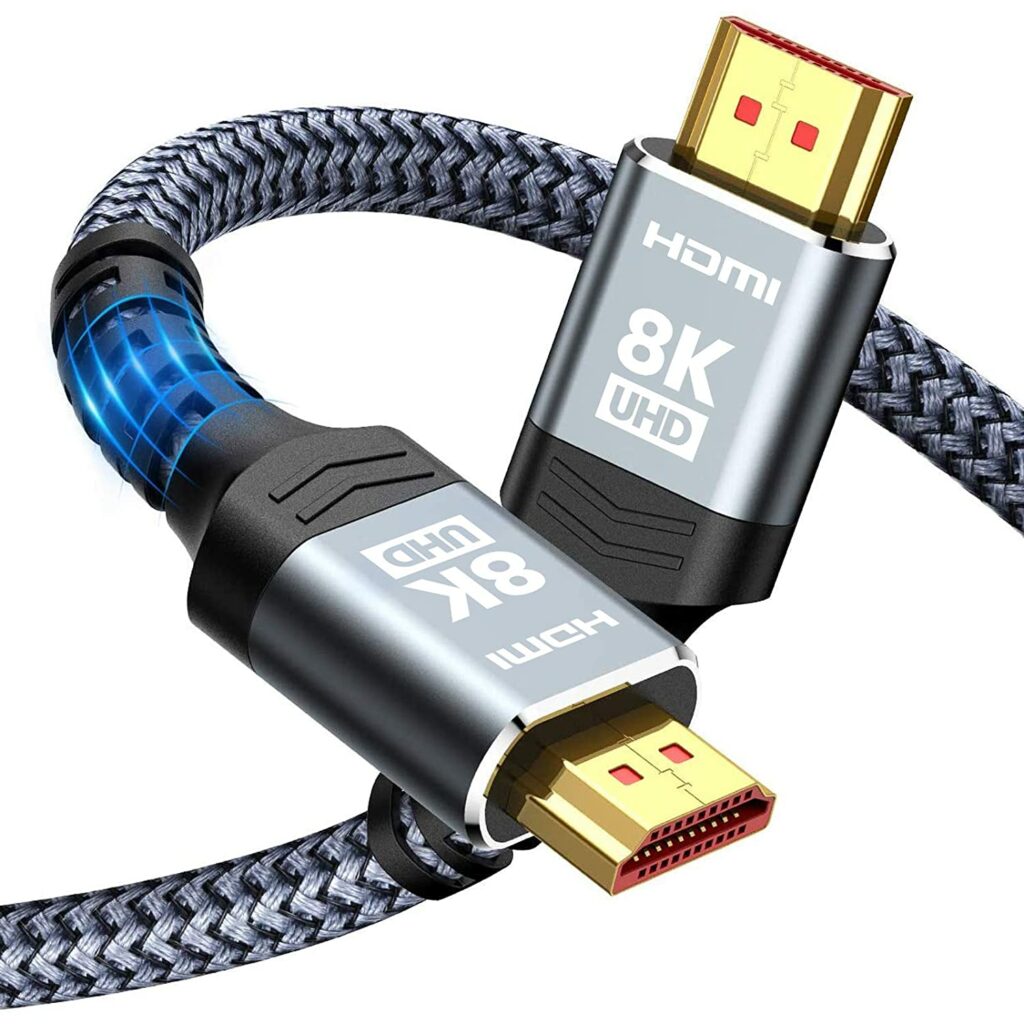 A good option is the Highwings Ultra High-Speed braided cable which supports 4K and a bandwidth of 48Gbps. Their cables are offered n an array of lengths, from 1.5ft to 15ft, ensuring you have the distance you need. Every cable is made with military-grade nylon which is braided to ensure the inner wires are protected and the cable can be bent as many times as necessary. In tests, it can be bent over 25,000 times without reducing signal quality.
The connections are gold-plated and it has a built-in smart chip, ensuring lightning-fast reactions and the best possible image and sound for you.
---
PowerBear 4K HDMI Cable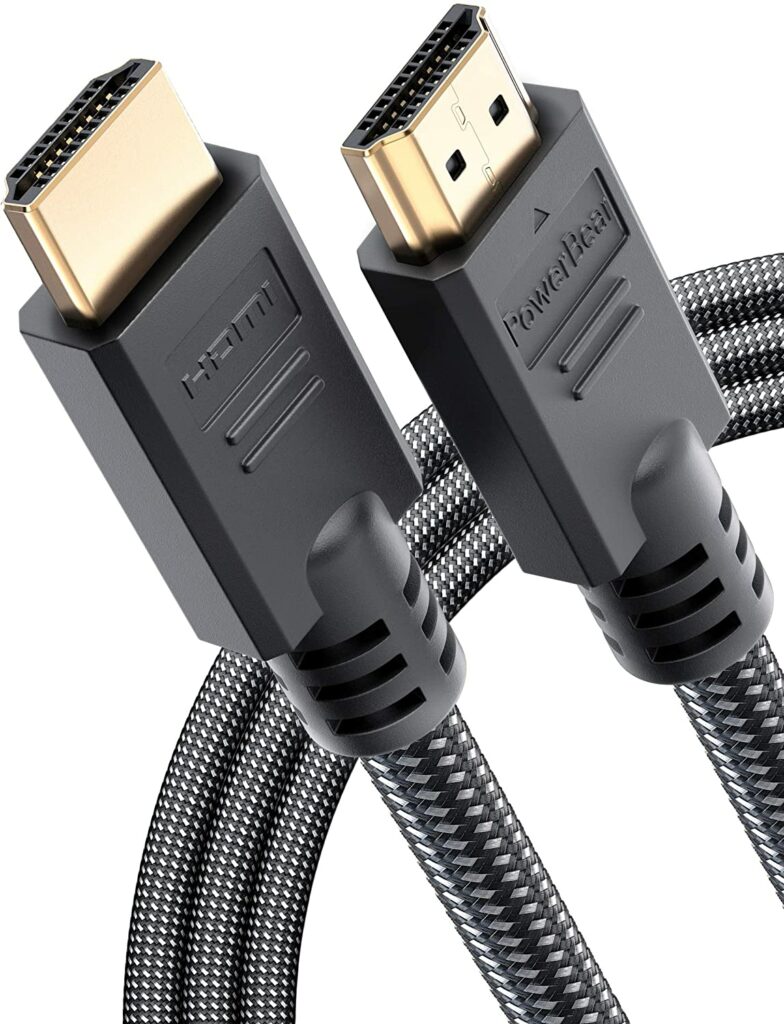 A similar offering comes from Power Bear which also uses braided nylon covering, gold-plated connectors, tripel tin shielding, and is tested to withstand at least 10,000 bends. It can also handle 4K and comes in a variety of lengths from 0.5ft to as much as 75ft.
---
Best Aux Cables for PSVR
The aux cable connects the PlayStation to the PS camera, this can be a short cable as the PS and the camera are usually positioned close to each other. In most instances, this cable doesn't get damaged as it doesn't need to move or be changed. But, issues can still occur, which is why you may want to order a replacement with a standard 3.5mm jack at each end.
Amazon Basics 3.5 mm Cable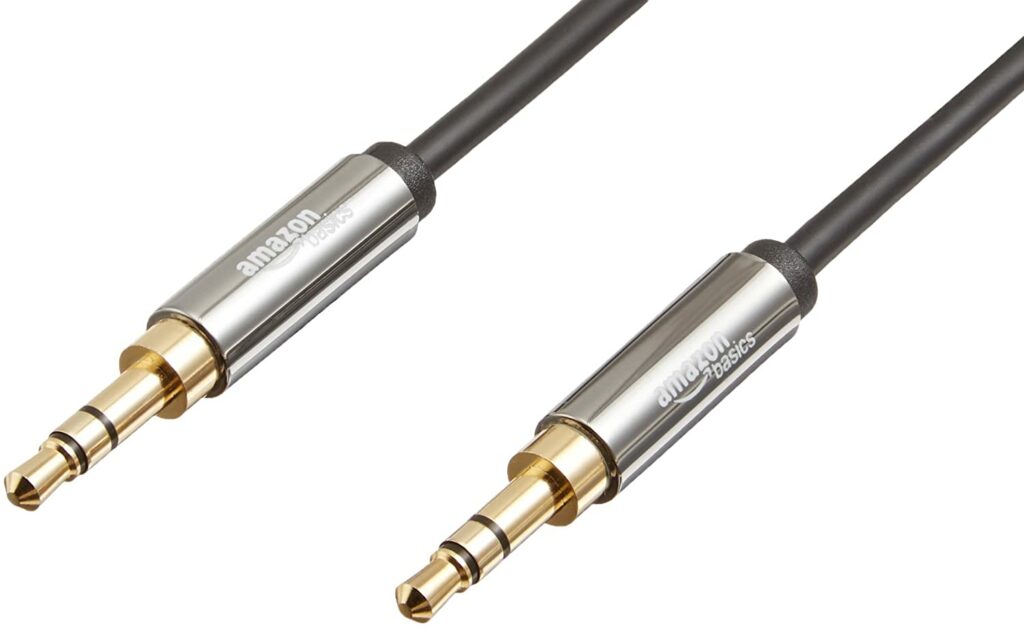 A good choice is the Amazon basics which is 8 feet long, although there is a shorter option at 2 feet and a medium one at 4 feet. It's a stylish cable with Amazon Basics embossed on the side of the connectors. The connectors are gold-plated to ensure optimal performance and reduce the risk of corrosion. It also incorporates a beveled step-down design to ensure the connection stays secure.
---
Syncwire 3.5mm Nylon Braided Aux Cable
If you prefer a different option then you'll find the Syncwire is a good option and one of Amazon's best sellers. This black cable is available in two lengths, 3.3 feet, and 6.5 feet. It also has gold-plated beveled connectors and is certified as durable and tangle-free, it's been tested to withstand in excess of 15,000 bends. The cable uses a nylon braid to provide the flexibility it needs and to ensure the signal is properly protected. You will also be pleased to note that alongside the standard twelve months warranty, you also get customer support for three years. That is certain to give you peace of mind.
---
Best Micro-USB Cable for PSVR
These are common for transferring large amounts of real-time data. You can try to fix them yourself with our "How To Repair" guide for USB cables.
XIAE Micro USB Cable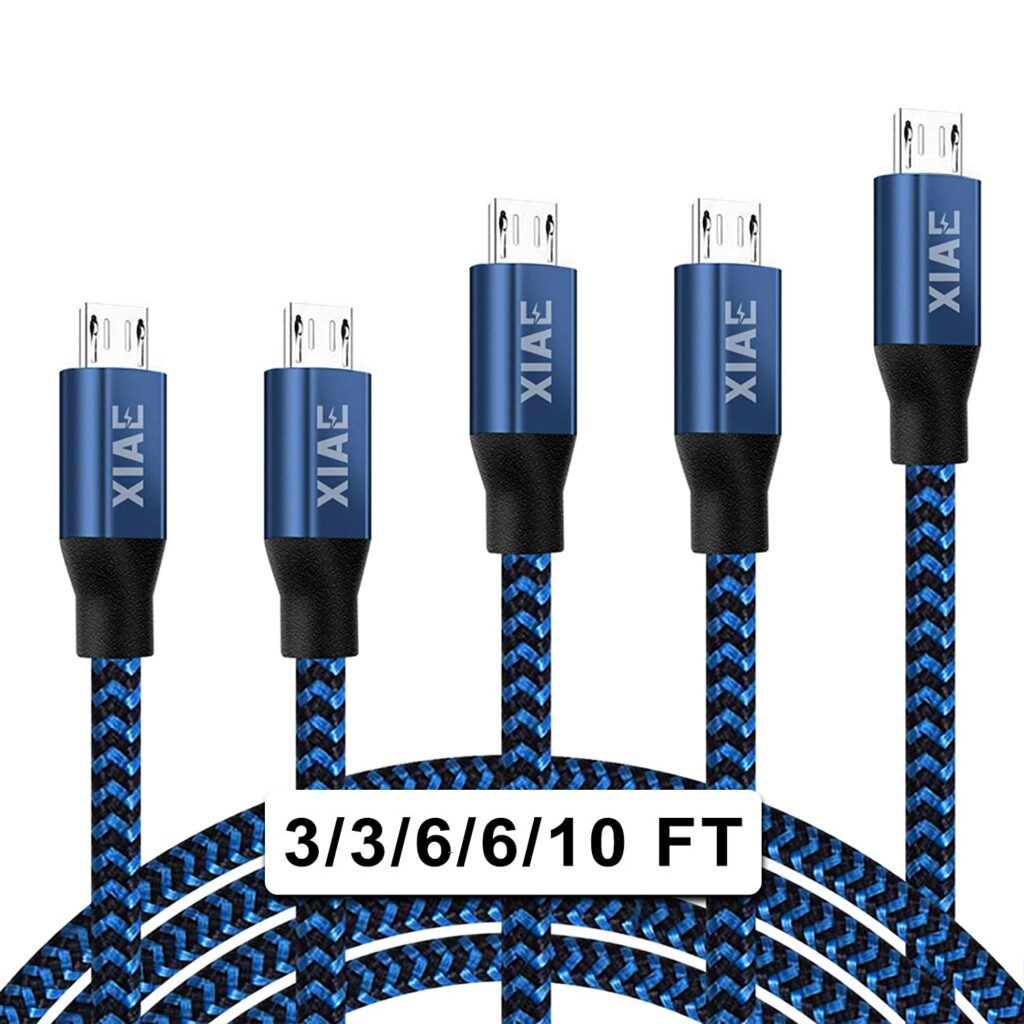 The micro-USB cable also connects the PS to the headset. This is an essential cable as it allows the PS to see the headset as more than just a storage device and enables you to use the virtual reality headset. At the headset end, the micro-USB is small enough to connect without affecting your ability to play, at the other end a standard USB connection allows it to be easily plugged into your PlayStation.
It is easy to locate a replacement cable like this as there are plenty of good examples online. One of the best options you should consider is the micro-USB cable from XIAE Store. This cable has been tested to withstand at least 10,000 bends and uses TPE material to mold the pugs, making it very strong. It also uses nylon braided threads to ensure the cable itself is not easily damaged.
The cable is black and blue with aluminum alloy joints to prevent corrosion. The core is tinned copper with aluminum foil, TPE material, and a metal braid. In short, it should last.
---
Best Power Cord for PSVR
Old Skool Ac Dc adapter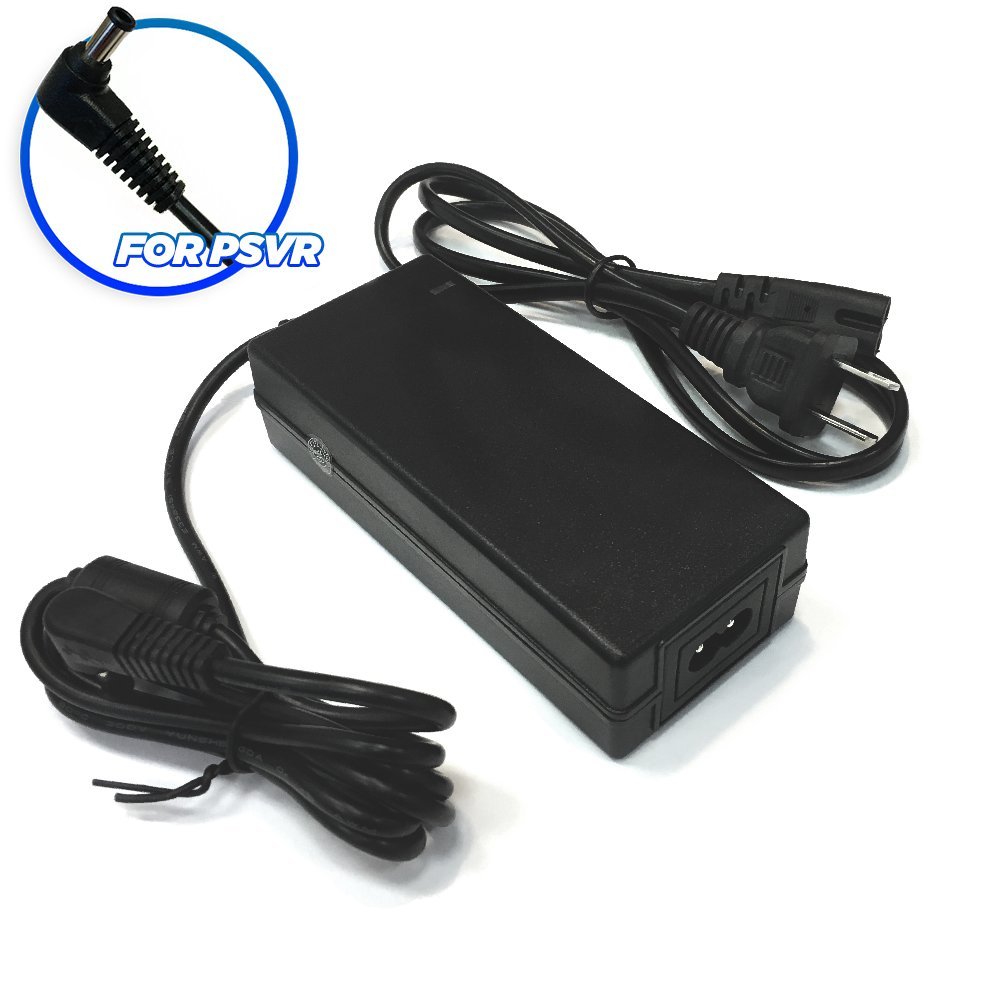 The power cord is an essential part of the setup as you need power for the headset. Of course, you also need a power socket. A good one to select is the Old Skool Ac Dc adapter. This adapter is designed to replace the original. It is 7.5ft long, offers a12 volt, 3amp output, and can handle input of 100-240 volts, the same as what comes out of your standard socket
As with all the cables on this list, you simply plug and play to start using them.
---
Considerations Before Buying
There are five different cables for your PSVR and, although unlikely, it is possible that they will all be damaged at the same time. Your job is to guard against this and to have replacements ready, ensuring you never have to panic about not being able to use your PSVR.
To ensure you are fully prepared you can choose from the above list. But, you should also consider the following purchasing tips.
One of the most important considerations when choosing any product is who has made it. The better known the manufacturer is the more likely it is to be high-quality cables. That means if you don't know the manufacturer of your cables you need to find out more about them.
Fortunately, this is surprisingly easy to do in the modern digital world. You should start by talking to family, friends, and colleagues. They may have personal experience with the manufacturer you are looking at and can advise you regarding their own experience.
Failing that, you can look at online forums and social media sites. You will find an abundance of honest opinions that can help you to find the best cable and manufacturer.
It is also worth looking at reviews, such as this one, which has done all the hard work for you.
Don't forget that anything which appears to be excessively cheap is likely to be of poor quality. Equally, an extra expensive cable isn't guaranteed to be better than one that is an average price. In order to make a fair comparison, you need to look at several cables and understand what the average price is of these cables. This will help to ensure the cable you are considering is going for a fair price, giving you peace of mind.
Cables with plated connectors, braided wiring, and good levels of insulation are generally higher-quality and will ensure signal quality is maintained. In theory, all modern cables fall under this category but you should check them to ensure this is the case.
The better the quality of the materials used the more durable the cable, ensuring your replacement lasts for at least as long as the original.
Final Thoughts
The PSVR is a high-quality piece of kit and a lot of fun to use. While there are more expensive virtual reality devices on the market the PSVR offers good visual effects and an affordable price, particularly as it can be bought in sections.
All you have to do is have a selection of spare cables available to ensure you can keep playing, no matter what happens. This list gives you viable options to ensure all your cables are high-quality and affordable.