The PSVR or Playstation Virtual Reality headset is a virtual reality headset that was released in 2016. It is worth noting that a PSVR 2 is theoretically in the works and potentially being released in 2023.
The PSVR was designed to work with the PlayStation 4 and is compatible with the PS5 via the use of an adapter. The adapter has been sent free to everyone who has purchased a PSVR. However, it is worth noting that there are currently no games on the PS5 compatible with the PSVR. In other words, you'll need to use your PS4 virtual reality games in your PS5.
It is interesting to note that the PSVR is designed to display images on a screen but that these can either mirror what the headset wearer is seeing or show a different image to allow competitive or cooperative gameplay.
The PSVR Cable Assembly
Virtual reality is cool. But, the PSVR still needs an array of cables to ensure you get the full experience. In fact, it comes with five cables as standard:
The PSVR power cable has a standard plug going to the adapter box and then a secondary cable going from the adapter box to the unit. It's important to note that the headset needs power all the time.
The first HDMI cable is designed to connect your headset to the television. In effect, the length of this cable dictates how far you can be from the screen at any given time.
The second HDMI cable runs from the headset to the PlayStation. Again, the length of this cable will affect your ability to move around.
Audio cable is designed to go from the PlayStation to the PS4 camera but take notice that PS5 camera is not compatible with PSVR. In most cases, these two appliances are close to each other so this cable doesn't need to be very long. The camera tracks movement so you will need to choose its position carefully.
The micro-USB cable also goes from the headset to the PlayStation, meaning that it needs to be as long as the HDMI cables to maximize the gameplaying experience.
This cable is important, the HDMI carries sound and video but the USB cable carries data and tells the PS the PSVR is more than just a storage device.
Naturally, the cables that come with your PSVR may simply not be long enough for the job, you also might need a replacement if one of the cables break. The good news is that there are extensions available. You simply need to choose the right ones and there are plenty of good options:
PSVR Power Cable Extension
You shouldn't have a problem finding power cable extensions, but it is worth looking at the following two.
Amazon Basics Extension Cord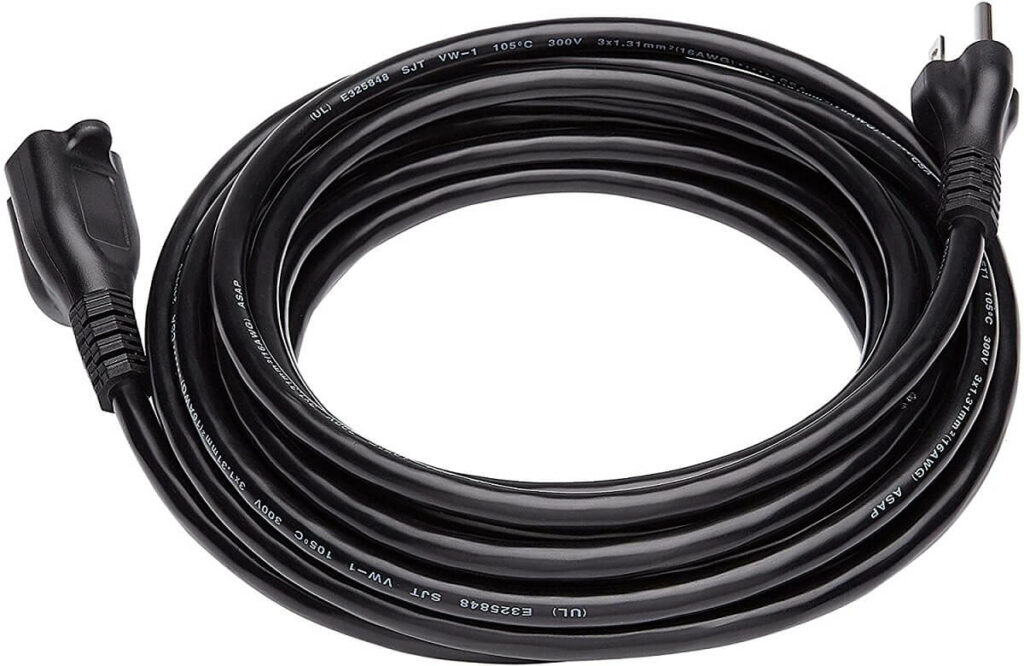 If you simply need to extend the power for one device, such as the PSVR, then the Amazon Basics extension cord is a good option. This cable is 20ft long, making it possible to position yourself virtually anywhere in the room.
It uses a 16AWG cable and is rated at 125 volts at 13 amps. The black cable is well insulated and has molded plugs to ensure it is durable even if regularly plugged and unplugged.
It's worth noting that although this example is 20ft long, you can also get this extension cable in a variety of lengths including 3ft, 6ft, 10ft, and even 15ft. That makes it perfect for every situation.
---
Cable Matters 2-Pack Power Extension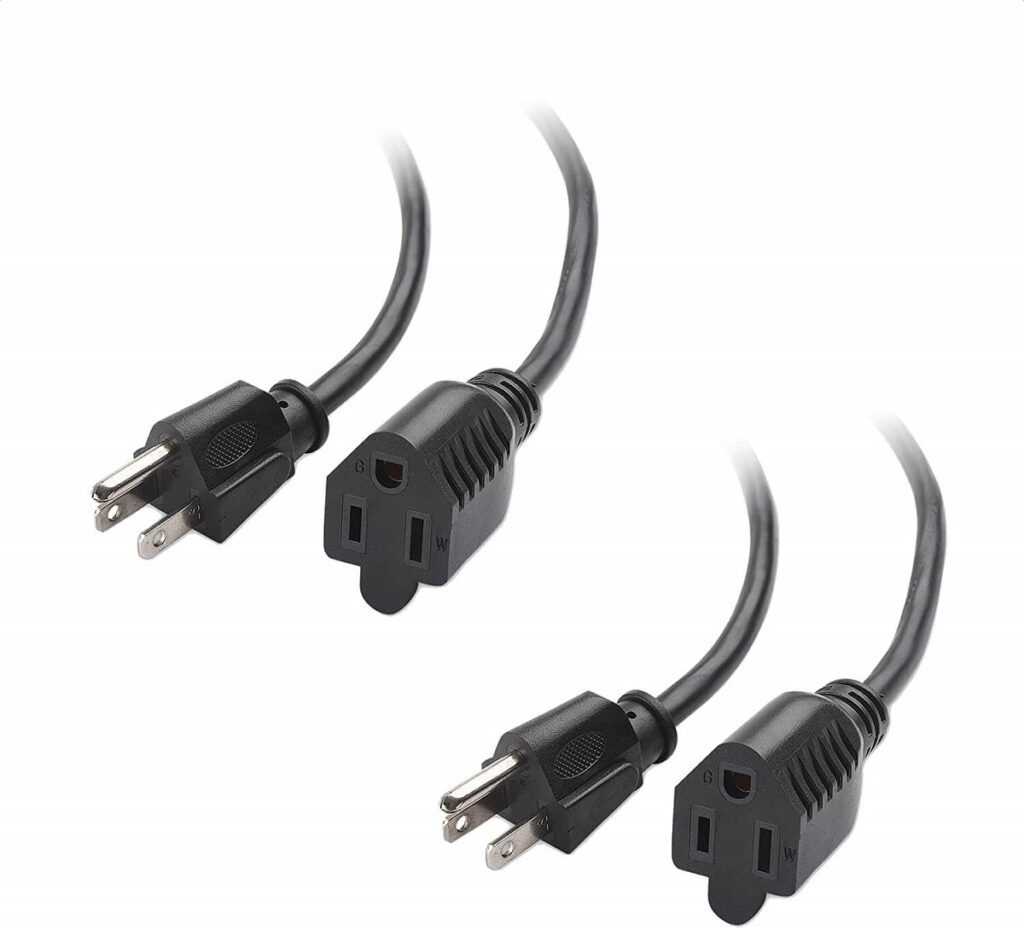 A viable alternative if you don't need as much as 20ft, is the Cable Matters 2-pack extension cable which offers two 6ft cables. The 2-pack is also available in a variety of other lengths including 3ft, 10ft, 15ft, and an impressive 25ft!
This cable also has a standard plug with just one socket at the other end. But, you do get two of these cables? They use 16AWG and are rated at 13 amps, 125 volts, giving you the power stability to run longer distances.
They also come with a lifetime warranty and full customer support.
---
PSVR HDMI Extension Cables
There are plenty of great HDMI extension cables available, just choose the length you need and the one that suits you best:
Amazon Basics HDMI Extension Cable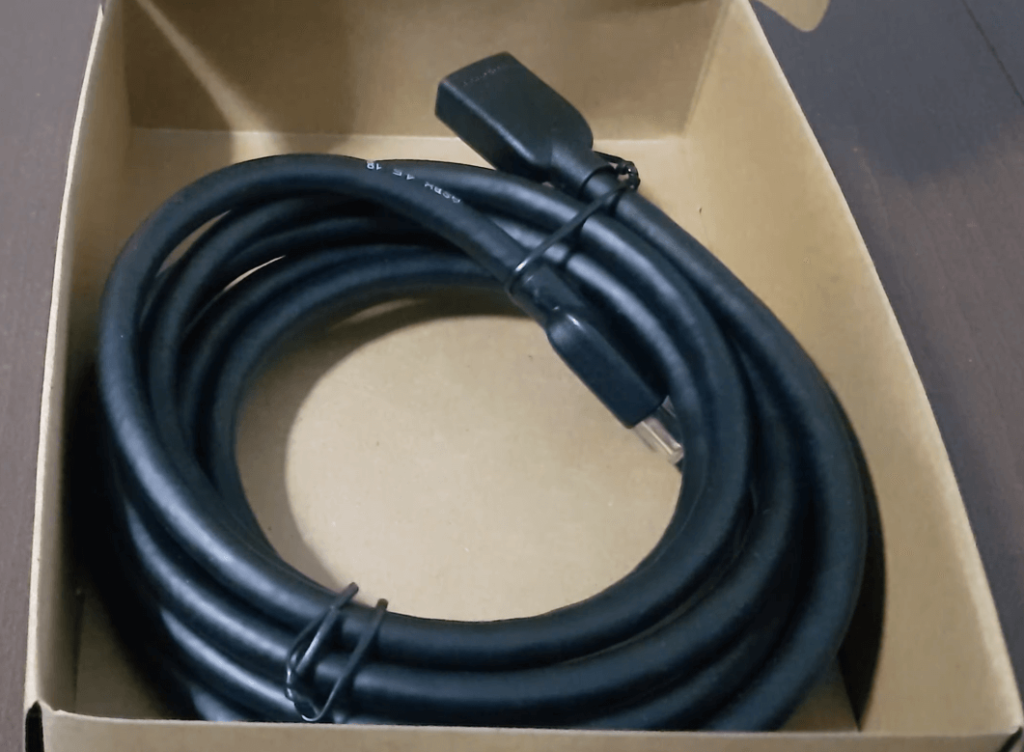 This Amazon Basics HDMI extension cable is 6ft long but there are a variety of other options. You can choose 3ft, 10ft, and even 15ft. That's the maximum for an HDMI cable without a booster.
The cable has gold-plated connectors, triple-shielding, and uses pure copper conductors. The wires are an impressive 30AWG with a ferrite core and three layers of shielding around them. This is designed to eliminate interference. There is one male and one female connector.
It can handle 18Gbps and the connectors are molded to ensure durability even in frequent use. You can also choose to buy this cable individually or as a five, or even ten pack.
---
UGreen HDMI Extension Cable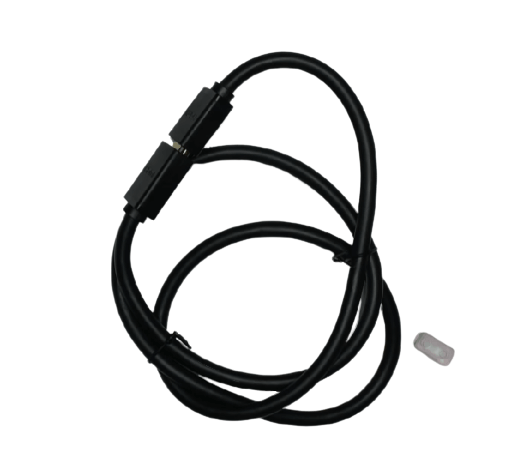 If you prefer something other than Amazon Basics you should take a look at this HDMI extension cable from UGreen.
It uses 30AWG wires with tinned copper conductors and gold-plated connectors. This male to female cable is triple shielded to reduce interference and offers support for 4k UHD.
Again, it has molded connectors to reduce stress. This offering is 1.5ft long but there are several other lengths of HDMI extension cable, including 3ft, 6ft, and 10ft.
---
PSVR Aux Cable
Your aux cable ensures your camera knows what you are doing. If you need to move the camera and extend its position then the following aux cable extension will help.
Ruaeoda 3.5mm Aux Extension Cable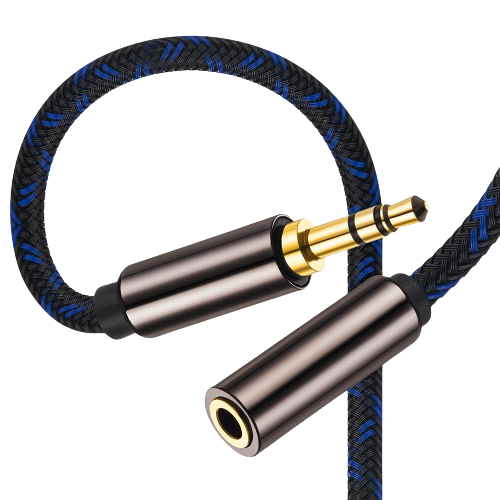 The Amazon Basics aux extension cable is a good option but this offering from Ruaeoda is an even better option. It is an impressive 20ft long, although you can get it in an array of other options, including as little as 1ft and as much as 100ft.
It uses 30AWG wires to ensure good data flow and the cable is shielding to reduce interference.
The cable uses molded connectors with gold-plating and copper conductors, making it corrosion resistant. In addition, the braided wire is bend tested to ensure it is flexible and reliable, no matter how badly you treat it.
---
PSVR Micro-USB Extension Cables
Finally, you'll need an extension micro-USB cable to ensure you maximize your position when using the PSVR.
There are two options worth considering:
Tusita Micro-USB Extension Cable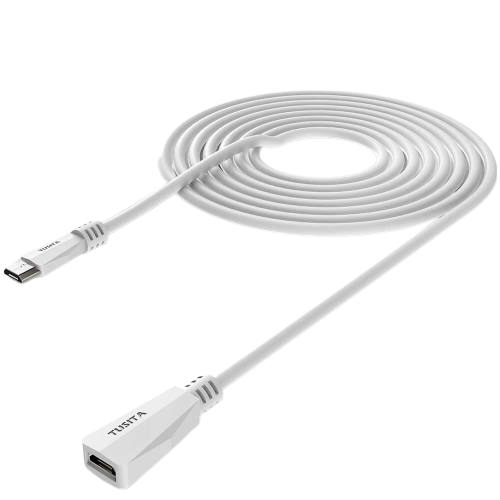 The Tusita micro-USB extension cable is one of the bestselling cables on Amazon. It is 20ft long and compatible with a wide variety of devices, including the PSVR. The connectors are high-grade and molded, looking stylish while ensuring they can be plugged and unplugged multiple times.
The connectors are aluminum, corrosion resistant, and the wiring is high-quality with shielding. In short, it does the job perfectly.
---
Foinvt Micro-USB Extension Cable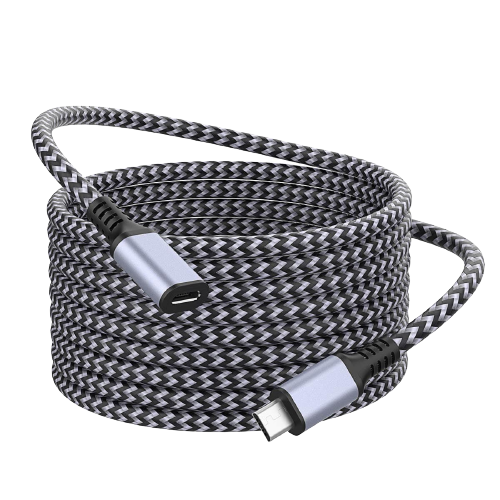 The micro-USB extension cable from Foinvt comes in several lengths, 10ft, 15ft, and 20ft. That should be enough to extend your PSVR cables and allow you to optimize your position.
Like all these cables, it is plug and play. It has also been tested to withstand 10,000 bends and the connectors have a reinforced neck to reduce damage. It uses a high-quality copper core with shielding and corrosion-resistant connectors, making it perfect for your PSVR.
---
Considerations When Purchasing PSVR extension Cables
Before you grab one of the great options above you need to make sure you are happy with your intended purchase. Consider the following:
Manufacturer
Perhaps the most important thing to consider is who manufactured and supplied your extension cables. If you are looking at a manufacturer that you recognize then you will probably feel confident purchasing from them again.
However, if you haven't heard of the manufacturer before you need to do a little homework. This can involve checking with family and friends to see if they have any personal experience.
You can also check on social media and look at guides like this to get honest opinions regarding different cables. It will help you make the right choice.
Materials
High-quality cables have gold-plated, corrosion-resistant connectors and shielding to maximize the signal quality. While most cables do have this it is worth checking to ensure before you buy.
Cost
You should also look at the cost of the extension cables. It is important to look at several examples to establish an average cost. Anything a long way above or below this could be an issue. Cheaper may mean inferior quality while being more expensive doesn't necessarily mean it is any better than the other cables on offer. You need to know why it is more expensive.
Final Thoughts On PSVR Extension Cables
Having PSVR extension cables means you can position your PS, screen, and yourself wherever you want, regardless of the size of the room or how much you like to move around. It is worth purchasing extension cables when you get the PSVR as most people find them useful. It's better to have them in reserve than it is to need them and have to stop your gameplay.
Choose any of the examples of this list to ensure you purchase high-quality cables, order them today and make the most of your PSVR.