The PlayStation 5 comes complete with a camera. The intent is to ensure you can be at the center of your own gameplay and share it with anyone you want. As watching gamers has increased dramatically in popularity, this is a smart move on the part of Sony.
The camera has a dual lens which offers 1080 pixels and HD quality. Best of all, the camera works effortlessly with the PS5 software, specifically the background removal tools. After all, you want your views watching you, not what is in the room behind you. You can crop the background behind you or green screen it all!
You can broadcast live with the camera or you can record yourself and watch it back later. The camera is designed to be fitted to your televisions with a built-in stand. This allows it to be positioned above or below your computer.
Of course, the camera is attached to your television, which means it needs a cable to connect it to your PS5. The cable has a standard USB-A connection that goes into the back of your PS5. This cable is hard wired into your camera. That means if the existing cable isn't long enough you are going to need an extension.
You should note that the PS5 camera cannot be used with virtual reality games. If you want to play PSVR you will need the PS4 camera and a special adaptor provided by Sony. However, Sony will require proof that you qualify for the adapter before they release it to you. The good news is that it is free!
Things To Consider Before Buying
Before you choose your PS5 camera extension cable there are several things you need to consider to ensure you get the best one for your needs.
One of the most important considerations is who is manufacturing and supplying your cable? You must be confident that the cable supplied is high-quality and durable. The best way to ensure this is to know the manufacturer.
If you have heard of them or used their products before you will know if they are worth buying. If not, you need to speak to family and friends. They should give you honest feedback to help you make the right decision.
It is also worth looking at social media and online forums. You should find plenty of people willing to share their experiences. This can help you to buy with confidence.
When looking for a PS5 extension cable you must remember that it needs to be an active, not passive, cable. This ensures the data signal is transmitted correctly and works. If you use a passive cable the camera won't display an image or record. In short, you will be wasting your money.
Of course, you need to be aware of the average price for a PS5 camera extension cable. You should be able to pick up a high-quality extension cable for under $20. If you are paying more than this you should check why the cable is worth more than usual.
Best Playstation 5 Camera Extension Cable
Cable Creation Active USB Extension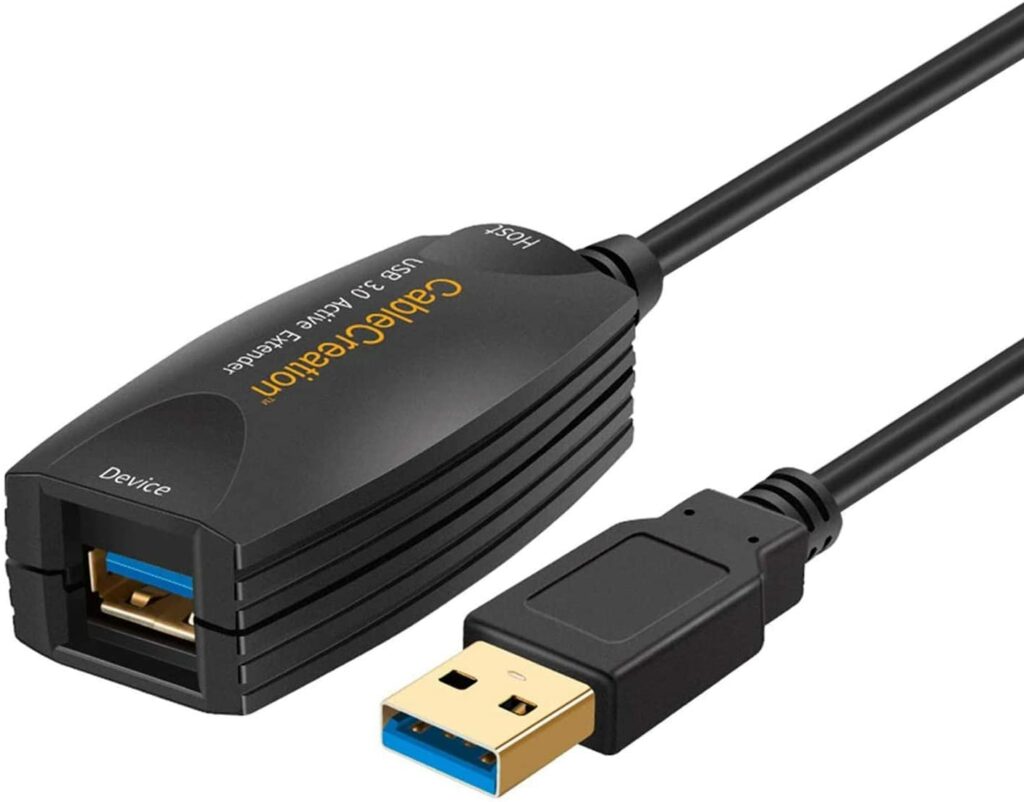 The Cable Creation Active USB extension cable is one of the most popular options on Amazon for good reason. It is well-made, durable, and offers great signal quality.
This cable is 16.4ft long and has a chunky plug-in section. The reason for this is the cable has a built-in booster that amplifies the signal, ensuring your PS5 receives all the information it needs to stream or record you playing.
The cable is black with molded ends to help prevent damage when plugging and unplugging. It can accommodate high-speed data transfer, up to 5Gbps. The connectors are gold-plated to avoid corrosion and they use foil shielded to prevent signal loss or interference. It weighs less than four ounces, which's good if you need to carry it with you.
---
Mutec Power Extension Cable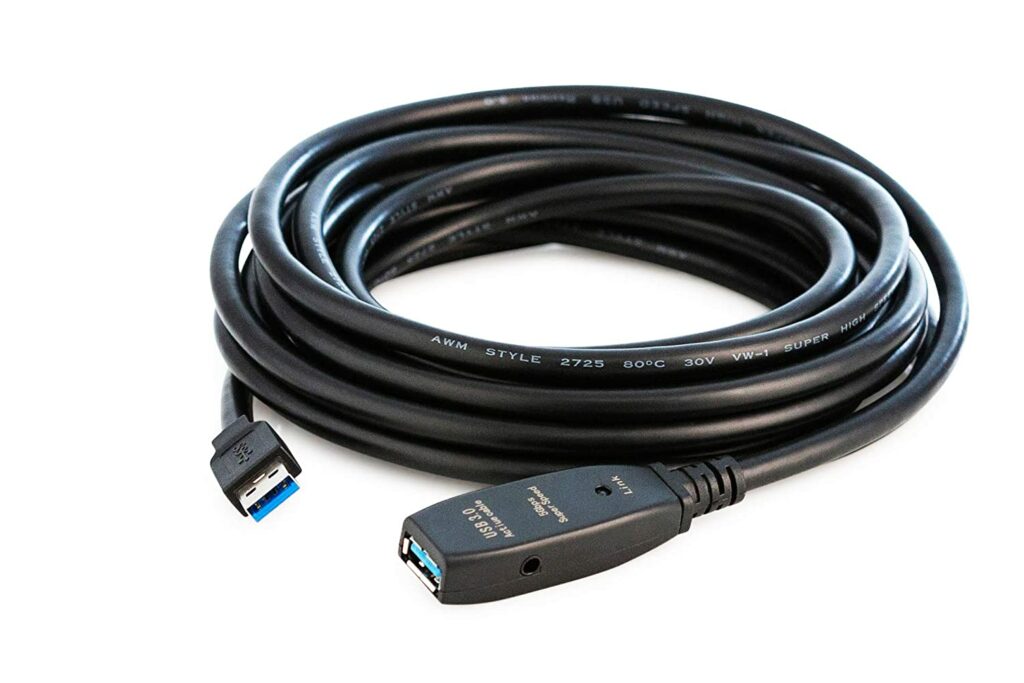 If the offering from Cable Creation isn't long enough for you then the Mutec Power extension cable probably will. It's an impressive 24ft long and features a 3.0 male to female connection with a chipset signal booster. In other words, even if the camera is on the other side of the room, the signal will still be carried properly between the camera and PS5.
It is worth noting that this cable can be used with USB 2.0 as well, making it a viable option for other devices.
The cable has molded strain relief connectors which are gold-plated to improve conductivity and resist corrosion. It also utilizes foil and braid shielding to ensure error-free data transfer. Alongside this, the wires are bare copper for maximum conductivity.
It is a standard black color and can handle 0.48 GBPS. As with most of these cables, no additional work is required, just plug and play.
It is also possible to add a power source to the cable via a small port on the female connection. The DC 5V/2 amp power supply is included, it boosts power for very long runs or can be used to power a device if needed.
---
XXOne Extension Cable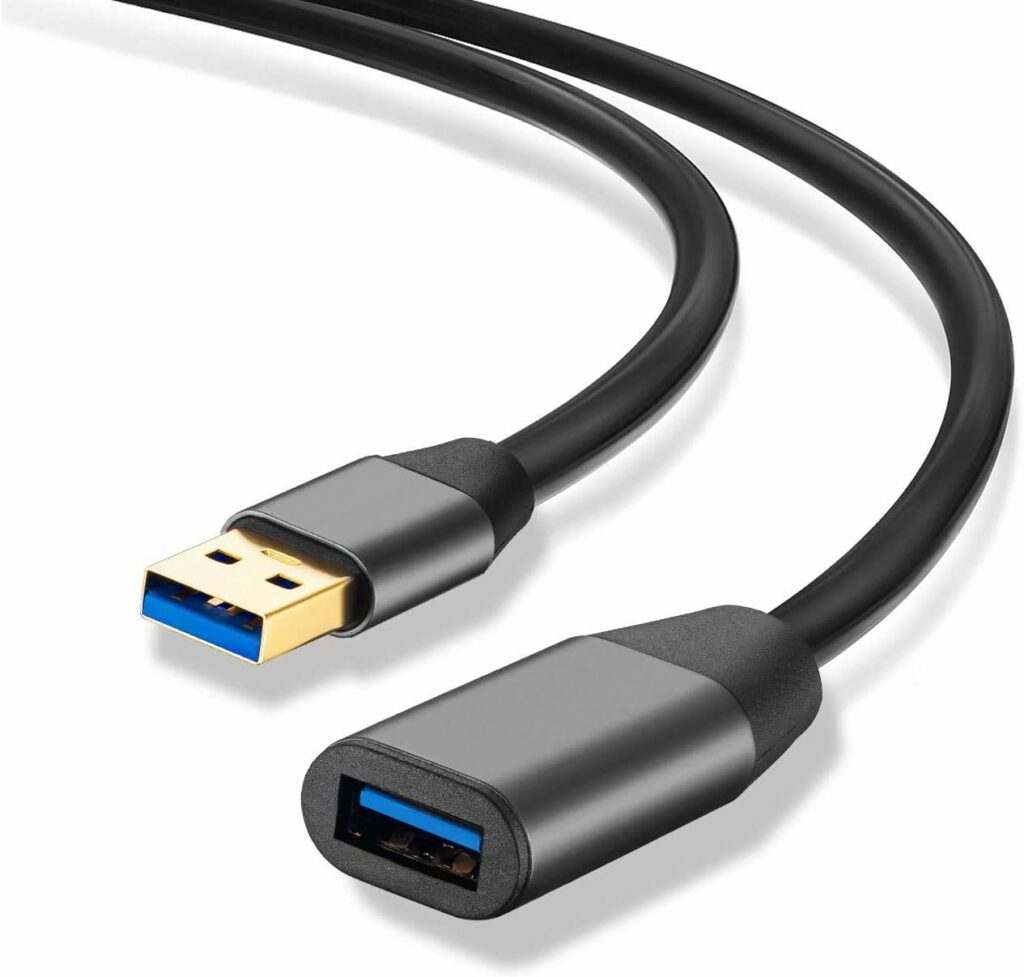 The XXOne extension cable comes in two possible lengths, 15ft or 20ft, depending on what you need. It's a smart-looking cable in black with a surprisingly small female USB connection. It can handle up to 480Mbps and uses tin-plated 2824AWG copper core to minimize the risk of interference while in use. It also benefits from triple shielding; using foil, braid, and ground to protect the signal.
The connections are molded with gripped areas to ensure you don't place unnecessary strain on them when plugging and unplugging items. Of course, the entire cable is coated in soft but durable PVC, giving it flexibility and durability.
This cable also comes with a one-year warranty and lifetime customer service assistance. That makes it a good investment.
---
Ainope Active USB Extension Cable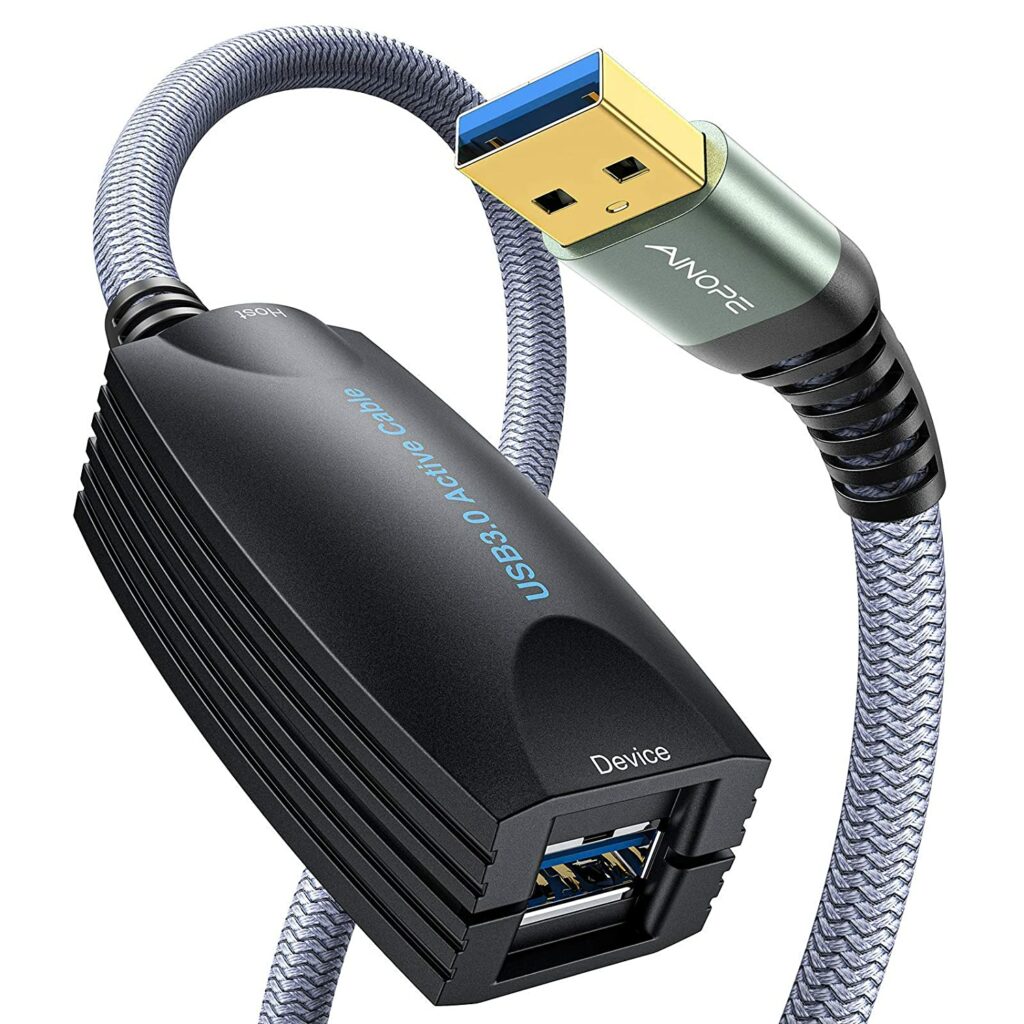 The Ainope active extension cable is possibly the smartest-looking cable on the list. Instead of opting for a plain black finish, it has a braided black and white finish. This looks great but it also helps to increase the flexibility and strength of the cable.
Again, you will find molded joins with grips to minimize the stress on the cable. Built into the female connection is the NXP chip, ensuring high-speed data transfer, up to 5Gbps.
The cable is reinforced with a special SR joint design and has been bent tested more than 40,000 times. In short, it is going to take a lot to damage this cable! It also benefits from a nylon shield, golf-plated connectors, and a high-quality copper core. This ensures the signal quality remains fantastic. This offering is 10ft long, giving you enough scope to locate your PS5 camera where you want without having to deal with a lot of extra cable.
---
Monoprice 5 Meter Extension Cable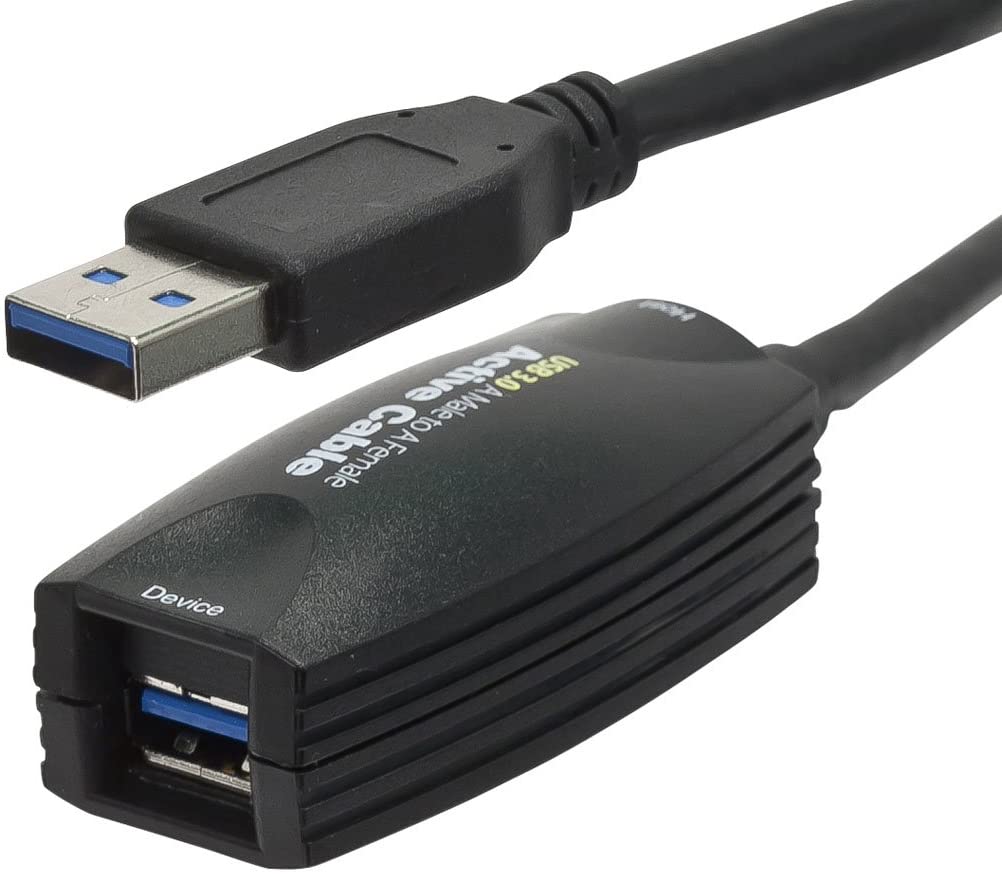 The Monoprice 5 meter active USB male to female extension cable is one of the more expensive offerings in this list. However, it is well made and worth considering.
The cable is standard black PVC with molded and gripped connectors, ensuring the minimal of stress when plugging and unplugging your camera. It uses gold-plated connectors and copper wires which are double shielded to ensure signal integrity. As an active cable it is ready-to-use, no drivers or installation is necessary.
However, what may interest you is that this cable unlike many extension cables, can pull power from the USB port and use it to power external devices, without having a separate power connection.
It delivers data at 480Mbps and weighs less than an ounce. That makes it a lightweight option to take with you when needed. Of course, in reality, you will probably plug your camera in and never move it. That makes this cable a great option as it is well made and will last for years, or until you are ready to upgrade to the PS6!
---
Final Thoughts on PS5 Camera Extension Cables
The PS5 is a great bit of kit and the camera makes it possible to record yourself for fun or share. It can even become a money-earner when you have a big enough following. Of course, Sony has restricted the length of the cable to what they think is reasonable.
This doesn't work if you don't adopt the standard setup they expect you to. That's why you may want a PS5 controller replacement and extension cables or PS5 replacement cables. The good news is there are plenty to choose from. All you have to do is select the one that suits your needs best and plug it in.
Use this guide to help you choose the best camera extension cable and start enjoying the PS5 experience.