The Playstation 5 arrived in November 2020 and was met with plenty of praise. Of course, a lot of the praise is directed at the speed of the console, a factor that was frequently mentioned by PS3 and PS4 users.
However, it could be said that the controller is what really steals the show. After several patents were filed and plenty of rumors the PS5 controller was revealed in April 2020. Previous controllers were known as DualShock, this is a DualSense. It looks stylish but the layout of the buttons is basically the same as in previous versions
The difference is in the way it provides feedback, the DualSense offers an array of feelings to ensure you think you are in the situation your game is showing you. In other words, if you are driving a car through mud, it feels like it. The L2 and R2 buttons are now adaptive, giving greater in-game control, and the unit has a built-in microphone.
Of course, the controller is wireless, although there are wired versions available. However, it still needs a cable to charge it. The cable can be short enough for charging only or long enough to allow you to play from anywhere in the room.
The good news is that you can replace your controller cable if it is damaged or needs to be longer. However, if you want to enjoy your PS5 you should make sure the cable you purchase is for charging and data, or it won't work when you're trying to play. You should note that the cable is a USB-C to USB-A, it is important that you get the same cable!
Things To Consider Before Buying A Replacement or Extension Cable
Your PS5 is an impressive bit of kit which means you will want to get good quality replacement and extension cables. This will help to ensure your cable does the job properly not just for regular gaming but also for PSVR for which you might need an PS5 camera extension cables. To ensure this is the case you should consider the following before you order your new cable.
Manufacturer
Sony doesn't currently offer a replacement controller cable for the PS5. This means you will need to use an aftermarket version. When considering the options look at who the manufacturer is. If you know them and are happy they are reputable that's good. But, if you haven't heard of them before then you need to ask your friends and take a look on social media. You need to know that you are getting a high-quality cable.
Don't forget that it is very difficult for a manufacturer to keep every customer happy, there will be some negative reviews. That is okay as long as there are more positive than negative. You can even use the negative reviews to assess how the supplier deals with issues.
Price
PS5 controller replacement or extension cables are not expensive. You shouldn't be spending over $15 on one. It s worth knowing this as you should hear alarm bells if one is significantly more expensive.
Durability
The original PS5 cables are not as durable as they should be. Make sure you check whether your PS5 replacement cable has been 'bend tested. This will help to ensure the cable will last for as long as you need it to.
Length
The standard PS5 controller cable is just 3ft long. That is not enough to enjoy the gameplay from your couch. Of course, if the cable is too long you can lose signal quality and you may create a trip hazard. For this reason, you should consider how long you really need the cable to be and choose one that is that length.
Best Playstation 5 Replacement Cable
JSAUX USB C Cable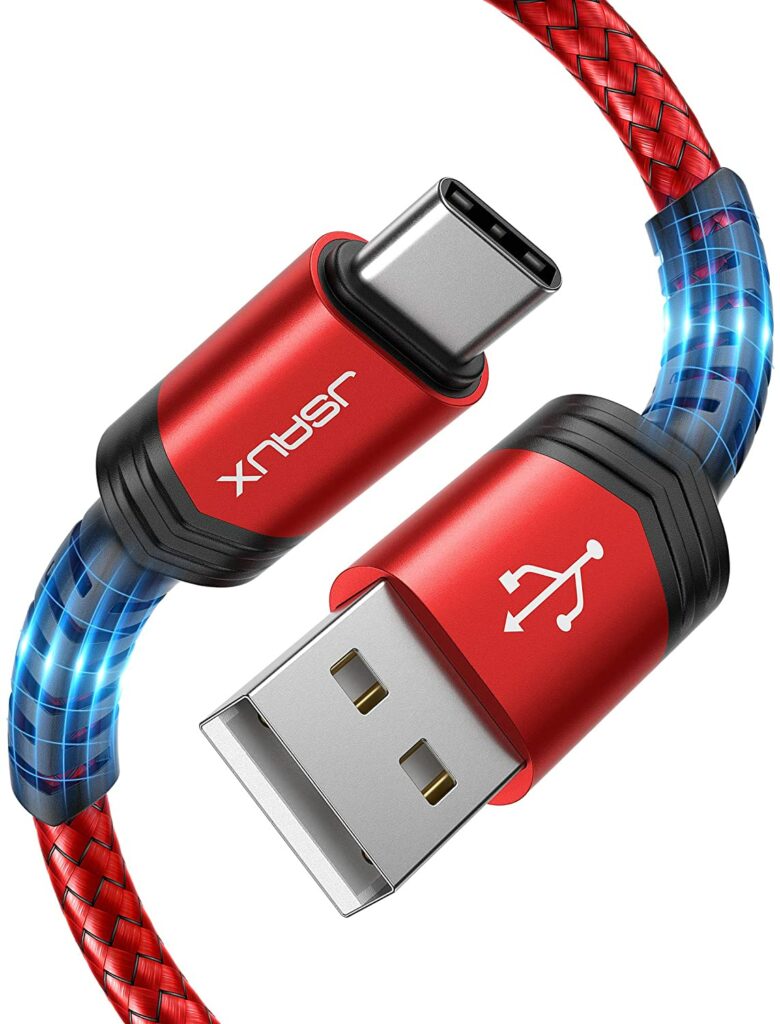 The Jsaux USB C cable is available in three different sizes, depending on how long you need it to be. The sizes are 3.3ft, 6.6ft, and 10ft. You can also choose your preferred color, including red, gray, rose gold, blue, and black.
This cable offers data transfer up to 480Mbps and delivers a 5v/3amp charge that will get your controller charged 25% faster than with a standard controller. It has been certified to meet all necessary standards and is bend tested over 10,000 times.
The outer cover is a nylon braid that is durable and not easily tangled. At the same time, the connectors are made from high-quality aluminum, giving strength and avoiding the issues with corrosion. It has a standard USB port at one end and a USB-C at the other end, allowing you to effortlessly plug and play.
---
FYoung Charging & Playing Cable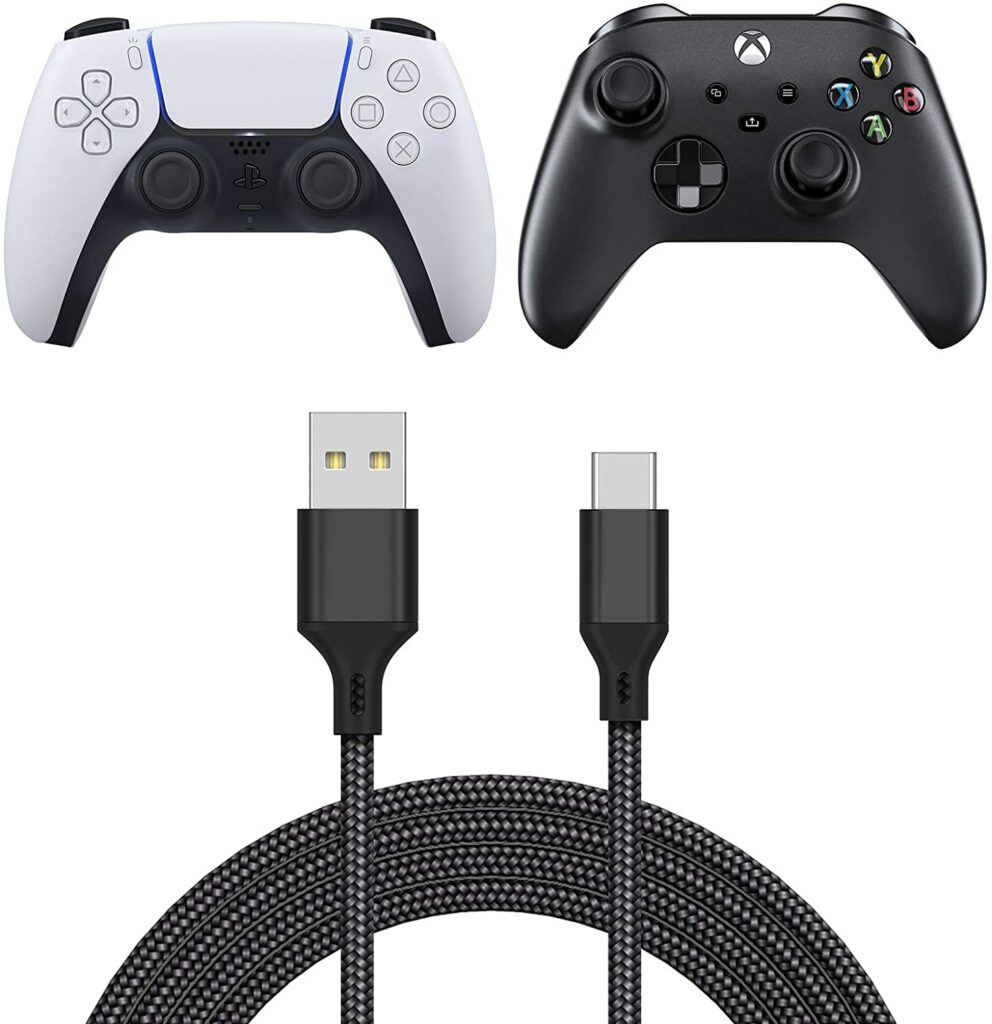 Amazon recommends this FYoung charging cable making it a good option. You should note that this cable is described as a charging cable but is capable of transmitting data and allowing you to continue playing while the controller is being charged.
The FYoung cable also has a braided finish and is available in blue or black. IT has a USB-A connection at one end and a USB-C at the other. But, what will interest you the most is the impressive length. The cable is 16.4ft long, which is 5M. You should be able to play from anywhere in your room, even if you can't see the screen properly!
The connection pieces are reinforced to ensure they will withstand the rigors of plugging and unplugging them constantly. It has also been bent 10,000 times to ensure it is durable, this is aided by the three levels of braid in the outer cover. It is also worth noting that it weighs just three and a half ounces, making it easy to carry with you when needed.
---
Meneea PS5 Replacement Cable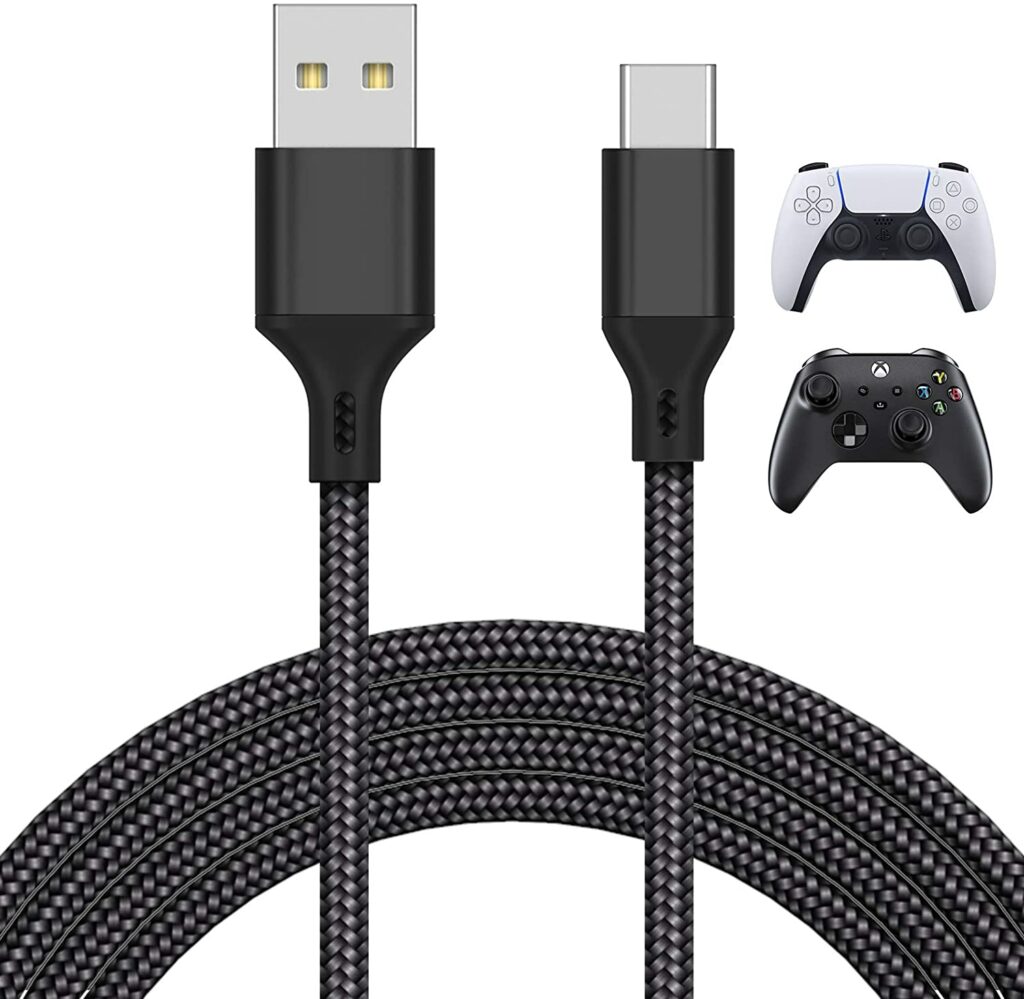 The Meneea PS5 replacement cable is an impressive 16.4ft long and another Amazon favorite. Part of this is the durability of the cable. The outer layer is braided and the connections are molded. It has been tested by being bent at 90° at least 10,000 times. You know you are getting a durable replacement or extension cable.
The cable has protection built into it, this includes short circuit protection, overloading, and power regulating. In short, it will safely charge your PS5 controller while you enjoy playing your favorite game. In fact, the cable has been tested to ensure it won't fall out of your controller even during rough gameplay.
It weighs less than 2 ounces and it uses a 5V, 3 amp supply that speeds up charging time without disrupting gameplay.
---
Jalixi Extra Long USB-C Cable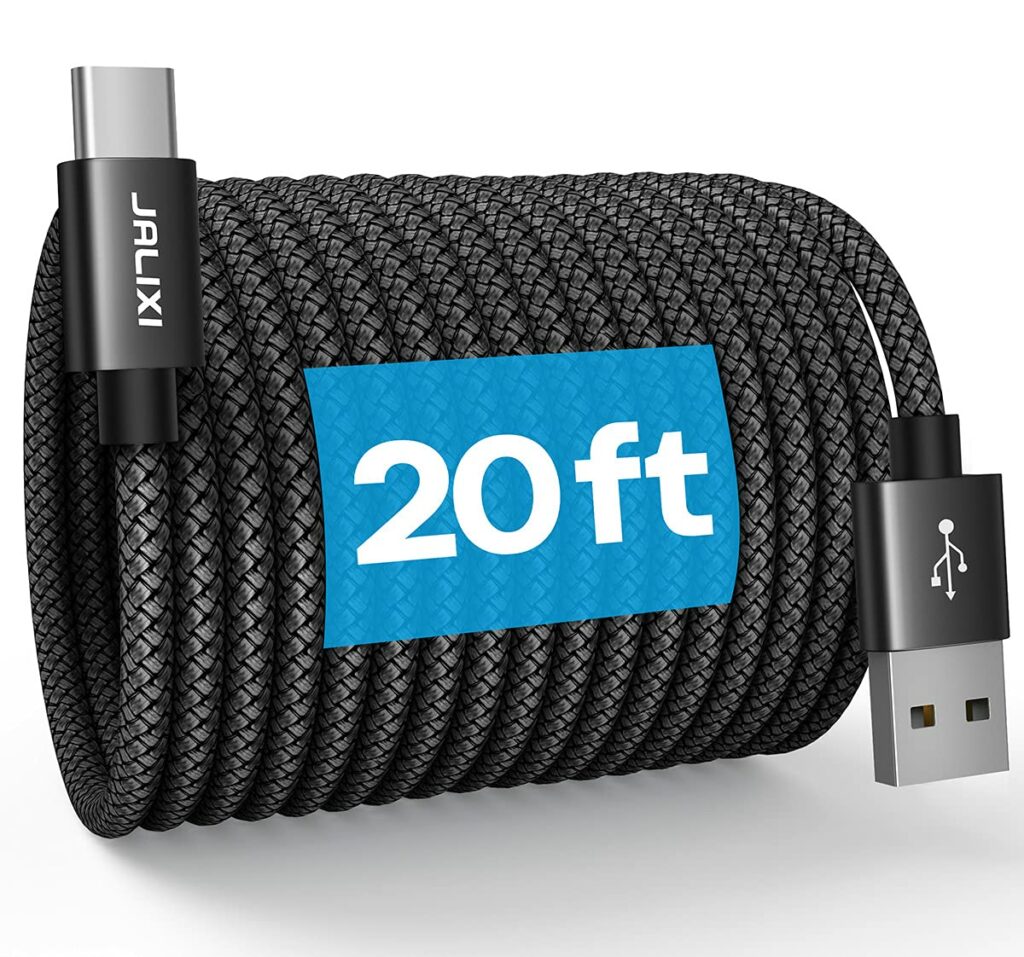 There are many reasons why you may need a little extra length when playing with your PS5. The good news is that this Jalixi USB-C cable is an impressive 20ft long. It is capable of charging and allowing gameplay at the same time.
The cable can be ordered in black, blue, or even purple. It has a standard USB-A connector and the USB-C that your controller needs. It can handle 5v/2.4 amps, ensuring your controller charges quickly while you continue to play. The manufacturers do recommend using a wall charger rather than a USB port.
Impressively, this cable has a nylon braided jacket that has been tested with 35,000 bends. You can use it confident that it won't tangle or fail on you. The connections are aluminum and molded, ensuring they can withstand being plugged and unplugged multiple times.
In fact, the supplier is so confident in their cable that they offer an 18-month warranty and 24/7 customer service.
---
NKG USB-C Cable – 2 Pack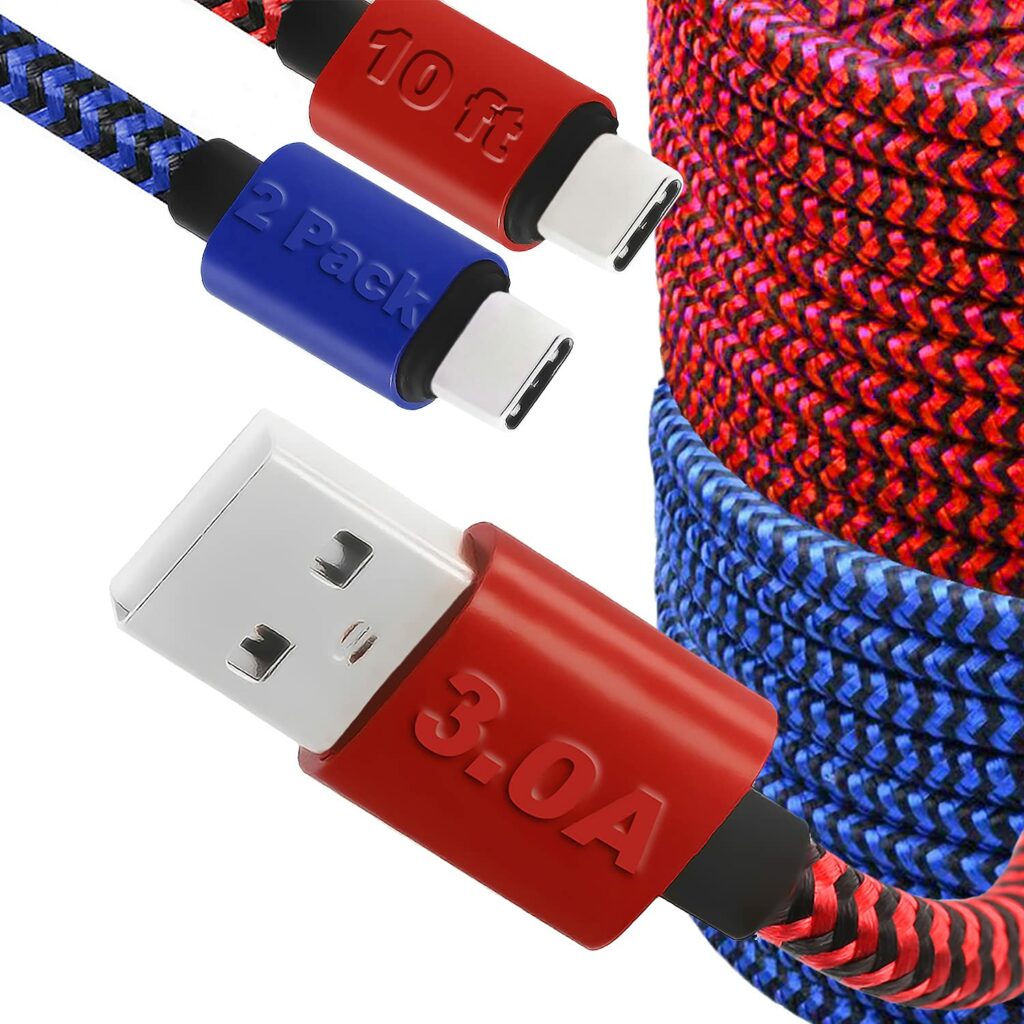 Your PS5 may come with just one controller but there's a good chance you will be buying a second. After all, games are always more fun when played with others! To help ensure you can keep playing, NKG offers two cables in one pack.
The cables are braided and available in several color options, including blue and red. Each one is 10ft long and offers charging at 3 amps, ensuring your controller will charge faster than normal. They use copper wires pated with tin and shielded to ensure you get the best possible data signal. The cables can handle up to 480Mbps.
At the same time, the cables have built-in protection, specifically against overcharging, overloading, and short circuits. They are also resistant to oxidation and have been bent tested 10,000 times.
Impressively NKG offers an unconditional lifetime warranty with these cables, ensuring you have peace of mind.
---
Final Thoughts on PS5 Controller Replacement and Extension Cables
Choosing the right PS5 controller cable is a big decision. You want your console to work perfectly and seamlessly. That means spending a few moments choosing the controller cable that will be durable, allow PS5 controller charging and gameplay, and look good at the same time. 
By choosing one of the cables above you will be taking a step in the right direction. Not only will you be able to charge your controller almost anywhere, but you can also do it without interrupting gameplay. At the same time, you can extend the distance from your machine that you can play, ensuring you are comfortable and ready to set some records and with a Magic NS adapter you can choose what that machine is.