An external hard drive is a great way to increase the storage capacity of your computer. It is also a useful way to carry data and transfer it between computers. Hard drives are also capable of allowing access to sensitive data on different computers without having to rely on the internet and potential data breaches.
Of course, all external hard drives need to connect to the computer with a cable. The exact type of cable will depend on the hard drive you are using for example you cant use a SATA Extension Cable for a external hard drive. However, the majority of external hard drives will use a USB cable. At one end will be the standard USB Type-A connector. This is the USB connector that is used to and plugs directly into, the computer, ideally into the USB 3.0 slot.
At the other end will be a strange-looking connector but this is also a USB connection. The problem is standard, type-A connectors are quite large. In order to minimize space on the external hard drive, they utilize a type-B connection. This looks like a squashed USB connection with a kink in the middle. It slots straight into your external hard drive.
You should note that even if you have purchased an external hard drive casing, allowing you to put an old hard drive inside, it will still use a type-B connection.
Why Hard Drive Replacement Cables Are Needed
All cables are subject to stress. If the external hard drive stays in one position the cable will experience little stress although it may still be pinched or damaged. However, if you carry the hard drive around, the cable is likely to be folded regularly. This stresses it and is likely to cause damage which will prevent the data signal from getting through.
Because a cable can be damaged at any time, the best approach is to buy a replacement cable today and have it available to use. This will ensure you can also connect your hard drive when needed and access your data.
Best External Hard Drive Replacement Cable
ITANDA USB 3.0 Cable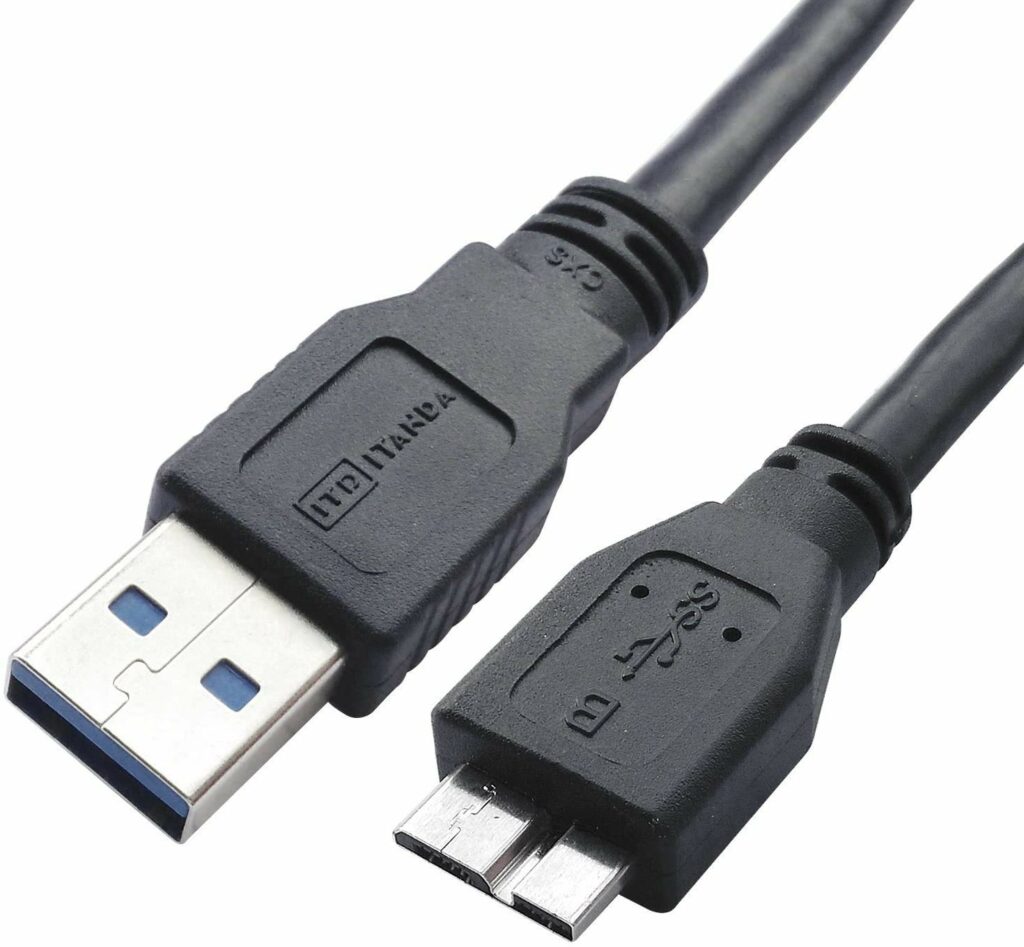 The Itanda USB 3.0 cable is often referred to as Amazon's preferred choice. It is simplistic in design with a standard USB 3.0type-A connector at one end and a type-B at the other. The cable is 3.3 feet long and supports up to 5 Gbps of data transfer. That's fast! Of course, it can be used with USB 2.0 but the speed will be slower, along the lines of Mbps.
It can be used to charge items and to transfer data between your hard drive and computer. The connectors are molded to the cable to ensure the minimum of strain on them when in use. They have grip treads for ease of plugging in and removing, and they are durable.
The connectors are gold-plated with bare copper conductors and foil & braid covers. This ensures the highest quality data transference and safe charging if needed.
---
Besgoods USB Cable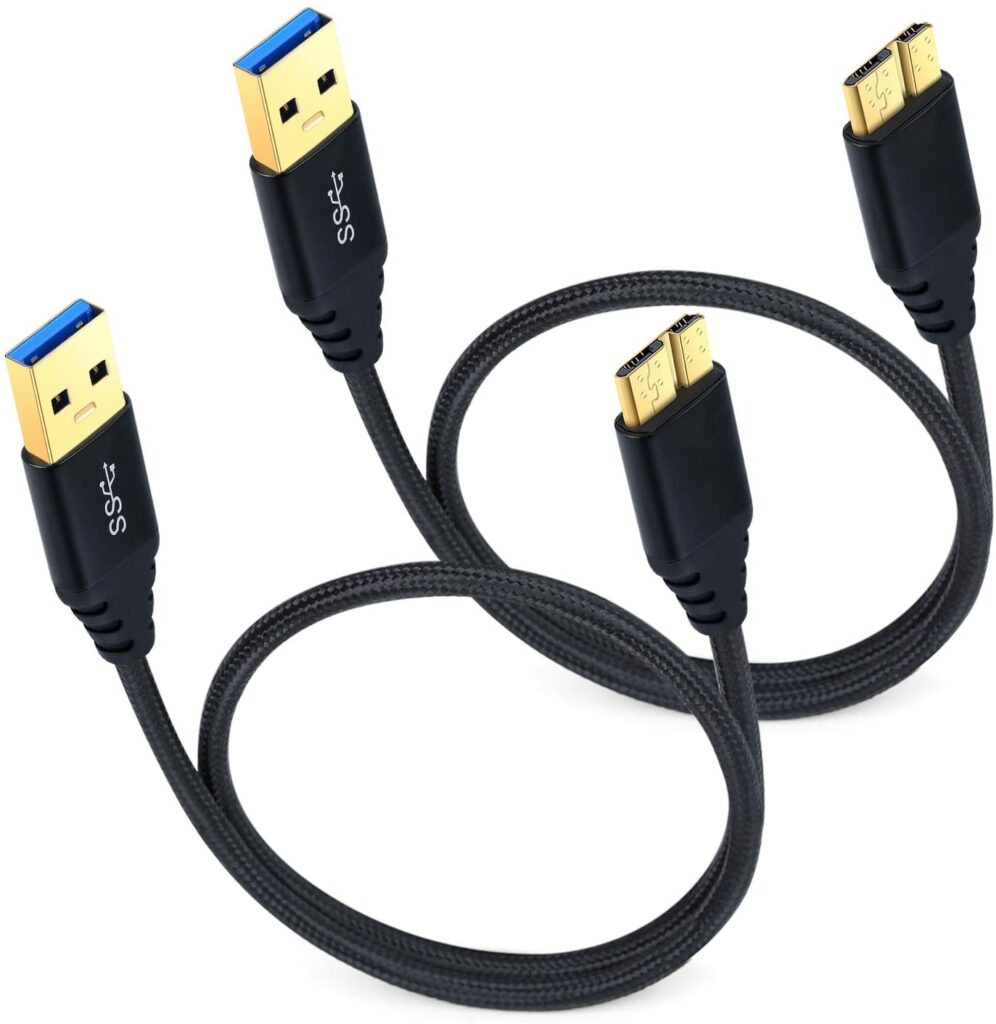 This offering from Besgoods is worth considering. It is extremely durable and is created with a double-braided nylon cord. The compact metal connector is very easy to plug and unplug when using with your hard drive or any other compatible device. The connectors are also gold-plated as this improves conductivity and ensures they are corrosion-free.
Inside the nylon braided coating, there are tinned copper wires and PVC shielding. This ensures no data is lost during transmission.
The Besgoods pack actually includes two cables. Both are just 1.5 feet long, making them one of the shortest offerings available. However, if you're plugging in a hard drive to a computer you don't need the cable to be long. This also makes them easier to carry with you wherever you go.
Both cables have one type-A connector and one type-B, but they can't be connected together. However, they are also capable of carrying an electrical charge, allowing you to charge one device while using the other to connect your hard drive.
---
Insten Dual USB 3.0 Cable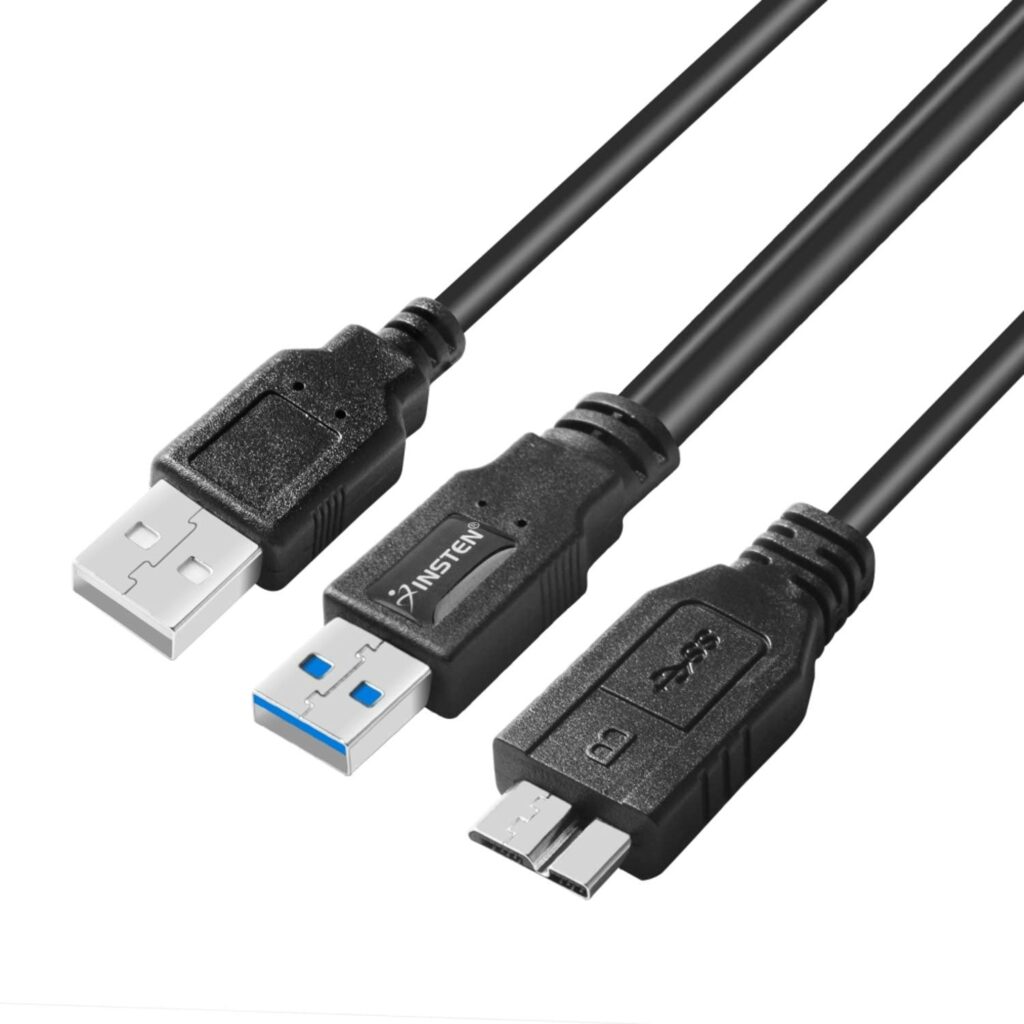 The Insten dual 3.0 USB cable offers a standard USB type-B connector that will plug straight into your external hard drive. At the other end of the cable is a standard USB 3.0 connector, that can be put into a USB 3.0 or 2.0 USB slot in your computer. However, there is also a secondary USB 2.0 connection.
The idea is that the secondary USB connector can be connected to another device in order to expand your capabilities or simply regulate your power supply. The result is up to 5 Gbps of transfer speed in a high-quality and versatile cable.
This cable is 21 inches long, which's just short of two feet, giving you enough room to connect different devices in relatively close proximity to the computer.
The cable weighs less than 2 ounces and has molded connectors with grips to aid plugging and unplugging. The wires are copper and the connectors are metal. This does mean you'll need to take a little more care of them as they will be more prone to corrosion.
---
UGreen Micro USB 3.0 Cable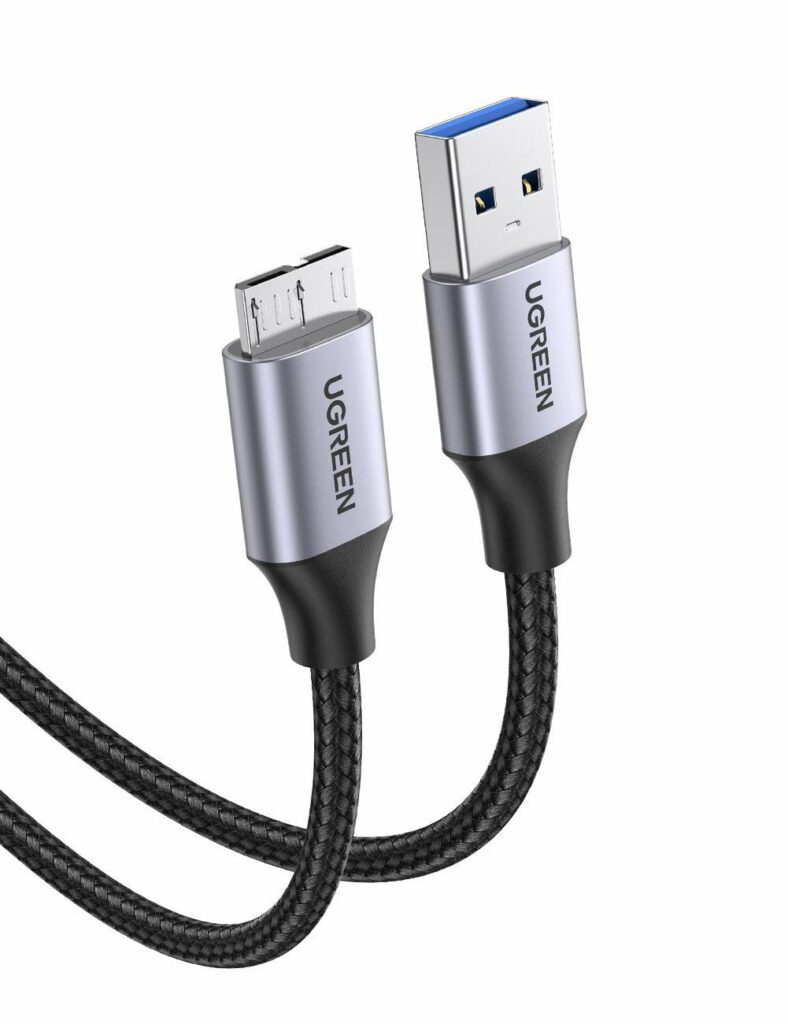 The Ugreen micro USB cable is just half a meter long, that's 18 inches. However, you can also get the same cable in 3.3 ft and 6.6 ft, ensuring you have the perfect size for your needs.
Ugreen is offering a standard black cable with stylish silver ends which have the name 'Ugreen' emblazoned on them. The connectors are nickel-plated to ensure high-quality signals and that they will last. The joint from the cable to the connector is reinforced and there is an aluminum shell.
The cable itself is braided which protects it and increases flexibility. In fact, the cable has been tested to over 1,000 bends. It has tin-plated copper wires with aluminum foil shielding and a ground wire. The Ugreen cable works perfectly with external hard drives and can also be used to charge your device.
At just over one ounce in weight, it is also very easy to carry anywhere with you.
---
SaiTech USB Cable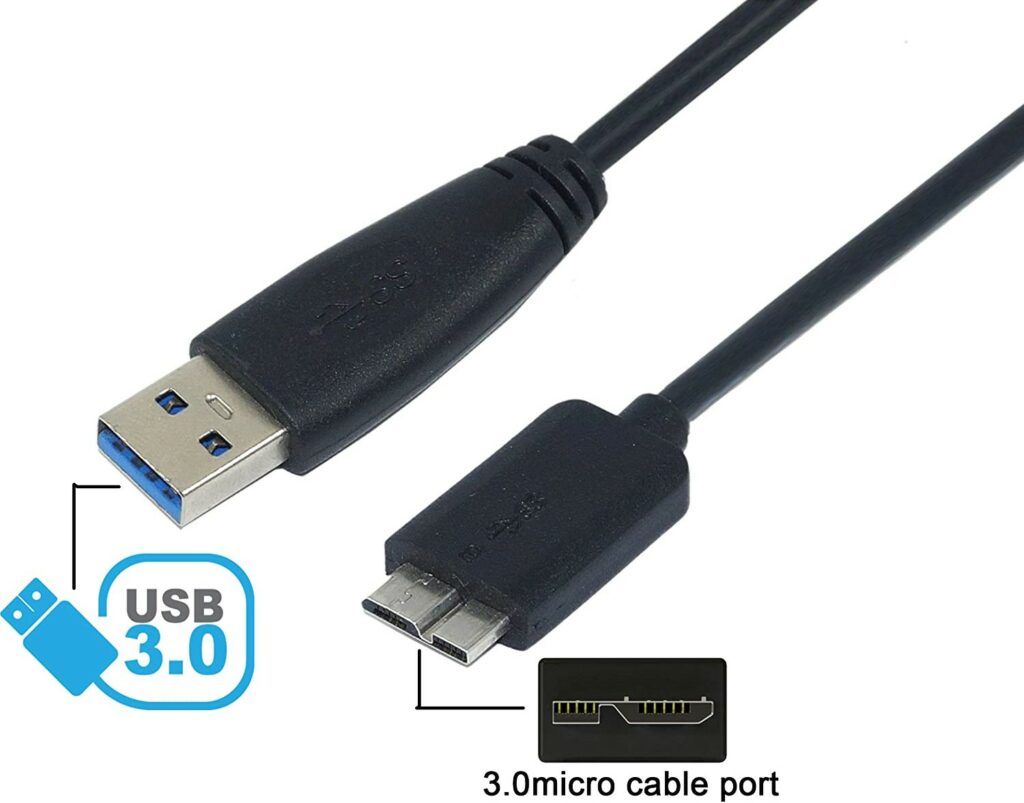 The SaiTech USB 3.0 cable A to micro B is a standard hard drive extension cable. It is black and surprisingly short at just 13.5 inches long. It is compatible with USB 3.0 and offers speeds up to 5 Mbps. However, if you use it with a USB 2.0 the speed drops to 480 Mbps and to just 12 Mbps with USB 1.0.
This cable is double-shielded and uses twisted pairs to minimize cross talk and maximizes the quality of the signal transferred. The connectors are nickel-plated and the wires are tin-plated copper. Even the connectors are molded with grips to reduce the likelihood of damage.
This is one of the cheapest options available but it's a good choice, especially if you are just looking for a spare cable to carry with you.
---
Considerations Before Buying
There are several things that you should consider before committing to a specific external hard drive replacement cable. This will ensure you are paying the right price and getting the quality you deserve.
The most important consideration is the quality of the cable you intend to purchase. This means checking out who the manufacturer and the supplier are. If you know the name already you may be confident that they generally offer quality products.
However, if the name is not familiar you should take a look at the star rating on Amazon. You should also talk to friends and colleagues to see if they have heard of the manufacturer and what they think of them.
It is also a great idea to look at social media and online forums. You will find a host of people talking about external hard drive cables. Remember that it is very difficult for any supplier to keep every customer happy. You should expect some negative reviews. These actually give you the opportunity to assess how the manufacturer reacts.
It's a good idea to know the approximate price of anything you are planning on buying. You should be able to get a high-quality external hard drive replacement cable for under $25. If you are looking at something higher than this then you need to understand what they are offering extra or look elsewhere.
Assessing the manufacturer and the supplier's reputation should help you decide if the product is high-quality or not. The better the quality the easier it will be to store it and be confident that the cable will work when you need it to.
Final Thoughts on External Hard Drive Replacement Cables
Purchasing a hard drive replacement cable is a serious decision. It needs to offer the fastest data transfer speed possible while offering a high-quality product that has been tested under duress.
Providing you take your time choosing the right item, preferably one from this list, you will have a quality replacement cable that you can use straight away. Or, a hard drive replacement cable that you can keep handy for when you actually need it.