The Integrated Drive Electronics (IDE) is commonly used in computers on the hard drive to allow it to connect to the operating system. Inside your computer will be an IDE cable that connects the hard drive to the motherboard. It's an essential part of any computing system.
If you're thinking of upgrading your computer memory or any other internal component of your computer, then you need to know what the IDE connection point looks like. This is because there are other connection possibilities for your hard drive, the most common of which is SATA.
However, you can also bring your hard drive out of your computer and connect it to a USB port, making it an external storage device. This is a great way to ensure you can access your information easily from any computer. You can also use an IDE to USB adapter to repurpose an old hard drive and give yourself extra storage.
The IDE Connection
An IDE ribbon cable has three connection points, the newer SATA has just two. One connector is for the motherboard. The other two allow you to connect two different devices to your motherboard with the same cable. For example, you could connect a hard drive and a DVD drive.
It is worth noting that SATA drives and cables have much higher data transfer speeds. That's why most modern computers have SATA drives in them. It is also exactly why you will want to repurpose your old drive and use it as an external drive. To do this, you will need one of the following IDE to USB adapters:
Best IDE To USB Adapters
Vantec IDE to USB 3.0 Adaptor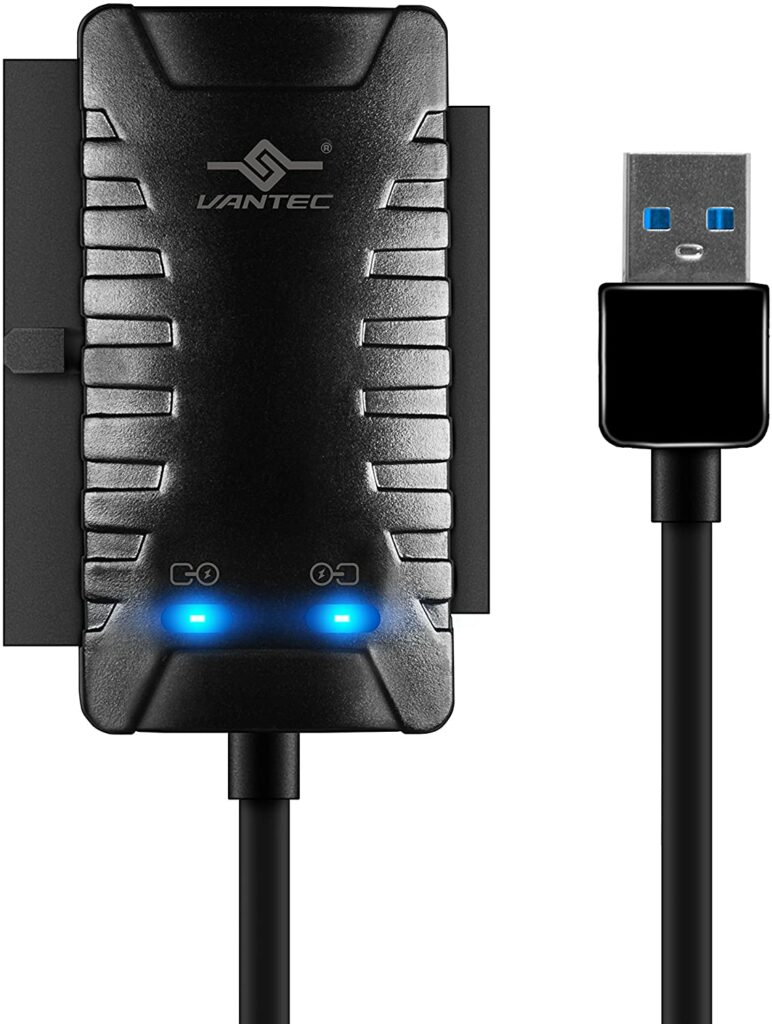 The Vantec IDE to USB 3.0 adaptor is a smart-looking black box with a USB 3.0 connection hard wired into the unit. It is capable of supporting 2.5" and 3.5" IDE drives and can also deal with SATA I/II/III, as well as a variety of other devices. The great thing about this is that you can effortlessly swap between IDE drive, SATA, or even a DVD drive; without having to reboot the adaptor or your computer. It is not even necessary to download a driver before using this adaptor
There are different connection points on each side of the device, making it easy to connect your chosen drive to your computer. It comes with its own power supply with an on/off switch built onto the cable. All you have to do is plug it in and it's ready to use.
The power supply is 12V DC, 2 amps with a convertor that lowers it to 5V when necessary.
---
Unitek IDE to USB Adapter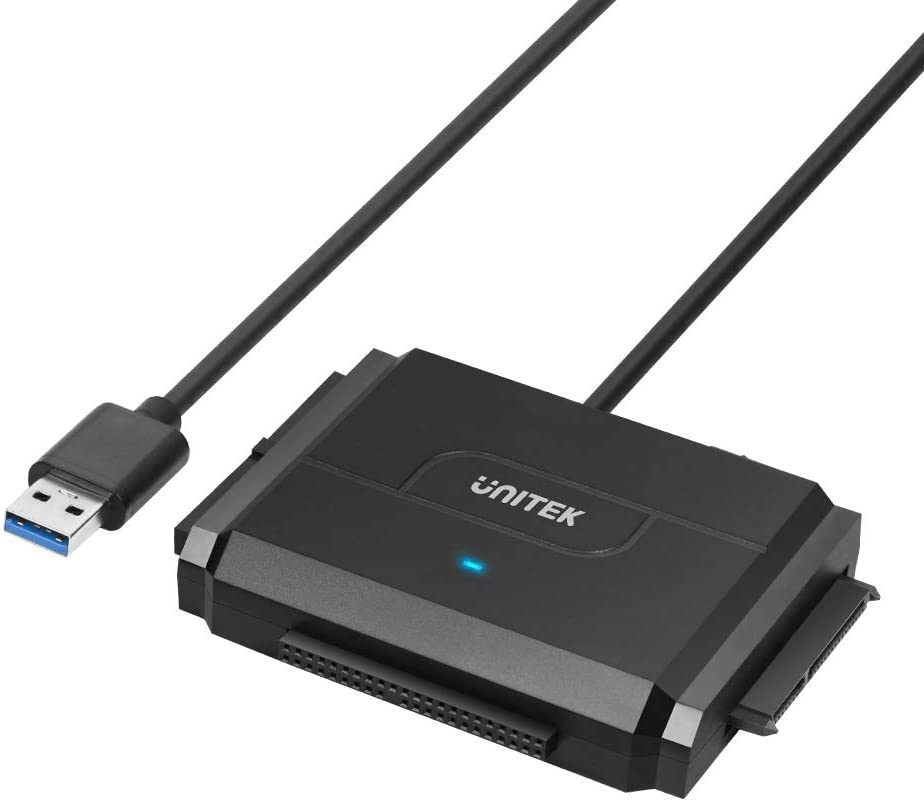 The IDE to USB adapter offered by Unitek is very similar to the Vantec offering above. It adopts the same simple but stylish black-box approach with the name emblazoned in the middle. There is a useful power indicator light on the top below the manufacturer's name.
Again, the USB 3.0 connection is hard wired to the unit. On each side, there are different connection points. To the left is the 3.5 inch IDE, the right has a 2.5 or 3.5 inch SATA connection, and at the front is the 2.5 inch IDE.
At the other end of the unit is a 4-pin power connector, the slot for the power adaptor, and an on/off switch next to where the USB connecting cable joins. You should note that a 4-pin connector gives power to the connected drive.
The power supply for the Unitek unit is included and offers a 12 volt, 2 amp supply.
---
StarTech IDE to USB Adapter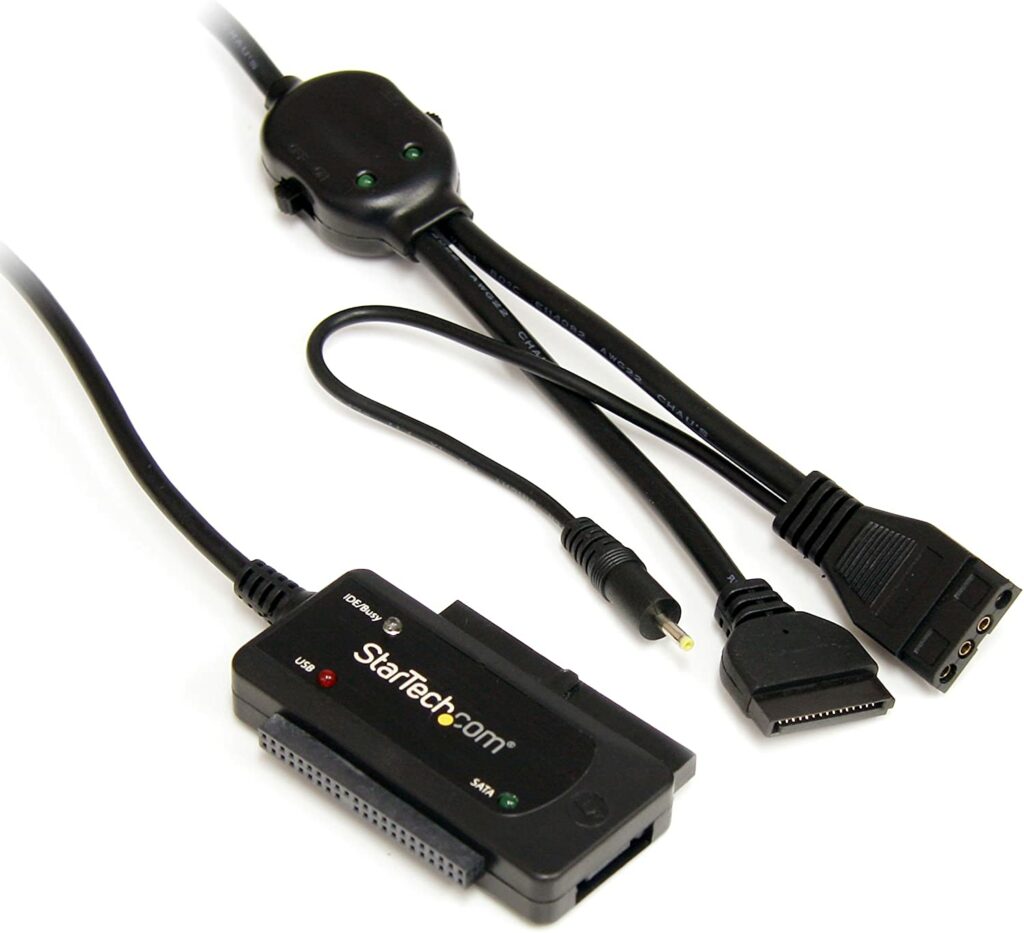 The StarTech IDE to USB adapter is a simple, but efficient, device. It's a little smaller than the other offerings, making it great as a travel accessory. The main unit looks similar to the Vantec and Unitek offerings with connection points on each side and the USB cable hard-wired in. These accommodate the IDE or SATA drives.
There is also a standard power port that allows you to connect the supplied 12 volts/2amp power supply. This cable has additional connections built into it, allowing you to supply power directly to your IDE drive, keeping the entire process simple yet effective.
You will find several lights on the top of the unit that tells you which devices are connected and that it is working properly.
However, it should be noted that the StarTech IDE to USB adapter s designed to work with 2.0 and not 3.0. This means it won't offer the same speed capabilities as the previous adaptors which use 3.0.
---
UGreen IDE to USB Adapter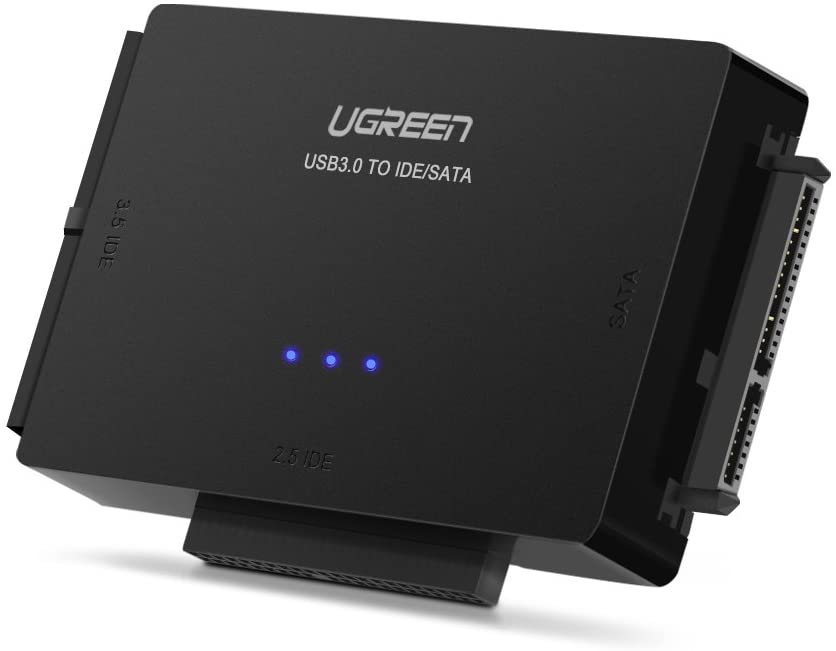 This offering from Ugreen copies the same format as many of the other IDE to USB adapters you will find on the market. That's not surprising as this approach works.
The simple black box has UGreen emblazoned across the top and a set of three blue lights to confirm power to the unit is on. Power is supplied via the included 12 volts, 2 amp cable.
Again, the different connection points are on each side, allowing you to connect IDE or SATA to your USB 3.0 computer connection. On the fourth side is the power switch, 4-pin connection point, and the power port. However, the IDE to USB adapter from UGreen doesn't incorporate a USB cable. Instead, you'll find a standard USB 3.0 which allows you to use your own cable between the adaptor and your computer.
It remains a plug-and-play unit that is easy to carry with you and can be used with any type of PC, including Windows, Linux, and Mac.
---
Sumblime IDE TO USB Adapter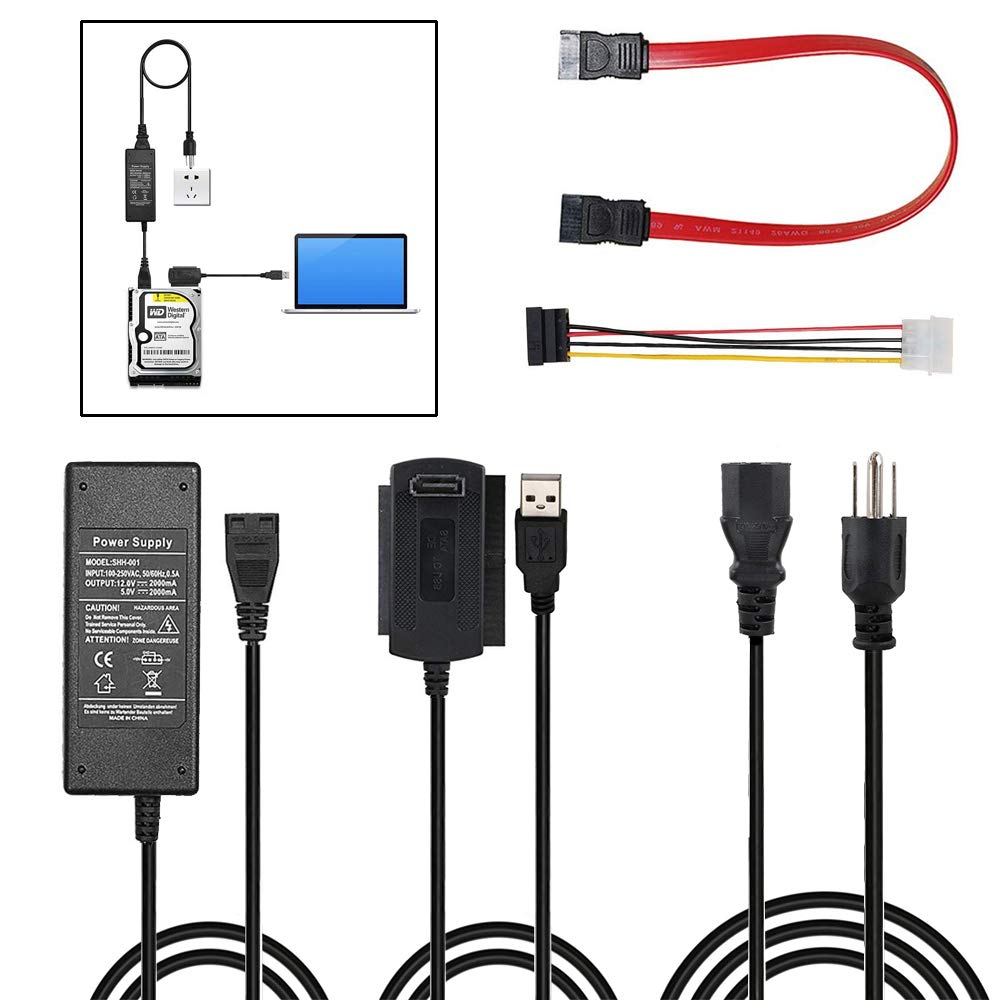 The Sumblime IDE to USB adapter adopts a slightly different approach to the other adaptors on this list. The main connection block is smaller, the USB connection is hard-wired in, and the SATA/IDE connection points are on each side. The third connection point sits on the top of the unit.
It comes with a 12 volt, 3 amp owe supply that can be converted down to 5 volts when necessary. The power adaptor comes with the unit and simply plugs and plays, no drivers are required.
You can connect this adaptor to a USB 2.0 or 3.0 and get speeds up to 480 Mbps. The adaptor is also backward compatible with USB 1.1. It's exceptionally light and very easy to use or carry with you when you are heading out and about.
---
Choosing An IDE to USB Adapter
There are several things worth considering before you commit to an IDE to USB adapter.
Reputation of the Manufacturer
Perhaps the most important part of the process is checking who manufactured the cable and whether you have heard of them before. If you know the manufacturer you will know whether you think they are a good brand or not. This is important as you want the adaptor to last.
If you have never heard of the manufacturer before you need to talk to friends and colleagues to verify their opinion regarding specific adaptors. It is also a good idea to look on social media and online forums to assess what the general opinion is.
Don't forget, it is rare for all reviews to be positive. A few negative reviews are okay and can even help you see how the manufacturer or supplier reacts.
Most IDE to USB Adapters are around the same price. This is exactly what you would expect. However, it is also the reason to proceed with caution. You should be confident that the price you are paying is right, there is no need to purchase an excessively expensive adaptor when any of the above ones will do the job perfectly.
Knowing the average price ensures you are not paying over the odds.
It is a small detail but an important one. When ordering your IDE to USB adapter you need to verify that it is available and will be dispatched quickly. There is nothing more frustrating than ordering something only to find there is a long delay. Check before you order.
You should spare a few moments to check the quality of the adaptor. Of course, when ordering online you can't do this until the adaptor arrives at your home. But, you can carefully open the package, inspect the adaptor to ensure it is in good condition, and feel the quality of the product. This is a good time to return it if you are not happy.
A good IDE to USB adapter will last you for years.
Final Thoughts on IDE To USB Adapters
Choosing the right USB adapter is important. You need a product that is reliable, well-made, and will do the job. Fortunately, there are several great options to choose from. There's also different types of adapters like 9 pin to USB adapter or XLR to USB adapter.
Select your preferred IDE to USB adapter from the ones above and convert your hard drive into an external storage device. It could be the best decision you ever make!