RGB, or Red, Green, Blue is a traditional output for analog video signals, allowing you to send the images to another device where they can be displayed properly. An RGB cable will provide you with better signal quality than a standard RCA cable. However, it is only suitable for video, you'll need a separate audio cable if you want to hear any sounds.
HDMI is an abbreviation of High-Definition Multimedia Interface and has become the standard for transmitting uncompressed video data and compressed, or uncompressed, audio data. HDMI allows the transfer of digital signals and has become the new standard. That's why you'll find HDMI ports on the majority of electronic devices, including televisions, computers, and video projectors.
In short, the HDMI cable offers higher quality images.
Why A Converter is Needed
It is possible to adapt an HDMI cable to allow it to carry RGB signals. However, this is not a viable solution as the HDMI cable plugs into an HDMI port. The port is expecting an HDMI signal and won't know what to do with the RGB signal.
The converter simply receives the RGB signal and, using electronic chips, converts this into an HDMI signal. This signal is sent down the HDMI cable and into the receiving equipment, allowing you to play videos from home theater devices and older equipment with RGB outputs, on your modern television or projector.
The Best RGB to HDMI Converters Currently Available
You won't be surprised to find there is a variety of RGB to HDMI converters available. Of course, some are better quality than others, which is why we've created a list of the best ones.
However, before you take a look, you should be aware of what to look out for when choosing an RGB to HDMI converter:
Ideally, you should choose an RGB to HDMI converter from a recognized manufacturer. This will help to ensure you are getting a high-quality product.
If you don't recognize the manufacturer, speak to family and friends to see if they have heard of them and had any dealing s with them. If this doesn't help then you'll want to look on social media to see what other customers have said. You'll find an array of honest opinions that can help you to make the right decision about any adapter.
All RGB to HDMI converters will have an HDMI output port and three ports where the RGB cable will plugin. They should also have a port that allows power to be delivered directly to the unit as most converters will require a separate power supply. It should also have audio input ports to allow the audio signal to be added to the HDMI output.
Of course, this can be bypassed with an audio cable going directly between the two devices, but going through the converter is a much simpler and neater option.
The box itself is likely to be fairly small and it won't usually come with the RGB and HDMI cables, you'll either have these already or need to purchase some.
It is worth noting that these converters are not generally expensive. You should be able to purchase a good quality one for less than $50. In other words, if the price is high, look elsewhere.
Paying attention to the above will help to ensure you get a good quality RGB to HDMI converter. Of course, you can simply choose one of the following.
EASYCEL RGB to HDMI Converter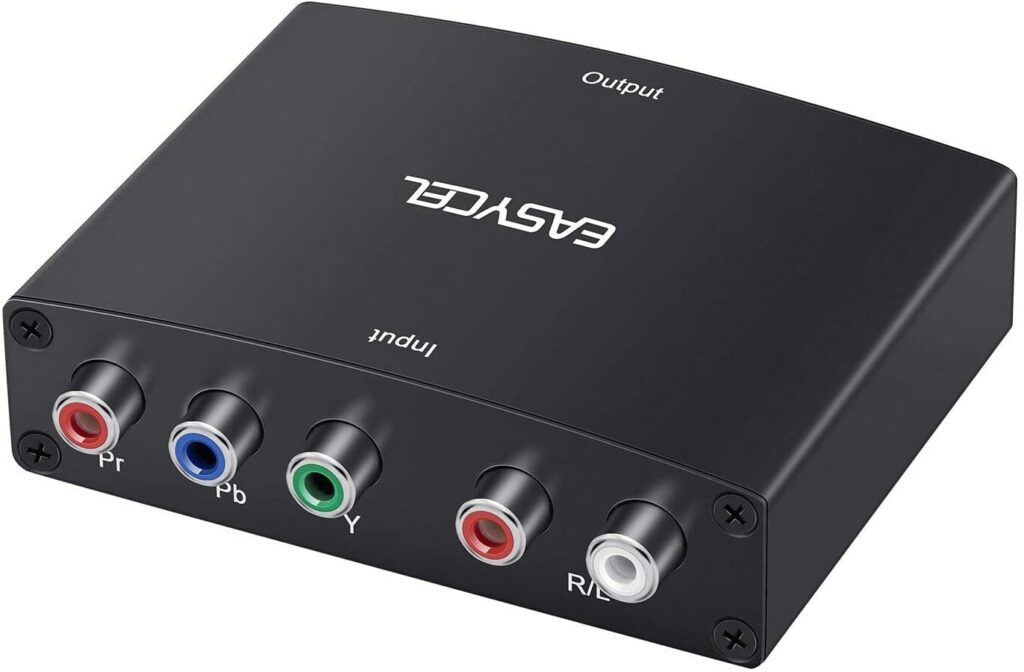 The Easycel RGB to HDMI converter arrives in a smart black box with the name emblazoned in white across the top. On one side are five RCA ports. They are color-coded to match your RGB cable, red, blue, and green. The other two are white and red and are the audio in ports.
On the other side of the box is the power supply port and the HDMI output. The power supply is included and is rated at 5 volts. The box only works as RGB to HDMI and not the other way around.
It offers 165 MHz and 1.65 Gbps per channel as well as 8 bits per channel. It utilizes proprietary advanced color technology to create brilliant and fresh colors, intensifying the original effects.
As you would expect the box is plug and play, there is no set-up required. However, a user manual is included in case you need it. The converter weighs just eight ounces, allowing you to effortlessly carry it with you when necessary.
It should be noted that the Easycel converter is not suitable for Denon Legacy or Bose 3-2-1 systems.
---
Koopman HDMI Converter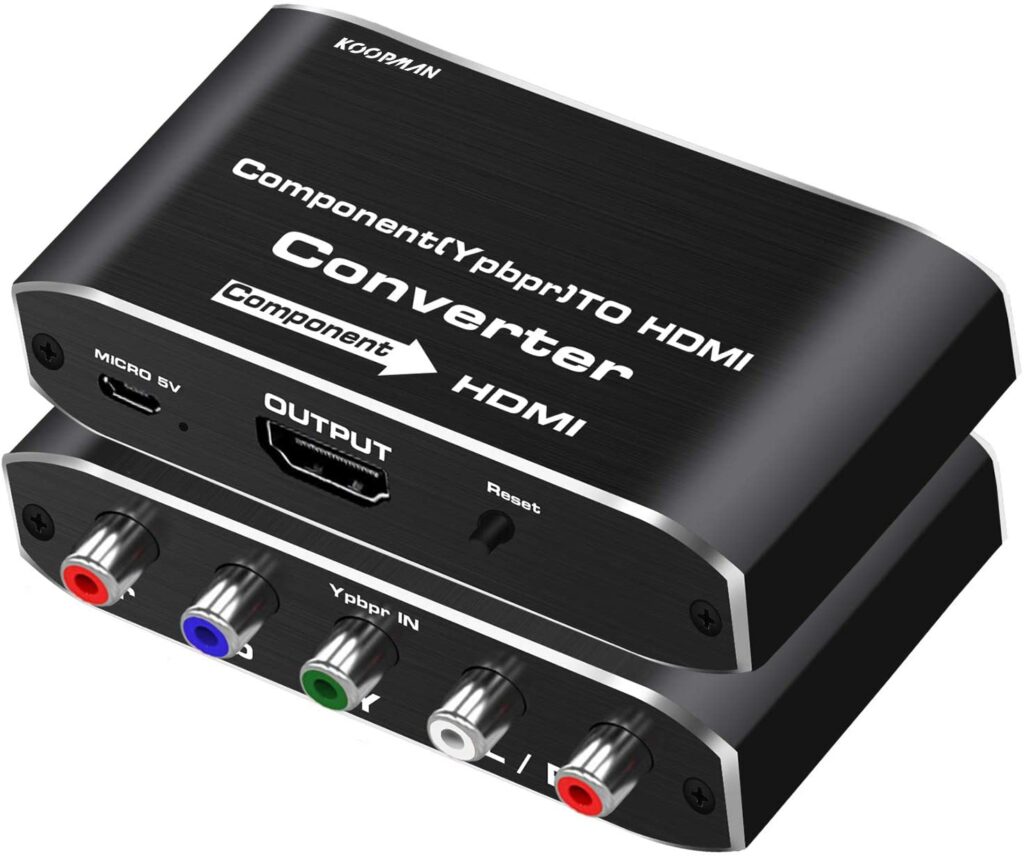 The Koopman HDMI Converter is also a black box, although fractionally larger than the offering from Easycel. The brand name is written in small white letters at the top left corner of the box. Emblazoned across the box is what it does, Component (YPbPr) To HDMI; just in case you weren't sure about what you had bought.
This converter from Koopman has five RCA ports on one side, three color-coded for your RGB cable, and a white and a red port to handle the audio input. On the other side, there is a central HDMI output, a micro-USB slot for power, and a reset button if needed.
The converter requires a 1.5v power supply which is included with the box. You also get lifetime technical support, although this isn't transferable between owners. It converts RGB signals to HDMI and can handle an array of resolutions, from 480 to 1080 pixels and 50-60 Hz. IT will also handle uncompressed audio, including DTS Digital, Dolby Digital, and DTS-HD.
The box is plug-and-play, allowing it to be effortlessly set up in minutes.
---
Newcare Component to HDMI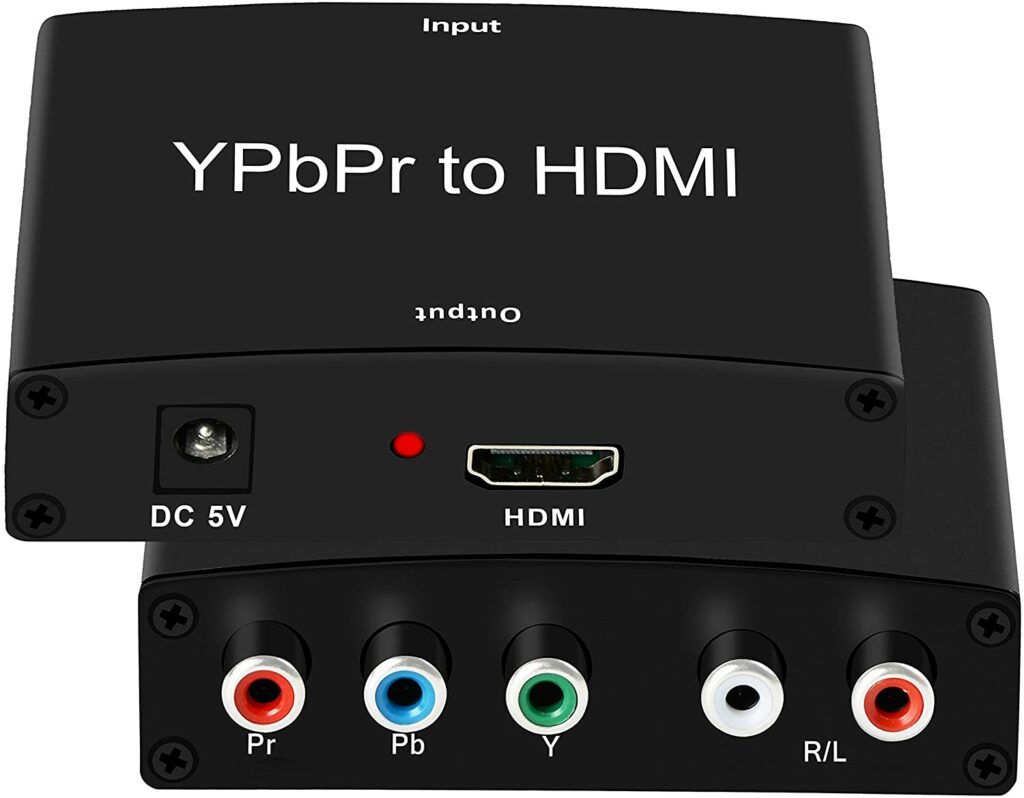 The Newcare RGB to HDMI converter box looks very similar to the previous offerings. It has five color-coded ports on one side and the power supply and HDMI output on the other. It also has a recessed red reset button in case of need. It will not support HDMI to RGB conversion.
The Newcare converter requires a DC 5v power supply which is included via a type A connector. It can handle YPbPr component input between 480 pixels and 1080 pixels as well as supporting 50 and 60 Hz. It also supports uncompressed DTS digital and Dolby digital audio, as well as PCM stereo.
You should note that the signal source and output source need to be the same resolution for the converter to work properly.
In keeping with the other options, the Newcare converter is a plug-and-play device, connect the power and the input/output cables and you are ready to go. The company also offers comprehensive after-sales service to ensure any issues or queries are dealt with promptly.
---
Sunnatch Component to HDMI Converter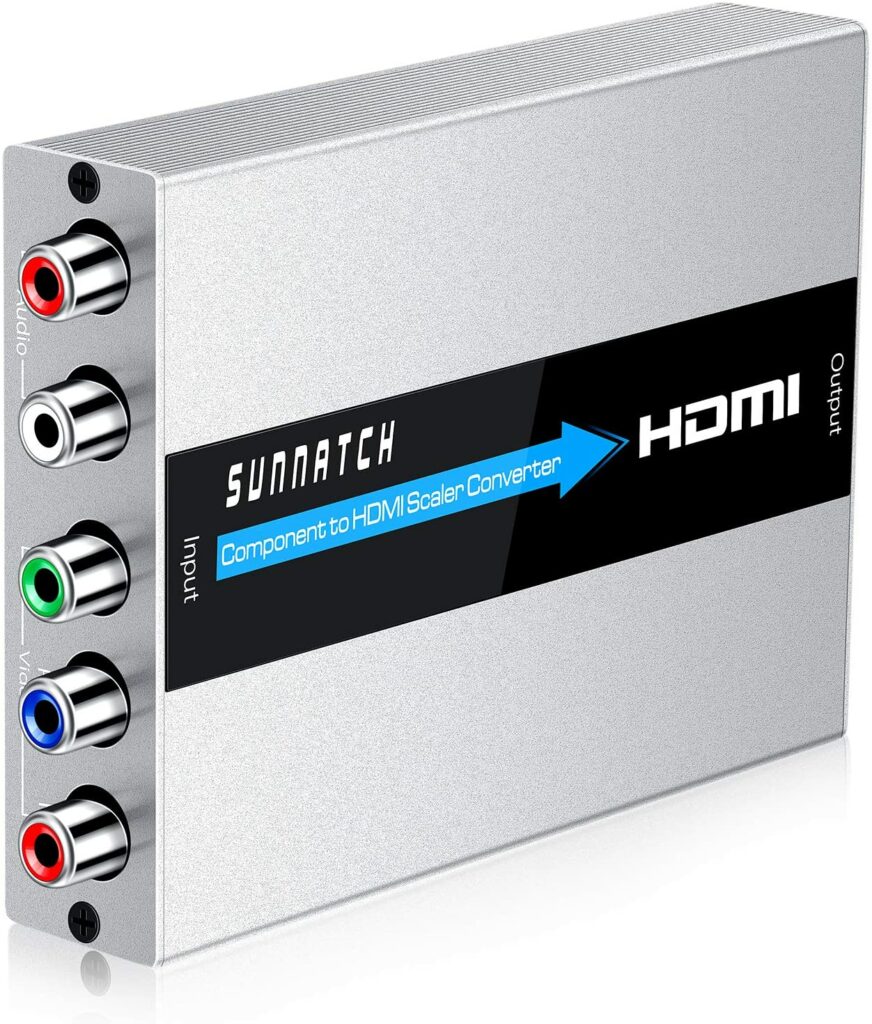 The Sunnatch component to HDMI converter breaks the mold by presenting itself in a silver box. T still features five RCA slots on one side, ready to handle your three RGB connections and two audio connectors. As with all these converters, it is essential that the color-coding is followed to ensure the signal transmits properly.
The other side of the box features a power supply port, a resolution button, the HDMI output, and a light to indicate whether the unit is powered on or not.
The resolution button is a nice touch as it allows you to set the output resolution of the converter to match the resolution of the screen you are using. This ensures the best possible image. The box comes with a standard power supply on a type-A connector, rated at 5 volts. Simply plug it in and your RGB, audio, and HDMI cables and you're ready to go.
It can handle several outputs, including 800 x 600 at 60Hz, right up to 1080 pixels at 60Hz. It also features a menu that can be displayed on-screen and help you to identify any issues, such as no signal or a distorted image.
The Sunnatch converter comes with one year warranty and excellent after-sales service. At just ten ounces it is also easy to take with you, regardless of where you are going.
---
Final Thoughts About RGB to HDMI Converters
The RGB to HDMI converter is surprisingly useful, even in households that don't think they have old equipment. If you have an older game console or video camera, you'll be grateful for the converter. Also if you have old consoles you might need a S-Video to HDMI converter. It makes it much easier to play your video or game on your modern television. 
The fact that it can improve the picture quality is a bonus, the main benefit is the fact that it is so easy to use. Connect your RGB cable, your HDMI cable, and add power. The converter will fit almost anywhere and can be used on multiple items. It really doesn't get any easier.