The Oculus Rift was first released in 2016 by Oculus VR which is actually a division of Facebook Inc. In fact, the device was first envisioned in 2012 when a Kickstarter campaign raised US $2.5 million to get the project off the ground. Facebook took over in 2014. The original release was the Rift CV1, it was replaced in 2019 with the current Oculus Rift, also known as the Rift S.
It is, of course, now one of the best virtual reality devices on the market. It offers full immersion into the world of gameplay, ensuring it looks, feels, and sounds like you are inside your chosen scenario.
Of course, while we all dream of a completely wireless world, it is not yet possible. In most instances, electricity still needs to pass through the wires, as do audio and visual signals, however you can use extension cables to try to come as close to wireless as possible. The Rift S can be connected directly to an appropriate GPU with a DisplayPort connection point. It is also possible to use an adapter and convert the standard DisplayPort connection into a mini DisplayPort if required.
Alongside this, it needs a USB connection.
Your computer will also need to have Windows 10or higher on your system, a graphics card equivalent, or greater, than the NVIDIA GTX 6, a CPU of at least i5-5, GB RAM, a DisplayPort, and two USB ports.
There is no doubt the experience is great. But, first, you need to connect your Rift S to your computer. The supplied cable has an Ocuink connection at one end that is specially designed to fit into your headset. At the other end, there are two connectors, a USB connector, which is designed to go into a USB 3.0 slot, and a DisplayPort connection. This can go directly into a DisplayPort socket or into a mini-DisplayPort via an appropriate adapter.
Things To Consider When Looking At Oculus Rift S Replacement Cables
At the moment Oculus does provide a replacement Rift S cable. However, this is not generally something you can just buy, they tend to release them to owners that have had the Rift S from new and have damaged their original cable.
It is worth noting that Oculus is known for discontinuing cables as equipment gets older, there is also a significant delay in getting replacement parts. That means it makes sense to get hold of one now before you need it.
The good news is that there are some aftermarket options worth considering. All you need to do is choose a reputable supplier. The following things should be considered before committing to a cable.
There are plenty of people offering compatible cables but you need to trust that the cable is high-quality. After all, you don't want to replace the cables once and then have to do it again a few months later!
If you recognize the manufacturer then you may be happy to trust them and the quality of their products. If not, it is best to speak to family, friends, and colleagues to see what they know of the company and the supplier. This can help you determine whether they are reputable.
Of course, you can also look at the reviews on Amazon. But, you may prefer to take a look at what has been said on social media and online forums. This will give you access to honest opinions from people who have actually used the cables, allowing you to buy with confidence.
The only way to ensure you are not spending too much or too little is to look at several products and check out their prices. This will give you an average price and warn you to take a closer look if the price differentiates too much.
Any product that is considerably more than the average needs to be looked at to see what it is offering that is better than the average.
Equally, you need to be wary about anything that appears too cheap, it could affect the quality of the cable and therefore your signal.
It is also worth looking at the delivery cost and timescale. If you need a replacement cable because yours is damaged you want it as quickly as possible. Equally, high delivery costs, even if they have speedy dispatch, can simply be a way of increasing profit while maintaining a low price.
It is worth checking it before you order.
Best Oculus Rift S Replacement Cables
When replacing the original Oculus Rift S cable you need to take the facial interface at the back of the headset and work your way around until it has all been removed. You can then gently remove the cable and the cable guide on the left side. Replacing it is simply the reverse of removing it.
If you are ready to invest in a replacement Oculus Rift S cable then the following are worth considering.
AxPower 16ft Upgraded Cable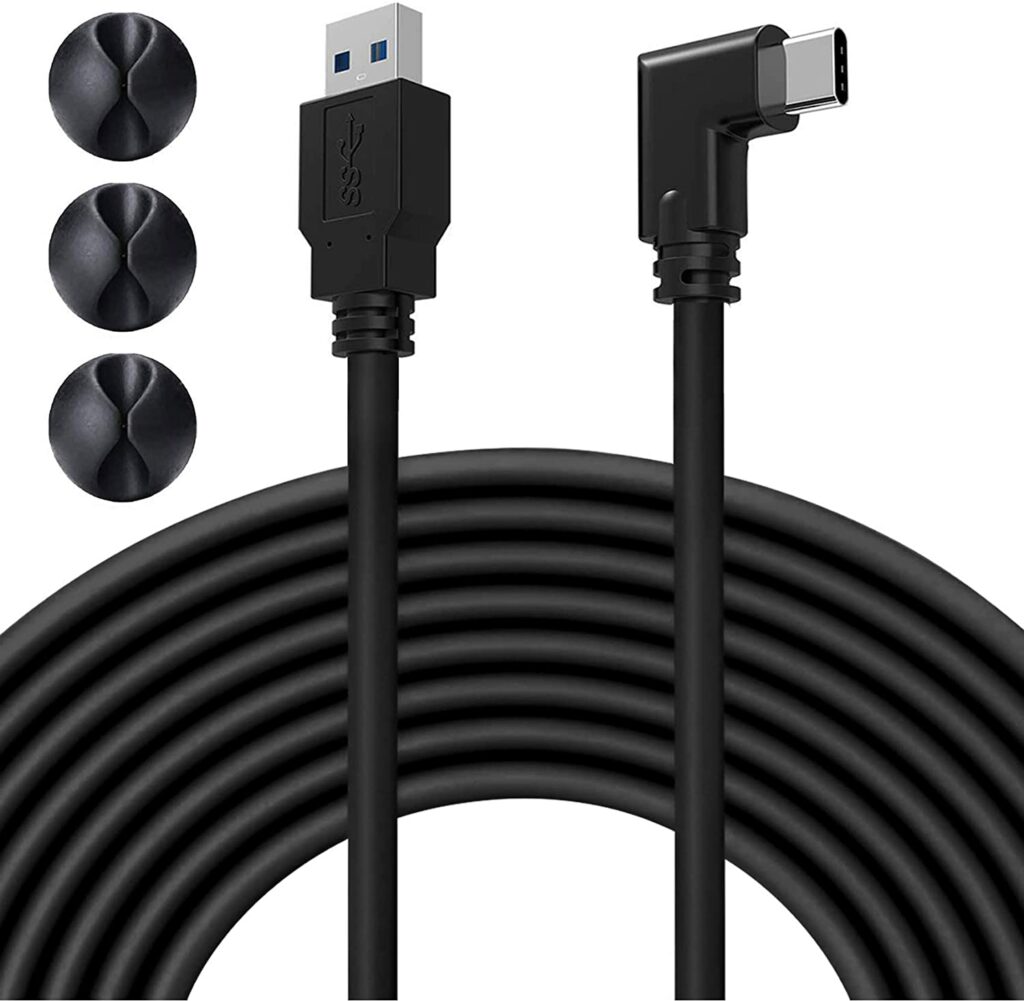 This offering from AxPower is designed to keep you playing, even when Oculus won't offer you a replacement cable. AT 16ft it is long enough to keep you mobile while immersed in virtual reality. It also comes with a small cable clip that allows the cable to clip to the strap of your headset, keeping it out of the way, especially when used with an overhead pulley system.
The cable is lightweight and considered one of the best currently available. It has tinned copper core strands with individual protective jackets. These are protected by foil and mesh as well as a TPE jacket.
The intelligent chip is built into the connector which incorporates a 90° turn, protecting it from being accidentally disconnected.
---
Cable Matters Extension cable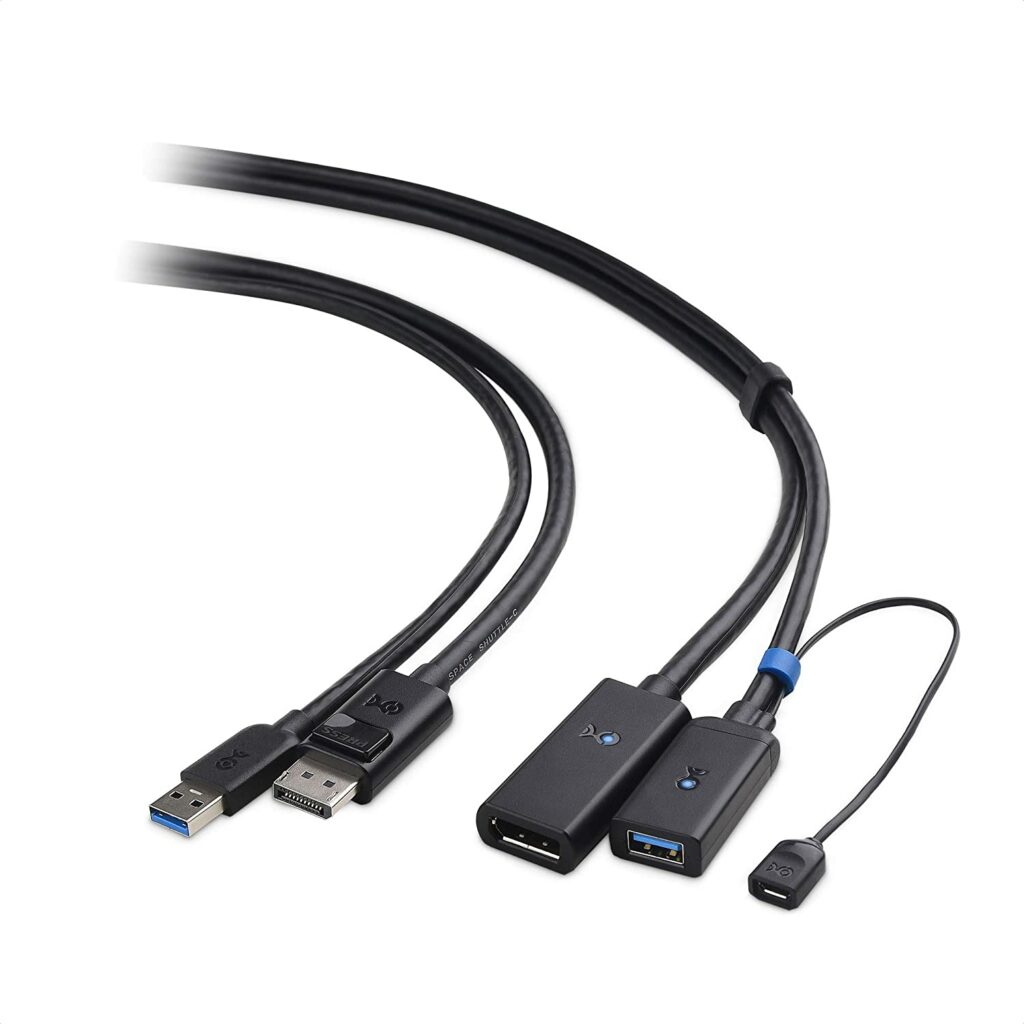 The key to maximizing gameplay and minimizing the risk of damage to your original cable is to use extension cables. These allow you to keep the original cable out of harm's way and they are cheaper and easier to get hold of than a replacement cable from Oculus.
The Cable Matters extension cable has a female DSP port and a female USB port at one end, this allows effortless attachment to your existing cable. At the other end of this 16.4ft cable is the male DisplayPort and USB, ready to be plugged directly into your PC. It is that simple!
The cable is black plastic with molded ends that incorporates grips to reduce stress when plugging and unplugging if you ever need to. The cable core is tinned copper covered with several layers of protection and insulation. This reduces the risk of damage and ensures the signal quality remains high at all times
---
iVanky DisplayPort Extension Cable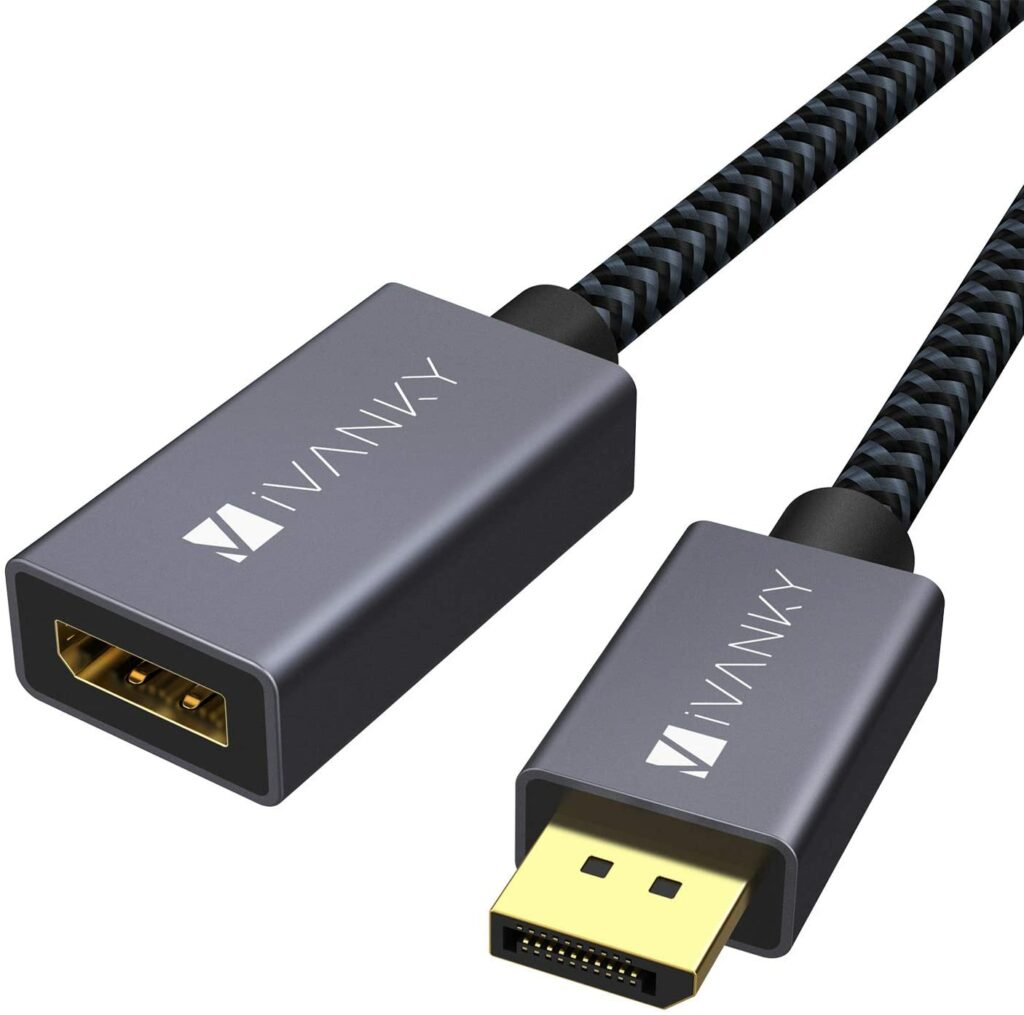 If you prefer you can extend the cables individually. This offering from iVanky is a great choice. It comes in two different lengths, 3.3ft or 6.6ft, allowing you ample extra room to move and reduce the stress on the original cable. It has an impressive 165Hz refreshment rate, eliminating drag and blur while playing. It also supports 4K video, ensuring you have the best quality image when playing.
It should be noted that this cable has 24K gold-plated corrosion-resistant connectors and tinned copper wire to ensure great signal transfer and the insulation and braided nylon jacket ensure interference isn't an issue, as does the aluminum casing and the 18-month warranty.
---
Amazon Basics USB 3.0 Extension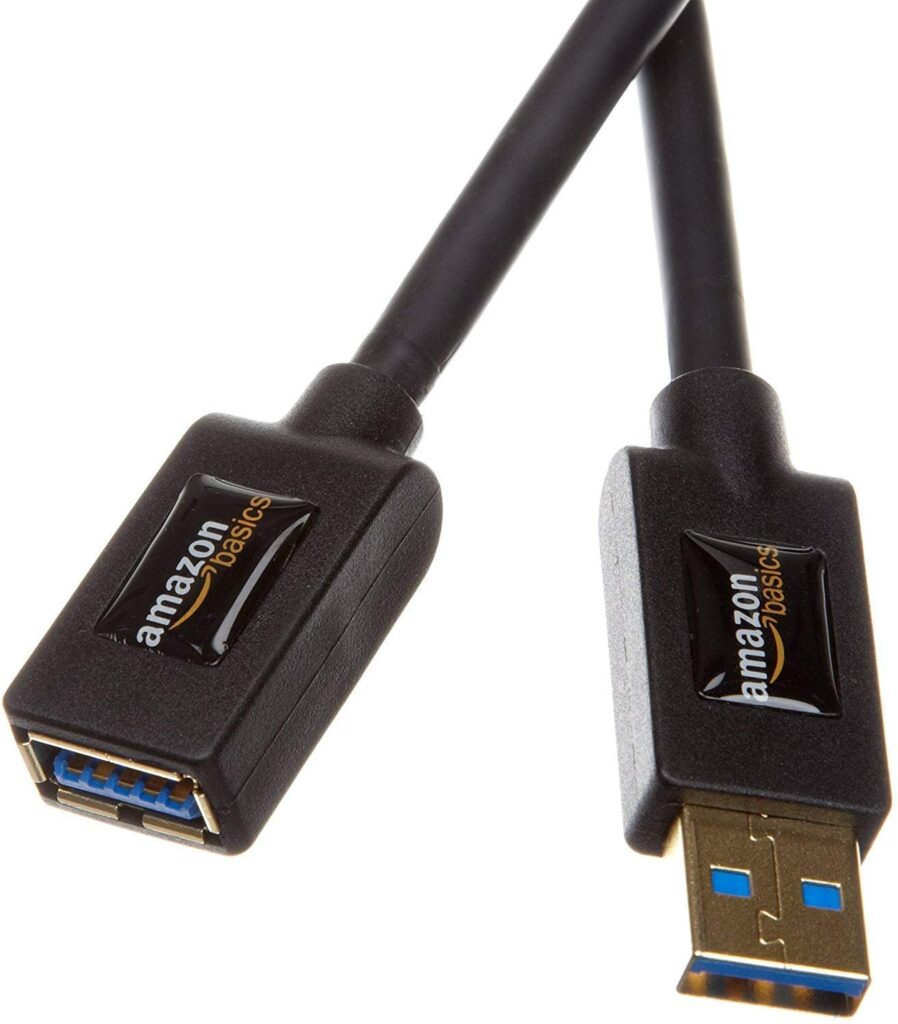 If you are extending the DisplayPort separately, you will need to do the same with the USB 3.0 and this offering from Amazon Basics is the perfect solution. It is 9.8ft long, that's 3 meters. However, it comes in a variety of lengths from 3.3ft to 9.8ft. The cable itself is PVC, allowing flexibility and protecting it from the elements. The wires are tinned copper and they are protected by an aluminum braid. At the same time, the connections are also gold-plated to prevent corrosion. The insulation ensures no signal interference occurs from electromagnetic or RF.
It is compatible with 3.0 and 2.0, ensuring you have the best transfer speed possible for your Oculus Rift S.
---
Final Thoughts
It is worth noting that Facebook has already said it will discontinue the Rift S in 2021, including the supply of spare parts. In other words, if you need a replacement cable now or think you will in the future, it's a good idea to speak to them about a replacement today.
Fortunately, you can extend or replace your cable with any of the ones listed here and continue enjoying your Rift S for years to come. And if you have a USB cable that stopped working check out our "How To Repair" guide. The even better news is the fact that the Oculink connector is being copied, meaning there is likely to be an abundance of Rift S replacement cable options in the future.