If you need a USB adapter then it's only right that you do your homework and choose the best USB adapters currently available. They are one of the most common connections available on a multitude of devices.
You're almost certain to have come across them and, if you have any modern electronic devices you may need a USB adapter to make the most of your equipment.
What Is A USB?
USB stands for Universal Serial Bus. It was conceived in the early 1990s as a new method of connecting computers and peripherals. The concept was perfect, as was the name, most modern electronic devices have one type of USB port.
Of course, the original port, known as USB A has since been modified and improved on, giving way to several variants. As modern devices can have any one of these variants you may need a USB adapter. Fortunately, there are plenty to choose from:
Best USB Adapters
Basesailor USB Standard To USB C
If you have a modern electronic device then it probably has a USB C connection. While some computers and laptops also have a USB C port, there are still plenty that don't. This simple adapter from Basesailor plugs directly into the standard USB port on your computer and offers a female USB C connection, allowing you to charge a phone or similar appliance, and transfer data.
It's available in a choice of colors, has speeds of up to 480Mbps, and allows 2 amps of power. It also benefits from an aluminum body to aid durability and minimize its size.
Of course, this does mean you can easily lose this USB to USB C adapter, make sure you place it somewhere safe or leave it plugged into your computer. This adapter does exactly what it's supposed to, allowing you to use USB C connections with standard USB ports.
However, reports suggest actual speeds of between 30Mbps and 160Mbps are achieved, substantially slower than indicated. The adapter has also been found not to work on some devices.
---
Kiorafoto USB Multi-function Adapter Kit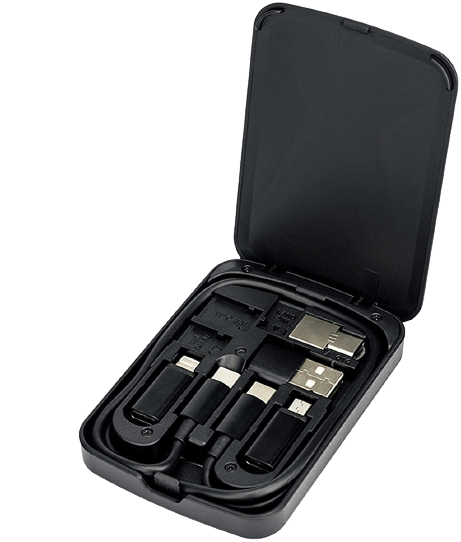 While the other offerings on this list are attractive, the Kiorafoto store multi-function USB adapter is potentially the best. It's competitively priced, comes in a neat carry case that can fit in your pocket, and opens an array of possibilities.
The kit comes with one 22" USB C cable. Both ends of this are male standard USB connections. But, the kit also includes four adapters that fit straight into the standard USB connector.
The four adapters convert one end of this into either a USB C, a micro USB, a Lightning connection, or an OTG connector. That means you can effortlessly carry this kit anywhere with you and always have it to hand when needed. It weighs just 65g and measures 3.65" x 2.55" x 0.5".
The cable offers transfer speeds of 480Mbps and there is even a card removal tool as well as two nano-SIM card slots. In short, it's everything you need. It's worth noting it doesn't include a USB C dual end adapter for data transfer between phones.
---
TP-Link USB Wi-Fi Adapter
Another option is the USB to Wi-Fi adapter, as offered by TP-Link. This adapter is designed to work with desktops, either at 2.4GHz or at 5GHz. It's a simple USB connector with a slender aerial that can be angled in your preferred direction.
In short, plug it in and your laptop or computer will get 802.11ac, that's a faster and smoother Wi-Fi connection. It's compatible with almost all Windows and Mac systems.
However, you should note that this is not just plug and play, you will need to install a driver to get it working, without the right one it won't work. It's also important to disable any current Wi-Fi adapter in your system. Also the customer service response can be complicated and slow and you'll have to pay to return any item.
Alongside this, the adapter doesn't always perform as well as it should, sometimes offering speeds of just 150Mbps. It's also been known to trick computers into thinking there is a power draw and stop onboard USB slots from working, assuming you've got Windows to recognize your device.
---
Fideco IDE To USB Adapter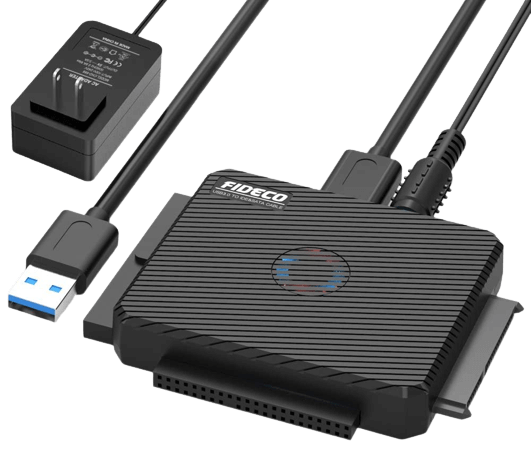 It's possible to get an IDE to USB adapter, such as this one, offered by Fideco. It has a male USB connection and a female IDE. This ensures compatibility with an array of hard drives and DVD drives. It can support two 16TB hard drives, making it a great back-up option.
It's designed to be plug and play and has lights to show power and activity. Older IDE hard drives will need to set jumpers to turn on the disc. You'll also need an extension cable if you want to connect to a 40 pin IDE. Data transfer is up to 5GB but you cannot clone to the IDE drive, only from it. It's also impossible to clone from a bigger drive to a smaller one, even if the smaller one is large enough for the data.
However, this adapter won't work with IDE drives that have Molex power connectors, the positioning is wrong making it impossible to connect them. Reports suggest this adapter isn't compatible with hybrid drives. In fact, sometimes it won't connect to any drive, especially if you're trying to connect to a Mac.
---
Sabrent 9-Pin To USB Adapter
If you need a 9 pin to USB adapter here it is. Note that the 9-pin connector looks similar to a VGA connector although it is actually a serial and this offering from Sabrent allows you to connect via a USB to any other device. It is available in several sizes, 2.5ft, 6ft, and 10ft.
The USB is a standard A connector and it should link without issues to most Windows and Mac systems. It's plug and play, limiting the need to waste time. You can even modify the Com ports and Baud rates.
It is worth noting that the serial connector is female, most similar cables are male. You may also need to verify your Com port before you can connect properly. It must be used with a standard USB port, not a USB 3.0. You should also note this uses the Prolific chip set and won't work if you have a FTDI.
---
StarTech USB to HDMI Adapter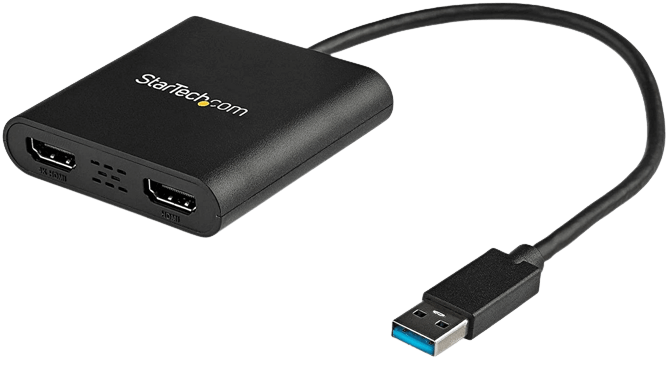 StarTech offers an excellent USB to HDMI adapter. It has a male USB 3.0 connection and a short cable giving you two female HDMI connections in a smart black box. It's designed to allow connectivity between any USB device and a modern monitor or television. The StarTech USB adapter has a high-quality chip, supports 4k at 30 frames per second.
You do need to install the driver software before you can start using the adapter. A software that is less than ideal.
---
TP-Link USB Bluetooth Adapter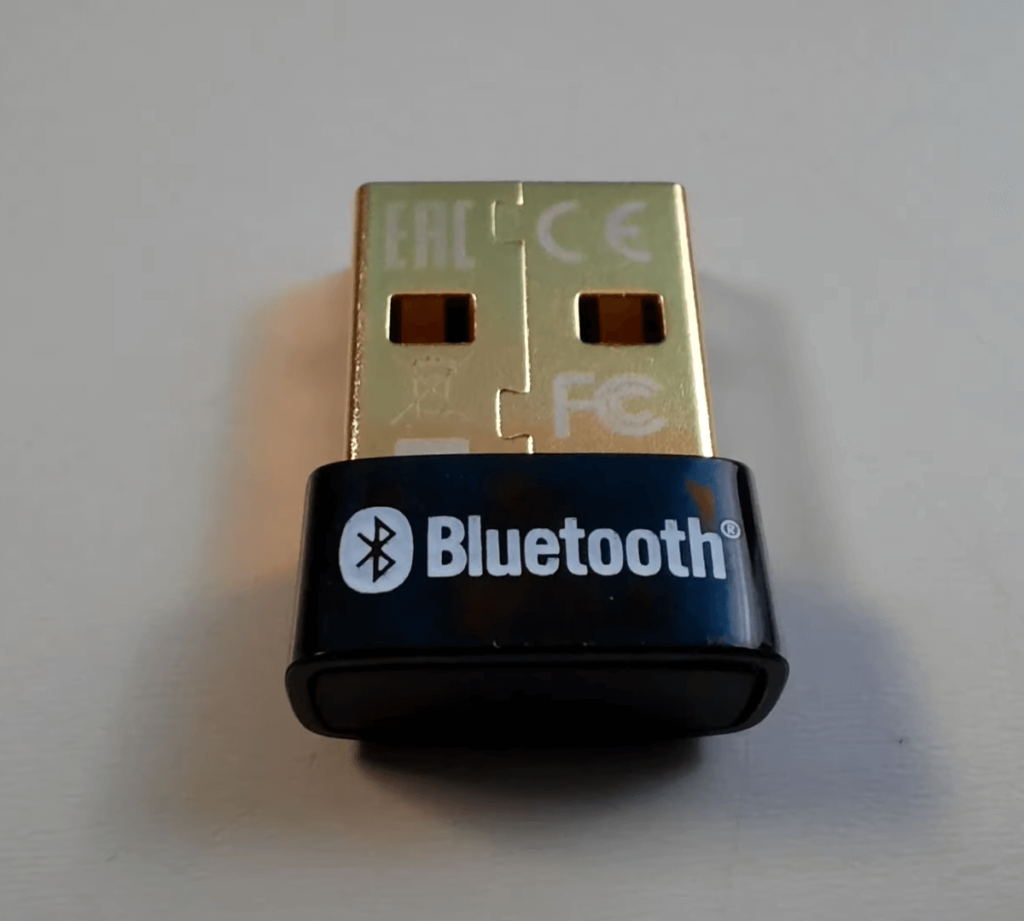 If your device doesn't have Bluetooth then the easiest way to get it is with Bluetooth to USB adapter. The TP-Link Bluetooth adapter is compatible with Bluetooth 4.0 and can handle speeds over 10Mbps over a 65ft range. It's compatible with most Windows systems and simply plugs in and is ready to use.
This adapter isn't designed to be used with Mac computers or game consoles. It is also worth noting it comes with old drivers, you should ignore the ones it arrives with and download the latest one directly from the TP-Link site. This is also the best way to avoid driver conflicts which have caused several user issues.
Part of this is due to the older drivers offered. Their inability to show names, only MAC addresses is also frustrating. It has also been known to auto-engage caps lock and minimize full-screen applications. It can also heat up.
---
DISINO XLR To USB Cable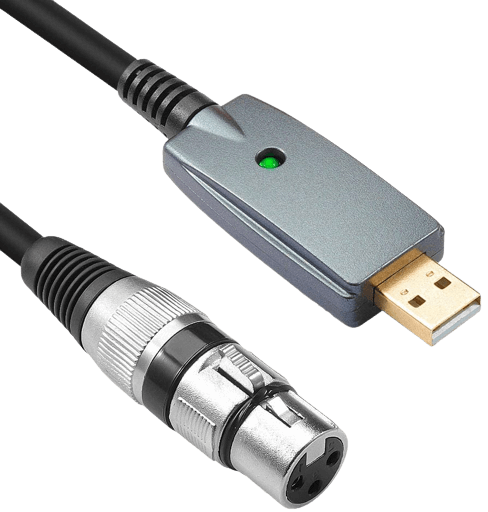 This XLR to USB adapter cable is great for regular microphones. With lengths going from 6, 10 up to 20 feet you can choose the range best for you. It has a heavy rubber cable, that is surprisingly flexible. It is easy to use as a "plug and play" cable. Over all a good beginner cable.
Take not that more powerful microphones will need a power boost, because the cable just can supply enough power alone. The audio can also sound muffled, it might be for the same reason. Is the DISINO XLR To USB Cable for you depends on where you are at with your music carrier.
---
Considerations When Choosing The Best USB Adapters
There are several things you should either consider or be aware of before you select the best USB adapter for your needs.
Understand The Types Of USB Connectors
The first, and most important, consideration when choosing a USB adapter is what type do you need? There are many different types of USB connectors:
The type-A USB connector is the original and remains the standard USB connection, although it has been improved and is faster. You should note that USB 3.0 still plugs into the same slot as the original USB A.
The mini A was the first type of micro USB connector and is used on cheaper and older cell phones.
Type B connectors are the sort you find on printers and similar accessories. You normally purchase a cable with a USB A at one end and a B at the other.
The USB C is the latest version of the micro USB port and has a symmetrical connection, allowing it to be plugged in either way up. It's also faster.
Alongside this, a USB adapter can also allow you to plug your device straight into an outlet and charge it, without the need to connect to a computer.
What Are The Most Common Uses of USB?
Standard USB ports are found on computers while the micro USB connections are generally found on smaller electronic devices, such as cell phones and cameras.
Almost any modern electronic device will have some form of USB connection, it's essential to allow devices to talk to each other when wireless connectivity is not an option.
The most common USB adapters are male to female standard USB adapters, USB A to USB C, and perhaps USB C to USB micro A.
Specifications For The Best USB Adapters
Basic USB adapters can handle just 2 volts, higher quality adapters and cables can handle 5 volts, decreasing charging times and increasing data transfer. You'll have to decide which is more relevant for your needs.
Verify Reputation
If you're looking for a USB adapter then it's best if you verify the reputation of the manufacturer first. This ensures that you can trust the equipment you're buying and that you're getting a high-quality USB adapter.
If you've never heard of the company before then it's advisable to check social media for general opinions. Just remember it's almost impossible for everyone to be happy with a product. You can also look at online forums and, of course, guides like this will help.
Other considerations
USB adapters vary in price but the most expensive is not always an indication of the best quality. It's important to understand what you want the adapter for and what specifications it needs. This will help you to set a reasonable budget and choose an adapter that suits your needs, not just the one that looks the best.
Final Thoughts
If you own any electronic devices you'll probably benefit from a USB adapter. The good news is that there are plenty to choose from and, once you've done a little homework, you'll be able to choose one that is high-quality and durable.
All you have to do is confirm the type of adapter that best suits your needs and then commit to one. Provided you've followed the tips in this guide and chosen one of the best USB adapters indicated above, you'll be happy with the results.