Turntables have been around for many years. In fact, the original gramophone could be referred to as a turntable as it had a spinning platform. Of course, today, most people associate turntables with record players and vinyl records. Although this format of music has now been superseded, it remains very popular.
Naturally, as with any musical system, the sounds from the turntable need to be transmitted to speakers. While some turntables have hard-wired connections to dedicated speakers, the best systems use RCA cables. These allow you to connect directly to your speakers of choice or hook the turntable to an amplifier or other stereo system.
Understanding RCAs
Modern technology often uses wireless connections, this can leave you wondering what are the uses of RCA cables. The truth is that cables still provide a better quality signal and allow you to connect a turntable to various devices, as indicated above.
RCA actually stands for Radio Corporation of America. The reason these cables are called this is that they were originally designed and patented in 1919. The abbreviation RCA has been used for this type of cable ever since.
Because RCA cables are sold separately from the turntable, you can choose your preferred option, some of the best are in the list below. You should note that while they all look similar, the answer to 'are all RCA cables the same?' is no. Better quality RCA cables will make a difference and cheap RCA cables can affect sound quality. That's why it's worth doing your homework and understanding what to look at in an RCA cable.
Of course, you also need to decide how long the cables need to be before you order.
Best RCA Cables For A Turntables
AmazonBasics RCA Audio Cable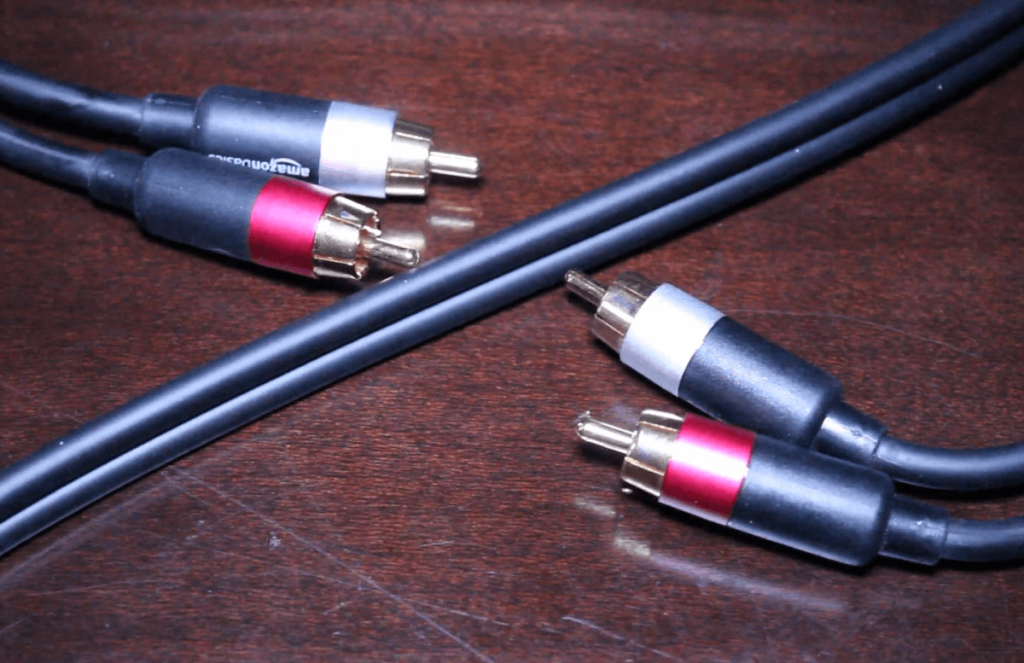 The AmazonBasics RCA audio cable is available in a variety of sizes from 4ft to 15ft. It has 24K gold-plated male connections on each end with standard red and white color-coding to provide stereo sound. The copper core is shielded to prevent noise or feedback and ensure clear audio sound.
It should be noted that the cables are thick and the connectors bulky. This can be an issue for recessed jacks. However, if your jacks aren't recessed then this is a viable choice with great sound quality.
Some users have reported issues with audio quality after a few months of use. It is worth noting that the connectors initially offer a tight fit. This is good for connectivity but they can be a little tight, worrying when you disconnect them
---
Goalfish RCA Cables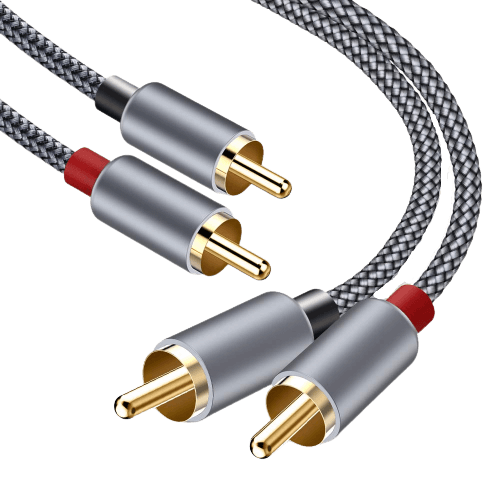 Another budget option that is worth considering is the Goalfish male-to-male RCA cables for turntables. These are also available in a variety of sizes, ranging from 1.6ft to 15ft, ensuring there is something for every domestic need.
The cables are braided to prevent tangles and damage. The copper core is oxygen-free and has shielding as well as 24K gold-plated connectors to ensure sound quality. They've been bend-tested over 3,000 times, giving you peace of mind when purchasing.
These are a budget option and will work well with a standard turntable. But the shielding seems poor and might be an issue if you have high-end audio equipment.
---
Ullnosoo RCA Cable With Ground Wire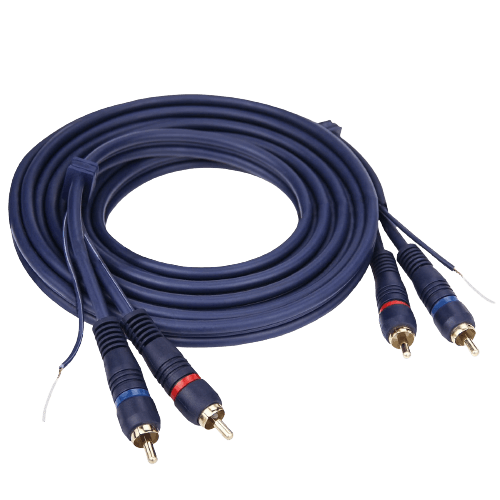 The Ullnosoo RCA cable on offer is still reasonably priced but it takes the quality to the next level. It is 10ft long with double shielding to protect the oxygen-free copper core. The male connections on both ends are gold-plated and the outer sheath is designed to be both flexible and protective.
Thanks to the quality of the cables you'll get richer audio from your turntable and the included ground wire helps to reduce resistance and eliminate interference. It should be noted that the ground wire is surprisingly thin and slightly shorter than the RCA cable.
---
AudioQuest Evergreen RCA Cable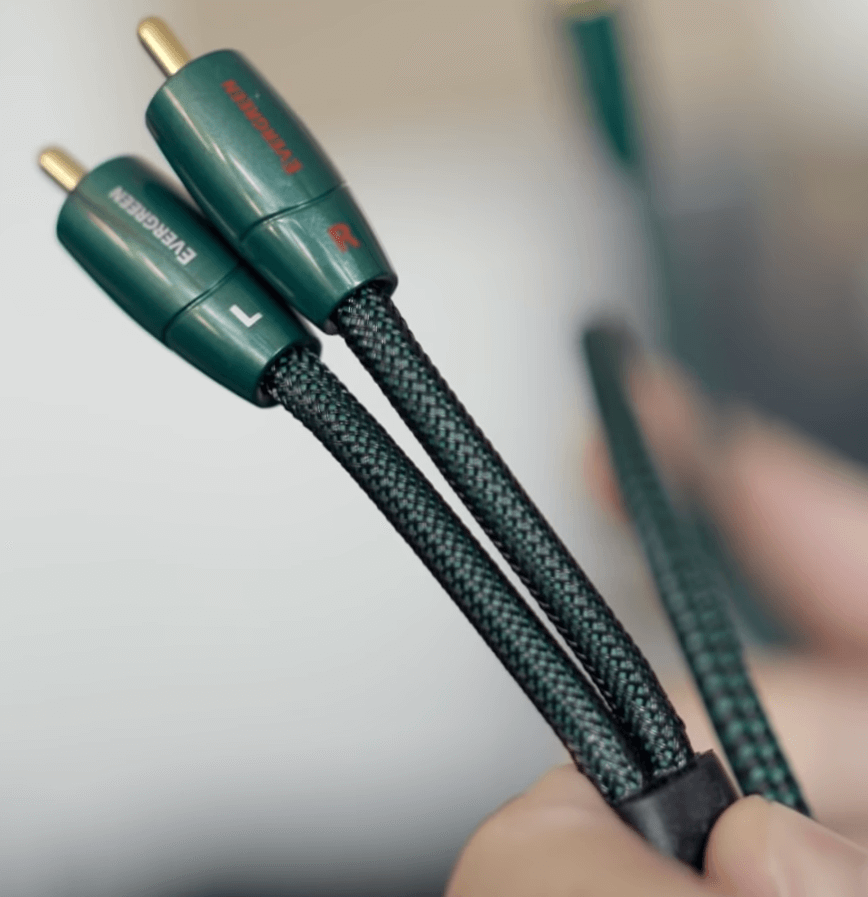 The AudioQuest Evergreen RCA cable is much more expensive than the other offerings on this list and is just 3ft long. However, it does incorporate perfect surface copper conductors, gold-plated plugs, a metal layer noise dissipation system and has foamed polyethylene insulation.
In short, this offering from AudioQuest is more expensive than the other options on the list but it is worth it. You can improve the sound quality significantly. It is worth noting that these cables are directional. They have arrows on them and should be plugged in with the arrows moving from the turntable to the speakers.
This cable does give a low whine which is only noticeable when the music isn't playing. However, the fact that the whine is there indicates an earthing or shielding issue.
---
Commonly Asked Questions
Check out the following commonly asked questions to help ensure you are fully prepared when ordering.
Can RCA turntable cables be Extended?
Yes, any RCA cable can be extended using a dedicated connector or by purchasing cables with one end male and the other female. However, you should note that the fewer the number of connections the better.
What's the max distance you can extend RCA cables?
RCA cables are very good at transmitting sounds and a good quality set should provide high-quality sound for approximately 100ft. The best quality ones can even go 200ft. But, you need to make sure the cables have good shielding to maintain audio quality.
Does the RCA cable length affect sound quality?
Yes, the length of the cable does affect the sound quality. As mentioned above, cables need to be shielded to protect the sound quality. The key consideration when utilising longer RCA cables is how much electrical resistance do they have? The lower the rating the better the quality of the sound.
What should you look for in an RCA cable?
If you're in the market for RCA cables for turntables then you'll probably have plenty of questions, such as 'are thicker RCA cables better?' and 'are gold plated RCA cables better?'
Gold-plated connections on RCA cables generally means improved signal conductivity and thicker cables are generally better shielded.
To ensure you get the best RCA cables for turntables check the above list, make sure you have heard of the manufacturer, and look at the specs. Low electrical resistance and thick cables with gold-plated connectors are generally the best options.
How to Use RCA cables for turntable/s?
Simply plug the color-coded plugs into your turntable and the other end into the speakers, amplifier, or stereo system.
It's that simple. In fact, your RCA cables for turntables can be used with any device you own, providing it has RCA connections.
Final Thoughts About RCA Cables For Turntables
If you are just a music fan or a professional we hope you can find what you are looking for. And if you just started making your studio perhaps you need cables for studio monitors.
Now you know what to look for. Hopefully one of the listed items is the perfect match for your needs. And even if you don't find what you need on this list, you have the knowledge to find your perfect RCA cable somewhere else. Well, well, well. How the turntables…