Finding the best cable for studio monitors matters for sound quality. You want one that provides the least noise and produces the crispest audio possible. While you could purchase expensive cables, it's entirely possible to find high-quality, lower-priced cables that perform just as well and sometimes even better.
Understanding the different types of cables and what they're designed to do can help you choose the best cables for your studio monitors. If you're looking for the best cable for studio monitors, you'll find a number of high-quality cables to meet your needs, no matter the type of ports your studio monitors and audio equipment have.
Best Studio Monitor Cables
Monoprice XLR Male to ¼-Inch TRS Male Cable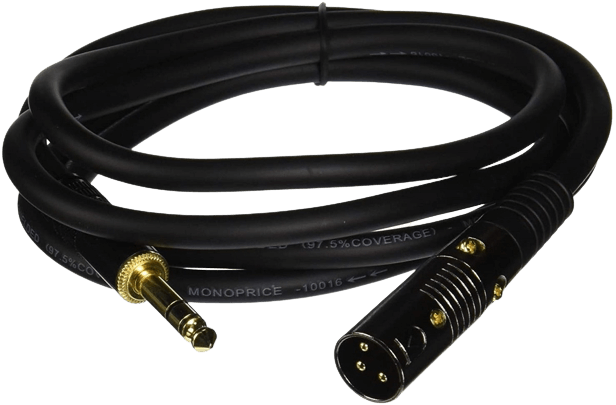 The Monoprice XLR Male to ¼-Inch TRS Male Cable does an excellent job of eliminating extraneous noise in the recording studio. This balanced XLR to ¼-inch TRS cable with a separate braided shield provides extra resistance without introducing interference into the sound signal.
You also never have to worry about ground loop issues with this cable as long as you don't use it with XLR equipment that has pin #1 connected to the chassis ground.
It's possible to use this cable as an AKG k240 replacement cable, but you'll need a 6.3mm to 3.5mm adapter to use it in a 3.5mm port.
Pros
No difference in sound quality from more expensive cables
Lifetime warranty
Comes in lengths from 1.5 feet to 50 feet
Cons
The XLR plug is attached to pin 1, which should not be connected
 Connector can be loose
---
HOSA ¼" TRS to REAN ¼" TRS Cable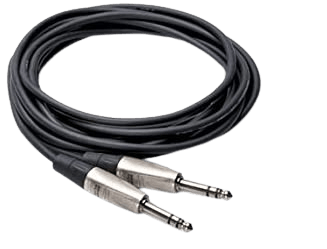 The HOSA ¼" TRS to REAN ¼" TRS Cable uses nickel-plated REAN plugs, oxygen-free copper (OFC) conductors, and a 90% OFC spiral shield. These features make it rugged, durable, and flexible. It also has enhanced signal clarity, effective EMI and RFI rejection, and a higher signal-to-noise ratio.
If you're used to using RCA or instrument cables, you'll notice a big difference in sound and lack of static using these TRS cables.
One thing to note is that it is listed as "pro," but it's only 24ga rather than the thicker 22ga.
Pros
Uses nickel-plated REAN ¼-inch plugs for a better signal
Uses 24 AWG and two OFC conductors for higher clarity and less noise
Comes in lengths from 3 feet to 20 feet
Cons
---
Cable Matters XLR to XLR Male to Female Cable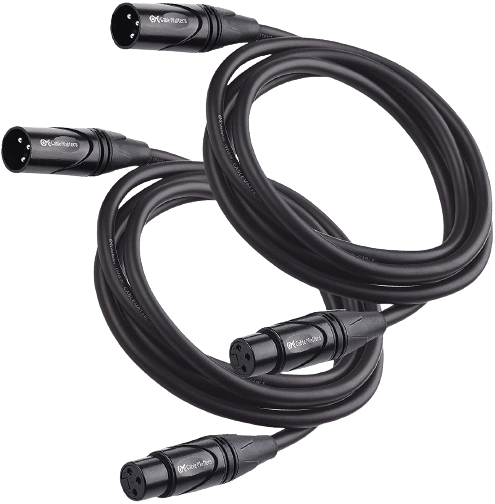 The Cable Matters XLR to XLR Male to Female Cable is a balanced cable designed for microphones and professional recording equipment with a 3-pin XLR cable port.
This XLR to XLR cable has a soft PVC jacket, OFC conductors, copper-braided shielding, individual wire insulation, and gold-plated XLR pins. These features help it deliver perfect sound, canceling out hums and noises and improving its high-frequency response. It's also durable and easy to plug and unplug.
While the cable also doesn't come with a lock and unlock mechanism, they seem to stay put. For less signal degradation, you'll want to choose the shortest cable to accomplish your connection goals.
Pros
No difference in sound quality from more expensive cables
Introduces less noise than some similarly priced cords
Comes in lengths from 6 feet to 25 feet
Cons
---
HOSA Dual ¼" TS to Dual ¼" TS Stereo Cable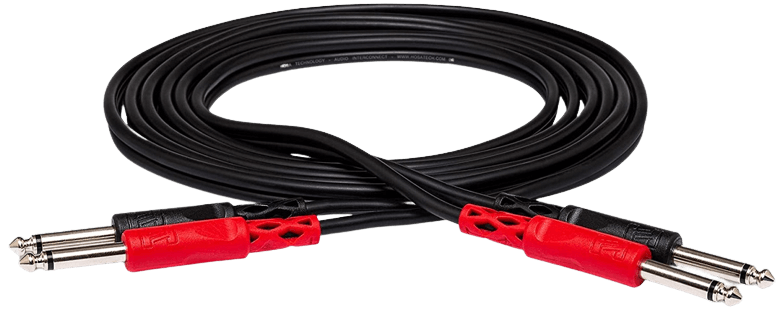 The HOSA Dual ¼" TS to Dual ¼" TS Stereo Cable connects your sound equipment with stereo unbalanced ¼-inch TS jacks. It has nickel-plated plugs, OFC conductors, and OFC spiral shields. These features provide durability, efficient signal transfer, enhanced clarity, effective EMI and RFI rejection, and flexibility.
The signal is good, and it produces a clear sound in most cases. However, if you're recording quiet sounds or producing low volume/high gain music, the line noise will be noticeable. Otherwise, you're not likely to notice much noise.
Pros
Comes in lengths from 3.3 feet to 19.7 feet
Black and red coloring ensures proper port placement
Strong and good-quality cables without bulk
Cons
Doesn't have a tight fit
A bit of line noise
---
HOSA Dual TS to Dual RCA Stereo Cable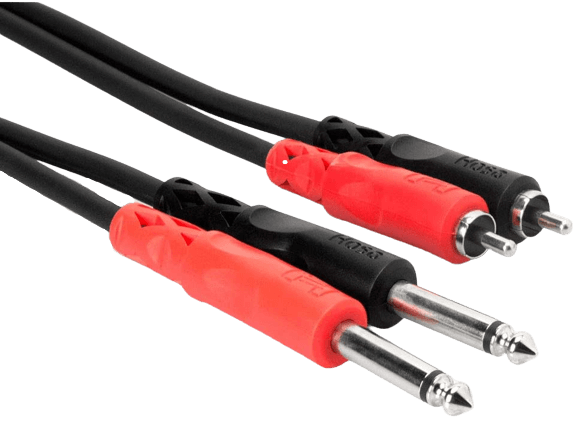 The HOSA Dual TS to Dual RCA Stereo Cable provides a way to connect a dual ¼-inch TS port to a dual RCA port, making it ideal to connect pro-level and consumer-level audio components.
The cable includes nickel-plated plugs, OFC conductors, and OFC spiral shields. These features provide durability, effective signal transfer, increased signal clarity, effective EMI and RFI rejection, and flexibility.
These cables come as paired siamese cables rather than as individual cables, making them easier to handle. However, it's also possible to split them apart if you need to place your studio monitors farther apart.
Pros
Only available in a 3-foot length
Paired cables can be pulled apart if necessary
Stereo capability when using all four jacks
Cons
Uses a cheap plastic coating
Connector tips aren't made to last
---
Amazon Basics 2-Male to 2-Male RCA Audio Cable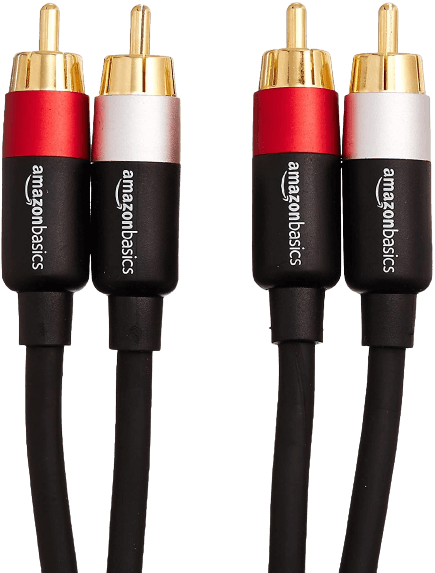 The Amazon Basics 2-Male to 2-Male RCA Audio Cable is one of the best RCA cables for turntables and HiFi systems. While they can handle both low and high frequencies, they seem to drop out bass below 60Hz and lose high frequencies around 15Khz.
It has 24K-gold-plated connectors and other high-quality components. Thus, you'll experience crystal-clear audio, reliable performance, lack of unwanted noise or feedback, minimal signal loss, and consistent audio.
These cables provide the same quality sound as a more expensive cable at a much lower cost. They're reasonably resistant to EM interference and quiet.
Pros
Red and white color coding makes hookup easier
Thick but flexible
Comes in lengths from four feet to 15 feet
Cons
On the bigger side, so may not make a tight connection
Lose the bass at anything less than 60hz and lose some of the high notes at 15khz and up
---
How To Use Cables for Studio Monitors
There are a myriad of cables related to studio monitors. Some input signals while others output signals to your studio monitor. Various audio devices, instruments, and studio devices require different cables related to their features and functions.
Simply plug one end of the cable into the back of the studio monitor and plug the other end of the cable into the device or instrument that you want to hear.
Before knowing which cable to purchase, you'll need to check the size and type of the audio input and output ports available.
Most smartphones, portable devices, and computers have a 3.5 mm port for audio connections. Meanwhile, a 6.3 mm jack is slightly larger and fits TS or TRS cables that are common for guitars and other instruments, effect pedals, mixing consoles, speakers, and amplifiers. If your ports are mismatched, you may need to get a 6.3mm to 3.5mm adapter.
Balanced and Unbalanced Cables for Studio Monitors
Both balanced and unbalanced cables exist for studio monitors.
Because unbalanced cables consist of a single signal and ground wire, they can cause unwanted noise in your monitor speakers. Shorter, unbalanced cables can help reduce unwanted sounds.
Meanwhile, balanced cables wrap a hot and cold signal wire tightly together so that both receive noise interference equally. The hot wire produces an inverted version of the cold wire's waveform, canceling out unwanted noise.
While you can check the packaging to determine whether a cable is balanced or unbalanced, you can also know whether it's balanced or unbalanced based on the type of cable you have:
XLR: balanced
TRS: balanced
TS: unbalanced
RCA: unbalanced
What Cables Are Best for Studio Monitors?
The best cable for studio monitors is a balanced cable since they provide the clearest sound without interference. However, the best cable for your particular device may not always be a balanced variety.
If the ports on the equipment you are using don't match up to the ports on the studio monitor, you can always try a converter if one is available between types. For example, you might need a speaker to RCA converter if your device only has an RCA connector and your studio monitor does not.
Tip-Ring-Sleeve (TRS) Cables
TRS cables provide mono, balanced signals as well as stereo signals. They also tend to be longer than TS cables. Common uses for TS cables include:
Electric guitars
Instruments
Patch bays
Multi-effects units
Microphones
Headphones
Audio mixing decks
Computers
Portable audio players
A TRS cable is the best instrument cable for keyboards and other instruments you want to connect to a studio monitor.
Tip-Sleeve (TS) Cables
TS cables provide mono, unbalanced signals. TS cables longer than 20 feet experience noise and interference. Common uses for TS cables include:
Electric guitars
Guitar effects
Patch cables
Keyboards
Single-switch amp A/B boxes
X Latching Resilient (XLR) Cables
XLR cables provide balanced mono signals or unbalanced stereo signals. Common uses for XLR cables include:
Microphones
Balanced line-level signals
Mixing boards
One consideration for XLR cables is that if any audio device in the chain of devices is unbalanced, using an XLR cable will cause the entire signal chain to become unbalanced.
Since studio monitors are powered speakers, you also don't want to connect them to any other device with an unshielded cable because the lack of shielding will produce humming and noise interference.
Radio Corporation of America (RCA) Cables
RCA cables use two separate cables to carry unbalanced right and left stereo channels.
Common uses for RCA cables include:
Cassette players
CD players
Audio connections for video devices like VCR or DVD players
Audio portion of video/audio cables
What Do I Plug My Studio Monitor Cables Into?
Your studio monitor cables should plug into the corresponding ports in the back of the studio monitor.
If you're trying to connect a studio monitor to a computer that doesn't have an audio cable interface, you will need to use a 3.5mm jack to 2x XLR male cable.
FAQ
Here are answers to questions people often ask about cables for studio monitors.
Do studio monitor cables make a difference?
It matters what type of monitor cables you choose. Choosing balanced rather than unbalanced cables can provide a signal without unwanted noise and interference if you have the correct inputs for them.
Do studio monitors have XLR, TRS, TS, or RCA connectors?
The three most common types of audio cable connectors that studio monitors have are XLR, TRS, TS, and RCA.
Does cable length for studio monitors matter? Is there a max distance a studio monitor cable can work?
Each type of studio monitor cable has limitations on when you will start to notice noise and static. Unbalanced cables have shorter limitations than balanced cables.
XLR: 100-200 feet
TRS: 100-200 feet
RCA: 100-200 feet
TS: 10-20 feet
You can theoretically run quality balanced cables (XLR and TRS) up to 1000 feet.
So, if you have a shorter cable and need to reach a longer distance, you can add an audio extension cable up to a reasonable point before experiencing distortions. However, for example, if you're using a TS cable with headphones, a TS headphones extension cable wouldn't be appropriate beyond a total length of 10-20 feet.
Does a cheaper cable for studio monitors affect quality?
A cheaper cable monitor won't likely affect sound quality. However, a cheap cable may not last as long if the company uses inferior wire. Additionally, if there's poor insulation within the cable, a capacitance charge buildup can result in crackly discharge microphonics.
In most cases, the main things that affect sound quality are the quality of your equipment (monitor, converters, preamps, transducers) and your monitoring environment.
How do I connect my KRK monitor to my computer?
Connecting a KRK monitor to a desktop or laptop computer requires a 3.5mm jack to a 2x XLR cable.
Final Thoughts on Cables for Studio Monitors
If you are setting up your studio you might need an RCA cable for your turntable and an instrument cable for your keyboard.
There are a variety of options for connecting studio monitors to instruments and audio equipment. Once you've determined which type of ports you have and which work best with your equipment, you can be more confident about which best cable for studio monitors to purchase.