Is your Xbox 360 power cord failing? Does your Xbos 360 suddenly turn off or overheat?
You may think that since your Xbox model isn't made anymore you'll have to pay a significant sum or simply have to let go of your Xbox. That is not the case.
Let us help you find the best Xbox 360 (S & E) power cord. Here is a comprehensive list of different power cords for your Xbox 360.
The main difference between the Xbox 360 E and Xbox 360 S is that E is a quieter and cooler counterpart. However, there is little else that separates the two. They can both run on the same power cord.
Best Xbox 360 (S & E) Power Cord
Olort 2 Prong Power Cord Cable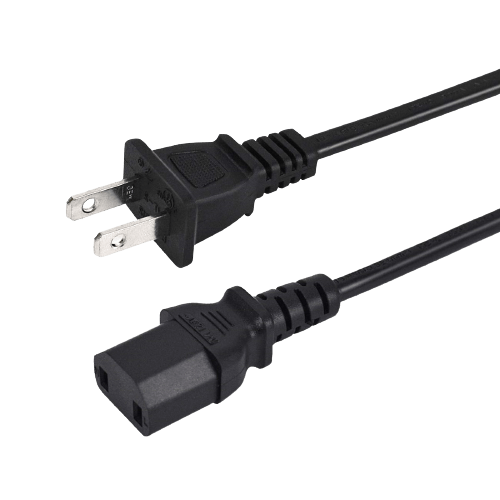 The Olort Store has created a sleek six-foot-long black power cord compatible with the Xbox One, Xbox 360 slim, 360 E, Sony PS4 Pro, and the PlayStation 4 Pro. Like many replacement cords, it's tested against overheating and overloading, all while offering protection against short circuiting.
This power cord comes with a 30-day money-back guarantee and a 2-year warranty.
This two-pronged power cable fits well, and you really can't beat the price. It may not have any bells and whistles, but it will keep your machine running and your game going. It might just be the best cable on the list.
---
EVAPLUS Xbox 360 E Power Supply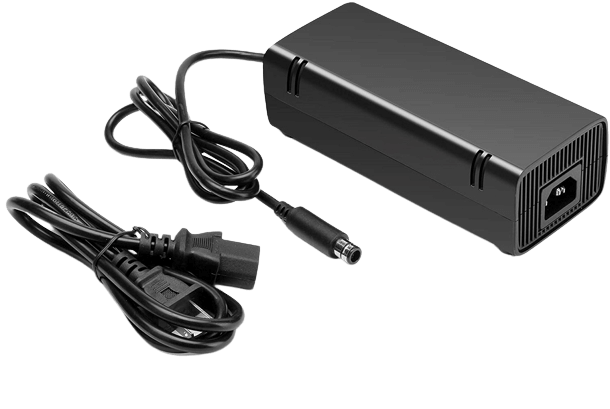 EVAPLUS has an Xbox 360 E Power Supply, Power Supply Cord AC Adapter Replacement Charger specifically made for the Xbox E. The power adapter plugs directly into the Xbox and the two-prong wall plug connects to the wall socket.
The power supply comes with an LED light to show the status of the device. There is a fan built into the power adapter to keep things cool. Even after a long game, this adapter keeps its cool.
EVAPLUS offers either a full refund or replacement if the power supply or cord does not work for you. Just be careful if you have an older gen Xbox as this cord may cause a catastrophic failure in power supply.
---
TPLTECH 4FT 2 Prong AC Power Cord Cable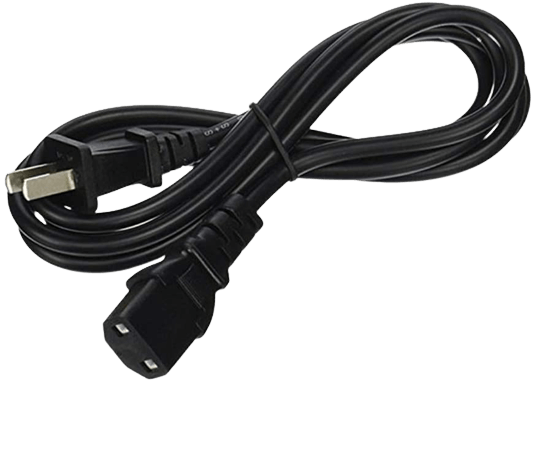 The TPLTECH Store has produced a 4-foot-long 2-pronged power cord. The power cord is compatible with Xbox One, Xbox 360 Slim, Xbox 360 E, Xbox 360 Pro, Xbox 360 Elite, Microsoft Xbox 360 Jasper, Falcon, and Slim Model.
There is a thirty-day money-back guarantee and a 12-month replacement warranty.
As with all the cables, you need to be sure this is compatible with your model. However, some reviewers have received the wrong model, so keep an eye out when yours arrives that you get the right version of cord. Some also report that it doesn't have a tight fit and may not stay in your console.
---
Best Xbox 360 Power Cord Slim
The Xbox 360 slim isn't just a skinnier Xbox. It has many ports that allow for more accessories. The fan cools down the system even better than in past models. This also makes the console quieter.
SISSFO Power Cord Cable
SISSFO has a Power Cord Cable Compatible with Sony PS4 Pro Console, Xbox 360 Slim/Xbox One/Xbox 360 E Power Supply Brick, 2 Prong Power Cable Replacement.
It is thick and durable which means it'll likely last longer than some cheaper made cords. By far one of the cheapest models, but also one that holds up. It doesn't have any extras or fancy bells and whistles, but it will keep your Xbox going.
However, the power cord may not fit snug on your device. Make sure to find the right angle so the cord stays plugged in and your Xbox Slim runs smoothly. It comes off as a decent option as a replacement with minor flaws.
---
YUDEG AC Adapter for Xbox 360 Slim
Amazon's top choice is YUDEG's AC Adapter for Xbox 360 Slim, Yudeg Power Supply with Cord Replacement Charger Power Brick for Xbox 360 Slim Console.
It seems that if you want durability, this might not be the cord for you over the long haul. It works for a quick fix and the company is very responsive to customers and online complaints.
While one of the less expensive models on the list, the YUDEG is also one of the more reliable considering the price. If it doesn't work to begin with, the company is good about sending a replacement to arrive quickly.
---
YCCSKY Power Supply for Xbox 360 Slim AC Adapter Power Supply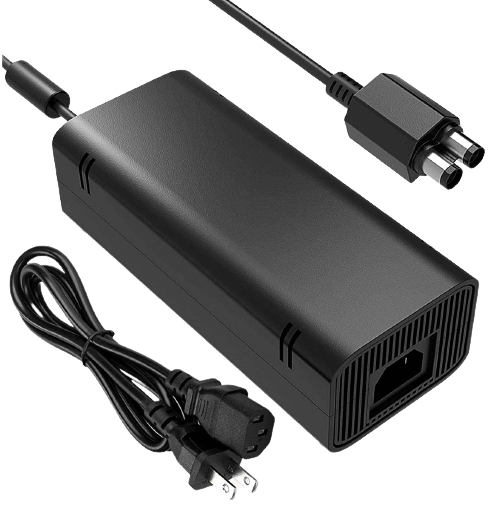 The YCCSKY store's Power Supply for Xbox 360 Slim AC Adapter Power Supply Brick Charger with Cable for Xbox 360 Slim has the highest amount of reviews out of these top three products.
The product is slightly pricier than the other options but it's still very affordable and it ships fast.
This model is relatively quiet, and it's a good price for what you get. It's not the coolest or the most reliable on this list, but it will do the trick in a pinch.
---
Best Xbox 360 Power Brick
The Xbox 360 power brick is the big grey box that is found on the power cord. It needs to be replaced if it is damaged. If it is not, it can damage the console.
TNP Xbox 360 Power Supply AC Adapter Brick with Charger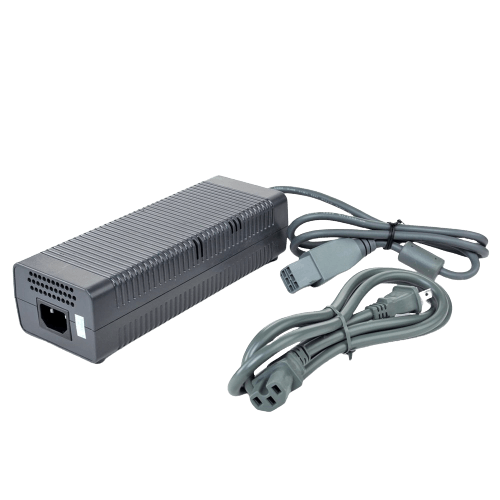 TNT Products keeps an Xbox 360 power supply in stock. Since this power brick is for the original Xbox 360, the price is a little higher. This product is one where you need to check the back of your Xbox 30 to determine compatibility.
The brick seems to come used on occasion and is difficult to get working.
If you're good at troubleshooting and don't mind a used product, this power brick is a good option. However, use this cord with caution. Many have experienced issues on arrival, or the cords quickly developed issues. As with any cord, make sure you're getting the right one for your Xbox model.
---
Old Skool AC Adapter Power Supply Cord for Xbox 360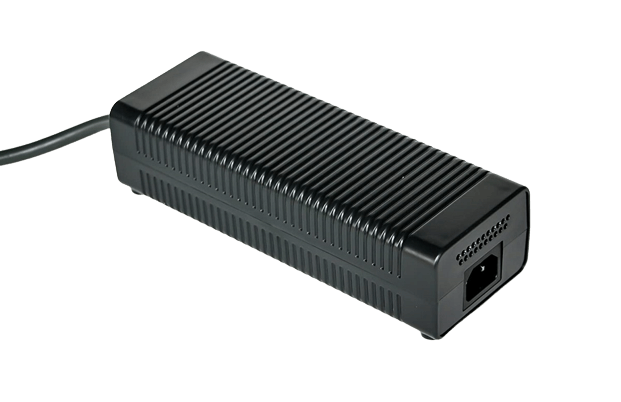 Old Skool store has an Xbox 360 power brick. While it was created for the original Xbox 360, it will also work with the Xbox 360 falcon and the jasper revision Xbox.
This option is not the most durable, but it fits tight. The bright side is that you won't have to worry about it falling out.
Unfortunately, this model isn't the most reliable and it may wear out within a week. Keep an eye on it to be sure it doesn't overheat as well.
---
Ponkor Power Supply for Xbox Replacement Power Brick Adapter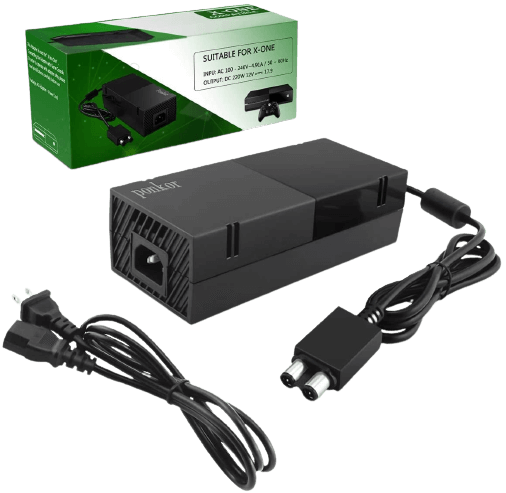 This Ponkor global adapter for Xbox One uses Input: AC 100-240V and OUTPUT: DC 220W 12V. It's got a built-in Smart Chip that prevents your Xbox from short-circuiting due to overcharge. This model also prevents overheating and offers protection against overcurrent and over-voltage, keeping your system safe.
It also has an LED light that changes color, indicating whether your console is getting a good charge or not. It's also quiet, so it won't interfere with your gaming, even though it may be slightly louder than the original.
However, it charges the Xbox quickly and securely, all while staying cool, which in turn helps performance.
---
Do All Xbox 360 Use the Same Power Cord?
According to the Xbox support page, there are two main types of Xbox 360 power cords: DC and AC. For the most part, different Xbox 360 power cords are not compatible. The only exception is the 120-watt PSU and the 135-watt PSU.
Besides that, Xbox 360s cannot interchange power cords. Some will simply not be physically capable of plugging into the console. Others will damage the console. This is true across Xbox One and Xbox series. They are not compatible.
The use of non-compatible or unlicensed cords or accessories typically voids your console warranty.
Cleaning and Maintenance
If you're on the look out for a replacement for your Xbox Controller charging cable check out our article that'll help you choose your best option.
Dusting the exterior of the console is not enough to keep your Xbox 360 clean. Improper maintenance can lead to overheating and lags. It is important to clean your console carefully to avoid voiding the warranty.
If your console starts to make a loud buzzing sound when it is turned on, it may be time to give it a deeper clean.
With your console entirely turned off, take it apart. Start by removing the side panels and the wireless card. Then remove the outer casting.
Now that you have access to the inner casting, remove the drive and the fan cover. Then, using a small duster or pipe cleaner, loosen the dust.
Aim a pressurized air canister at the dust and take your time to ensure as much dust as possible is removed from the inner casing.
Once you're done, put the Xbox back together carefully. With that, you should have no more buzzing sounds.
If you do, contact support.
FAQ
Xbox 360 power cord differences?
Xbox 360 power cords tend to have similar voltages and the Xbox 360s tend to have similar batteries. However, the actual plugs change depending on the device so it is necessary to make sure you choose a compatible cord.
What type of power cord does Xbox 360 use?
Xbox 360 consoles use two types of power cords: DC and AC cords. AC cords connect to an adapter. DC cords plug directly into the wall.
Compatibility with Xbox One and Xbox Series
Although the batteries are similar the plug-ins are not. This means that plugs will not be compatible across different Xbox types.
Where to plug in the Xbox 360 power cord?
Your Xbox 360 power cord should plug directly into the wall. It comes with a surge protection feature built in so there's no need to worry about that.
It then plugs into the power cord plug on the device.
Final Thoughts on Xbox 360 (S & E) Power Cords
If your Xbox 360 isn't working the way it should, don't throw the system out! Instead, try a new power cord to see if you can extend the life of your console. After all, there are plenty of makes and models out there that will work with your machine, and you may find your gaming is as good as new with a replacement power cord. You might also need an Xbox 360 controller charging cable.