Those who need to improve their tech-savvy accessories should look into the best 6.3 mm to 3.5mm adapter for all their needs. Along with finding the right type of adapter for various appliances that make your daily life easier, finding a combination of the most reliable and the most cost-effective option can help consumers save money and purchase a long-lasting product.
These adapters make it possible to plug modern 3.5 mm headphones into larger 6.3 mm jacks commonly found on older stereos and record players, sound mixers, and electric instruments. They're inexpensive and relatively uncomplicated devices, but not all are equal in quality.
Best 6.3 mm To 3.5 mm Adapter
Nanyi ¼" Male to ⅛" Female Stereo Headphone Adapter

The NYANYI adapter, a popular Amazon option, is a male-to-female adapter connector cable and a 6.3 mm jack stereo socket to a 3.5 mm jack stereo adapter. This versatile auxiliary connector cable is compatible with various devices, meaning it should work with everything you use.
The NYANYI adapter works well for musicians who need to convert keyboard and piano cables and helps cancel out exterior noise. Featuring durable construction and a secure fit means you shouldn't encounter loose or unstable connections.
One thing to note with the Nanyi adapter is that, while it's advertised as a stereo adapter, it actually only has one audio channel. This isn't a problem if you're plugging your headphones into a single electric instrument but it might diminish the listening experience with a stereo or record player.
Highlights
Compatible with most devices
Helps cancel exterior noise
Durable construction for a secure fit
---
UGREEN 6.3 mm To 3.5 mm Headphone Adapter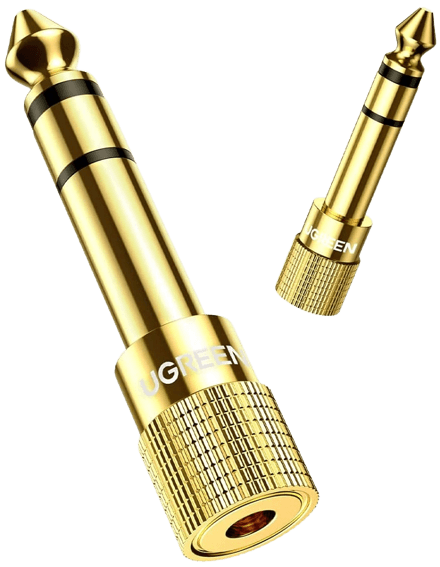 This 6.3 mm male to 3.5mm female adapter works well for digital piano amps, headphones, and guitars. UGREEN gives you two versatile adapters that work with all your devices, attachments, and instruments, making this product a high-quality, low-cost choice.
Not only will users enjoy the intense sound quality, but the intense-grip threads and added material durability ensures long-lasting use. Additionally, these headphone adapters feature corrosive-resistant, easy-grip material and durable brass copper.
However, this adapter does not mesh well with headphones featuring built-in microphones because the mic connection is spotty.
Highlights
Includes two adapters for the price of one
Uses corrosive-resistant, easy-grip materials
Excellent sound quality, except for microphone connections
---
Moborest Copper Adapter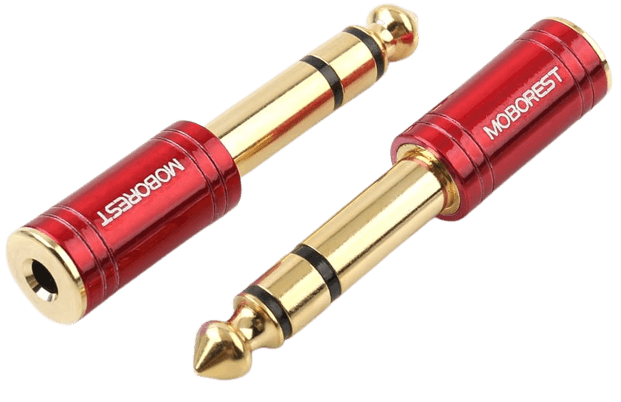 The MOBOREST ¼ inch to ⅛ inch female pure copper option with a 6.3 mm to 3.5 mm adapter is another versatile option. It is compatible with conversion pieces, headphones, amps, and musical instruments.
This adapter has durable material, fits with the 6.3 mm cables, and blocks some external noise. You can choose from several color options to add some flair and even pick up multi-packs.
There are a few drawbacks to this adapter, though. First, the copper adapter has some potential for low buzzing noises. Second, connections with other devices can be inconsistent at times. For example, if you use a headphones extension cable it might not be as tight as connecting it directly to the headphones.
Highlights
Durable materials
Some noise-canceling ability
May have inconsistent connections with some devices
---
Digitnow 6.3 mm To 3.5 mm Adapter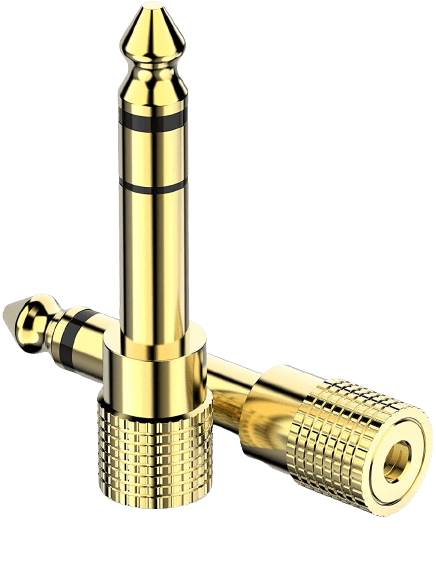 The DIGITNOW 6.3mm male to 3.5 mm female adapter is a solid option that provides high sound quality for guitar headphones and amps. Featuring gold-plated connectors, corrosive-resistant material, and compatibility with most audio equipment, this durable adapter provides a tight hold.
This adapter looks flashy, but that gold-plated finish actually improves the sound quality while providing protection against corrosion. It's an ideal choice for musicians who need to maximize the signal at every turn.
The only true downside of the DIGITNOW adapter is the lack of noise-canceling that you get with other items. While it's not an issue across the board, certain headphones might leak too much external noise. Further, the grounding is inconsistent, which can be a drawback for some musicians.
Highlights
Uses corrosive-resistant materials
Gold plated connectors reduce signal loss
Treading on the grip for easy handling
---
MillSO 6.3 mm To 3.5 mm Adapter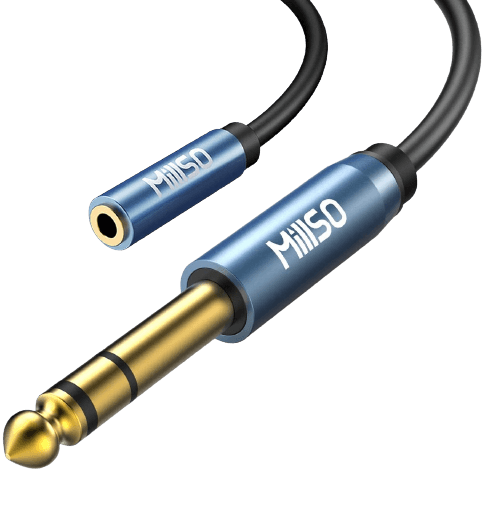 The MillSO 6.3 mm to 3.5mm headphone adapter is a versatile option compatible with most devices. They feature a durable PVC cover to prevent breakage and oxygen-free copper wiring to increase sound quality. Plus, this adapter has some water resistance.
This MillSO adapter relays clear sound with no distortion. You get a tight fit and a sturdy, high-speed connection. Since the manufacturer used pliable material, there is flexion than a normal adapter, so the contact points typically hold up better over time.
The only potential negative is that it can wear down and eventually produce static. However, this may be a quality control issue, and the manufacturer is happy to replace any faulty adapters.
Highlights
Flexible, durable PVC cover
Some water resistance
Sturdy, high-speed connection
---
VCE 6.3 mm To 3.5 mm Adapter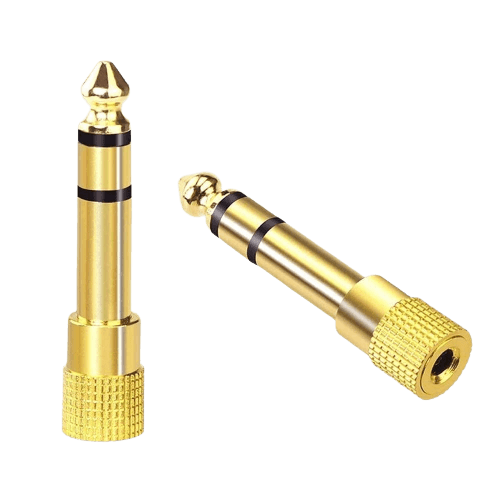 The VCE 6.3 mm to 3.5 mm female stereo audio jack adapter for cables, guitars, amplifiers, and other electronics come in a two-pack. This adapter features extensive compatibility for your needs and is usable with most devices.
This adapter produces clear music quality and consistent performance. It's a stylish gold color and comes at a low price. The connection is so strong that pulling out the 3.5 mm plug can be difficult at times.
The only drawback is that there might be some quality control issues with this brand. Some adapters apparently arrive with a looser connection than others. However, the company offers free returns.
Highlights
Clear sound quality
Strong, secure connection
Versatile enough to work with most devices
---
What Is 6.3 mm to 3.5 mm Adapter
A 6.3 mm to 3.5 mm adapter is a useful cable that converts a 6.3 mm jack plug into a smaller-sized 3.5 mm jack plug to accommodate various electronic types and appliances. This adapter is usually used for musical equipment, small-sized electronics (like headphones, smartphones, computers, or tablets), and speaker systems. Just like the audio extension cable that helps with improving sound and music quality, the 6.3 mm to 3.5 mm adapter helps connect various instruments and appliances.
The 6.35 mm connector is the largest of all jack types, commonly known as the ¼ inch male connector. The 3.5 mm connector is the miniature size of the former connector, which is typically called an ⅛ inch female connector.
Uses of 6.3 Mm to 3.5 Mm Adapter
So, why should you purchase the best 6.3 mm to 3.5 mm adapter for your electronic and compatibility needs? Understanding the purpose of headphone jacks and cables helps convert specific versions of jacks to other forms for long-term compatibility.
Devices That Use a 6.3 Mm & 3.5 Mm
Understanding the types of devices that use the 6.3 mm to 3.5 mm adapter can help consumers choose the best option for their specific needs. 6.3mm is a standard size for most instruments, whereas 3.5mm is a smaller version that is typically used for portable or smaller musical or electronic devices. In addition to other adapters, like the ⅛ to ¼ adapter, this connector serves a specific purpose.
6.35 mm devices:
Guitars
Electric pianos
Audio mixers
Speakers
Computers
TV consoles
Power amplifiers
3.5 mm devices:
Headphones
Smartphones
Tablets
Laptops
Portable speakers
MP3 players
DVD players
Earbuds
FAQs:
Consumers have common questions regarding the purpose of the 6.3mm and 3.5 mm adapter in regards to the compatibility with electronic devices. Understanding the job of this type of adapter and how it works is key to making a smart purchasing decision.
What does 6.3/3.5 mm stand for?
The 6.3 mm or 3.5 mm stands for the thickness of the cable in use. The "quarter-inch" or "6.3 mm" cable, plug, or socket is a 30-31 mm widespread technology option commonly used for musical instruments, microphones, headphones, and speakers.
The 3.5 mm cable, which is ⅛ inch thick in diameter, contains a plug length of 14mm and 17mm. This plug is usually used in video applications, headphones, and smaller electronics.
Does a cheaper 6.3 mm to 3.5 mm adapter affect quality?
A cheaper 6.3 mm to 3.5 mm adapter can affect sound quality if there is a lack of positive consumer reviews that indicate the reliability and trustworthiness of the product. Since this type of adapter may be cheaply made, featureless durable material, and have a weaker connection, it could have a shorter lifespan and low-quality sound.
How do I use the 6.3 mm adapter?
The 6.3 mm adapter is used for professional audio equipment, such as amplifiers, speakers, big instruments, or soundboards. Headphones can also use a 6.3 mm adapter with a longer cable for home audio or studio use. The most common reason to use the 6.3 mm cable is with amplifiers by inserting the cable into the input jack. You use it by simply plugin it in.
Final Thoughts
Now that you have all the information about 6.3 mm to 3.5 mm adapters and a list of the best in the market, you are ready to make the best shopping decision. Just follow the links to access your preferred 6.3 mm to 3.5 mm adapter.