If you own an iPod, MP3 player, or many other types of home audio equipment then you have come across the 1/8 jack, also known as the 3.5mm audio jack. It is the standard connection for audio devices and allows you to plug in your headphones effortlessly.
A Little History Regarding 1/8 and 1/4 Jacks
In 1878 the 6.35mm jack was created, also known as the 1/4". This chunky connector was used on switchboards, allowing operators to switch between channels by pulling the cable out of one slot and inserting it into another.
By the end of the 19th century, the first primitive headphones were developed, although they relied on vacuum tubes being placed by your ear. Of course, the 20th century brought advances in audio and the portability of equipment. This led to the development of the 1/8" plug, which is still used today.
It should be noted that Apple has stopped using these on their iPhones, encouraging people to shift to wireless technology. But, there is still plenty of equipment that relies on these jacks.
Introducing TRS
TRS stands for Tip, Ring, and Sleeve. It is the same principle that applies to both 1/8" and 1/4" plugs. A TRS can carry a stereo signal as it is split into three sections. The rings on the jack separate each of the connection points. This effectively creates the tip section at the end of the jack, the ring between the two rings, and the sleeve is closest to the molded grip. It is known as a balanced TRS cable or connector and is found on most 1/8" and 1/4" adapters.
In general, the tip is the left speaker channel, the ring the right, and the sleeve the ground.
When To Use 1/8" to 1/4″ Adapter
In general professional music equipment uses the larger 1/4" plug simply because it is more durable than a smaller plug. Of course, this means if you are trying to connect home audio equipment to professional gear you are likely to need a 1/8" to 1/4″ adapter (also known as a 6.3 mm to 3.5mm adapter).
Fortunately, there are plenty of good options to choose from.
Best 1/8 to 1/4 Adapter
TISINO stereo 1/8" to 1/4″ Adapter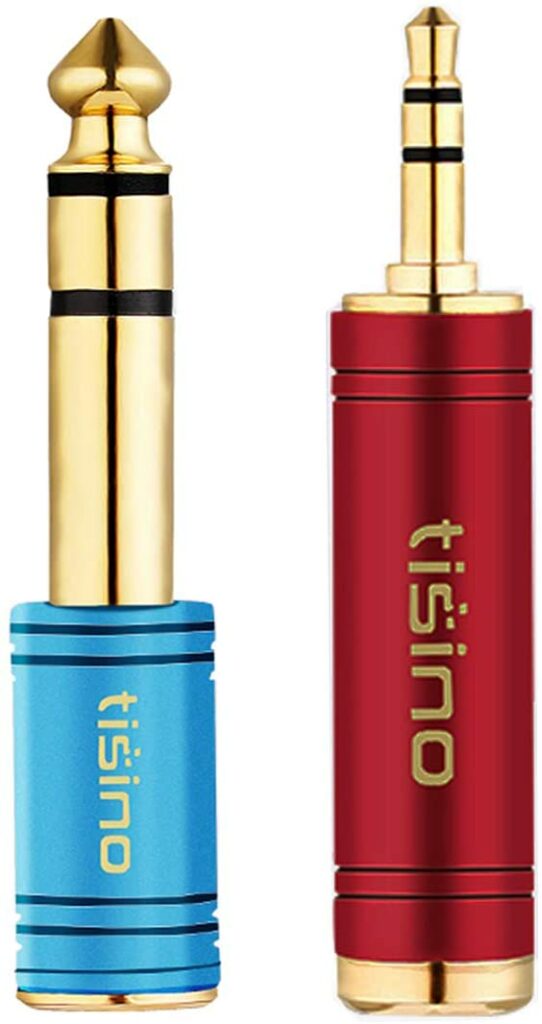 The Tisino 1/8" to 1/4″ Adapter is a high-quality product that actually comes in a two-pack. This ensures you can plug in any piece of equipment you want.
The pack includes an adapter with 1/8" female to 1/4″ male and the second adapter has a 1/4″ female to 1/8" male. It is a balanced TRS connector but does not support 4-pole TRRS.
The core is copper with standard insulation and aluminum shielding. It has a hard rubber 360° grip that makes it easy to plug and unplug, the adapter also benefits from gold-plating. This reduces the possibility of tarnishing and corrosion while maintaining signal quality.
This is a stylish but simple piece of kit that is compatible with most pro-home audio systems and weighs less than two ounces.
---
Nanyi 1/8" to 1/4″ Adapter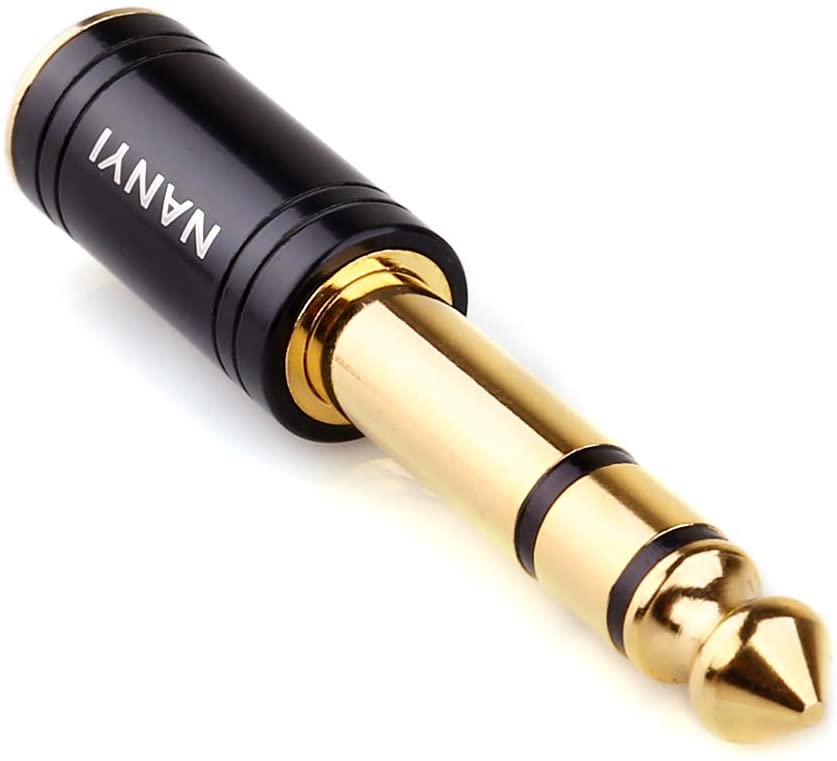 The Nanyi 1/8" to 1/4″ Adapter is similar to the Tisino adapter. However, you only get one adapter in this pack. It has a female 1/8" connection and a male 1/4″ jack that slots straight into the audio device. This is a well-designed and elegant adapter and offers a balanced TRS connection.
The adapter is molded in one piece to ensure strength in the body. The connection is copper and separated by the standard black rings, while the indent near the tip acts as a locking feature, helping it to stay in the socket.
The Nanyi 1/8" to 1/4″ adapter benefits from a hard plastic coating with grips built all around it, ensuring you can effortlessly plug it in and unplug it. However, you should note this item weighs less than an ounce, you need to make sure it is somewhere safe to avoid losing it.
---
Dukabel Male 1/4" to Female 1/8″ Adapter
This offering from Dukabel is slightly different as it has a cable attached to it. At one end is the male 1/4" adapter and at the other is the female 1/8" which is ready to accept a smaller jack cable. You are likely to need a male-to-male 1/8" cable to go with the Dukabel adapter.
The cable joining these two connectors is an impressive 16ft, (that's 5m). The cable is braided with aluminum shielding and an oxygen-free copper core, ensuring great signal quality. The actual connectors are gold-plated to protect against corrosion and ensure signal quality. The molded connectors have grips that are designed to minimize damage when using the adapter.
This cable is also available in other lengths, including 1ft or 8ft. It has been tested to ensure durability when being used and repetitively plugged and unplugged. Purchasing this Dukabel adapter also gives you a 12-month warranty for peace of mind.
---
Digitnow Headphone Adapter Set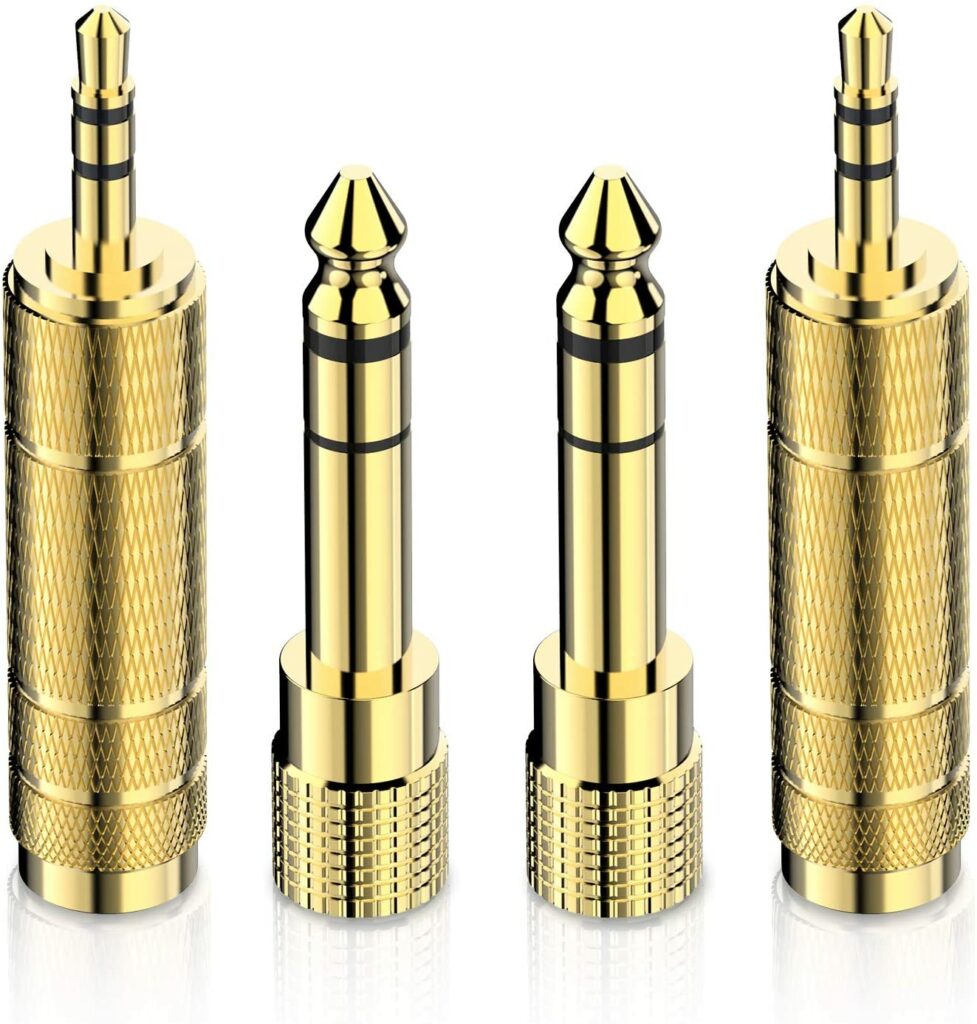 The Digitnow headphone adapter set gives you all the adapters you could need to connect any musical items together and enjoy the sounds.
The set comes with two 1/8" female to 1/4″ male adapter and two 1/4 male adapter to 1/8" female. All the adapters are made from copper and are gold-plated. This ensures it has great signal quality and is durable, you can use them over and over again.
It s worth noting that there is no plastic covering on this adapter, the entire adapter is molded from metal and there are indents in it to ensure you get a good grip when plugging and unplugging it into your system.
It is simple to use and provides the perfect solution for every occasion.
---
Beznaka 1/8" to 1/4″ adapter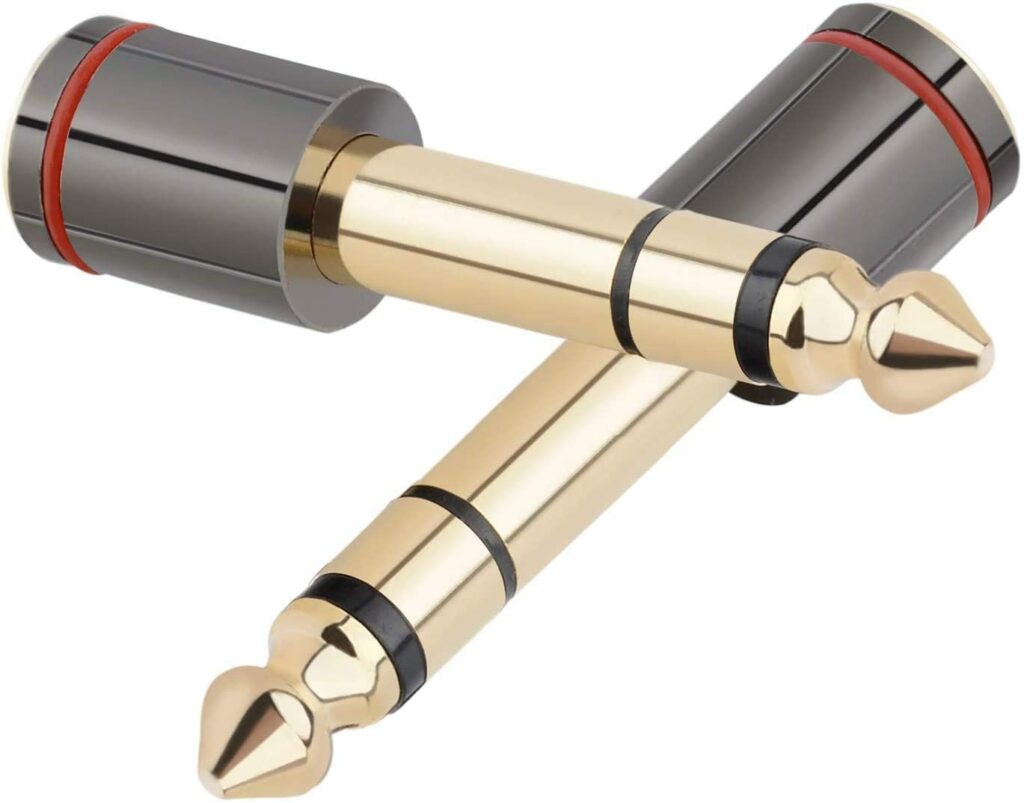 The final offering is the Beznaka 1/8" to 1/4″ adapter which is a gold-plated adapter with a stylish grey gripped piece incorporating a red band. The overall length is 48mm, the grip is just 15mm, and the width at the grip end is 11mm.
It has a 360°grip facility that ensures it is inserted correctly every time. This adapter has gold-plating and uses oxygen-free copper which minimizes any interference while maintaining signal quality. It is durable and easy to carry with you, ensuring you always have the connection you need.
Of course, it comes with a guarantee to give you peace of mind and a standard 30-day return policy.
---
Things To Consider When Choosing A 1/8" To 1/4" Adaptor
There are several things that you should consider before you choose the perfect 1/8" to 1/4" adaptor.
The most important part of choosing any item is to be comfortable with the manufacturer of the product, and the supplier if necessary. If you already know who the manufacturer is and have dealt with them before then you are off to a good start. But, if you haven't heard or dealt with the manufacturer before then you need to do a little research.
The best idea is to talk to family and friends to see if they have any experience with the manufacturer. If this doesn't enlighten you then you should check social media and online forums. You will find an array of honest opinions regarding the manufacturer and specific products.
This will ensure that you are comfortable with the product before you order it.
It is important to assess the quality of the 1/8" to 1/4″ adapter before you select the right one. A good quality adapter will have a copper core, plastic insulation, shielding, and outer insulation.
The better the quality of the materials the better your signal and the longer the adapter will last.
You should always spare a few moments to assess the average cost. All you need to do is look at a few adapters, such as the ones listed above. You will see they are all competitively priced.
This can also help you to determine if an adapter you are considering is too cheap or too expensive. While it is always good to get a bargain, if the adapter is too cheap you may be getting inferior quality. Equally, one that is over average price should have something extra to justify the high price point.
You want quality but it should be at the right price.
Final Thoughts On 1/8" to 1/4″ Adapter
It is always worth spending a few moments considering the options when choosing a 1/8" to 1/4″ adapter. This will ensure you get a good quality product that will improve your music experience or sound.
All the options listed above are worth considering, you simply need to take the time to look at them and choose the one that fits your needs best.