Technology changes rapidly. You only have to look at audio products to see the way things have changed some products get new versions that are too different so you need converters like the Magsafe to Magsafe 2. After all, many people today have no idea what an audio tape is and compact discs are heading the same way.
Of course, the problem with technology changing all the tile is that you are bound to have a device or two that uses 'old-fashioned' ports and you will want to connect them to modern appliances. This generally means you need to rely on converters, such as the AV to USB converter. 
What Is AV?
AV is the shorthand for Audio Visual. It is effectively a way of transmitting electronic signals from a player to the screen. This type of electronic signal transfer can accommodate both video and audio, making it an effective and popular way to play movies, slide shows, and even handle corporate conferencing.
However, AV relies on several ports. You will see them grouped together on the back of the device. The usual set-up is to have the ports color-coded; yellow, red, and white. The yellow port is the one that varies video and is generally referred to as the composite video connection. The red and white ports both send audio. Two ports mean two channels and the ability to send stereo signals instead of mono.
Why Convert To USB?
Audio Visual connections are common on many home theater devices, including older game consoles. They often connect directly to the television via AV ports. All you need is an AV cable and you are good to go.
However, if the television, computer, laptop, or other device doesn't have AV input ports, you will need to connect another way. The most popular port on almost all equipment is a USB. A Universal Serial Bus is built into most modern appliances. Even televisions often favor these or HDMI over AV simply because they are more practical, especially as households increasingly use smart technology.
The good news is that if your display device has a USB port and not the AV ports, but your output appliance has AV ports, you can use one of the following AV to USN converters to transfer the signal effectively.
Using An AV to USB Converter
These converters are very simple to use. The converter has female ports that accept your standard AV cable. At the other end of the converter is a USB port that slots straight into the display device. There is no need to download any software, these converters are plug and play.
Best AV to USB converters to choose from:
Duttek Converter Cable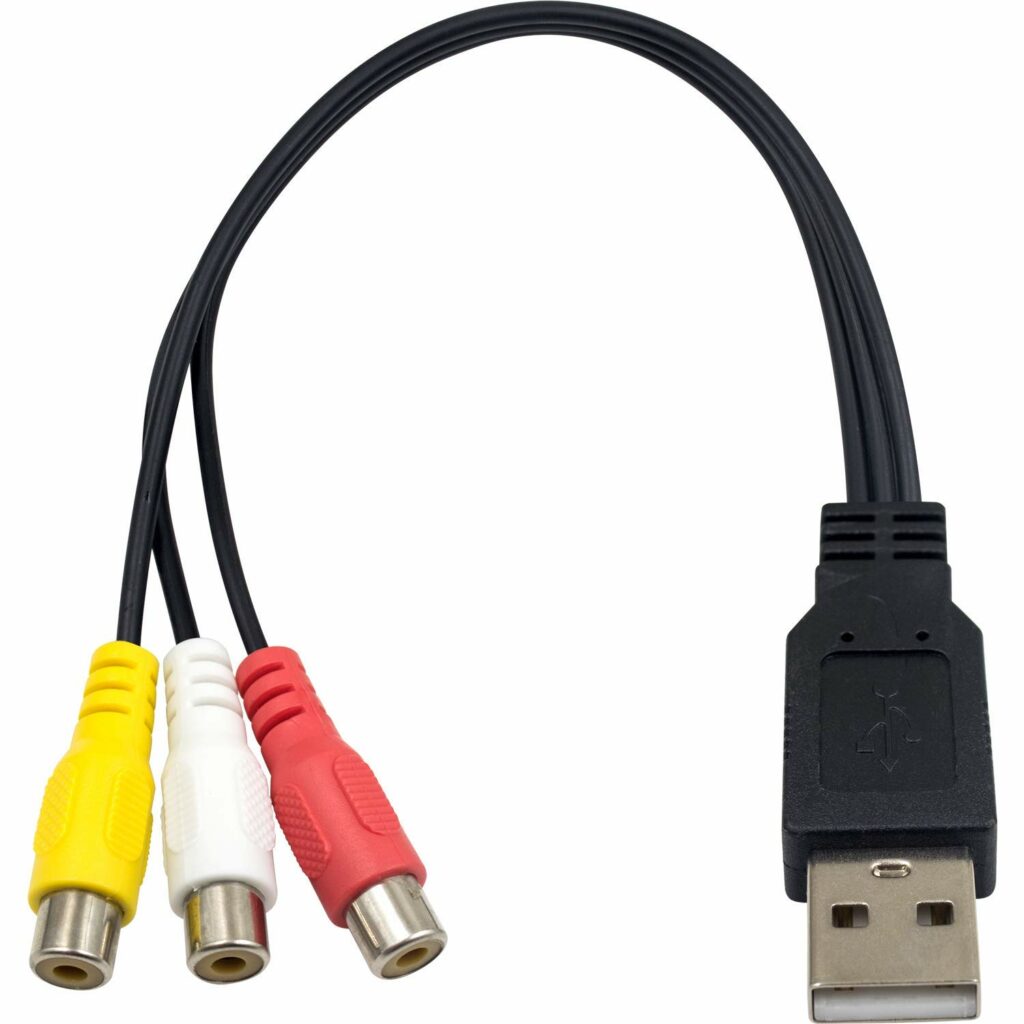 The Duttek converter cable is listed as a Duttek RCA to USB cable as the AV connections are often referred to as RCA cables. This converter is relatively short at just 10 inches long. At one end are the standard AV connections in red, yellow, and white. It should be noted that these are female ports. You will need a male-to-male RCA cable to connect your device to the converter.
At the other end of the cable is the male USB port that goes into your computer or other appliance. It is USB 2.0 compatible. The plugs are molded with grip connections to reduce tension and the core is copper to maximize the signal quality.
---
Draw A Dragon RCA to USB Cable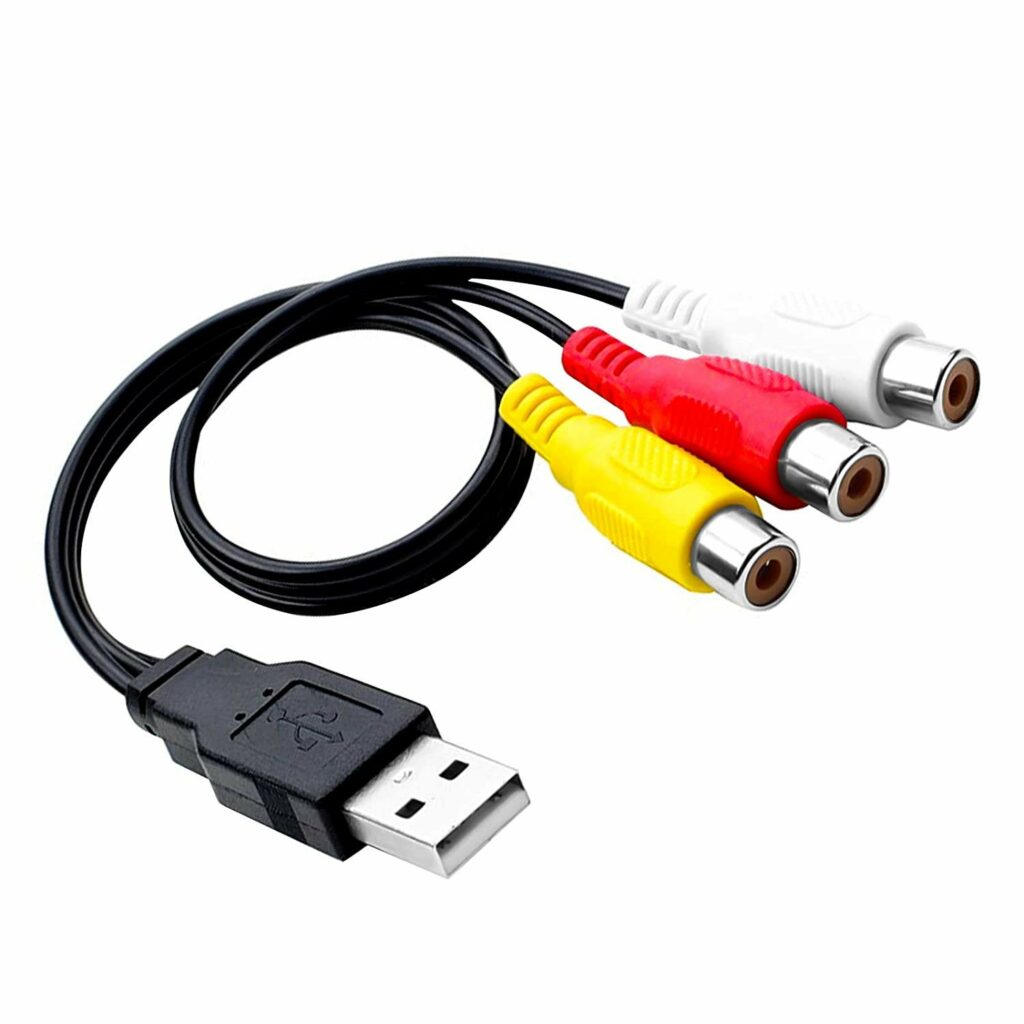 Although the name is a little unusual the cable is high quality and built to last. This offering from Draw A Dragon has the standard three female ports that can be connected directly to your RCA cable and AV ports. At the other end of the 10-inch cable is the male USB port which can handle USB 2.0.
Again, the ends are molded to create a gripped section and the cable has a copper core to maximize signal quality with appropriate insulation. It weighs less than an ounce and can be effortlessly carried anywhere with you.
---
iGreely USB to 3RCA Converter Cable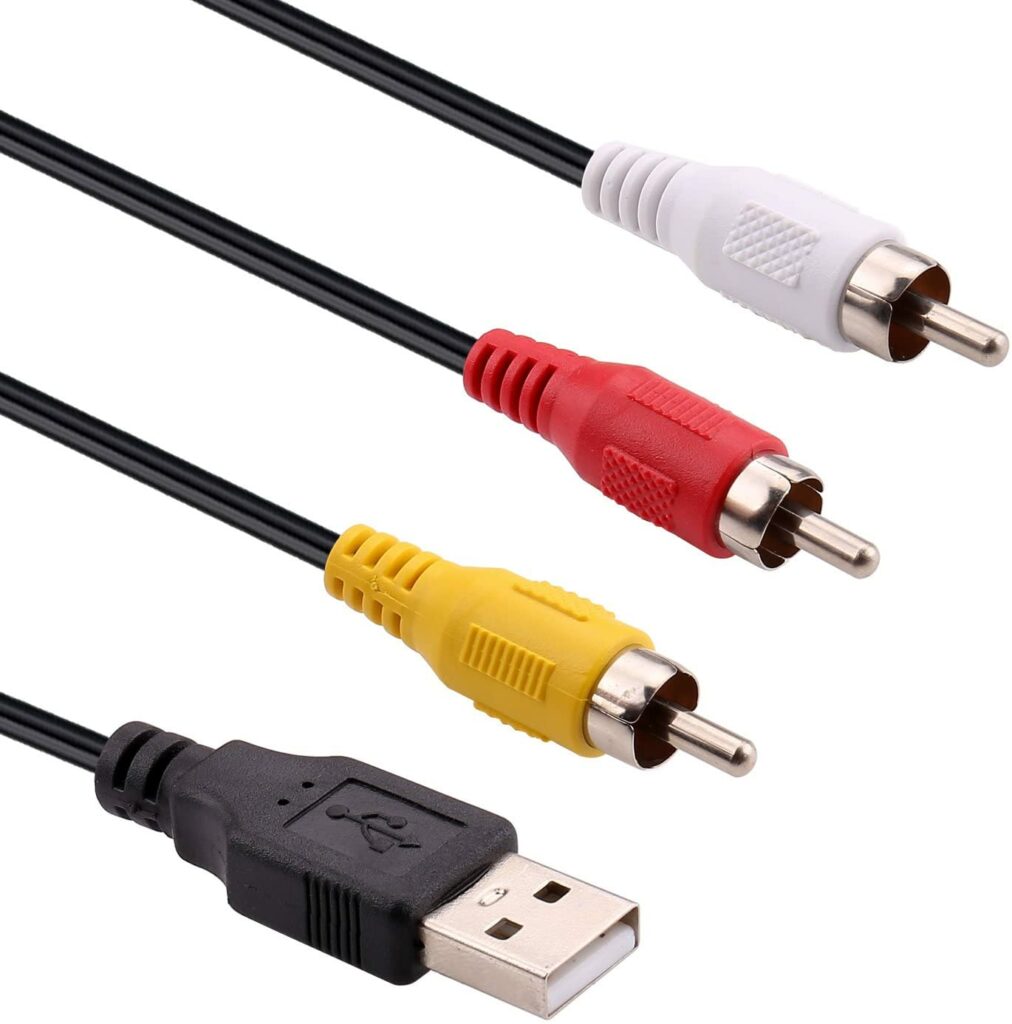 The main difference with the iGreely USB to 3RCA converter cable is that it has male AV connections. This allows you to plug it directly into your output device. The cable is 1.5 meters long which should be long enough to connect your device directly to the display monitor without using another cable.
---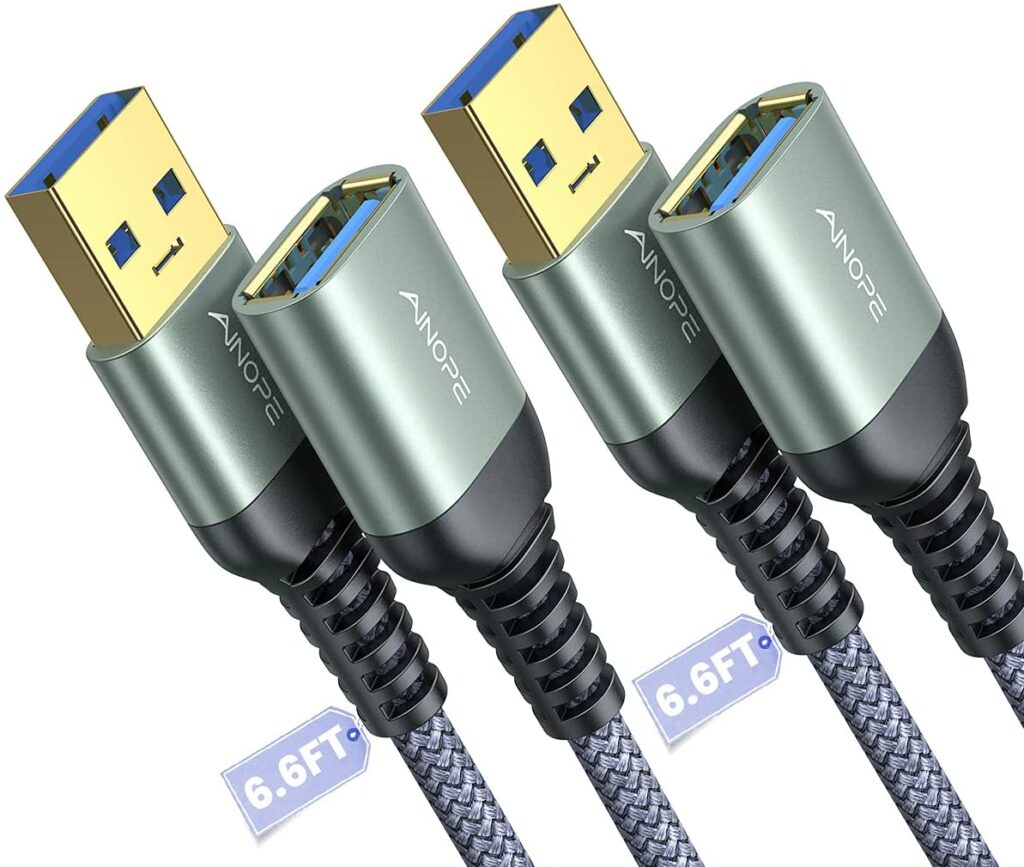 However, if you need a longer cable you can use a USB extension cable to ensure the very best sound and video quality.
The cable has the same features as the above offerings. Oxygen-free Copper wire is protected with insulation and an outer soft PVC jacket while the connections are molded to provide strength and grip. In short, it will give a high-quality signal. This offering does come with a 2-year hassle-free service.
---
Duttek USB to RCA Cable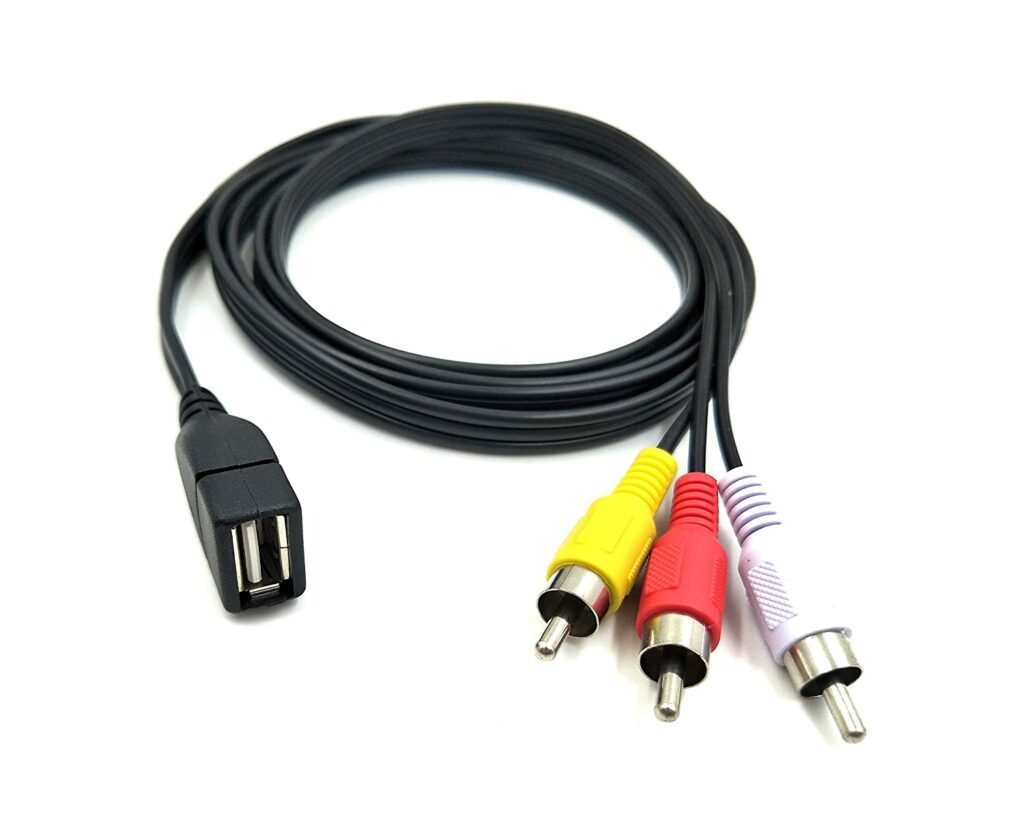 The second offering from Duttek is a little different from the first. It still offers an oxygen-free copper core with double shielding, using aluminum foil, to minimize interference and maximize the signal quality. The converter also has a soft PVC protective cover and molded ends with grips to reduce tension when plugging and unplugging
But, this AV to USB converter has male AV connections and a female USB connector. The cable is already 1.5m long but it is designed to connect to an existing USB cable, the converter acts as a USB extension as well as an AV converter.
It is well built, weighs approximately 1.5 ounces, and will last for years.
---
Yeworth USB to 3RCA Two Pack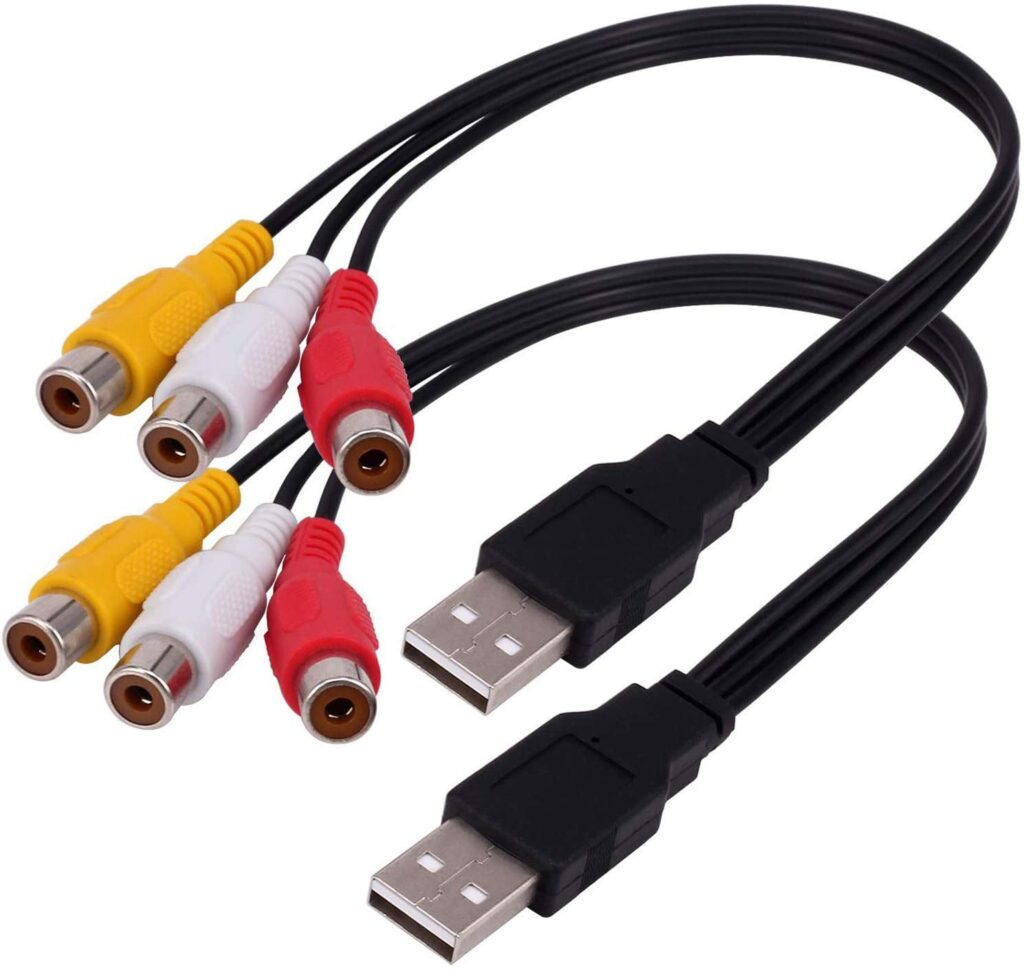 The Yeworth USB to 3RCA converter cable actually comes as a pack of two. Both cables are just 10 inches long and have a standard set of female AV connections at one end and a male USB at the other. The cables are well built, having an oxygen-free copper core, aluminum shielding, and a soft PVC coating. This ensures the signal quality is excellent and there is no interference from EMI or other electronic issues.
Alongside this, each cable has the standard molded grip connectors to ensure the cable is not strained as you plug and unplug it. Having two AV to USB converters can be useful to ensure you always have one handy when you need it!
Each cable weighs less than an ounce and is ready to use, just plug it in and enjoy!
---
Things To Consider Before Choosing An AV to USB Converter
The above AV to USB converters are all good quality and worth purchasing. However, if you are thinking of choosing a different AV to USB converter you should spare a few moments to consider the following:
The most important part of the equation is who has made the AV to USN converter and who is supplying it. If you know and respect the manufacturer then you are off to a good start. But, if you haven't heard of them before it is essential that you do your research first.
You can speak to friends and colleagues regarding the manufacturer to see if they have dealt with them and what they think of them. It is also possible to look at social media and online forums where you will get some honest feedback. This can be invaluable when making a decision.
A good AV to USB converter should cost no more than $20, although there are 0065ceptions. The key to ensuring you are paying the right price is to look at several and consider what the average price is. Once you know this you will be able to decide if the converter you are looking at is over or underpriced.
Underpriced can seem like a bargain but you may be getting an inferior quality product. Equally, if it is overpriced you will need to verify what extra you are paying for.
It is also important to look at the quality of the AV to USB converter. You need to choose one that is well built and will last. It also needs to have used high-quality components in the build. This will ensure it is free from interference and you get the best possible signal quality.
You should spare a few moments to consider the length of the AV to USB converter cable you need. The shorter cables are usually 10 inches long and have female ports, suggesting they need to be connected to an RCA cable. But, you can get these with male connections, allowing you to just use the converter cable. It is also possible to get longer cables. You need to consider what you are using it for and how far apart your appliances will be before you order an AV to USB converter.
Final Thoughts
The majority of AV to USB converters work in the same way and are made to the same standards. However, as mentioned above. It is important to verify this before you commit to purchasing.
This will ensure you have a high-quality AV to USB converter that will last you for years. That helps when you, your family, and your friends want to enjoy your video presentations.