The original Magsafe power connector was introduced by Apple Inc in January 2006. In essence, it's a power cable for your Apple computer that has magnetic built into it. These ensure the cable stays in position even if it is subjected to unexpected forces.
For example, tripping over the cable will tug on the computer and remove the cable safely. This prevents damage to your power cable and potentially your computer as it won't be pulled to the ground.
Considering the cost of a MacBook that's a worthwhile addition to the laptop.
Of course, this simplistic explanation hides the fact that this is a technological masterpiece. It allows the computer to connect securely to a power supply and other devices. The technology is an advancement in Japanese deep fryer connectors and uses magnets that are symmetrical, reversible, and opposing polarities. This allows the connector to be inserted in either direction, although 'L' shaped connectors can only fit in one orientation. An LED light will tell you whether your MacBook is charging or fully charged.
In 2012 the Magsafe 2 was introduced, returning to the original 'T' shaped design. Its redesign was essential to ensure it fitted with the modern range of laptops, they are much thinner than their predecessors.
The Magsafe 2 is not compatible with the original Magsafe connector. To use the two together, you need to have an adapter.
Sadly, the MagSafe and MagSafe 2 have been phased out recently and replaced with the USB-C cable.  That leaves many people with the dilemma of having a MagSafe 2 computer connection and a MagSafe cable. Equally, you may wish to connect your LED cinema display, Thunderbolt display, or another piece of equipment to your computer. For that, you will need an adapter.
Types of MagSafe
The laptop MagSafe plugs into the MacBook directly, while the iPhone version uses a ring of magnets on the charging coils for quicker speeds. You can buy charging mats, battery packs, and sleeves for iPhones. Since the phones have a magnet installed, they snap into place when you charge them.
Your AirPods case has built-in magnets, so you can use the same charging puck as with your iPhone. To charge an Apple Watch, you can get a MagSafe Duo Charger. It has a magnetic disc for your phone and a neighboring spot for your watch.
Apple Original
Apple MagSafe Converter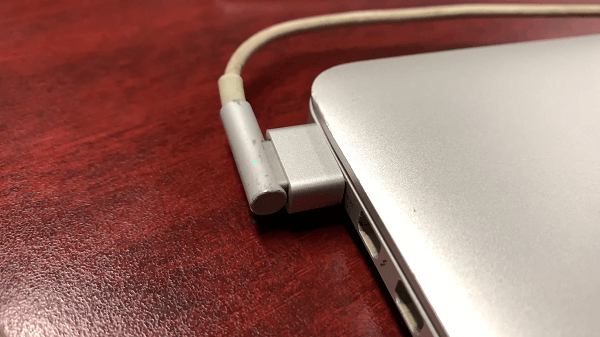 Apple has created the Apple MagSafe to MagSafe 2 converter. It does exactly what it says, allowing you to connect items with MagSafe connections to your MagSafe 2 Apple computer.
It is compatible with the 24 inch and 27 inches Apple LED cinema display, the Thunderbolt display, the MacBook Pro with Retina display, MacBook Air, and both the 45 watt and 85-watt Magsafe power adaptors.
In short, if you have an Apple Magsafe device and need to connect it to your Apple computer that has Magsafe 2, this connector will do the job.
The MagSafe to MagSafe 2 adapter is an Apple product. This means you'll struggle to find it outside the Apple store. However, there are some Apple MagSafe to MagSafe 2 adapters to be found on Amazon.
These work in the same way, allowing Apple LED displays and Thunderbolt displays to connect to your Apple computer.
It's worth noting that the adapter weighs just .64 ounces, making it very easy to carry anywhere with you.
However, you may not be surprised to discover that Apple has patented the technology. This effectively limits the ability for other manufacturers to use magnetic connectors or to create Magsafe to Magsafe 2 converters.
However, manufacturers have been developing Magsafe to USB-C adapters which are proving beneficial to new Mac users and even some Windows users!
---
Best MagSafe to MagSafe 2 Converters
ELECJET USB-C Magsafe Adapter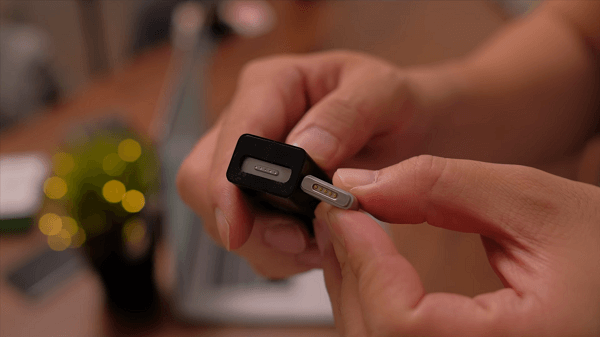 This clever adapter from ELECJET allows you to connect either a MagSafe or a MagSafe 2 able to a standard USB-C port. Considering the latest Apple computers are missing the MagSafe connection this is an innovative way to allow you to connect your Apple device to the latest MacBook Pro or Air.
It can even work with most other USB-C laptops. Of course, with non-Apple computers, the adaptor will allow you to charge your computer. But, it may not allow you to connect to other Apple devices.
It is USB-IF certified, ensuring that it will protect your MacBook while being charged at either 60W or 85W. It also utilizes AnyWatt MS support, giving a power range at 3 amps of 5V, 9V, 12V, and 15V. It can also handle 20V at 2.25 amps.
This adapter was originally Kickstarter funded in 2017 and is considered the first USB-C to Magsafe and Magsafe 1 adapter.
You should note this is not compatible with the 2019 MacBook Pro 16".
---
Knaive USB-C to Magsafe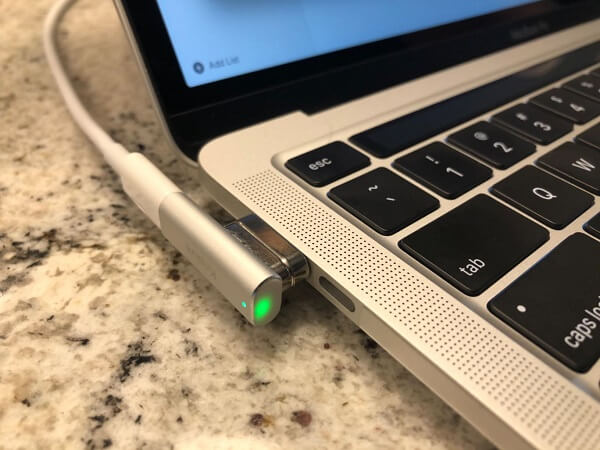 The offering from Knaive is very similar to Elecjet but works the other way around! This adaptor has a MagSafe connecter that slots directly into your laptop. It will not work with the latest MacBook's as they have USB-C charging ports. 
However, it will connect with almost any other device and deliver a consistent and steady power supply. It can even handle the quick charge setting of your Apple laptop which runs at 20v and 5 amps. The pins themselves are 24k gold-plated. Making them excellent at transmitting signals and still easily pulled apart if the cable is accidentally snagged. Effectively keeping your computer safe.
The adapter works with any USB-C cable, allowing you to use the same cable to charge your phone and your laptop. It's reversible to ensure your cable can leave the computer in either direction and it has a green LED that confirms connection has been made.
The cable and adapter will support up to 10Gbps of data transference and 4K video, (at 60Hz). But, t isn't compatible with the Thunderbolt 3.
The Knaive adapter is well made and durable. Perhaps the biggest issue with it is the fact that it's so small. You'll need to keep it somewhere safe or you'll never find it when you need it! If it helps you can choose between gray or silver.
---
Anywatt USB-C to MagSafe Adapter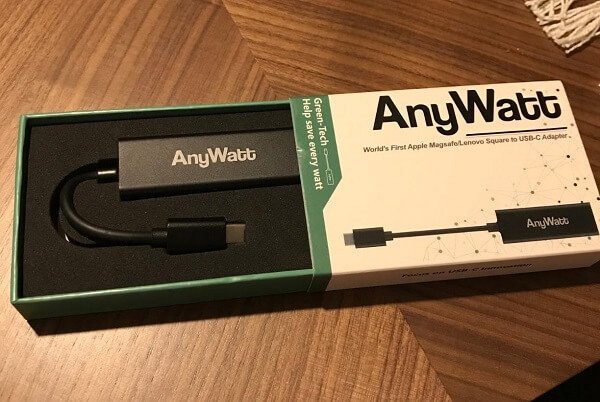 This is another adapter that will allow you to use your Magsoft power cable n a USB-C device. You may wonder why this is necessary. However, if you have more than one Apple computer or device you'll likely want to connect them together.
The Anywatt adaptor plugs into the latest versions of the MacBook and allows you to connect the computer to the power supply or your other Apple devices. What makes this a particularly attractive option is the ease in which you can charge multiple devices and all you need is a standard USB-C charger and this adapter.
This adapter is designed to offer protection against overcharging, overheating, and over-voltage, all things which can seriously damage your computer. You'll also get excellent tech support and customer service assistance if required.
---
Answin MagSafe to USB-C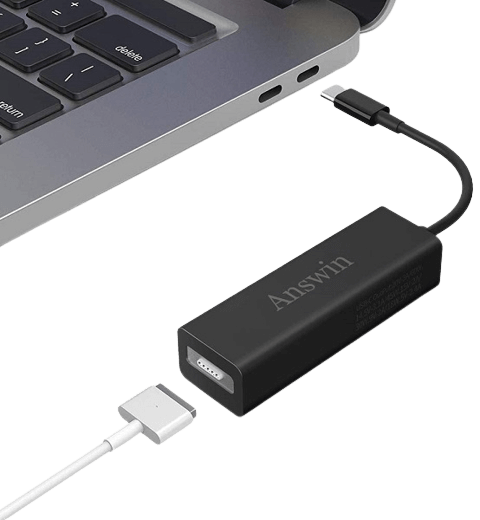 The Answin MagSafe to USB-C adapter works with versions 1 and 2 of MagSafe. It plugs directly into your new MacBook Pro or many Windows computers. The adapter then sits next to your computer and allows you to connect your MagSafe 1 or 2 to it. Should the cable get tugged the connector will safely separate, leaving your laptop safely on the desk.
By allowing you to use your old charging cable Answin is reducing the amount of discarded cables and helping to save the environment!
It is compatible with virtually any device but, if you have a high wattage demand, (above 60W), you may find this cable and adaptor combo takes longer to charge your device than usual.
The adapter offers over current protection, overheating, and voltage regulation. In short, your laptop will be safe while you use this adapter.
It should be noted that several people have reported issues with the charging light. This doesn't prevent the cable or adapter from charging. You're just not sure when it is fully charged.
---
MagSafe vs. MagSafe 2
The original MagSafe was a great invention because of how the magnets keep the cord connected to the laptop. However, MagSafe 2 was even better because it provided more security. The connector was slightly wider, giving the magnets more surface for connection.
A MagSafe 2 converter lets you use an original MagSafe with a newer Apple device. If you don't know the year of your MacBook, you can look at the MagSafe connection to tell the difference. The original port is thicker than MagSafe 2, though that one is longer.
The original cord had an L-shaped connection at the end, so the cable ran down the side of your laptop. MagSafe 2 cords have the more standard Apple connection that looks like a rounded rectangle and sticks out from the port.
Besides the physical differences, there isn't much that changed from the original MagSafe to MagSafe 2. They both charged the MacBook efficiently and were only used as power cords. That limitation is just part of the reason Apple switched to USB-C cords for several years.
Devices That Use MagSafe
Apple primarily uses MagSafe technology for both the MacBooks and iPhones. MacBooks use different types of MagSafe depending on your laptop model and year. They include:
Original MagSafe on models from 2006 to 2012.
MagSafe 2 on models from 2012 to 2016.
MagSafe 3 on models from 2021 until now.
During the gap between 2016 and 2021, Apple used USB-C cords for their laptops. These cords provided the ability to charge other devices and transfer data, in addition to powering the MacBook.
MagSafe for iPhones is still relatively new. The latest iPhone versions use MagSafe, including:
iPhone 12 and 13 
iPhone 12 and 13 Mini
iPhone 12 and 13 Pro
iPhone 12 and 13 Pro Max
Frequently Asked Questions
You've learned what devices use MagSafe and the top five converters. If you need more information, check out the answers to these frequently asked questions.
Why is it called MagSafe?
The name MagSafe comes from the idea that magnets help the cable stay in place. When you plug in a MagSafe cord, it gently locks into the port with a magnet. The cable won't disconnect if you bump it, so you don't have to worry about damaging your port.
Can MagSafe be used on MagSafe 2?
No, you can't use MagSafe on MagSafe 2 because the newer option is thinner. It won't securely fit into your MacBook. However, you don't have to toss your older MagSafe. You can buy a converter, such as those reviewed above.
Is MagSafe 2 the same as MagSafe 3?
MagSafe 2 isn't the same as MagSafe 3. Apple continues to streamline its technology, and you can see that in the thinness of the cords. While MagSafe 2 was thinner than the original option, MagSafe 3 is even slimmer. However, the port itself is slightly wider. Therefore, you can't use MagSafe or MagSafe 2 with MagSafe 3 devices.
Why was MagSafe discontinued?
People loved the magnetic security of MagSafe cords, but it wasn't powerful enough for Apple. The cord could only provide power to MacBooks. As other devices transitioned to USB-C cords, Apple made a similar change. Those cables can supply power while also transferring data and video and charging other devices.
Does Apple still use MagSafe?
Apple discontinued MagSafe after releasing the 2016 MacBook's. However, as of October 2021, MagSafe is back. Apple still uses USB-C ports for data transfer and charging, but they now include a MagSafe 3 port. The idea is that you can use the larger MagSafe 3 cord to charge at home and take a smaller USB-C charger with you when you work remotely or travel.
Is it possible to convert MagSafe 2 to the original MagSafe?
No, you can't convert a MagSafe 2 back to the original because it runs at a higher voltage. Older systems might not handle the increased voltage, potentially damaging your device.
Final Thoughts on Best MagSafe to MagSafe 2 Converters
The Magsafe and subsequent Magsafe 2 were ingenious inventions from Apple that appealed to buyers. After all, a new MacBook is a significant investment, this simple invention help to keep the computer safe, even if you were accident-prone.
The decision to move from MAgsafe to Magsafe 2 appears to have been driven by the increasing thinness of laptops. There simply wasn't room for a Magsoft connection point!
However, there appears to be less reason for the elimination of Magsoft 2. The MacBook may have become so light that the Magsoft 2 can't separate cleanly from it. Alternatively, Apple has just decided to go with the market and use the USB-C. Perhaps the most likely scenario is that they are already looking at future technology and the Magsoft is not a necessary part of it
One thing is certain, if you have a Magsoft device and a Magsoft 2 device, you'll need the Apple adaptor. This will ensure you can access the power and files you need