Thunderbolt 3 is a type of port on your computer. Although originally adopted by Apple computers, it was always intended to be used by all computers, regardless of the operating system.
The simple fact is that Thunderbolt 3 is fast. It uses the USB Type C connector. The first generation of Thunderbolt was capable of twice the speed of USB 3.0. More impressive was the fact that it could transfer all types of data. It doesn't just allow you to save data, it can actually transfer audio and visual information to other places.
Needless to say, the Thunderbolt 3 is significantly faster than the original version.
Unfortunately, most Thunderbolt 3 accessories are equipped with very short cables, this is because shorter cables are generally better at maintaining signal integrity. But, active extension cables include transceivers that maintain the signal, helping to ensure high-performance even on long cables.
That's why you need to choose your Thunderbolt 3 extension cables carefully. 
Best Thunderbolt 3 Cable
Startech Thunderbolt 3 Cable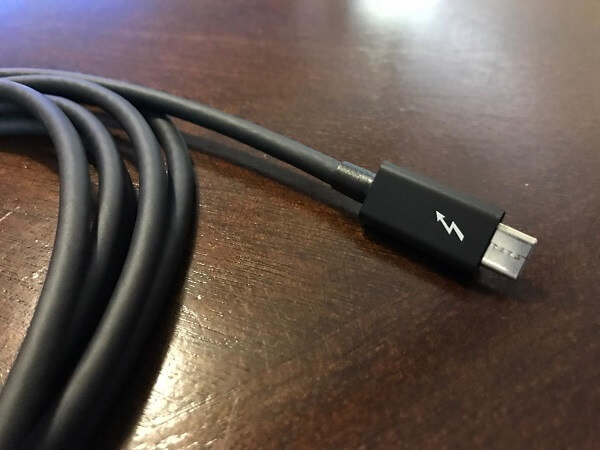 The final option on this list worth considering is the Startech Thunderbolt3 cable. This is another one that comes in a variety of sizes, ranging from 1.5ft to 6ft, with 2.7ft and 3ft sat in the middle.
Transfer rate for this cable is 40Gbps. To put this into context you'll be able to transfer a 4k movie in a matter of seconds. As is customary with these types of cables you can play to two 4K screens or one 5k one.
The cable can also be used to charge items, including your laptop. It can handle 100w of power, more than enough for most mobile devices. You can also use multiple cables to bridge multiple laptops, all of which are enabled with Thunderbolt 3, creating an effective peer to peer networking opportunity. Alternatively, it will allow a fast transfer of data when migrating data between PCs.
This extension cable also comes with certification regarding the quality and a 2-year warranty against any faults or issues. It's actually a great cable that will serve you well and should be considered.
---
2m Thunderbolt 3 Cable
Belkin Thunderbolt 3 Cable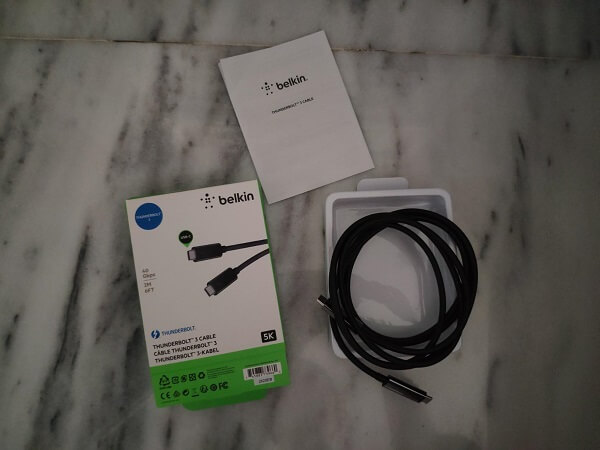 The Belkin Thunderbolt 3 cable has USB-C connectors on both ends. It's designed to handle 100 watts of power and carry as much as 40Gbps of data.
The cable is available in a variety of lengths, ranging from 1.6ft to 6.5ft, it can be used with Thunderbolt and Ultra HD displays.
The ability to carry 100w means that this can effectively charge virtually any piece of electrical equipment. It's backward compatible with USB 3.1, USB 3.0, and USB 2.0 and has exceptional bandwidth. The picture quality, even in video format, will remain crystal clear.
The USB-C connectors can be put into any USB-C connection or directly into the Thunderbolt port and will work effectively.
You can daisy-chain as many as six Thunderbolt 3 devices at the same time, proving how versatile this technology is.
The Belkin Thunderbolt 3 cable meets Thunderbolt standards, as disclosed by Intel. It's high-quality and durable, designed to last for years while doing its job discreetly.
It's worth noting that the smallest version of this cable weighs less than 1 ounce and is short enough to be carried anywhere with you. That makes it the perfect accompaniment in a variety of situations.
---
Thunderbolt 3 Extension Cable 40Gbps
Basevs Thunderbolt 3 Extension Cable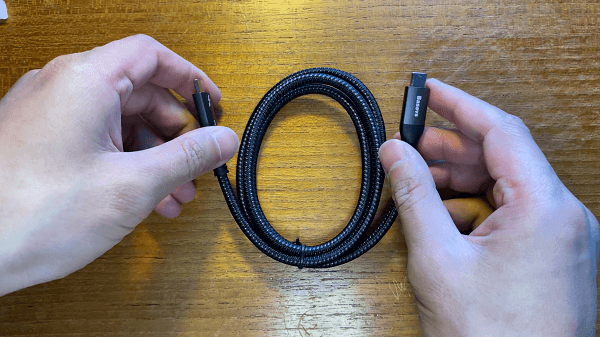 This Thunderbolt 3 extension cable from Basevs is 3.3ft long and potentially one of the best-looking cables you'll find available. It's USB-IF certified, can handle up to 100w of power, and delivers data at up to 40Gbps. At that speed, 25,000 photos can be transferred in one minute or 14 hours of high-quality video footage.
Of course, this is assuming you're using a Thunderbolt supported port. If not the transmission speed is reduced to the same as a USB 3.2 port.
It's an active cable with transceivers to maintain signal quality, hence the USB-IF certification.
Impressively this cable can be bent 15,000 times without damaging data integrity. It can also be inserted and removed from your devices 10,000 times with no discernable ill-effects. These tests have been carried out in the lab and every cable is certified to the same standard.
The cable itself is made from nylon braided type C cable, increasing durability and helping to ensure the cable can't be tangled.
The cable supports dual 4K screens or a single 5K, you'll find there are a number of devices that are backward compatible. Of course, the speed of data transfer will be reduced.
The manufacturer has confidence in their product as they offer a new replacement cable if anything goes wrong with yours!
---
Fast Charging Male to Female Thunderbolt 3 Cable
UGreen USB Extension Cable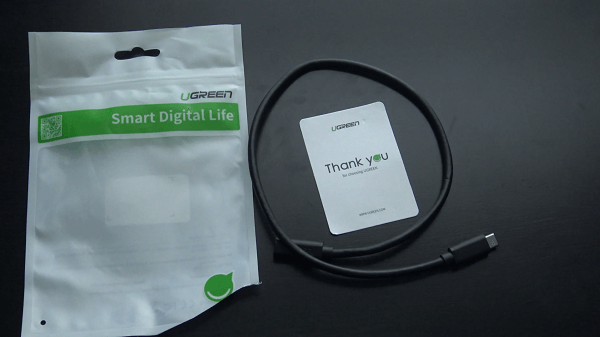 This cable is designed to improve the range of connectivity between USB-C devices and the computer, or even the games console. It is a male to female extension with type C connectors. This allows it to connect to an array of devices, including Thunderbolt 3.
The male to female connectors means that you can plug this cable into your existing Thunderbolt cable and literally extend it and your range. However, the transfer rate is likely to be closer to 5Gbs as opposed to the traditional 40Gbps.
The UGreen USB extension cable can be used with a multitude of different devices and works with all compatible USB-C ports as well as the Thunderbolt. The cable will handle power up to 20V, 3 amp.
It's well made and durable, and it will protect the port on your computer from being worn out by multiple plugging and unplugging of cables.
Video footage can be transferred through this cable at speeds of up to 5Gbps, providing both devices support Thunderbolt 3.
It is worth noting that this cable is recommended to be used in lengths of 6ft or less, anything over this is likely to reduce quality and speed of transmission.
---
4k Thunderbolt 3 Cable
Nekteck Thunderbolt 3 Cable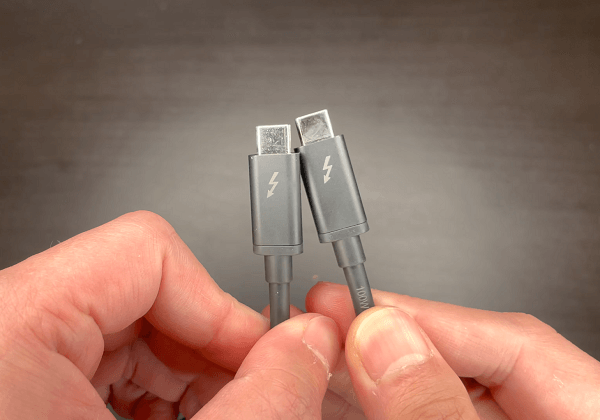 If you're looking for an affordable, attractive, and durable Thunderbolt 3 extension cable then the Nekteck Thunderbolt3 cable is well worth considering. It's compatible with a huge array of computers, including the latest MacBook Pro.
The cable comes in three different sizes, 1.6ft, 3.3ft, and 6.6ft. It's certified to carry data at a speed of 40Gbps. However, it is important to note that this is a passive cable. When you're using cables over 1m long the speed will drop to 20Gbps. That's still eight times faster than USB 3.0.
The power delivery is 100w, in keeping with most other extension cables, this will allow you to quickly charge any appliance.
Providing you're using Thunderbolt ports you'll be able to send dual 4K 60Hz video signals to two screens using one cable. Obviously using a USB-C port will reduce the carrying capacity of the cable. You'll only be able to support one 4k display.
The high-quality transmission of data is created through the use of micro-coaxial ultra-high-speed wires. Incredibly thin pieces of copper are woven into flexible and flex-resistant Teflon. Couple this with flexible TPE jackets and precision welded metal shields and the quality and durability of this extension cable will surprise you.
---
Specs Thunderbolt 3 Supports?
Thunderbolt 3 has some impressive specs. It offers a data transfer of 40 gigabytes per second. This transfer is twice as fast as the competing USB models. It is a very powerful appliance that provides 100 Watts of electricity to targeted devices. On top of all this, Thunderbolt 3 cables also include mini-display ports.
Devices That Use Thunderbolt 3
Numerous devices use Thunderbolt 3 hardware as it improves a USB 3.1's standard 10Gbps with an additional 40Gbps. Most devices compatible with Thunderbolt will say so on their packaging, but Thunderbolt extension cables often come with an appropriate adapter, should you need one.
Some devices that include a native Thunderbolt 3 port are:
TEKQ Cube SSD
The TEKQ Cube SSD is an ultra-fast solid state drive enclosure that allows you to transfer blu-ray movies within a single minute. It works with both Mac and Windows, but it isn't backwards compatible with Thunderbolt 1 or 2, or with USB-C.
Razer Core X eGPU
The Razer Core X eGPU pairs most graphics cards with Thunderbolt 3 compatible laptops, both Mac and Windows 10. This can transform a standard, non-gaming laptop into a machine that's optimized for your favorite games.
Apple MacBook Pro 13
While the Macbook Pro typically takes a USB-C charging cable, it's also compatible with the Thunderbolt 3 extension cable. The Macbook comes with both unified memory and SSD storage, giving you speed and the ability to run multiple apps simultaneously with little difficulty.
HP Elite X2
The HP Elite X2 is a convertible laptop that gives you the oomph of a PC with the portability of a tablet. It boasts the 11th Gen quad-core Intel Core processor, comes with Windows 10, and is compatible with the Thunderbolt 3 extension cable.
Samsung Notebook 9 Pro
Another two-in-one, the Samsung Notebook 9 Pro is a touchscreen notebook that has a 360-degree hinge, allowing you to change from laptop to tablet easily. It has a USB-C charging port as well as a dedicated Thunderbolt 3 charging port, so no matter what you have on you, you can get it powered up.
Huawei MateBook X Pro
The Huawei MateBook X Pro comes with the 8th Gen Intel core as well as Windows 10 Pro. Like the Samsung, it allows you to fold the screen back completely, going from laptop to tablet, with a 91% screen-to-body ratio. It can charge with USB-C or a Thunderbolt 3.
Frequently Asked Questions
Here are some frequently asked questions regarding Thunderbolt 3 extension cables, Thunderbolt appliances, and what tools they are compatible with.
What Is Thunderbolt 3 Port Used For?
Thunderbolt 3 ports are used to connect multiple electronics, such as a computer monitor to your laptop or personal computer.
Is Thunderbolt 3 The Same As USB-c?
No, Thunderbolt 3 is a completely different cord than USB-C. Thunderbolt has adopted the USB-C format, meaning the jack on the end of it is shaped exactly like a USB-C connector, but Thunderbolt 3 has the ability to data transfer twice as much as the USB-C format.
Can I Use A Usb-c Cable For Thunderbolt 3?
Yes, you can use a USB-C cable in a Thunderbolt 3 port. Note that not all USB-C cables can keep up with the pace of Thunderbolt hardware, so there may be some issues.
Are All Thunderbolt 3 Cables The Same?
No. There are different types of Thunderbolt 3 cables with different shapes, lengths, and an array of different qualities.
How Long Can Thunderbolt 3 Cables Be?
Thunderbolt 3 cables can reach up to 2 meters in length. Longer cables could suffer from signal degradation, with the exception of more expensive optical cable options.
Which Is Better Thunderbolt Or HDMI?
Thunderbolt is significantly better than HDMI in that it can carry power, data, and display signals in such a small connector.
Is Apple Thunderbolt 3 Cable Active Or Passive?
The Apple Thunderbolt 3 cable is active, not passive. The cord has chips on each end, which you can attach to a port.
Can the Rane 70 Use the Thunderbolt 3 Cable?
As of now, it is unknown whether Rane 70 is compatible with Thunderbolt 3 cables. No information exists on whether the two devices can connect.
Will My Apollo 16 Interface Still Work With a New Thunderbolt 3 Cable?
Yes. The Apollo 16 interface is compatible with Thunderbolt and can even cascade multiple devices using a Thunderbolt cable.
Final Thoughts on Thunderbolt 3 Extension Cables
Getting the right extension cable is important. If you have thunderbolt ports or compatibility then there is no better way to move high-quality images and other data.
Don't forget that these cables can still wok with USB 3.1 or 3.0, which makes them worth purchasing even if you don't currently have Thunderbolt ports. You can use them with your existing setup and they'll be ready when you upgrade.
Choosing the right extension cable is a personal choice. Most of them are relatively similar. You'll need to consider the exact specs, your budget, and how much you're going to use it. That will help to ensure you choose the best Thunderbolt 3 extension cables.