Computer technology never standstill. Even if the outside design has looked relatively similar for many years, the inside components are improving at a rapid rate. It can be difficult to keep up with all the improvements, especially when the name of the item barely changes
The USB connection into a computer has stayed the same. Although, it's gone from a basic version to the much faster USB 3.0. The USB-C cable is becoming the accepted norm for an array of devices, including telephones, fitness watches even some webcams. In essence, a USB-C cable can be used with almost any device you own, allowing charging and data transfer. 
The great thing is that the cable is usually interchangeable. This means you can use it with almost any device you can think of,and the same cable with multiple devices. But, no matter how good your cable, there will always be times when you need to extend it.
Fortunately, extending a USB-C cable is very easy, there are plenty of great options on the market.
You should note that the USB-C connector looks very similar to the micro USB which has been used by many devices. However, the USB-C is more oval, allowing it to be inserted 'up' or 'down'. It works effectively regardless of which position it's in when you plug it in.
Best USB-C Extension Cables
Faracent USB- C Extension Cable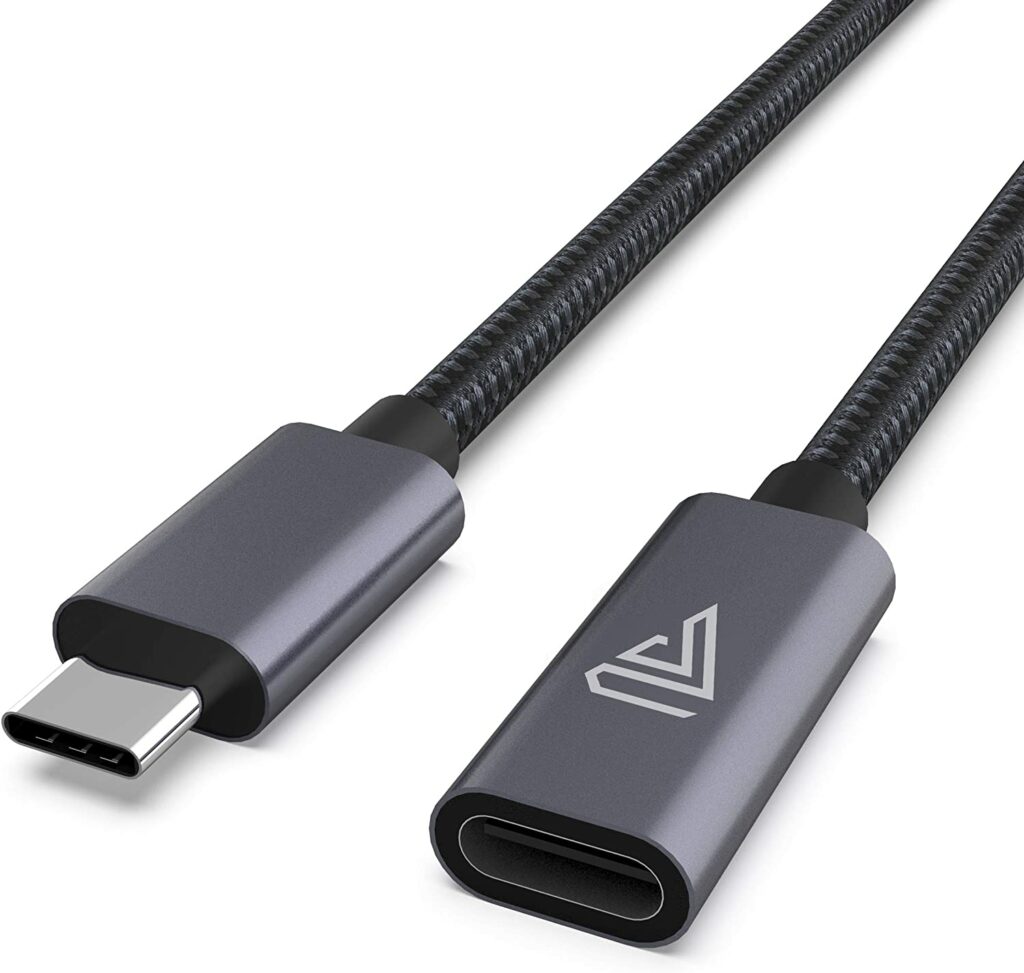 This USB-C extension cable from Faracent can be considered the best all-around cable for everyday use. It's inexpensive but practical, especially if you are intending to leave it in position. This cable is 3ft/1m long and can work with almost any USB-C device. You can also get a 6ft long version.
It has a male and female USB-C connector. This allows you to plug it into your device and the original cable into this cable. It's an effective way of extending the reach of your current USB-C cable. The plug is IF certified, the wire is dual nylon braided. The connections are gold-plated. In short, this cable is built for quality and durability.
It can handle audio, 10GBbps of data, or allow you to charge a device. You can even use it to connect your hub. Its stylish, effective, and not easily damaged,. You can carry it anywhere with you and use it whenever needed. Of course, the fact that it comes with lifetime support helps.
---
Topki USB-C Extension Cable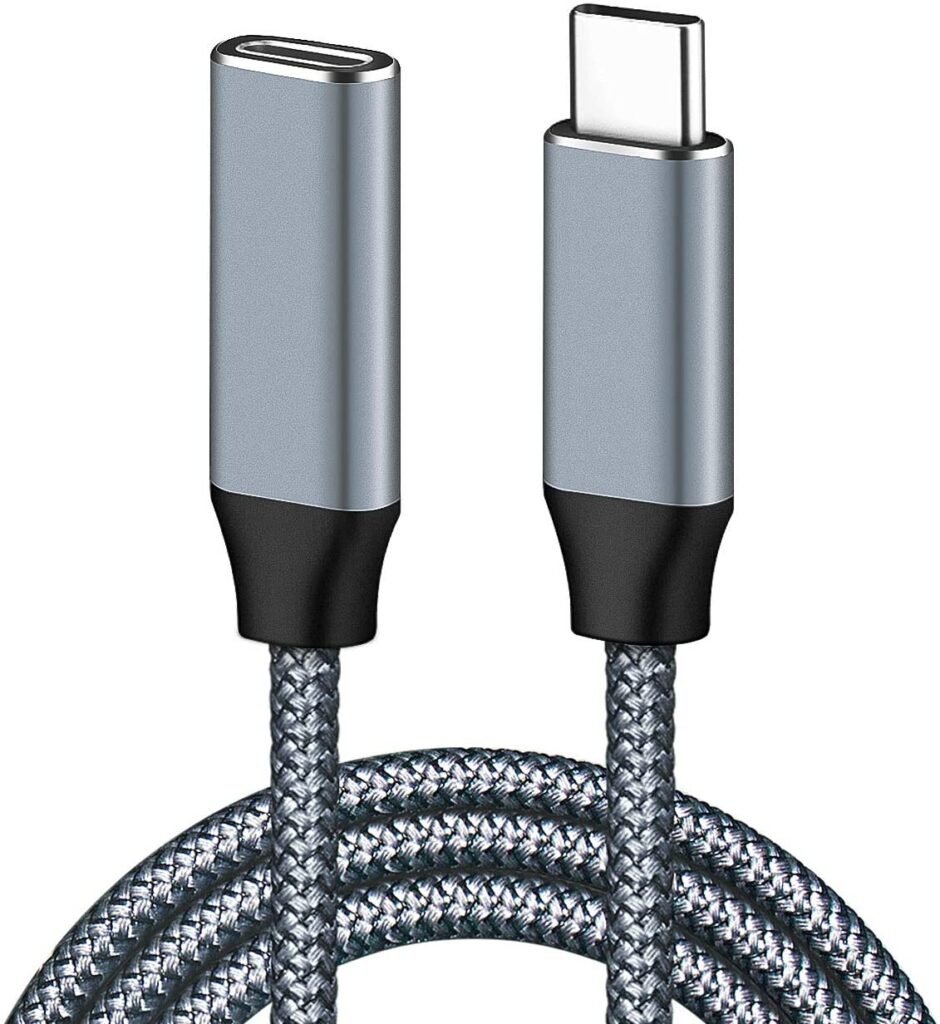 If you're looking for a viable alternative that's compatible with Thunderbolt 3 extension cables then the Topki USB-C extension cable is well worth considering. This cable is also 1m long, but it's a little more expensive. This is mainly because the inner wire is pure copper. The outer cable is also dual nylon braided, while the gold-plated connector are encased in aluminum alloy, maximizing strength and connectivity.
It's been tested to withstand thousands of bends and still offer10Gbps of data transfer. Simultaneously it offers audio and charging capabilities.
Again, this cable has a female and a male USB-C connector, allowing you to plug your existing cable into it. You'll gain the extra distance you need for your devices to work. It's designed to work with USB 3.0, however, it will generally work with USB 2.0 as well. But, if you have an issue, you'll need to flip the connector to get the signal right. It comes with 12 months warranty and the best possible customer service. All you have to do is plug it in and use it.
---
UseBean Right Angle USB-C Extension Cable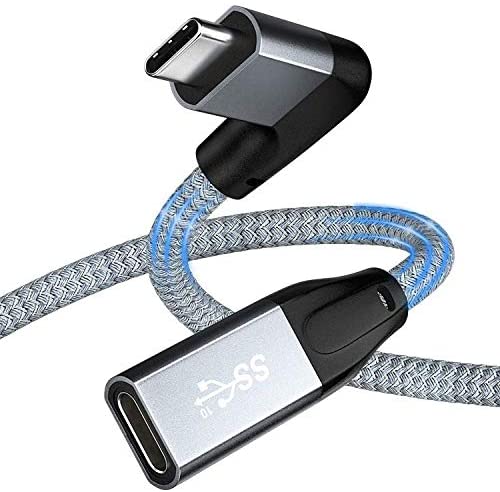 Space is often limited which can mean the standard USB-C pushes your device away from the wall, or off the desk. In this instances you may appreciate the Right-angled UseBean cable.
As the name suggests, the USB-C male connector is a right angle. This allows you to easily connect it to your device, no matter how little space there is. At the other end is a standard female USB-C port, allowing you to connect your original cable and gain 3ft or even 6ft of cable. This will depend on which cable you choose.
The cable itself is gray with black flecks. It's made with dual nylon braid to provide strength and flexibility. Additionally, it can support data transfer, including 4K, audio, and charging. Its power delivery ability is up to 100w, and allows 10Gbps of data. The ends are coated in aluminum for strength. In short, it's a good looking cable that should be durable enough to keep everyone happy.
---
XIAE USB-C Cable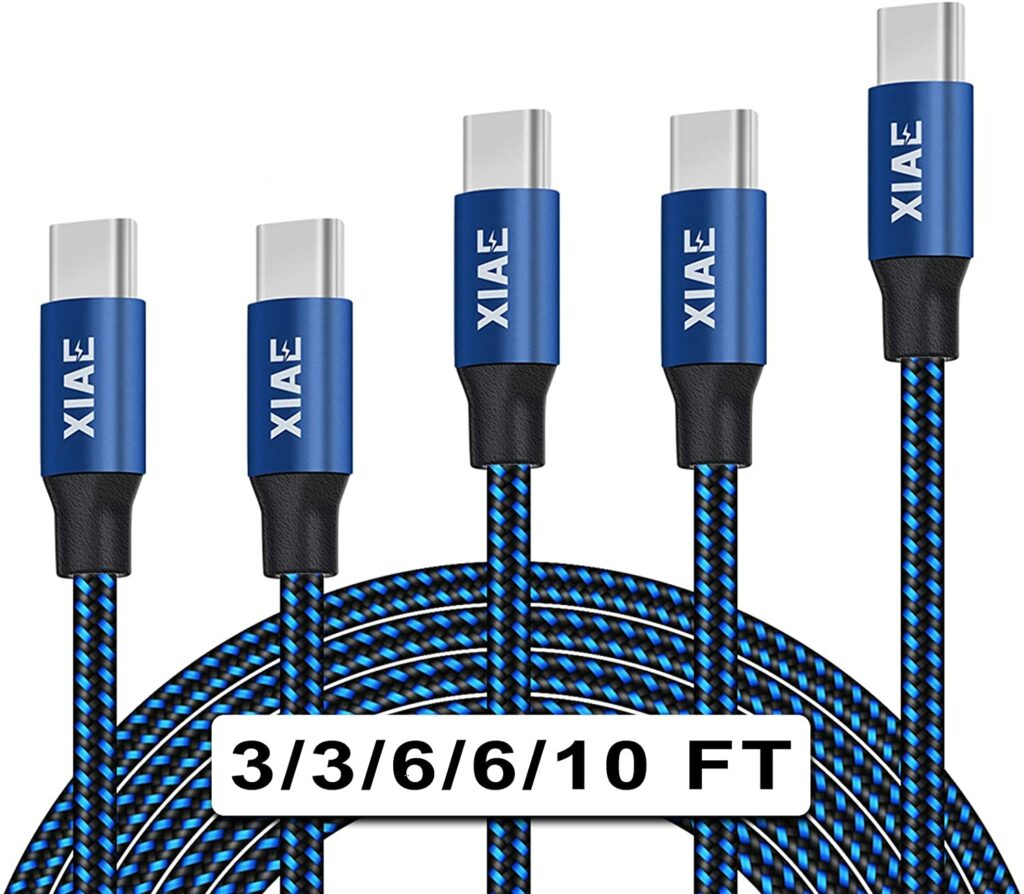 It is worth considering the Xiae USB-C cable. This isn't strictly an extension cable. Instead, you can replace your original cable with this 10ft long option.
The cable is made from braided nylon thread, protecting the inner wires while maximizing flexibility and durability. The plugs are covered by tough TPE material to protect them, with a small piece of aluminum casing. At one end is the male USB-C which plugs into your device. The other end has a USB 3.0 to plug into your computer, or another device.
It's a great option if you don't want to worry about joins, but need a little extra length. This cable can carry a maximum charge of 3 amps/100watts and has been tested with up to 10,000 bends. It's a good investment.
Of course, it can handle speeds of 10Gbps, and comes with a 180-day warranty, as well as great customer service.
---
Considerations When Choosing a USB-C Extension Cable
With so many USB-C extension cables on the market, it's important to choose the best one for your needs. That means you should consider the following before you commit to purchasing one:
Potentially the most important step in finding your new USB-C extension cable is to verify the reputation of the manufacturer. This is important as it testifies to the quality of the cable, meaning it will work properly for an extended period of time.
You may already know of the manufacturer and know they generally create good products. This is a good starting point! But you should also speak to family, friends, and look on social media. You can find honest opinions regarding the quality of a specific product, from people who have actually tried it.
It's worth noting that there will always be some negative comments. However, these give you the opportunity to see how the manufacturer has handled the issue. It's important if you happen to have a problem, which can happen with the best manufacturers.
There are several different types of USB connectors. The USB-C is the latest version and gives a speed of up to 10Gbps, although the USB 3.0 connection only allows 5Gbps.
But, you should note that the original USB-A connections can also handle 10Gbps. They are sometimes referred to as USB 3.2, these are not the same as the USB-C with a USB 3.0 connection. The USB 3.2 has a much thicker connector and it's not reversible.
Or perhaps you just need a extension cord with USB ports that has a USB-C so you can power a device of some sort.
It's important to verify the cable you're purchasing is what you think it is.
When checking the reputation of the manufacturer and the quality of a specific product, it's a good idea to make sure other users see the cable as durable. After all, no matter how cheap the cable is, you don't want it failing after a few uses. Alongside the additional cost of replacing it, you'll be without a cable for a short period. That can be very frustrating.
Cables do have a limited life but you should expect it to last at least a year.
It's worth sparing a few moments to verify whether a cable has been bend tested. Cables are generally twisted, folded, and kinked repetitively. In many cases this is unintentional, but it can have a serious effect on the cable's ability to do its job. The best cables have been tested to ensure they can withstand this rough behavior. It's worth investing in one of these.
The price of a USB-C extension cable can vary dramatically depending on who has made it, and it's length.
You probably won't need to set a budget to ensure you can afford your extension cable. But, you should take the time to compare several prices. This will ensure you're not paying too much, or too little, for the cable.
If a price is much higher or lower than the average you'll need to investigate why. It's a good idea to establish whether it's worth purchasing before you spend your money.
Final Thoughts
When looking for a USB-C extension cable, you'll find the above ones are some of the best currently available. While it can be tempting to choose the cheapest USB-C extension cable you can find, this may not be a wise investment. You don't want to replace it regularly.
Replacing it regularly becomes expensive, as well as inconvenient. Instead, take a few moments to look at those above and select a high-quality USB-C extension cable. They cost very little more and are a much better investment.