Computers are surprisingly complex pieces of machinery. The technology behind them is constantly evolving. The good news is that you don't always need to replace your computer to stay up to date. Instead, you can use an adapter, such as the SAS to SATA. This allows older equipment to work with newer items.
SAS and SATA are both forms of connectors that allow the connection of hard drives to the motherboard in your computer. They are both known as serial communication, which means data can go in both directions on the same cables. This is in contrast to the older parallel connection, where data can only move in one direction.
SATA connections are usually two conductors for sending data, two for receiving, and ground cables between them to prevent interference. There will also be a power cable to give power to the drive.
SAS connections use the same protocol, two receiving data, two sending, and grounds between them. But, SAS connections use two cables, with the receiving and sending cables inside each. SATA uses just one set of cables.
The main reason for this is to allow the connection of other devices to your computer via the SAS drive point. It's easiest to compare the connections to a highway, SATA allows you to connect from A to B only, SAS allows you to connect to A, B, C, and potentially more places.
SAS tends to be the better option if you're using servers and workstations. It transfers data in and out faster than SATA does. If you're building your own computer you may need to use an adapter to utilize the more powerful SAS drives. You can then connect them to your SATA connection point on the motherboard.
Fortunately, there is an array of good adapters to choose from:
Best SAS To SATA Adapters
StarTech 18in SAS to SATA Cable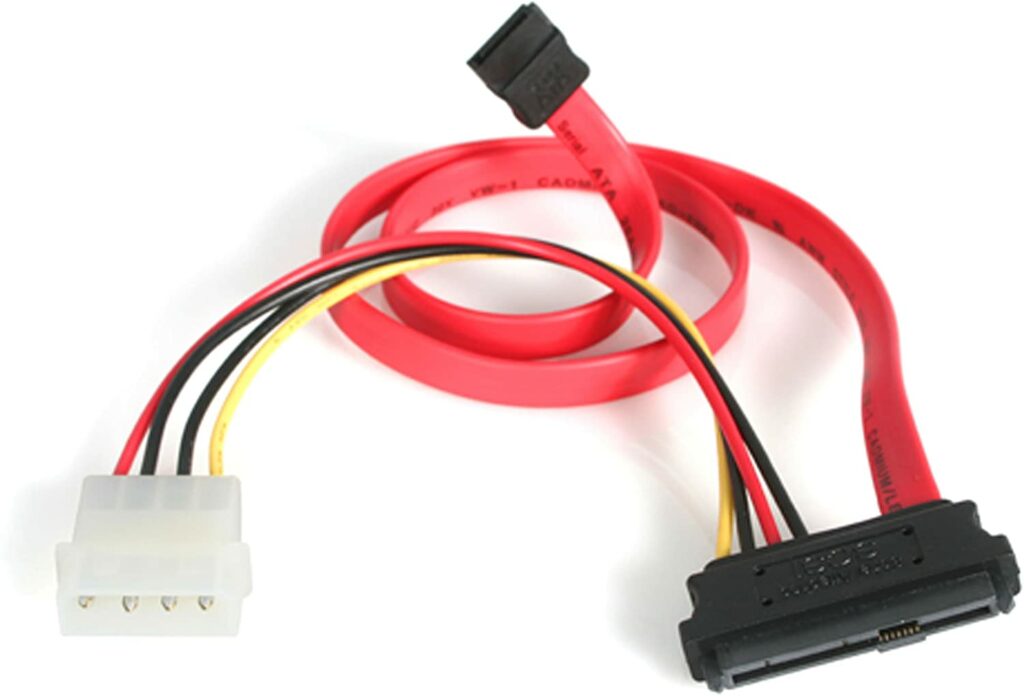 The simplest form of connecting your SAS to SATA is by using a cable like this offering from StarTech. It's worth noting that StarTech has developed a good name in the industry. They are known to produce high-quality products that are backed by a two-year warranty. In fact, this particular item has a lifetime warranty.
This simple cable has a SAS connection which goes directly to the standard SATA style connector, allowing you to plug and play.
You should note that there are also four cables leaving the SAS connection end going to a standard white 4-pin plug. This provides LP4 power if needed. The SAS connection is female with 29-pins, the SATA has the standard 7 pins.
Don't forget that alongside the StarTech warranty, you can also return the cable within 30 days if you don't like it!
---
Micro SATA Cables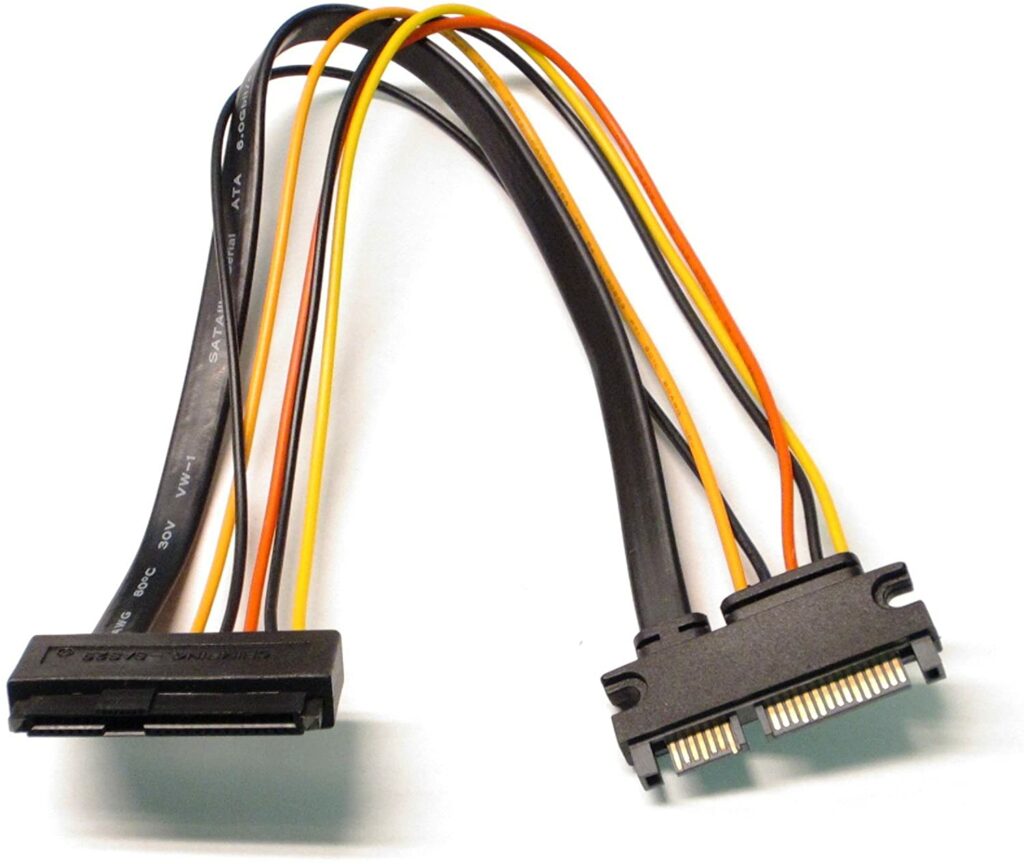 The second offering is this SAS to SATA cable from Micro SATA Cables. The SAS end has the standard female connection with 29 pins and the male SATA connection has 22-pins. However, this cable also includes the power supply within the plug. This allows the SAS to draw power from the motherboard directly instead of through an LP4 supply.
The cable is well put together and durable. It's a budget option and simple to use, just plug it in and it's ready. Of course, you'll need a SAS controller to allow the SAS drive to work with your SATA connection. You should check your computer has this type of controller before you buy.
---
LinkFor Splitter Mini-SAS to SATA Cable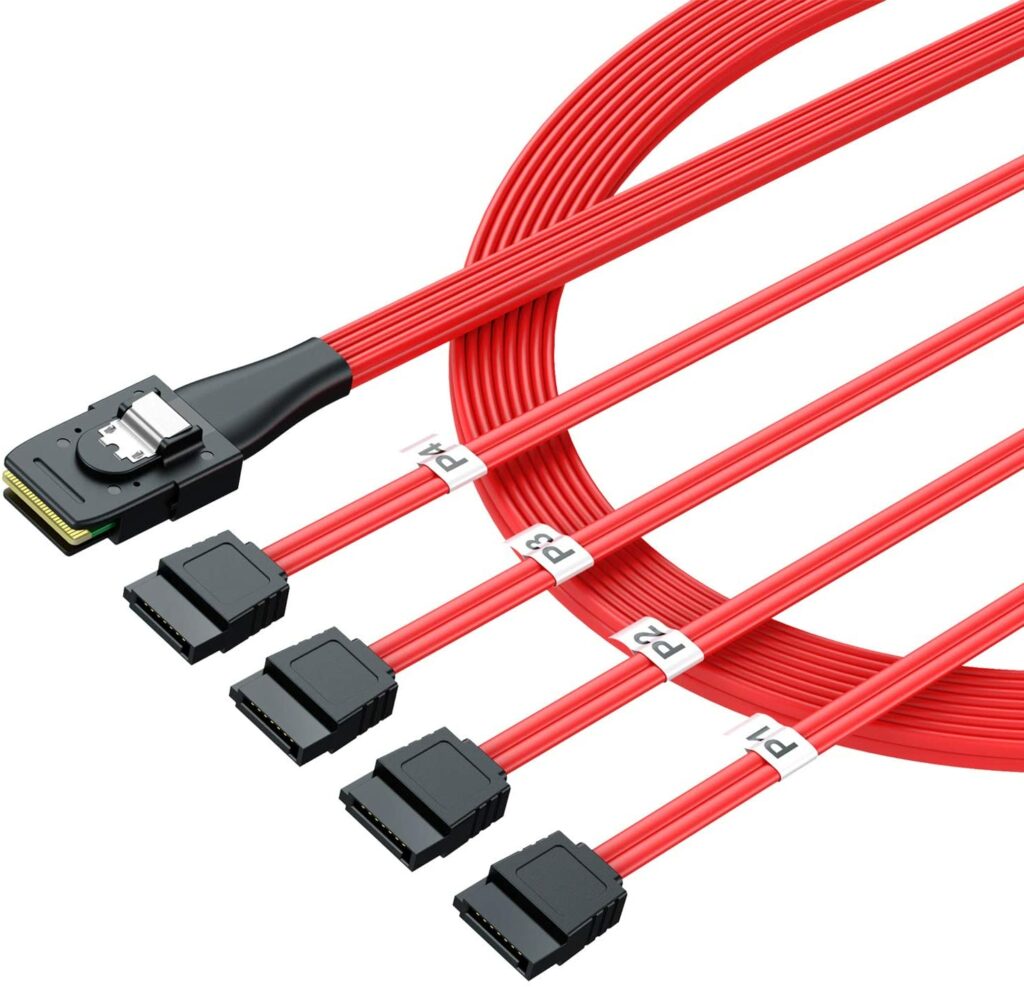 An alternative but a viable solution for your hard drive issues is to use this mini-SAS to SATA cable from LinkFor. The cable is designed to allow you to split the feed from your SAS drive. It can effectively connect to a third device. The standard mini-SAS connection has 36 pins and slots directly into the port on your SAS drive. At the other end, there are four separate connections, all of which have seven pins, and connect directly to your SATA connection.
This gives you the ability to connect several SATA ports to one SAS drive. Depending on your aim this could be a useful piece of kit.
The cable is half-a-meter long and weighs less than an ounce. However, it has a 10Gbps transfer speed, making it a useful addition for fast data transfer. You should note there is a one-meter version available.
---
StarTech SATA Adapter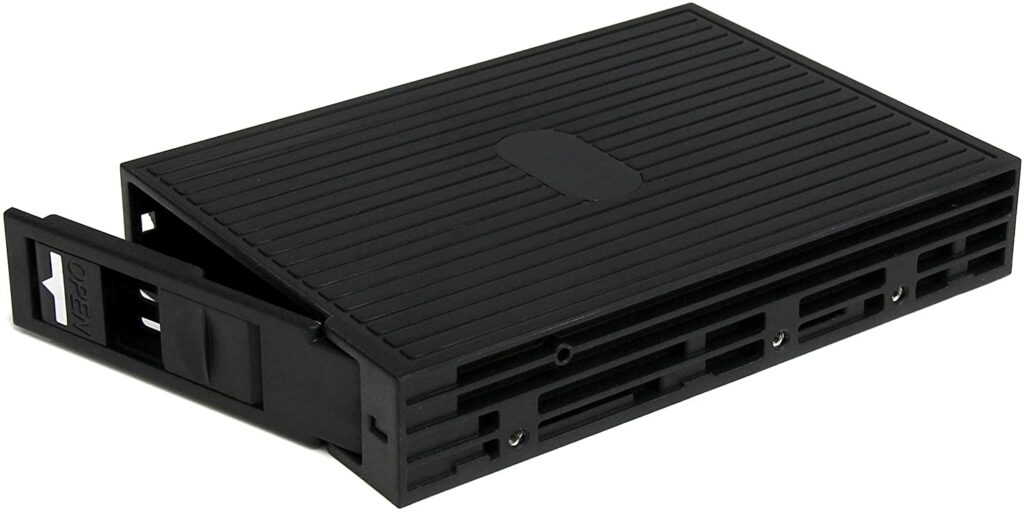 If you're not convinced about adding wiring into your computer then you may prefer to try this StarTech SATA adapter. It's a small black box that's designed to turn a 2.5 inch SATA or SAS drive into a 3.5 inch SATA.
If that's the connections you have in your computer this could be the perfect solution. One end opens to allow you to slide your drive-in and the standard 3.5in SATA connection is available on the outside of the box. This allows you to connect it directly to your computer.
It should be noted that the box is made to hold SAS or SATA drive but it only makes the connection possible. You'll still need a SAS controller to get the drive to work with your SATA connection. The box can be mounted inside your system if required. It comes withal the necessary mounting holes.
Alongside the durable but lightweight plastic construction, you'll find the box has a 2-year warranty from StarTech.
---
Considerations When Choosing a SAS to SATA adapter
If you need a SAS to SATA adapter then one of the above options is likely to be your best choice, a balance between your budget and durability. But, before you select any product, it's a good idea to do a little research. This will help ensure you purchase the right adapter.
There are several things you should consider:
Before you select a SAS to SATA adapter you should look at the manufacturer of the adapter and the supplier. It's important to select one that you are comfortable with. This means a manufacturer that you already know and respect.
If this isn't the case, then you should speak to your friends and even family. Check to see whether they know of the manufacturer and whether they are any good, or not.
You can also check on social media and online forums. They'll be plenty of people happy to tell you about their experiences with a specific product or supplier.
Don't forget, a few negative reviews can be useful. It makes all the reviews appear more genuine, and gives you the opportunity to see how the manufacturer reacts. It could be you with an issue, it's nice to know that the manufacturer supports its customers!
The price of most SAS to SATA adapters is approximately the same. That's because all the adapters are essentially similar. But, it is worth looking at the prices of several products to ensure this is the case. If an adapter is a lot cheaper, or more expensive, you'll want to know why.
A genuine reason may mean it's worth buying, even if it's more expensive.
If you're building a computer then you're taking the time to get all the components right. Your aim is for it to last. You'll want is component failure after you get the computer working.
As part of your review process, you should ensure that the SAS to SATA adapter you've chosen is durable. A good warranty from the manufacturer will help to confirm this is the case.
In most cases, the SAS to SATA adapter works invisibly inside your computer. But, you can get adapters that handle this drive conversion outside of your computer. In effect, you can plug additional drives directly into your computer, usually through a USB port.
These can be very convenient, it's worth considering whether this is the better option for you.
Final Thoughts About SAS To SATA Adapters
Choosing the right SAS to SATA adapter is a big decision. But, if made correctly, will enable your computer to work more efficiently, without having to replace the entire computer. Perhaps a M.2 to SATA adapter or a IDE to SATA adapter is what you need.
Do your research first, then choose your favorite SATA adapter and enjoy.