Every computer system needs a hard drive to store the data. It helps the computer have enough processing memory to handle everyday functions.
Of course, computers continue to rapidly evolve. IDE's are an earlier style of connection. They join the hard drive to the motherboard via a parallel connection. SATA is a more modern version that allows the hard drive to connect to the computer bus via a serial connection.
The IDE connection is bulker than the SATA equivalent. It has more wires and can transfer data at a rate of 133mbps. In contrast, the SATA connection is smaller, the wires are thinner, but the transfer rate is an impressive 6 Gbps. Modern drives use SATA, as do the latest storage drives. These are also referred to as solid-state devices. Some other SATA adapters are SAS to SATA adapter and PCIe to SATA adapter.
The good news is it is possible to adapt your IDE or SATA connection to allow the drive to function with an older/newer system. The easiest way of doing this is by using an IDE to SATA adapter. There are several good examples on the market:
Best IDE to SATA Adapters
StarTech.com IDE to SATA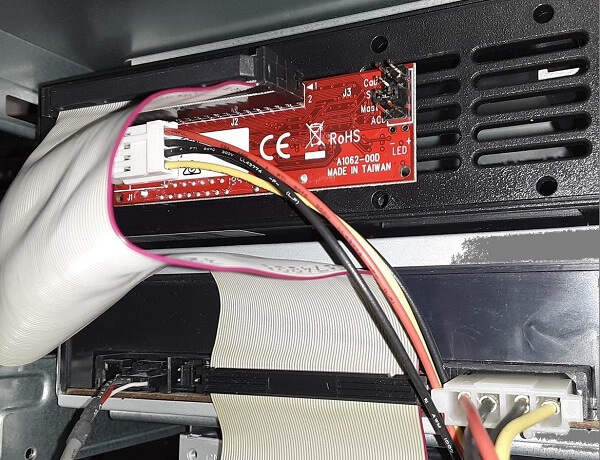 StarTech has an array of products designed to make your life easier. The IDE to SATA adapter is one of their best. It's a stylish-looking card in red with an abundance of capacitors and resistors all soldered into place.
On one side you'll find the connection point for the included cable. This allows you to plug your IDE hard drive into the adapter. On the other side of the adapter is the standard SATA connection port. Its purpose is to connect the adapter to your motherboard. The entire process is simple and should take no more than ten minutes.
The aim is to let you keep your current motherboard but to facilitate the addition of a SATA drive. Versions one, two, or three can all connect effortlessly.
You can also use the optical drive adapter to add a Blu-ray, DVD, or even a CD drive to your motherboard.
It comes with free lifetime technical support from StarTech and a 2-year warranty. That should give peace of mind.
---
SinLoon Female To Male IDE Adapter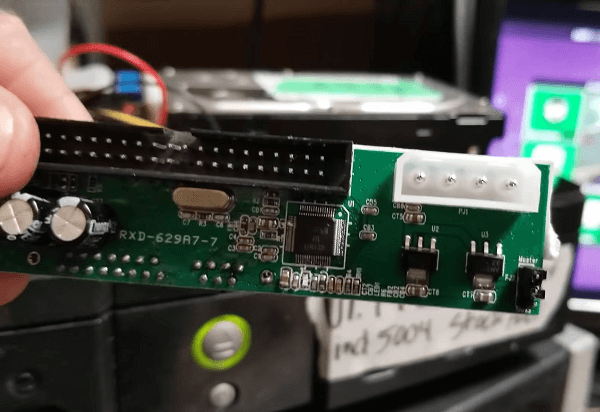 If you want a more budget-friendly option, it's worth looking at the Sinloon IDE to SATA adapter.
The offering from Sinloon is 9.9cm long, 1.6cm wide, and 1.9cm high. It's designed to connect directly to your SATA hard drive connection. Simply slot the adapter in place. You can then connect your IDE cable from your motherboard to the white 4-pin, and the black connection points next to it, a total of 40 pins.
This adapter is designed to be plug and play. This means no power or drivers are needed to get it to work. It's worth noting that this adapter supports all parallel drives, that's IDE, PATA, and ATA. All of these can be converted to SATA.
It weighs less than an ounce and is ready to use. It also comes with a one-year warranty to help you resolve any issues.
---
Unitek IDE Adapter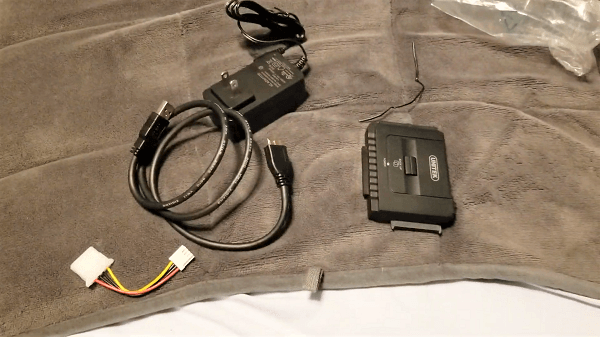 If you're looking for an external adapter then the Unitek IDE to SATA could be the perfect solution. This adapter is encased in a smart black box which has Unitek written on the top side in white.
The box is capable of operating three hard disk drives at the same time. It has an attached USB cord that can be plugged directly into your computer. There are an abundance of ports on the sides of the box. These can be used to connect a SATA or an IDE hard drive into the side of the box. There is also a four-pin port allowing you to connect the power to your IDE drive via a short cable. This ensures all drives are properly powered.
The box itself can be plugged into the mains with the included power cable and adapter.
There is no need to install any drivers. You can plug in up to three drives and start using them straight away. If you connect to your computer via a USB 2.0 port the data transfer speed is 480mbps. Using a USB 3.0 port increases this to as much as 5Gbps.
The standard guarantee of 60 days comes with the drive, along with a one-year warranty and great technical support. It's a good investment if you need something outside of your computer.
---
CableCC IDE to SATA Adapter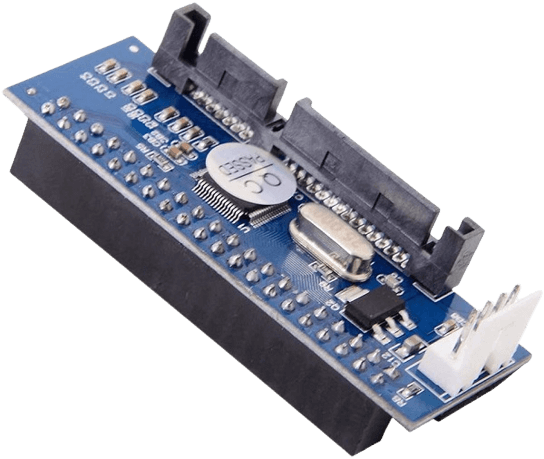 The Cablecc IDE to SATA adapter is potentially the cheapest you'll find on the market but still a worthwhile investment. It operates on the same principle as the first two. Efficiently providing a 4 pin cable connection to your IDE drive, and a standard 36 pin connection for the necessary data transfer. The adapter plugs directly into your SATA drive and connects through the adapter, ensuring a smooth memory upgrade. It can support all 40-pin IDE drives and PATA up to 1000GB.
A nice touch is the foam covering on the rear of the adapter, just above where it connects to your SATA drive. This reduces the likelihood of short circuits, although it could increase heat issues.
The adapter is small with a blue tinge, making it look good. Of course, you're unlikely to see it once it's in-situ.
It should be noted that this adapter comes with a very limited warranty, hence the very low price. It's a good budget option. But the other adapters on this list may give you more peace of mind over the long term.
---
Best SATA to IDE adapter
Kingwin SSD/SATA to IDE Bridge Board Adapter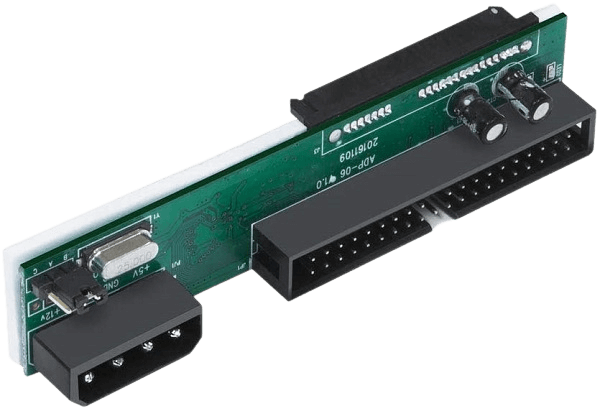 Kingwin adapters feature plug-and-play capabilities that let you connect SATA hard drive to the IDE motherboard. In addition, Kingwin's signature optical disk drive supports Blu-ray, DVD, and CD-ROM drives to any older IDE motherboard. 
It supports Acer brands so that might be a plus for you. Though you should note that it lacks on paper work, so you might need to figure some things your self.
---
2.5" IDE to SATA Adapter
USECL 2.5 Inch IDE to SATA Adapter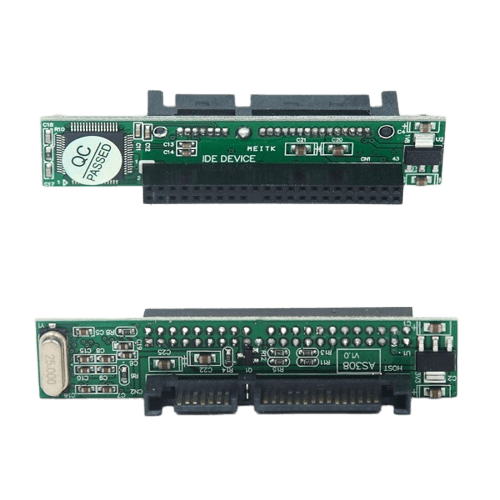 USECL features USB-c to USB adapters that easily fit into Mac, Chromebook, and Windows laptops and computers. In addition, USECL is ideal for reading hard drives found in old laptops and desktops. It has a reading speed of 6 Gigabits per second.
It features a 22-Pin male SATA connector and 44-Pin standard female IDE connector adapter with high-speed transfer rates. However it is a bit on the bigger side.
---
PATA IDE to SATA Adapter
NFHK SATA Disk to IDE/PATA 40Pin Motherboard Converter Adapter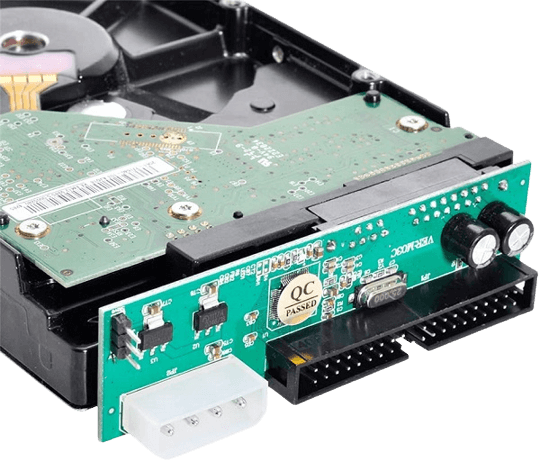 NFHK SATA Disks feature a SATA HDD drive to a 40-pin mainboard converter board with compatibility with the desktop and hard disk drives perfect for upgrading an older or used computer. 
It also Fixes hard-drive malfunctions with slave and master jumpers without an additional power supply or additional cables and adapters. The one con is the fact the unit is not hot-swappable.
---
Choosing The Right IDE To SATA Adapter
Unsurprisingly there are many adapters available to choose from. If the above IDE to SATA adapters doesn't appeal to you then you can select your own. However, you should consider the following factors before committing to purchase.
It's essential that you think about the reputation of the manufacturer and supplier of the IDE to SATA adapter. A genuine supplier will be known in the industry, which means you and your friends are likely to have heard of them.
Negative reviews also allow you to verify that the manufacturer and supplier are capable of resolving problems. That's useful if you have an issue.
In many cases, once you've installed the IDE to SATA adapter you'll be unable to return the product. But, it is worth checking how long the warranty is on your adapter and what is covered. 
This can provide confidence in your purchase.
You should set yourself a budget when purchasing any computer part. New components are constantly arriving on the market. This can push you to spend more than you can afford. A budget eliminates this risk.
Having a budget doesn't just stop you from overspending. It also encourages you to get several quotes. This can help you to ensure you're getting value for your money.
How To Use IDE To SATA Adapter
Your Integrated Drive Electronics is the physical bridge that connects the processor to the drive. You may also know IDEs as ATA or Parallel ATA. All of these IDEs have their controllers that relate to the motherboard.
IDE hard drives don't work with most modern computers. And IDE connections with 8-pin or 24-pin connects will plug directly into the motherboard slots.
However, unlike IDE, Serial Advanced Technology Attachments move information between the hard drive and motherboard one bit at a time, also known as serial one. Thus, increasing the drive speed for fast hard drives.
Follow these tips for a quick IDE hard drive to SATA motherboard connection.
1. Unplug Your Computer
You should not have an active electrical connection.
2. Gather Your Hardware
Get together your IDE Hard Drive, SATA Motherboard, and IDE to SATA Adapter. The SATA adapter allows the IDE adapter instant plug-in access to the SATA plug.
3. Open Your Computer 
With a screwdriver, open the outer part of your computer to access the motherboard and hard drive connections.
Locate the hard drive connection and plug your IDE adapter's free end into an open hard drive bay until you hear a click sound.
4. Close Your Computer Case
After installation, plug in your power supply and reboot your computer. If your IDE drive is new and without stored data, follow the on-screen instruction to complete the entire setup.
Frequently Asked Questions
Here is a list of the commonly asked questions regarding SATA to IDE adapters.
Can you convert IDE to SATA?
Yes, you can convert IDE hard drives and CD/DVD drives to SATA when you have an IDE drive and a motherboard with a SATA connection.
How do I convert my IDE cable to SATA?
You convert your IDE cable to SATA by connecting your new SATA device with an older IDE system. Or mix a new SATA hard drive with a USB device. Finally, attach your SATA hard drive to your computer's USB port.
Can you use SATA and IDE hard drives together?
Yes, you can SATA and IDE hard drives together. Both recognize your system.
What is a SATA IDE to USB adapter?
THE USB SATA/IDE adapter externally connects a bare drive without a drive enclosure or HDD dock required so that you can easily copy or retrieve data.
What can I do with my old IDE hard drive?
Your IDE hard drive will ultimately determine whether or not you need to replace your current hard drive.
Which is faster, IDE or SATA?
SATA is faster than IDE with very little power. The typical SATA drive uses 250mV of energy, and such a low power consumption helps cool the inner part of the computer case. In addition to reducing power drain and a considerable range.
How do I connect my IDE hard drive to my motherboard?
To connect your IDE hard drive to your motherboard, simply put, use the frontside to connect your hard drive. And use the back side to secure the SATA and compatible cable to the motherboard.
How do I make my IDE hard drive portable?
To make your IDE hard drive portable, choose a compatible internal hard drive.
Second, Mount the internal hard drive into the enclosure and connect the necessary wires to the hard drive. SATA drives tend to have a single SATA connection.
Third, plug in the connection that provides power and seal the hard-drive enclosure with the internal hard drive inside.
Connect or plug in the enclosure to your PC and turn on for plug and play, allowing you to browse, open and drag files onto the drive.
The IDE cables are large with a red stripe along the edge that most refer to as the first pin. IDE cables and SATA have different slots making them easy to distinguish.
Will any SATA/IDE hard drive adapter work on hard drives older than 2009?
Yes, any STAT/IDE hard drive will support two types of hard drives older than 2009 simultaneously.
Final Thoughts On IDE to SATA Adapters
Choosing the right IDE to SATA adapter doesn't need to be difficult. You simply need to take a look at the list above, then choose the one you like the look of most.
If you prefer to locate another, make sure you use the guide above to help you find the right IDE to SATA adapter. But, you're unlikely to find a better deal than the ones listed.
The guide is designed to simplify your choices, allowing you to get on with what matters. That is building your computer or using your hard drive in whatever way you see fit. The IDE to SATA adapter is simply a step in this process.