Solid-state drives (SSD) have surpassed hard drives as the industry standard for storage. SSDs have superior speed and durability and feature no moving parts. If you want to run an M.2 SSD on an older motherboard or a budget motherboard that lacks M.2 slots, you need a SATA to M.2 adapter.
To save you the effort, we've compiled a list of the best adapters available today. Your search for an M.2 to SATA adapter ends now!
How to Use M.2 to SATA Adapters
Using an M.2 to SATA adapter is fairly straightforward once you know what to look for.
Carefully slide open the halves of the adapter enclosure. Connect the M.2 at a slight upward angle into the slot inside the adapter. Using one of your big screws, fasten it flush to the adapter's surface. Slide the other half of the enclosure back into place and secure it with your small screws.
You should now have a fully connectable M.2 SSD for your motherboard.
M.2 to SATA Adapter Sizing Warning
Not all of the following adapters match every type of M.2 drive or motherboard out there. You will find some sizing restrictions and other information below, but always remember to check your motherboard and M.2 sizes before deciding on an adapter.
The Best M.2 to SATA Adapters
Here are the best M.2 to SATA Adaptors available today.
Sabrent M.2 SSD to 2.5 Inch SATA III Aluminum Enclosure Adapter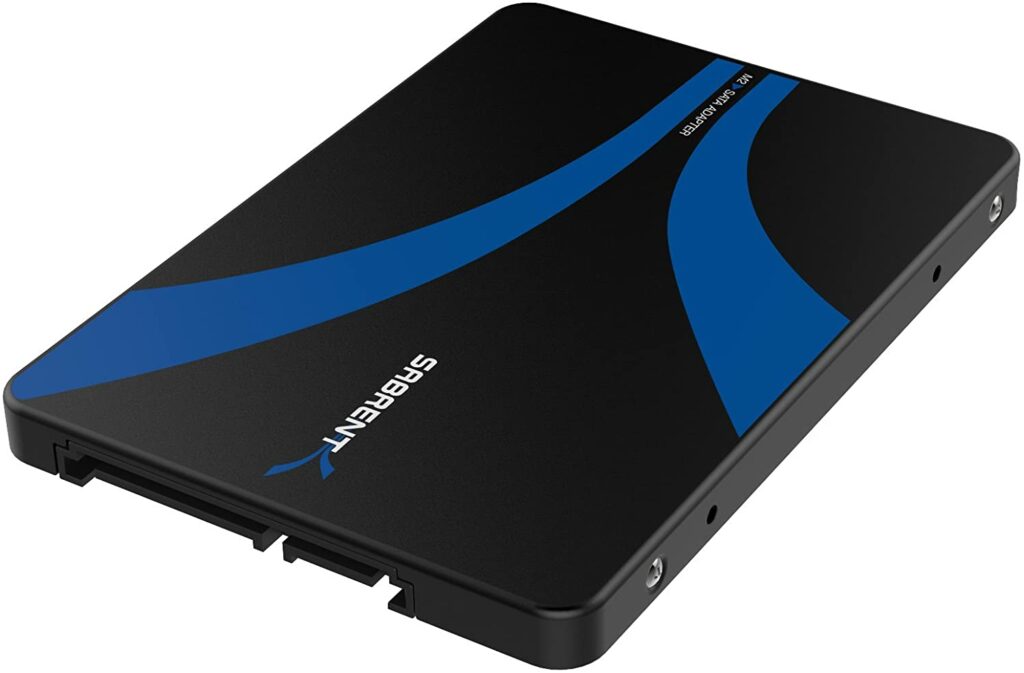 The Sabrent M.2 SSD to 2.5in SATA converter easily converts an M.2 SSD into a standard 2.5 inch SATA III. This converter uses the B-Key M.2 SSD and supports the following form factors: 22×30, 22×42, 22×60, and 22×80.
The aluminum enclosure of this adapter provides additional protection against drops, shocks, and dust, keeping your data safe and sound. Additionally, this is a plug-and-play adapter with universal compatibility, so no driver is needed.
Please note that this converter does not support M.2 NCMe PCle SSDs. It is also not compatible with M-key SSDs.
---
StarTech.com M.2 SSD to 2.5in SATA Adapter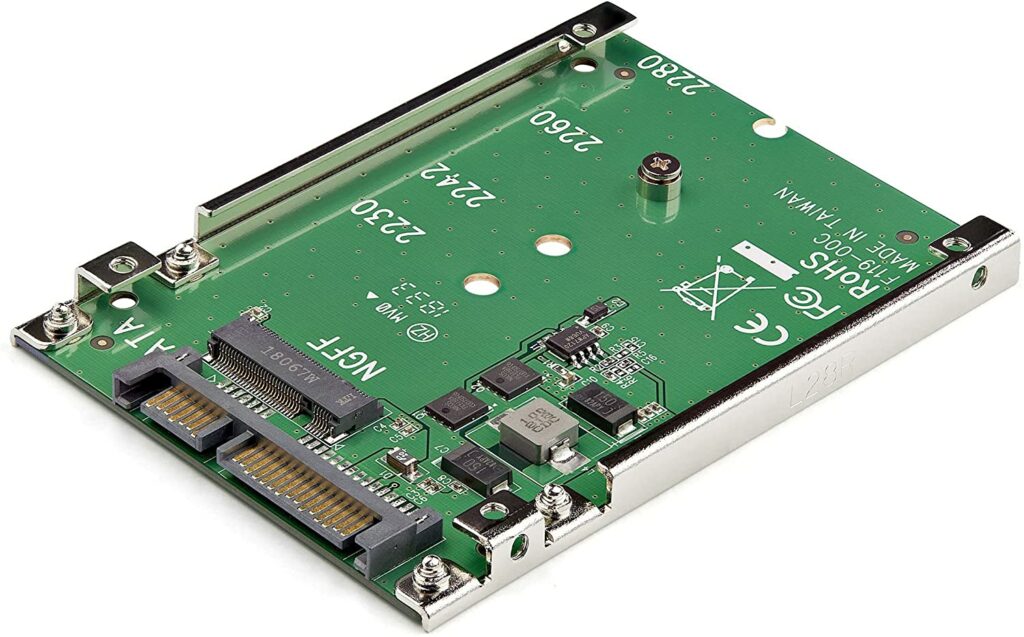 The StarTech M.2 SSD to 2.4in SATA adapter allows you to boost the speed and memory of your computer by adding the speed of an M.2 SSD. This adapter accepts multiple drive heights: 2230, 2242, 2260, and 2280. Additionally, it can boost your data transfer speed up to 6 GB/second.
The open-frame design maximizes head dissipation which will help protect the health of your hard drive. Furthermore, it features excellent soldering and high-quality mental rails.
This product is backed by a two-year warranty and lifetime technical support. StarTech is on call to help assist you when you are installing this adapter.
Please note that the power and data sockets are on the reverse side compared to a standard 2.5in SATA connection but won't cause any problems on a desktop. However, it can cause head dissipation issues due to the reversed installation required on a laptop.
---
ICY DOCK Ezconvert (Tool-Less) M.2 SATA SSD to 2.5″ SATA SSD Converter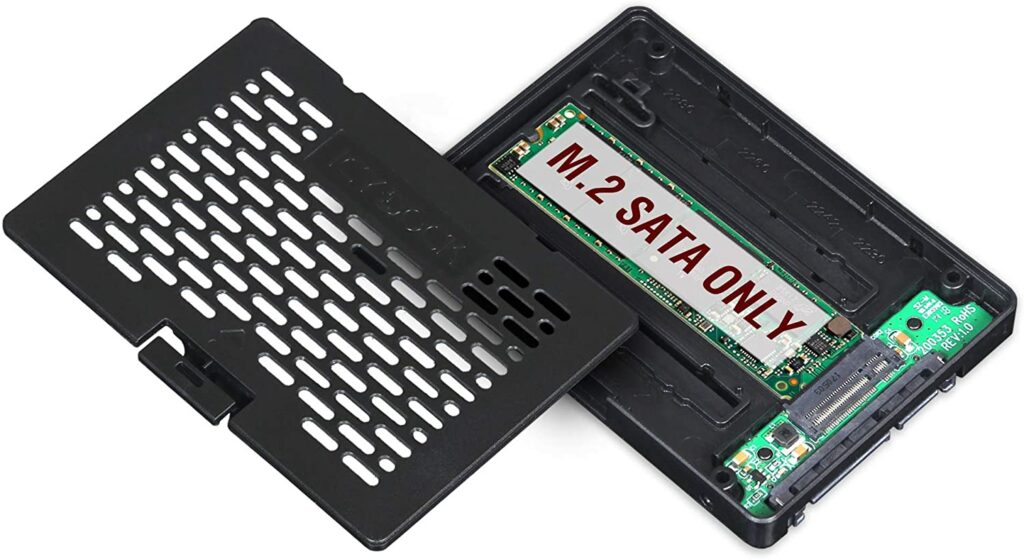 This ICY DOCK M.2 to SATA converter is unique because it is 100% tool-less and screw-less. You do not have to make any physical modifications to your computer when installing this adapter.
This adapter accepts any M.2 SSD from 30mm to 80mm in lengths of 2230, 2242, 2260, and 2280. It has the same dimensions, port locations, and screw locations as a 2.5in SATA for ease of installation. Furthermore, it uses M-Key and B-Key, so be sure to check the compatibility of your motherboard.
This M.2 to SATA adapter efficiently cools itself with the ventilation holes in the lid and body. Additionally, you can remove the bottom plate for additional airflow or install a heatsink.
Please note that it does not support M.2 NVMe. Additionally, it has connectivity issues with iMacs.
---
USECL M.2 to 2.5 inch SATA Adapter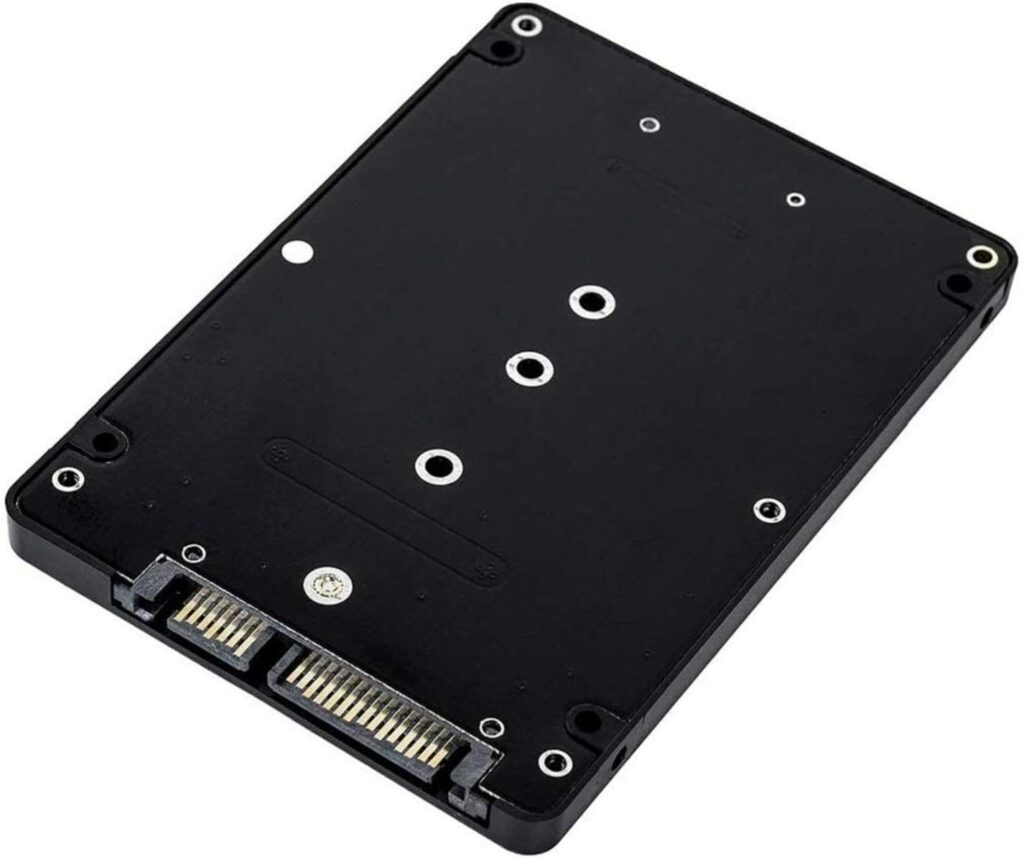 The USECL adapter converts M.2 SSD to a standard 2.5 inch SATA. It is compatible with Windows, IOS, and Linux and fits multiple drive heights, including 2230, 2240, 2260, and 2280.
The main body is ABS plastic and has the same mounting hole as a 2.5-inch notebook hard drive. Therefore, this adapter is an excellent choice if you are upgrading your laptop.
Please note that this adapter has a B-Key. It does not come with an installation manual.
---
Conclusion on M.2 to SATA Adapters
We hope this guide made it easier for you to navigate upgrading your hard drive. We are sure that one of these adapters will help you boost the speed and efficiency of your power usage and help you get the most out of your computer. If this isn't the SATA adapter you need, check out SAS To SATA or PCIe to SATA Adapter. When it comes to adapters I'm something of a scientist myself.