You have probably come across E12 and E26 before, even if you don't realize it. This code refers to the size of the thread on a light bulb. By understanding the thread size you can select the right bulb for a specific lighting application.
The Light Bulb
It is beneficial to note that E26 is a standard light bulb fitting, you'll find this type of bulb in your room lights and even outside lights. I contrast, E12 is smaller. The bulb is generally skinner and the fitting is more compact. The E12 is generally used in night lights and small decorative pieces.
They both have their place in your home. But, if you have a collection of E26 bulbs and a lamp that takes E12, you may be wondering if you can use an E12 to E26 adapter to allow you to use the bulbs.
Of course, the light bulb was invented by Thomas Edison and he created the screw mount that allowed lights and other devices to connect to the main power grid. While the mounts have been improved the thread type remains the same, hence the reason for the 'E' on the bulb references. E is for Edison.
The 12 on an E12 simply refers to the diameter of the bulb thread. An E12 has a 12mm diameter, while the E26 has a 26mm thread.
The E12 to E26 Adapter
The E12 to E26 adapter is a simple but effective bit of kit. It is relatively short and designed with an E12 thread, allowing you to screw it into the E12 lamp fitting. The adapter then widens to accommodate a 26mm wide thread fitting. You screw your E26 into this fitting and effectively convert the E12 lamp into one that takes E26.
This can be beneficial to use up old bulbs, get a little extra light, or simply give you a light when you have no E12 bulbs and the shops are already closed.
But, you should note that E26 bulbs tend to be larger and wider, make sure you have enough room in the lamp to accommodate them.
Choosing The Right E12 to E26 Adapter
An E12 to E26 adapter can be screwed into the lamp while it is turned on, although it is advisable to turn it off first. What this does do is illustrate the importance of choosing a high-quality E12 to E26 adapter. Before you commit to purchasing one, you should consider the following:
The most important part of choosing any E12 to E26 adapter or other product is to know who the manufacturer is and whether you trust them. If you have heard of, and even dealt with, a specific manufacturer before then you will probably consider them safe to use.
However, if you haven't heard of them then you should ask your family, friends, and even colleagues. You simply need to ask them to be honest about their experience. If this doesn't help you'll want to look at social media and online forums.
There are certain to be others that have dealt with the manufacturer and supplier before. You can read their reviews. You should find most of them positive but a few negative reviews can help you to assess how the manufacturer reacts to issues. This is very useful if you have a problem with your E26 to E12 adapter purchase.
All adapters should be made to the same safety spec. however, when you are buying online it is possible that you are inadvertently buying from a foreign company that doesn't adhere to the same safety spec. As this adapter is plugged directly into your electricity supply you will want to confirm that it conforms to current electrical safety standards.
It is worth looking at the cost of several adapters as this will help you to confirm you are paying a fair price. If the E12 to E26 adapter is significantly more expensive than your average price, you'll want to verify what extra you are getting to justify the price.
If it is less than the average price, make sure the quality is good before you decide to buy.
The Best E12 to E26 Adapters Currently Available
To help ensure you get the best possible E12 to E26 you should look at the following and choose one of them:
Jackyled E12 to E26 Adapter – 5 Pack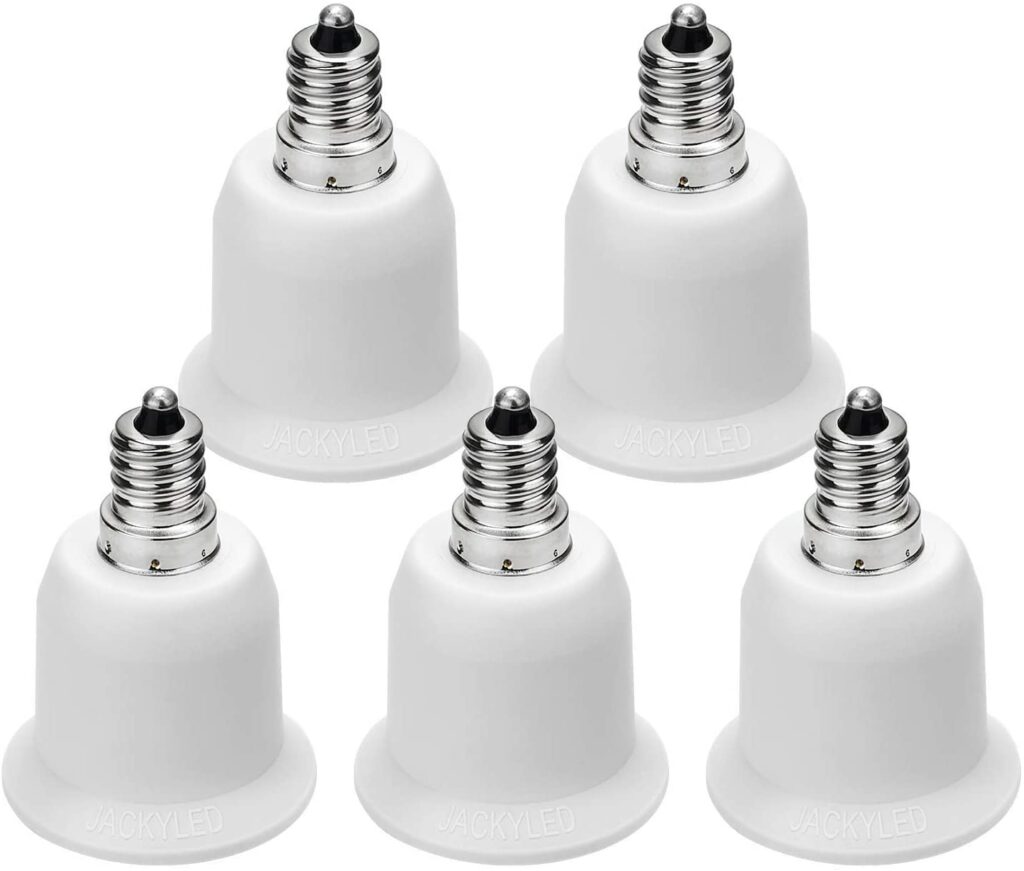 IF you are looking to change several E12 bulbs to E26 then the Jackyled 5 pack of E12 to E26 adapters could be the perfect choice for you. It is worth noting it is also Amazon's choice.
It is worth noting that the Jackyled E12 to E26 adapter is also available in a pack of 2 or a pack of 10.
The adapter is white and designed to accommodate E26 or even E27 bulbs. They are just over 2 inches long and 1.57 inches wide at the E26 end. Most importantly, they are made with fireproof material and use copper to ensure great conductivity for your light.
This E12 to E26 adapter can handle up to 150 watts and temperatures as high as 200° C. It is also corrosion-resistant. Jackyled backs up your purchase with a 100% satisfaction guarantee.
---
Lighting Ever E12 to E26 Adapter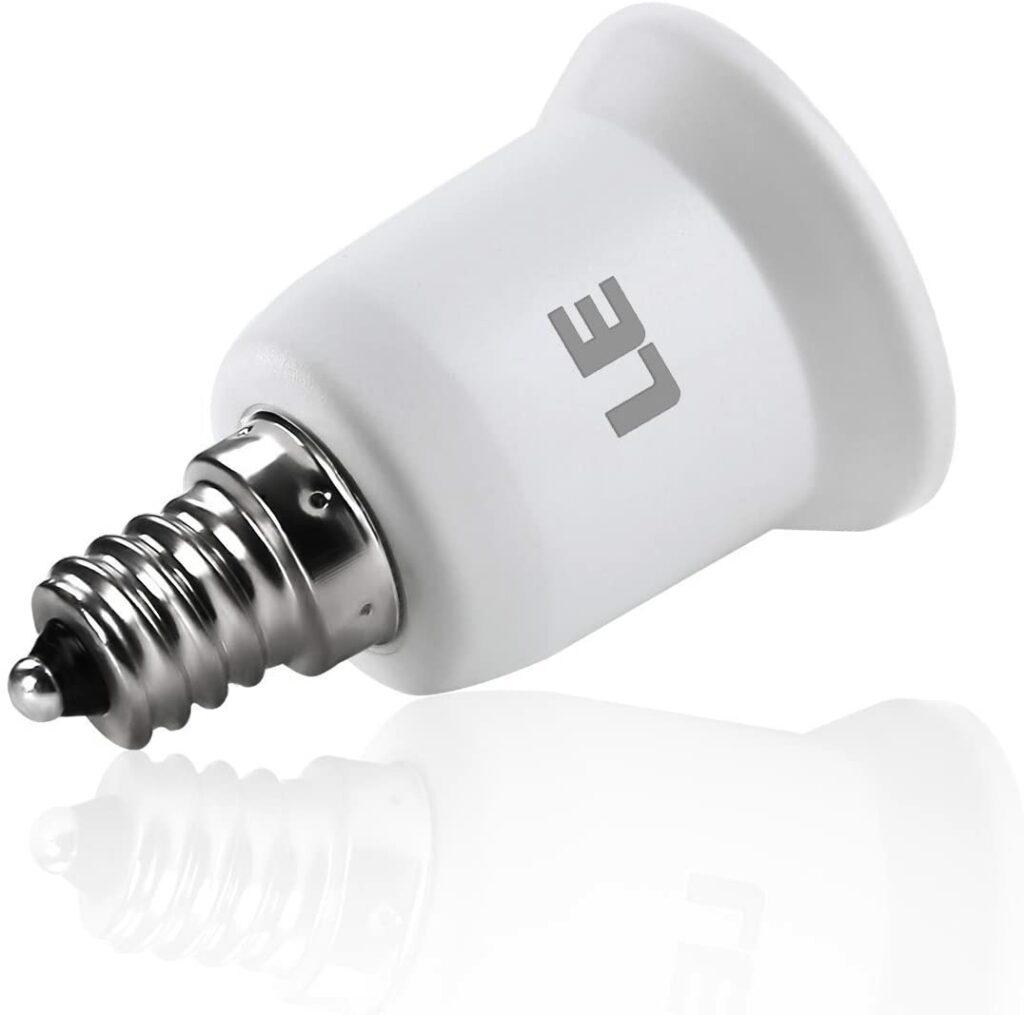 An attractive alternative to the Jackyled offering is the Lighting Ever (LE) E12 to E26 adapter. It looks similar in appearance to the Jackyled with the obvious distinction of LE emblazoned on the white casing. 
The LE adapter is also 1.56 inches wide but it is slightly longer, at 2.36 inches. This particular offering comes as part of a pack of six and is compliant with the latest safety standards as well as CFL approved for energy efficiency.
Again, the E12 to E26 adapter is fireproof and has a copper coil to ensure good electrical conductivity for your light bulb. It works with all types of bulbs, simply screw it into the E12 fitting then screw in your E26 and turn your light on. Naturally, the LE adapter comes with a standard warranty to ensure you are happy with the product.
---
Yayza E12 to E26 Adapter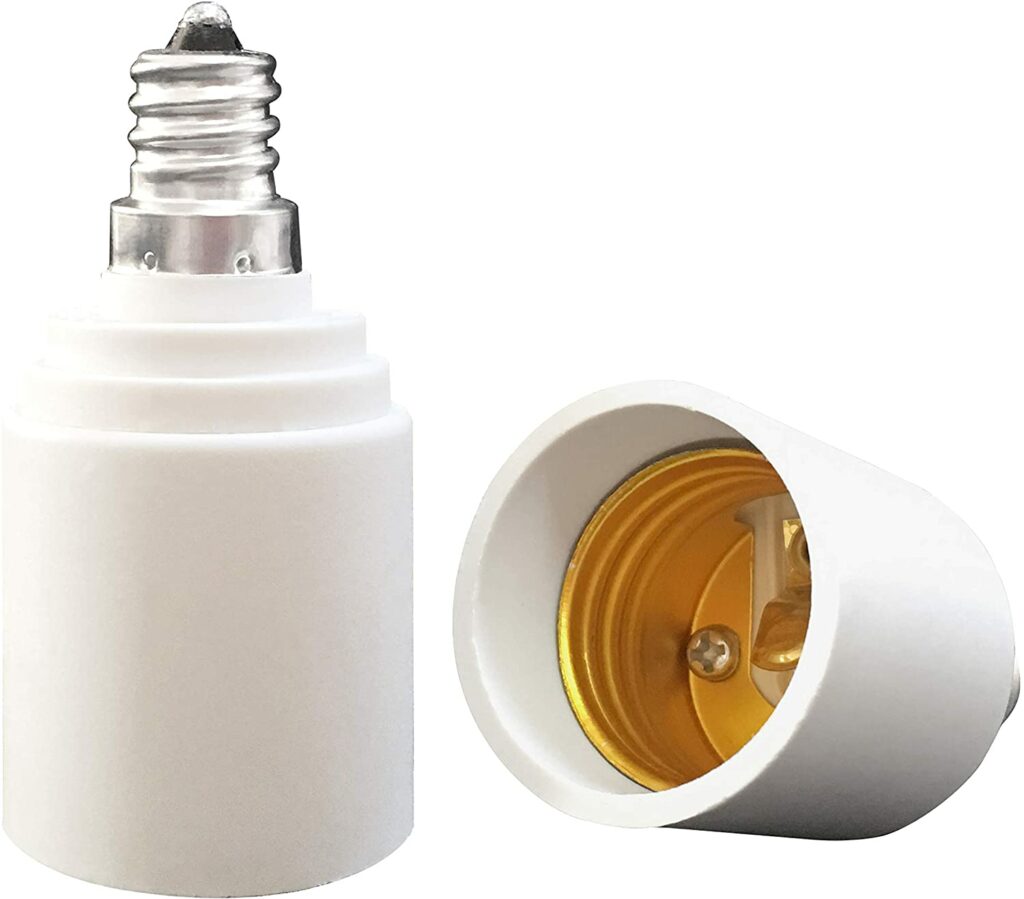 Another option worth considering is the Yayza E12 to E26 adapter. This comes in a pack of two although it is worth noting that the company offers an array of other adapters, such as the E26 to GU10.
This adapter is also white, ensuring it blends in with your existing fittings. It is plain and the same size as the LE adapter although it appears more elongated. It can handle up to 150 watts and comes with a 2-year warranty.
The Yayza adapter has a copper base to ensure great conductivity and it uses high-quality thermoplastic to ensure it is resistant to high temperatures. It can be used with any type of bulb and is fully certified, making it a safe addition to your home.
---
YiLighting E12 to E26 Adapter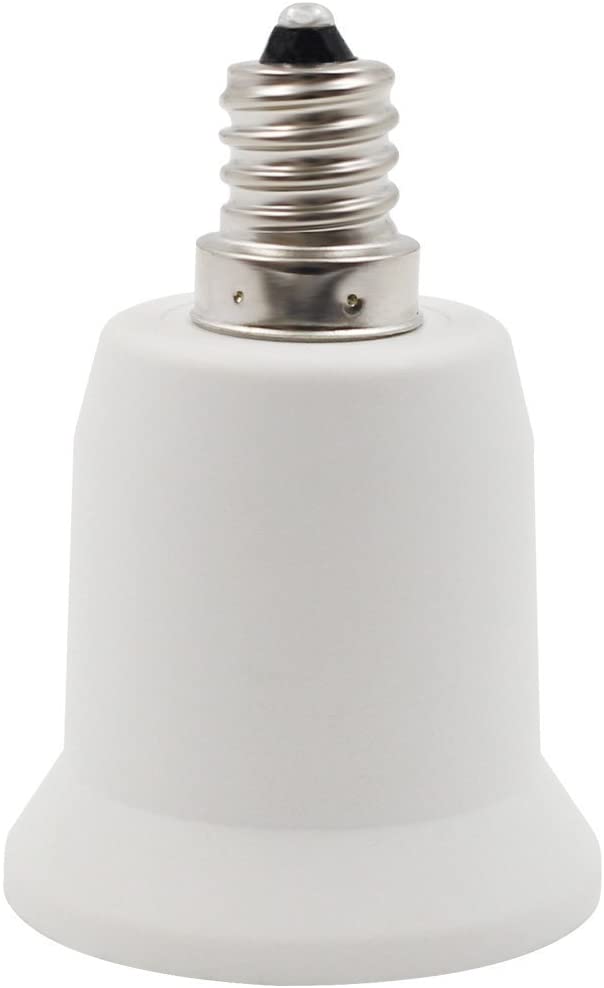 The YiLighting E12 to E26 adapter follows the same format as the other offerings on this list. However, this is the cheapest option because you are only getting one adapter. However, you can choose packs of these adapters, up to 20 in one pack. It adopts the standard white appearance and sizing of the other adapters and utilizes copper for conductivity.
This YiLighting adapter is also fireproof, anti-aging, and anti-burning. It comes with the standard 12-month warranty and a dedication to ensure complete satisfaction for every customer.
---
Jackyled E26 to E12 Adapter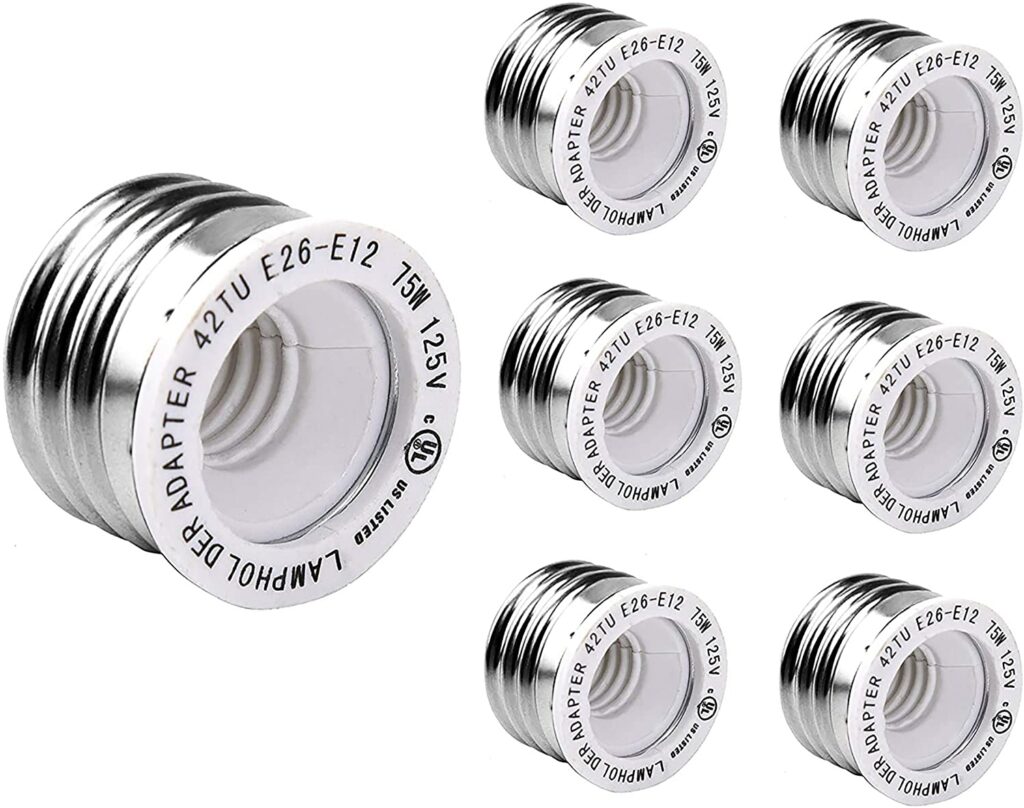 In case you are thinking about converting your light the other way, from an E26 to an E12, then you'll find the Jackyled E26 to E12 adapter useful.
This adapter is smaller than the E12 to E26 as the E12 thread is contained inside and the E26 outside. That makes the adapter almost invisible once in place. This offering is part of a six-pack and is capable of handling 75 watts while being heat resistant to 200° C and fireproof.
You can also choose a 10-pack if you prefer. Using this is as simple as screwing it into place and you'll be pleased to note it has a year warranty and a policy of 100% customer satisfaction. IN short, a great option if you need E26 to E12 conversion.
---
Final Thoughts Regarding E12 to E26 Adapters
You never know when or why you may need to use an E12 to E26 adapter. However, a pack of adapters is deceptively cheap and a great idea to have as a backup in your cupboard.
If you are in the market for an E12 to E26 adapter then take a look at the above tips and choose one of the ones on this list, you will be happy with the results.