The holiday season is coming up fast, and for those fanatics of festivities, that means lighting up the yard and house on the outside with lights, inflatable characters, and other holiday decorations.
Getting power to those lights and decorations safely and effectively is paramount to having a fantastic holiday display. Since most outdoor holiday lighting and decorations use a 2-prong electrical cord, it's best to use 2 prong outdoor extension cables for Christmas lights.
Alternatively, some of your electric-powered lawn tools use a 2 prong plug, and you'll want to have an extension cord that not only fits the device properly but can also withstand whatever weather conditions you are dealing with.
All extension cords will have information on their intended use, power capacity, length, and build (heavy-duty, etc.) and you should always make sure you have the proper cable for the job at hand.
We've put together a list of the best 2 prong outdoor extension cords for all your holiday lighting needs.
Using Outdoor Rated Extension Cords
Using a 2 prong outdoor extension cord and not an indoor extension cord when running power outside is essential. Outdoor extension cords are insulated explicitly for outdoor use and have thicker rubber, vinyl, or plastic coating to keep the elements from damaging the cable.
The best way to ensure that you are using an outdoor extension cord is to look for a W rating on the package. This indicates that it is rated for outdoor use.
Best 2 Prong Outdoor Extension Cords
All of these 2 prong outdoor extension cords are excellent choices. Whatever you're lighting up the Christmas season or blowing the leaves off the driveway, you'll find a cord that fits perfectly for the job at hand.
Clear Power 100 ft Outdoor Extension cord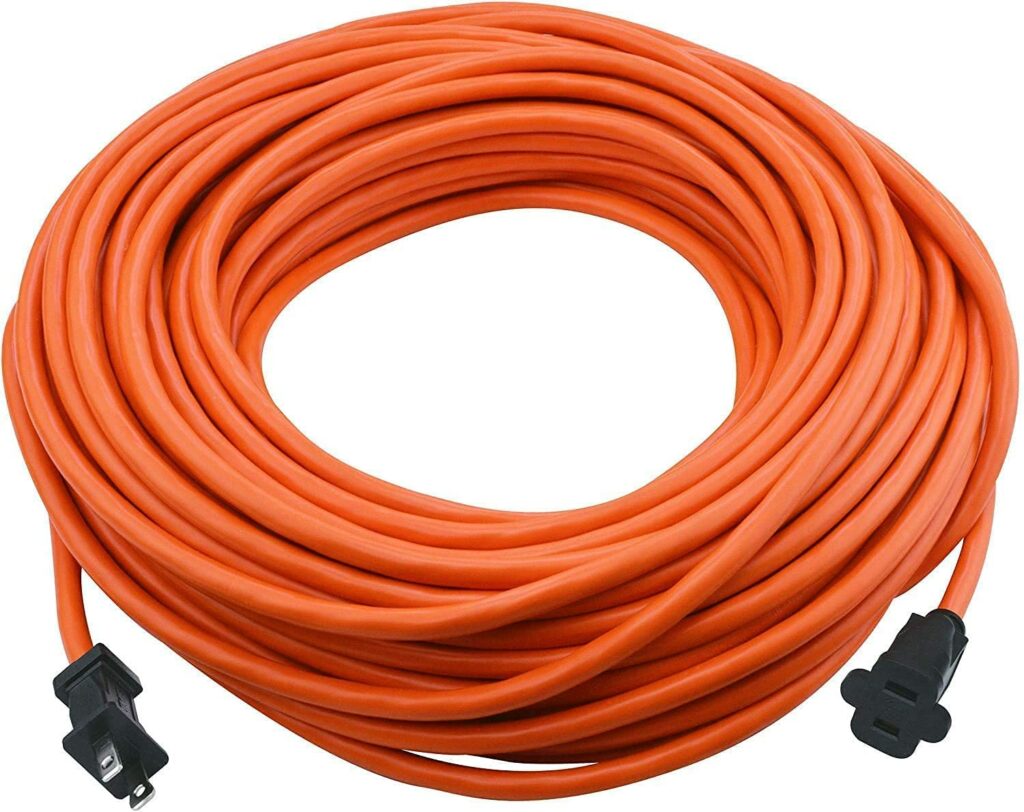 Rated for outdoor use
16/2 AWG gauge
100 ft reach
The Clear Power 100 ft outdoor extension cord is an ideal choice for getting power to those lights and inflatable Santas out at the front of your yard. It boasts an extra durable waterproof and abrasion-resistant jacket that is also flame retardant.
With 100 ft of reach, it can get power to any place you need and will work in temperatures from -40°f to +140°f. Its nickel-coated brass blades resist corrosion, so you can rest assured that it will work well throughout even the toughest of winters.
---
Yard Master 9940010 Outdoor Garden 120 ft Extension Cord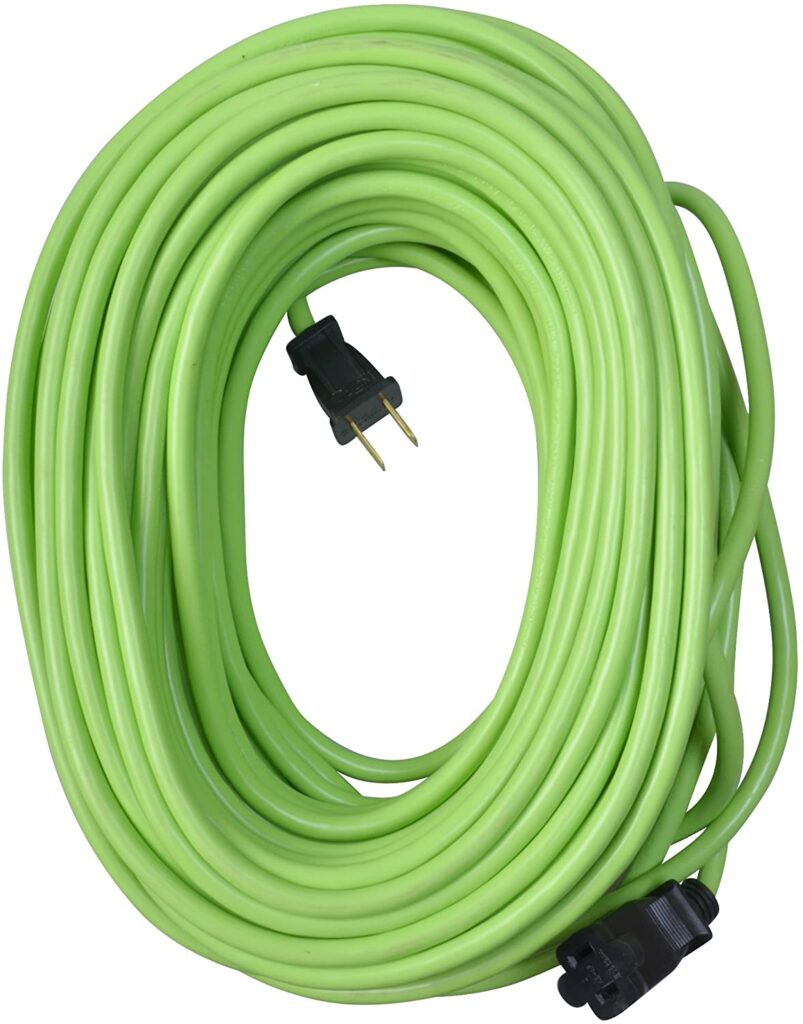 Weatherproof
120 ft reach
Durable blades
The best thing about the Yard Master outdoor 120 ft extension cord is its length. If you need more than 100 ft out of your 2 prong extension cord, then this is the one to look at. It is the only 2 prong cord to go beyond 100 ft. It's highly resistant to all weather conditions, as well as fire and chemical agents.
Also, it's an eye-catching lime green color, so it's easy to find on those dark winter nights.
---
Woods 0722 16/2 Vinyl General Purpose Extension Cord 25 ft

Sturdy vinyl cord jacket
25 ft length convenient for shorter runs
Water, heat, chemical, abrasion-resistant
If you don't need 100 feet of cord to get your holiday lit, then have a look at the Woods 25 ft outdoor extension cord. It's a perfect size for shorter distances and will make running power to your lights more efficient and less messy.
Like the Clear Power and the Yard Master extension cords, the Woods cord is built to withstand even the most punishing seasonal conditions.
---
BindMaster 50 ft Extension Cord Indoor/Outdoor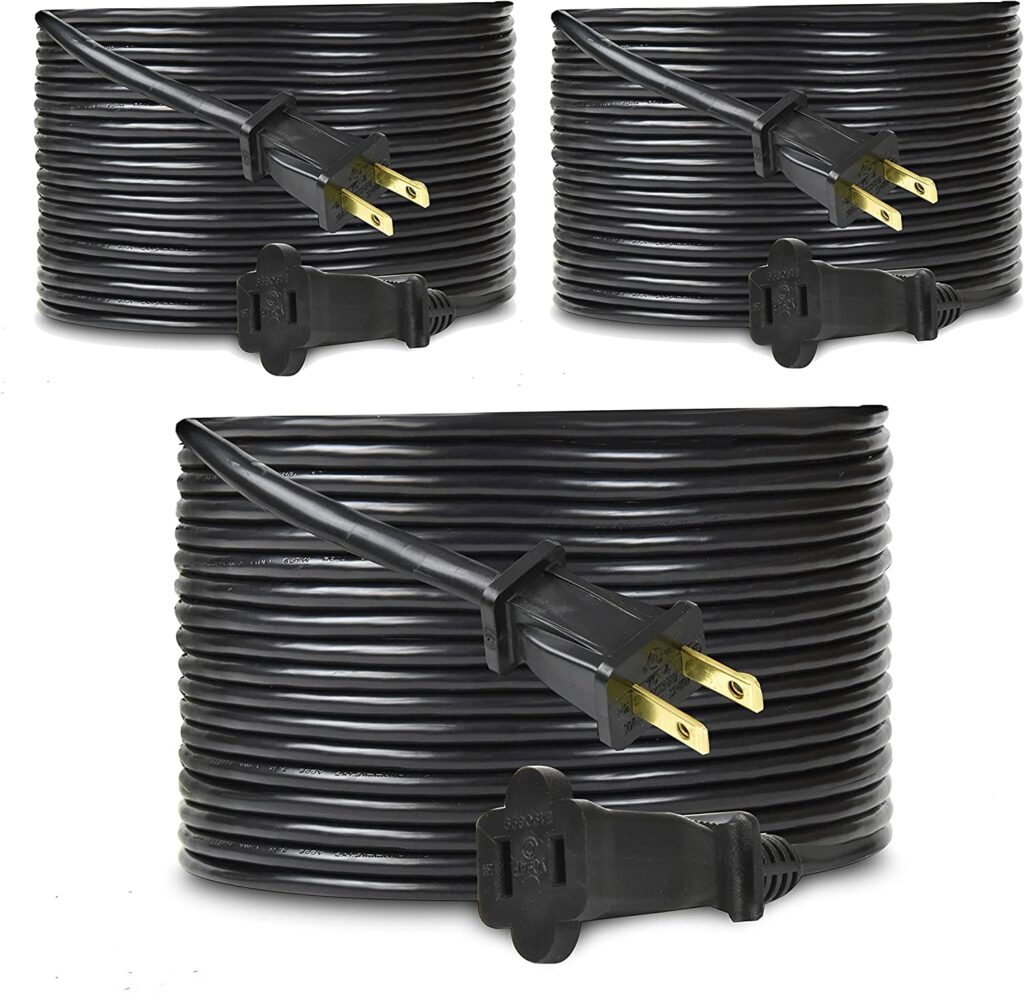 Black color conceals cord
Multiple lengths to choose
Also available in white
If you want to keep your outdoor extension cord hidden from view, then the BindMaster 50 ft extension cord is the perfect solution. This sturdy, weather resilient 2 prong outdoor extension cord is built to last through multiple seasons of sun, rain, and snow.
Also, unlike many other outdoor extension cords, it is not a bright, eye-catching color. So, if you don't want any distractions from your holiday light show, this would be the cord to consider. It also comes in white if you are going to run it along eaves or windows.
---
FAQs
Do I need to use an outdoor extension cord?
If you are running power outdoors, you absolutely need to use an extension cord rated for outdoor use. This is signified by a "W" rating on the label. If you use a cable that isn't built for the outdoors, you run the risk of failure, damage to your appliance, and electrical shock.
Look here for information about outdoor extension cords' use and care.
Can I use a 3 prong extension cord with my 2 prong appliance?
The short answer is yes, you can. However, using an extension cord that matches your device is preferable. The main reason is that it will fit correctly with your plug and create a proper seal from the elements.
If you use a 3 prong extension cord with a 2 prong device, then the ground input on the cable will be exposed to water, dust, debris, or any other corrosive element that can cause failure over time.
Can I use my 3 prong device with a 2 prong extension cord?
Again, the short answer is yes, but it requires another item to work safely and correctly. You will need to attach a ground lift to the male end of your 3 prong blades. Doing this will ensure a good ground and make the fit secure and sealed from the elements.
However, it is always best practice to use an extension cord that matches your device's electrical connection.
Conclusion
Whether you are looking to power your electric leaf blower, decorate your lawn with a 15 ft inflatable Santa, or run a string of lights around your yard and home, you'll need the right 2 prong outdoor extension cord for the job.
Do you need a long cord for reaching the far end of your property, or is a shorter length better to keep the run clean and organized? Do you want a brightly colored cord, so it's easily seen and not a tripping or shock hazard? Or would you rather hide it from sight for decorative purposes? Whatever your personal needs are, one of these cords will serve you well.