Christmas simply isn't Christmas without a tree, decorations, and the warming glow of festive lights. Of course,  there is a big difference between adding a few lights to your tree and covering your entire home with the festive spirit. 
Both are viable options but, to ensure you have the necessary power for your lights and the safety of your home, you need a Christmas light extension cord. The cable on the lights is never long enough to reach your sockets. Fortunately, everything you need to know to purchase the right Christmas light extension cord is in this guide.
The Christmas Light extension Cord
The first thing to note is that the Christmas light extension cord is fundamentally the same as your standard extension cord or an extension cord with a light socket. In other words, it effectively delivers power from the mains electricity supply to a second socket that your Christmas lights can plug into. 
But, the fundamental difference is the type and thickness of the cable. When you are fitting lights outside you need an outside cable.
That means a thick cable with plenty of insulation. An outdoor cable has to deal with the weather, specifically wetter and colder temperatures during the Christmas period. There are three types of outside extension cables:
Occasional
As the name suggests these cables are designed for occasional use. They are ideal for smaller tools and if you are plugging/unplugging your device regularly. You wouldn't leave the cable out all the time.
Frequent
Frequent extension cables are much thicker, better insulated, and heavy-duty, perfect for regular use. This type is generally the best choice for your Christmas light extension cable.
Rugged
These are the top-end ones and are designed for equipment that has a heavy draw.
Having established which type of cord you need, you will need to consider how many outlets you require to connect your array of Christmas lights. But, that isn't the only thing you need to consider.
Things To Consider Before Committing To A Christmas Light Extension Cord
It is essential that you spend a few moments thinking about the cable manufacturer. You need to be confident that they are reputable and the cable will do the job. Don't forget, poor quality or overloaded extension cables are a primary cause of fires.
If you don't recognize the manufacturer yourself then ask your family and friends. You can also look at social media and access honest opinions regarding a manufacturer and even a specific Christmas light extension cable.
If you are setting up your Christmas lights there is a good chance that you will need more than one socket on your extension cable. Of course, the sockets will need to be rated for outside use but it is also important to verify how many you need.
There are two things to consider when looking at the power rating of an outdoor extension cable. The first is to be aware of the code on the cable. It will always be stamped onto the extension cord.
'S' cables are flexible and designed for general use. To use it outside you will need at least a 'W' category. But, it is advisable to get one that says 'E'. This stands for Thermoplastic elastomer rubber which is excellent at withstanding extreme temperatures, sunlight, UV rays, and anything else nature can throw at it.
Alongside this, you need to consider how much power your Christmas light extension cord can handle. That means looking at the amperage rating to ensure you will not be drawing more amps than the cable is rated for. It also means looking at the AWG. This is defined as a number and the lower the number the more current it can handle.
Surge protection is not optional. You need to protect the electrics in your house and your investment in Christmas lights. One surge can deactivate all your Christmas lights, leaving your house without the festive spirit and you with a large replacement bill.
Surge protection prevents this from being an issue and is usually built into the extension cable. If not, make sure you plug your extension cable into a surge protection device.
The length of your Christmas light extension cable makes a difference to the power it can handle. For example, an 18 AWG cable can handle 10 amps up to 25 feet. But, past this, it will only safely handle 5 amps. In contrast, a 14 AWG cable will give you 15 amps up to 50 feet and 13 amps up to 100 feet.
That's a big difference.
Finally, it is always worth taking a few moments to look at the cost of several Christmas light extension cables. This will help you to confirm you are not paying over top for your cable, which is only advisable if it offers a significant improvement on a standard cable. Equally, cables that are below average cost may be of inferior quality.
Best Christmas Light Extension Cords
Dewenwils Outdoor 3 Socket Extension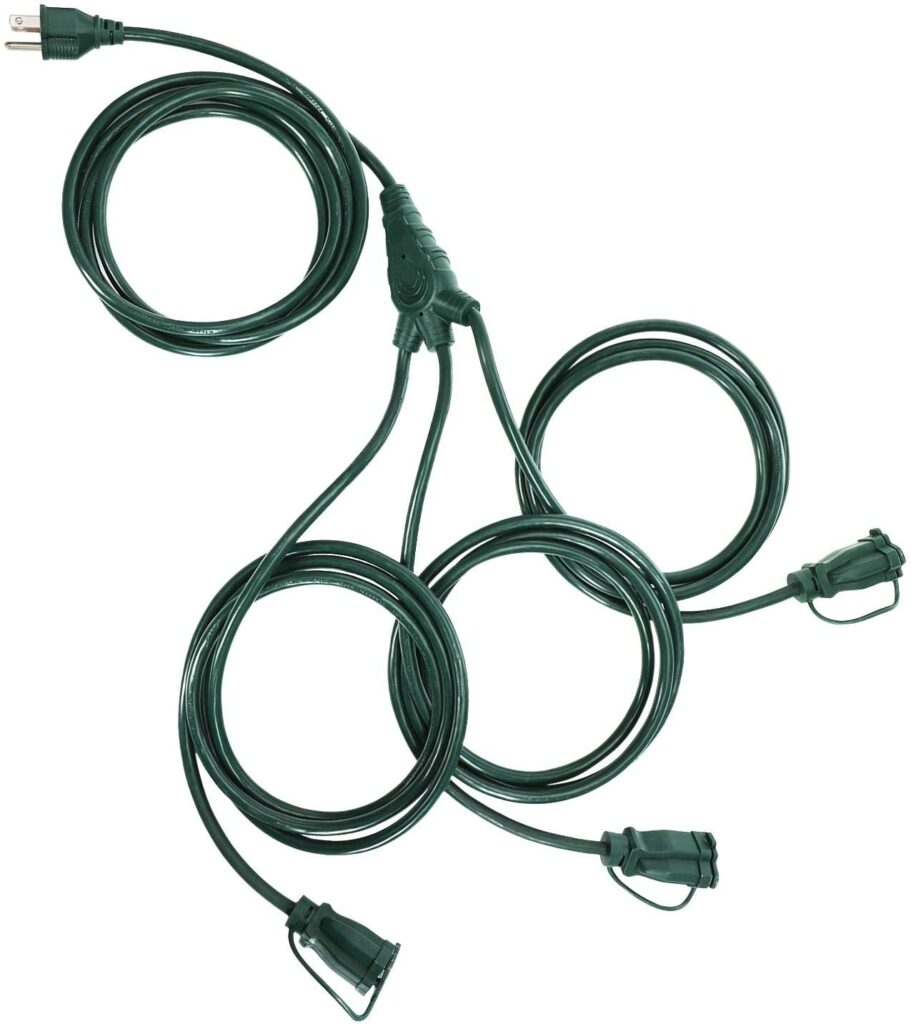 The Dewenwils outdoor 3 socket extension is a stylish, functional, and very popular choice. It has a standard plug at one end and the cable literally splits into three, giving you three weatherproof outdoor socket points. Because the cable splits you can position each socket where you need it to be.
It comes in two options, 25ft or 40ft. However, it should be noted that the initial part of the cable is 7ft long, it then splits into three sections of 6ft each. The cable is 16AWG rated at 13 amp and is grounded for safety. It is also flexible enough to be used anywhere in your yard.
---
Superdanny Outdoor Power Stake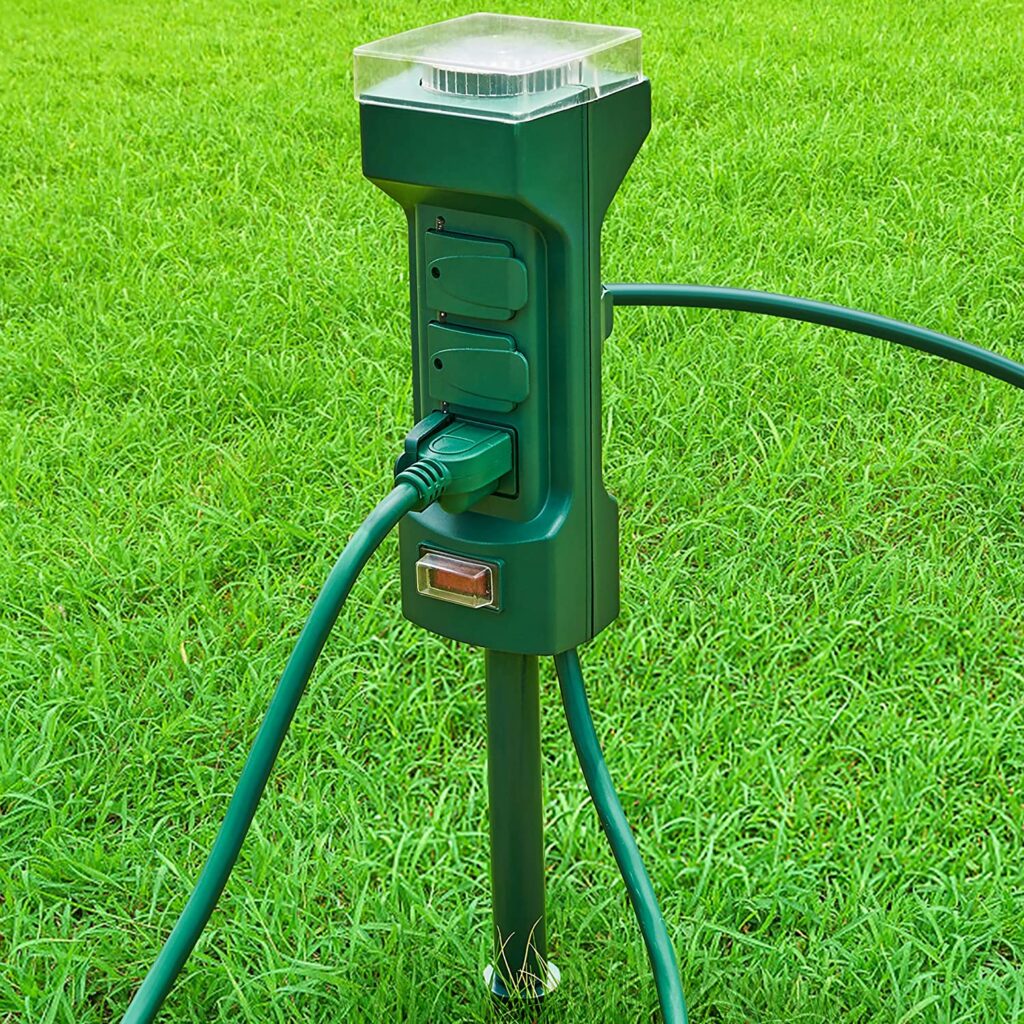 The Superdanny outdoor power stake is a great way to introduce 6 outlets into your yard for your Christmas light needs. The stake can go into the ground wherever you choose in the garden. It has six outlets all with waterproof covers and the 14 AWG cable is rated at 15 amps, giving it a maximum power of 1875 watts.
The cable itself is 10ft long and made of fire-proof materials as well as having built-in short circuit/overload/surge protection. This can also be used as a switch but the device does incorporate a timer, making it easy to turn on and off your Christmas lights.
---
Dewenwils Outdoor Digital Power Strip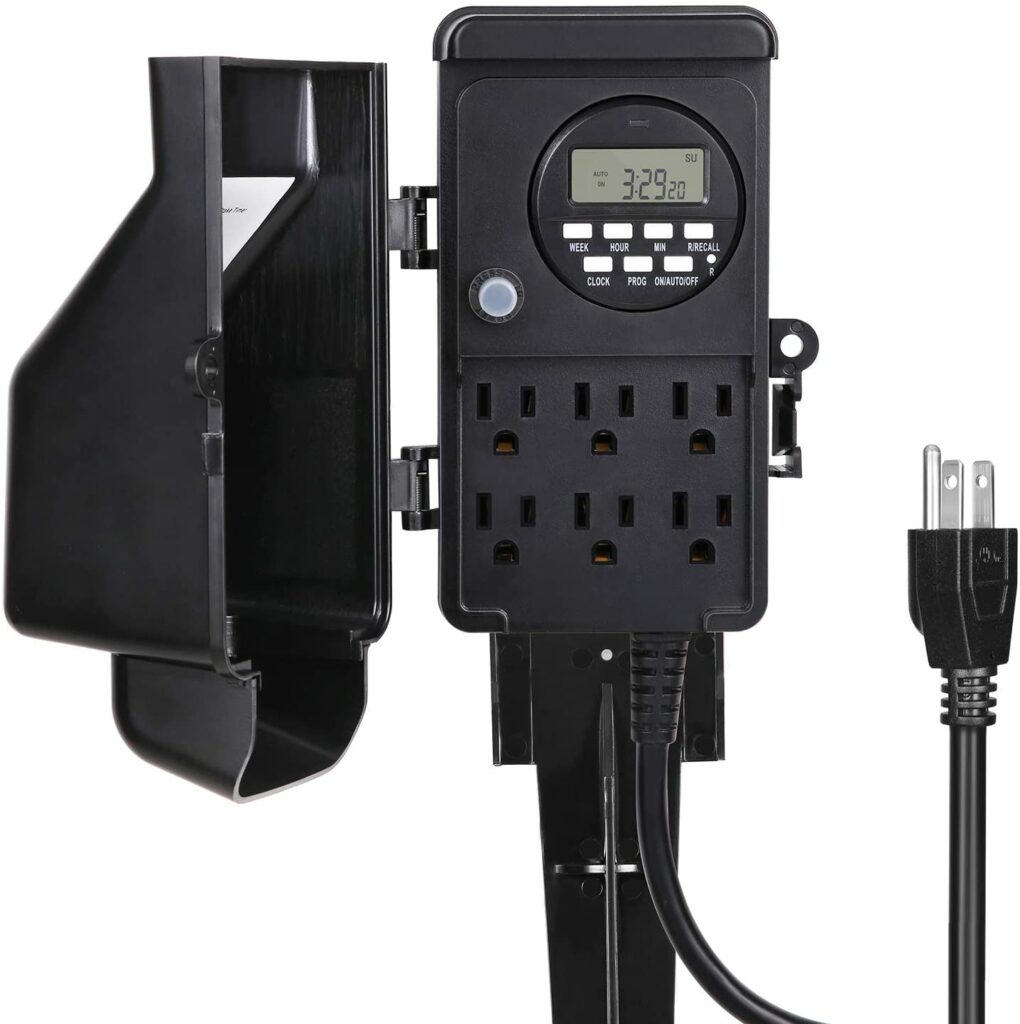 A second offering from Dewenwils is the Dewenwils outdoor digital power strip. It has a shorter, six-foot-long, cord and a digital timer allowing you to control the on and off mechanism. This extension cord also has six sockets and they are enclosed in a waterproof box, ensuring safety and peace of mind.
It is rated for 1800 watts with a heavy-duty 14 AWG cable offering 15 amps of power. In short, it is convenient and practical, although not the longest of options. This extension cable also has surge and overload protection and is both weather and fire-resistant.
---
Amazon Basics Outdoor Extension Cable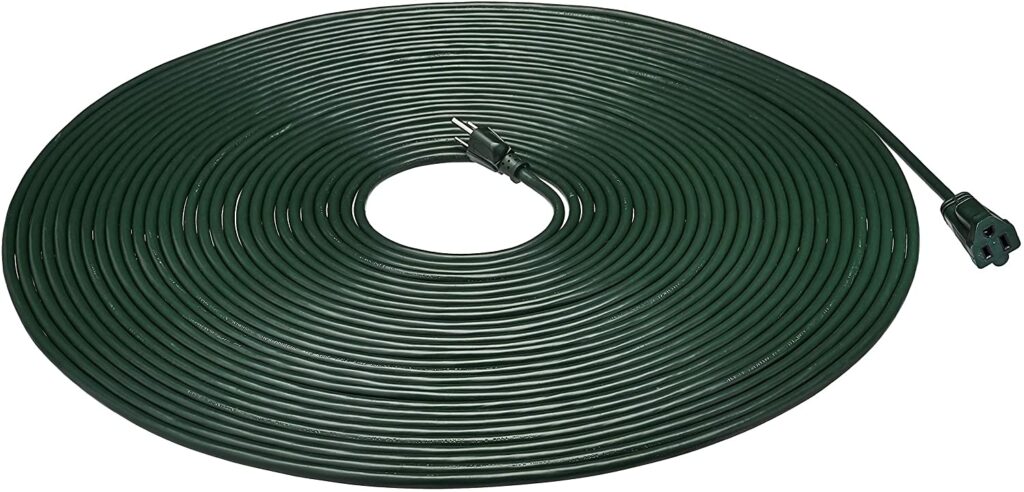 Amazon has its own offering, the Amazon Basics outdoor extension cable. This is 100ft long but only offers one socket. It is offered in a choice of green or orange, depending on whether you want it to blend in or not.
The cable is 16 AWG with a standard socket that offers protection against moisture, abrasion, and sunlight. It will need to be positioned out of driving rain. You'll get 10 amps or 1250 watts from this cable with all copper wires, giving you reliable power whenever you need it.
It is worth noting that the cable is offered in a variety of lengths, ranging from 15ft to a maximum of 100ft.
---
Woods 3030 Yard Master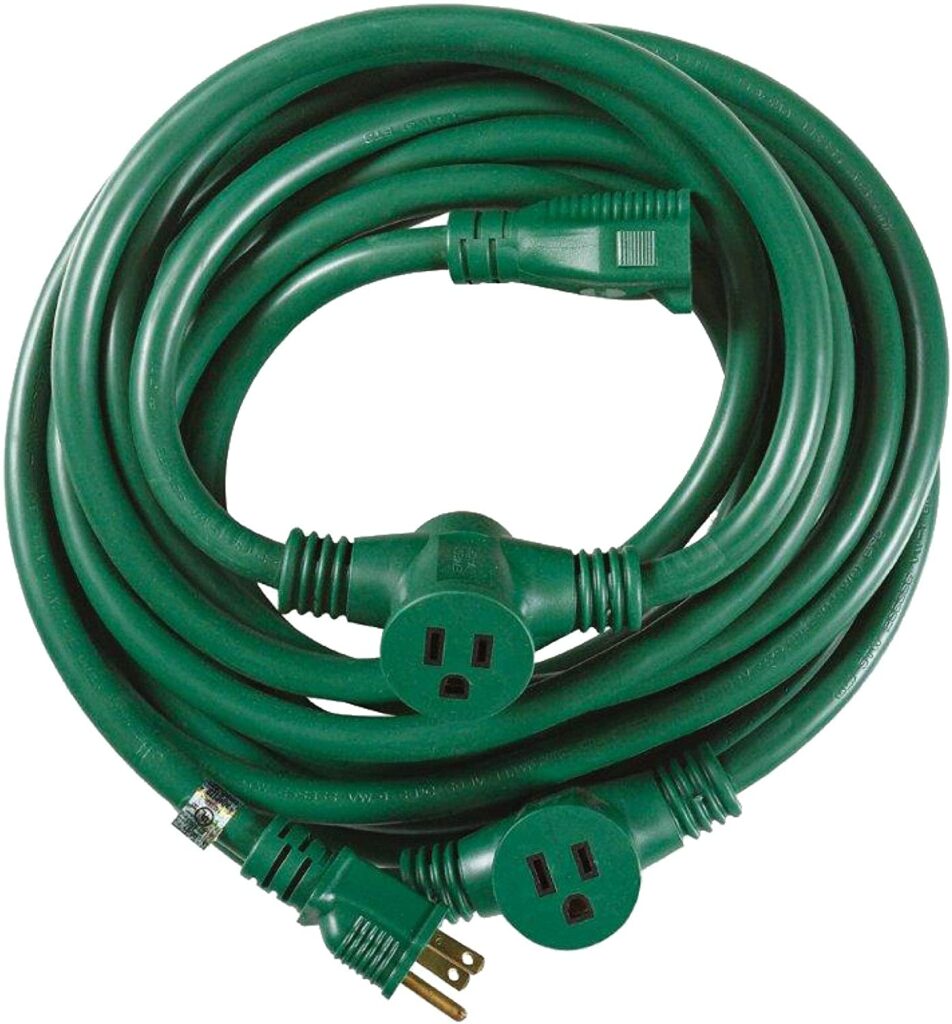 The Woods 3030 Yard Master takes a slightly different approach. The cable is 25ft long with a waterproof outside socket situated roughly every eight feet, creating three evenly-spaced sockets. The cable itself is green, allowing you to effortlessly hide it in the garden and it offers 875 watts through a 14 AWG 15 amp copper wire, insulated, and plastic coated cable.
It doesn't offer surge protection but it is a practical option, allowing you to plug different Christmas lights in at separate points.
It should also be noted that although the sockets are sealed and robust, there will be room for moisture ingression around the join between socket and plug. You'll need to bear this in mind when positioning your Christmas light extension cable.
---
Final Thoughts On Purchasing A Christmas Light Extension Cable
This guide may be aimed at helping you find the perfect Christmas light extension cable. However, it should be noted that this advice can be applied to any outside extension cable. The bottom line is that it is always safer to go over the top with your cable choice.
Overloading leads to issues and can even cause a fire, it is safer to pay a little extra and get a high-quality cable capable of doing the job you need. Then, you and your family can simply enjoy the Christmas lights.