It's not hard to find an outdoor extension cord if you know the length you need. However, you're often limited to one available outlet, maybe two if you're lucky, even though you have several devices. To make your life easier, choose an outdoor extension cord with multiple outlets.
Using one extension cord with multiple outlets is a simple way to have everything you need outside without trading out plugs.
The Best Outdoor Extension Cord With Multiple Outlets
Whether you're looking for something long or short, you'll find the best outdoor extension cord with multiple outlets in this buyer's guide.
Iron Forge 15 Ft Outdoor Extension Cord with 3 Electrical Power Outlets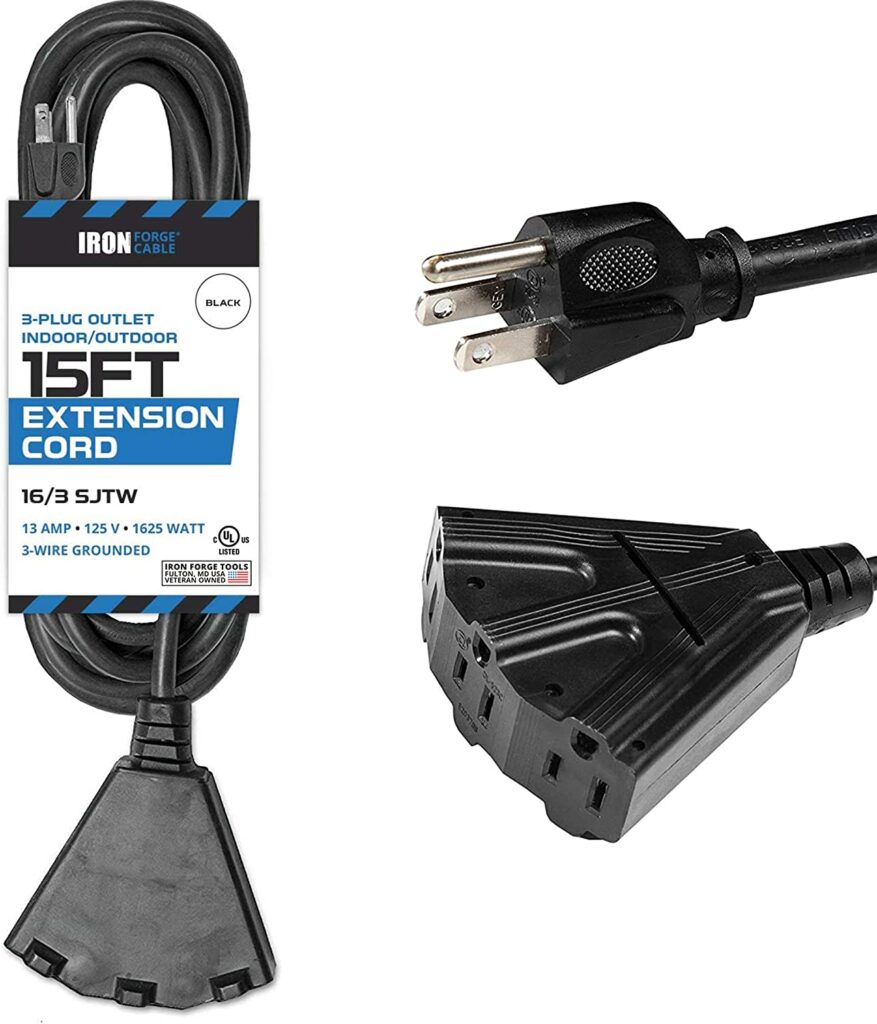 The Iron Forge 15 ft outdoor extension cord has three outlets. The outlets are evenly spaced, so that you can get the plugs into place without a struggle. The manufacturer grounded the three prongs on the plug so you won't get shocked or short out the plugged-in devices.
The black vinyl covering is durable yet flexible, so you can snake it around corners and keep it tucked out of sight. The dark coating can be hard to see outside, so watch out as it may become a trip hazard.
Underwriters Laboratories (UL) approved Iron Forge's cord. The company offers a lifetime replacement warranty. If you have a problem with the cord, they'll send you a new one. The company is veteran-owned and based in the United States, making it a great manufacturer to support.
Pros
It has three outlets on one end
Tested and approved by Underwriters Laboratories (UL)
Lifetime replacement warranty
Cons
No covers to close off unused outlets
---
Amazon Basics 20-Foot 3-Prong Vinyl Indoor/Outdoor Extension Cord with 3 Outlets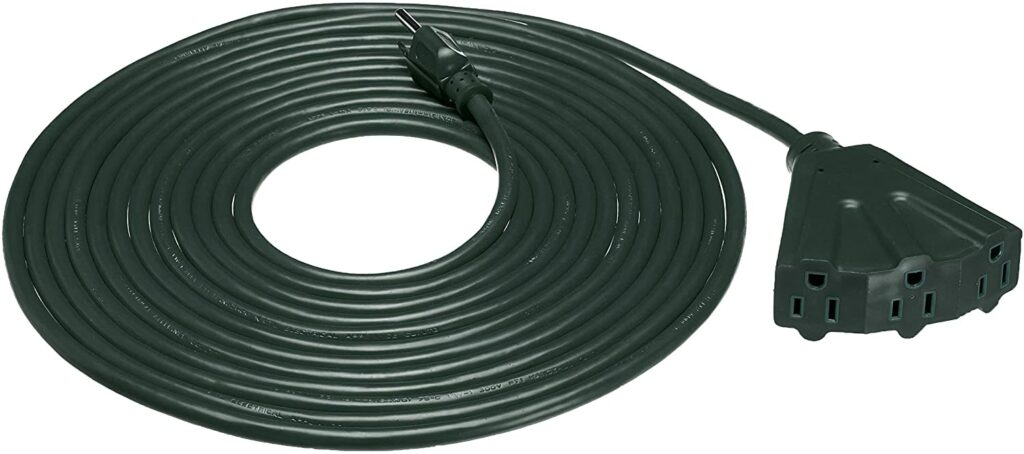 This is Amazon's version of Iron Forge's outdoor extension cord. It's longer, at 20 feet, but has three outlets at one end. The cord comes in green or orange. It's nice to have the choice of letting the cord blend in with the landscape or making sure it grabs everyone's attention for safety concerns.
Vinyl insulation coats the copper wire, making this cord a durable choice for outdoor use. Use the extension cord for decorations, lights, or when you are camping. However, don't use it for power tools because the amperage is too high.
Pros
It has three outlets at the end
Two color options: green and orange
Great length for outdoor decorations
Cons
Not ideal for power tools
---
UltraPro 25-Foot Extension, 3 Outlet, Indoor/Outdoor, Grounded, Double Insulated Cord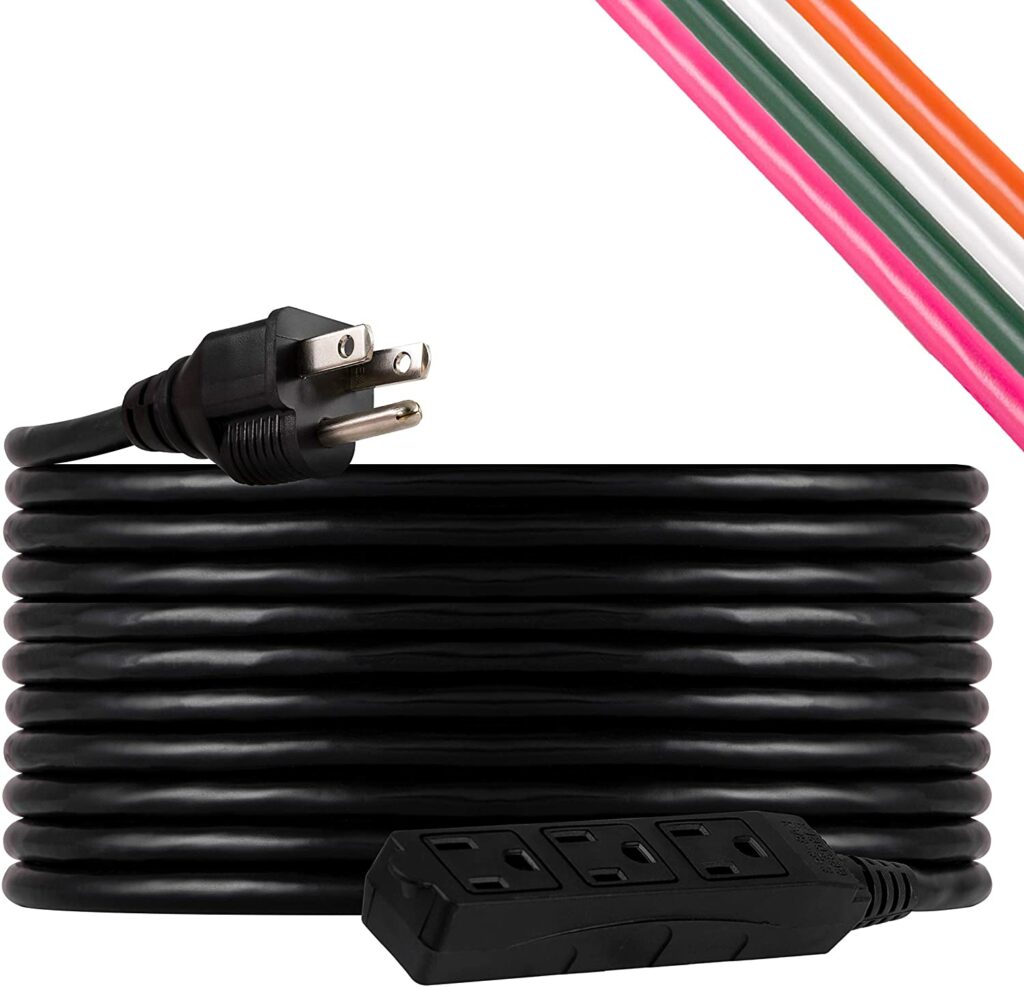 UltraPro has a heavy-duty extension cord with multiple outlets. It's 25-feet long and has three outlets at one end. Unlike the previous two products, these outlets line up in a row. The style of the outlets makes it easier to connect uniquely shaped plugs compared to the triangle design of the others listed above.
The cord is strong enough to handle power tools, appliances, and handheld devices. It comes in multiple colors, so you can let it blend in or stand out. Choose from black, white, green, pink, or orange.
Pros
Three outlets are in a line for easy use
Five colors: black, white, green, pink, and orange
The double-insulated coating is flexible
Cons
The male end of the plug gets overheated
---
Digital Energy 50-Foot Multi-Outlet 14/3 Extension Cord, 10 Outlets Evenly Spaced Every 5 Feet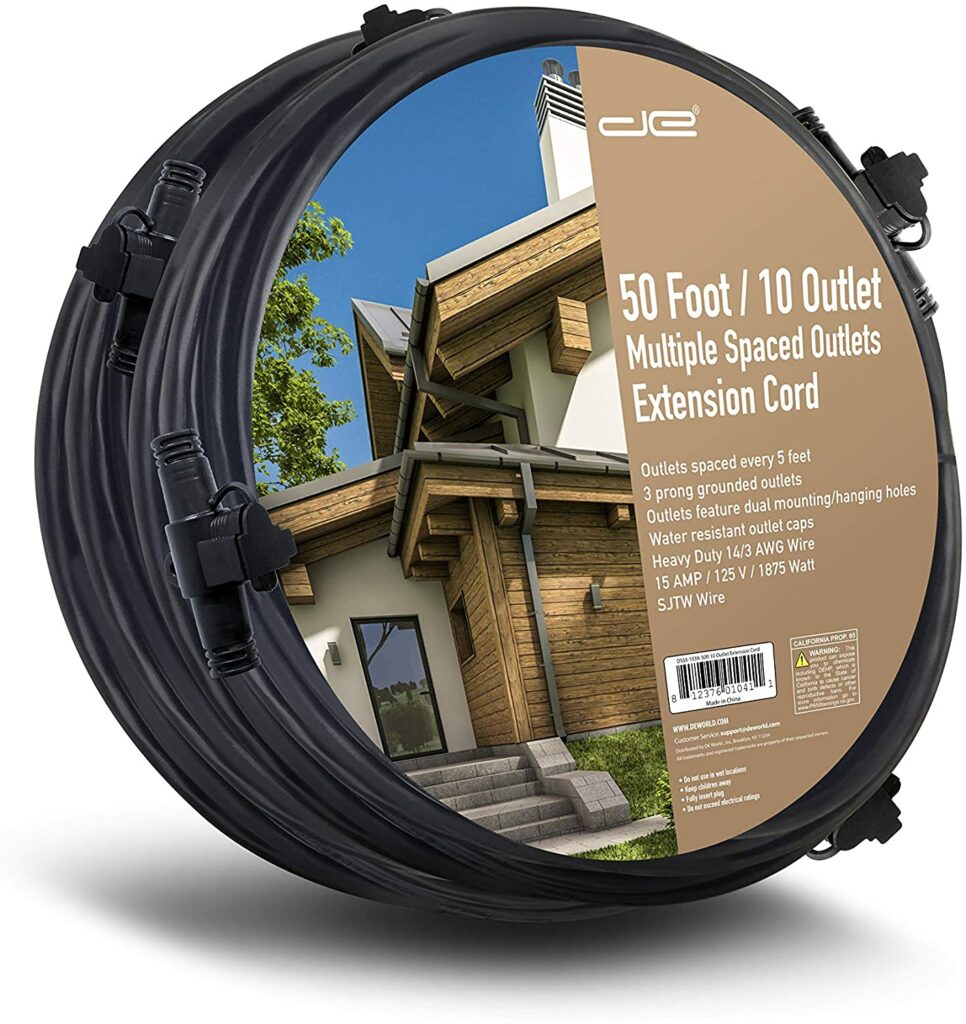 Digital Energy's 50-foot cord stands out when compared to the others on the list. It is a long extension cord with multiple outlets. Instead of having a bundle of outlets at the end, it has them spaced over the entire length of the cord.
There is an outlet every five feet of the cord, so you can snake it along the ground and plug other devices in periodically. It is a great way to power up yard decorations and lights. If you don't need all the plugs at one end, this gives you some space to move around.
Pros
10 outlets spread across 50 feet of cord
Practical layout lets you space out appliances without clustering them together
100% money-back guarantee if you're not satisfied
Cons
Outlet covers break off easily
---
Features to Consider
There are a few other notable features to consider before purchasing a long extension cord with multiple outlets.
Length
The length of the cord you buy depends on how you're using the cord. It is better to have longer cords for handheld tools so you can let the cord hang down without cutting through it.
Besides buying a longer cord for easier use, you also want to consider that longer cords are at risk for voltage drop. The farther electricity has to travel, the weaker it becomes along the way. Therefore, getting a cord that's just long enough ensures you'll have enough power for your appliances.
Weatherproof/Durability
Manufacturers mark outdoor extension cords with a "W" to show that they're weatherproof, but that doesn't mean you can keep them outside all of the time. Remember to store them in a warm, dry place so they don't get ruined.
The same coating that insulates the wires makes the cord weatherproof and durable. Besides thick yet flexible insulation, you also want to check for solid prongs. Reinforced prongs won't bend with use, so your extension cord will last for years.
Safety Features
Both Underwriters Laboratories (UL) and Intertek (ETL) test and approve extension cords. Check cords for the stamp of these companies' initials before buying. This means the cord meets the industry's high standards and is safe to use.
Thick insulation is also a safety feature because it protects the wires from wear and tear. Brightly colored insulation will keep you from tripping over cords that snake across the ground. And a GFCI cable will protect you from electricity leaking onto the ground.
Conclusion
Finding a heavy-duty outdoor extension cord isn't difficult, but if you want multiple outlets, you might have to hunt a little more.
You can't go wrong with the length these cords offer, and they go above and beyond with the additional outlets. If you choose a cord from this list, it'll meet all your outdoor electricity needs.