HDMI cables, or high-definition multimedia interface cables, allow you to link the latest TVs to external cable TV tuners, audio/video tuners, media players, Blu-ray players and even VR. Their primary purpose is to transfer audio and video information over the same cable, resulting in a simple and secure connection.
HDMI cables aren't very sophisticated, and they don't need any setup, but anyone who has worked with A/V receivers, TVs, or sound bars knows how handy they can be. Even viewing a movie on your TV becomes difficult without them. Add a dual monitor adapter and you set up multiple monitors (you also might need a DisplayPort extension cable).
Given that current configurations are incompatible with earlier versions of HDMI cables and that the newest version of HDMI 2.0 cables is compatible with HDR (High Dynamic Range) and 4K TV, choosing the suitable HDMI cable is a difficult job. Aside from these considerations, there is a slew of additional factors and needs that make selecting the finest HDMI cable a problematic task. ​
Considerations for Choosing Your HDMI Cables
We understand that you're after the best quality HDMI cable to connect your new audio and video devices to the screen, but you're not sure which cables to buy. Here are a few tips to consider when picking up an HDMI cable from the store.
Installation Type Matters
Through-the-wall Installation: If you're going to run your HDMI cables through a wall, opt for ones with a CL2 or CL3 rating. These cables are designed for low-voltage in-wall applications and feature a fire-resistant covering. Make sure you have the correct wires for in-wall installations by checking your local fire regulations.
Add HDMI wall plates at the places where the cable leaves the wall to give the installation a professional appearance. A wireless HDMI extender is an easy-to-install alternative to running wires through the wall.
Consider a wireless HDMI extender that sends the signal over Wi-Fi if running wires through the wall is cumbersome or inconvenient.
Industrial/Outdoor Applications: We suggest you use IP68-rated cables for outdoor applications (such as industrial floors, patios with audio components, or outdoor digital signs) that are vulnerable to dust, dirt, or bad weather. IP68-rated HDMI cables can withstand a 60-minute submersion in up to 1.5m of water.
Cable Length
As a general guideline, choose the shortest HDMI cable you can find to avoid having audio and video signals travel a lengthy distance. Most connections are simple to set up using wires that are less than six feet long.
Longer HDMI cables can develop problems depending on how you route them and aits quality. Any abrupt bends may create issues, and if you're running a wire for more than 20 feet, it's best to get the best quality.
What if you need to extend your cable over a very long distance, such as connecting to a projector? There are few options available to you. If you're running the HDMI cable over a distance of 12ft or more, we recommend that you choose an active HDMI cable.
Active HDMI cables include a specialized processing chip to guarantee that your signals flow without loss or interruption from your source to the screen.
We recommend high-tech fiber optic HDMI cables at lengths of up to 1,000 feet because they provide excellent image and sound quality. You'll not experience signal loss over long distances with these connections. In addition, they are insusceptible to interference from computers, wireless devices, and appliances. Because fiber optic cables are so fragile, it's better to leave the installation to the pros.
You can also choose the more DIY-friendly active hybrid HDMI since you'll get similar benefits and quality as fiber optic cables. These flexible cables are an excellent choice for pre-wiring new houses.
Right-Angled or Straight Connectors?
When buying an HDMI cable, you should consider whether you need right-angled or straight terminals. HDMI cables with straight connectors are the most popular. However, you may need to bend the cable, and this might not be easy with straight connectors, mainly if there isn't much room between the audio/video equipment and the cabinet or wall. Right-angled connectors might be your best option if this is an issue.
Speed/Bandwidth
Speed (measured in gigabits per second) is arguably the singular most important consideration when choosing an HDMI cable. If your cable doesn't match the speed of your video/audio equipment, media sources, and HDMI versions, it won't be dependable.
Luckily, HDMI.org classifies HDMI cable speed/bandwidth into four groups:
Standard/Regular HDMI
For people who don't have a 4K UHD TV and don't intend to get one anytime in the nearest future, a regular HDMI cord should suffice. Standard HDMI cables support 1080i and 720p screen resolutions for HD video. Although we've seen 1080p function with regular HDMI cables, we won't guarantee it.
You may use a standard HDMI cable with Blu-ray players, streaming media players, DVD players, and soundbars. But be mindful that you'll probably need something of better and faster quality if you need to go beyond HD.
High-Speed HDMI
High-Speed HDMI is the mainstay of the audiovisual world; they can handle any content or device up to 4K resolution (from 30 frames per second). It supports deep color, 3D video, and also, 1080p screen resolution.
Static HDR (such as HDR10) will also work, but we don't recommend it if you'd like to enjoy Dolby Vision HDR. It utilizes much more data as a dynamic version of HDR and therefore enjoys a faster connection.
Premium High-Speed HDMI
A Premium High-Speed HDMI cable can last you a long time if you stay in the realm of 4K UHD and don't plan on using cutting-edge attributes, including 8K or eARC. It's guaranteed to provide 18Gbps, which HDMI 2.0b devices require to function correctly.
Premium HDMI cords support 4K resolution at 60Hz, all types of HDR, like HDR10+ and Dolby Vision, as well as audio return channel (ARC), allowing you to simplify your wiring to TVs with only one connection. Premium High Speed is your go-to choice if you've purchased your TV, projectors, monitors, or any other A/V gadgets within the past two years.
Ultra High-Speed HDMI
The Ultra-High-Speed is the pinnacle of the HDMI tower, ensuring that all advanced features of the HDMI 2.1 standard, such as 8K/60Hz and 4K/120Hz video, eARC, various types of variable refresh rate (VRR) tech, and all HDR versions.
Is this the type of cable you need? Only two groups of people can profit from it right now: Those who buy 8K TVs and next-generation players using Xbox series X or PS5, which both enable 4K/120Hz and 8K/60Hz gaming. Remember that your TV must also support these frame rates and resolutions to play games at 4K/120Hz or 8K/60Hz.
Best HDMI Cables in 2023
SecurOMax High-Speed 4K HDMI Cable – Overall Best Ultra-High-Speed HDMI Cable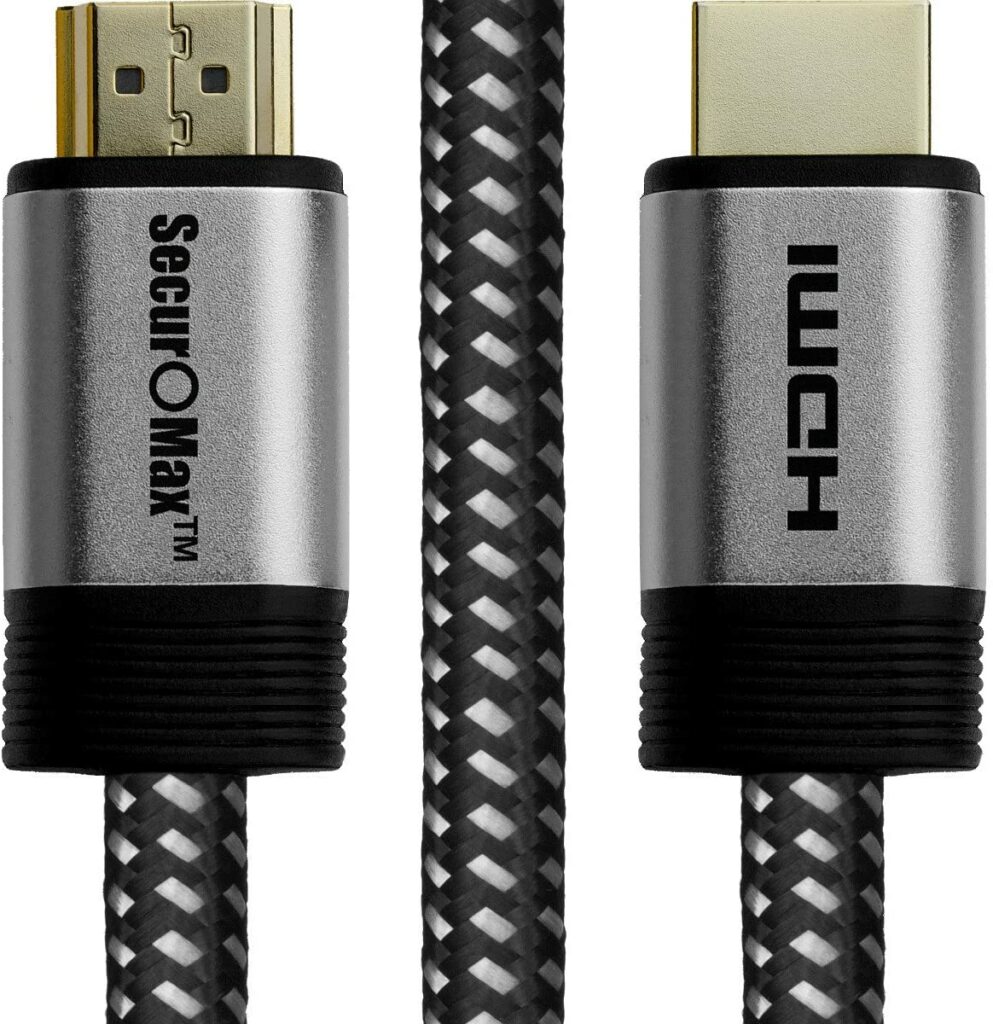 If you're searching for a heavy-duty, high-powered HDMI cable that you can preset and forget whether you're enjoying your gaming setup or viewing several 4K videos on any OLED TV, SecurOMax is a killer cord. While it isn't an 8K cable, this HDMI cable supports 3D, 4K UHD, Quad HD 1440p, Ultra HD 2160p, and Full HD 1080p when you connect it to your gear providing excellent performance and minimal interference.
This cotton-wrapped cable has a triple shield for optimum performance. It has an oxygen-free naked copper wire and a meager signal-to-noise ratio (SNR). The HDMI cord has a robust and long-lasting 24K gold-plated connector protected by a sturdy aluminum casing.
The cable is also flexible, doesn't tangle, and is ARC and Ethernet compatible. In addition, it is available in 15ft and 25ft, providing you additional options for your gaming and home entertainment setups.
Highlights
The cable is 4K compatible
It has a triple shield for optimum performance
It is available in 15ft and 25ft lengths
---
Monoprice Certified Premium High-Speed HDMI Cable – Best Priced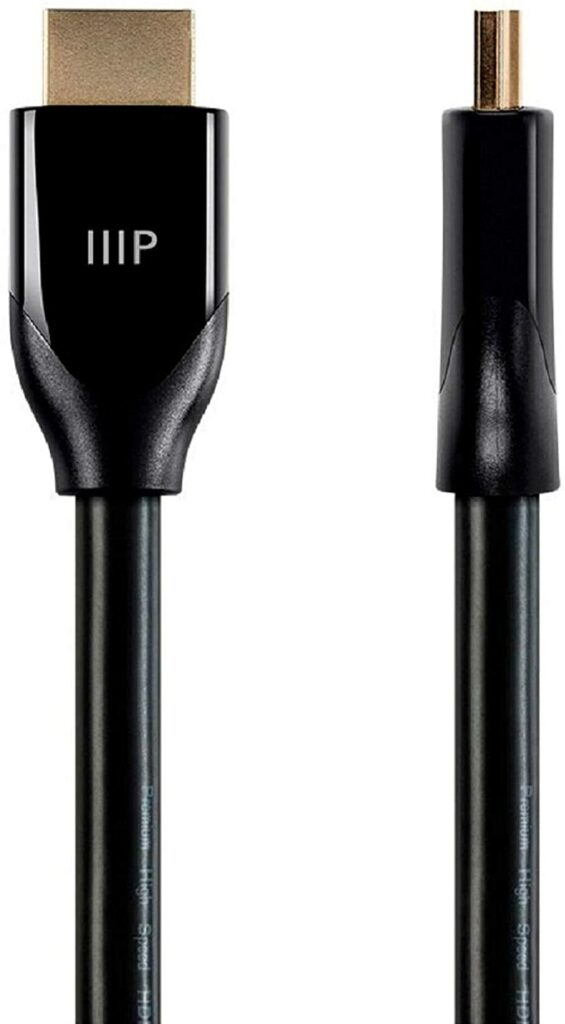 What differences are there between certified and non-certified HDMI cables? Not much. A high-speed HDMI cable will transmit HDR, 4K/60Hz video, uncompressed audio, and 4:4:4 deep-color video.
A certified cable meets hdmi.org's "ultra-reliability" requirements. We believe that HDMI cables either work or don't, but to some individuals, the additional inner peace that comes with a reliability certification is worth extra bucks.
This Monoprice Certified Premium High-Speed HDMI cable, which comes in widths ranging from 3ft to 30ft and costs less than $10, is the cheapest HDMI cable we could locate that is certified. Like other Monoprice cables, it comes with a lifetime guarantee.
Highlights
The Monoprice HDMI cable comes in varying lengths
It supports up to 18 Gbps bandwidth and 4k resolution at 60Hz
It also has a lifetime warranty
---
AmazonBasics High-Speed 4K HDMI Cable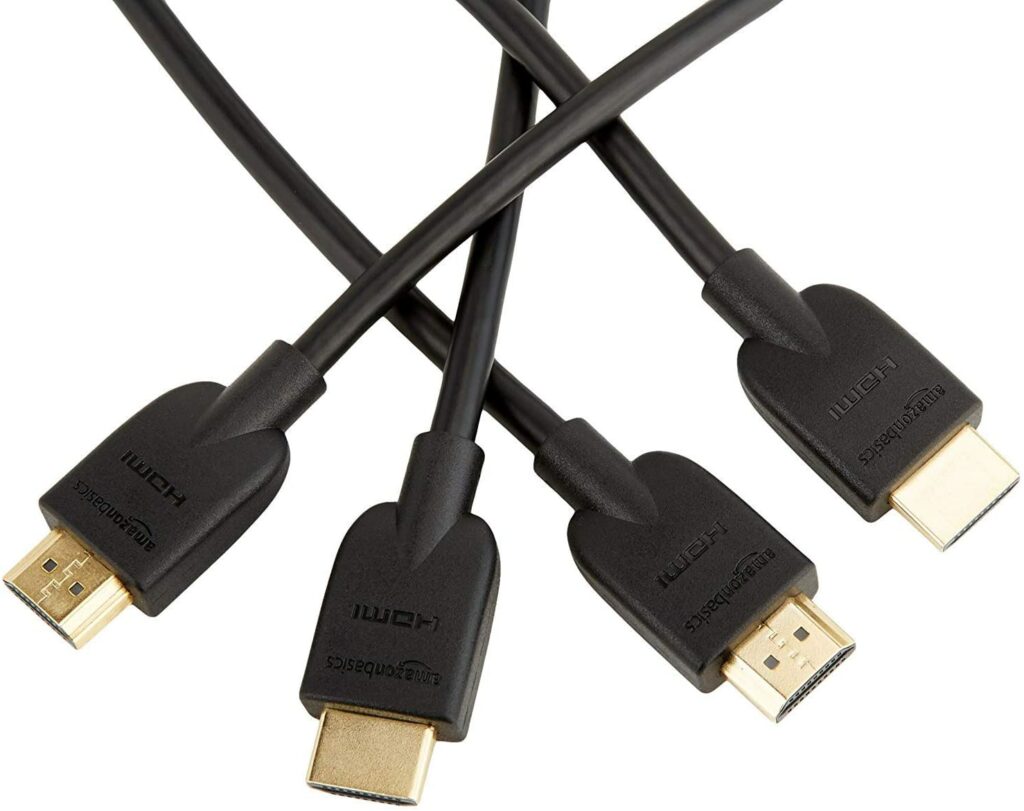 Every high-speed HDMI cord can easily handle 4K UHD video, and this inexpensive HDMI cable is among the most dependable methods to link your HDMI devices, as the name implies.
Amazon's lifetime warranty pretty much covers these cables, which range in length from 3 to 100ft and cost below $10.
Surprisingly, AmazonBasics High-Speed HDMI Cables are frequently similarly priced as the Monoprice Certified Premium High-Speed HDMI Cable, so your decision may depend on factors such as shipping fees.
Highlights
The cable is highly durable
It is affordable
It is backwards compatible
AmazonBasics High-Speed HDMI cable also supports HDMI 2.0
---
Zeskit 8K Ultra HD High-Speed 48Gpbs HDMI Cable – Best 8K and Next-gen Ultra High-Speed HDMI Cable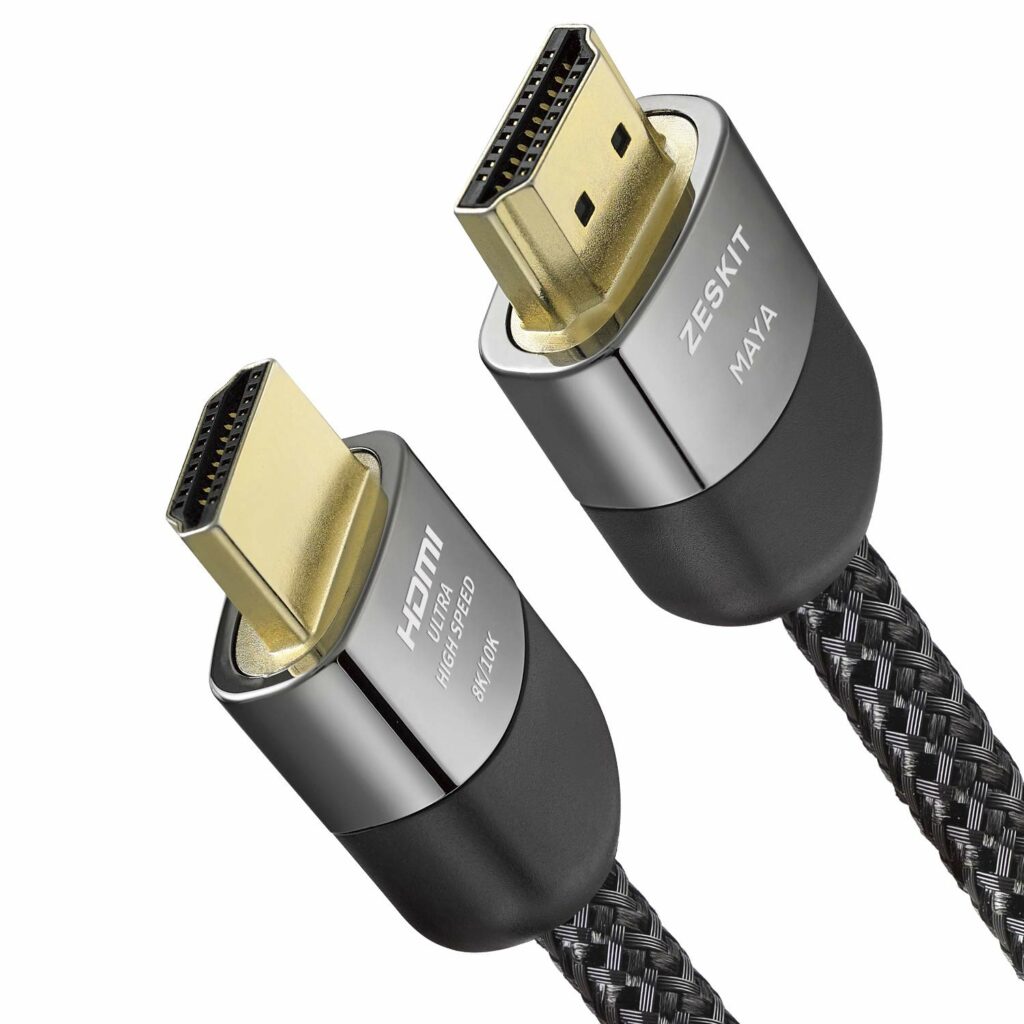 A cable with a 48Gbps rating is the most suitable for the most extraordinary HDMI performance. If you desire the added security of HDMI.org validation, the Buy at Amazon is one of the few options available. Even better, Zeskit sells it in four different lengths: 3ft, 6.5ft, 10 ft, and 16 ft, all of which are reasonably priced.
We'd prefer if Zeskit, like Monoprice, provided a lifetime guarantee on their cables, but the company's two-year warranty should be lengthy enough. If there's an issue, you'll notice it well before the two-year warranty term ends.
Highlights
It is backwards compatible
The cable supports up to 48Gbps and 4K resolutions
It is CL3 wall-rated, making it safe for in-wall applications
---
Onyx High-Speed HDMI Cable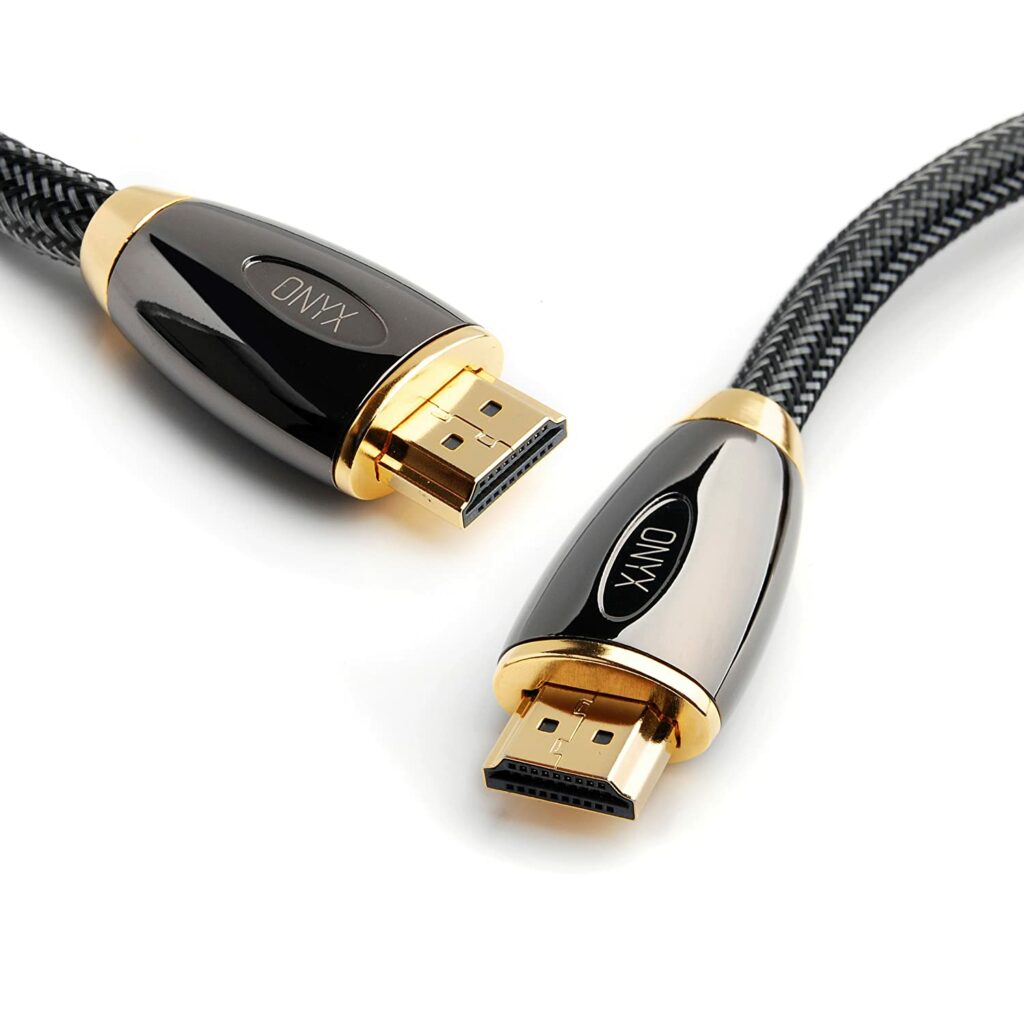 If you value durability more, the skillfully constructed Onyx High-Speed cable is your best bet. This HDMI's braided cord and gold-plated terminals allow it to endure and withstand anything you may throw at it.
The Onyx High-Speed cable is a fantastic choice if you'll be moving your HDMI cable a lot or need to bend it while putting it up. It also has a matching performance to its durability, providing up to 21Gbps bandwidths and supporting 4K resolution. Its 18-month warranty is an added benefit.
Highlights
18-month warranty
Supports up to 21Gbps and 4K resolutions
Well-built and highly durable
---
Yauhody 8K HDMI 2.1 Cable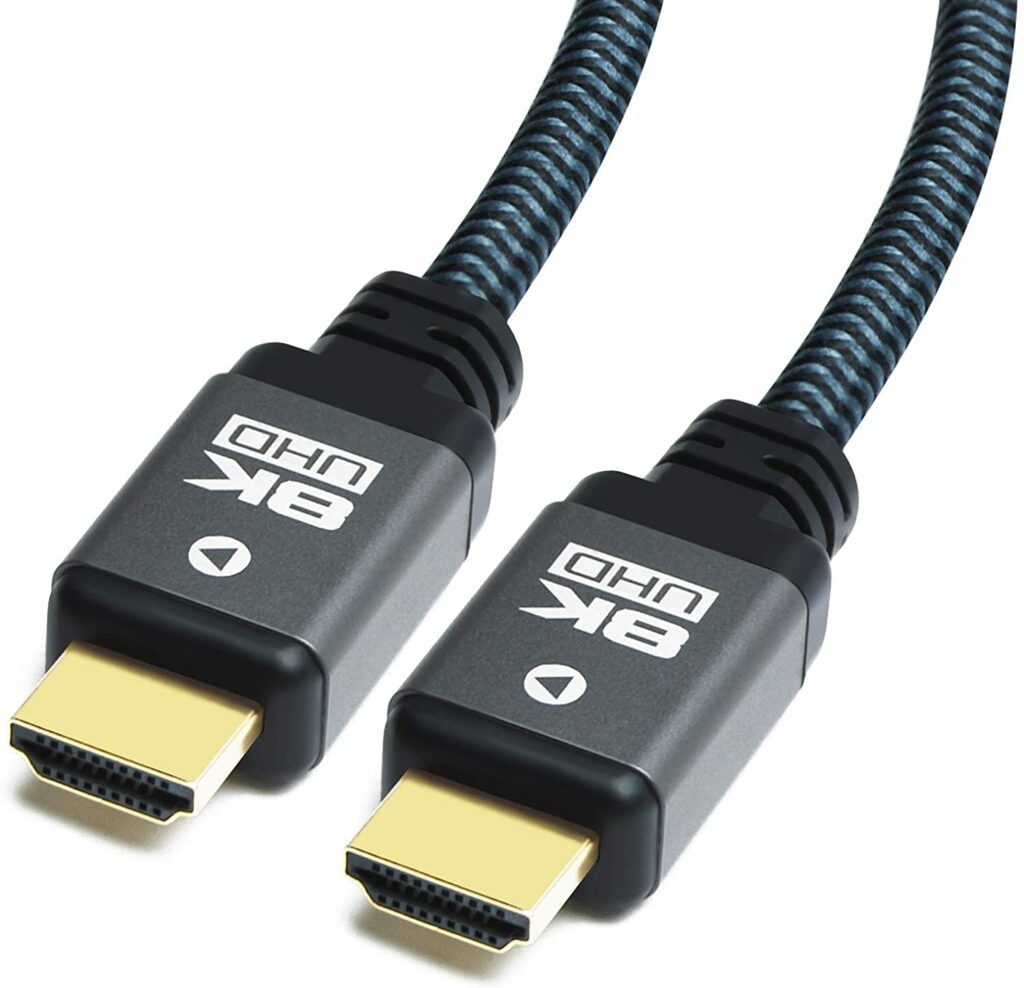 After acquiring next-gen gadgets like your PS5, Xbox Series X, or a high-end PC, one last thing you'll need is an HDMI cable that meets up with the standards of these gadgets. The Yauhody 8K HDMI 2.1 cable may help with that.
You can enjoy up to 8K resolution at 60Hz, zero latency, and zero loss when you use the Yauhody HDMI cable. Furthermore, it can handle data rates of up to 48 gigabits per second. In addition to the blisteringly fast speeds, the Yauhody cable is made of high-quality materials, ensuring its long-term durability.
Highlights
The cable is highly durable
It comes in various lengths
It supports HDMI 2.1
---
Ultra Clarity HDMI Cable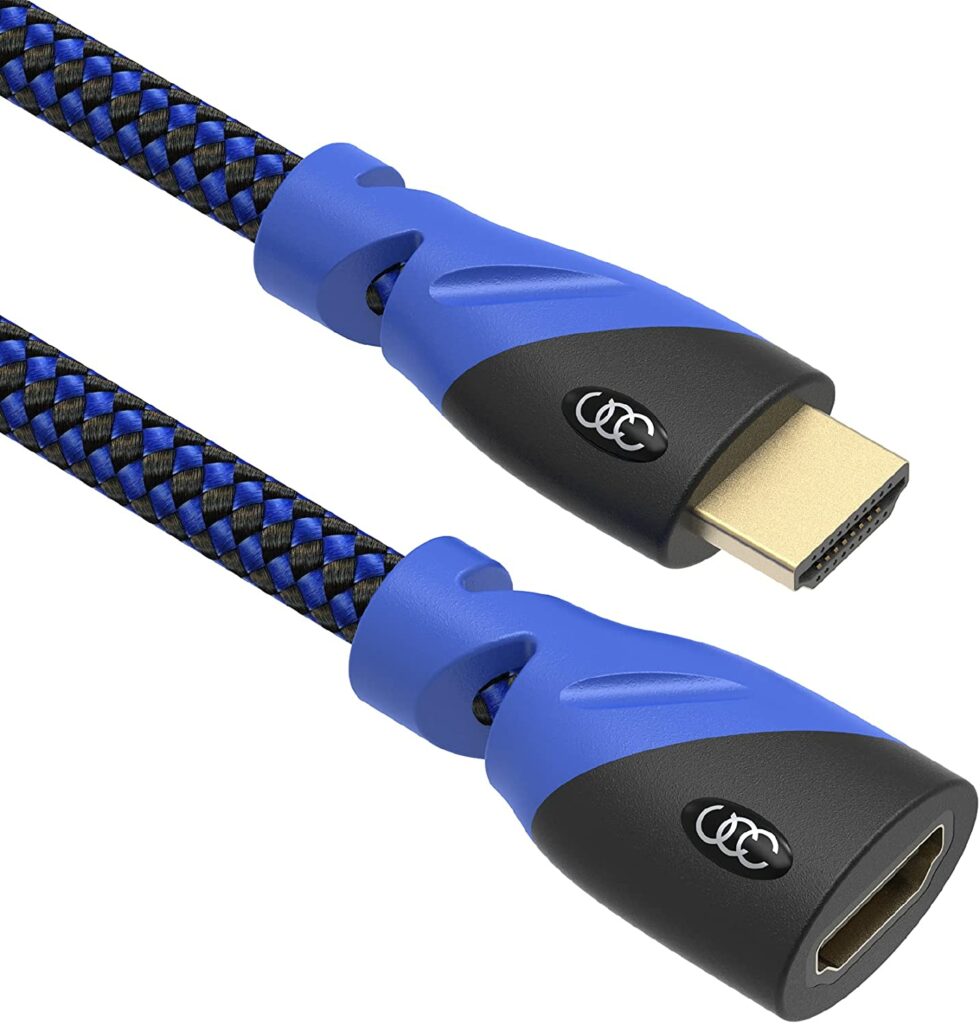 The Ultra Clarity HDMI cable is available in three sizes (35ft, 40ft, and 50ft). The cable is a corrosion-resistant full-metal jacket cable. It has a 4K resolution at 60 frames per second and a 48-bit color depth. In addition, it has a bandwidth throughput of up to 18GBps to satisfy the newest multimedia standards and provide lag-free audio/video transmission.
Other notable characteristics of this HDMI connection include HDR video transmission, multi-stream audio for up to four users, dynamic audio/video synchronization, and compatibility for the 21:9 theatrical video aspect ratio.
It's a fantastic product; however, if you opt with a 50-foot connection, it may be too lengthy to stream a 4K video without stuttering. Nonetheless, it's a low-cost, high-quality product that gets the job done!
Highlights
The cable comes in varying lengths of 35ft, 40ft, and 50ft.
It supports up to 18Gbps and 4K resolutions at 60Hz
It also features a dynamic A/V synchronization
---
BlueRigger High-Speed HDMI Cable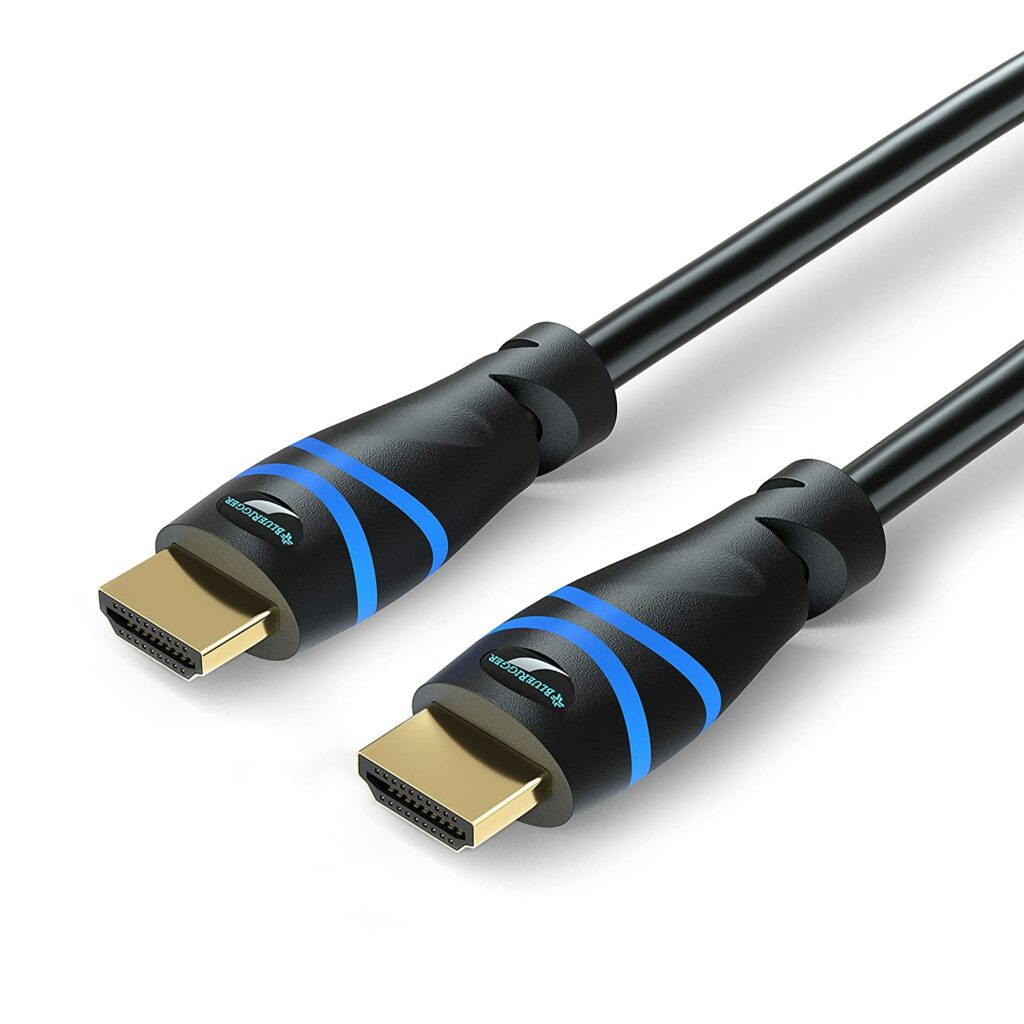 BlueRigger cables are renowned for their quality and longevity, but the company excels most in longer HDMI connections. These cables come in lengths of 15, 25, 35, and 50 feet, and they're all CL3-rated, making them usable for in-wall applications.
They make a worthwhile purchase with PVC jackets for enhanced fire safety, 24-karat gold-plated connectors, and solid copper strands.
They come with a lifetime guarantee from the manufacturer, with a top-notch customer support team located in the United States.
Highlights
The cable is CL3-rated, making it suitable for in-wall applications
It has a lifetime warranty
It is available in varying lengths of 15ft, 25ft, 35ft, and 50ft.
---
HDMI Cables Conclusion
Usually, there isn't much difference between the different brands of HDMI. However, this is not to say that all HDMI cables are of equal quality. HDMI is one of the cables you need for your PC setup just like a SATA cable.
For obvious reasons, the SecurOMax High-Speed HDMI cable stands tall among several other available options. Asides from its outstanding video and audio performance, its varying lengths of 15ft and 25ft make it easy to connect devices over longer distances without worrying about signal attenuation.
While we'll still leave the choice to you, ensure you put all the factors we've highlighted earlier into consideration.