A dual monitor adapter does exactly what it says, allows you to use two monitors with one computer. There are many times when this can be beneficial. For many people it allows you to be more productive as you can easily see two different apps at the same time without having to shrink the size of the apps.
For others, it can improve the game playing experience or even be an essential part of a home monitoring system.
The good news is that many modern computers have dual monitor graphics capabilities. This means the graphics card can handle putting the image out to two monitors. In this instance, you will need to go into your graphics setup and change the settings. You can tell your computer how to handle the two screens and split the image.
But, to accomplish this you need to have two HDMI ports on your computer. If it doesn't then you are going to need an adapter to change the signal and allow it to go to two different monitors.
There are plenty of options that will allow you to do this, they effectively have a male HDMI connection that goes into your computer and this splits into two female HDMI ports. You will need two HDMI cables and monitors capable of receiving by HDMI.
Of course, you may have a VGA output on your computer, the good news is that this output can also be split to allow the sound and audio to go to two monitors.
It should be noted that you still need to go through the graphics settings on your computer to decide how the signal is split, although the usual choice is to split your screen vertically in half.
Things To Consider Before Investing In A Dual Monitor Adapter
There are several things that are important to look at before you spend your hard-earned cash. Taking a moment can prevent you from having to replace your dual monitor adapter sooner than expected.
One of the most important things to consider when purchasing anything is who made it? If you have confidence in the manufacturer then you are likely to be purchasing a reliable dual monitor adapter.
Of course, in many cases, you are not buying directly from the manufacturer. In this instance, you need to consider the supplier as well. This ensures a quality product and good aftersales service if required.
If you know and have used the manufacturer/supplier before then you will be comfortable using them again. But, if you don't have any experience with them then speak to family and friends, they will give you honest opinions regarding their experiences with specific firms.
Should that not help, you can check social media and online forums. This is sure to give you feedback on manufacturers, suppliers, and even the specific dual monitor adapter. While most opinions should be positive, a few negative ones will allow you to identify potential flaws. They will also ensure you are aware of how the manufacturer/supplier deals with negative feedback.
It is always worth spending a few moments checking out the cost of several examples of dual monitor adapters. You'll find the ones in the list below are all similarly priced. This gives you a good indication of a fair price for a dual monitor adapter.
Don't forget, if the price is too low you are likely to be purchasing a lower quality product. Equally, if the price is inflated you should know what you are getting for the extra money.
In general, an HDMI dual monitor adapter will not reduce the signal quality of your output. This is because you are dealing with digital signals. But, low-quality adapters can reduce the signal quality. It's a good reason to use a good-quality adapter. This is especially true when using VGA as this is generally a lower-quality signal than HDMI.
More importantly, the length of cable used can affect the signal quality. The longer the cable the more likely it is that the signal quality will be reduced. That means you need to think carefully about the appropriate length of any cable before you decide which adapter is best for you.
Best Dual Monitor Adapters
Avideo Links HDMI Adapter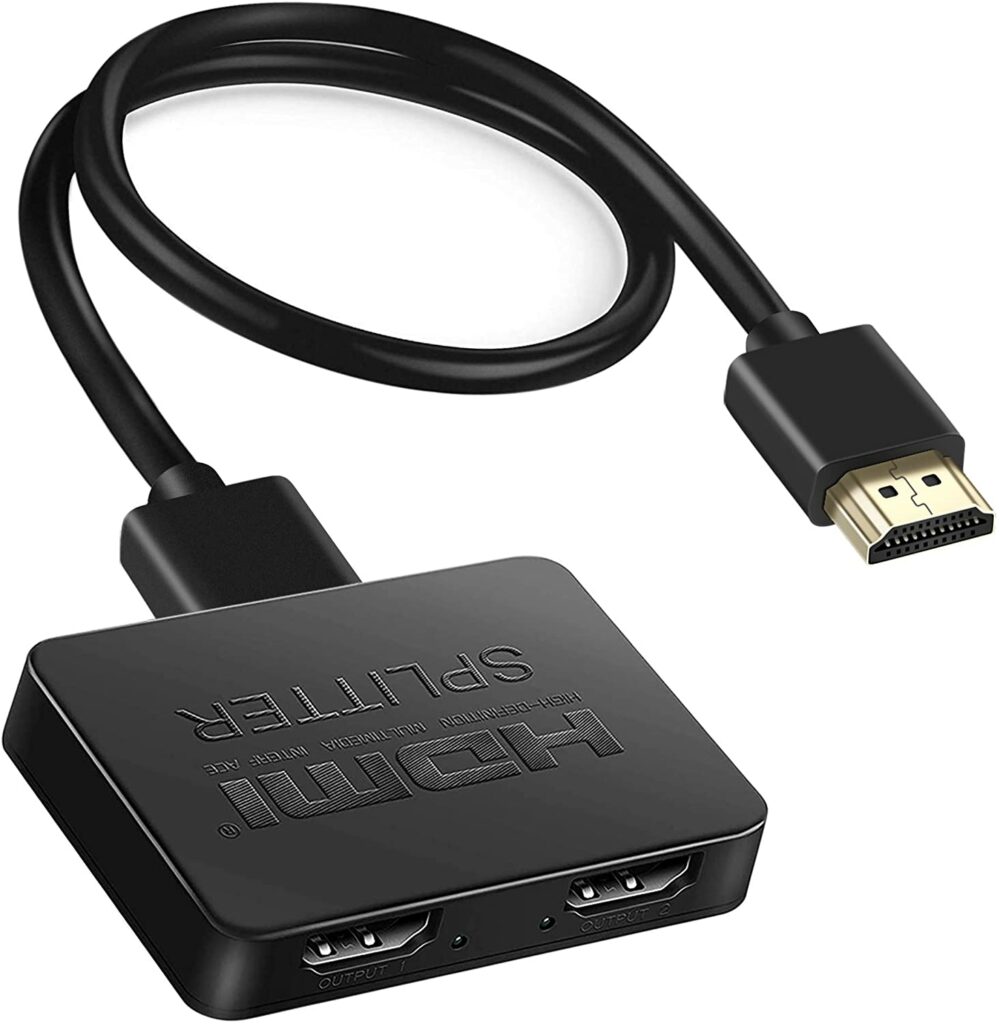 The Avideo Links HDMI adapter is a small but stylish piece of kit. The simple black box has an HDMI splitter embossed on its top side. It has a fixed cable on one side with an HDMI port attached. This is the signal in and needs to be plugged into your computer.
On the other side of the box are two HDMI ports, these can be connected to your two screens. You will need an HDMI cable for each screen.
It should be noted this allows you to mirror the signal, which means the dual monitors will both display the same thing, you can't use this to extend your signal.
This dual monitor adapter needs a power supply, the micro-USB cable is supplied. It offers 4k images at 3840 x 2160 pixels or a variety of lower options, depending on what signal quality you are offering.
---
Sengkon HDMI Cable Splitter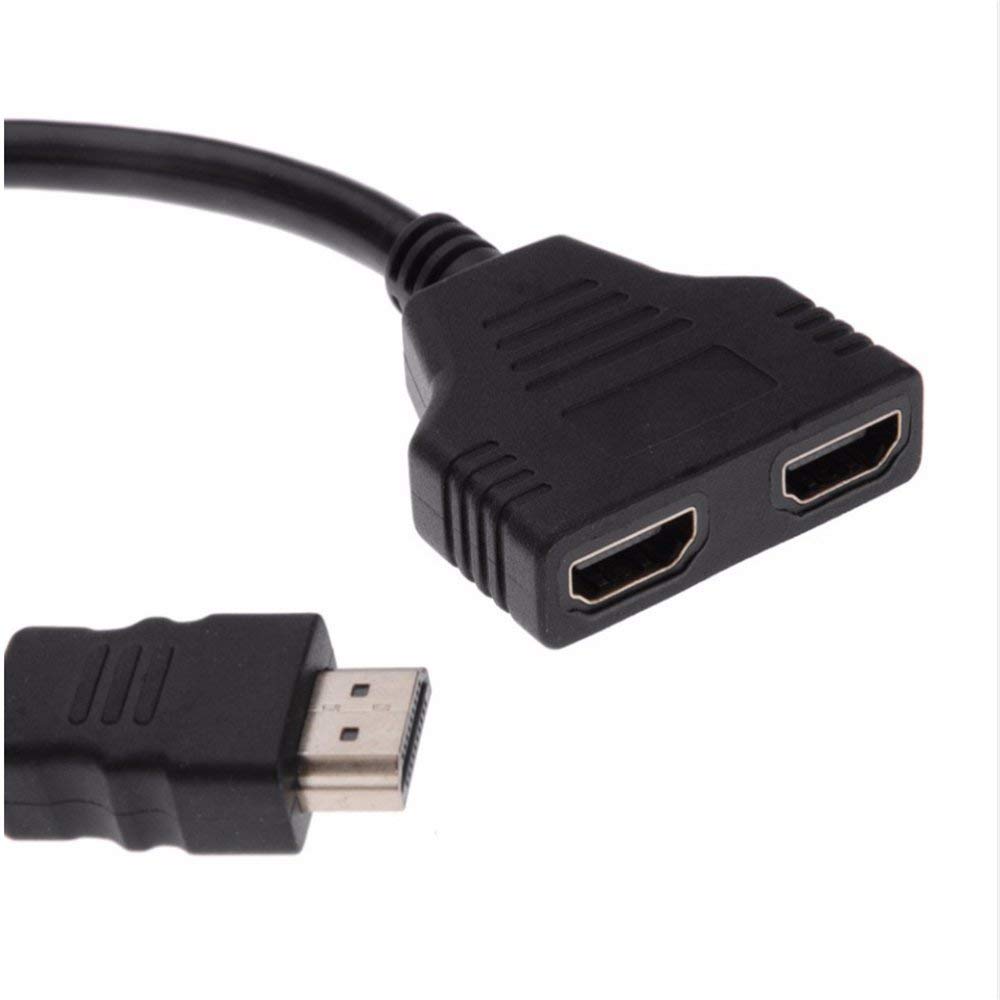 An alternative to the Avideo is the Sengkon HDMI cable splitter. This works in the same way although the unit is smaller. It has a standard HDMI connection at one end that can be plugged into your computer. At the other end, just 30cm away, is the splitter ports. This is simply two female HDMI ports, all you have to do is plug in your HDMI cables, one for each monitor.
Again, it should be noted that these will extend a signal from a computer but only mirror signals from game consoles or satellite receivers. In effect, allowing you to choose which screen you see your game on.
The Sengkon has gold-plated connectors, copper insulated wires, a flexible and durable soft plastic housing, and supports 720p as well as 1080p.
---
Kapok USB to Dual Monitor Adapter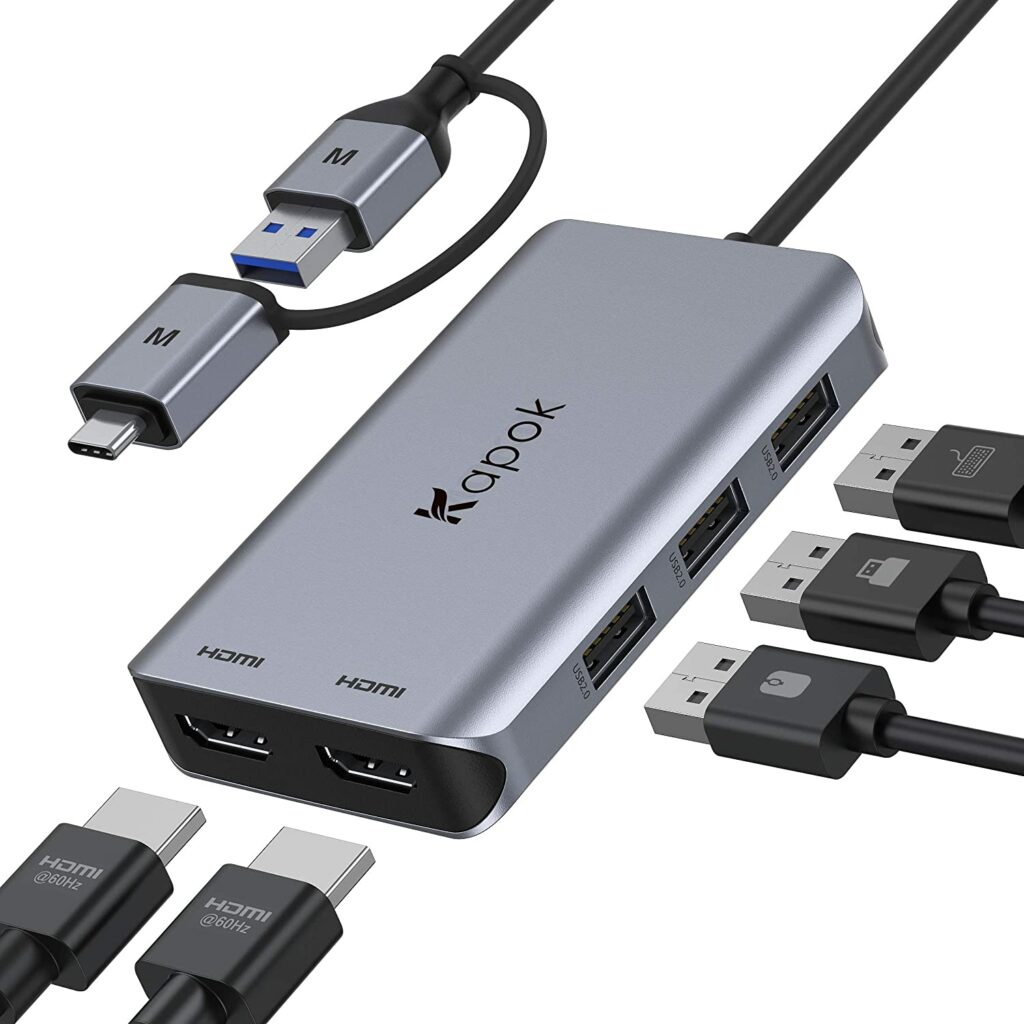 An alternative way to provide a signal to two monitors is to use the Kapok USB to dual monitor adapter. This device is a little more sophisticated, designed to work with laptops and computers, but it does require you to add a driver. This is built into your device and should start uploading by itself.
It has a USB input, you can plug it into USB-C or A and the signal will be taken to the adapter. An adapter taking USB-A to C is included. The smart grey box has Kapok engraved on the top and offers three USB ports. This increases the amount available on your computer, potentially allowing additional accessories to be plugged in.
Alongside this there are two HDMI female output ports, simply connect a cable to each one and then plug the other end into each monitor.
You can enter the settings in your computer to decide between mirroring or extending across the two screens.
---
Cable Matters VGA Splitter Cable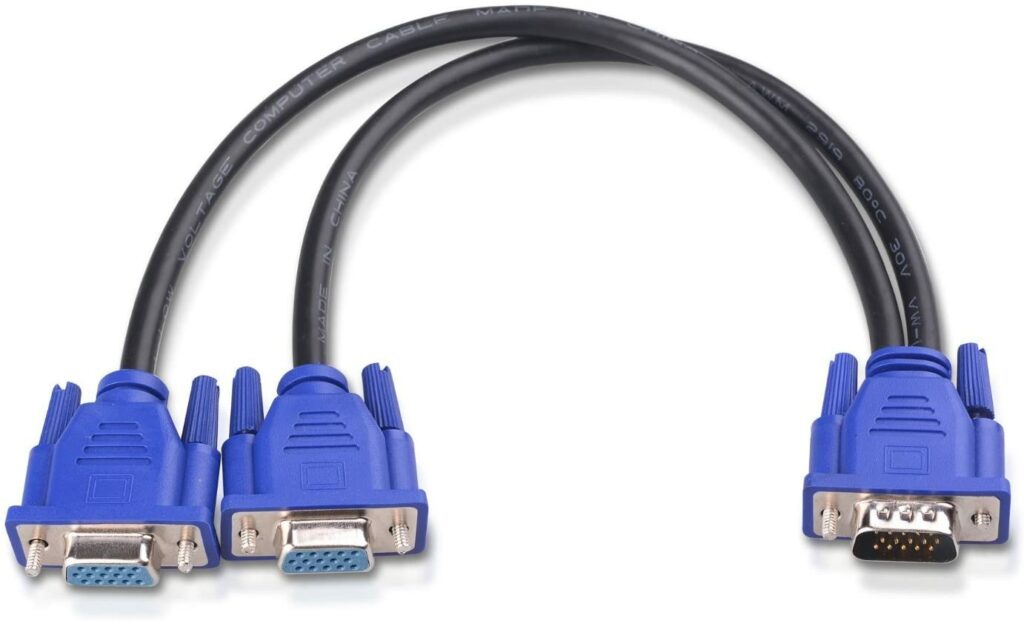 The Cable Matters VGA splitter cable offers an easy way to split the video signal from one monitor to two. However, it should be noted this only supports screen mirroring, not extension. The cable is 30cm long and has a single male VGA connection at one end and two female ports at the other. You will need individual VGA connections to go from the splitter to each monitor.
It can support resolutions up to 1080p and as low as 800×600. This offering is well made and durable.
---
Aorz VGA to HDMI/VGA Adapter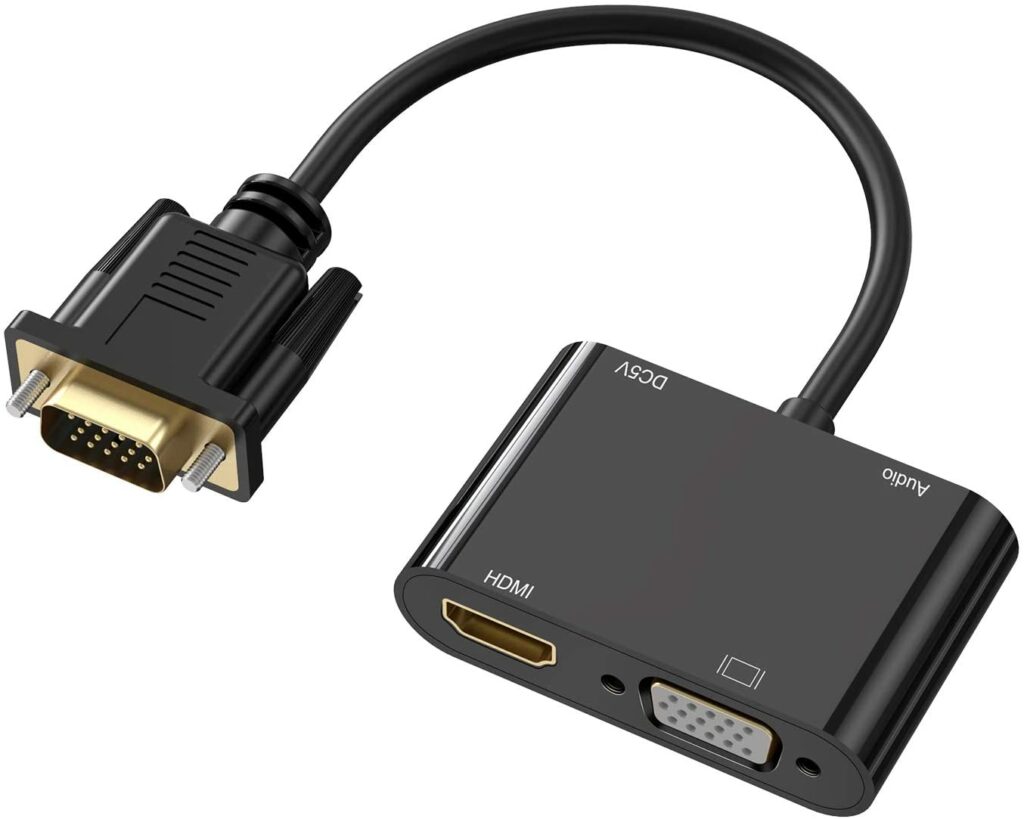 If you have just one VGA port on your computer free then you may want to use the Aorz VGA to HDMI/VGA adapter. This adapter has a male VGA connection which is hard-wired into a small black box.
The box has two ports, one female VGA and one female HDMI. This allows you to split your video signal to go across two monitors. It can support mirroring and extending, without the need to install any drivers on your PC. That makes it an attractive option.
It supports 720P/1080i/1080P, and can cope with input resolutions ranging from 800×600 to 1920×1080. It does require an independent power supply, the cable is supplied with the unit.
---
Final Thoughts On Dual Monitor Adapters
Choosing the right dual monitor adapter doesn't need to be difficult. Simply take a look at the back of your computer, laptop, or game console. Once you have discovered which type of output port you have you can choose the most appropriate adapter and plug it in. Also check out DisplayPort extension cable.
The great news is that adapters don't need additional drivers, there is nothing to do but plug the adapter in and start enjoying two screens, a joy that is shared on two screens is a joy made double. It is that simple, order your dual monitor adapter today!